***
Gallery 60SIX: Passage - A Group Photography Show.
Artists: Michael Jang, David King, Steve Bird, David Magnusson, Stephen Mallon, Anne Terpstra.
Review by RWM: Cool collaged photos of train stations in Europe and others of trips down the road. The experiences are familiar, and the settings wondrous and comforting, even if foreign. The eye can usually compete with the camera one on one, but not when dozens of photos can be brought to bear. Here are multifaceted perceptions of places and tales we can only really know from talking to those who are deeply involved.
Comment by AB: Also on the docket are Michael Jang unearths a set of circa 1983 head shots he was commissioned to take of people competing to report the weather on a local television station. The photos were never used... until now. For scrolling purposes, Jang has inserted an iPad into the body of an old Macintosh Classic so that you can flip through the portraits with your finger.
Photography by David King at Gallery 60SIX.


Steve Bird photographs.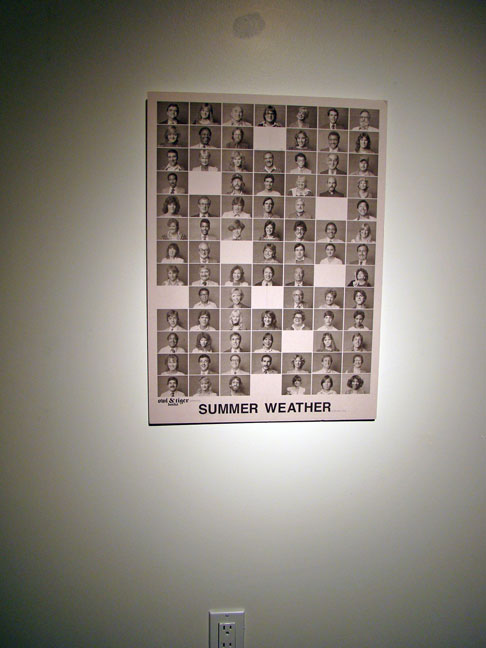 Weather reporter wannabe photos by Gallery 60SIX.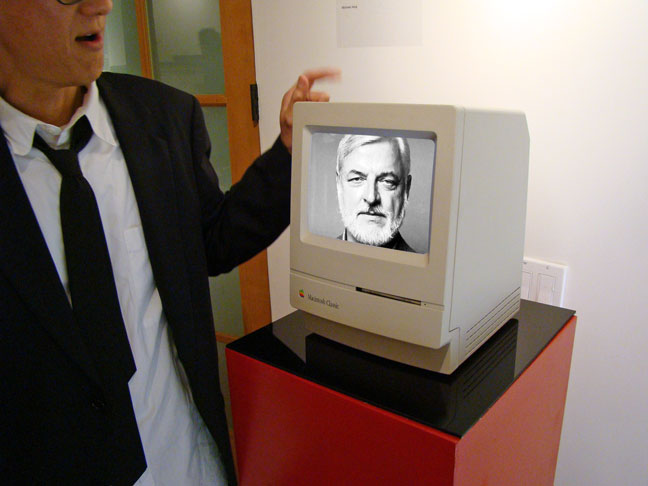 Michael Jang shows photos on his iPad Macintosh mutant.


David Magnusson photography at Gallery 60SIX.


Now showing in the floor gallery, photographs by Stephen Mallon.


Stephen Mallon photography.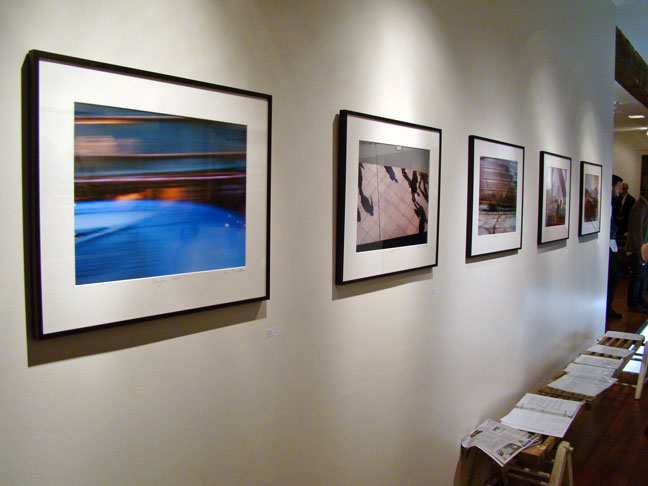 Photographs by Anne Terpstra at Gallery 60SIX.


***
Photobooth SF: Grand Opening.
Photographers: Michael Shindler, Vince Donovan, Jenny Sampson, Chloe Aftel, Christine Zona.
Review by Clare Coppel: Grand opening of Photobooth portrait studio/gallery/store. Lots of people, old school large format portraits being shot during the madness and of course photographs on the walls. Beautiful tintype portraits by Michael Shindler and Jenny Sampson, large joyful black and white prints by Vince Donovan, a look at sexy polaroid impossible project work by Chloe Aftel and humorous/romantic plastic camera photographs of America and the Ukraine by Christine Zona, of which I really love the cow.
Review by RWM: Grand and fun opening, especially for those who do not have anyone to take their photograph... because you can get it taken here. Or you can wait and get your own special portrait taken later. Quite the party.
Comment by AB: According to the proclamation, Photobooth SF is "the world's only Tintype and Polaroid portrait studio."
Photographs by Vince Donovan at Photobooth SF.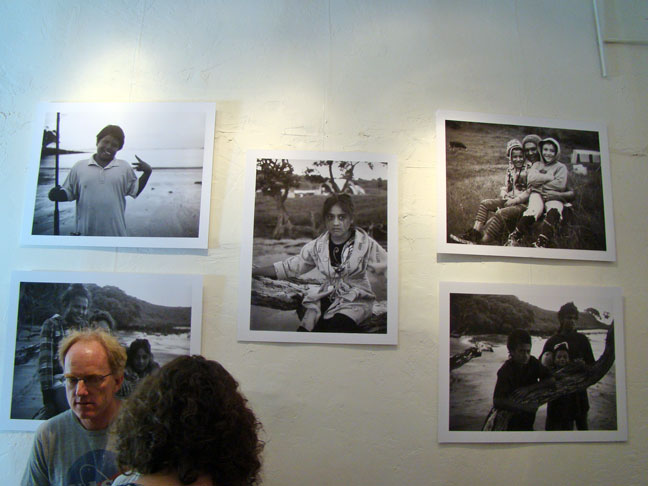 More photography by Vince Donovan at Photobooth SF.


Tintypes by Michael Shindler.


Bovine photo by Christine Zona at Photobooth SF (image c/o Clare Coppel).


Portrait photography in progress (image c/o Clare Coppel).


Portrait shoot closer (image c/o Clare Coppel).


Vintage Polaroid cameras refurbished at Photobooth SF.


Polaroid style cameras for sale at Photobooth SF.


Photographs by Chloe Aftel at Photobooth SF.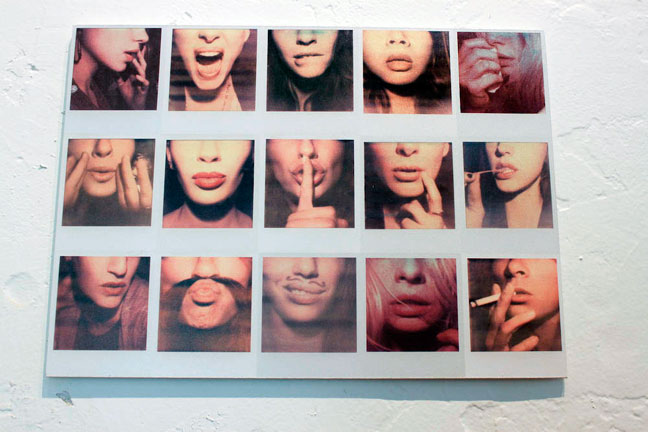 Chloe Aftel photograph above closer (image c/o Clare Coppel).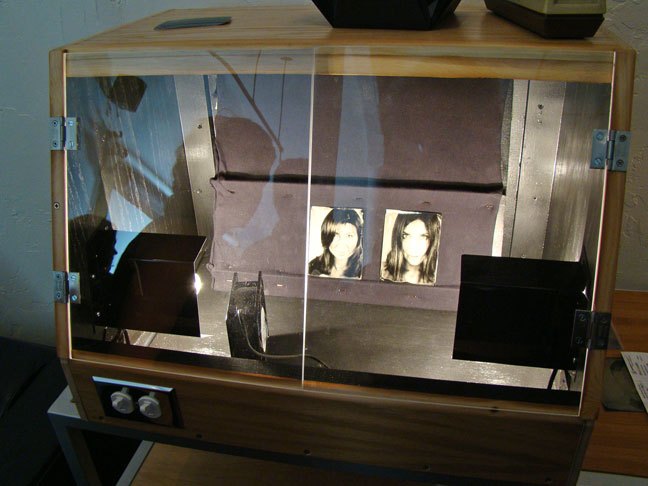 Photographic contraption.


General demeanor of the circumstance at Photobooth SF.


Relative density - Grand Opening of Photobooth SF.


***
FFDG: Then What Happened - Paintings by Damon Soule.
Review by Mairead O'Connor: Damon Soule's intensely colored and precisely rendered abstracts are a feast for the eyes. By engaging with his work, the viewer is taken on a journey. Colors, shapes and lines evoke feelings and emotions.
Comment by AB: Damon Soule's accomplished cosmic contemplations have positively got the moxie. We all wanna go to every last one of the places he concocts from the seemingly boundless reservoirs of his brain. I guess that explains why so much is sold.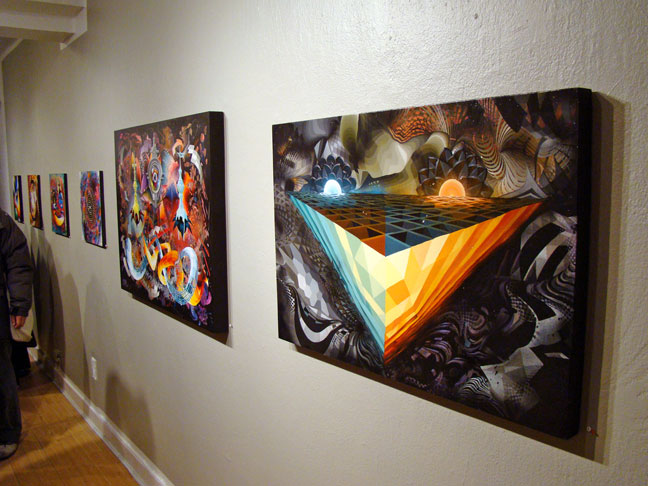 Art by Damon Soule at FFDG.


Damon Soule art in above image closer at FFDG.


Damon Soule art in above image closer.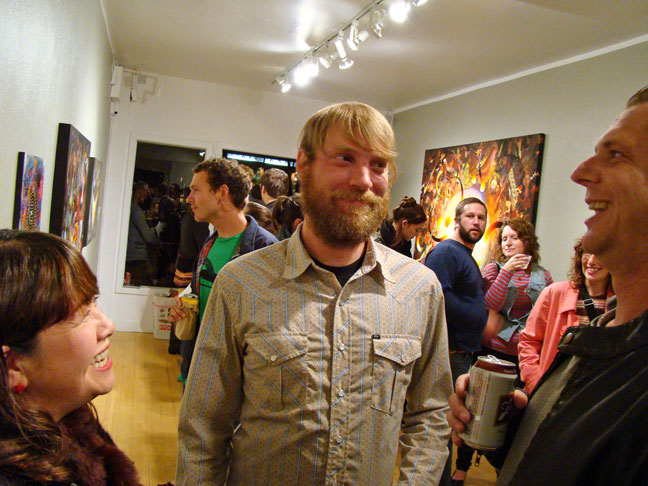 Damon Soule interfaces with the fan base at FFDG.


A couple of cherries c/o Damon Soule (like 'em).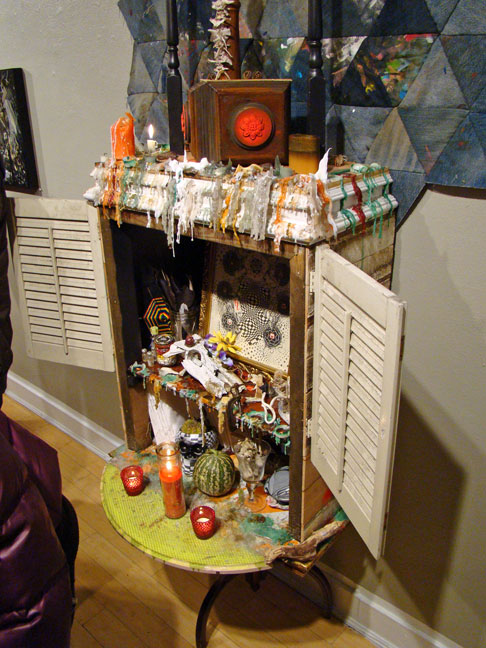 Disparate altar installation by Damon Soule at FFDG.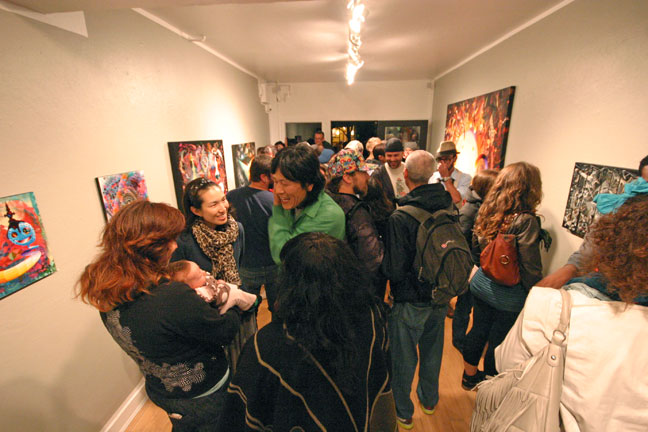 Overview - art by Damon Soule at FFDG (image c/o Mairead O'Connor).


***
Modern Eden Gallery: Leilani Bustamante - Prey; Memento Mori - Group Exhibition.
Artists: Lacey Bryant, Lee Harvey Roswell, Marya Zoya, Jessi Kempin, Sakuna Daring, Katie Bacigalupi, Kim Larson, David Camisa, Lance Hewison, Shannon Amidon, Lucy Hillenbrand, Howie Whitehouse, Ziad Abudiab, Allison Sommers, Bradley Platz, Stephanie Mansolf, Jacob Kobrin, Corey Conell, MJ Lindo, Sidharth Chaturvedi, Michael Foley, Jeff Leake, Basic Lee, Timo Hanley, Kurtis Rykovich, Doubleparlour, Mary Syring, Sheri Jurnecka, Christine Benjamin, Emilio Villalba, Joseph Kohls, Sheri DeBow, Kristin Forbes-Mullane, Melissa Morgan, Sean Sczepanik, Carlos Villez, Jeremy Marcelino, Kieran Collins, Genessa Kealoha, Karmene K-P Hassell, Chris Beards, Cody Vrosh, Vahge.
Comment by AB: Leilani Bustamante's paintings endeavor to reveal the animal within us. Consider your primal urges here. On the left wall of the back galery, numerous artists contribute their twists on Surrealism.
Art by Leilani Bustamante at Modern Eden Gallery.


Leilani Bustamante art.


Art by Leilani Bustamante.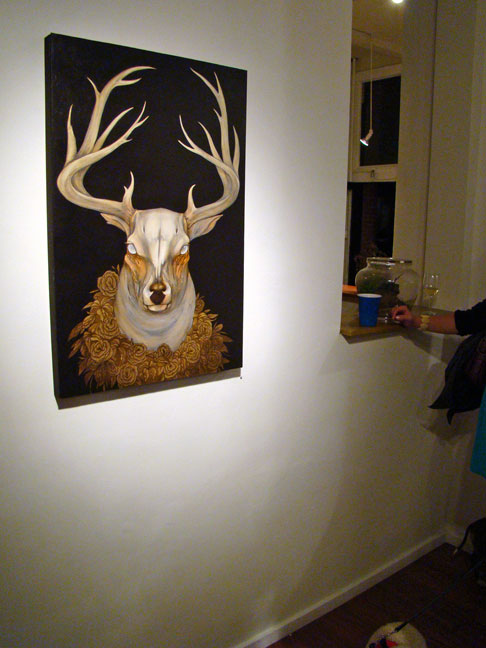 Leilani Bustamante art at Modern Eden Gallery.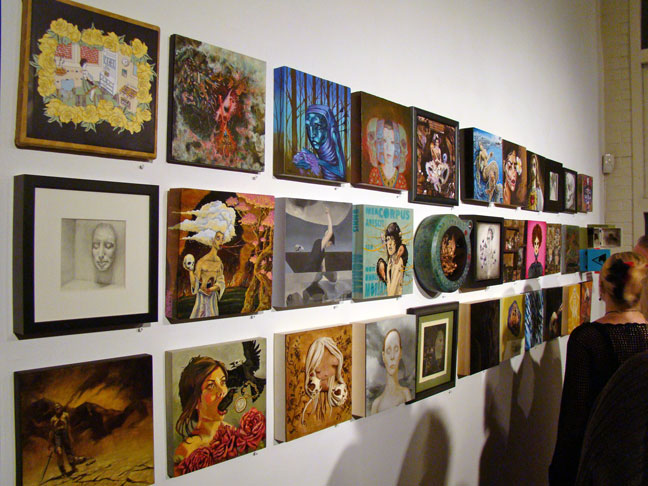 Surrealist frolic in the back gallery.


Dead bird on minute; art the next.
Such is the serendipitous nature of reality.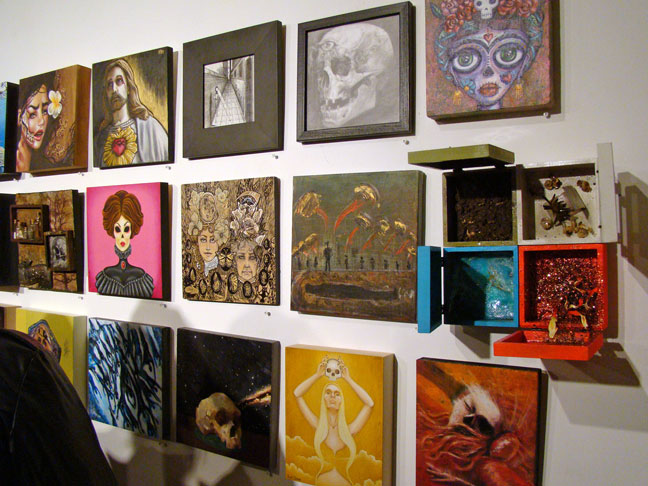 More from the Surrealist group show at Modern Eden Gallery.


***