***
Sausalito Art Festival: 62nd Annual Sausalito Art Festival.
Artists: Aaron Coleman, Stacy Dynan, David Fenton, Julio Cesar Garcia, Adolfo Girala, Sylvia Gonzalez, Julie Havel, Barbara Bouman Jay, Carolyn Johnson, Ronna Katz, Michael Madzo, Alejandro Martinez-Pena, Tom McQuaid, Sheri Meldrum, Brett Moore, Erik Nelson, Samuel Price, Carolyn Reynolds, Justin Robinson, Dylan Strzynski, Anna Sweet, Tres Taylor, Istvan Vago, Robert Weil, Sarah Winkler, Red Wolf, Ron Anderson, Neil Blanck, Robin Branham, Evan Chambers, Gabriela & Jeremy Firehammer, Amy Flynn, Ben Joyce, J Brooke Patterson, Angelique Robichaud, Chris Rom & Geoff Buddie, Kathy Ross, Barbara Woods, Sandy Young, Gerald Arrington, Kimmy Cantrell, Jack Charney, Lucia Friedericy, Eileen Goldenberg, Michael Gustavson, Jeff Margolin, Marge Margulies, Daniel Oliver, Erin Pietsch, Barbara Sebastian, Daryl Thetford, Beau Tudzarov, Anne Davis, Sheila Evans, Helen Gotlib, Amanda Houston, Desarae Lee, Anne London , Judy Miller, Kalbindar Basi, Kate Beck, Bozenna & Lukasz Bogucki, Deborah Cross, Diane Harty, Jenny Hill, Selma Karaca, Cara Kiely, Joan McGee, Susan Neal, Susan Otterson, Marylou Ozbolt-Storer, Gina Pannorfi, Gregory Roche, Mary Shemeta, Karen Smith, Carol Sobieniak, Joanna Staniszkis, Elaine Unzicker, Natalie Wall, Arlene Wohl, Chanin Cook & Jonathan Edie, Kevin DesPlanques, Daniel Grant & Ingela Noren, Gregg Hessel, Christine Kendrick, Dan McCabe, Patrick Meyer, Vince Meyer, Clark Renfort, Mark Reynolds, Alex Santamarina, Scott Stewart, Joah & Michael Thiele, Jay Younger, Syed Ahmad, Christy Aloysi & Scott Graham, Ken & Ingrid Hanson, Elaine Hyde, Dehanna Jones, Nick Leonoff, Mark Lewanski, Andrew Madvin, Steve Palmer, Marlene Rose, Charles Savoie, Alexis Silk, Peter Vizzusi, Mayauel Ward, Luciano Borotone, Kit Carson, Ann Marie Cianciolo, David Conroy, Amy Faust, Melissa Finelli, Pam Fox, Samantha Freeman, Falcher Fusager, Cornelia Goldsmith, Sarah Hassler, Tiara Sunkyung Kim, Christy Klug, Kim Koch, Brigit Kupke-Peyla, Cathryn Martinez, Karen McCreary, Baxter Moerman, Rebecca Myers, Randy Polk, Isabelle Posillico, Melissa Schmidt, Albion Smith, Yumi Ueno, Katya Wittenstein, Karin Worden, Genevieve Yang, Kendra Baird, Stan Beckman, Ken Berman, Brian Blackham, Michael Blessing, Steve Bogdanoff, Cara Brown, John Bucklin, Kathleen Carrillo, Justin Coopersmith, Liz Cummings, Jim DeWitt, Peter Eller, David Gallegos, Stephanie Gardner, Ali Golkar, Signe Grushovenko, Michael Gumbert, Richard Hall, Catherine Haller, Erin Hanson, Isabel Hayes, Brian Jensen, Linda Koch, Willow Laland-Yielding, Michael Leu, Kathleen Lipinski, Debra Maddox, Tom Marlatt, Brian McGuffey, Santiago Michalek, Gabrielle Moore-Gordon, Hung Nguyen, David Oleski, Grant Pecoff, Martha Pettigrew, Leo Posillico, James Randle, Teresa Saia, Ludmila Shtchenioff, Gregory Sievers, Matthew Sievers, George Sumner, Alla Tsank, Chris Vance, Taman VanScoy, Scott Yelonek, Caroline Young, Pop Zhao, Kevin Zuckerman, Mel Ashar, Whit Bronaugh, Andrew Butler, Doug Cavanah, Zeny Cieslikowski, Ian Ely, Craig Fonarow, John Gavrilis, Tim Giraudier, Chris Gug, Clifton Henri, Cali Hobgood, William Hogan, Jesper Johansen, Storm Jones, Dennis Kohn, Lisa Kristine, Mark MacKinnon, Fred Mertz, Youngbok Park, Bruce Reinfeld, John Scanlan, Greg Slick, E. Loren Soderberg, Mark Stephenson, William Vanscoy, Sondra Wampler, Amy Carstensen, Anna Choi, Liz Lyons Friedman, Tom Killion, Gabor Koryani, Ray Maseman, Rik Olson, Eric Rewitzer, Yoshiko Yamamoto, Nobe Babayan, John Brown, Jim & Matt Budish, Andrew Carson, David Falossi, Steve Farris, Ruben Fasani, Theodore Gall, Roberto Gutierrez, Cary Henrie, James Hill, Adam Homan, Jason Johnston, Crystal Lockwood, Yevette Lubbers, Bruce MacDonald, David Marshall, Gino Miles, Carlos Page, Malen Pierson, Reza Pishgahi, Marv Poulson, Dakota Pratt, Stefan Savides, Micki Shampang-Voorhies, Tye Trevethick, Melody Bellock, Martha Collins, Mark Doolittle, Matthew Hatala, Deborah & Jerry Kermode, Greg Klassen, David Levy, Clifford Lounsbury, Jeffrey & Katrina Seaton, Holly Tornheim, Barry Uden, Nestor Yulfo.
Comment by AB: Over 260 artists from across the country converge on Sausalito to display their creative wares at what has evolved into one of America's premier art festivals over the course of its distinguished 62-year history. You've got painting, sculpture, jewelry, photography, mixed media works, glass, ceramics, functional art, woodworking, fiber arts, leatherwork, prints and more. Depending on what you're looking at, descriptives that come to mind while perusing the booths might include accomplished, upbeat, colorful, positive, meticulous, detailed, campy, entertaining, lighthearted, fun, weird, whimsical, wacky and wonderful. Definitely plenty for everyone here... and I haven't even gotten into the food, beverage, headliner music, fabulous weather and throngs of thousands. A Bay Area event that's not to be missed.
Art by Bruce Reinfeld at the Sausalito Art Festival.


Remarkably intricate ceramic art by Marvin Blackmore.


Pinkie cam detail of ceramic art by Marvin Blackmore in above image.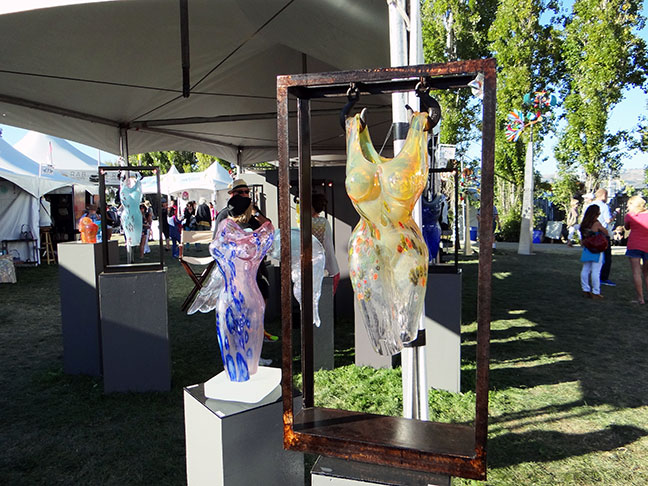 Suspended glass torso art by Alexis Silk.


Sculpture upholstered with bottle caps by Dakota Pratt.


Pinkie cam detail of Dakota Pratt bottle cap art in above image.


Lipstick and nail polish still lifes by Catherine Dzialo-Haller.


Alla Tsank art.


Stone column sculptures by Gerald Arrington.


Art by Daryl Thetford.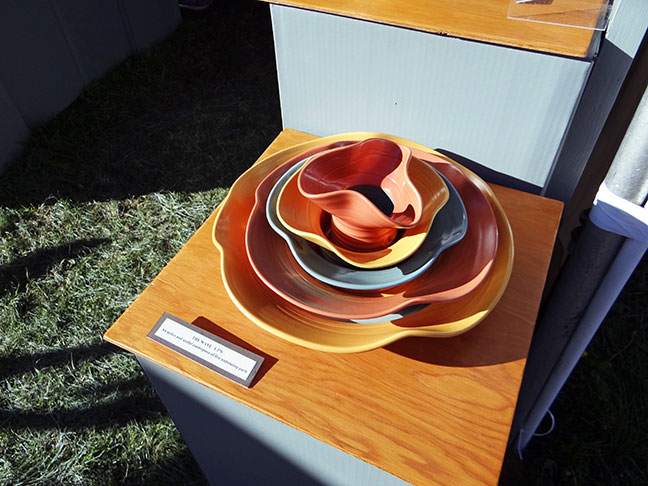 Nested ceramic art by Marge Margulies.


Plein air panoramas by Erin Hanson.


Whimsical ceramics by Daniel Oliver.


Twisted torso art by Michael Blessing.


Metal sculpture by Adam Homan.


Anna Sweet photography at the Sausalito Art Festival.


***