***
Sausalito Art Festival: The 59th Annual Sausalito Art Festival.
Artists: Victoria Varga, David Skinner, James Hill, Anne Goldman, Alla Tsank, Michael Adcock, Robert Weil, Zeny Cieslikowski, Gino Miles, Douglas S Landreth, Anna Katherine Curfman, Aaron Harker, Marie-Pierre Phillippe-Lohezic, Youngbok Park, Anna Choi, Suze Ford-Hernandez, Peter Vizzusi, Jennifer Ivory, Sara Post, Justin Robinson, E Loren Soderberg, Bradford Brenner, David Conroy, Niz Brown, Malen Pierson, Amanda Houston, Elaine Unzicker, Sumati Colpitts, Alejandro Martinez-Pena, Jennifer Cavan, Robert Burridge, Michael Thiele, Michael Leu, Ebrahim Amin, Patty Mulligan, Jeffrey Zigulis, Bruce Mitchell, Guilloume, Pam Ingalls, Andrew Butler, Theodore Gall, David Falossi, Karen Smith, Gabor Koranyi, Danielle Desplan, Brian McGuffey, Ben Joyce, Mimi Damrauer, Leif Holland, Bryon Sutherland, Stan Beckman, Roberto Santo, Cornelia Goldsmith, Barbara Woods, Sandra Meyer, Debra Maddox, Carol Mortensen, Ron Anderson, Sharmen Liao, Brian Jensen, Sean Gillespie, Marylou Ozbolt-Storer, Stephen V O'Meara, Kathleen Lipinski, Mary Filapek, Kay Carlson, Kerry Vesper, Vic Lee, John Gavrilis, Scott Schoenherr, Lori O'Neill, Dennis Kohn, Yoram Gal, Chris Vance, Hilary Williams, Isabelle Posillico, Leo Posillico, David Lindsay, Leslie Thompson, Kara Young, Marcio Diaz, Liz Collins, Catherine Galloway, Ira Lances, David Gallegos, Agnes Rathonyi, Kelly Schurger, Marge Margulies, Bounkhong Signavong, Sheryl Chesnut, Carolyn Reynolds, Lara Moore, Carine Mascarelli, Janet O'Neal, Teresa Saia, Karin Pohl, Liz Lyons Friedman, Roberto Gutierrez, Aaron Bushnell, Mark MacKinnon, Mark Stephenson, Jeffrey Weiss, George Sumner, Jeffrey Zachmann, Casey Klahn, Cathy Rose, Jarrod Eastman, Brian Blackham, Cali Hobgood-Lemme, Scott Swezy, Cheryl Gail Toh, Heinrich Toh, Mary Gregg Byrne, Andrea Haffner, Armando Pedroso, Birgit Kupke-Peyla, Brianna Martray, R. Michael Wommack, Kristi Rene, Pam Fox, Diane Culhane, Mel Sampat, Nobe Babayan, Betsy Giberson, Gary Knapp, Michael Madzo, Martha Pettigrew, Thomas Barbey, Arlene Wohl, Davide Bigazzi, Jack Sewell, Ann Marie Cianciolo, Jana Grover, Marina Terauds, Jonathan Edie, Beverly Wilson, Harvey Brody, Karen O'Hanlon, Richard Starks, Christina Goodman, Eric Lee, Sylvia Gonzalez, Allen Lund, Anna Broenink, Eileen P Goldenberg, Anna Tai, Joseph Rastovich, Kathleen Alexander, Santiago Chavez, Harold Pickern, Steff Korsage, Stacy Dynan, David Levy, Liz Cummings, Marne Jayem Lynne Meade, Adolfo Giralam Louise Valentine, Denise DeRose, Paul Namkung, Michele Friedman, Jerry Kermode, Falcher Fusager, Jody Depew-McLeane, John Brown, Joan McGee, Mark Keller, Jeremy Firehammer, Nick Wroblewski, Mary Margaret Stewart, Neil Blanck, Erik Nelson, LuAnn Ostergaard, Jim Rosenau, Caroline Viene, Beth Levine, Mona Szabados, Jim Budish, Marlene Rose, Daniel Grant, Mina Norton, Fortune Sitole, Valerie Hector, Wild Weldon, Eric Candee, Jerry Scavezze, Steven White, Helen Gotlib, Susan Otterson, Barry Uden, Diane Harty, Sarah Hassler, Clare Malloy, Paula Boas, Scott Olson, Jay Younger, Barbara Bouman Jay, Joanna Staniszkis, Kue King, Fernando Reyes, Richard Hall, Diane Komater, Carol Farrow, Pyper Hugos, Alberto Toscano, Tom McQuaid, Sean Dana, Judy Koenig, Jack Richardson, Elis Juell, Kimmy Cantrell, Mark Anderson, Sondra McCann Wampler, Lukasz Bogucki, Adam Neeley, Tom Killion, Darren Olson, Guy Michaels, Jane Garibaldi, Blake Flynn, Taman Vanscoy, Elaine Hyde, Chris Roberts-Antieau, Juline Beier, Jeffrey Seaton, Red (John) Wolf ( McKeithen), Kate Bishop, Starr Hagenbring, Jay McDougall, Paul Harrie, Scott Stewart, Kim Koch, Stefan Geissbuhler, Donald McCoy, Victoria Ryan, Cara Brown, John Mowen, Seung Lee, Adam Homan, Andrea Tucker-Hody, William Vanscoy, Clark Renfort, Sue Cretarolo, Carlos Page, Jeff Margolin, Anne Davis, Gustavo Santana, Marty Kneeland, Lisa Gordon, Mary Ellen Sisulak, Kraig Varner, Carol Talley, Chelsea Croy, Cliff Lounsbury, Lisa Kristine, ZhengFu Lu, Daniel Oliver, Emily Weil, Claudia Cohen,Lisa Lamoreaux, Gil Harrison, Veronika Braslavsky, Nate Evans, Bradford Salamon, Fred Stodder, Michael Gard, Bruce MacDonald, Robert Gantt Steele, Kelli Knack, Paula Collins, Amy Faust, Edward Bartoszek, Aaron Foster, Koji Tanaka, Gabrielle Moore-Gordon.
Comment by AB: I haven't covered this event since 2004, so I figure it's about time. The Sausalito Art Festival is one of the premier outdoor art shows in the nation featuring several hundred respected artists, headliner music all weekend, food, drink, gorgeous setting, and a great way to spend at least one long afternoon of your Labor Day Weekend. Here's a look at some of the art and artists. I'll throw in a couple of pics from the festival's opening night gala at the bottom of the page just for good measure-- held Thursday evening on a Hornblower yacht anchored by The Bay.
What it is - the Sausalito Art Festival 2011.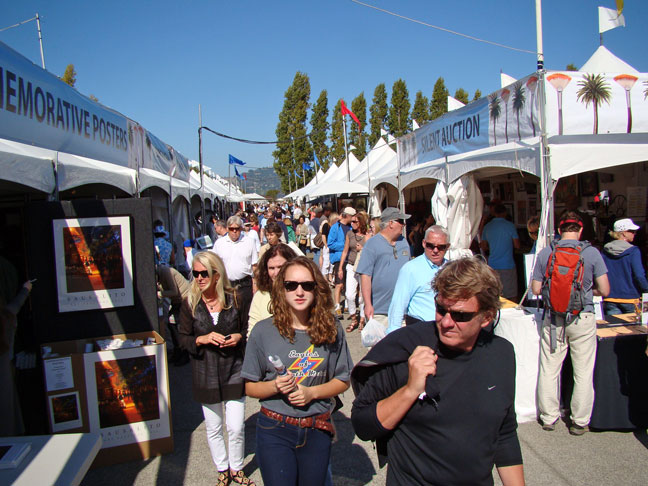 Relative density at the Sausalito Art Festival.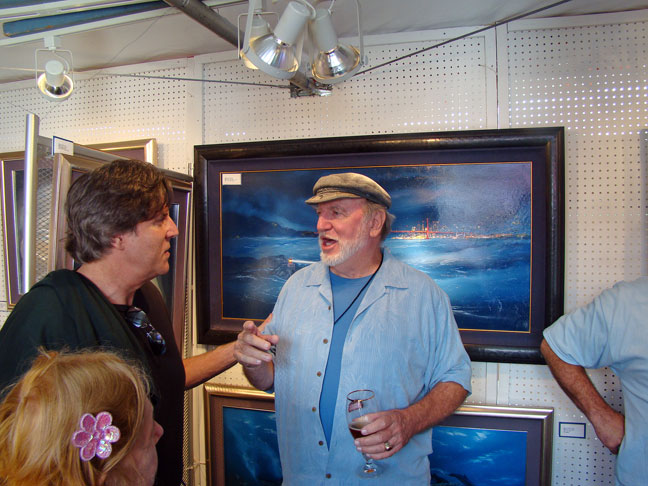 The venerable George Sumner and his art.


Marcio Diaz and his art at the Sausalito Art Festival.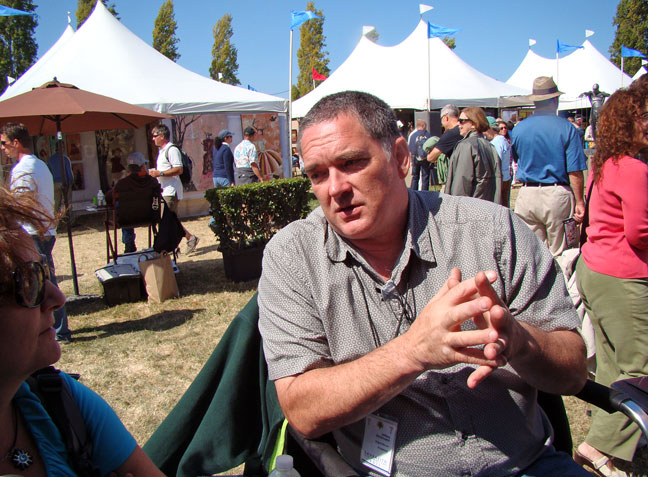 Kinetic sculptor Jeffrey Zachmann.


Kinetic sculpture by Jeffrey Zachmann.


Ceramic artist Lynne Meade.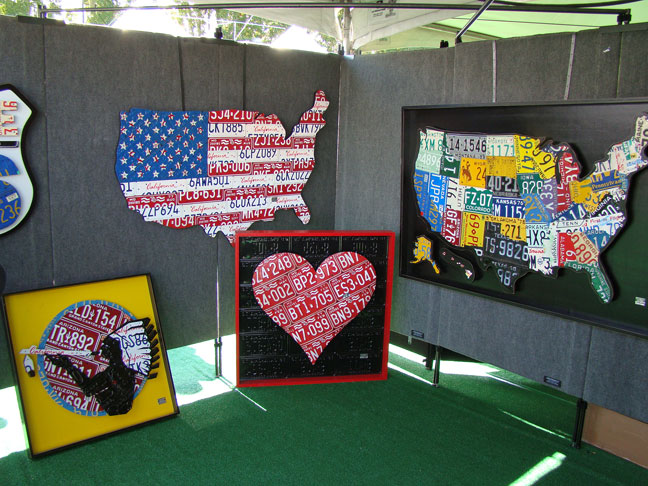 Cut collaged license plate art by Aaron Foster.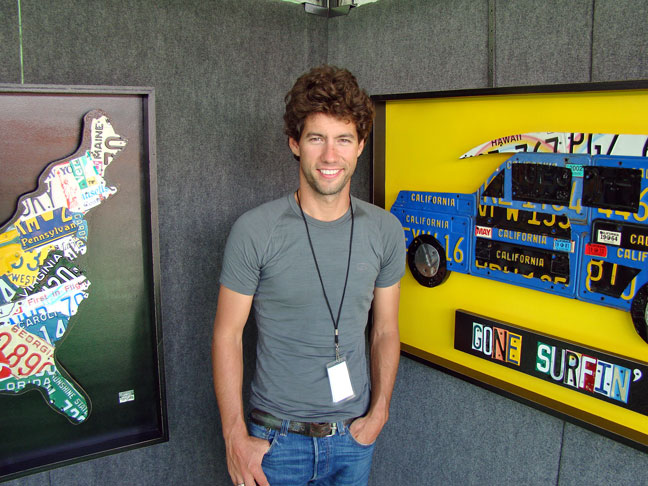 License plate artist Aaron Foster.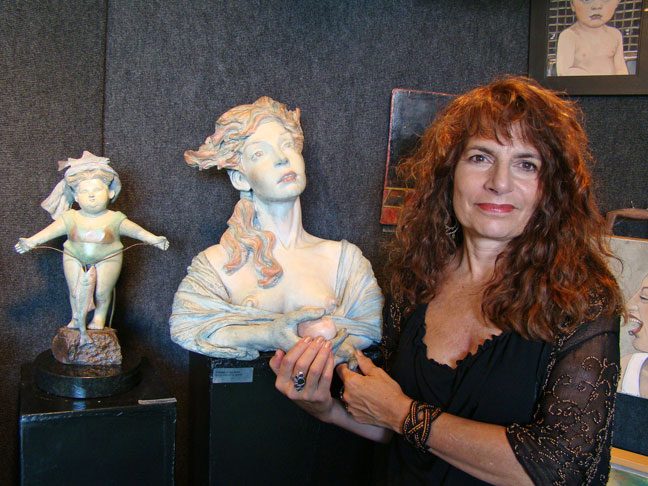 The one and only bronze goddess, Claudia Cohen.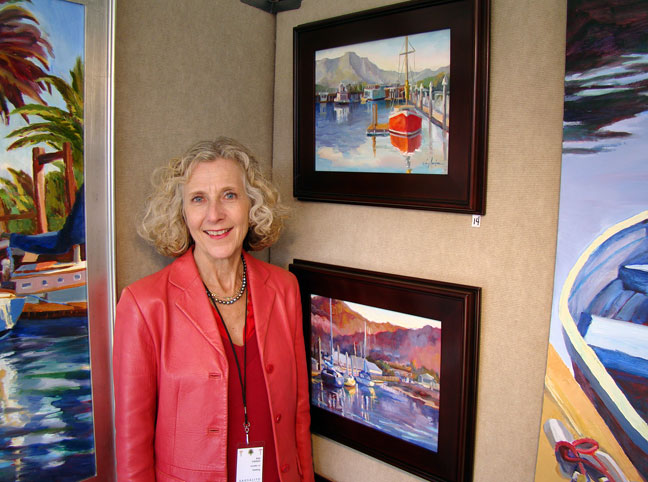 Kay Carlson and her art at the Sausalito Art Festival.


Gabor Koranyi and his art.


Master woodworker Kerry Vesper.


Scott Schoenherr and his ceramic automobile art.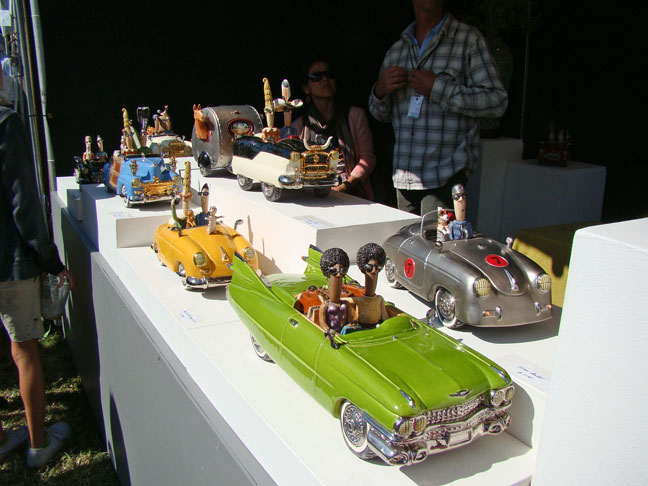 Ceramic automobile art by Scott & Naomi Schoenherr.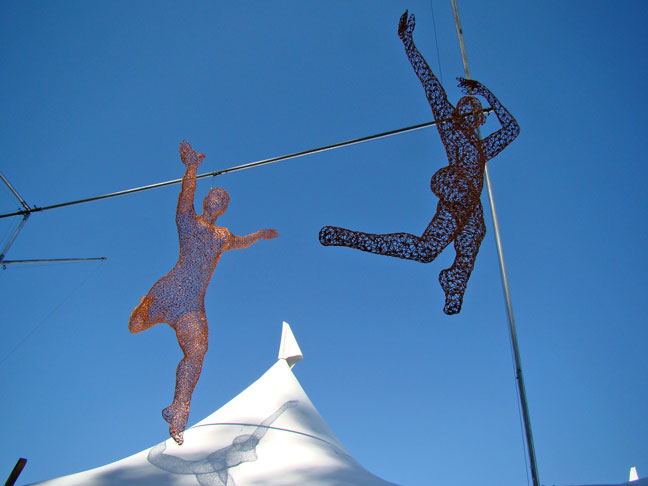 Elaborate bent wire art by Michael Gard.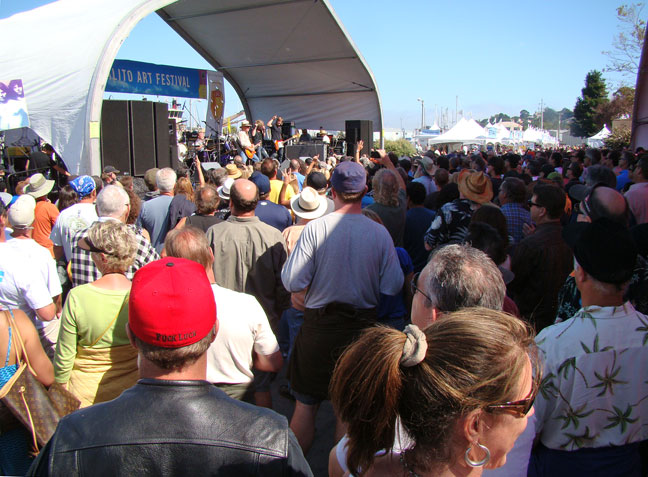 Quick music break at the Sausalito Art Festival.


Montrose rockin' out-- they were good.


Opening night party on the Hornblower yacht, San Francisco Spirit.


Hobnobbing with the nobs out on the deck.


Pate surplus (now who in Marin County eats pate anymore?).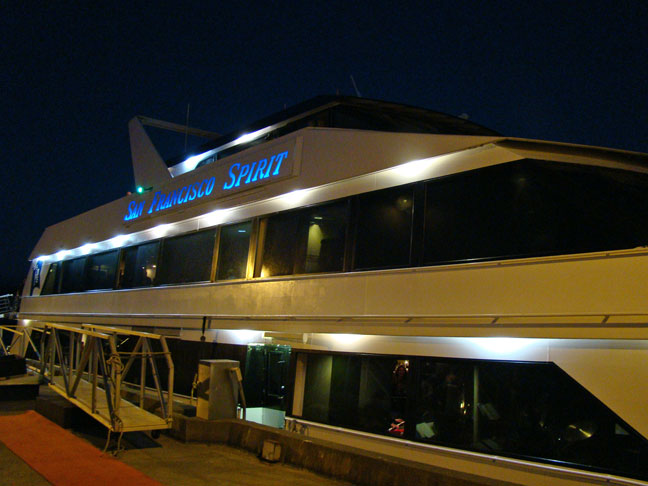 One more from the San Francisco Spirit before heading home.


***