Artists: Barry Baldwin, James Redo, Jung Ran Bae, Rick Mariani.
Comment by AB: A pu pu platter of erectilic delights features tasteful nude photography by Rick Mariani, an installation by Jung Ran Bae, kicky white sculptural nudes by Barry Baldwin, and paintings by James Redo.
Installation by Jung Ran Bae.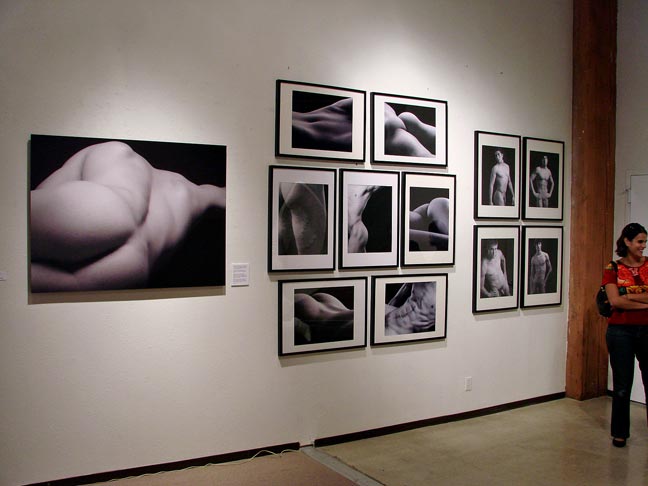 Photography by Rick Mariani.


Sculpture by Barry Baldwin.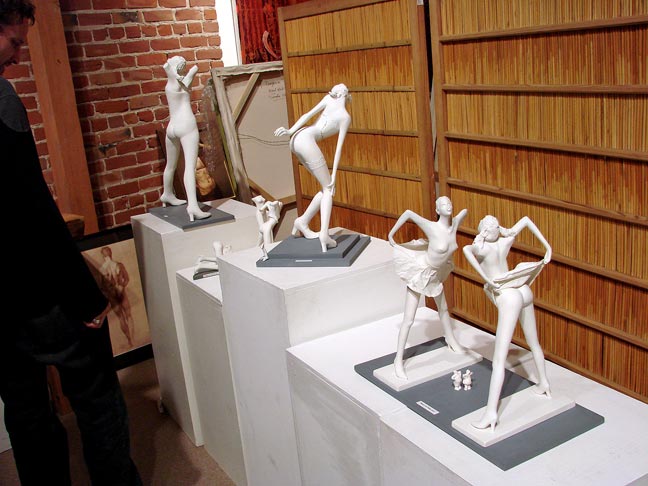 Sculpture by Barry Baldwin.


Painting by James Redo.


***
Caldwell Snyder Gallery: Peregrine Heathcote - Great Expectations.
Comment by AB: The show's titled Great Expectations, but it's actually more like Great Gatsby. Peregrine Heathcote's wistful paintings blend vintage essence with contemporary flair, depicting dreamy leisure lingerings of the beautiful people, mainly themed on travel.
Paintings by Peregrine Heathcote.


Art.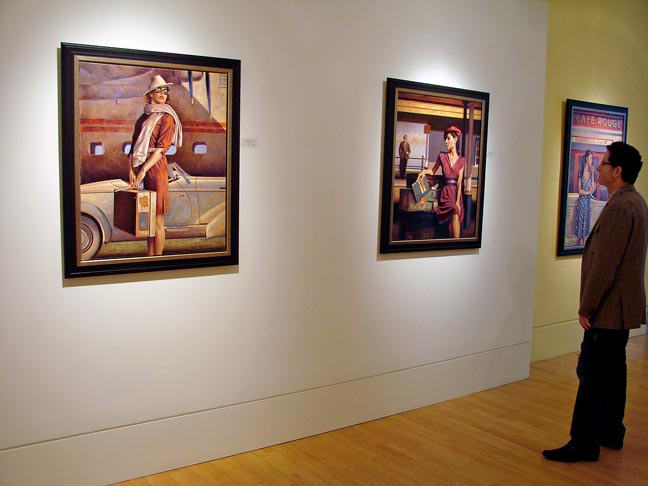 Art.


Sharon Booma abstracts (she opens Sept. 27 at the St. Helena location).


***
Super 7: Clam - New Works.
Comment by AB: Wiggy upbeat creature-esque art by San Francisco artist Clam Lynch aka Clam.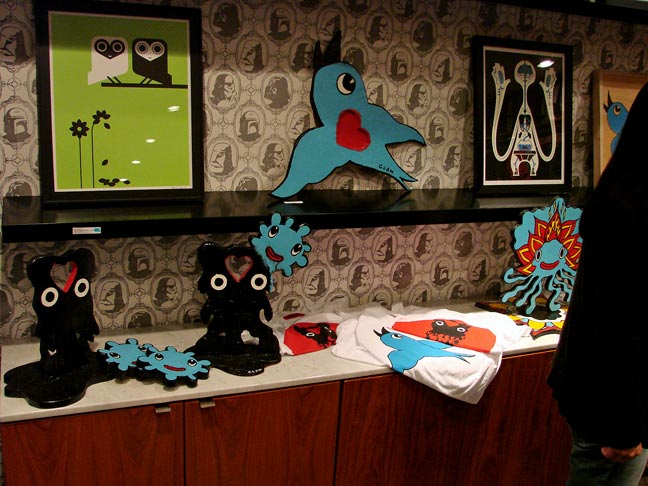 Clam Lynch art.


Art.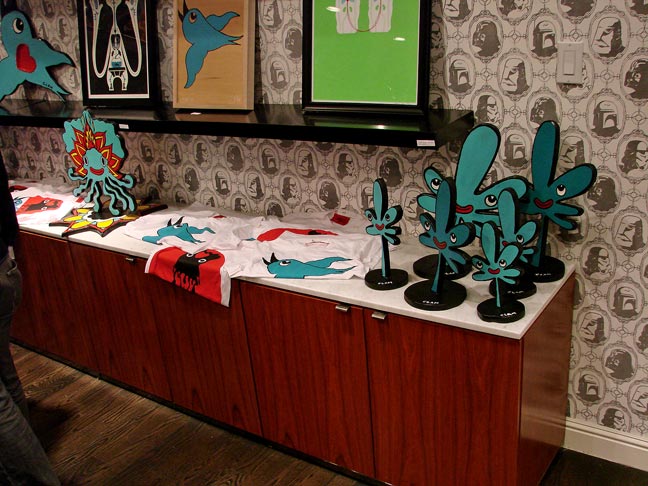 Art.


Art.


***
Root Division: Introductions 2008 - A Baker's Dozen of Bay Area Emerging Artists.
Artists: Joshua Aaron, Mel Davis, Shayla Dopp, Kelly Falzone, Bradley Hyppa, Claire Jackel, Ryan Jones, Dori Latman, Vanessa Marsh, Carson Murdach, Michael Namkung, John Stewart, Ethan Worden.
Comment by AB: Painting, drawing, photography, prints, sculpture, video, and film by thirteen emerging Bay Area artists features some pretty tasty fare. Highlights include a slick mixed media head and upper torso of a bear by John Stewart which appears to be made from cut pieces of photographs nailed onto a sculptured form, nimble folded paper works by Claire Jackel, and two takes on salvaged wood-- small meticulously painted wood scraps by Mel Davis, and a larger work consisting of rough planks nailed together and then united by a sumptuous frosting-like stripe of off-white paint by Ryan Jones. Gallery fodder here.
Art (that's Kal Spelletich doing the looking).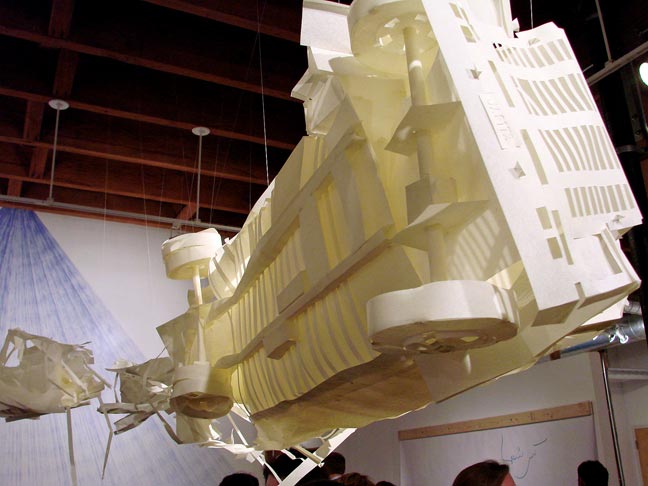 Folded paper bus wreck art (Claire Jackel - like it).


Art.


Painted scrap wood art (Mel Davis - like it).


Art.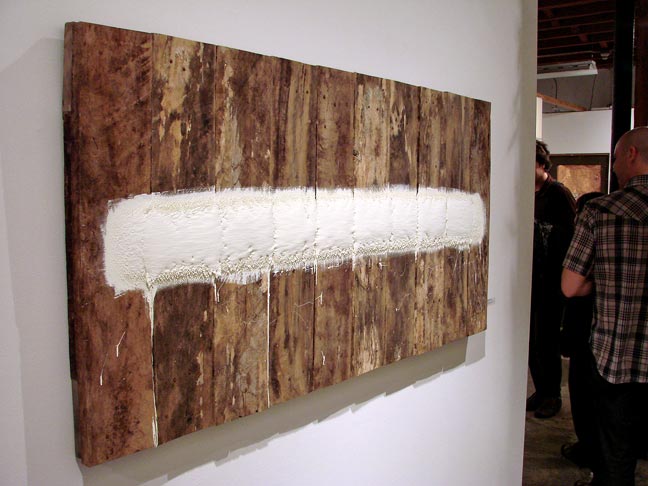 Painted nailed salvaged wood art (Ryan Jones - like it).


Things you can do with a chalk line art.


Video art.


Mixed media bear sculpture (John Stewart - like it).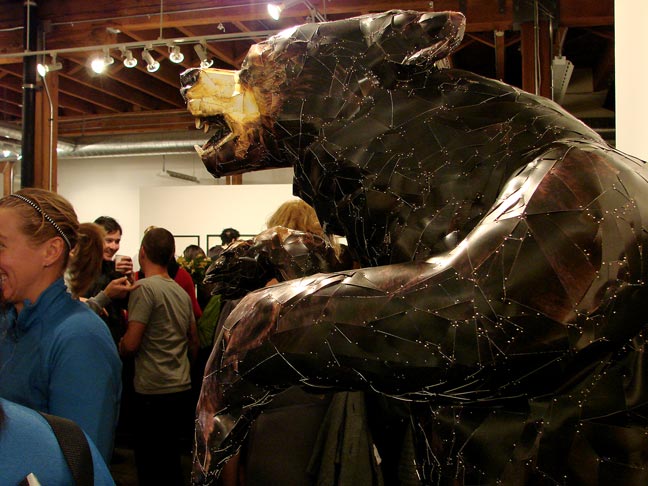 John Stewart bear sculpture closer.


Art.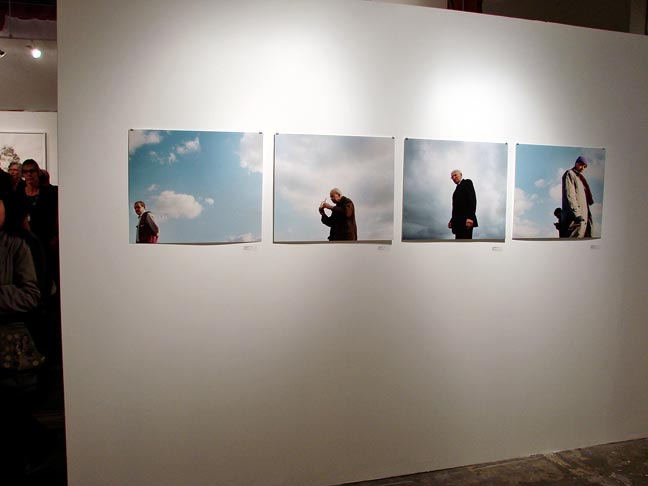 Art.


Art.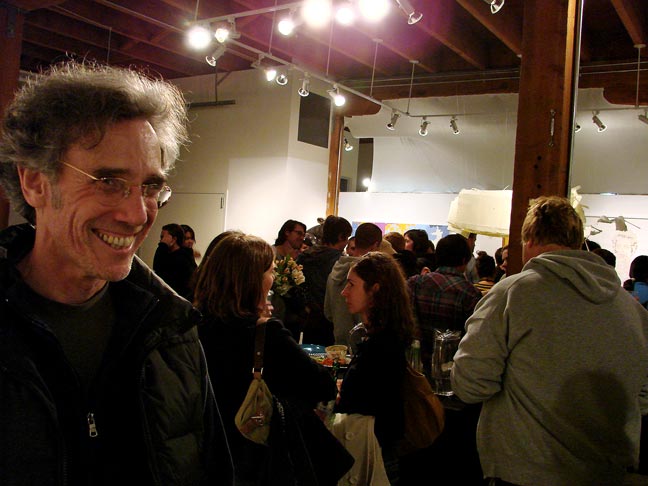 Me + ambiance (photo c/o Kal Spelletich).


***