[2ND FLOOR PROJECTS] - HIJINKS - FIVEPOINTS

MODERN EDEN - ARTZONE 461 - SF CENTER FOR THE BOOK

09.18-19.10

(with assistance from DeWitt Cheng and RWM)


***
[2nd floor projects]: Bruno Fazzolari - The Lost Paintings; Kevin Killian - Limited Edition Writing.
Comment by AB: Bruno Fazzolari rediscovers fifteen forgotten older paintings from his distant past, dating from circa 2001-2004, and so throws himself an unexpected retrospective.
Art by Bruno Fazzolari.


Art by Bruno Fazzolari.


Bruno Fazzolari and his art.


Bruno Fazzolari accents the deal with a meat-esque sculpture.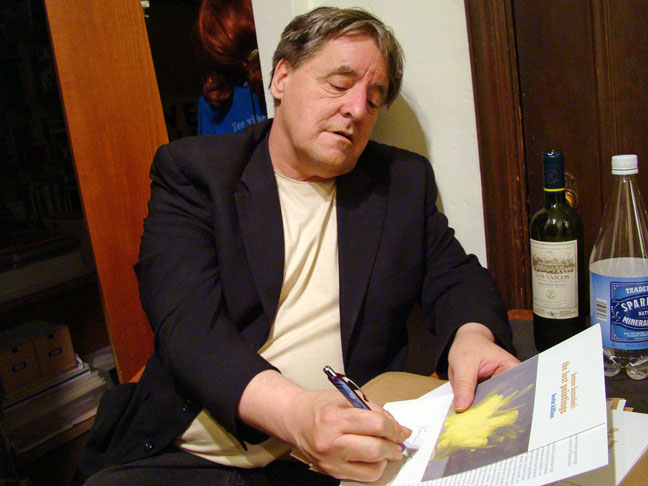 Writer Kevin Killian endorses his discourse in the anteroom.


Statistical sampling.


***
Gallery Hijinks: Highly Contagious.
Artists: Chris Blackstock, Peter Gronquist, Robert Minervini, Sebastian Wahl, Langdon Graves, Andrea Wan, Catherine Ryan, Jen Mann.
Comment by AB: A motley mix on the docket for this sprightly group show.
Art.


Art.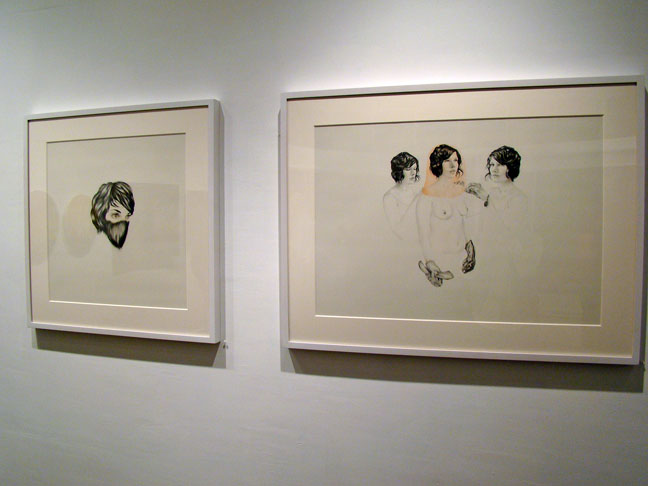 Art.


Could be an interesting story behind this one...


Art.


Atypical window installation at Gallery Hijinks.


***
Fivepoints Arthouse: Obi Kaufmann - New Paintings.
Review by RWM: Enter here the dark shamanic imagination of Obi Kaufmann who responds to the challenges of reality. Many of the images are bathed in their own candlelight. You cannot help but be impressed by the unusual use of the space. Here one will find injury, but also a connection with the tormentors. Magic is clearly unleashed as The Halloween season is upon us.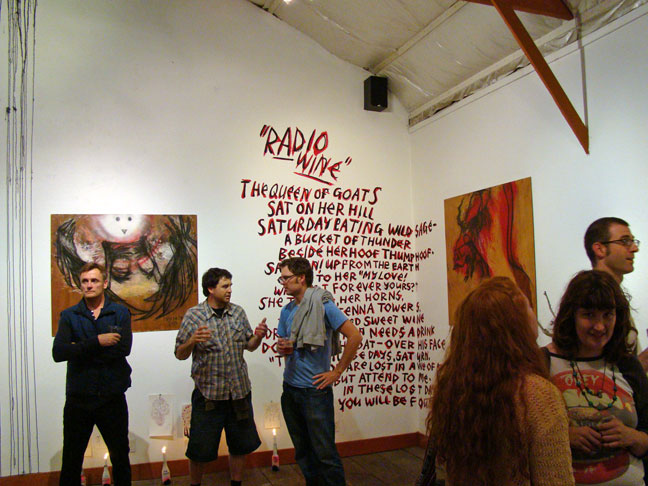 Obi Kaufmann art & installation (lights on).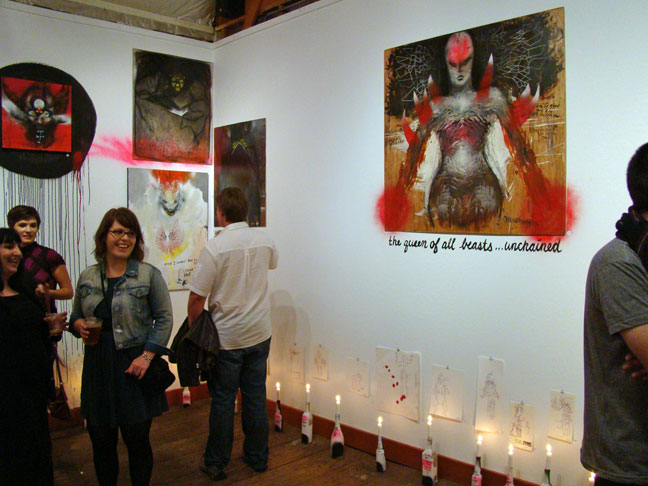 Obi Kaufmann art & installation (lights on).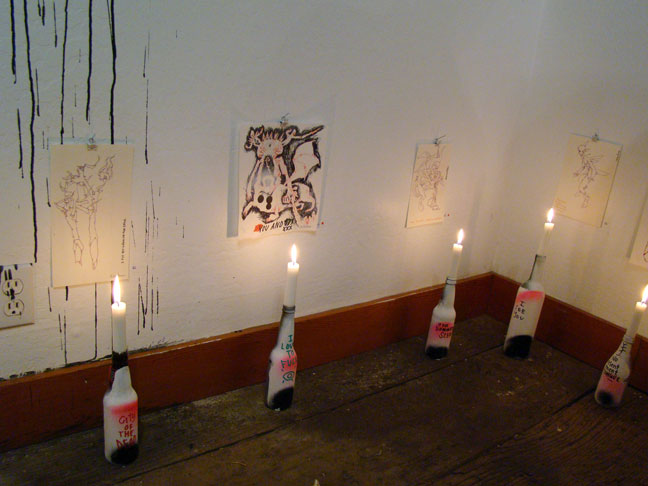 Obi Kaufmann art & installation (lights on).


Obi Kaufmann art & installation (lights on).


Obi Kaufmann art & installation (lights off, as intended to be seen).


***
ArtZone 461 Gallery: Aqua - Art On Water.
Artists: Jhina Alvarado, Anne Appleby, Agelio Batle, Randy Beckelheimer, Gary Brewer, Christopher Brown, Theophilus Brown, Gordon Cook, Nicholas Coley, Susan Danis, Charles G. Farr, Jane Fisher, Keith Gaspari, Dennis Hare, Noah Levin, Cedric Marshall, Heidi McDowell, Gage Opdenbrouw, Ryan Reynolds, Mary Robertson, Louis Siegriest, Lundy Siegriest, James Weeks, William Wolff, Paul Wonner.
Review by RWM, images c/o ArtZone 461: The variety of approaches to capturing water here leaves one with the impression that so many perspective are possible, one cannot help but define their personal experience and sensation. Water moves us in so many ways. As a resource, we are codependent.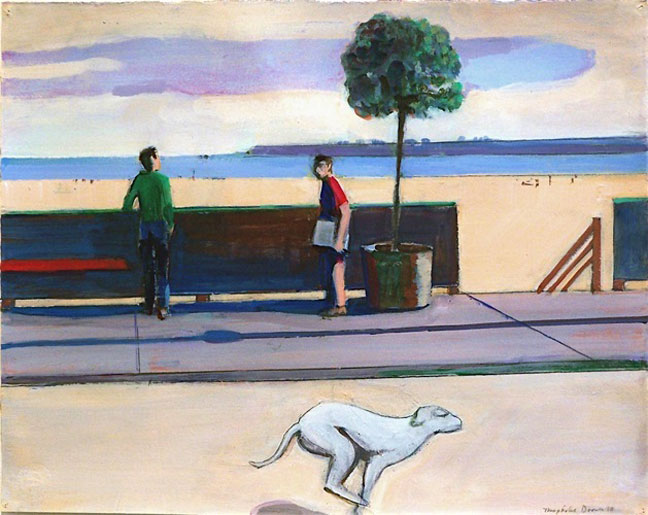 Art by Theophilus Brown.


Christopher Brown art.


***
San Francisco Center for the Book: Roadworks Steamroller Prints Street Fair
Review and images by DeWitt Cheng: This event, now in its seventh year, demystifies relief printmaking (as if the potato print needed that much conceptual elaboration! Instead of using a press to print linoleum block prints, SF Center for the Book volunteers use a 42" asphalt steamroller-- fun for gearheads and rollerheads alike. Large and small prints are steamrolled in alternation, then hung on a fence for display. Other attractions to the one-block street fair: art and publishing vendors of various types, song and dance, and an exhibition of contemporary Mexican loteria cards at the adjacent San Francisco Center for the Book gallery and workshop.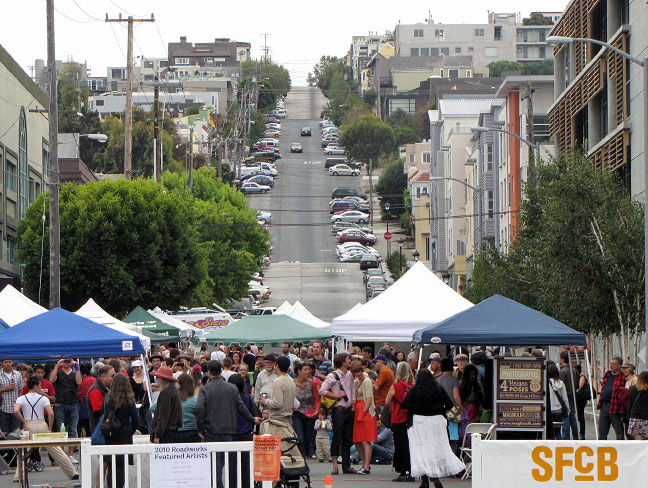 Here we are - SF Center for the Book Steamroller Print Fair.


Metal type for sale; simply add (or borrow) press and paper.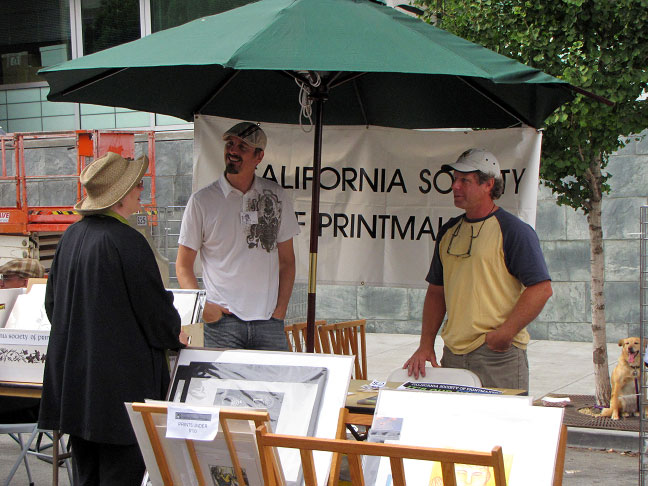 California Society of Printmakers booth.


Dampened paper placed on small inked blocks; blankets & shag carpeting follow.


Pedal-to-metal time; printmaking with a steamroller.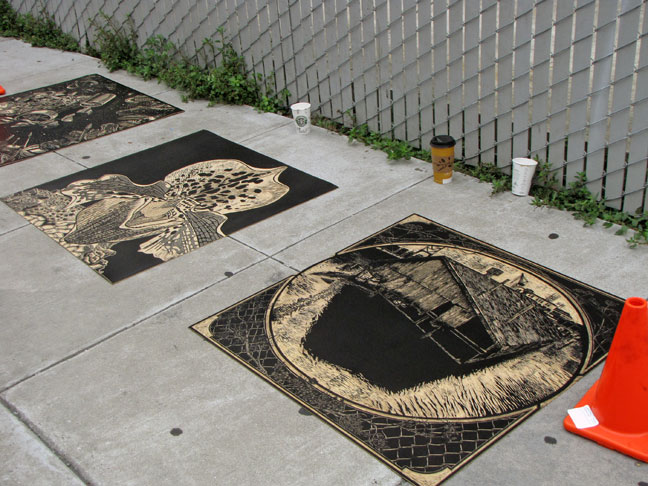 Large inked linoleum plates by Rik Olson, Gary Brewer, Sarah Newton.


Print freshly printed from block by Gary Brewer in above image.


Small prints for sale along the fence.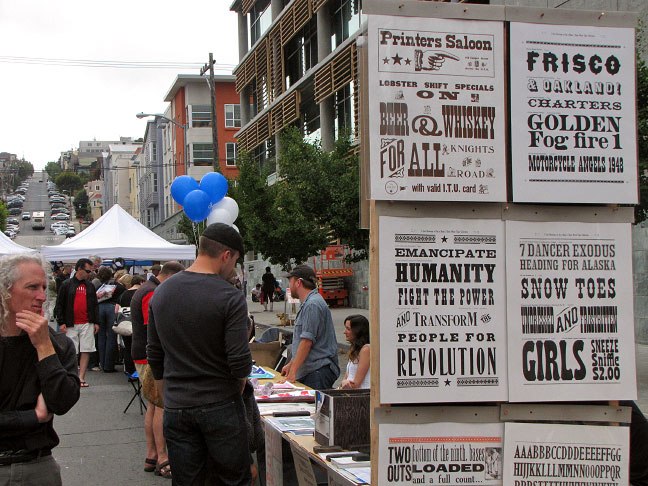 Prints, broadsides, etc. for sale.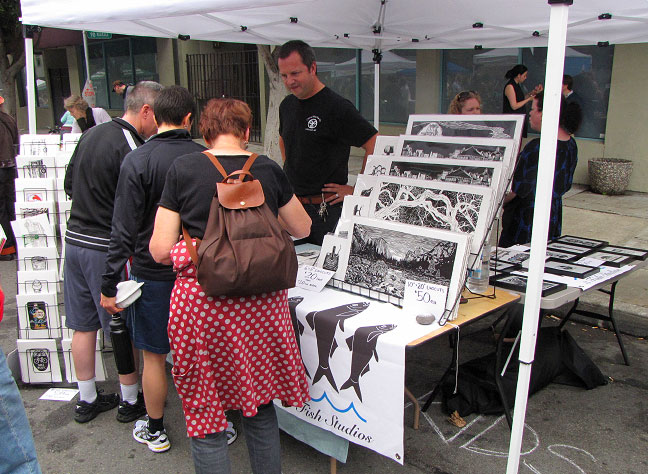 Yet more prints for sale.


***
Addendum: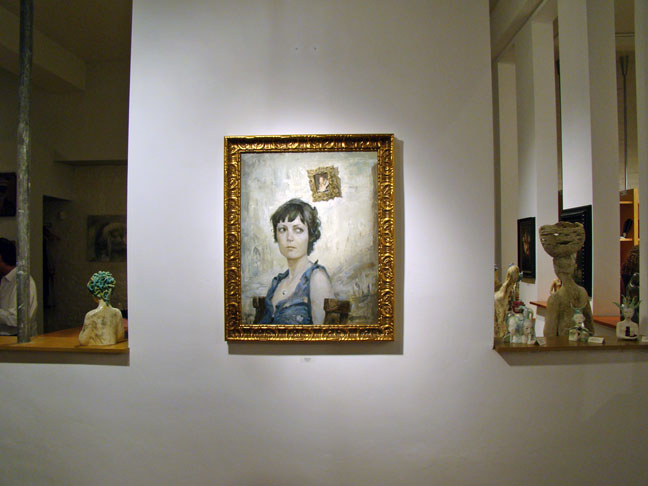 Art by Michael Ryan at Modern Eden Gallery.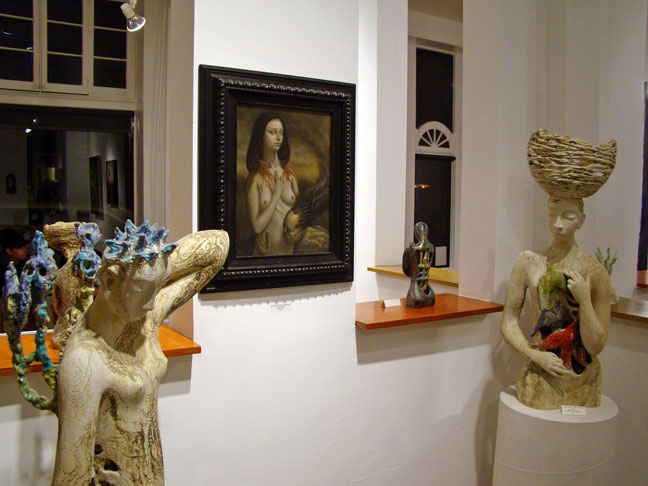 Michael Ryan art & Natasha Dikareva ceramics at Modern Eden Gallery.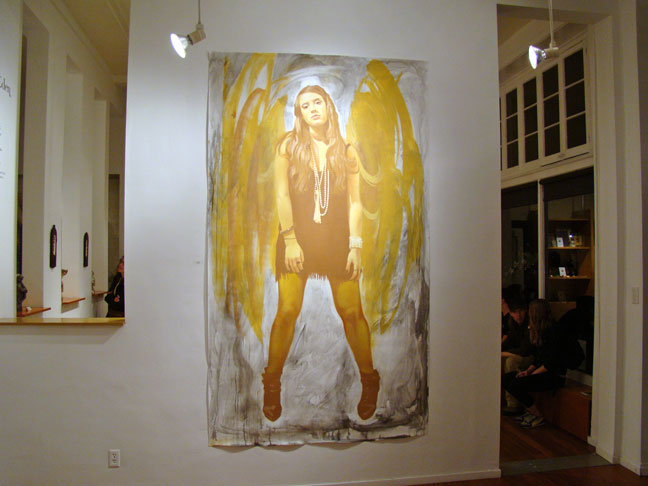 Art by Billy Davis at Modern Eden Gallery.


***