***
FOR-SITE Foundation in partnership with the National Park Service and the Golden Gate National Parks Conservancy: @Large - Ai Weiwei on Alcatraz.
Comment by AB: What's the ideal place to have an exhibition about human rights, political dissidents, and imprisoning those who actively express beliefs that may be at odds with prevailing ways of thinking or governing? The notorious former federal penitentiary Alcatraz, of course. Here, Ai Weiwei creates seven installations intended to affirm that we are all entitled to fundamental human rights, but at the same time he makes perfectly clear that "Every one of us is a potential convict" if we think a little too freely for those in charge to be comfortable with.
The centerpiece of the affair is an installation called Trace, comprising 175 portraits of individuals from around the world who have been either jailed or exiled for going public with their thoughts, philosophies or ideas, the artwork constructed of 1.2 million LEGO bricks and displayed across an expansive concrete floor. Also of note are With Wind, an impressive meandering dragon kite with a huge tail, occasional sections of which are emblazoned with quotes from famous political activists including Ai Weiwei himself, and Refraction, an impressive sculptural assemblage in the form of a bird wing, symbolically trapped in a prison setting, unable to fly free.
Perhaps the piece that drives the show's point home most directly and in a deep personal way are two sets of display shelves containing a variety of postcards, each card pre-addressed to a specific political prisoner from a certain part of the world. Viewers are encouraged to write to these people and drop their cards into bins. They'll then be mailed directly to the addressees.
The exhibition is on view at four different locations on the island, several of which are normally off limits to visitors, and will run through April 26, 2015. No matter who you are, freedom can be fleeting. This exhibition is an undeniable reminder of that.
Just arrived on Alcatraz, signage for the press preview - Ai Weiwei @Large.


Your basic members of the press assembling for the journey.


On the way up to the first installation Ai Weiwei on Alcatraz.


Introductory remarks on the history of the exhibition and the venue.


Remarks from Greg Moore, CEO of Golden Gate National Parks Conservancy.


Intro to the show by FOR-SITE's Cheryl Haines at the start of the preview.


Entrance to the first installation building - kite art by Ai Weiwei.


Designs of stylized birds and flowers reference the Alcatraz habitat.


Political messages are interspersed along the kite's tail - art by Ai Weiwei.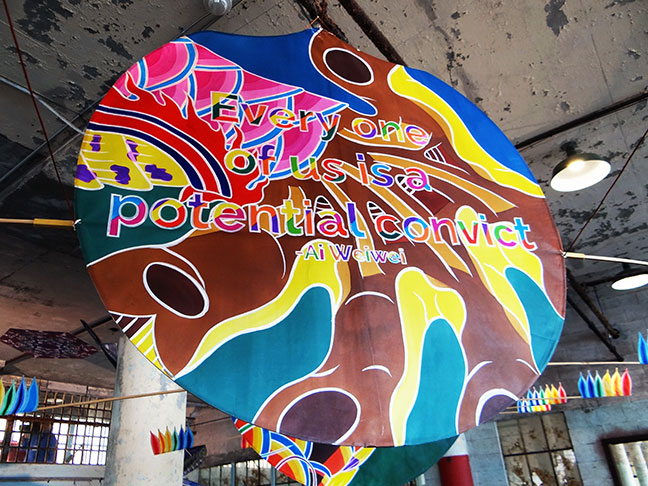 Kite tail quotation by Ai Weiwei @Large on Alcatraz.


Chinese kite art & installation by Ai Weiwei.


1.2 million LEGO installation of exiles and political prisoners by Ai Weiwei.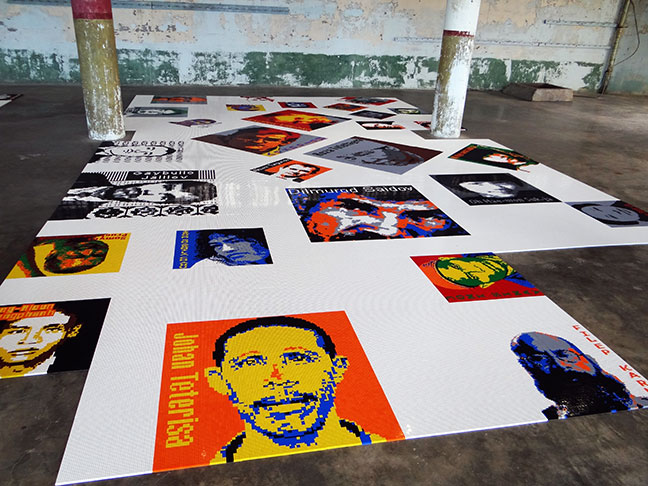 LEGO installation in above image closer.


Art in above image pinkie-cam close.


LEGO installation of international political prisoners and exiles by Ai Weiwei.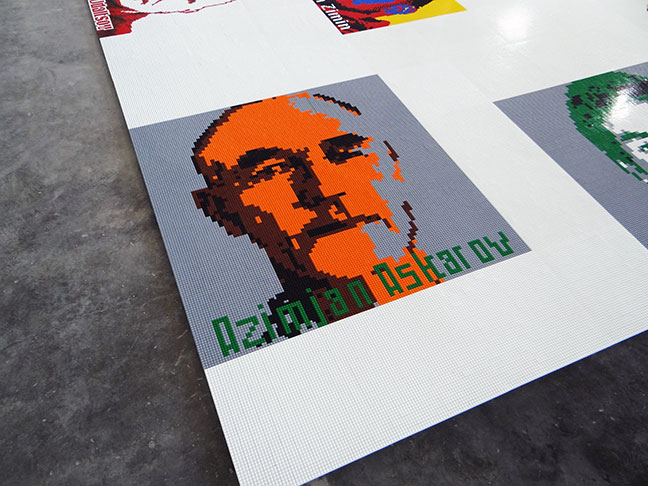 Ai Weiwei @Large on Alcatraz.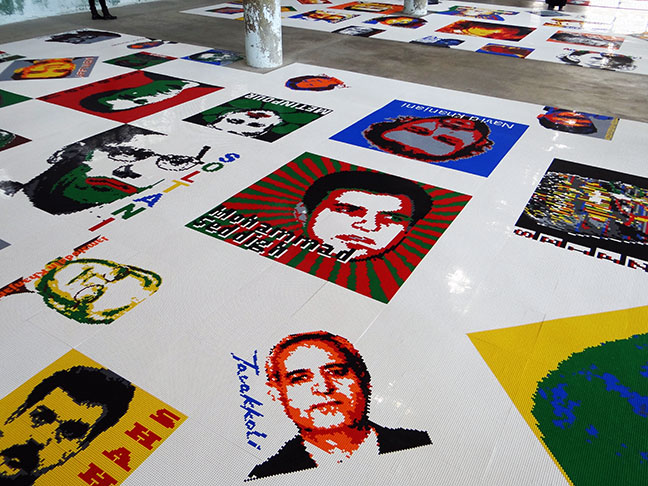 Ai Weiwei LEGO installation - portraits of political prisoners and exiles.


One more view of the Ai Weiwei @Large LEGO installation.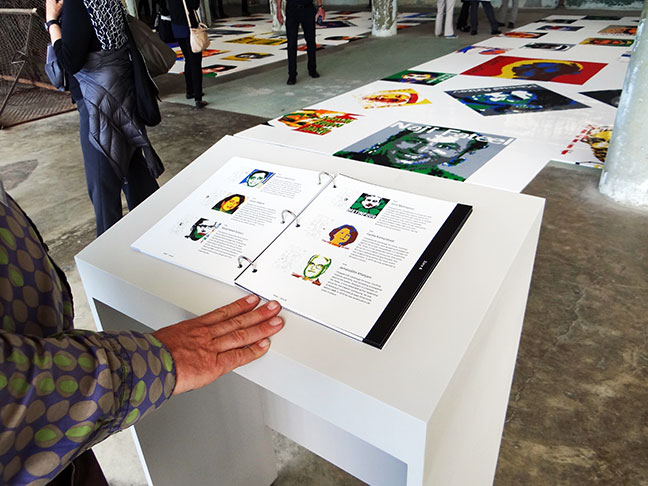 Brief bios of each person pictured in the LEGO installation - Ai Weiwei @Large.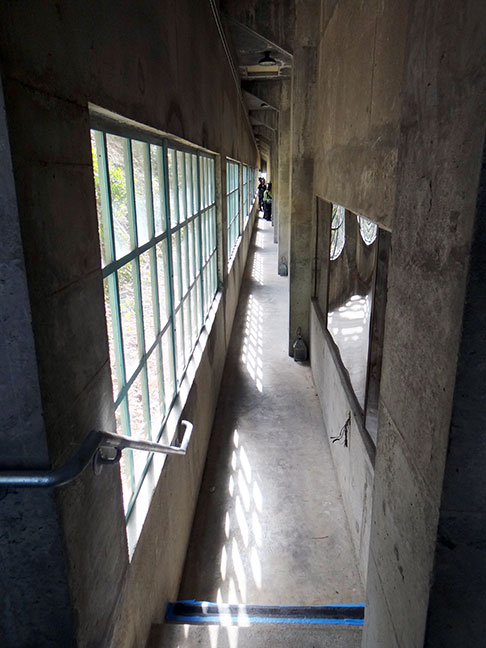 Next we head down a walkway that guards used to oversee the prisoners.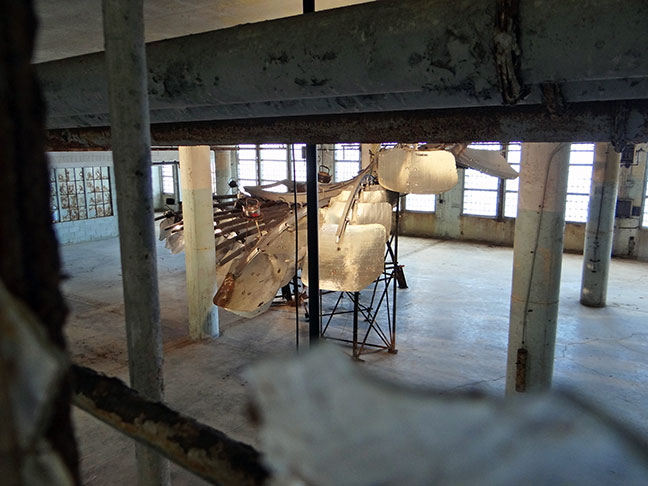 Wing installation viewable only from the walkway through small broken windows.


One more view of the 5-ton "imprisoned" wing sculpture by Ai Weiwei @Large.


Now on to the main Alcatraz prison building.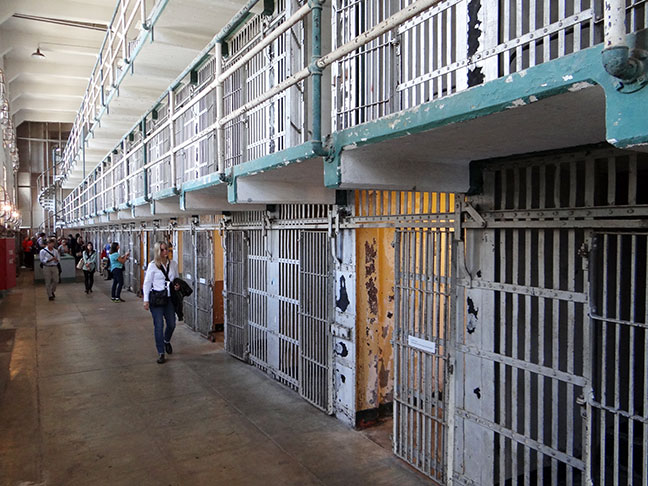 First stop is "Stay Tuned" - 12 cells each play different poetry, music and spoken words by people who have been imprisoned for expressing their beliefs.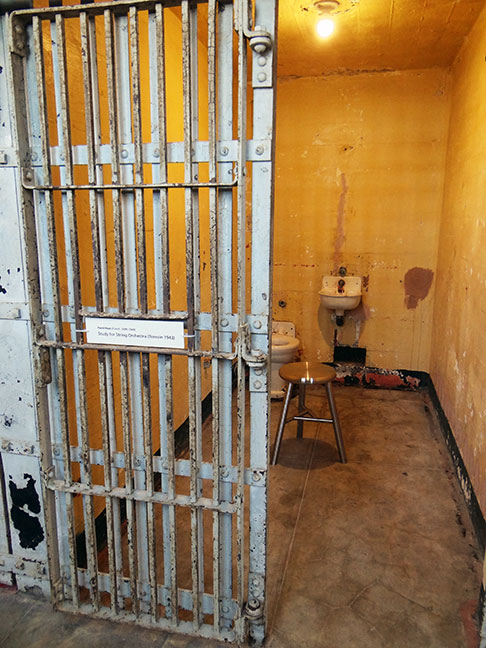 Sound pieces are identified on cell doors & play from the vents at the rear.


Sound installation labelling on cell door.


Sound installation labelling on cell door.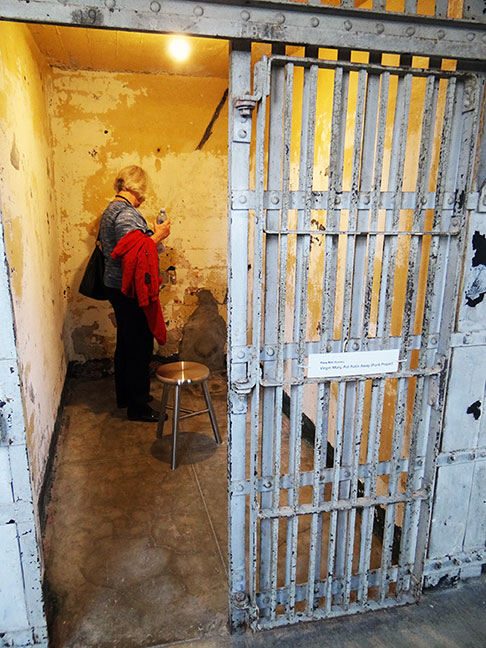 The last cell plays music by Pussy Riot.


Pussy Riot sound installation labelling.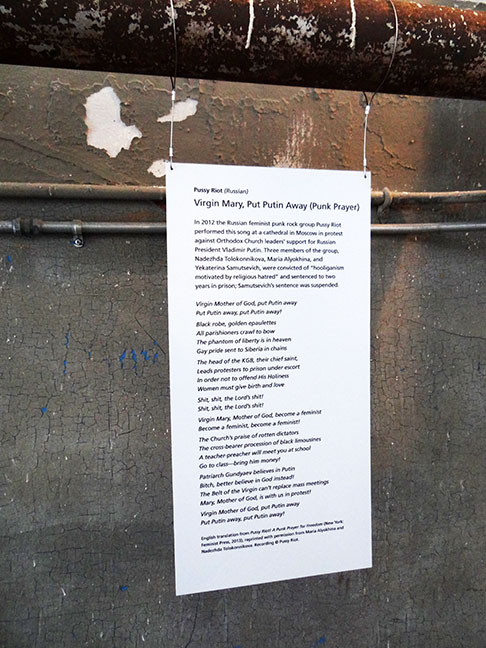 The words to each sound piece are on the wall opposite the cell.


Next is a 2-cell sound installation. Playing in one cell is a Hopi Eagle Dance chant from 1964. Playing in the other is a Buddhist ceremony chanted by monks from a monastery in India.


Entrance to Blossom, an installation of small porcelain flowers commemorating China's Hundred Flowers Campaign of 1956 where citizens were allowed a brief period of tolerance and expression followed by a severe crackdown on all forms of dissent.


Blossom installation by Ai Weiwei for @Large on Alcatraz.


Porcelain blossoms in above image pinkie-cam close.


One more image of Blossom installation by Ai Weiwei for @Large.


Not sure what this room was used for, but I don't think I wanna know.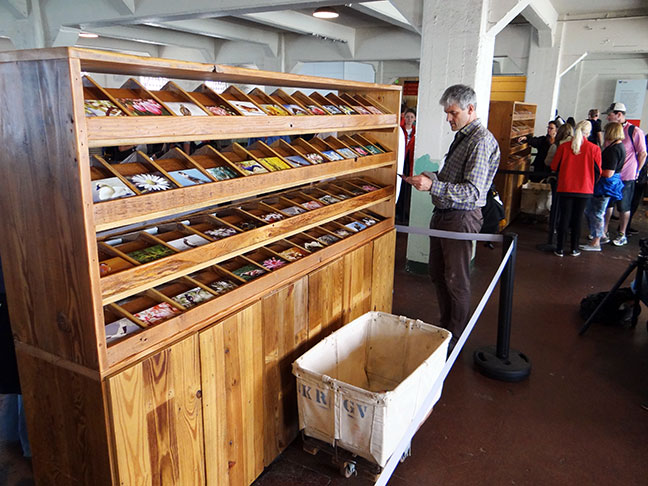 Postcard installation - visitors can write postcards to political prisoners.


Postcards and pens are provided for visitors.


Postcard from the front - art by Ai Weiwei for @Large.


Postcard from the back.


Postcard from the front.


Postcard from the back.


Write your postcard and deposit it here.


Finished postcards, ready to be stamped and mailed to political prisoners.


***