***
Recology Artist in Residence Exhibitions: Samuel Levi Jones - Disposing Histories; Jeremy Rourke - Lyrics on the Paper; Shushan Tesfuzigta - Come Sit with Me.
Comment by AB: In the front gallery, Samuel Levi Jones guts old encyclopedia and medical reference books and then collages their covers into abstract grids, supposedly questioning "the veracity of the written word and the reverence we place on it." Fair enough. In the center of the floor, he appears to have pulverized book pages, added adhesive and used the substance to cement together a number of the page blocks he's separated from their covers. To top it all off, he disassembles sports balls along their seams and collages the individual sections onto panels, insides of the sections facing out.
In the rear gallery, Jeremy Rourke cuts and collages vintage and contemporary images into somewhat surreal adventures. He also repeatedly photographs certain images and transforms the results into videos. In the annex, Shushan Tesfuzigta weaves discarded materials into functional objects.
Book cover collage art by Samuel Levi Jones at Recology.


Samuel Levi Jones book cover art.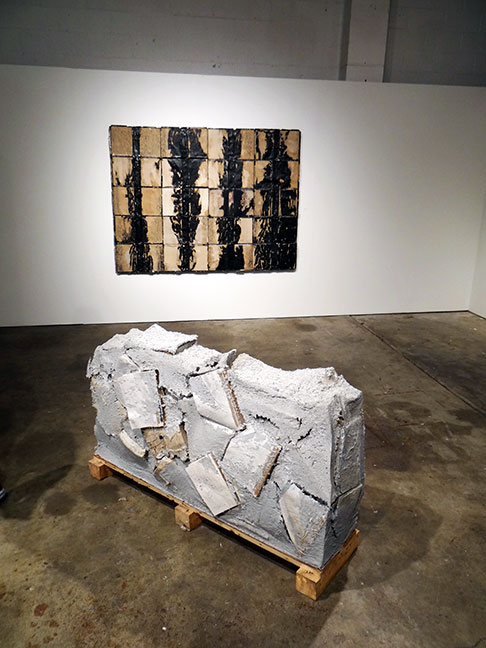 Book page sculpture by Samuel Levi Jones.


Sports ball collage by Samuel Levi Jones.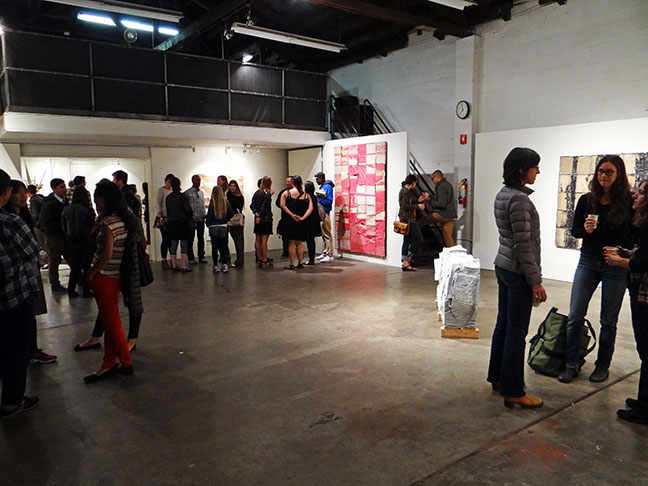 Ambiance - Samuel Levi Jones art show at Recology.


Found photograph and illustration collage by Jeremy Rourke.


Collage art in above image closer.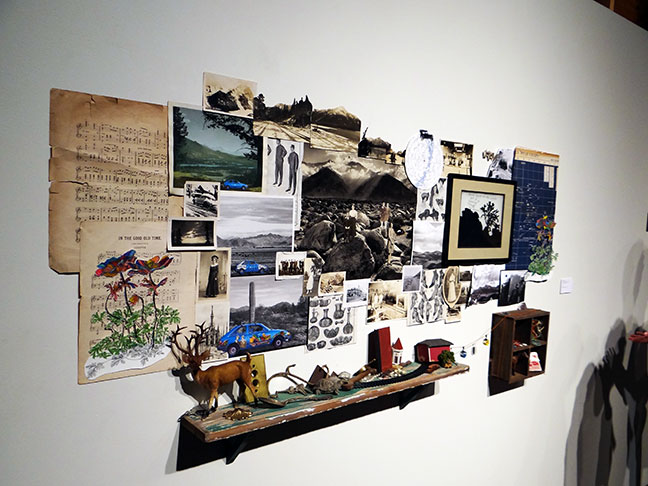 Found object installation by Jeremy Rourke.


Photograph and video installation by Jeremy Rourke.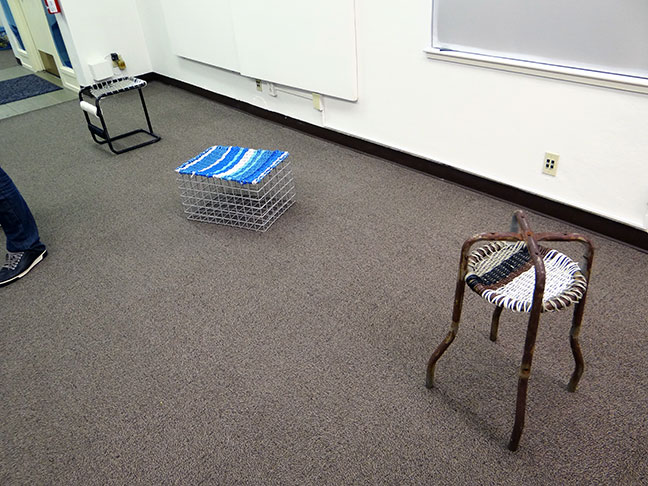 Functional weavings by Shushan Tesfuzigta.


***
Artbeats: Art and Performance Spectacle at Pier 70 Building.
Exhibitors: Adobe Books Backroom Gallery, Lequivive Gallery, Loakal Gallery, Luna Rienne Gallery, Zero Friends, Gauntlet Gallery, Modern Eden, Faultline Artspace, Frank Callozzo and Friends, Lauren Napolitano, Bunnie Riess, Leighton Kelly, Amie Spitler, Three Artists, Noonan Building artists, ArtSpan, Rock Paper Scissors Collective, more.
Comment by AB: This weekend art event kicks off with an exhibition followed by a late night party. Galleries, artists, musicians and performers all take part in the entertainment. It's kinda like a night club and urban art fair combined. Not sure when the next one of these is planned, but I definitely recommend it. Fun time; loads of art.
Here we are. Artbeats at Pier 70.


These are large enough to crawl into - Artbeats at Pier 70.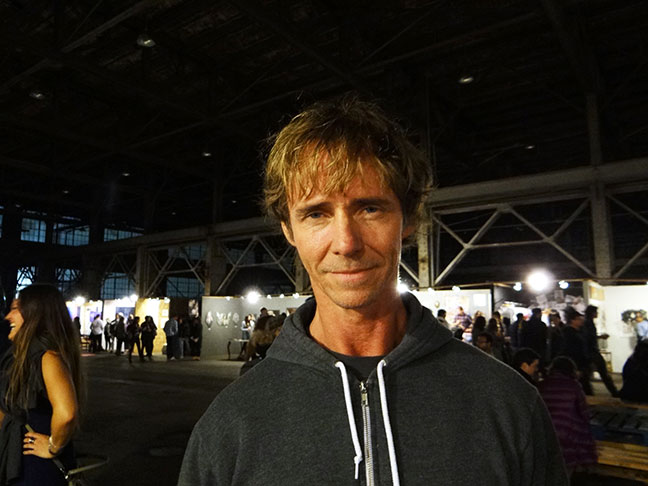 Artbeats co-founder Jeff Whitmore.


Live painting out front.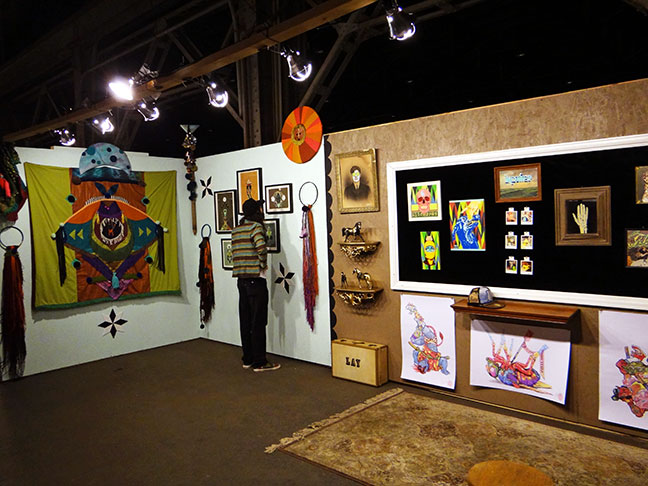 Art & installation.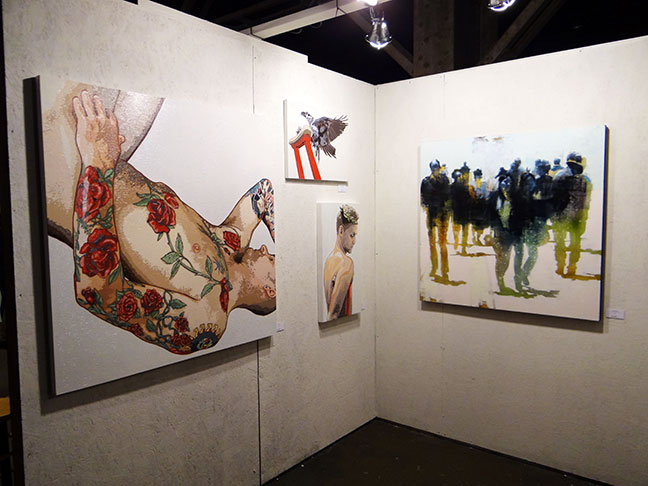 L-R, art by Terry Furry & John Wentz.


Plenty to choose from at Gauntlet Gallery.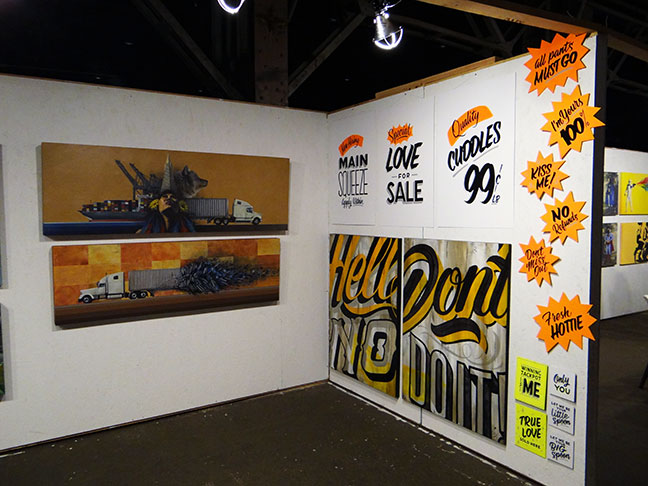 Art at Artbeats, Pier 70.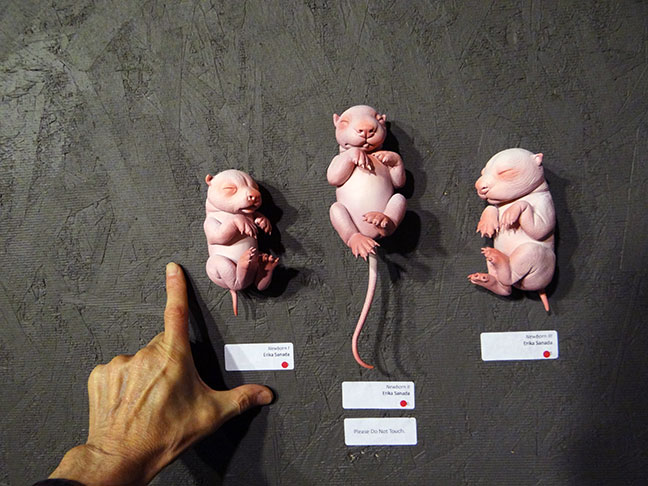 Erika Sanada art at Modern Eden Gallery.


Raphael Villet art at Adobe Books Backroom Gallery.


Painted wood rail car art by Jesus Rodriguez (like it).


All kinds of art - Artbeats San Francisco.


Playing field - Artbeats art fair at Pier 70, San Francisco.


***
Addendum:
All entries accepted at Dickerman Prints non-juried show.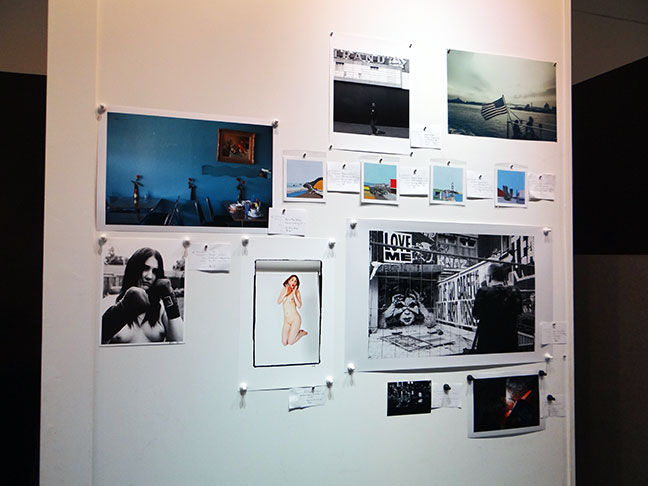 Group photography show at Dickerman Prints.


One more from group photo show at Dickerman Prints.


***