***
Stephen Wirtz Gallery: Laurie Reid - Paintings; Kathryn Spence - Winds Ground Hollow.
Review by Maria Medua: Go all by yourself to see Laurie Reid's show at Stephen Wirtz; these small-scale paintings should be taken in without any distractions. The silence is necessary for there are a lot of conversations going on.
A number of interesting dialogs take place with Reid's predecessors from 20th Century painting. At times Reid's work, like lighthearted banter among old friends, tries to tease out what we think painting is supposed to be. She begins by carefully considering how she will or will not employ painting's most basic materials such as stretcher bars (a wooden frame that holds the canvas or linen in place), types of paint, and the ground (base layer of gesso applied to the canvas).
Her strategies draw attention to the parts of a painting that the viewer generally takes for granted. We expect the canvas or linen to be wrapped around the support. The support (stretched canvas) is supposed to be sealed ground so that the coarse fabric texture is concealed. Oil or acrylic paint is used on canvas or linen. Instead, Reid uses watercolor on raw linen, with corners left untucked, and, in one case, a support that is purposefully buckling.
Each painting is titled by a number. In "XV" she uses acrylic on unprimed linen creating loose, intersecting lines in red, blue and a silver-grey. If there is someone from art history lurking here it could be Mondrian. However, it is just as likely that the painting accidently conjures up a body from Gray's Anatomy with its venous strokes in colors typical of an illustration of the circulatory system. After all, there is formal dissection going on throughout much of the work.
In "X" oil and acrylic gesso (ground) are applied to a portion of the support. Reid fills space with a white, mottled surface and then halts at three of the paintings four edges. "X" reinitiates the discussion begun by Robert Ryman who made minimal white paintings in 1960s. Several other works seem to take up the concerns of Franz Kline, Mark Rothko and Paul Klee. Ryman worked at a time when painters could make grand statements and be still be heard. Reid's work is quiet and curious; more interrogative than provocative, hers sounds like a grown-up conversation for the 21st century.
Kathryn Spence uses bundles of rags, plywood boxes, stuffed toy animals, string, cardboard, newspaper, magazine photos, beeswax, sand, mud, feathers, pins, pencils, wire, thread and Styrofoam to build up a long low sculpture that rises just a couple of feet off the floor, entitled Winds Ground Hollow. Just as the innovative artist Carl Andre used the floor in his work to create "a place" as opposed to an object, Spence offers to relocate us to somewhere in nature.
On the walls, Spence's works on paper hint that this place called nature might be getting harder to imagine. Large sheets of smooth paper provide ample negative space for the subject matter, in this case insects. In each work, a small magazine scrap-- usually depicting a butterfly-- is hinged to the paper creating a shadow. Spence softly lays down colored pencil in marks that alight on the page.
In a piece called Untitled (Tiger Swallowtail Question Mark) Spence uses a magazine scrap and a colored pencil drawing to create a deliberately unfinished image of a butterfly. It is as if the creature's form can't be recalled. The paper scraps are torn rather than cut and there are delicate yellow pencil marks at the lower portion of the work. Quite unlike the illustrations of the 17th Century naturalists like Maria Sibylla Merian, these works aim not at critical details in service of scientific discovery.
Spence's delicate handling of materials works creates a feeling of vulnerability. She chooses to keep the pictorial space void, bringing us face to face with the idea of emptiness and even loss. Wisely, she elects to use just the right visual elements to bring on solastalgia. Defined as a form of mental distress caused by the impact of environmental changes, solastalgia is a contemporary kind of longing and a very relevant subject matter for any artist to take on.
Art by Laurie Reid at Stephen Wirtz Gallery.


Laurie Reid art in above image closer.


Art by Laurie Reid at Stephen Wirtz Gallery.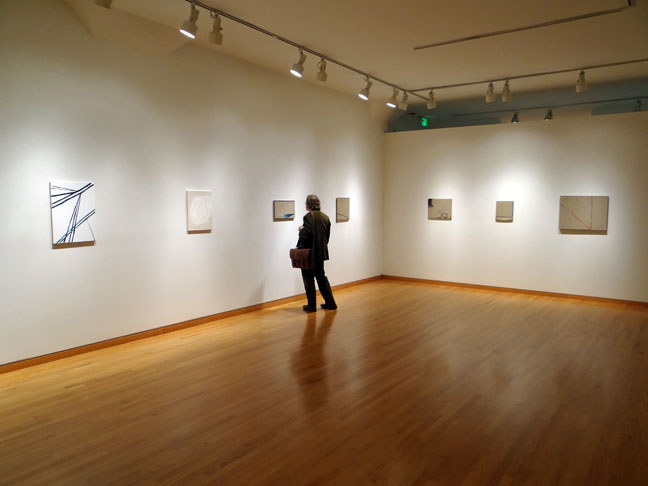 Laurie Reid art at Stephen Wirtz Gallery.


Art by Laurie Reid in above image closer.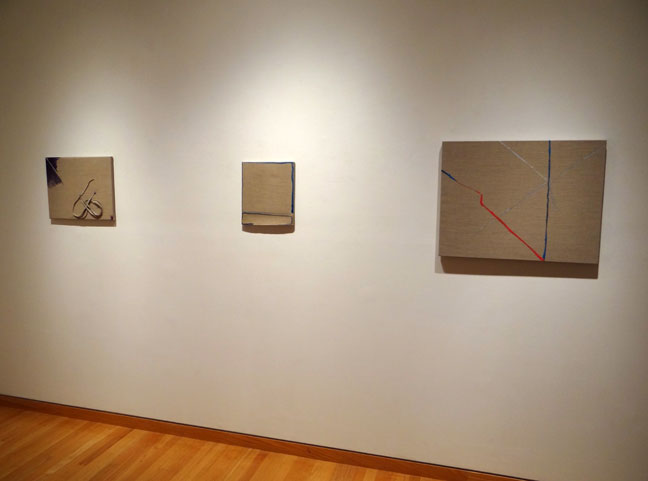 Laurie Reid art closer at Stephen Wirtz Gallery.


Sculpture/installation by Kathryn Spence at Stephen Wirtz Gallery.


Kathryn Spence art.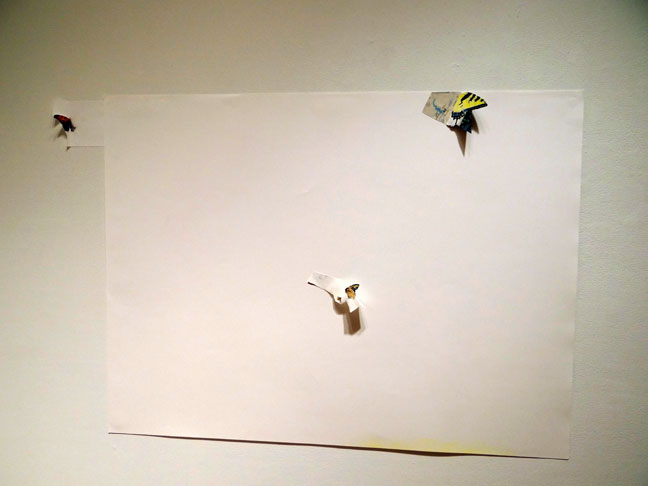 Kathryn Spence art in above image closer at Stephen Wirtz Gallery.


***
5 Claude Lane Gallery: Bombay Sapphire Artisan Series Finalists Exhibition.
Artists: Orlando Sanchez-Lugo, Daryll Peirce, John Waguespack, Richard Moquin, James Shefik, Robert Bowen, Nicole Hayden, William Rhodes, Marcia Stuermer, Charles Papillo, Paule Dubois, Susan Gregory, Stephen Giannetti, Leslie Morgan, Yannick Pigois, Simone Simon, Gerry Simpson, Emily Howe, Mark Posey, Susie Biehler, Hasseem Aswad Abdallah.
Review by RWM: That is one cool painting of a cross between a shark and a fighter plane by Robert Bowen. Wow, but hopefully the shark is not going down. They are magnificent and important. Nice to see someone concerned about this species in trouble. The other works assembled also impress, but that one wins in this group show.
Comment by AB: Second annual juried exhibition in collaboration with Rush Philanthropic, these being the California finalists. Two winners will have their work exhibited this December during Art Basel Miami, and will also participate in an exhibit at the Rush Arts Gallery in NYC in 2013.
Art by Leslie Morgan (top) at 5 Claude Lane Gallery.


Robert Bowen art.


Not sure whether this is art or hors d'oeuvres.


Fork tiki art at 5 Claude Lane Gallery.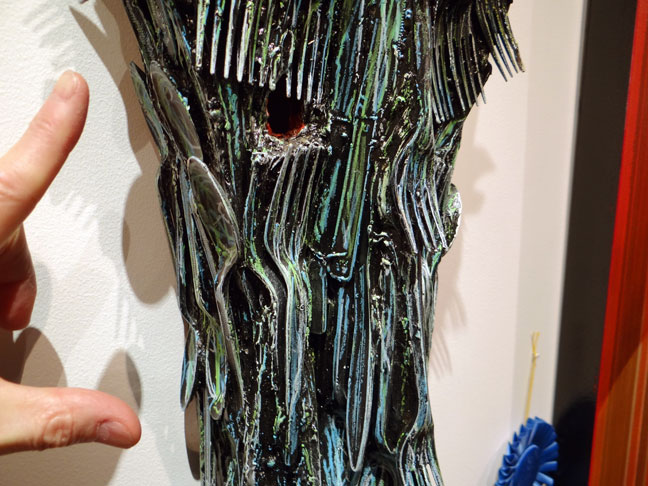 Fork tiki art in above image closer.


Art from group show at 5 Claude Lane gallery.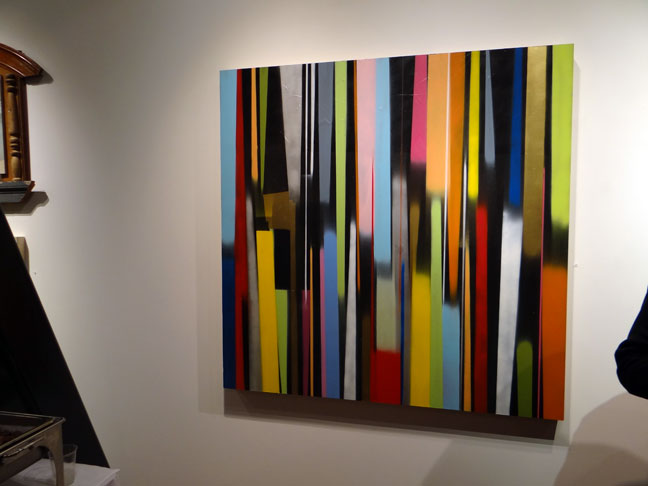 Art at 5 Claude Lane Gallery.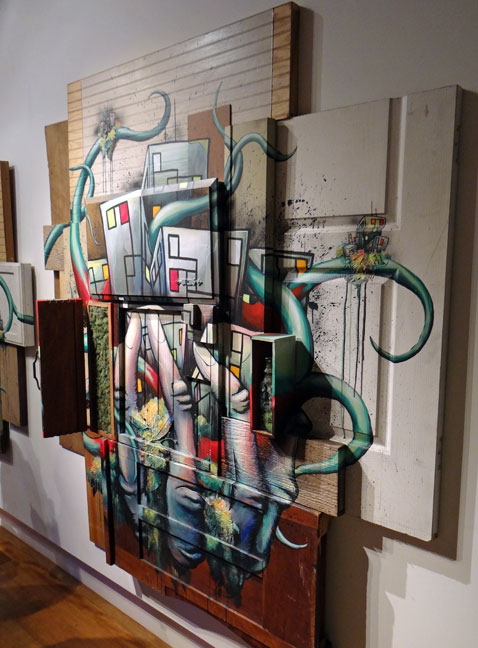 Group show at 5 Claude Lane Gallery.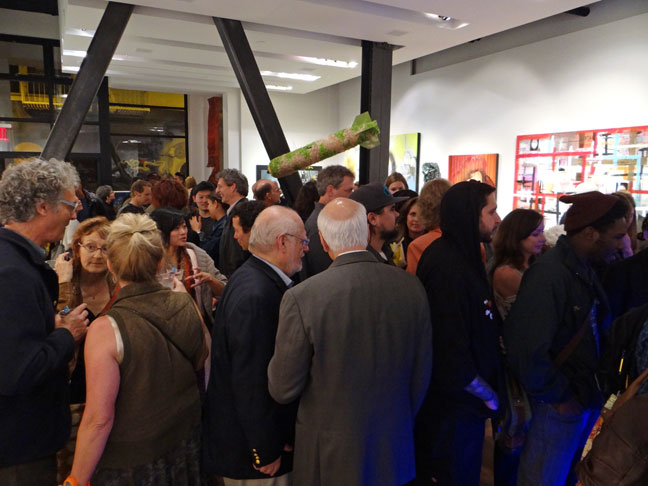 Relative density - group art show at 5 Claude Lane Gallery.


***
Meridian Gallery: Circular Motion - Subverting Circumscription.
Cuban video artists: Adriana Arronte, Yaniezky Bernal, Jeanette Chávez, Susana Delahante, Diana Fonseca, Marianela Orozco, Naivy Pérez.
Comment by AB: United States government propaganda would have us believe that Cuba is hopelessly helplessly lost without us. This exhibition of videos by contemporary Cuban women artists soundly refutes that. On the top floor is a group drawing show by Meridian Gallery artists.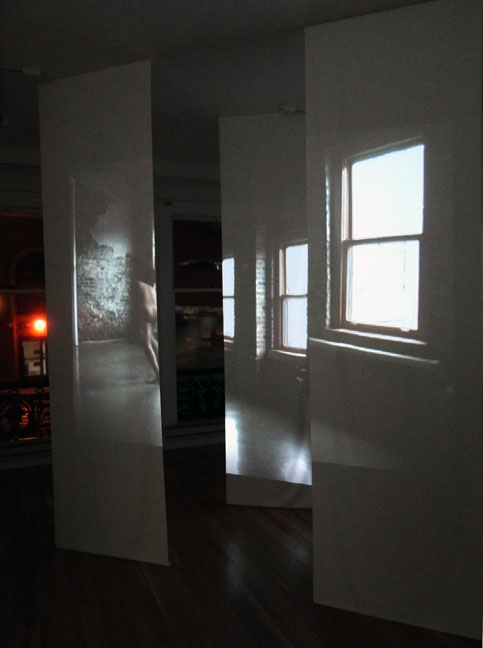 Multi-screen elusive naked person video at Meridian Gallery.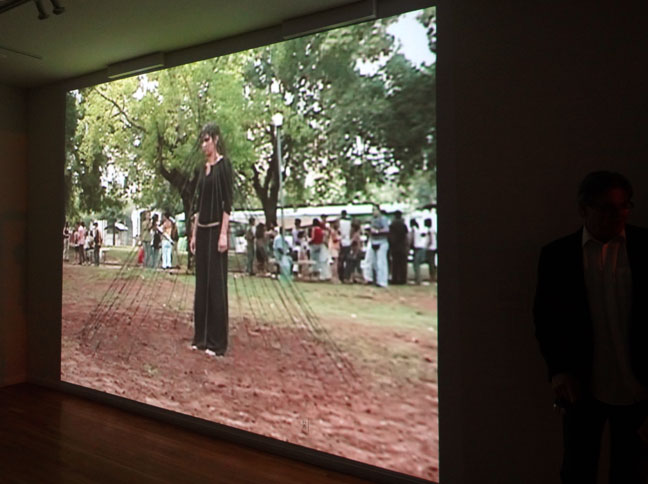 Hair nailed to the ground video.


Tongue bondage video at Meridian Gallery.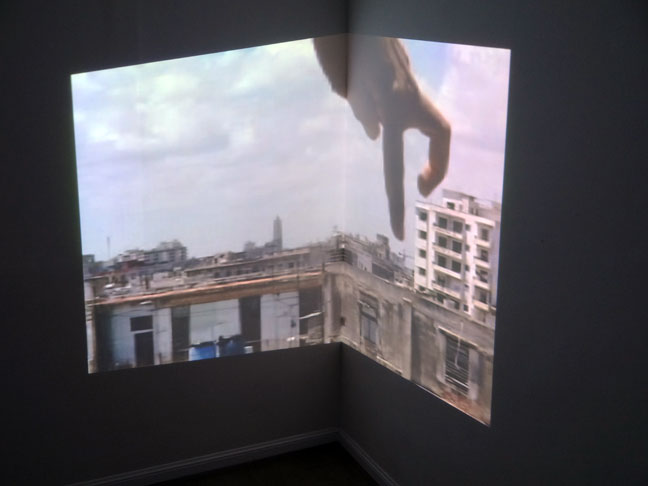 Tiptoeing through Havana video.


Group Cuban women video art show at Meridian Gallery.


Drawing show upstairs at Meridian Gallery.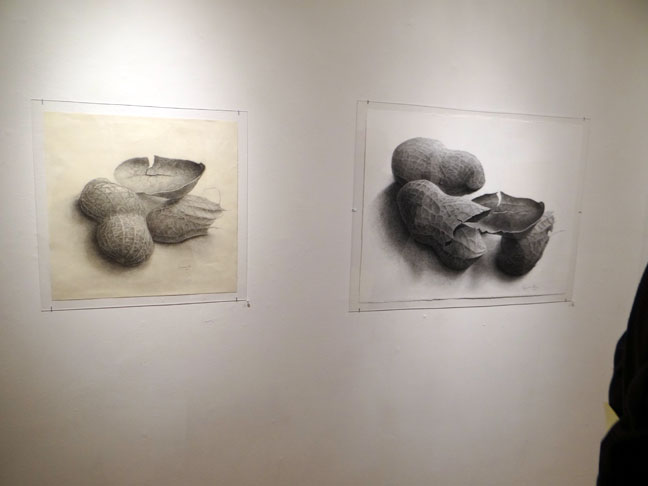 Nice peanut shell drawings at Meridian Gallery.


Group drawing show.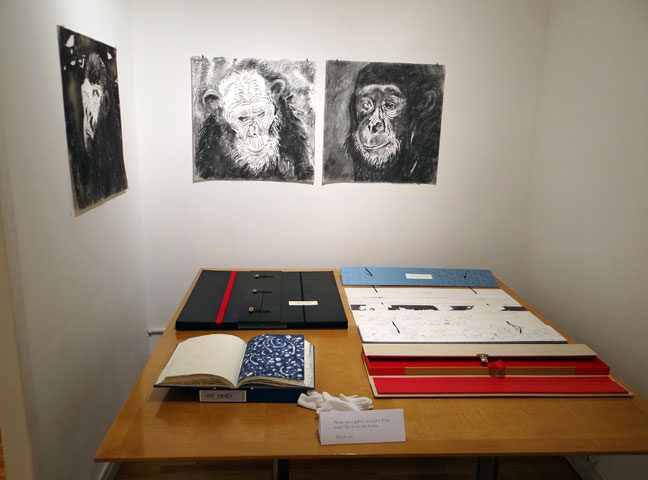 Group drawing show upstairs at Meridian Gallery.


Long view - group drawing show at Meridian Gallery.


***
Hang Art Gallery: Ann Eby Dimensions.
Review by RWM: Beautiful abstractions with images that somehow transport you to the out-of-doors. The color combinations are wonderous and pleasing. You might find yourself moved beyond gravity.
Art by Ann Eby at Hang Art Gallery.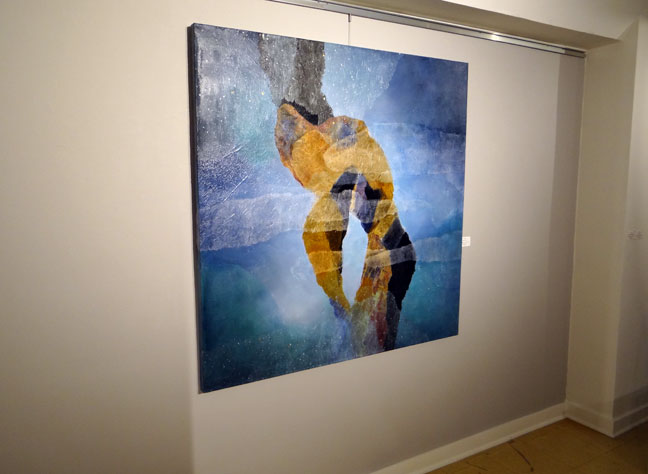 Art by Ann Eby.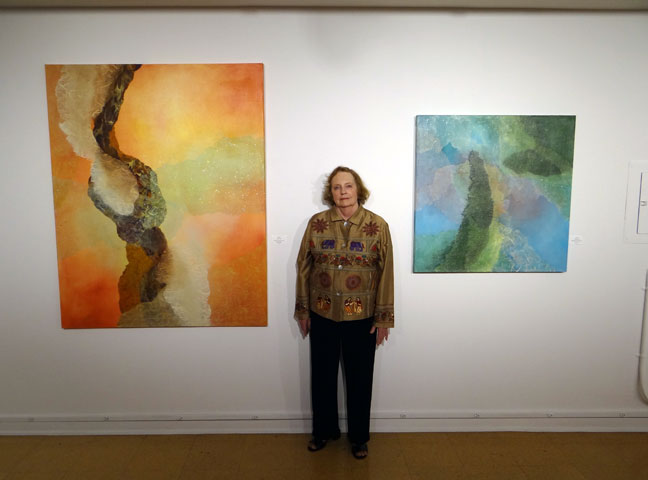 Ann Eby and her art at Hang Art Gallery.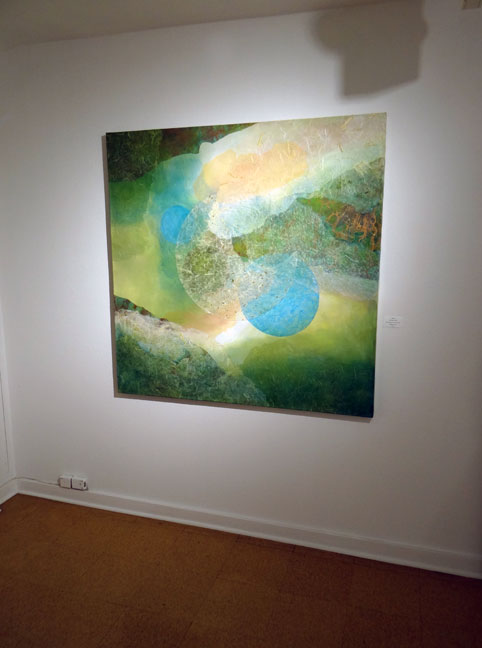 Art by Ann Eby.


Panorama - Ann Eby art show at Hang Art Gallery.


***
Ramon's Tailor: WoodShed - Bob Stang.
Comment by AB: Sawdust floors, visions of unfamiliar destinations, typeface titles attached neatly to the upper righthand corner of each painting on panel, and signage for those in need of direction, sum up this upstanding idiosyncratic escapade.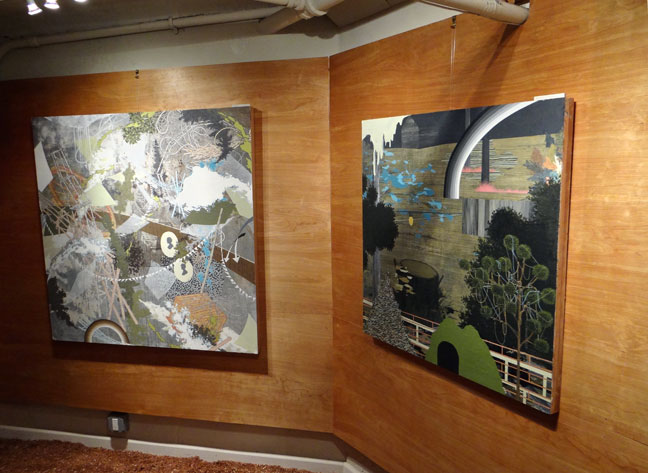 Art by Bob Stang at Ramon's Tailor.


Art & installation by Bob Stang.


Bob Stang art show signage at Ramon's Tailor.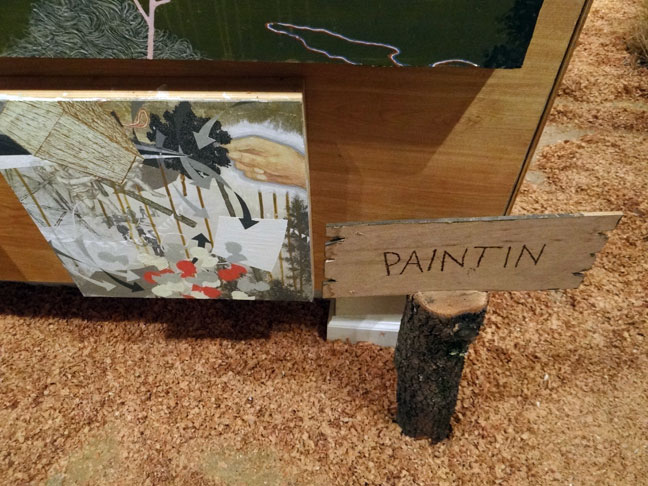 More Bob Stang signage art.


Bob Stang and his art at Ramon's Tailor.


Art by Bob Stang.


Bob Stang signage closer on art in above image at Ramon's Tailor.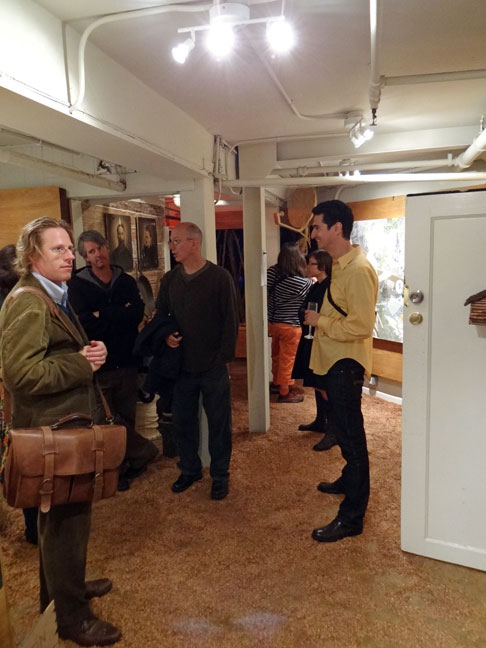 Demographics - Bob Stang art show at Ramon's Tailor.


***
Addendum: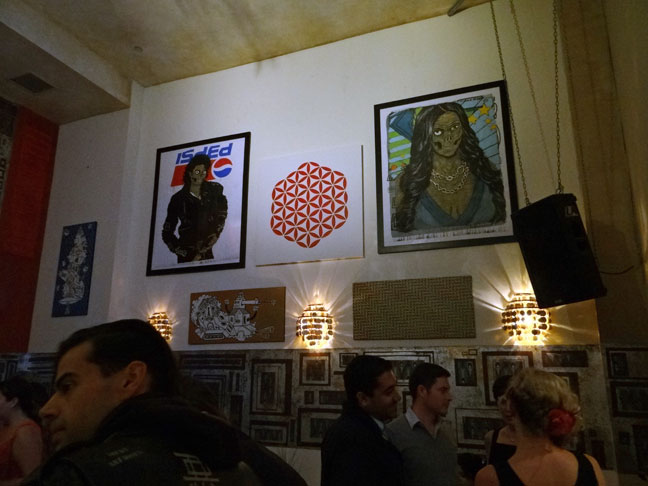 Art by Ezra Li Eismont at Otis Lounge.


Ezra Li Eismont art closer at Otis Lounge.


***
A modest fiduciary consideration might be nice... like how about the amount you save on gas, tolls and parking by perusing creative San Francisco from the comfort of your computer screen rather than having to fight the traffic and the rest of reality in order to be there in person?
***
First Thursday - September 6, 2012
First Thursday - August 2, 2012
***