TOGONON - MUSEUM OF THE AFRICAN DIASPORA - SOMARTS

CALIFORNIA INSTITUTE OF INTEGRAL STUDIES

AUTOBODY (OAKLAND)

10.08.10

(with assistance from DeWitt Cheng and RWM)


***
Togonon Gallery: Peripheral Vision, Photographs Without Pictures - Klea McKenna, Jessica Skloven, Rebecca Nadjowski; Recent Paintings by Constance Harris; Catherine Woskow.
Comment by AB: Rangy group show sports a variety of art by a variety of artists in a variety of mediums. I'm partial to "Paper Airplane" by Klea McKenna, rows of sheets of photo-sensitive paper, each one having been folded into a paper airplane and then exposed to light at different times during the course of a single day.
Paper Airplane photography by Klea McKenna (it's got potential).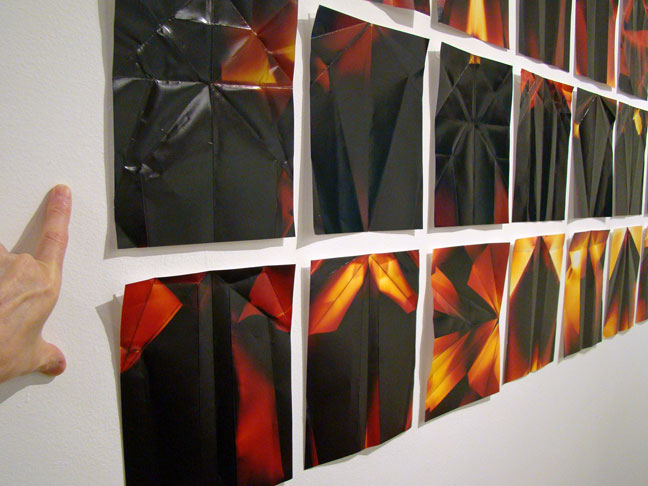 Paper airplane photographs closer by Klea McKenna.


Art by Catherine Woskow.


Catherine Woskow and her art.


Art by Constance Harris.


Constance Harris and her art.


Photography.


***
Museum of the African Diaspora: Art/Object - Re-contextualizing African Art.
Comment by AB: Edifying exhibition of select African objects coupled with photographs and related information about how they were originally used, particularly in conjunction with significant rituals and ceremonies.
Art, objects, artifacts at Museum of the African Diaspora.


Art, objects, artifacts.


Art, objects, artifacts.


Art, objects, artifacts.


***
California Institute of Integral Studies: Oscar Palacio - American Places.
Review by RWM: Solemn collection of photographs by Oscar Palacio, some of which tell stories, others more aesthetic in import. In one image, a white picket fence acts as a boundary, while in the background, grass appears to grow in chunks on top of concrete. There is a hole in the table. Other boundaries are also on display. Several photographs of monuments remind viewers of dark points in our history, referencing conflicts in ideology from our troubled past that have still not been forgotten. Sense of belonging and memory seem to be themes of the show.
Photographs by Oscar Palacio.


Oscar Palacio photography.


Photos by Oscar Palacio.


Oscar Palacio photographs.


***
SOMArts Gallery: 2010 Dia de los Muertos Exhibition - Honoring Revolution with Visions of Healing.
Artists: Over sixty.
Comment by AB: One of my favorite shows of the year-- altar installations of every ilk, this year depicting interpretations of healing-- a true celebration of those who have come and gone before us.
Day of the Dead show at SOMAarts.


Installation altar art.


Dia de los Muertos installation art.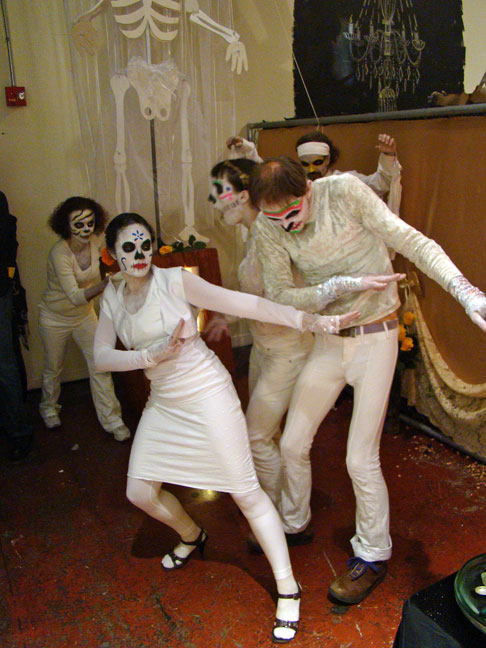 Los muertos.


Altar installation art.


Automobile art from the front.


Automobile art from the rear.


Art.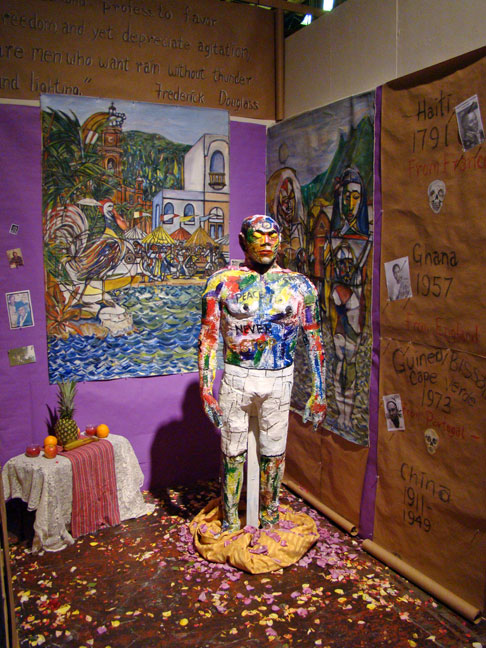 Dia de los Muertos installation art.


***
Autobody Fine Art: Robert Fischer - Mark, Subject/Object/Collaborator.
Review and images by DeWitt Cheng: Oakland photographer Robert FIscher's photographs (digital, with some Photoshopping) may explore territory opened by Arbus, Goldin and Mapplethorpe years ago, but these works all use one model-- a person of chameleon-like adaptability and, clearly, some bravery. Autobody's press release states, "Robert Fischer's work unapologetically explores both the celebratory and darker aspects of the human psyche. He pulls no punches with his subjects, but the resulting images resonate with sensitivity and vulnerability. He captures the unusual, the bizarre and disturbing, the complexity, and ultimately, the touching-- in humanity. This is mediated with a classical sensibility based on art historical references and classic cinema. Fischer's early career as a successful painter informs his photographic style, lending it rich, painterly qualities not often found in the medium."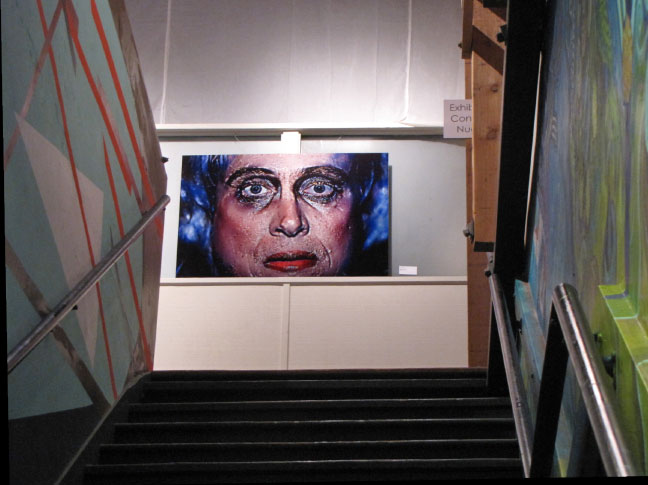 Up to Robert Fischer photo show - sign reads "Exhibit Contains Nudity."


Curator William Torphy, model Mark, and photographer Robert Fischer.


Photography by Robert Fischer.


Gallerist Jacqueline Cooper.


Model Mark one more time.


***