***
SOMArts Gallery: Visions at Twilight - Día de los Muertos 2014.
Artists: Elizabeth Addison, Raul E. Aguilar Pulido, Alexandra Alquati, Rachel "Reiho" Anderson, Adrian Arias, Crystal Azul Barajas Barr, Jesus Barela, Elena-María Bey, Pamela Blotner, Nathaniel Bolton, Gina Bolton, Adriana Camarena, Kit Cameron, Rudradeep Chakrabarti, Inés Chapela, deCoy Gallerina, Susa Cortez, Kelley Coyne, Alicia Cruz-Hunt, Andreina Davila, Paz de la Calzada, Kathy deRosas, Lanell Dike, Stephen Donnelly, Candi Farlice, Tania Figueroa, Gaby Fusco, Fuzz Grant, CJ Grossman, Peyote Gutierrez, senseofplace LAB, Todd Hansen, Art Hazelwood, Stan Heller, Niz, Azucena Hernandez, Ivonne Iriondo, Howie Katz, Keiko "Reiho" Kubo, Irene "Soai" La Chance, Carrie Leilam Love, Ytaelena Lopez, Monique D. López, Peter Loy, Herlinda Lozano, Dean MacCannell, Juliet Flower MacCannell, Martinez, Susan Matthews, E. Oscar Maynard, Joan Miro, Erica Molesworth, Elizabeth Moran, Mary Molly Mullaney, Gaurav Narasimhan, Elvira Nieto, Refugio Nieto, Oden, Choppy Oshiro, Yiqian, Patrick Piazza, Peter Plate, William Rhodes, Denise Richards, Martha Rodriguez, Michael Ross, Jos Sances, Allyson Seal, Betty "Soha" Segal, Malik Seneferu, Jehn Sewage, Ross Sewage, Sasha Silveanu, Veronica Solis Mora, Barbara "Hodo" Stevens Strauss, El Chicano-David Tafolla, Lia Tealdi, Josephine Torio, Maria Villalta, Ellen Vogel, Michelle Marie Robles Wallace, Cynthia Wallis, Rio Yañez, Rene Yañez, Maggie Yee, Fallon Young, Victor Mario Zaballa.
Comment by AB: Tonight is the night that we contemplate life, death, and the legacies and lessons of those who came before us. These Day of the Dead installations, altars, art, costumes, music and performances invoke an atmosphere of deep respect, remembrance and appreciation, and make this art event one of the more memorable ones of the year.
Great cut paper & black light installation at SOMArts Day of the Dead show.


Sound and video installation.


Altars to those who preceded us.


Excellent San Francisco diorama in prints by Art Hazelwood, Patrick Piazza and Veronica Solis Mora.


Altar art & installation.


Honoring the dead.


Complex 3-D art by Rio Yanez.


Cut and sculpted paper altar.


Ambiance - Día de los Muertos 2014 group show at SOMArts Gallery.


***
Center for Sex and Culture: Dark Desires - The Erotic Lives of Black Women. Curated by crystal am nelson.
Artists: Michaela Pilar Brown, Rashayla Marie Brown, Ajuan Mance, Shilo McCabe, Megan Morgan, Nanci Nwamaka, Ikejimba Muraoka, Numa Perrier, Keisha Scarville, Cascade Wilhelm, Suné Woods.
Comment by AB: Thought-provoking show of work by Black women artists from across the country focused on sexual identity, eroticism, fantasy and fulfillment.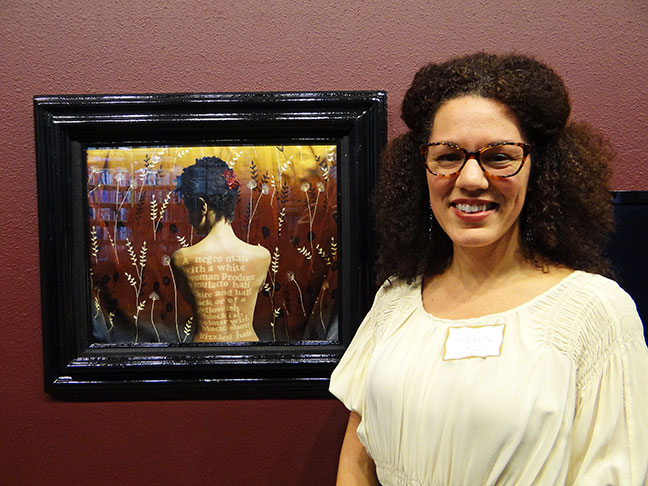 Megan Morgan and her video art at Center for Sex & Culture.


Collage art with erotic overtones.


Collage in above image closer.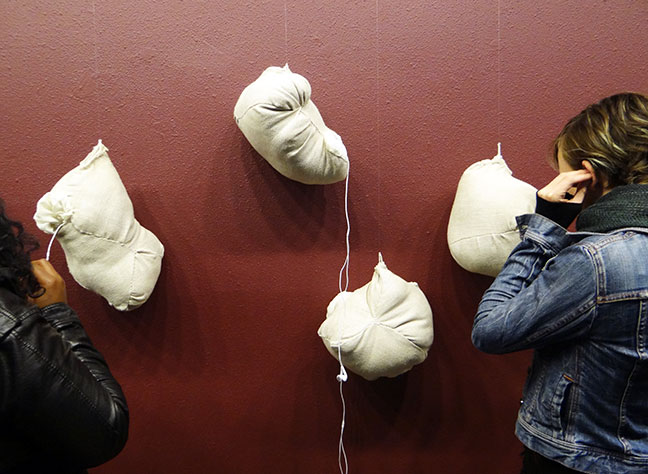 Sound installation at Dark Desires - The Erotic Lives of Black Women.


Photography.


Portraiture.


Dark Desires - group art show at Center for Sex & Culture.


***