George Lawson Gallery: Aggregate Exposure. Curated by Jennah Ward.
Artists: Phil Chang, Heather Cleary, John Houck, James Hyde, Klea McKenna, Fabiola Menchelli, Carrie Pollack, Mariah Robertson, Kunie Sugiura, Sara VanDerBeek, Hannah Whitaker, Letha Wilson.
Comment by AB: Artists from New York, Los Angeles, Mexico City and good old Ess Eff converge on George Lawson Gallery to present the results of their explorations at the limits of photography.
Photography by Hannah Whitaker.


Heather Cleary and her art at George Lawson Gallery.


James Hyde photography.


Photograph by John Houck.


The basic idea - group photographic art show at George Lawson Gallery.


***
Bash Contemporary: Rough & Ready Sideshow - Ransom & Mitchell, Alexandra Manukyan, Stefanie Vega, Aunia Kahn.
Comment by RWM: Incredible. Fantastic. Gothic. Spooky. Wonderful dark achievements.
Comment by AB: These curious portrayals in portraiture are a mite ominous, a wee bit freaky and all good.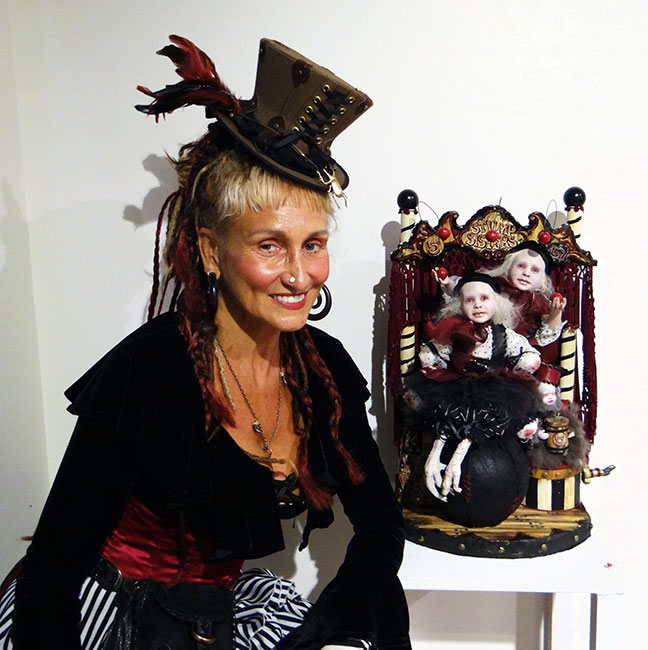 Stefanie Vega and her art at Bash Contemporary.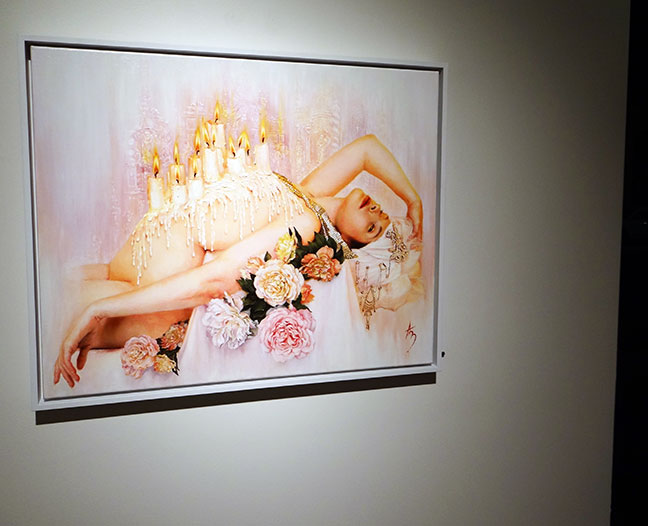 Art by Alexandra Manukyan.


Photographic art by Ransom & Mitchell & the contortionist portrayed.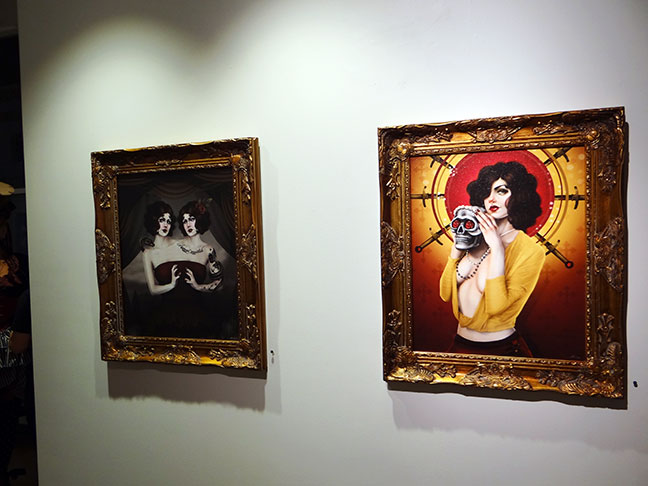 Art by Aunia Kahn.


Ambiance - group artshow at Bash Contemporary.


***
Root Division: 13th Annual Art Auction & Fundraising Event.
Artists: Carlo Abruzzese, Robin Apple, Alexis Arnold, Evan Barbour, Lily Martine Baxter, Ana Bedolla, Ray Beldner, Elizabeth Bernstein, Alyssa Block, Jan Blythe, Nicholas Bohac, Jennifer Brandon, Nancy Brown, Kristen Brown, Jamie Brunson, Mary Burger, Bunny California, Irene Carvajal, John Casey, Elizabeth Cayne, James Chronister, Charles Coates, Aliza Cohen, Claire Colette, Randy Colosky, Susanna Corcoran, Susana Cortez, Madelyn Covey, Nicole Czapinski, Pablo D'Antoni, Lauren DiCioccio, Katie Dorame, Leeza Doreian, Sara Dykstra, Jeff Eisenberg, Amy Ellingson, Marshall Elliott, Rodney Ewing, Chris Fraser, Peter Foucault, Adam Friedman, Kim Frohsin, Alison Frost, Juan Fuentes, Joan Karissa Gallego, Mark Garrett, Blake Gibson, Simron Gill, Jeffery Glossip, Jon Gourley, Casey Gray, Sarah HaBa, Jessalyn Haggenjos, Cayla Harris, Raun Harris, Victoria Mara Heilweil, Adrienne Heloise, Dana Hemenway, Plinio Hernandez, Joshua Highter, Sarah Hirneisen, Nif Hodgson, Sarah Hotchkiss, Melissa Hutton, John-Mark Ikeda, Clint Imboden, Rachael Jablo, David Janesko, Jeremiah Jenkins, Ryan Jones, Carrie Katz, Patricia K. Kelly, Mikey Kelly, Sara Kerr, Andrew Kleindolph, Mary Ann Kluth, Amelia Konow, Keira Kotler, Michael Krouse, Todd Lavine, Mido Lee, Angie O. Lee, Jennie Lennick, Carey Lin, John Lopez, Cathy Lu, Kija Lucas, Derek Lynch, Whitney Lynn, Michelle Mansour, Kara Maria, Lee Materazzi, Lisa McCutcheon, Vreni Michelini Castillo, Andréanne Michon, Robert Minervini, Mie Hørlyck Mogensen, Sarah Morrison, Tom Mueske, Carson Murdach, Jacqueline Norheim, Raphael Noz, Ramekon O'Arwisters, Susan O'Malley, Erik Parra, Mel Prest, Nicholas Price, Amanda Quiroz, Michelle Ramin, Sarah Ratchye, Rachelle Reichert, Christopher Reiger, Abel Rodriguez, Stephanie Rohlfs, Natalie Roland, Leah Rosenberg, Aaron Rosenstreich, Julia Sackett, Jenny Salomon, Surabhi Saraf, Owen Schuh, Tamra Seal, David Sharp, Rebecca Shortle, Dimitra Skandali, Sarah Smith, Susan Lynn Smith, Jessica Snow, Patricia Sonnino, John Steck Jr., Kate Stirr, Inez Storer, Shannon Stovall, Lindsay Stripling, Amber Stucke, Julie Sutherland, Taravat Talepasand, Kevin E. Taylor, Weston Teruya, Chris Thorson, Nathan Tobiason, Tobias Tovera, Amy Trachtenberg, Chris Treggiari, Brooke Westfall, Cate White, Michal Wisniowski, Raymond Wong, John Wood, Melissa Wyman, Bijan Yashar, Amber Jean Young.
Review by RWM: Cool stuff from all sorts of artists and created in all sorts of ways. Interesting ferment with sophisticated flair. Nice show from all to one and one to all. Something here for probably everyone. Good to get a first peek at a show that defies categorization.
Comment by AB: An impressive selection of work by over 100 artists, from emerging to established, is up for bids at Root Division's annual fundraiser auction.
Tricky photography by Sara-Jayne Kerr at Root Division fundraiser auction.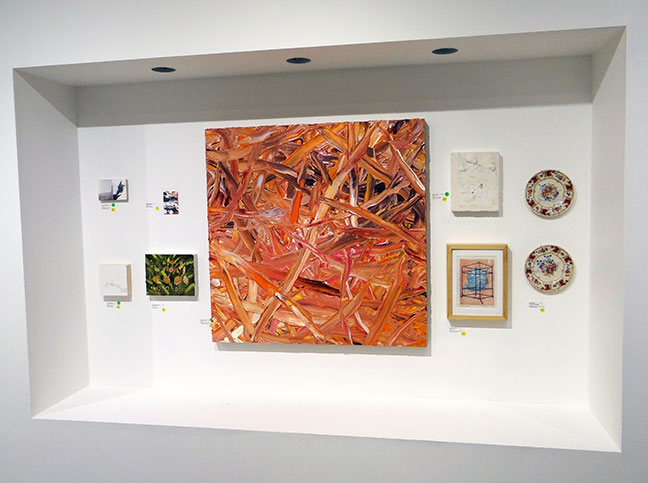 Painting by Blake Gibson, center.


Clay sculpture by Irene Carvajal.


Art by Kevin Earl Taylor.


Art by Ray Beldner (left) & Leah Rosenberg (right, on pedestal).


Bone-handled hammer sculpture by Jeremiah Jenkins.


Floor plan - Root Division annual fundraiser art auction.


***
White Walls & The Shooting Gallery: TORNANDO - Teo Pirisi aka Moneyless; Adam Lister - Wet Geometry; Motivational Therapy - Remi Rough; The Topography of Time - Steve More & Martini Merlini.
Comment by AB: Four unique perspectives on line, shape, form, precision, and geometries and geometrics in art.
Art by Teo Pirisi aka Moneyless at White Walls & The Shooting Gallery.


Art by Teo Pirisi aka Moneyless.


Pinkie cam detail of art in above image.


Teo Pirisi aka Moneyless and his art at White Walls & The Shooting Gallery.


Rectangular sculptural renditions of famous paintings by Adam Lister.


Pinkie cam detail of Adam Lister art in above image (nicely done).


Art by Steve More.


Steve More art in above image closer.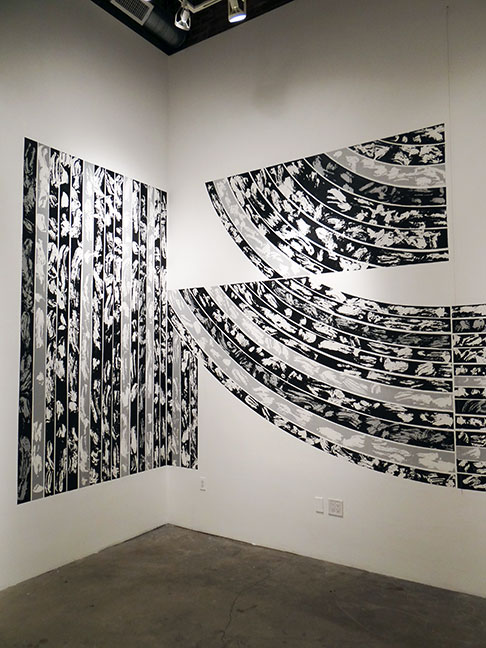 Mural art by Martina Merlini.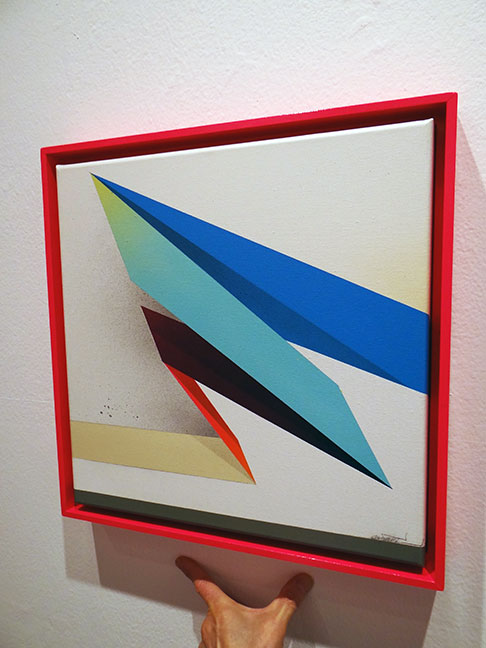 Art by Remi Rough closer.


Remi Rough art.


***
Book & Job Gallery: Hot Fudge.
Comment by AB: Japanese artist dyad Hot Fudge is infatuated with California, and San Francisco in particular. As a testament to the depth of their long distance love, they trundle 300 California-centric works of art across the Pacific so that we can celebrate them here. Take your pick of paintings, screenprints, drawings, repurposed record albums and more, all eminently affordable.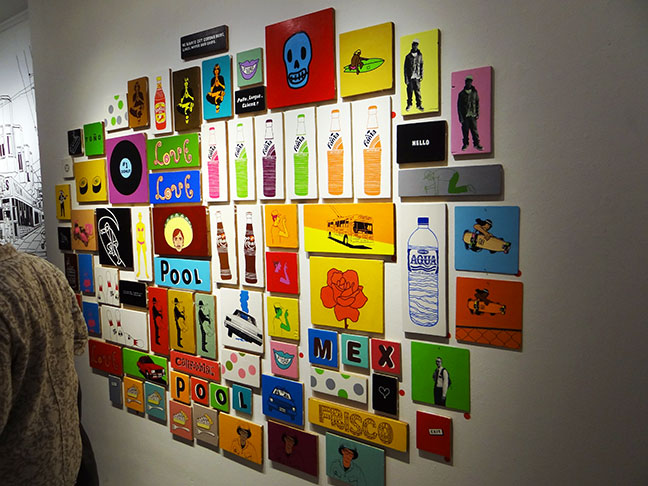 Art by Hot Fudge at Book & Job Gallery.


Art in above image closer.


Japanese artist pair Hot Fudge and their art at Book & Job Gallery.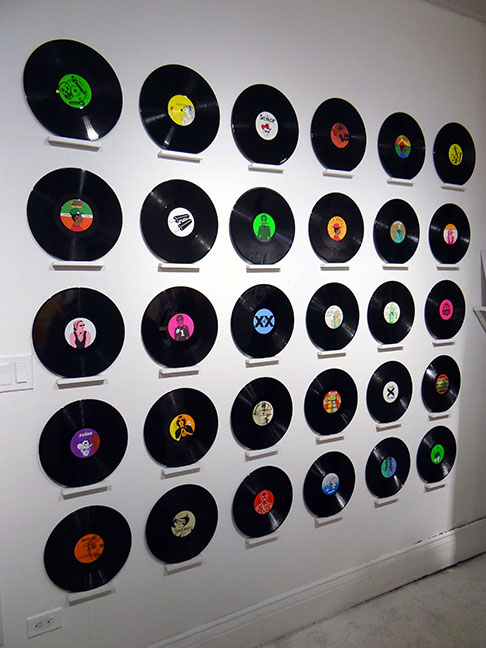 Wall of artified vinyl by Hot Fudge.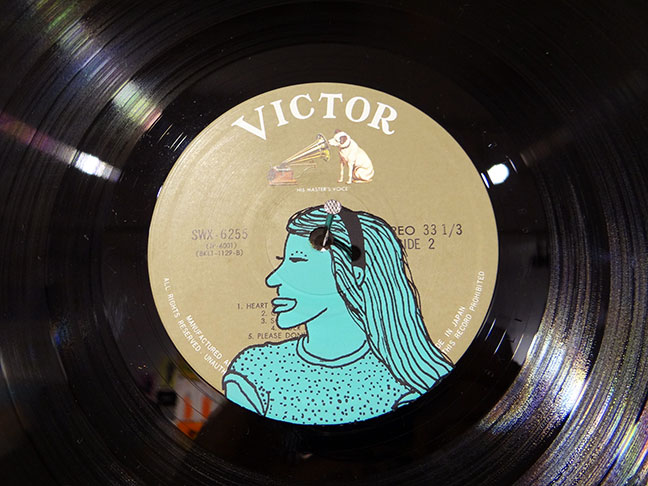 Repurposed record album art in above image closer.


***