***
Gallery Paule Anglim: Joan Brown; Katherine Sherwood.
Comment by AB: Although Joan Brown passed away in 1990, she left behind an incredible range and array of art that continues to thrill. On view for this exhibition are paintings and drawings from the early 1970s through the early 1980s including a couple of marvelous large self-portraits. In the anteroom, marvel at arrestingly unsettling Odalisque compositions by Katherine Sherwood. Excellent art on both counts.
Joan Brown self-portrait at Gallery Paule Anglim.


Art by Joan Brown.


Joan Brown art.


Art by Joan Brown.


Art by Katherine Sherwood.


Katherine Sherwood art at Gallery Paule Anglim.


***
Refusalon at JW Marriott San Francisco Union Square: DE-LUX(e) - Group Show ; Allan Gerson - Sahara Repose.
DE-LUX(e) artists: Camilla West, Shiri Mordechay, Jack Leamy, Pino Signoretto, Maya Smira, Mie Horlyck Morgensen, Sandro Chia, Elisabeth Atjay, Ron Hutt.
Comment by AB: An eclectic mix in the downstairs lobby. On an upper floor are Sahara desert photographs by Allan Gerson, who's spent a great deal of time there and knows the dune-scapes intimately.
Jack Leamy and his art at Refusalon.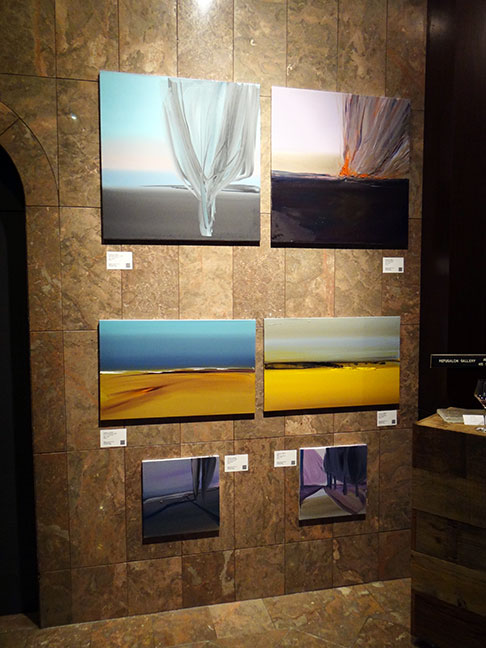 Art by Camilla West.


Wrapped art by Mie Horlyck Morgensen.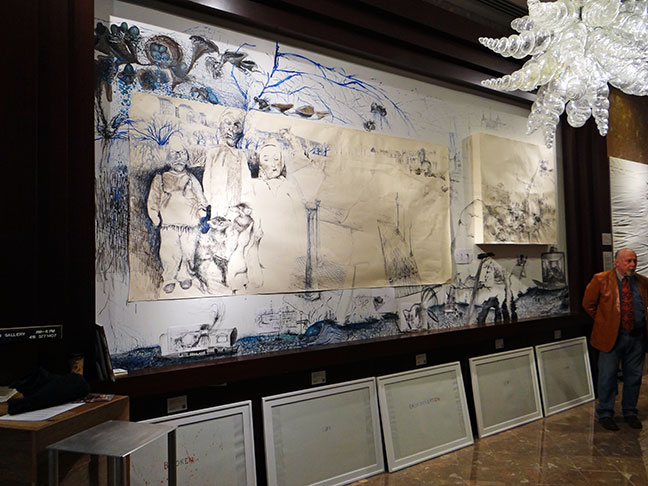 Extra large drawing by Shiri Mordechay.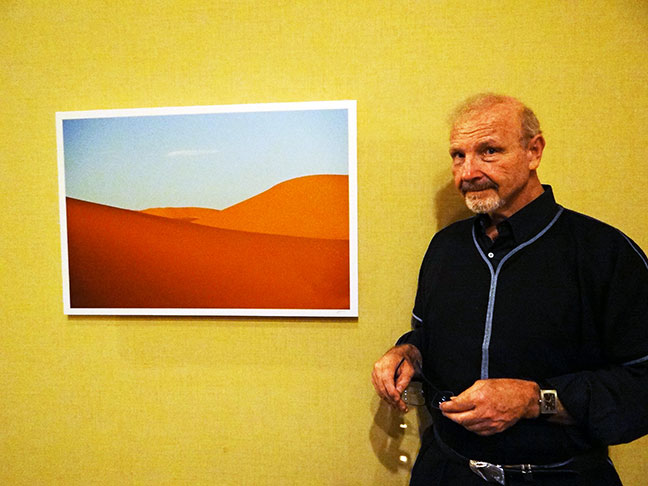 Allan Gerson and his Sahara desert photography at Refusalon.


Desert photographs by Allan Gerson.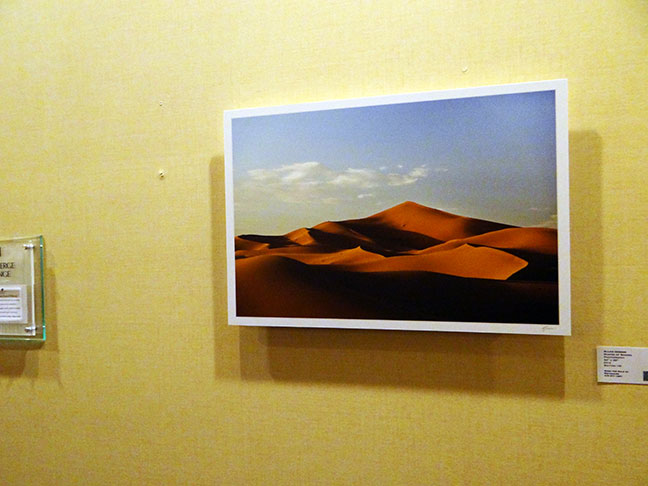 Allan Gerson photography.


***
Room for Big Ideas at Yerba Buena Center for the Arts: Emergent Atlas.
Artists: Amy Ho, Dimitra Skandali with collaborators Heejin Jang and David Janesko, Reuben Telushkin, Ben Valentine in collaboration with An Xiao Mina..
Comment by AB: This interactive and participatory show is about connectivity in the world today and how its seeming state of continual overdrive, but that's no reason for the installations to look more like a shambles than anything else.
Chaotic installation at Room for Big Ideas, Yerba Buena Center for the art.


Helter-skelter installation in above image closer.


Video art.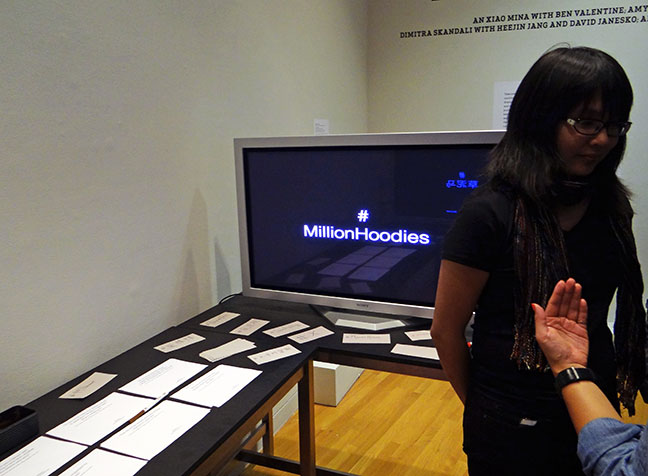 Interactive participatory art.


***
1AM Gallery: Honey, I Shrunk the Streets.
Artists: Bask, Ratur, Siez, Camer, Udon, Mine, Monty Guy, Mike "BAM" Tyau, Christopher De Leon, Vyal, Blo, Does, Hydro74, Kan, Felipe Pantone, 64 colors, Slick, Jesse Hernandez, Pemex, Plantrees, Estria, Goser, Optimist, Satyr, Apex, Chad Hasegawa, Hyde, Mark Bode, Robert Bowen, Sen2, Lango, Nate1, Rafael Sliks, Rpes, Amuse, Tenfold, Chek, Chris RWK, Duel, Joker ICP.
Comment by AB: Every lust after an urban art masterwork you see on the side of a building, a dumpster, a billboard or a truck trailer? Well, lust no more. At this show, you can put it in your backpack and take it on home.
The basic idea - miniature graffiti art for curio cabinets and shelves.


Billboard art by Sen2 at 1AM Gallery.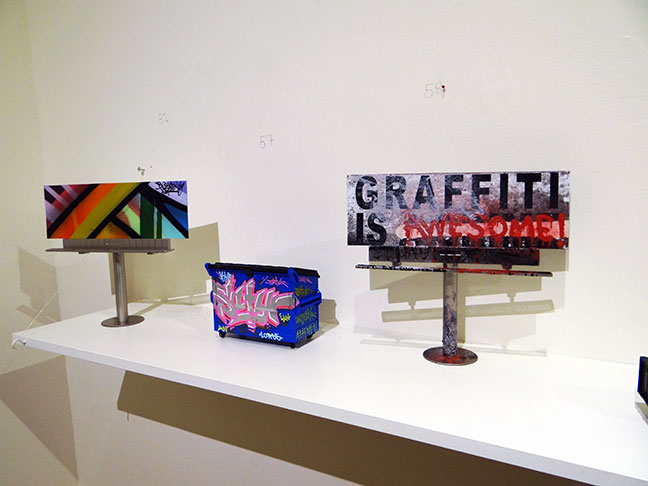 L-R, art by Apex, Satyr & Bask.


Art by Ratur closer.


L-R, art by Jesse Hernandez, Monty Guy & not sure.


Ambiance - group art show at 1 AM Gallery.


***
Hospitality House at Arc Gallery & Studios: Art for the House Presented by Yammer.
Artists: Jack Alexander, Marco Almera, Rake Baker, Eric Basher, Brian Behnke, Brendowski, Charles Blackwell, Juan C. Bonilla, Iris Brightwater, Angela Brock, Kristen Brown, Olga Butuzova, Sonja Caldwell, Ashleigh Castro, Adrienne Cheng, Tyrell Collins, Michael Covington, Kelly DeFayette, Jen Dui, John Edwards, Emma Fenton-Miller, Anthony Figueroa, Shannon Finely, David Garvey, Sheryl Glass, Michael Gosebee, Deborah Green, Sylvester Guard, Laura Guarino, Justin Guderson, Louis Gwerder, John Hageman, Jazimer Harrison, Adrienne Heloise, Jack Hirschman, Tobin J. Holmes, Whitney Humphrey, Randy Hussong, Alyson Issacs, Nerea Iturriotz, Juntae Kim, Bob Kirk, Hugo Kobayashi, Kyle Kohleffer, John Kuzich, Laurel Lee, Joyce Libeu, Francesco Lo Castro, Marionette, Nonay Lou, Leslie Lowinger, Phyllis Malandra, Phyllis Malandra, Kara Maria, Jeff Marshall, Mike Maxwell, Tyrone McCloskey, Don McCunn, Midori Meissen, Woody Miller, Judith Minichello, Carl F. Minor, Charlie Mirador, Gloria Morales, Derek Morgan, Lance Morrison, Sean Murdoch, Aaron Nagel, Gabor Nagy, Christina Nielsen, Marcus Noceda, Joe Novak, Bob Nugent, Katie Paloma, Emily Parish, Tae Park, Joshua Parker, TxuTxo Perez, Michael Pilate, Klaus Pinter, Freya Prowe, Joelle Provost, Leta Ramos, Mike Reger, John Rhodes, Kevin Rush, Gala Sadurni, Maren Salomon, Edward Sanchez, Rishi Satsangi, Chad Savage, James Scoville, Janet Seifert, Addie Shevlin, Marcos Shih, Angela Simione, Philip Snider, Socorro, Max Stadnik, Tara Thacker, Helena Tiainen, Ira Watkins, Stephanie Weber, Heather Wilcoxon, Christina Goh Williams, Ealish Wilson, Kathleen Wolf, more.
Comment by AB: Tons of art up for bids tonight at this silent auction fundraiser to benefit Hospitality House, an organization that's served the homeless in San Francisco's Tenderloin neighborhood since 1967. In case you missed it, now's the perfect time of year make a donation. In fact, their annual Holiday Sale is on through January 9, 2015 with a reception and art market happening on December 12. Check their website for details.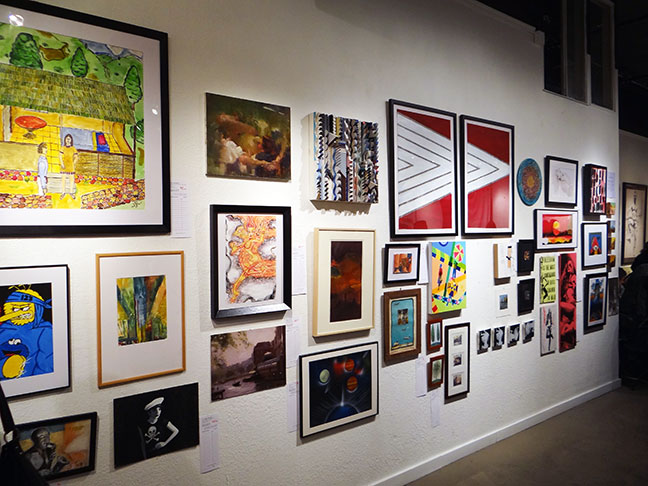 Dense with art - silent auction fundraiser for Hospitality House.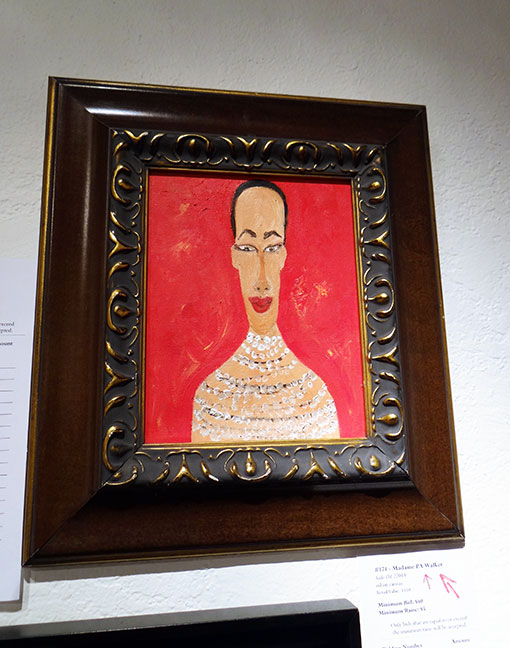 Androgynous art by Madame PA Walker.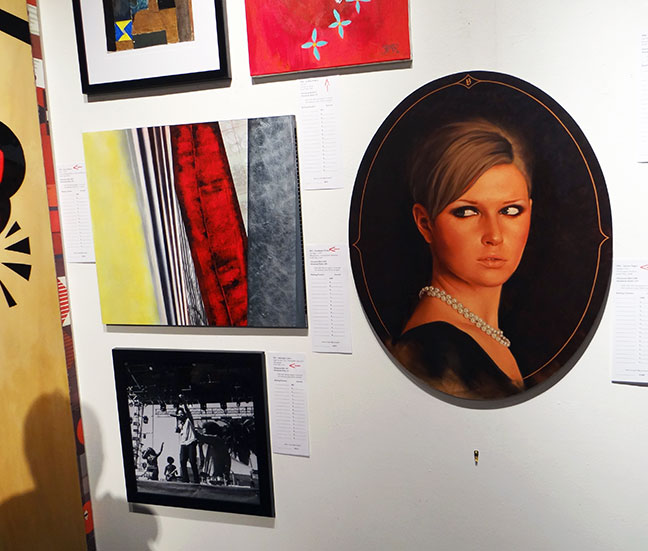 L-R center, abstract art by Stephanie Weber & portrait by Aaron Nagel.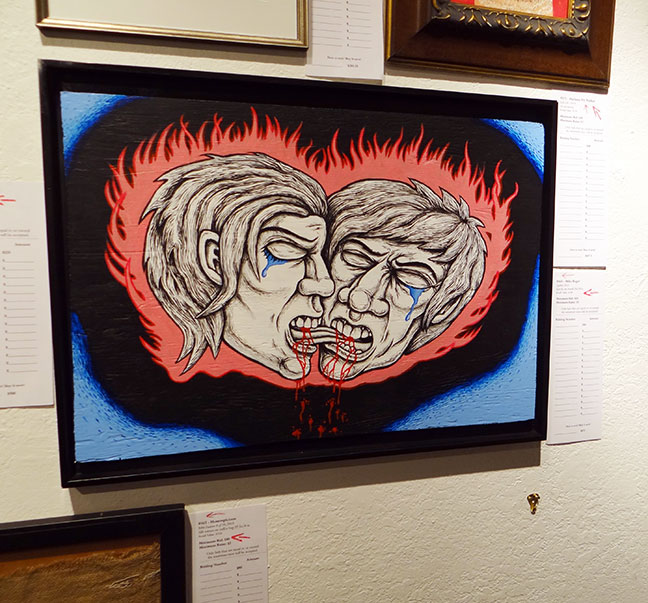 Uncomfortable art by Mike Reger.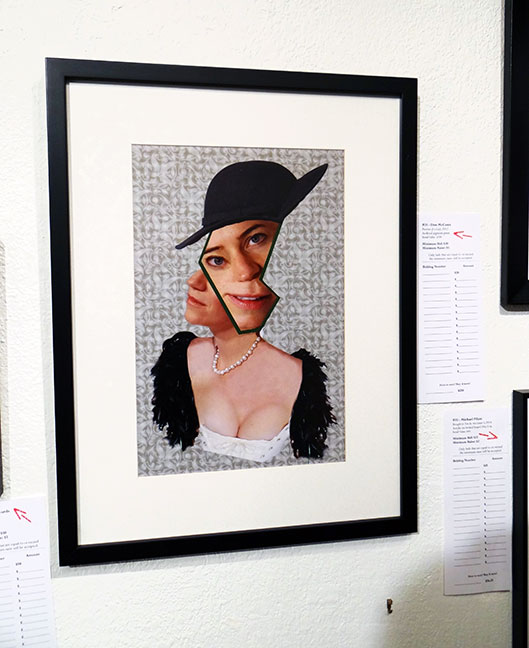 Collage art by Don McCunn.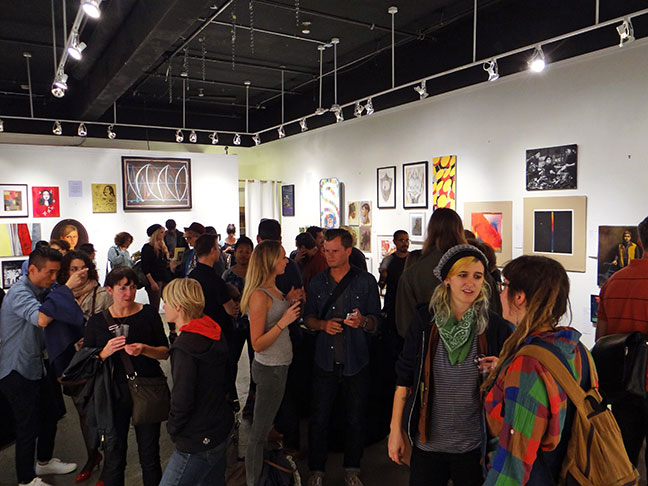 Turnout - benefit auction for Hospitality House at Arc Gallery & Studios.


***