RATIO 3 - PING PONG - GARAGE SALE PROJECT - YBCA

SFMOMA - ARTHAUS - 33 RAUSCH - 63 BLUXOME - FREEGOLDWATCH

10.28-29.10

(with assistance from RWM and GETBIZI)



Wondering how much your art is worth? Click here; find out.
***
Ratio 3 Gallery: Ryan McGinley - Life Adjustment Center.
Comment by AB: Photographer Ryan McGinley presents two distinct bodies of work-- intimate black and white portraits shot at his New York studio, and photos from his road trips. I don't know where he goes or who he goes with, but considering the marvels he captures with his camera, I'm seriously thinking about going there. Definitely worth a visit.
Photography by Ryan McGinley.


Ryan McGinley portrait photograph.


Photographs by Ryan McGinley.


Ryan McGinley photography.


Relative density - Ryan McGinley photo show at Ratio 3 Gallery.


***
Ping Pong Gallery: James Sterling Pitt - It Goes as it Grows.
Comment by AB: James Sterling Pitt paints and sculpts himself up what looks like a fine art tag sale-- items neatly laid out on tables and along the floor and walls-- complete with ersatz books, faux stereo speakers, assorted aesthetic curios and more. Entertaining and nicely done. Check it out.
Art & installation by James Sterling Pitt.


James Sterling Pitt art.


Art by James Sterling Pitt in above image closer.


James Sterling Pitt art.


***
San Francisco Museum of Modern Art: Exposed - Voyeurism, Surveillance and the Camera Since 1870.
Photographers: Brassaď, Henri Cartier-Bresson, Walker Evans, Nan Goldin, Lee Miller, Thomas Ruff, Paul Strand, Weegee, Miroslav Tichy, Abraham Zapruder, Man Ray, Tom Howard, more.
Review and images c/o GETBIZI: "Exposed" titillates your visual curiosity on intellectual, sexual, & emotional levels. The exhibit, currently at the San Francisco Museum of Modern Art, showcases some of the most powerful and iconic images of world history.
Eddie Adams' "Viet Cong Officer Executed" (1968), from the Vietnam War, captures the moment *just* before the Viet Cong Officer gets shot in the head. The officer's facial expression gives you a sense that he knows what is about to happen. The gun is inches away from the right side of his head just above his ear... he squints and tilts his head left as to prep himself... ready to absorb the impact of the bullet... ready to accept the inevitable death, split seconds away. The viewer can feel the power of that exact moment, life one second and death the next. This, of course, is the power of photography, allowing the viewer to witness the human violence as it is.
Tom Howard photographed "The Electrocution of Ruth Snyder" (1928), the first woman to be electrocuted, with a shoe camera snuck into the electrocution chamber.
Abraham Zapruder's "Assassination of John F. Kennedy" (November 22, 1963) is a black and white image engrained in the minds of millions of Americans signifying a dark time in American history; the assassination of a beloved President triggering deep emotional sadness across the nation. Although the image is blurry, it is still powerful as it documents an extremely poignant moment in American history allowing viewers to witness the tragic event in a way that it's never forgotten.
Some consider these photographs "creepy", but I consider them necessary because of their power, their power to make us think twice about going to war, their power to make us rethink our death penalty laws, and their power to preserve the relevance of key historical events.
In the "Voyeurism and Desire" part of the exhibit, you will see some photographs which are blatantly sexually explicit-- some subtle, exposing human sexuality and inspiring the viewer to examine the image closer, others on the edge of abstraction but with clear sexual undertone.
A nude study of a black female (1855) by an unknown photographer is very explicit, showing the woman lounging naked on a lace covered couch with her right leg stretched upwards to the left, left leg stretched downwards to the right, spreading apart, exposing herself directly at the camera. This is a great example of the voyeuristic desire to capture the nude figure even shortly after the birth of photography.
Another intriguing image is Man Ray's "The Transvestite Barbette" (1926). The subject, clipping on an undergarment to the legging in front of a dark background, has a male torso but clearly has applied makeup to his female-esque face and hair. If the image were cropped at the neck level, making 2 separate images, the viewer would guess that the person is female from the neck up. Of course the power of this photograph is that the person has a male body with an exquisitely made up face & hair to look female-- at a quick initial glance, the viewer is immediately engaged. The question would of course be whether this is a man or a woman, to be answered by each viewer individually after closely examining the image.
Miroslav Tichy's untitled photograph is very abstract at first glance. If you squint a bit & look a bit closer, you will see legs, short-shorts, socks and shoes-- a blurry image of a female figure bending over away from the viewer. The image is subtly sexual but obviously voyeuristic as the subject is facing away from the camera; you might assume that the photograph was taken without her knowledge... or was it?
These are a few examples of a visually engaging exhibition which should be leisurely experienced so you have time to really absorb the meaning of each piece.
Photography by Tom Howard.


Tom Howard shoe camera.


Eddie Adams photograph, "Viet Cong Officer Executed."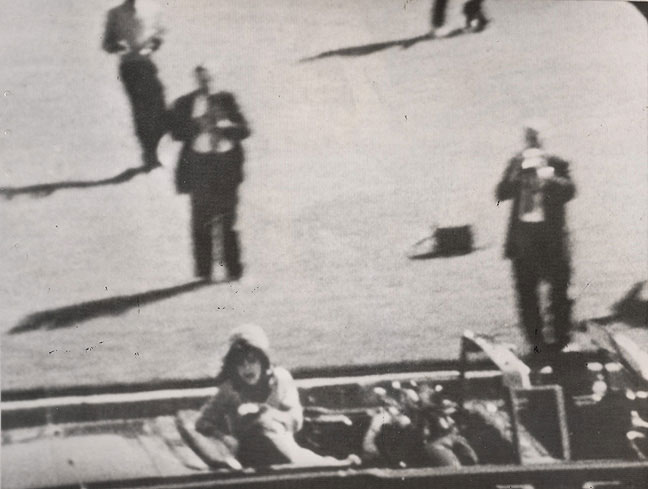 Abraham Zapruder photography - "Assassination of John F. Kennedy."


Photography by Miroslav Tichy.


***
Garage Sale Project: Friends of Adobe - The Photographs of Andrew McKinley.
Review by RWM, image c/o Garage Sale Project: Nice to see The Adobe Bookstore and Backroom Gallery family photos. Andrew McKinley has done much for The Mission art scene-- and all the smiling faces who have shown up for shows at the gallery over the years. A man who both gives of himself and inspires, he has certainly also enjoyed all these hipsters over the years. The photographs shine with orginality and vitality, being much more than just another showcase for just another bunch of characters.
Photographs by Andrew McKinley.


***
ArtHaus Gallery: An Evening with Franc D'Ambrosio.
Review by RWM: Canvases filled with painted abstractions, some complicated, others not so much, yet others with palatable color schemes. There is a nice variety of dynamic images on display. Some of the paintings are comfortable, while others are somewhat confrontational. One can be impressed by the details and the influence of predecessors.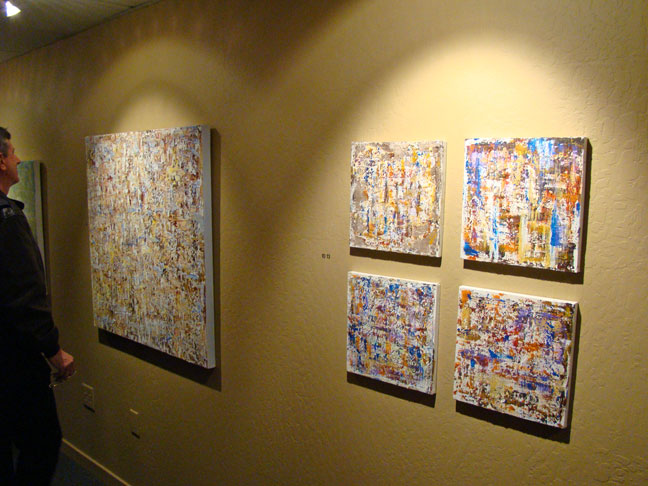 Art by Franc D'Ambrosio.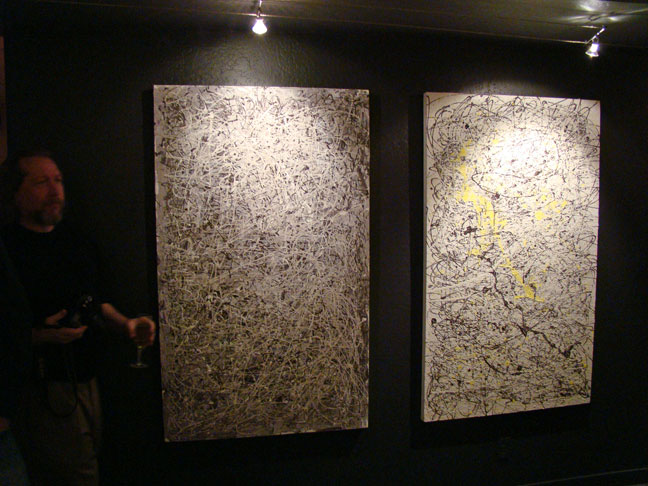 Paintings by Franc D'Ambrosio at ArtHaus Gallery.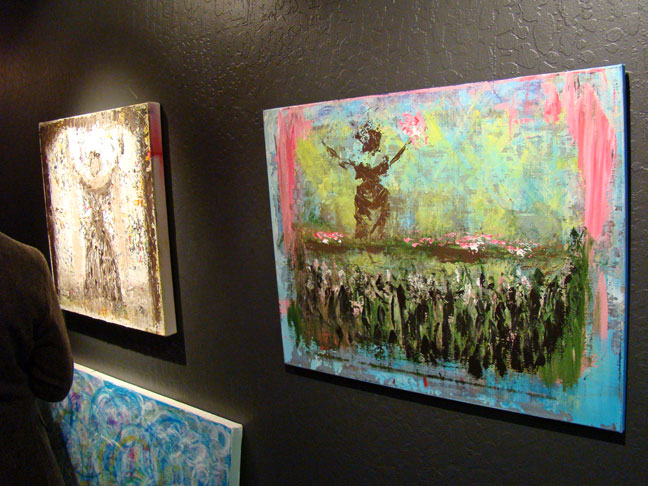 Franc D'Ambrosio art at ArtHaus Gallery.


***
Yerba Buena Center for the Arts: Yoshua Okón: 2007-2010; Audience as Subject, Part 1 - Medium. Organized by Betti-Sue Hertz, Director of Visual Arts.
Audience as Subject artists: Gabriel Acevedo Velarde, caraballo-farman, Stefan Constantinescu, Danica Dakic, Adrian Paci, Shizu Saldamando, Ulla von Brandenburg.
Comment by AB: Multi-screen video installations range from amusing to contemplative to political. I'm partial to a circle of televisions positioned on the floor, all playing continuous loops of audiences clapping. If you've ever wanted to be a star, simply stand in the middle of this, and you're there. Proponents of video art and installation take notice and get yourselves on over here.
"Venerations (Applause 3)" - people applauding - caraballo-farman.


Video art and installation by Yoshua Okón at YBCA.


"Troleibuzul 92" video art by Stefan Constantinescu.


Video pavilion by Yoshua Okón.


Inside Yoshua Okón video pavilion in above images.


Video art by Yoshua Okón at YBCA.


***
Free Gold Watch (FreeGoldWatch): Crosses by Matthew Henri.
Comment by AB: FreeGoldWatch principal, designer and artist Matthew Henri presents a series of crosses, each comprised of hinged 16 by 16 inch squares that have been silkscreened on both sides. The crosses can either be displayed on walls or folded into boxes. Kinda like 'em.
Cross art by Matthew Henri displayed hanging.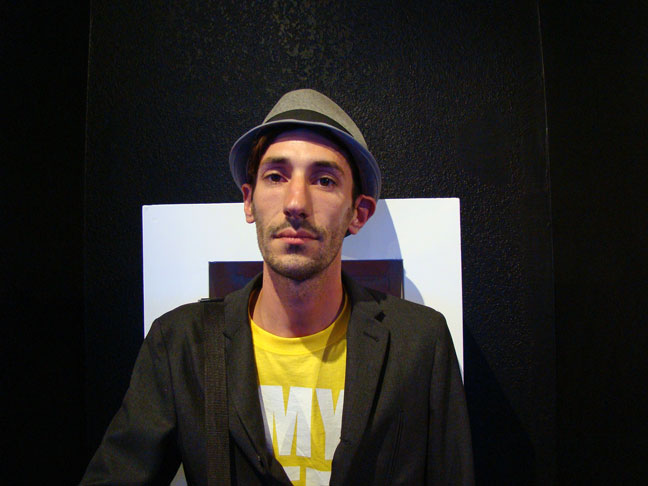 Artist/designer Matthew Henri.


Cross art by Matthew Henri displayed folded into boxes.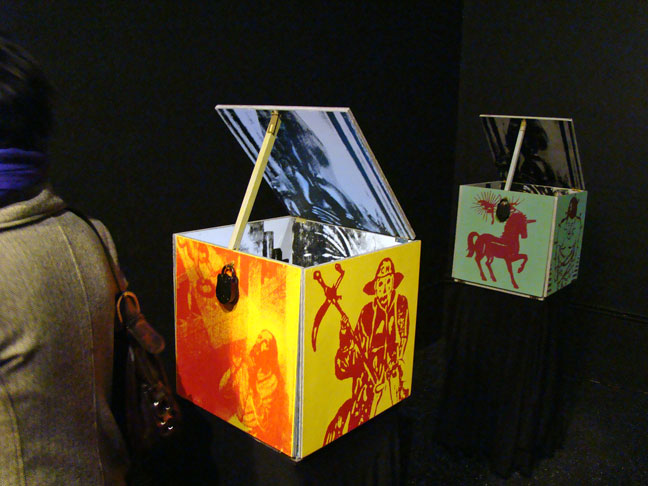 Art by Matthew Henri in above image closer.


***
Addendum:
Art by Josh Herbolsheimer and Ben Walker at 63 Bluxome Street Gallery.


Josh Herbolsheimer and Ben Walker art at 63 Bluxome Street Gallery.


Josh Herbolsheimer and Ben Walker art at 63 Bluxome Street Gallery.


Interactive photo show at 31 Rausch Street.


Another from interactive photography show at 31 Rausch Street.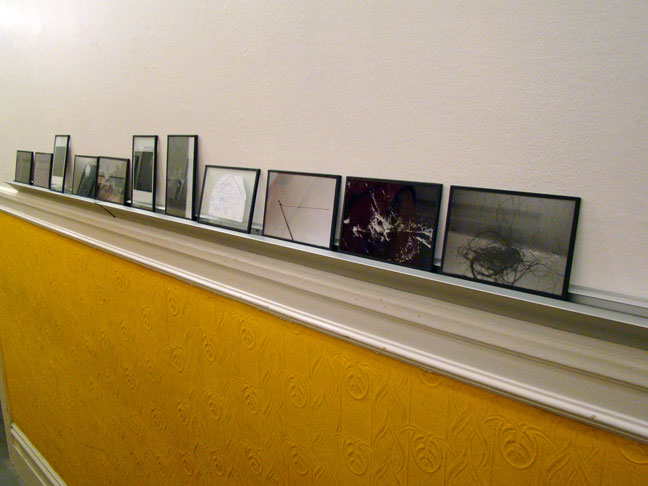 Last one from interactive photography show at 31 Rausch Street.


***