***
Haines Gallery: Linda Connor - From Two Worlds.
Comment by AB: Linda Connor photographs Maine's "Olson House," the domicile made famous in paintings by Andrew Wyeth, and in so doing, does exemplary justice to both. Also on the docket are some of her earlier Far Eastern mystic and spiritual images, this time printed in larger formats on silk and hung banner-style. Americana & mysticism? Can't hurt. Good show; go see.
Olson House photographs by Linda Connor at Haines Galery.


Linda Connor Olson House photography.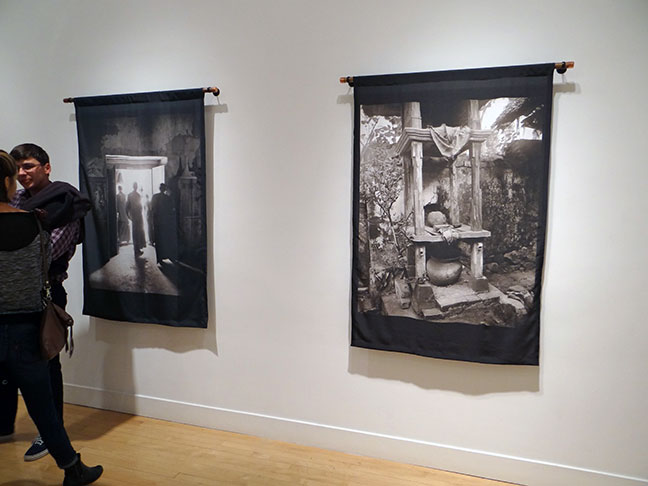 Spiritual mystical photographs by Linda Connor at Haines Gallery.


Photographic prints on silk by Linda Connor.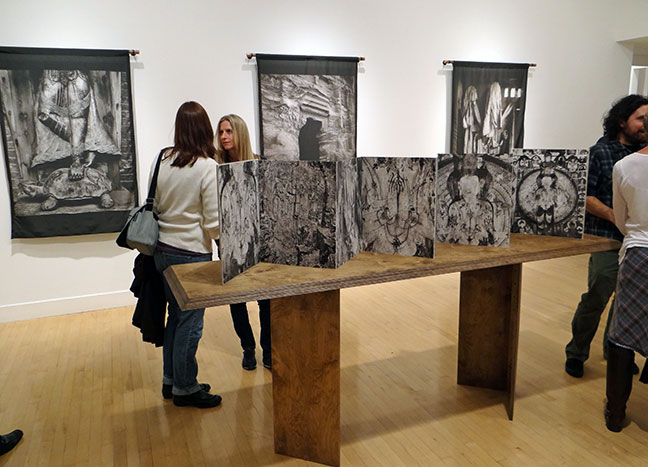 Linda Connor photography at Haines Gallery.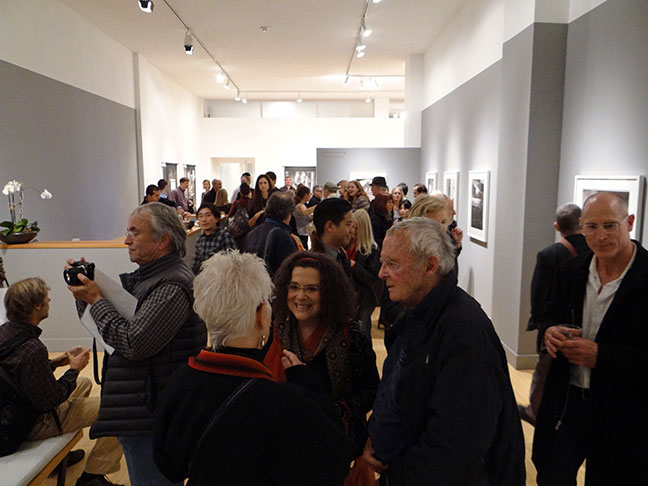 Circumstance - Linda Connor photography show at Haines Gallery.


***
Gregory Lind Gallery: Skipping Over Damaged Area - Jim Gaylord.
Comment by AB: Stymied yet again by a needlessly inscrutable show statement. To quote, "the title of the exhibition refers to the error message that appears when a DVD malfunctions and the player skips over the unreadable section of the disc." OK. So far, so good. The moral of the story appears to be that "in all of the works, the articulation of each form-- whether a paint-streaked surface or carefully cut out paper-- describes a particular phenomena of time and motion, while giving concreteness and permanence to fleeting traces of human action." Really? They look like abstract paint and collage combinations to me. As for any direct connectedness with these purported higher meanings, I'm just not seein' it. If you're gonna state it as fact, it better be evident in the art. Plus this-- does it really do any of us any good to couch the art in such hifalutin lingo? Show me how it does and I'll be an advocate in an instant. Having said all that, the colorific work is proficient and visually appealing.
Art by Jim Gaylord at Gregory Lind Gallery.


Jim Gaylord art.


Jim Gaylord art closer at Gregory Lind Gallery.


Art by Jim Gaylord.


Art by Jim Gaylord at Gregory Lind Gallery.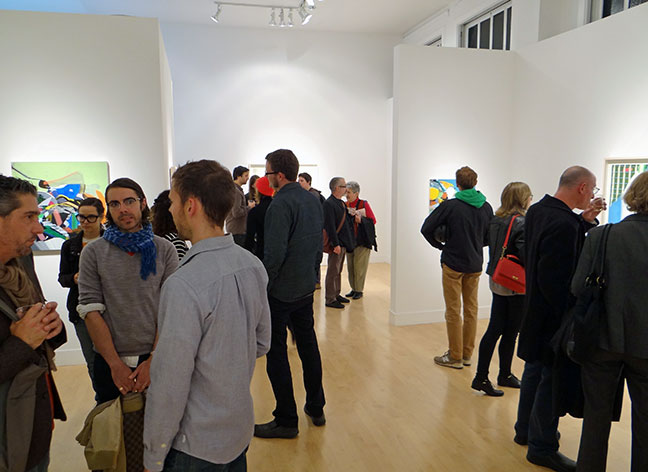 Head count - Jim Gaylord art show at Gregory Lind Gallery.


***
Brian Gross Fine Art: Robert Sagerman - Still Without Cessation; Meridel Rubenstein - Heaven Turned on its Side... Photosynthesis.
Review by RWM: Not quite pointilism, these pictures formed by dots. Instead, abstraction and color play in beautiful ways on canvases filled with lots of colorful pieces. It is fun to see all that vibrancy on the canvas. The compositions wave as the bright colors shake in the winds of the mind.
Comment by AB: New York artist Robert Sagerman ratchets impasto into whole new realms of intensity, counting his daubs in the process, and titling each painting according to the precise number of brush actions necessary to complete it. Santa Fe artist Meridel Rubenstein's composite photographs considering people in relationship to trees touch upon social, political and environmental issues. Stop on by.
Impasto art by Robert Sagerman at Brian Gross Fine Art.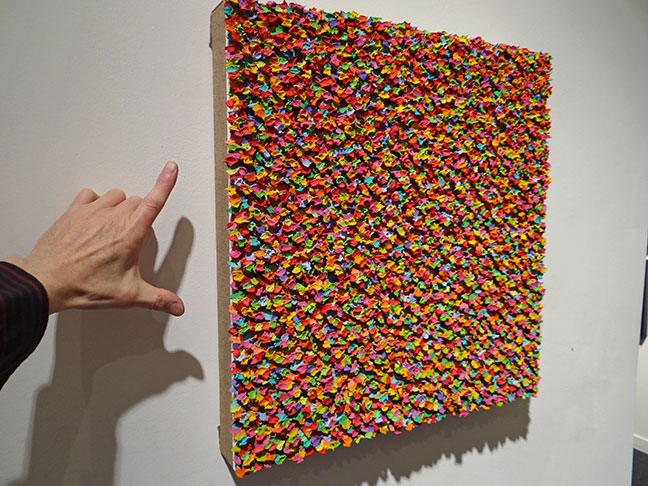 Art by Robert Sagerman closer.


Pinkie cam detail of Robert Sagerman art at Brian Gross Fine Art.


Photography by Meridel Rubenstein.


Meridel Rubenstein photographs at Brian Gross Fine Art.


***
Fraenkel Gallery: Idris Khan - New Photographs.
Comment by AB: Idris Khan homages Cy Twombly in a literary way, conscripting the artist's scribbles and scrawls in manners that recall text on a page, thereby enticing viewers to wax cognitive and actualize possible story lines. Worth a visit.
Photography by Idris Khan at Fraenkel Gallery.


Idris Khan photograph.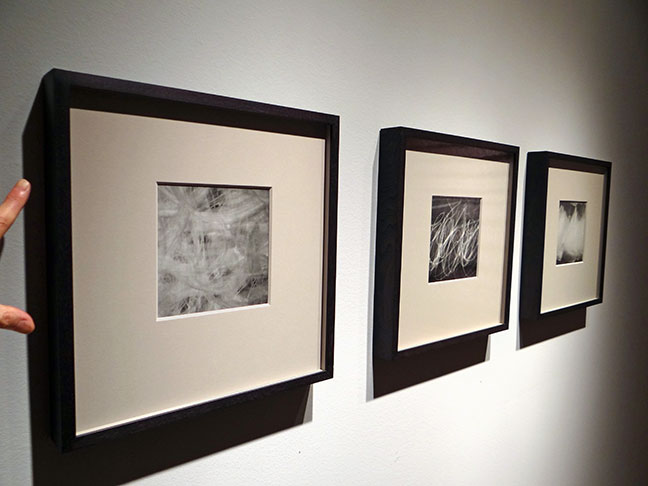 Small-format photographs by Idris Khan at Fraenkel Gallery.


Idris Khan photograph.


Long view - Idris Khan photography show at Fraenkel Gallery.


***
K. Imperial Fine Art: John Wood and Cuong Ta - Interplay.
Review by Maria Medua: Traditional training in the visual arts emphasizes drawing as the preliminary step to painting. Drawing, by itself, is a method of observation as well as expression. For the Bay Area artist John Wood, the obvious choice is to draw, and in doing so, to commit to using line as the primary element to achieve an aesthetic end. One imagines that he grasps an implement like a crayon or pencil rather than a brush with the certainty that it is the most natural extension of his hand.
Wood applies a variety of media to paper, from pigment stick to colored pencil. He describes paper as having, "a rich, skin-like quality that yields." Works on paper are usually framed under glass; Wood also mounts paper works to panel and seals these with wax. The wax varnish is an elegant solution. It affixes the drawing to a solid surface, protects it, and lends an attractive sheen without distancing the viewer.
Though the pieces are tilted toward abstraction; Wood starts by working with a model and progressively obscures the figure. This process makes, in his words, "a connection between the drawing and my own esthetic."
In a piece called, "Tantalizing Evidence," you can see the tooth of the paper-- the pigment drapes over the surface in an irregular pattern. The underlying figure could be a seated nude, possibly a woman in a fetal position. We see lines that might be hips, thighs, knees in the lower right portion of the picture. "Scattering Affections," may have begun with an open pose-- perhaps a reclining nude with one leg bent. Contour lines in taupe, orange, yellow and grey take us in multiple directions about the square format. With "Dreams Will Have Their Way," Wood's pleasing palette reaches its apex. The central form may have its head bent back, with throat and neck in profile. There is no doubt that the lower portion of the picture is a set of legs.
I don't mean to imply that you need to find the underlying figures in each piece to enjoy them. Rather, the real discovery here is Wood's sense of line, color and composition. Even without a discernable subject matter, these pictures offer the viewer a sumptuous experience akin to the pure pleasure of drawing.
Cuong Ta and Wood share similar interests. In particular, Ta admits to "an obsession with line." He uses generous amounts of lava-colored glaze and masks the clay with a latex resist so that areas remain unglazed, revealing the gravel-like texture of the earthen stoneware.
There is just one vessel called "Faun"-- a slab built, high-fired piece. "Semiotics" is a site-specific wall installation comprised of a cluster discs that Ta calls "buttons." Despite the title, which sounds like something from an MFA seminar, the installation is anything but heavy-handed. It presents the work with both variety and balance, allowing you to experience the pieces individually and see the grouping as a cohesive whole. In the piece "Chord," which consists of three horizontal rectangles, we see him departing from his buttons and vessels.
"Stone Pile" is a site-specific floor installation, that is, a loose organization of orbs placed in the corner. Though I like the basic idea of artwork being on the floor, Ta's work would have benefited from a platform of some kind. Ceramics should be afforded a little extra attention so that the viewer can tune in visually and not overlook their value. This means bringing them up to eye level or distinguishing them from other objects that occupy a room. I made the effort to stoop low and take a look-- they are beautiful.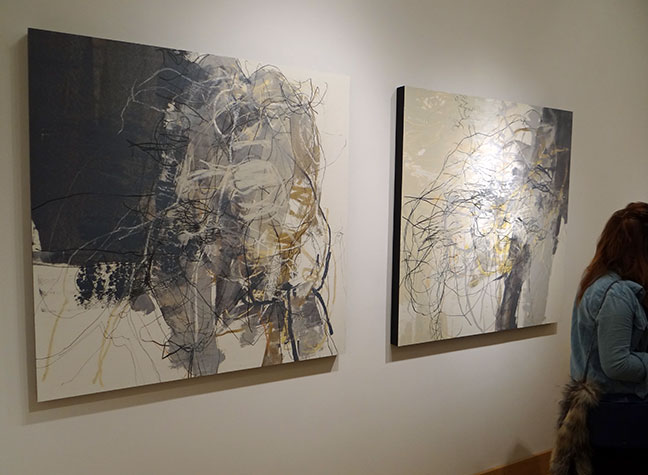 Art by John Wood at K. Imperial Fine Art.


Art by John Wood (left & right) - Cuong Ta ceramic (center).


Ceramic art by Cuong Ta at K. Imperial Fine Art.


Cuong Ta ceramic art continues up to the ceiling.


***
Jack Fischer Gallery: Retratos Hablados - Rogelio Manzo.
Comment by AB: Portraiture is generally a risky realm for artists because hardly anyone wants people they don't know trespassing on their lives. But Rogelio Manzo depersonalizes his depictions to the extent that they actually invite inquiry, daring viewers to decipher the psyches of his mysterious sitters. Like 'em.
Portrait art by Rogelio Manzo at Jack Fischer Gallery.


Art by Rogelio Manzo.


Rogelio Manzo and his art at Jack Fischer Gallery.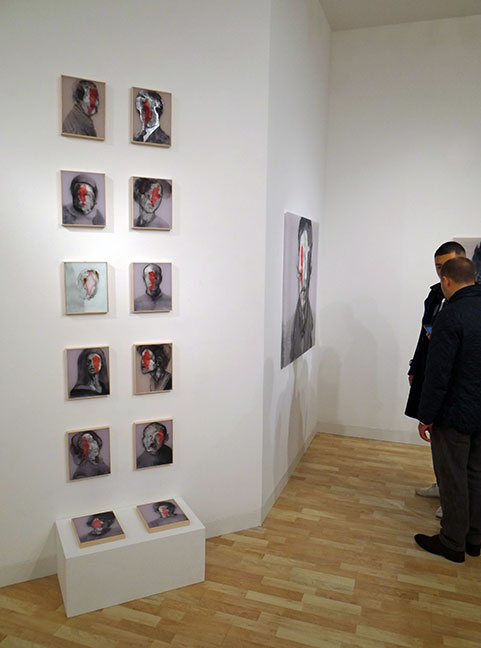 Art by Rogelio Manzo.


Relative density - Rogelio Manzo art show at Jack Fischer Gallery.


***
Altman Siegel Gallery: Liam Everett - If I could sleep I might make love. I'd go into the woods. My eyes would see... the sky, the earth. I'd run, run, they wouldn't catch me.
Comment by AB: Liam Everett manipulates materials in innovative and uncharted ways. With oh so many artists, the modus boils down to clever special effects or impressively rigorous doodles, not that that's a bad thing. There's much to be said for mollifying the masses with well-done humdrum. This dude is anything but... and may well turn out to be the real deal with his dyed and painted fabrics, creased asymmetric "canvases," ghostly X-ray-like paintings and provocative modes of display. In fact, I'm layin' a Pick of First Thursday on this endeavor. Definitely worth seeing.
Art by Liam Everett at Altman Siegel Gallery.


Liam Everett art in above image closer.


"Paintings" by Liam Everett at Altman Siegel Gallery.


Art by Liam Everett closer.


Art on felt by Liam Everett at Altman Siegel Gallery.


Liam Everett art in above image closer.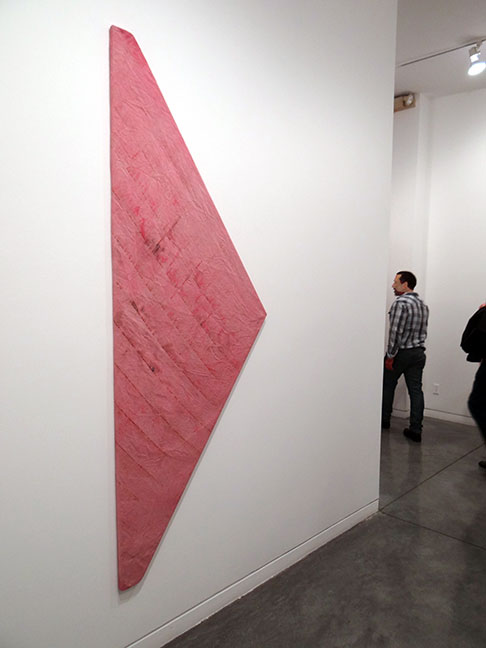 Dyed, painted and creased art by Liam Everett at Altman Siegel Gallery.


Sculptural art by Liam Everett.


Head count - Liam Everett art show at Altman Siegel Gallery.


***
Toomey Tourell Gallery: The Devil Makes Work For Idle Hands. Curated by Eric Butcher.
Artists: Eric Butcher, Rana Begum, Simon Granell, Michael Brown, John Lavell, Natasha Kidd.
Comment by AB: Works on paper by a select cull of UK artists.
Art by Rana Begum (sides), John Lavell (center) at Toomey Tourell Gallery.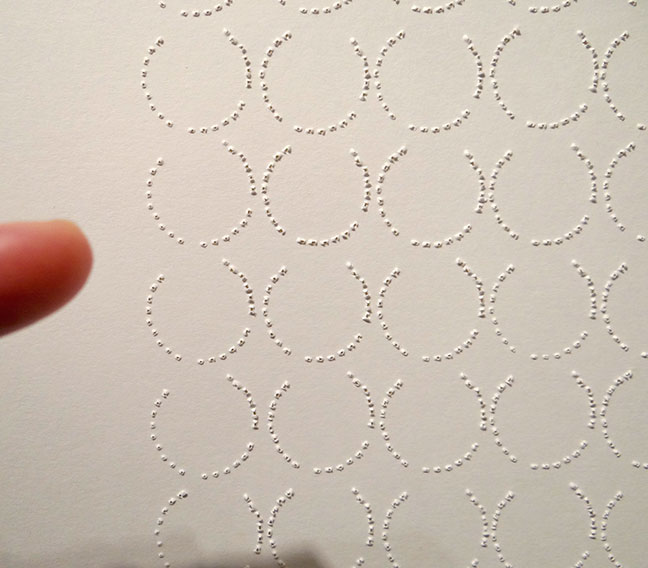 Pinkie cam detail of John Lavell art in above image.


Rana Begum art closer at Toomey Tourell Gallery.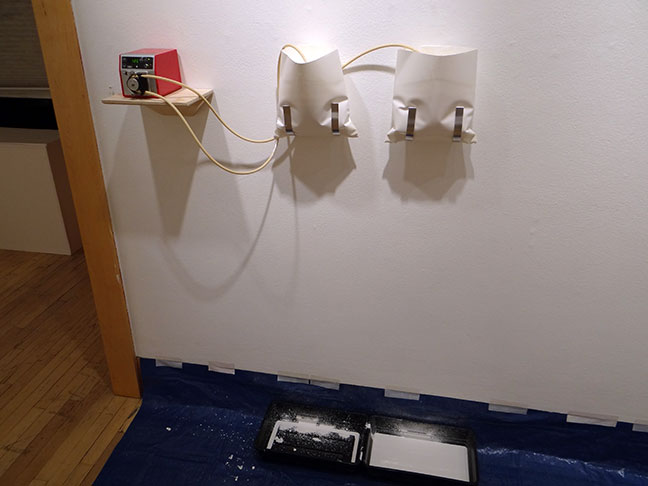 Kinetic dripping paint installation by Natasha Kidd.


Art by Eric Butcher at Toomey Tourell Gallery.


***
Covering San Francisco's art scene like this is really difficult, time consuming and labor intensive. If you care to support the cause even in the most modest of ways, I'd be forever appreciative. To all of you who lavish me with lip service... here's your big chance.
***
First Thursday - October 4, 2012
First Thursday - September 6, 2012
***