<< Back to San Francisco Gallery Openings Reviews
Upcoming San Francisco Gallery Openings Calendar >>
***

Get your art fix fast: Instagram @alanbamberger
***
Fraenkel Gallery: Sophie Calle.
Review by Kathryn Arnold: Very fine exhibition. Sophie Calle brings together photographs from a variety of series. Many are held together by the time and place of the circumstance which clusters them. Dramatic formal compositions in their own right, they create commentary on today's culture.
Comment by AB: In the rear gallery are mugshots of petty criminals used by the police for target practice, complete with bullet holes. In the front gallery are still images from security footage of customers using ATM machines. Definitely worth a visit.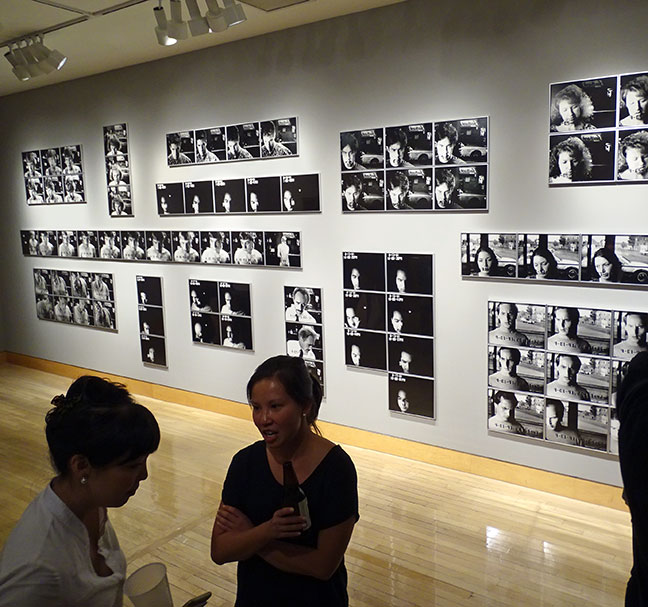 Security camera stills of ATM customers by Sophie Calle at Fraenkel Gallery.


Photographs in above image closer.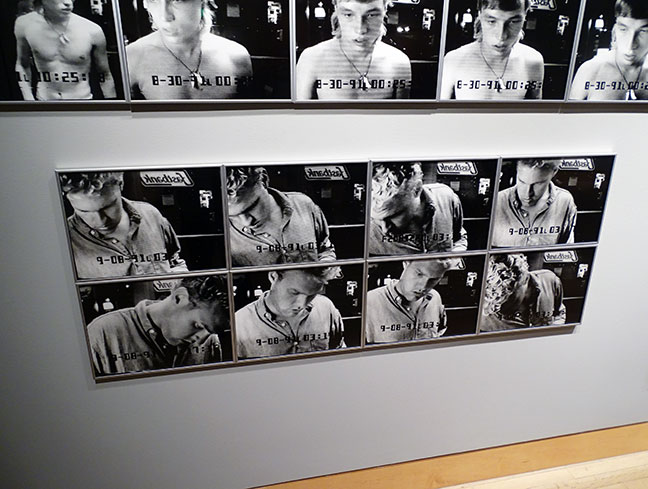 Stills from ATM security camera footage by Sophie Calle in top image closer.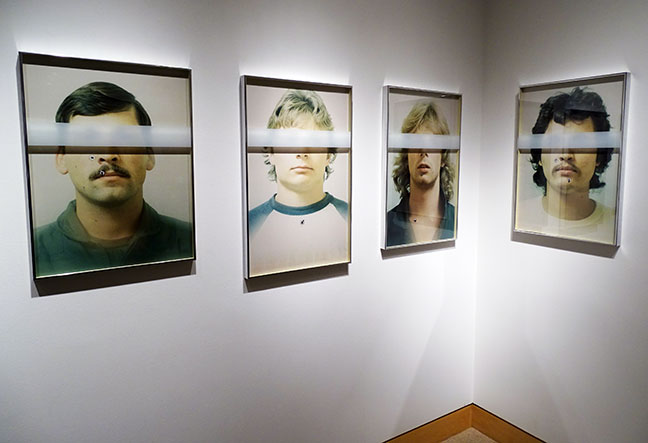 Mugshot blowups used for police target practice by Sophie Calle.


Police target practice mugshots with bullet holes by Sophie Calle.


***
Altman Siegel Gallery: Chris Johanson - Equations.
Comment by AB: Color-rich paintings on found wood expound on various aspects of the world today, encompassing social, political, environmental and other urgent issues.
Art by Chris Johanson at Altman Siegel Gallery.


Chris Johanson art.


Paintings displayed on found wood constructions by Chris Johanson.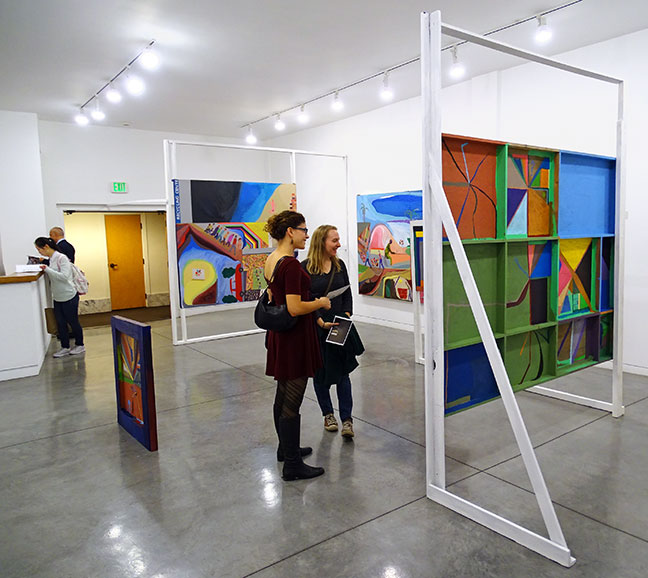 Chris Johanson painting installation at Altman Siegel Gallery.


***
Haines Gallery: The Mapmaker's Dream.
Artists: Maurizio Anzeri, Marius Bercea, Linda Connor, Chris McCaw, Pae White.
Comment by AB: Five artists offer up new ways of seeing world around us. Good show; go see.
Art by Marius Bercea at Haines Gallery.


Chris McCaw solar collaboration photograph (always good).


Video by Pae White.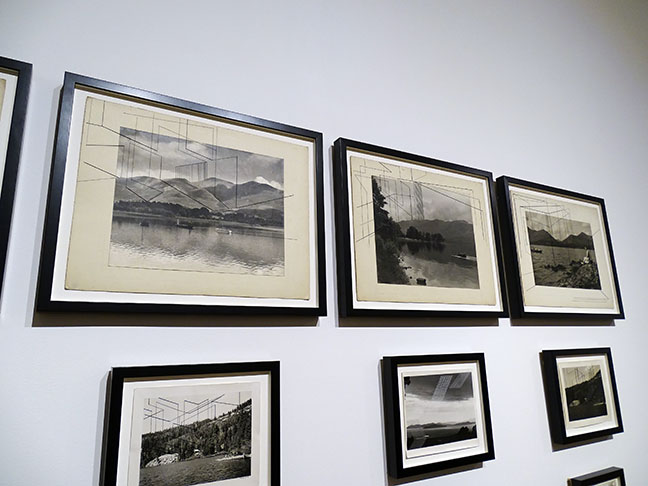 Geometrics applied to found photographs by Maurizio Anzeri.


"Sublimation prints" on aluminum by Linda Connor.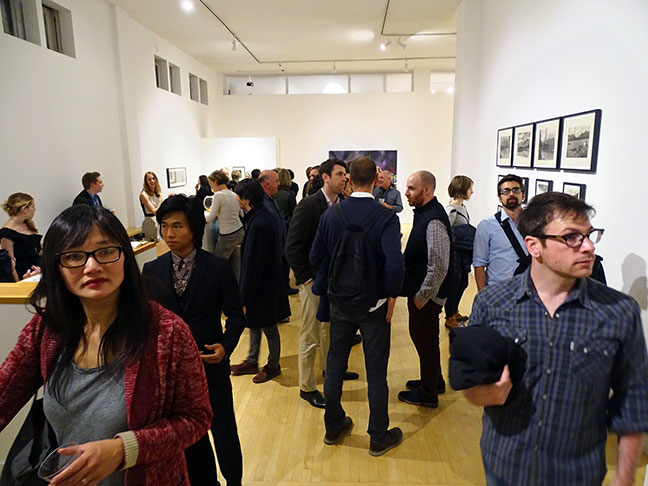 Attendance figures - group art show at Haines Gallery.


***
Anthony Meier Fine Arts: Tavares Strachan - Seeing is Forgetting the Thing that You Saw.
Comment by AB: Art about important contributions to humanity by people who go largely unnoticed, Rosalind Franklin in particular, whose research led to the discovery of DNA's molecular structures. Way too many people today could care less about great historical advances. The new Star Wars... now that's important. Anyway, the centerpiece of the show is a "living" light sculpture anatomy. His art's exceptionally well-made and highly detailed. Unfortunately my camera settings were screwed up, so no pinkie cams here. Worth seeing (and thinking about).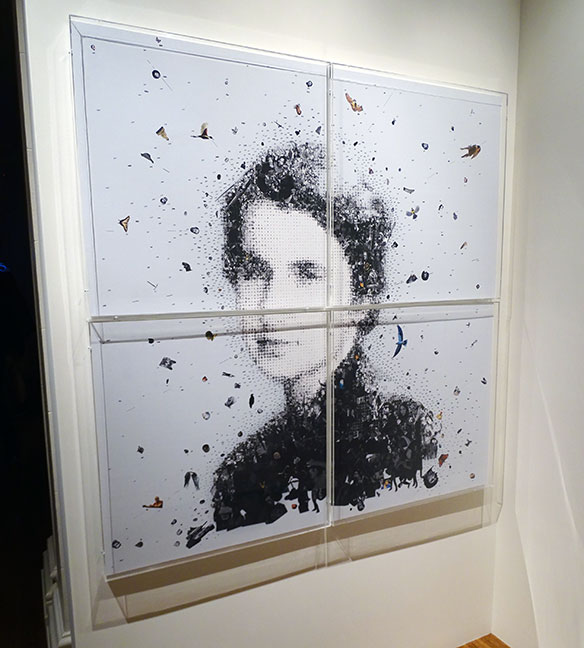 Scientist Rosalind Franklin by Tavares Strachan at Anthony Meier Fine Arts.


"Living" human anatomy light sculpture by Tavares Strachan (like it).


Artistic depictions of Rosalind Franklin's tools by Tavares Strachan.


Art in above image closer.


***
The McLaughlin Gallery: Fallout Works - Sofia Córdova and Charlie Leese. Organized by Katya Min and Marcella Faustini.
Review by Kathryn Arnold: The gallery is filled with an installation expanding throughout the space. Video displays illuminate the space with an electric type of light. One investigates, is pulled in, examines.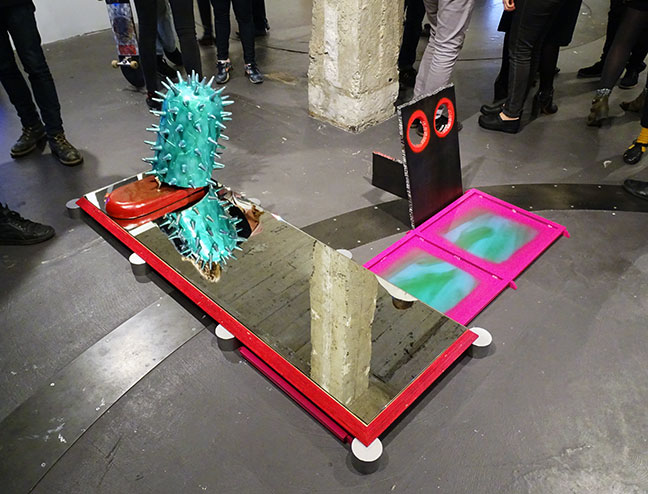 Sculpture by Charlie Leese at The McLoughlin Gallery.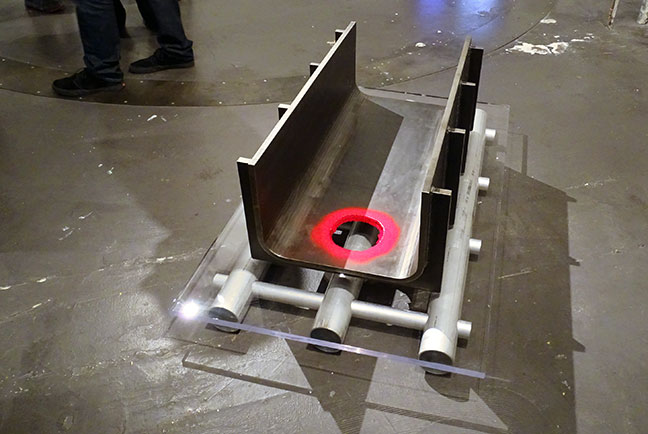 Industrial-strength sculpture by Charlie Leese.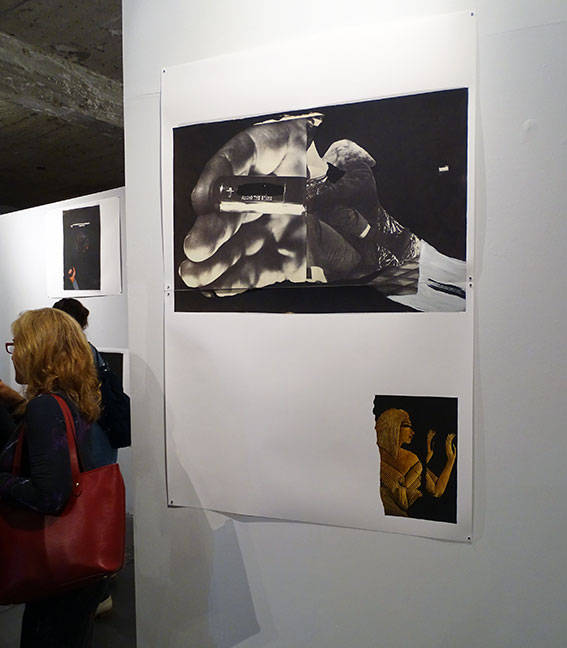 Art by Sofia Córdova.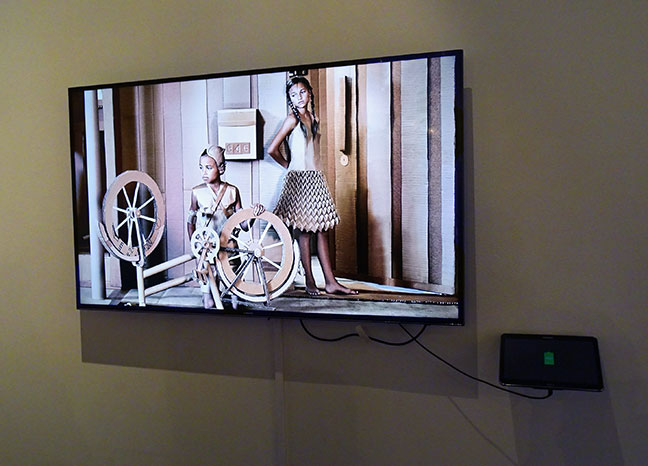 Sofia Córdova video art.


Work on paper by Sofia Córdova (one of her videos is in the background).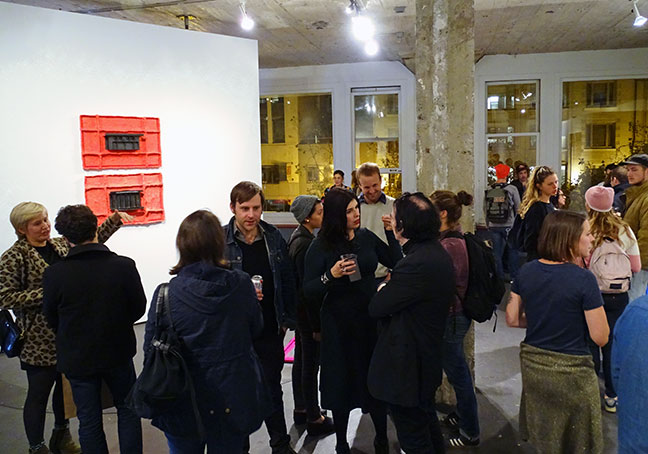 Head count - Charlie Leese sculpture on the wall.


***
Scott Nichols Gallery: Brad Temkin - Rooftop Gardens & Landscapes.
Comment by AB: We're making (very) slow but steady progress on climate-related issues, and Brad Temkin calls our attention to one aspect of that progress by documenting environmentally friendly rooftop gardens around the world.
Photographs of rooftop gardens by Brad Temkin at Scott Nichols Gallery.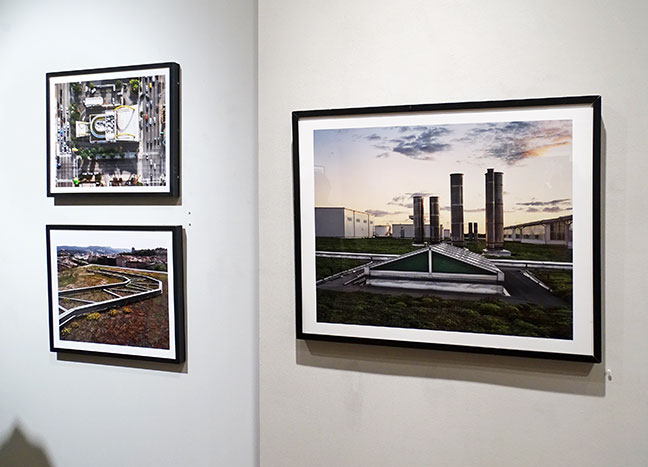 Rooftop landscapes photographed by Brad Temkin.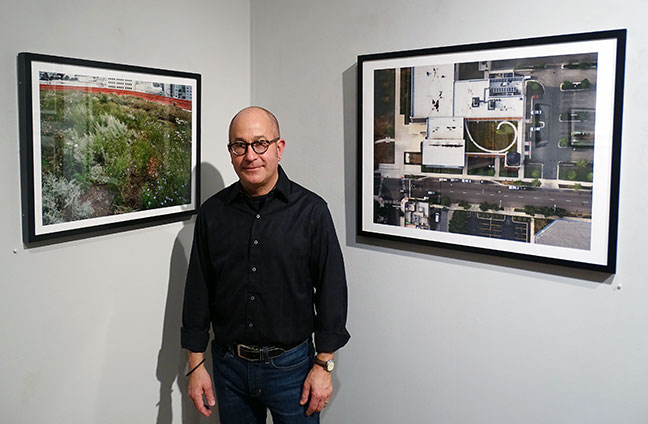 Brad Temkin and his photography at Scott Nichols Gallery.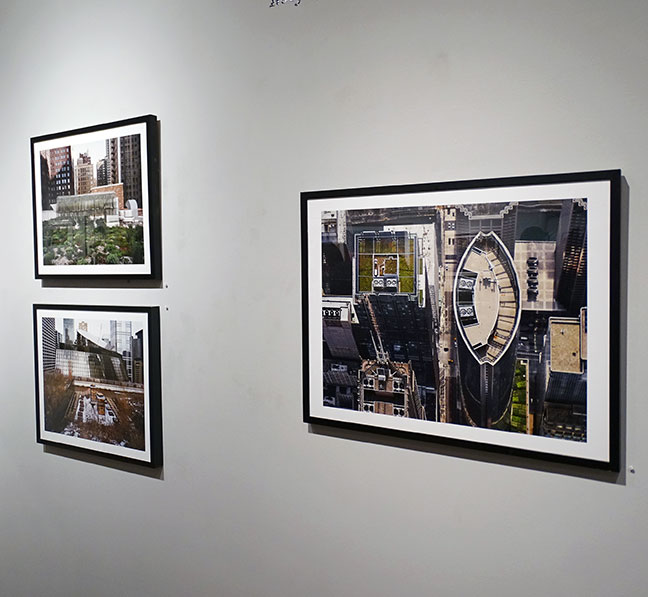 Rooftop garden photographs by Brad Temkin.


***
K Imperial Fine Art: Martin Machado - A Sea Between Us.
Review by Kathryn Arnold: These works appear like finely etched prints but are actually ink drawings. The images feel at once foreign and familiar, the scenes inspired by Machado's life at sea. Delicate sets of values are created within these small vignettes.
Martin Machado and his art at K Imperial Fine Art.


Pinkie cam detail if ink drawing in above image.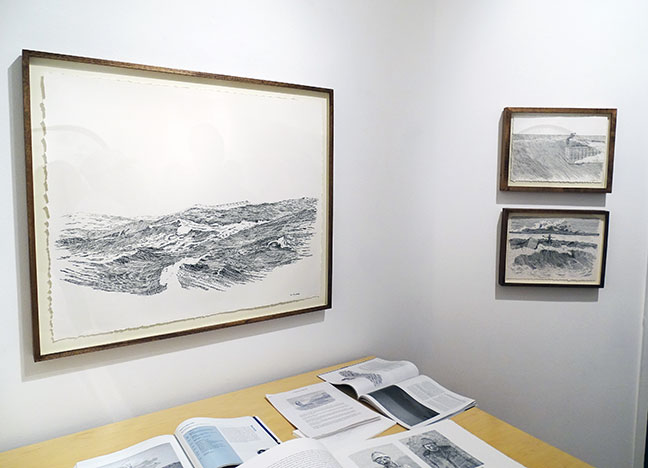 Art by Martin Machado.


Martin Machado art closer.


Relative density - Martin Machado art show at K Imperial Fine Art.


***
Corden Potts Gallery: Susan Burnstine - Absence of Being.
Comment by AB: Susan Burnstine makes her own film cameras and lenses in order to achieve deliberately unpredictable results in her photographs, here imparting airs of mystery and mood to big city views.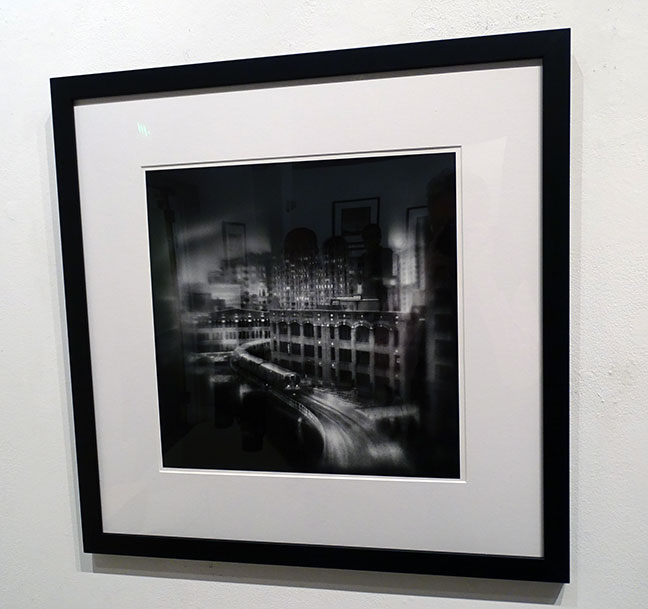 Photograph by Susan Burnstine at Corden Potts Gallery.


Susan Burnstine film photography taken with her own handbuilt cameras.


Photographs by Susan Burnstine.


***
Elins Eagles-Smith Gallery: Ricardo Mazal - The Bhutan Abstractions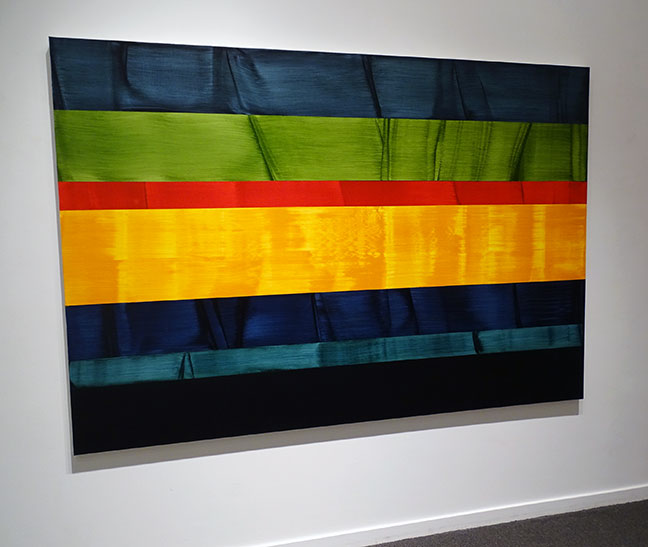 Art by Ricardo Mazal at Elins Eagles-Smith Gallery.


Ricardo Mazal abstract art.


***
If you're ever interested in sending a little material love my way, you can always make a donation here. You get a complimentary link to your website or email on the Donors Page if you do.
***
First Thursday - October 1, 2015
First Thursday - September 3, 2015
***