<< Back to San Francisco Gallery Openings Reviews
Upcoming San Francisco Gallery Openings Calendar >>
***

Get your art fix fast: Instagram @alanbamberger
***
John Pence Gallery: Figures and Interiors
Artists: John Altoon, Juliette Aristides, Richard Bauer, Michael Bergt, Jason Brady, Noah Buchanan, Minerva Chapman, Jacob Collins, Peter Cox, Brian Craig, Camie Davis, Jon DeMartin, Carl Dobsky, Adam Forfang, Jason Gaillard, Greg Gandy, Kevin Gorges, Russell Harris, Justin Hess, John Hyland, Dean Larson, David Leffel, Kate Lehman, Steven J Levin, Jeremy Mann, Richard Maury, Sherrie McGraw, Edward Minoff, Cuong Nguyen, Teresa Oaxaca, Jacob Pfeiffer, Alicia Ponzio, Travis Schlaht, Jason Toney, Peter VanDyck, Leah Waichulis, Patricia Watwood, Gary Weisman, Will Wilson, Zack Zdrale.
Comment by AB: It's always heartening to see that classic representational painting and sculpture are alive, well and thriving. It's all good here. Stop on by.

Art by Will Wilson up close at John Pence Gallery.


Adam Forfang interior art.


Skewed perspective art by Jason Gaillard.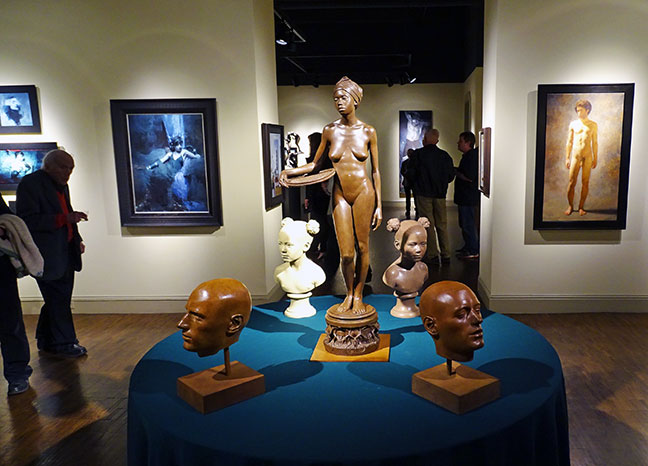 Sculpture by Brian Craig.


Wild still-life painting by Teresa Oaxaca.


Interior scene by Noah Buchanan (right).


Justin Hess art.


Art by Russell Harris up close.


***
Mystic Hotel: Endless Forest - Angelique Benicio
Comment by AB: Kinda like these paintings. Worth a look.

Dream-state surrealism by Angelique Benicio at Mystic Hotel.


On the ceiling art by Angelique Benicio.


Angelique Benicio art.


***
Southern Exposure: Crank
Artists: Alexis Arnold, Erik Beltran, Liat Berdugo and Phoebe Osborne, Lizzy Brooks and Radka Pulliam, Ethan Caflisch, Tom Comitta, Nicole Czapinski, Johannes Donato, Claire Elliott, Sarah Farahat, Josť Figueroa, Nin Filip, Mary Fitzgerald, Rebecca Foster, Diane Foug, Jon Gourley, Kristie Hansen, Jenny Harp, Alexander Hernandez, Terry Hoff, Junyan Hou, Heejin Jang, Sara Kerr, Sophie Lourdes Knight, Peter Max Lawrence, Wei Li, Em Meine, Neila Mezynski, Mary Mocas, Cait Molloy, Michelle L. Morby, Barbara Morris, Cara Seaira O'Brien, Juan Pablo Pacheco, Hadley Radt, Sofie Ramos, Mike Rothfeld, Tyler Scheidt, Matt Shapiro, Isabelle Smeall, Milan Subedi, Paul Taylor, Miranda Texidor, Trav, Isaac Vazquez Avila, John Vogler, D.W., Emma Webster, William Wiebe.
Comment by AB: You never know what treasures you might find while perusing Southern Exposure's annual free-to-enter juried exhibition of art by Northern California Artists. 49 works were selected from over 300 entries.

Little leather cuff sculpture by Kristie Hansen at Southern Exposure (like it).


John Vogler photograph.


Engaging urban life video by Lizzy Brooks and Radka Pulliam.


Metallic banana extravaganza by Wei Li (sorta like it).


Tyler Scheidt art (left).


I have no idea what it is... or who did it.


L-R, art by Nin Filip and Diane Foug.


L-R, art by Mary Mocas and William Wiebe.


Art by Em Meine.


L-R, art by Junyan Hou and Alexander Hernandez.


Always a healthy turnout at the Southern Exposure fee-free juried exhibition.


***
Chandran Gallery: Sam Friedman - Collages

Over 200 small collages by Sam Friedman at Chandran Gallery.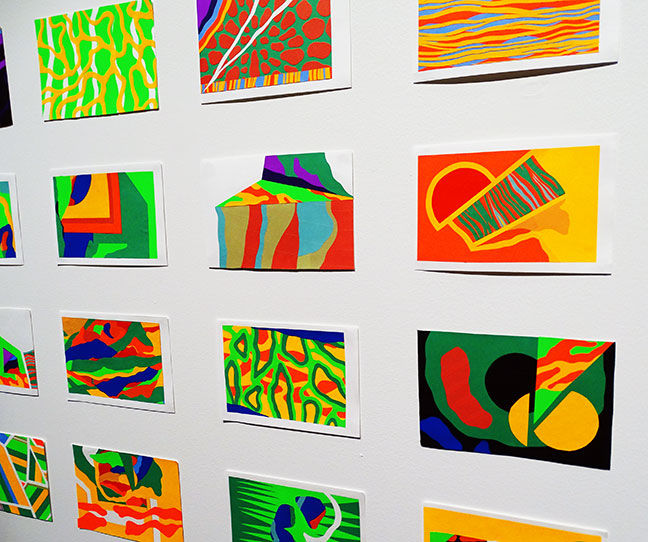 Collage art in above image closer.


Small collages in top image closer.


View from the balcony - Sam Friedman collage show at Chandran Gallery.


***