***
General comment: During the first week of December, galleries, artists, collectors, directors and curators from around the world make their way down to Miami Florida. There are many exciting attractions to choose from such as fairs, collections, museums and parties. I have been attending these events for many years and notice a continuous upward movement.
This year, the majority of the Bay Area Galleries are featuring their artists in MIAMI PROJECT, located on NE 29th street and 1st Ave. In my opinion it's definitely the best fair outside of South Beach. I'm really impressed with the professionalism and confidence conveyed by the San Francisco gallerists.
***
Review and images by Rafael B Vieira: Catherine Clark Gallery achieves what seems to be the perfect antidote. They have a center booth with three entry points showcasing numerous artists working in a variety of mediums, the selection composed of robust politically driven themes, and attracting the curiosity of the spectators.
Like always, she brings out "The Big Guns" exhibiting high caliber artists such as Paul Rucker, Stephanie Syjuco, Nina Katchadourian, Masami Teraoka and Titus Kaphar. Catherine is elegantly dressed for success and in control of the floor; her assistant has a professional attitude as well, enthusiastically answering all of my questions.
Booth view at Catharine Clark Gallery, Miami Project.


Art by Nina Katchadourian in above image closer.


Nina Katchadourian art in top image closer.


Hoodie installation art by Stephanie Syjuco.


Art by Titus Kaphar.


Travis Somerville art.


Art by Paul Rucker.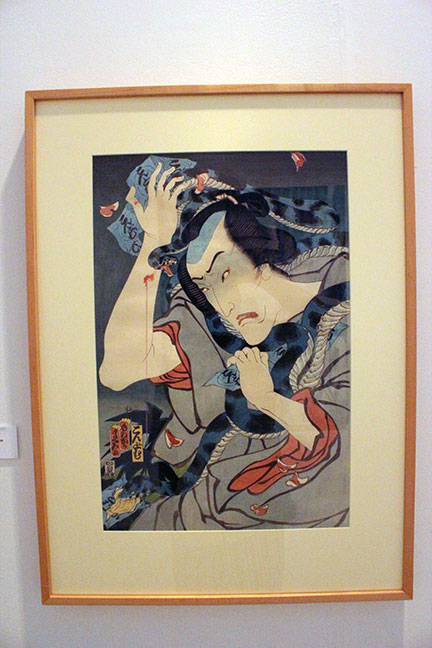 Masami Teraoka art.


***
Review and images by Rafael B Vieira: Jack Fischer Gallery has a very interesting approach. His booth is spacious and marvelously curated, comprised of works that encompass painterly aesthetics, and consisting of a well balanced combination of both Outsider Art such as Marlon Mullen paintings, and more established artists like Ward Schumaker and Terao Katsuhiro. The gallery's choice and positioning of works allows viewers to smoothly weave in and out through sculptures and paintings, and resulting in a refreshing ambience. As for Jack Fischer, he projects an equally welcoming and approachable attitude towards all fair attendees.
Art by Marlon Mullen at Jack Fischer Gallery, Miami Project.


Marlon Mullen art in above image closer.


Art by Ward Schumaker (left wall) - Marlon Mullen (right wall).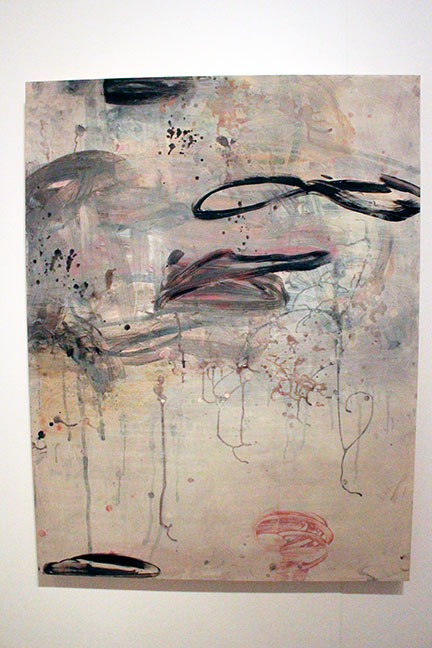 Ward Schumaker art closer.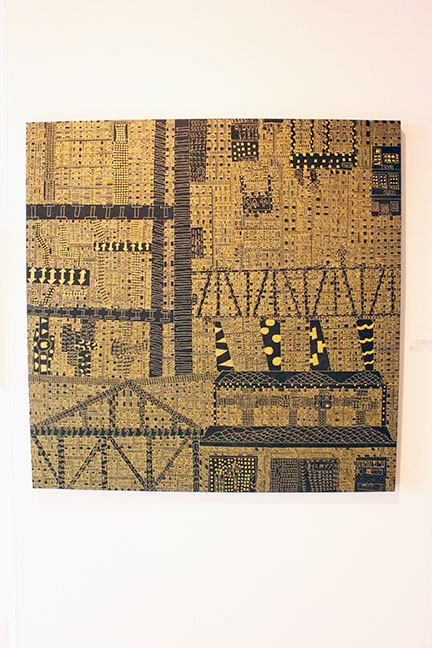 Intricate art by Terao Katsuhiro.


Terao Katsuhiro art in above image closer.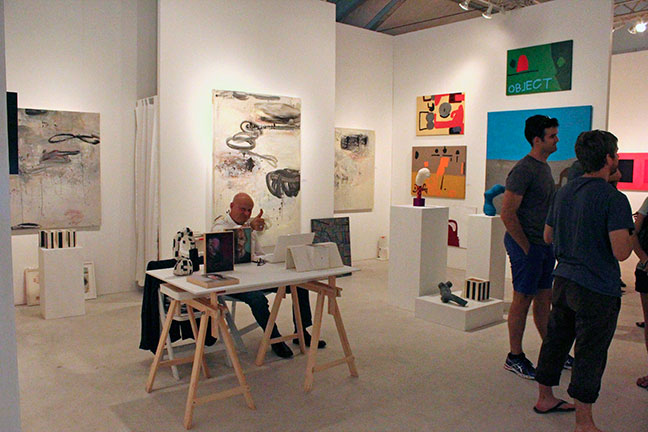 Jack Fischer Gallery booth view at Miami Project.


***
Comment by AB, images c/o Brian Gross: Brian Gross reports having an excellent fair with sales to both private and institutional buyers. Among the more notable works on display are a major bronze by Robert Arneson and a 1962 collage by Joan Brown.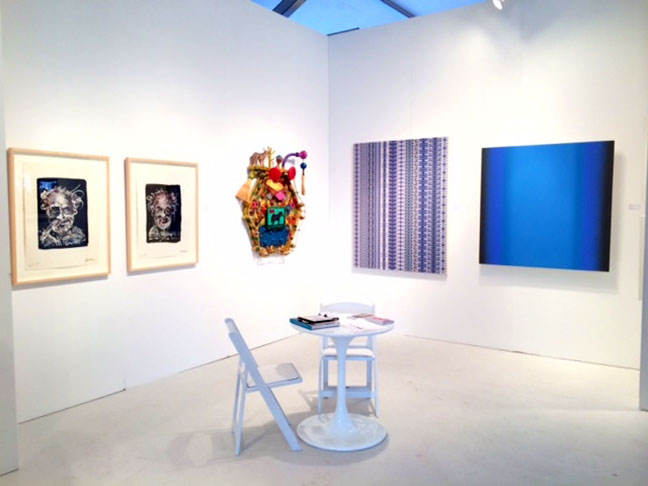 L-R, art by Robert Arneson, Roy De Forest, Dana Hart-Stone, Ruth Pastine
at Brian Gross Fine Art.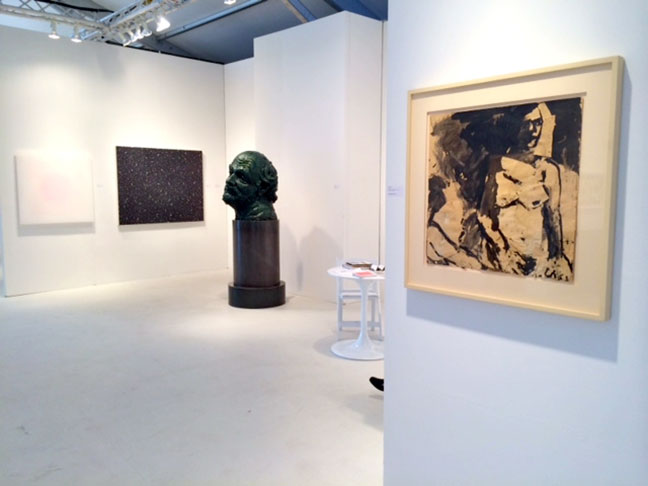 L-R, art by Peter Alexander, Teo Gonzalez, Robert Arneson, Joan Brown.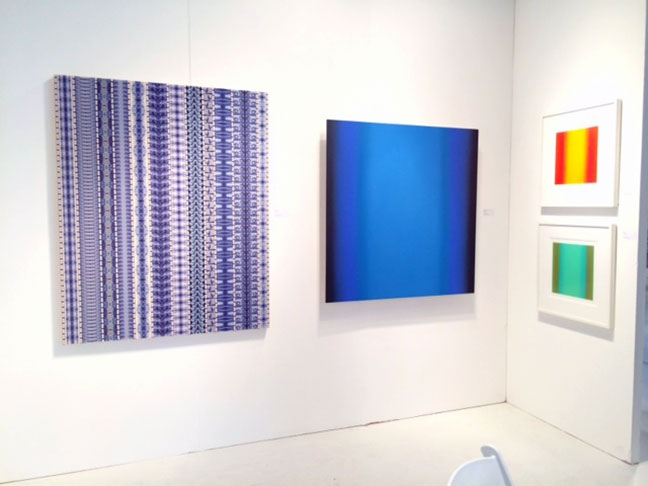 Art by Dana Hart-Stone (left) - Ruth Pastine (3 pieces on right).


***
Review and images by Rafael B Vieira: Patricia Sweetow Gallery has a "Grade A" presence. Sweetow exhibits mutlple flavors such as Heike Kati Barath's well-executed canvases and sculptures which project an "adolesent painterly feel." Barath's work is contrasted by the more "decorative" qualities Markus Linnenbrink's colorful vertical stripe paintings. My personal favorite in her booth are the works of David Huffman which contain a harmonious duality-- expressionistic strokes and the playfulness of basketball. Sweetow is mostly on her feet energetically overseeing the floor and selling works to interested collectors. Her assitant has a professional apearance and aids in attending to the walkup customers.
Booth view at Patricia Sweetow Gallery, Miami Project.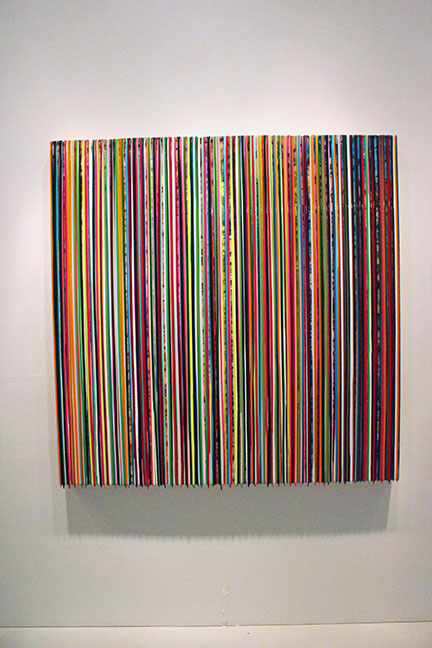 Markus Linnenbrink art in above image closer.


Painting and sculpture by Heike Kati Barath.


Basketball abstraction by David Huffman.


***
Review and images by Rafael B Vieira: Rena Bransten Gallery showcases in an open booth near the entrance, which makes for plenty of natural light. She exhibits, for the most part, safe works such as Edward Burtynsky's chromogenic color print, The Netherlands. Also on display are Hung Liu's gracefully painted Beauty and the Beast and Vic Muniz's digital c-print, Pictures of Magazine 2.
My viewer's choice award for the booth are the mixed-media works of Tracey Snelling, providing me with an escape from the fair to her alternate realities. Her art is perfectly composed balancing elegance of scenery with pockets of chaotic complexity. Her delightful combination of Neon Lights over landscapes with miniature risqué videos allow the viewers to be immersed in her Rock & Roll world.
Booth view - Rena Bransten Gallery at Miami Project.


Art by Hung Liu in above image closer.


Edward Burtynsky photograph (with reflections on glass - sorry).


Mixed-media art by Tracey Snelling.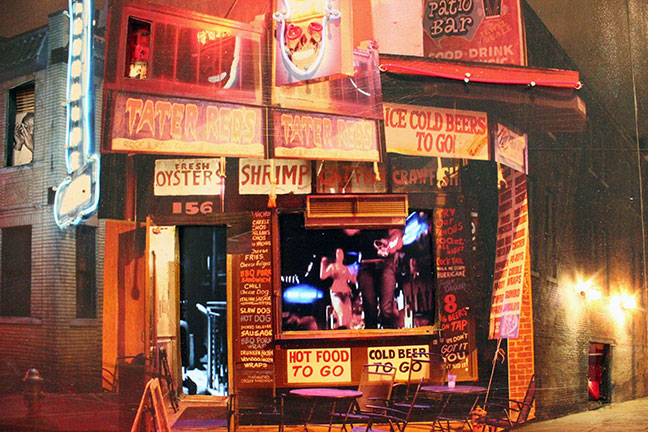 Detail of Tracey Snelling art in above image.


Mixed-media art by Tracey Snelling.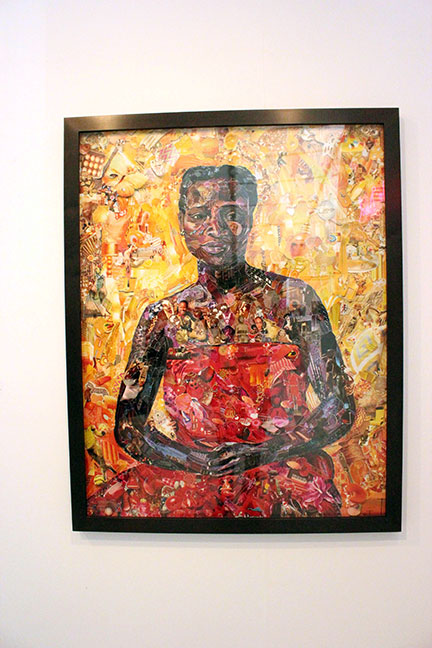 Collage art by Vic Muniz.


***
Review and images by Rafael B Vieira: Eli Ridgway Gallery is distinct from all others in their approach by exhibiting only one artist, Amy Ellingson, giving the space a solo show atmosphere. Although the booth concentrates on a singularity of aesthetics, it still manages to provide a power punch. Ellingson's dynamic paintings question abstraction and havoc through a layered vocabulary of simple forms with variations of grids. Her large paintings offer breathing space and a refreshing viewer experience.
Eli Ridgway with art by Amy Ellingson at Miami Project.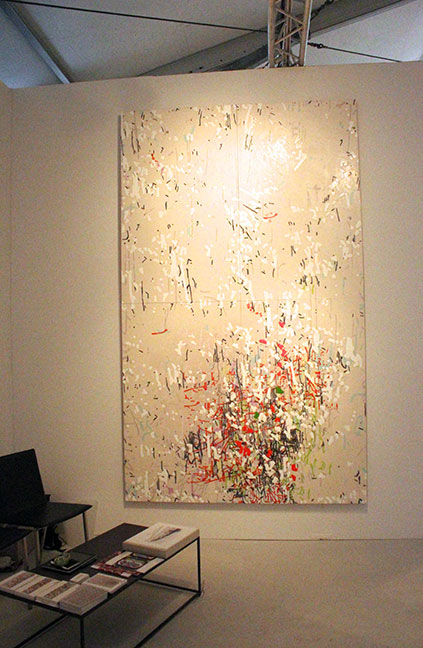 Amy Ellingson art in above image closer.


Art by Amy Ellingson.


***