***
Dolby Chadwick Gallery: Hello, Goodbye - 15 Artists Respond to the Concept of Impermanence.
Artists: Travis Collinson, Stephen De Staebler, John DiPaolo, Edwige Fouvry, Ann Gale, Hollis Heichemer, Shelley Hoyt, Katina Huston, Alex Kanevsky, Jerome Lagarrigue, Danae Mattes, Joshua Meyer, Ada Sadler, Kai Samuels-Davis, Forrest Williams.
Review by RWM: Group show with all sorts of work from fifteen artists. Some wondrous. Some painful. Difficult identities and fascinating free forms. The title of the show does have viewers wondering whether the San Francisco art scene is changing, i.e. are the shows of the future, next year, going to be less social and more art-appreciation oriented. Tough times the city is facing with some galleries closing and others moving. Beautiful work is still available with artists continuing to make an impression.
Art by Jerome Lagarrigue at Dolby Chadwick Gallery.


Sculpture by Stephen De Staebler - painting by Katina Huston.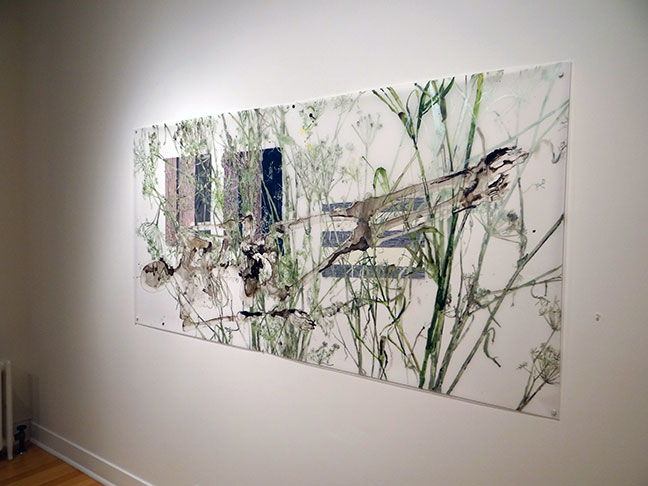 Art by Katina Huston in above image closer.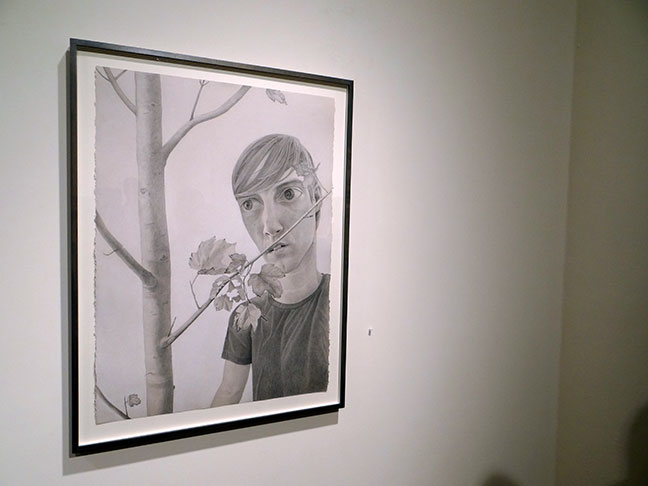 Travis Collinson art.


Vintage seating art by Ada Sadler - instantly relaxing.


Art from group show at Dolby Chadwick Gallery.


Portrait art.


Attendance figures - group art show at Dolby Chadwick Gallery.


***
Hedge Gallery: re:Visions - The World of Michael Boyd.
Comment by AB: Noted modern furniture and design collector Michael Boyd is inspired by legendary designers and the objects he collects to create his own furniture forms. Functional sculpture would aptly describe the results. In this show, his furniture is displayed within the context of the period and vintage objects that have influenced it. Worth a visit.
Handmade chair designed by Michael Boyd at Hedge Gallery.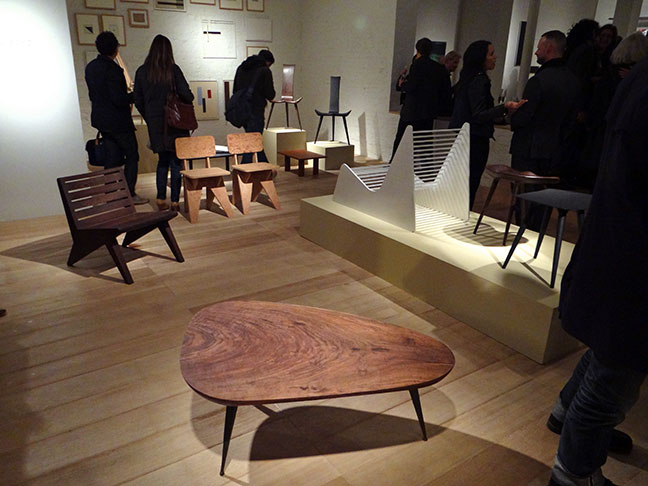 Furniture designed by Michael Boyd.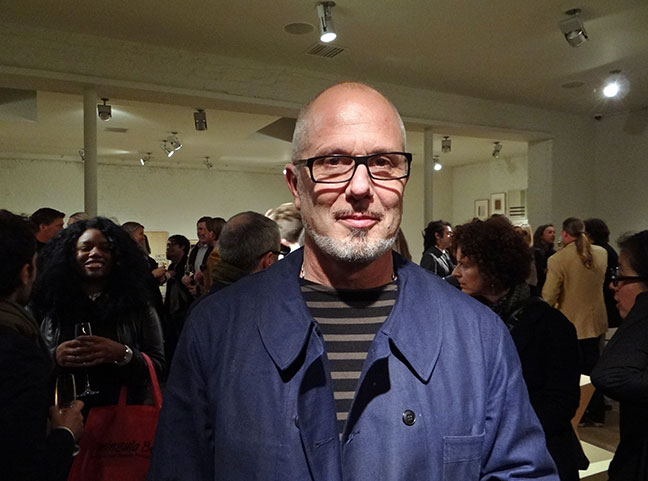 Designer and collector Michael Boyd at his Hedge Gallery opening.


Vintage furniture from Michael Boyd's personal collection.


Vintage furniture and posters from Michael Boyd's collection.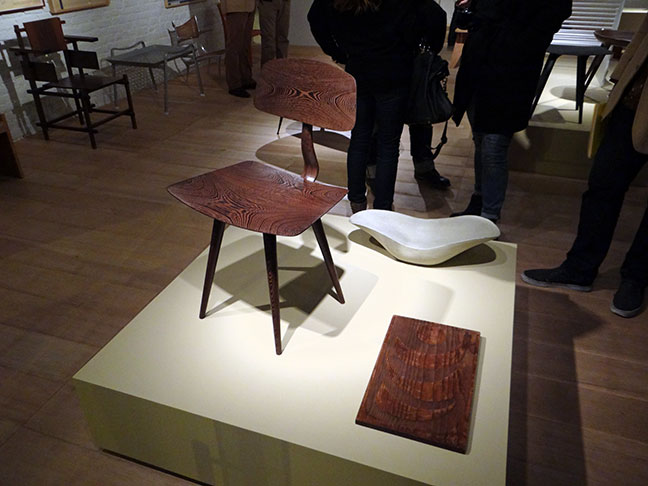 Furniture designed by Michael Boyd.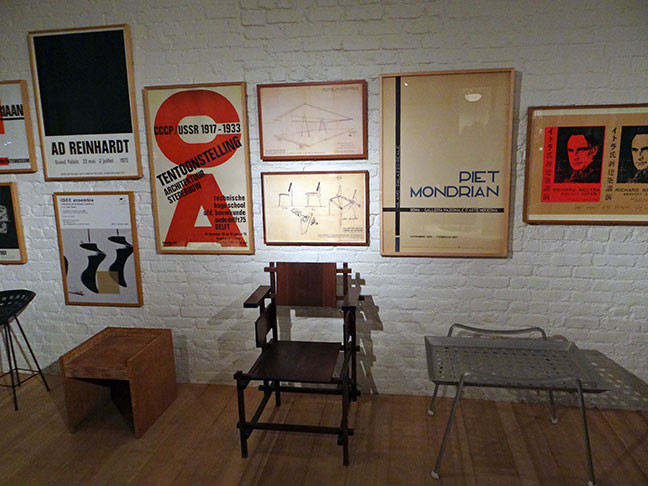 Furniture and decorative arts from the Michael Boyd collection.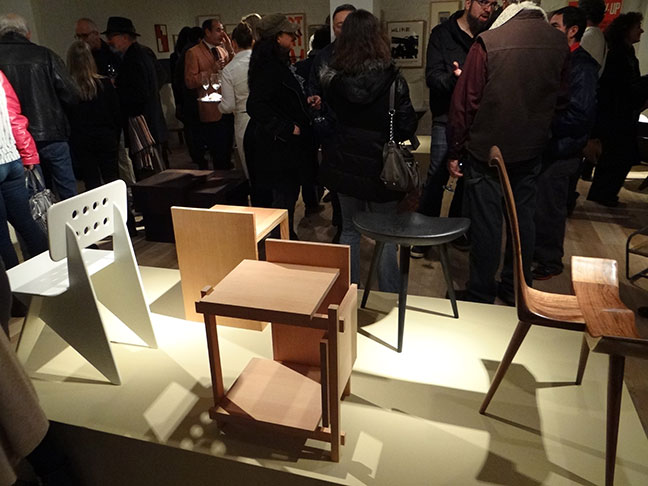 Michael Boyd designer furniture.


Out front - Michael Boyd furniture and collection show at Hedge Gallery.


***
Highlight Gallery: Chris Fraser - In Stereo.
Comment by AB: Chris Fraser creates three-dimensional illusions by projecting light onto two-dimensional surfaces. You can only experience the effects in person; they're not photographable. But these images might get you close enough... with a little added imagination. If they can't, you have to come down and see 'em firsthand.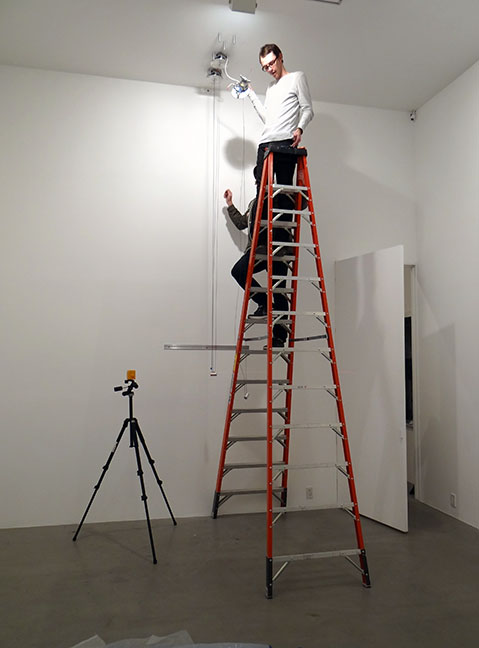 Chris Fraser getting ready for his art show at Highlight Gallery.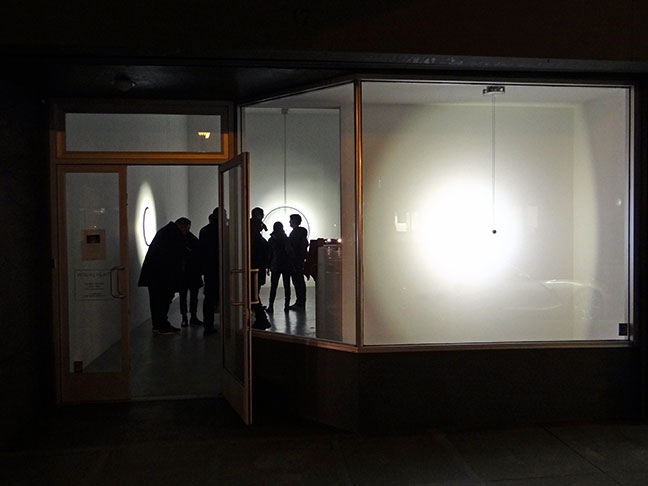 The show is now in session - Chris Fraser art at Highlight Gallery.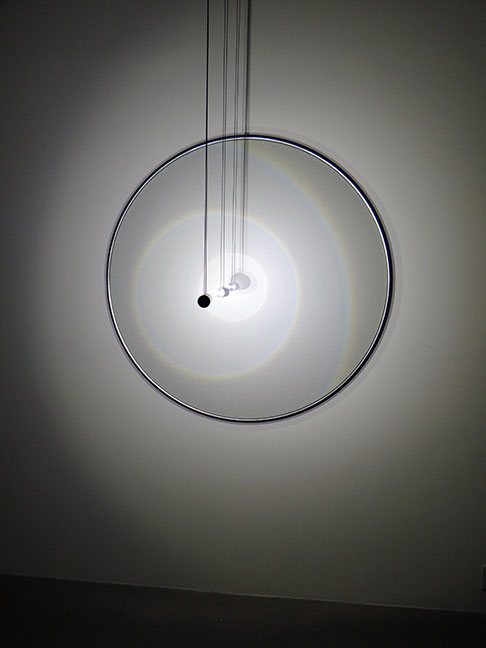 Back wall art by Chris Fraser in above image.


3-D effect art in above image from the side.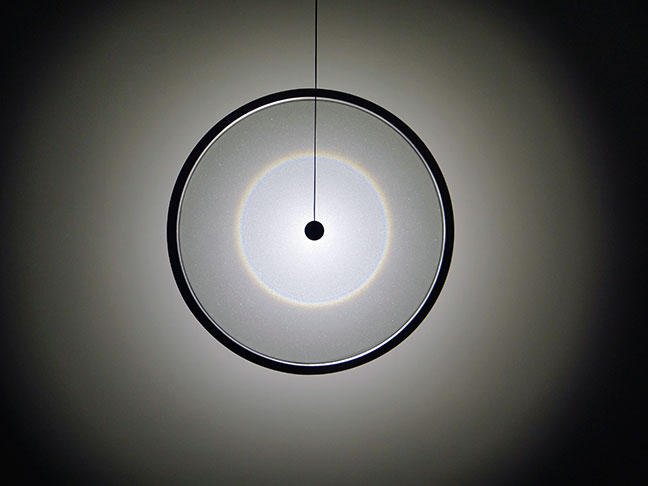 Side wall art by Chris Fraser.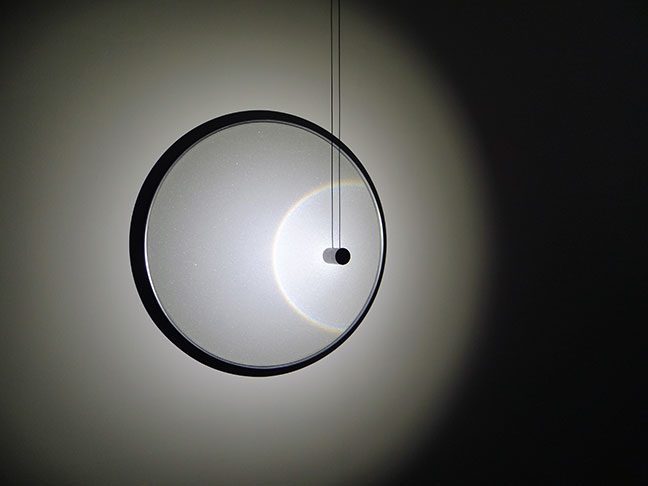 3-D effect art by Chris Fraser in above image from the side.


***
Arc Gallery: Choice. Juried by Catharine Clark.
Artists: Lennell Allen, Jung Ran Bae, Yvette Brown, Jessica Burke, Francine Dailey, Jessica Damsky, Amanda Dandeneau, Stephanie Eley, Meryl Feigenberg, Alexa Garbarino, Guerrilla Girls on Tour!, Jennifer Hawke, Jo Anna Hickman, Bernadette Howard, Tonia Klein, Christine Knox, Liza LaBarge, Suzanne Lacke, Rahshia: Linendoll-Sawyer, Katrina Majkut, Stela Mandel, Juliet Mevi, Miwako Nishizawa, Priscilla Otani, Judi Parks, Amy Puccio, Tamra Seal, Cindy Shih, Jackie Skrzynski, Priscilla Smith, Diana Unterspan, Deborah Wheeler, Vera Ximenes, Jennifer Zona.
Comment by AB: Seems like the battle over reproductive rights and choice to control one's own destiny never ends. Artists weigh in on the matter in this exhibition presented by the Northern California Women's Caucus for Art. Some asking prices are a mite ambitious, but not all.
Art/installation by Jung Ran Bae at Arc Gallery.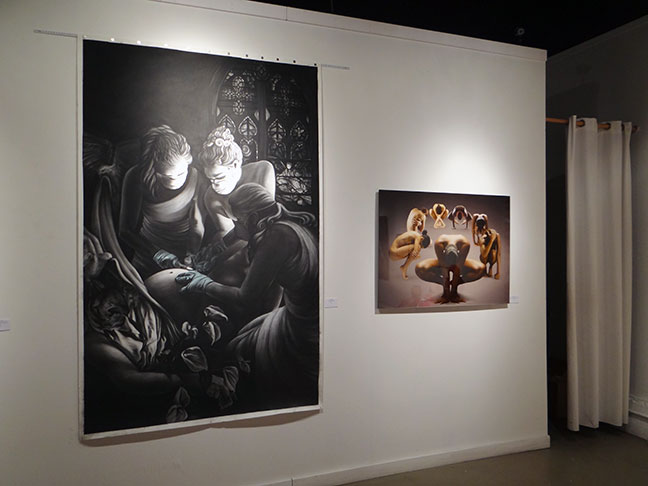 L-R, art by Liza LaBarge (nicely done) - Stephanie Eley.


Doll installation (center) by Priscilla Otani.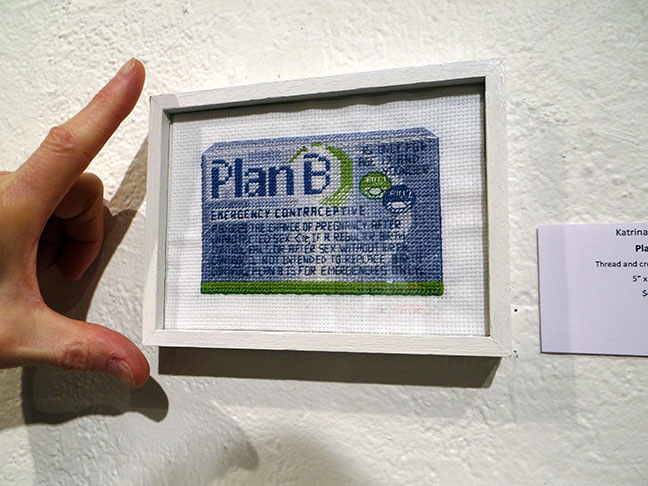 Stitched art by Katrina Majkut.


Art by Tamra Seal.


Bella Donna art.


Art by Suzanne Lacke (left).


Hanging sculpture by Jennifer Zona.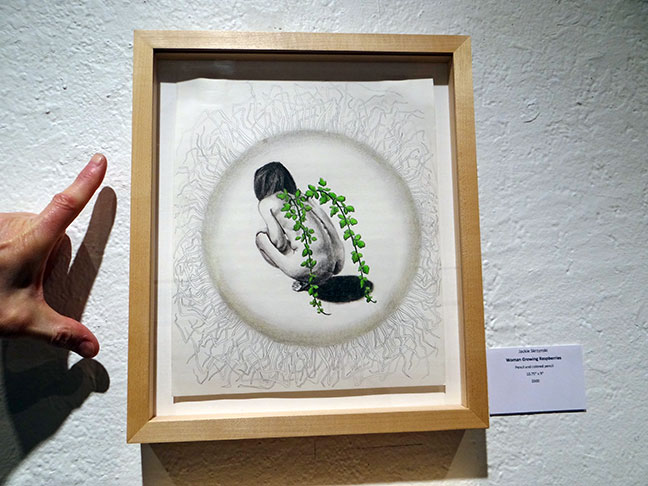 Art by Jackie Skrzynski.


Vera Ximenes installation/art at Arc Studios & Gallery.


***
Et al. Gallery: Present Perfect - Luca Antonucci + Daniel Small.
Comment by AB: I won't even get into the spectacularly baffling statement which begins, "Present Perfect ruins the distinctions it proposes, and moves back and forth in time through a speculative discourse with fetishized abandon." Magniloquence in malarkey.
Fortunately, I procure a moment with co-conceptor Luca Antonucci who tells me that the deal is sort of kind of about concocting a theoretical history by cogitating on relics rescued from the original Caesar's Palace in Las Vegas, like a tacky plaster rendition of Winged Victory of Samothrace, as well as other recently unearthed archaeological oddities. Now that I can understand.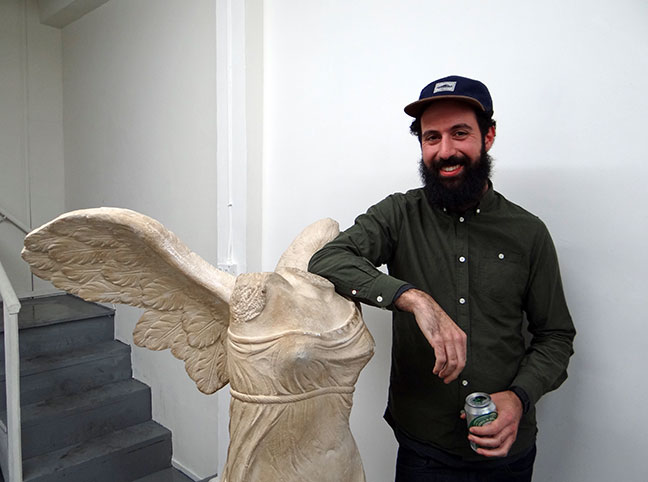 Luca Antonucci and Caesar's Palace version of Winged Victory at Et al. Gallery.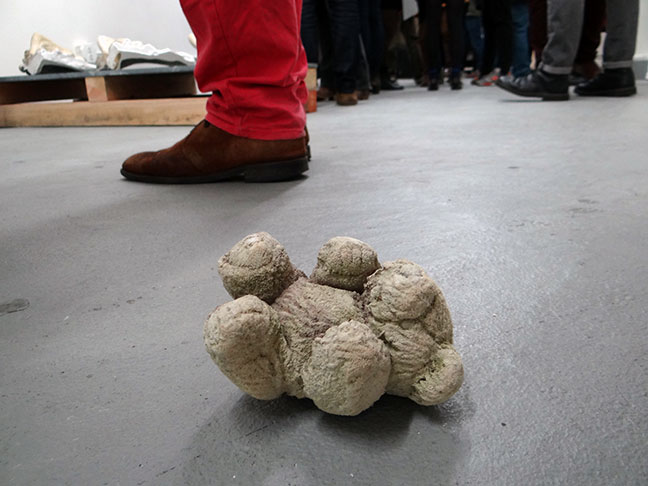 A petrified teddybear, I'm told (it is hard) - Luca Antonucci + Daniel Small.


Theoretical aerial of the Vegas Strip by Luca Antonucci + Daniel Small.


Rescued artifacts by Luca Antonucci + Daniel Small.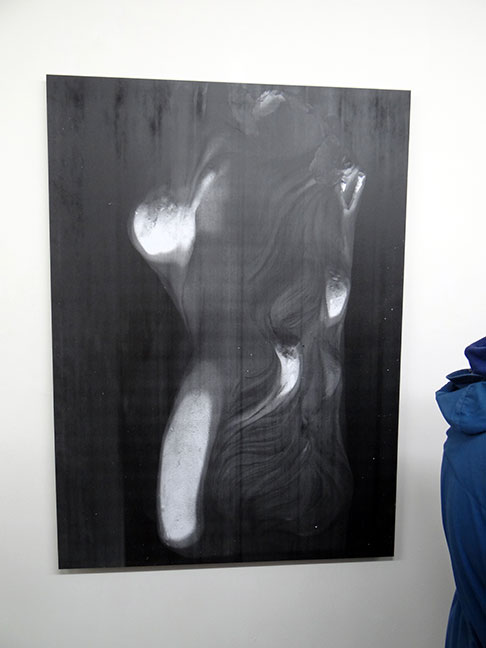 Photography of artifact above by Luca Antonucci + Daniel Small (I think).


More artifact photographs by Luca Antonucci + Daniel Small (I think).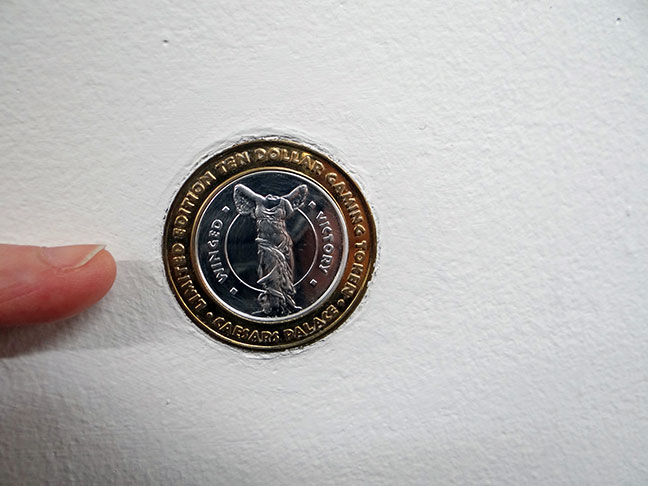 Embedded Caesar's Palace gaming chip by Luca Antonucci + Daniel Small.


Overview - Luca Antonucci + Daniel Small art show at Et al. Gallery.


***