***
John Pence Gallery: Greg Gandy.
Comment by AB: Nothing to say here other than Greg Gandy paints everything exquisitely well. From realism to hyper-realism, this one's a definite yes.
Art by Greg Gandy at John Pence Gallery.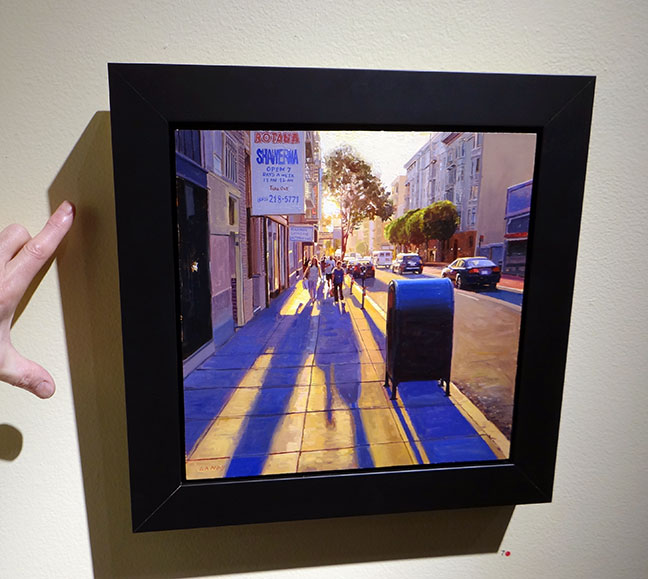 Greg Gandy art closer.


Art by Greg Gandy.


Still-life art by Greg Gandy.


Greg Gandy art.


San Francisco street corner art by Greg Gandy.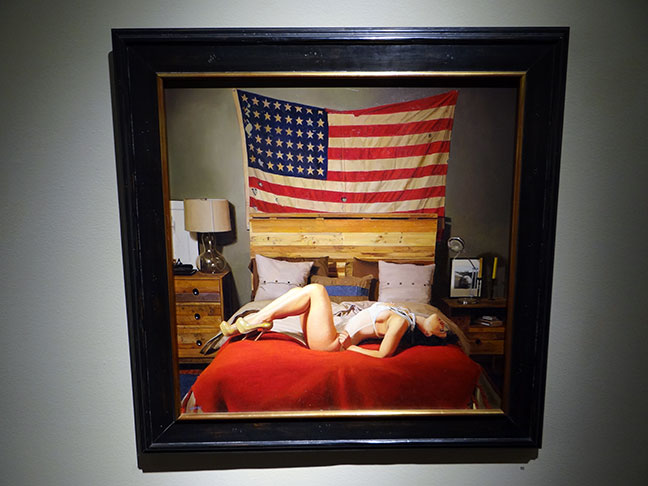 Greg Gandy art at John Pence Gallery.


***
The McLoughlin Gallery: The Most Famous Artist - You Can Do This Too.
Comment by AB: Basically you've got hundreds of iterations of the same black-background floral composition in various sizes and produced by various artists produced under the direction of "The Most Famous Artist" à la Andy Warhol's factory. An image of a Warhol "Flowers" print from 1964 frosts off this commentary on factory-produced art and the artists who produce it, both yesterday and today. The point of it all? I have no idea. Artists who enlist assistance to create their art are here to stay, and that's the way it's been for decades. The paintings in the show are apparently priced to sell. Go for it!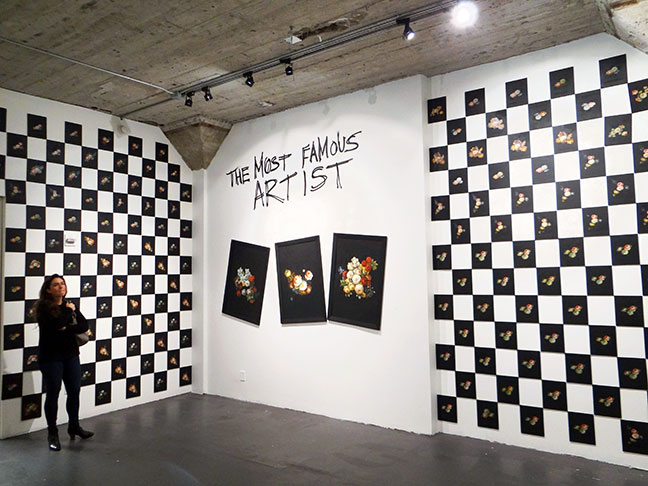 Art & installation by The Most Famous Artist at The McLoughlin Gallery.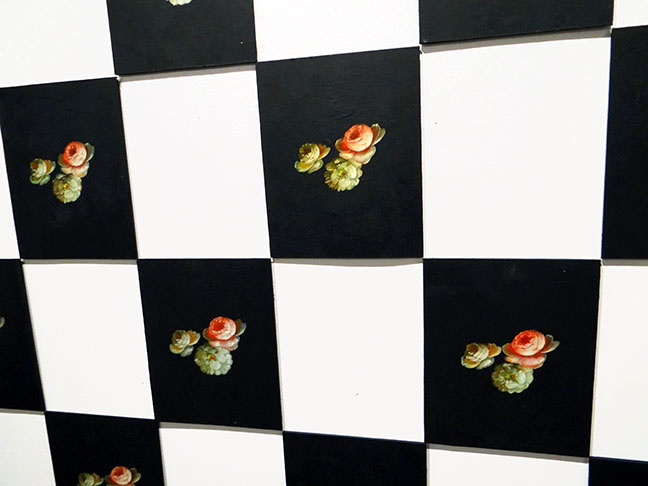 Art in above image closer.


Art by The Most Famous Artist closer yet.


Pinkie cam detail of art by The Most Famous Artist.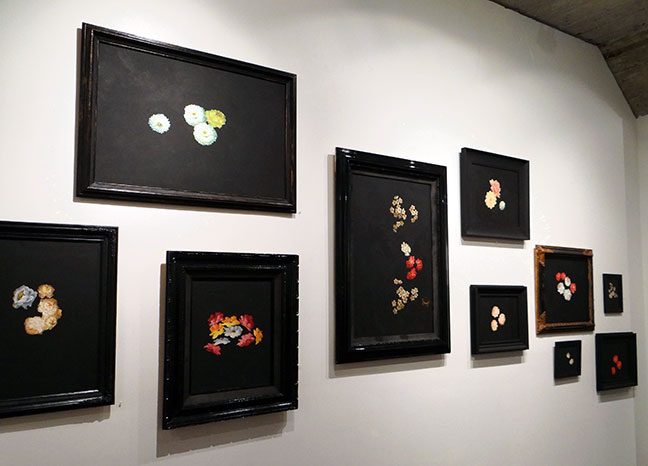 Art by The Most Famous Artist.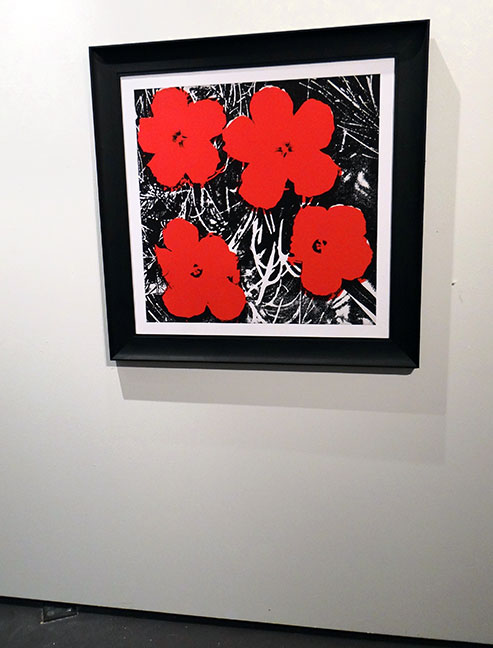 Nod to Andy Warhol c/o The Most Famous Artist.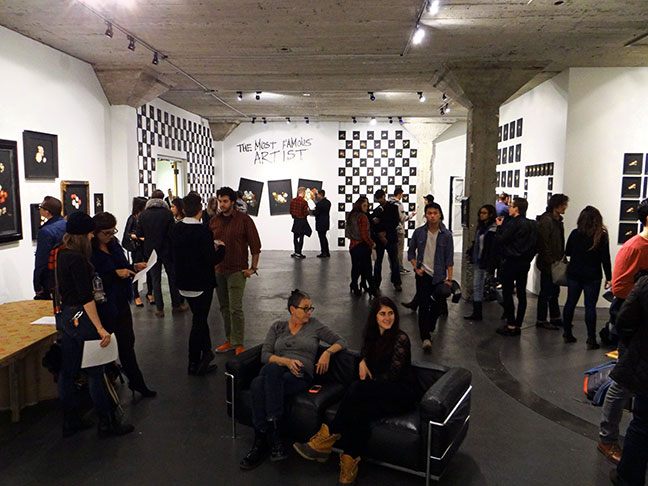 Installation view - art by The Most Famous Artist at The McLoughlin Gallery.


***
Gauntlet Gallery: 2 Year Anniversary Group Exhibition.
Artists: Adam Ziskie, Ben Clarke, Brent Estabrook, Chelsea Javier, Christopher Blackstock, DYoungV, David Blake, Graham Curran, Ian Reynold, Isaac Pierro, Jason Bryant, Johannah O'Donnell, Kieran Collins, Marcos LaFarga, Melanie Alves, Meryl Pataky, Mike Bell, Rebecca Adams, Rene Garcia Jr., Robert Bowen, Roland Tamayo, Ruel Pascual, Sam Lamott, Scott Listfield, Sergio Lopez, Tracy Piper, Wiley Wallace, William Arvin, Zofia Bogusz.
Comment by AB: The gallery's now been open for two year and this is a show about that.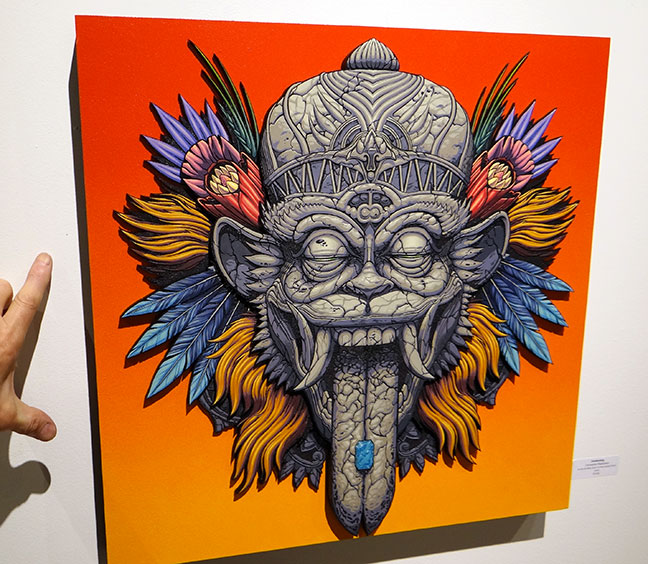 Art by Christopher Blackstock at Gauntlet Gallery.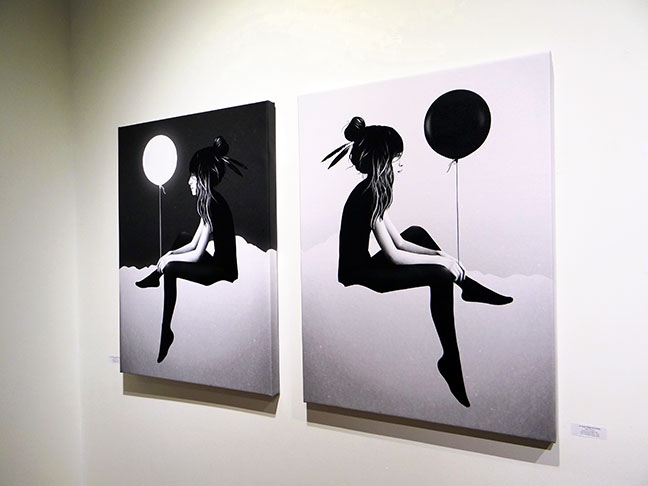 Reuben Ireland art.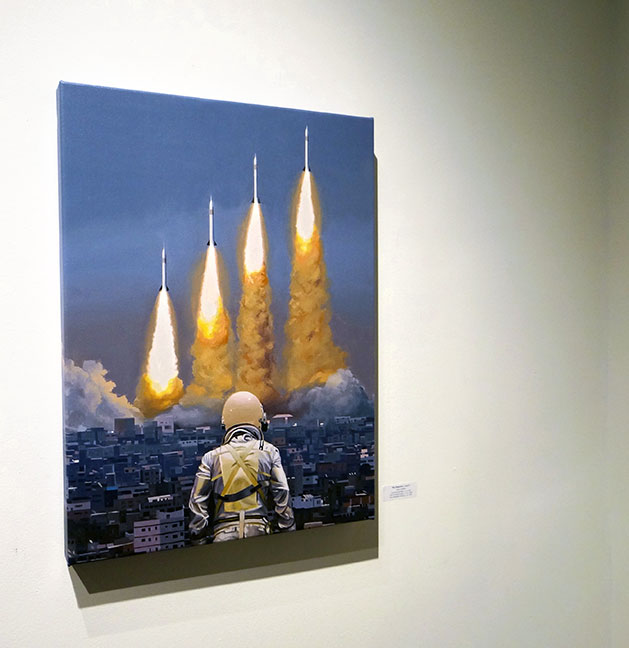 Art by Scott Listfield.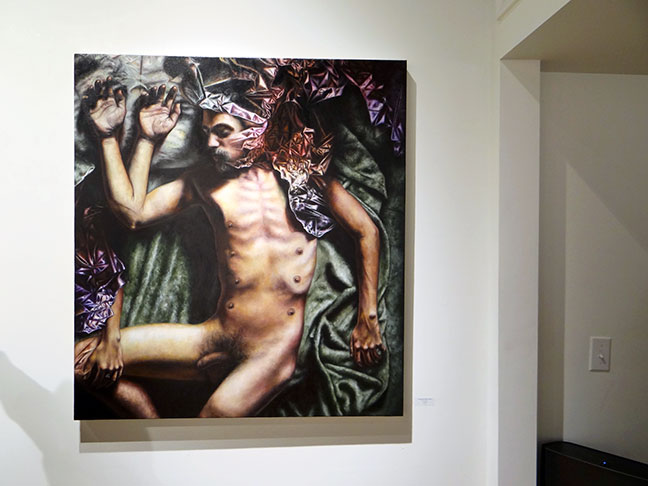 Ian Reynold art.


Art by Sergio Lopez.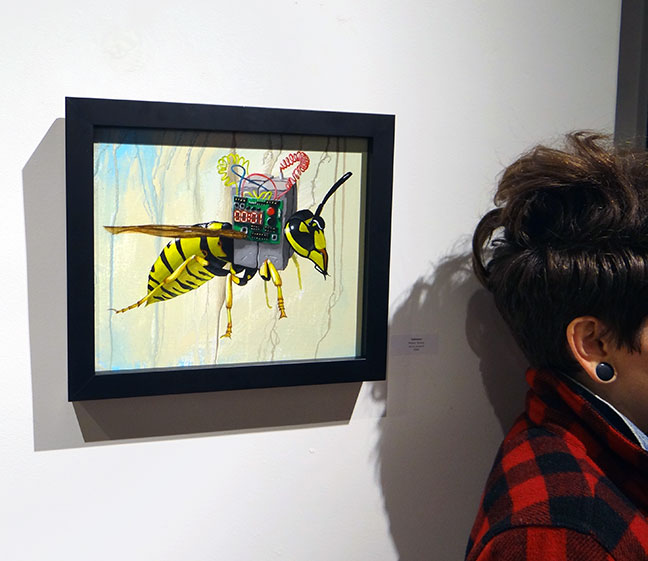 Robert Bowen art.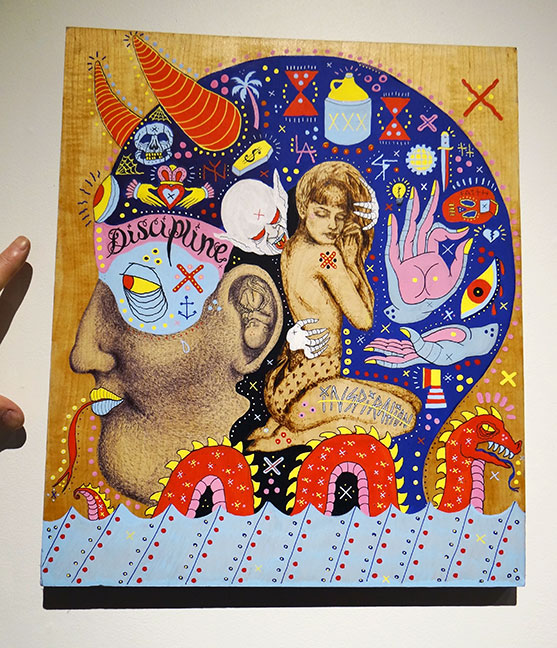 Art by Benjamin Clark & Chelsea Violet Javier.


Head count - 2nd anniversary group show at Gauntlet Gallery.


***
San Francisco Center for the Book: Absence and Presence - A Printmaking Response to the Bombing of Al-Mutanabbi Street.
Artists: Rik Olson, Jen Cole, Claudio Orso-Giacone, Luce, Bev Samler, Ray Ho, Kathy Aoki, Rebecca Dant, Nanette Wylde, Nahid Navab, Art Hazelwood, Cathy DeForest, Catherine Cartwright, Liz Shepherd, Kent Manske, Jessica Dunne, Stephanie Mahan Stigliano, Theresa Easton, Carrie Ann Plank, Kevin Mullins, Gilly Thompson & Francisco Garnica, Jos Sances, Ruth Ginsberg-Place, Ozlem Ayse Ozgur, Mokhtar Paki, Valeria Brancaforte, Kahlil Bendib, David Johnson, Gary Harrell, Carina Ripley, Ingrid Sanchez, Cathy King, Anne Moreno, Pat Clark & Julie Winter, Elizabeth Ashcroft, Nan Mulder, David Avery, Gloria Morales, Patrick Piazza, Katya McCulloch, Sally Hebeler, Martha Hayden, Dan Welden, Carol Brighton, Felicia Rice, Anita Klein, Bob Tomolillo, Joe Tighe, Pamela Bowden, Ania Gilmore & Annie Zeybekoglu, Marsha Goldberg, Annette Disslin, Jesse Hansen, Marcelle Hanselaar.
Comment by AB: Al-Mutanabbi Street is a place in Bagdad where booksellers have congregated for ages to sell books. It was car-bombed recently, most likely by the non-reading contingent of humanity, and this exhibition of prints by both American and Iraqi artists represents another step in the resolute recovery from that. Unfortunately I'm here during the readings part, so can't get many good shots.
Readings in progress at San Francisco Center for the Book.


Prints by American and Iranian artists.


Art by Ingrid Sanchez in above image closer.


Art by Patrick Piazza.


***
Et al. Gallery: Lauren Marsden - 5 Types In 3 Parts.
Comment by AB: Lauren Marsden creates five fictional male characters and then, among other things, has a police sketch artist sketch them from descriptions, finds actors to play them, and contrives written descriptions to typify them. Good show, plenty to reflect on, and well worth seeing.
Here we are - Lauren Marsden at Et al. Gallery (no expense spared on signage).


Characteristics of fictional characters created by Lauren Marsden.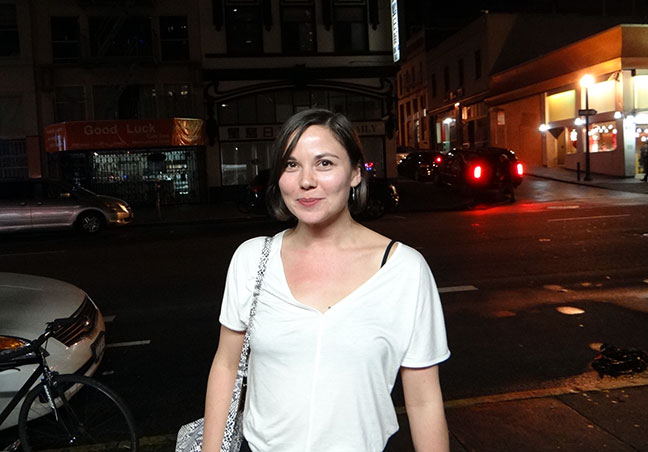 Lauren Marsden out front at her Et al. Gallery art show.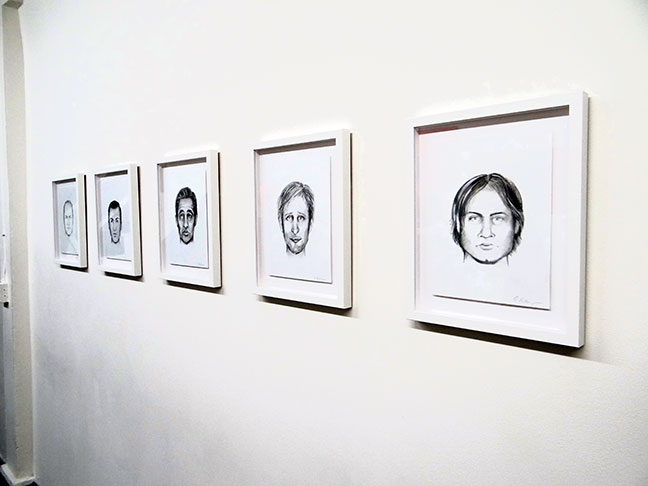 Police sketch artist sketches Lauren Marsden's fictional characters.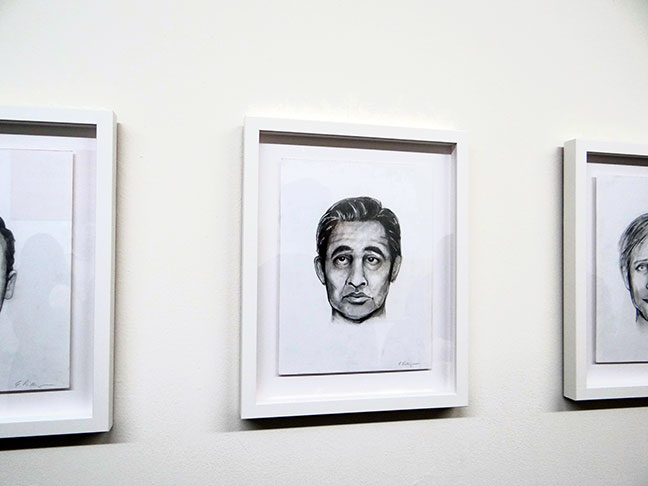 Art above closer (do police sketches naturally look suspicious?).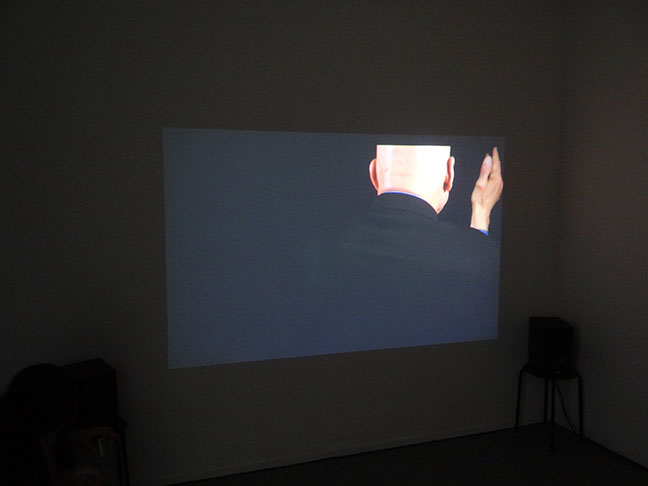 Videos of actors playing Lauren Marsden's fictional characters.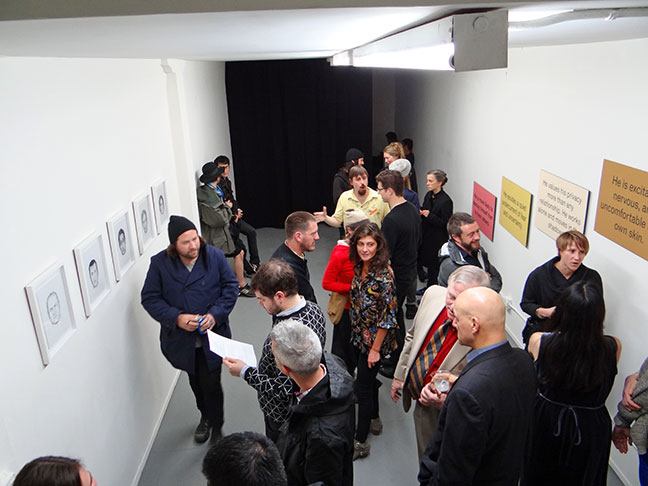 Overview - Lauren Marsden art show at Et al. Gallery.


***
Live Worms Gallery: The 12th annual PanOpticon.
Artists: Agneta Falk, Alan Gellar, Alex Miloradovich, Alina Smiotanko, Andrew Deagon, Andy Katz, Anthony Aversano, Blake More, Carrington, Catz Forsman, CJ Schake, Constantina, Dennis Hearne, Ed Handelman,Ernesto Evangelista, Fanny Renoir, Francisco Orrego,George Grim, George Long, Harriette Ferraguto, Howard Whitehouse, Jack Hirschman, Jack Yaghubian, James Redo, Jean Dierkes Carlisle, Jean de Muro, Jerry Ferraz, Jessica Loos, Kate Boynton, Kate Brown, Katharine Snyder, Kristen Panti, Leilani Chun, Leonardas Surgalia, Lucia Gonnella, Lynn Alcorn, Maeve Daugherty, Marc Dierkes, Michael Koch, Michael Pedroni, Momo, Nancy Calef, Nathan Goldsmith, Paul Fujii, Peggy Huff, rAmu Aki, Rebecca Peters, Richard Goldberg, Richard Cruser, Richard 'Luckey' Perri, Robert Windle, Roger Strobel, Romalyn Schmaltz, Ronald F. Sauer, Rosemary Manno, Ruby Ray, Sean O'Donnell, Stephen Wendell Phillips, Suzan Kaplan, Tina Tarnoff, Will Jaggers, Winston Smith.
Comment by AB: And now off to Bohemia for yet another nail-biting of episode of "Everything by Everybody" with plenty of affordable options (like under $100). For those of you keeping score at home, these Live Worms wingdings are also great art parties.
Art by Ruby Ray at Live Worms Gallery.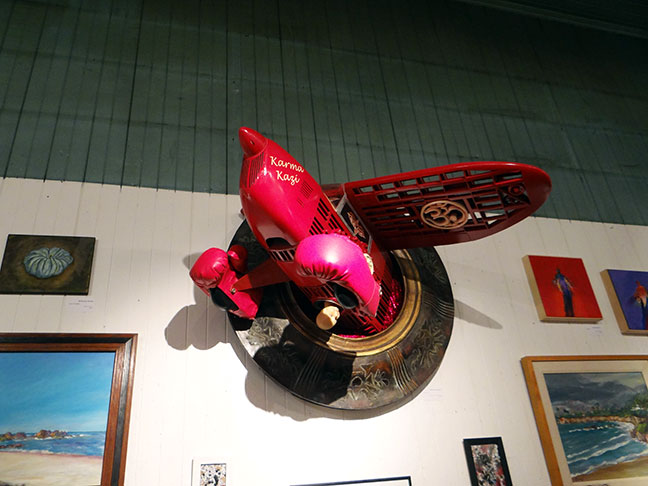 "Karma Kazi" assemblage by Michael Pedroni.


Art in above image from a different perspective.


Art by Momo (left, priced $60) & Jack Hirschman (upper right).


Mark Dierkes art.


Text art by Jack Yaghubian.


Art by Carrington.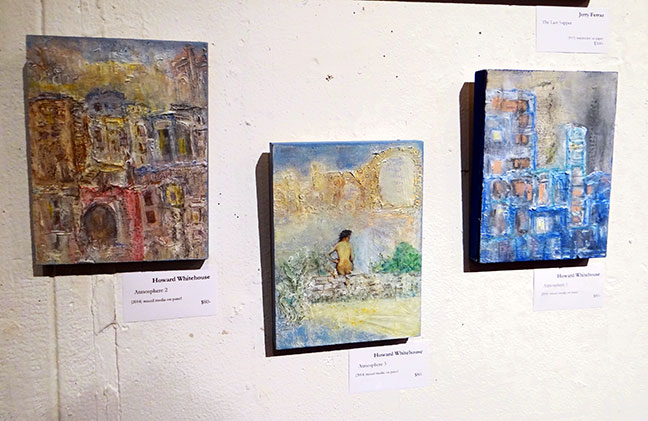 Howard Whitehouse art priced $80 each.


Tunes.


Attendance figures - group art show at Live Worms Gallery.


***