***
Cassel Goorin Gallery: The Good, The Bad, and The Cheesy - Steel and Friends.
Artists: Steel, Pose, Amandalynn, Reyes, Richard Colman, Luke Stewart, Lango, Dylan Maddux, others.
Comment by AB: You might think that Christmas Eve Eve is a time for close friends and family, wrapping gifts, or quiet contemplation, but NOOOOOOOO! Steel and associates take the prong-less-traveled of the fork in the road, and instead throw one bounteous kick-ass art bash. As for the CEA (Chief Executive Artist), incorrigible cheeseburger freak Steel wakes up each and every morning wondering not what he's gonna eat, but rather where he's gonna eat it. Speaking of eating it, the culinary contingent at tonight's affair proffers, among other gastronomical options, cheeseburger sliders, chicken nuggets in mini buns, french fries, milkshake shots, macaroni salad, and endless beverages to wash it all down with. And the art? Steel's originals and collaborations are decidedly the other side of hilarious, and peppered with insider inferences. An invigorating three or four standard deviations from the norm. Like it!
Review by RWM: Cheesy and provocative, suggesting that perhaps viewers might use this opportunity to understand the ominous big cheese. Not the bad place to look for burgers either at this loud and fun party. At times the art is yummy as well in a sly metaphorical kind of way.
Art by Steel (occasionally starring Steel).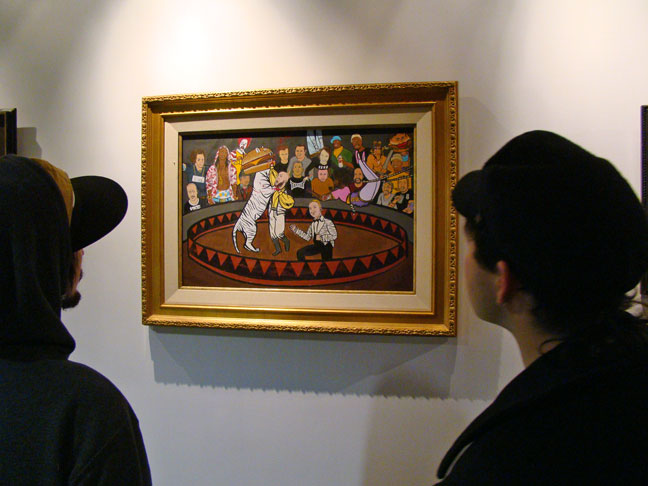 Siegfriend and Roy distaster art by Steel.


Steel and his art and significant other.


Art by Reyes.


Cheeseburger de Milo takes a break (before her accident).
Art by Steel & friends.


Cheeseburger flashes vegetables on the beach - art by Steel.
Tell me you've ever seen that before.


Steel paints himself into yet another inconvenient situation.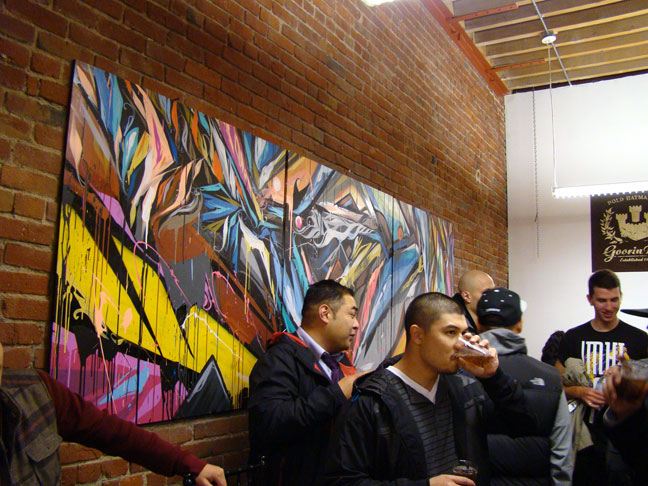 Art by Reyes.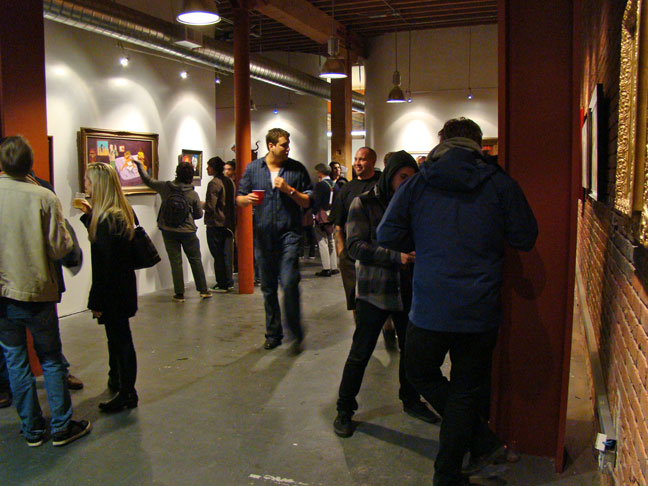 View of the gallery - art by Steel & friends.


Panorama of the circumstance looking SSE.


Assessment of the ambience looking North.


***