FIRST FRIDAY OAKLAND ART OPENINGS

VESSEL - MERCURY TWENTY

11.05.10

Reported by DeWitt Cheng


***
Vessel Gallery: Morphologies - William Harsh, Maru Hoeber and Eve Singer.
Review and images by DeWitt Cheng: The old surrealist theme of metamorphosis informs this Vessel Gallery show by painter William Harsh, sculptor Maru Hoeber, and jeweler Eve Singer. Together they create an atmosphere reminiscent of Cocteau's film, Beauty and the Beast, a narrative both hallucinatory and classical-- not a combination that one finds often. Harsh's paintings, prints and drawings combine Cubism, Expressionism, Pittura Metafisica and Surrealism with great conviction (another rarity in our ironic, self-referential age), depicting landscapes in which bits of artifacts cluster together and become reanimated; they're powerfully dynamic, as well as scary/funny. Hoeber constructs bronze sculptures of fragments of wood-- tree branches and spindle-back chairs-- that have, at least in this context, a similar re-animation subtext. Terrific show.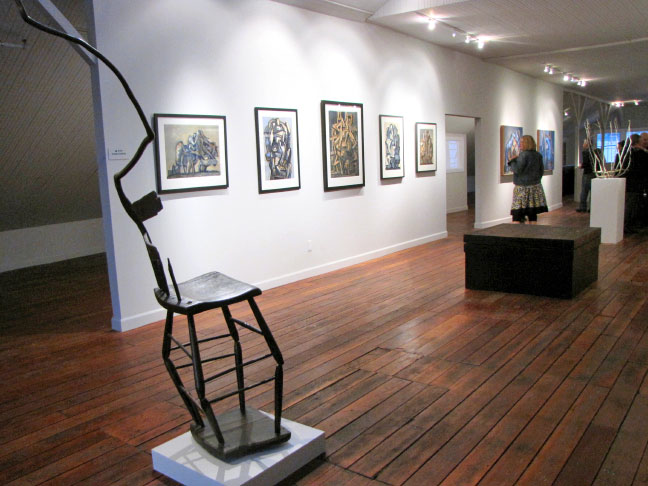 Upstairs gallery view with Hoeber's bronze, "Legacy," in foreground


Maru Hoeber with one of her "Journey" sculptures.


William Harsh monotypes.


William Harsh oil, "Oration."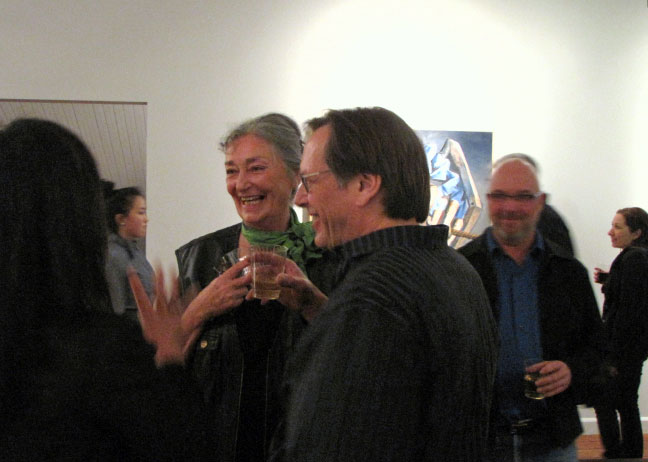 William Harsh (center).


Jewelry by Eve Singer.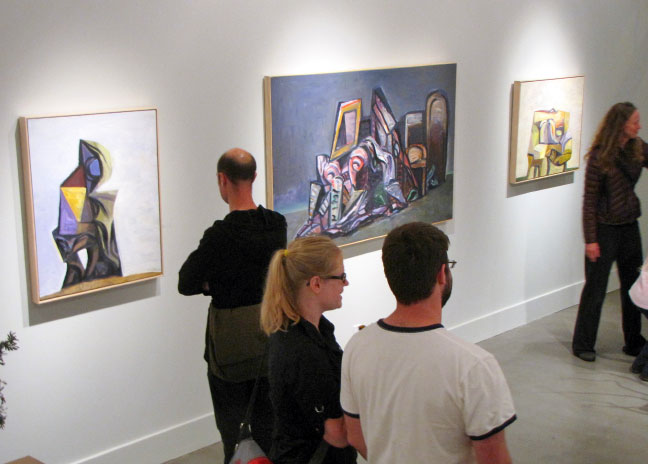 View downstairs


Crowd scene


***
Mercury Twenty Gallery: Dave Meeker - Beacons; Jamie Morga - Night & Day; Andrew Werby - Juxtamorphs.
Review and images by DeWitt Cheng: Three solo shows are on display this month. First (alphabetically) is Dave Meeker's "Beacons," LED-equipped color/light sculptures paying humorous homage to light artists like Dan Flavin and James Turrell; to other artists like Christo, Warhol, Lewitt, Chamberlain, Lin and Gehry; and to other culture heroes like Kubrick, Byrne, Smith and Joplin. Second is Jamie Morgan, who makes realistic oil paintings of Oakland street scenes (some of them are easily recognizable) from pictures that he snaps, apparently, at all hours, from his car; the paintings, however, look composed and timeless, even documenting the passing scene. Andrew Werby makes hybrid sculptures that combine natural forms (which he sometimes scans and manipulates in the computer); endowed with odd, composite, Joycean names, they're beautiful in a humorous, unearthly way.
Dave Meeker's "Beacons" LED sculptures.


Dave Meeker.


Sculptures based on James Turrell's works, I think.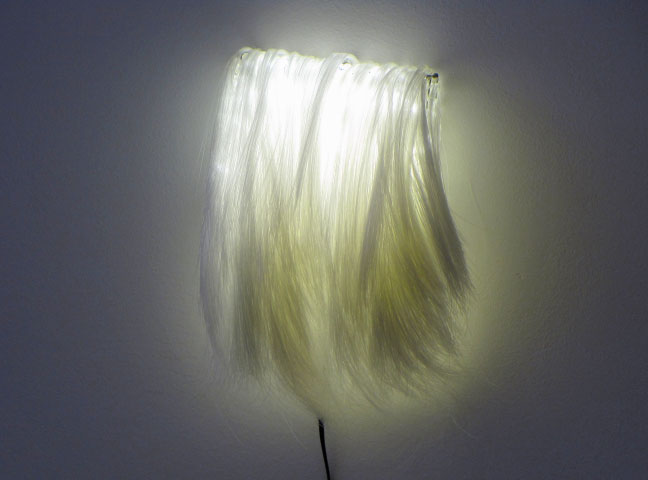 Meeker's "Andy." Think wigs.


Meeker's "Janis."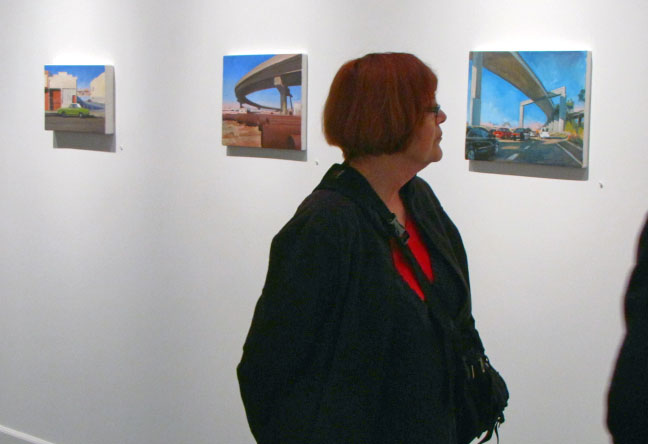 Jamie Morgan's streetscapes.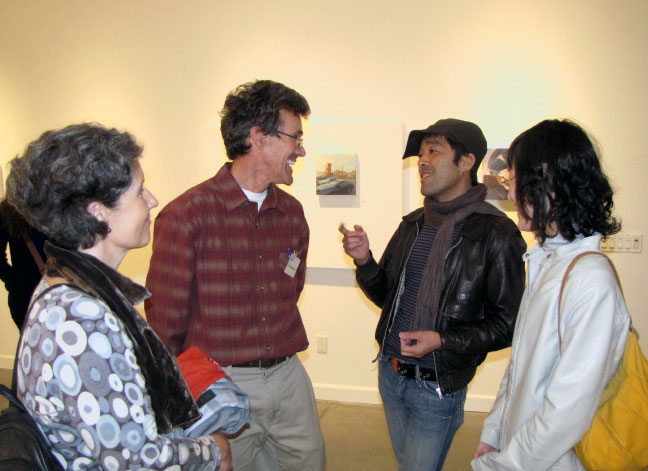 Jamie Morgan (middle).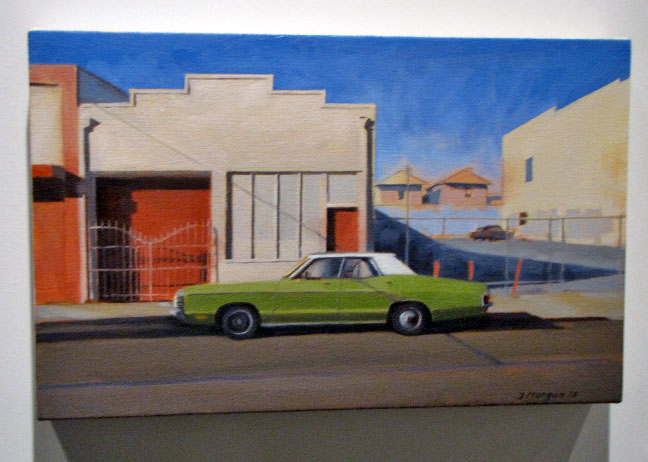 Jamie Morgan oil of local view.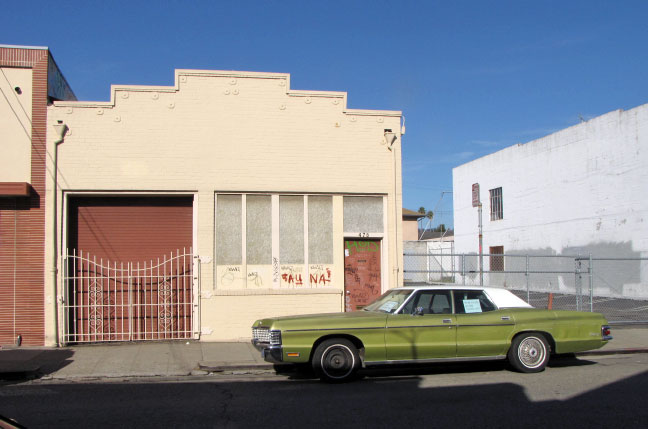 Deja vu! (A gallery visitor pointed this out.)


Oakland scenery by Jamie Morgan.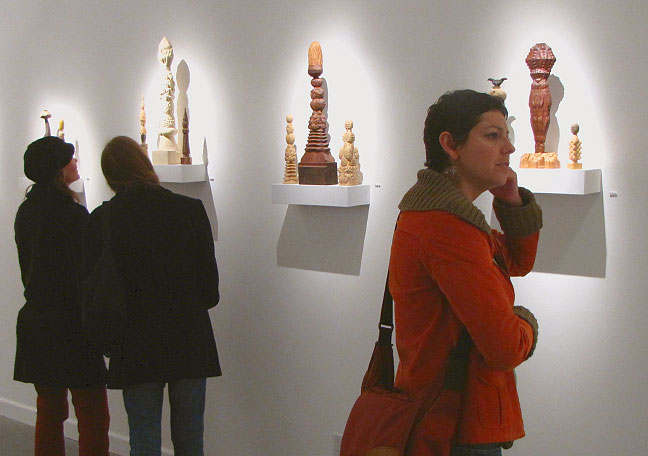 Andrew Werby's computer-designed "Juxtamorph" sculptures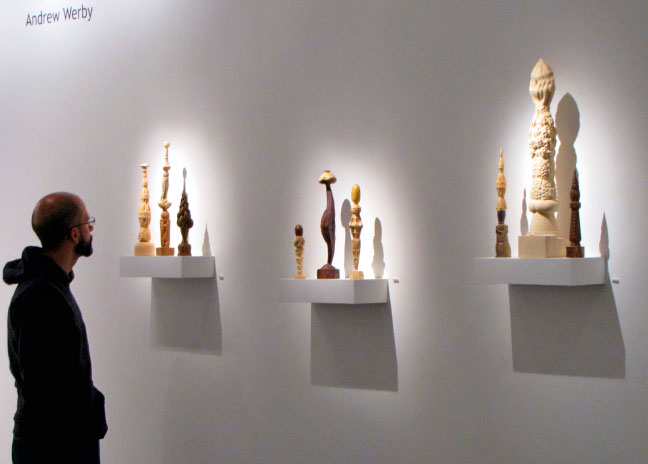 Andrew Werby's "Juxtamorph" sculptures, another view.


Larger sculptures made by traditional casting and molding.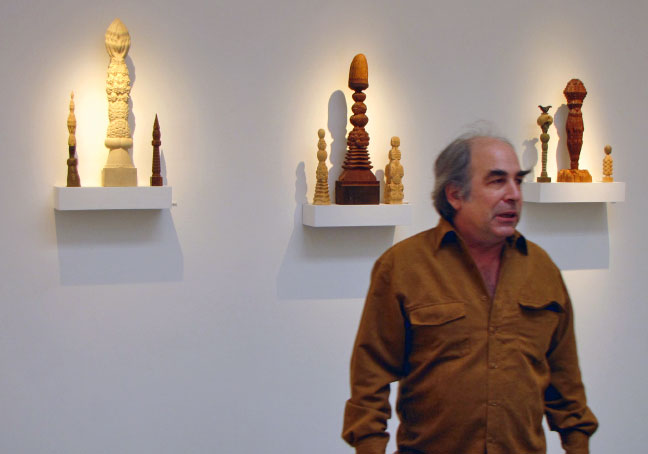 Andrew Werby.


Andrew Werby's "Guitgour," from Tupelo wood (detail).


***