SAN FRANCISCO GALLERY OPENINGS
FIRST THURSDAY; 01.06.05
General comment: Happy New Year, artsters, and welcome to the 2005 Season of Visual Delights, plus verbiage, of course. You know the drill: First you have to read; then you get to enjoy the pictures. And don't try to skip the text because if you blow the pop quiz, I'm gonna send you home with a note to Mommy. And don't try to fake her signature because I know quivering strokes when I see them. But enough about grade point average and committing fraud. Let's talk art.
We're off to a bit a slow start this year, at least in the downtown quadrant, as many of the galleries are likely loin-girding for next week's San Francisco International Art Exposition 7. Fortunately, one or two points of light brighten the black hole, thereby rescuing the scene from utter oblivion. And special added bonus: Our inspired innovative urban creatives again score heavy, ponying up up a pulsating peck of piping fresh produce at two of my favorite hinterland venues. So grab your bumbershoots, kids... It's raining art.
But before we step in a cultural puddle, kindly allow me a dash of digressionary fugue. For you quizzicals who wonder why I cover art openings as opposed to only art, here's the skinny: I have to see (and feel) what art does to real humans, real time, real pulse, real you. Without you, I'm nowhere. Really.
***
Gallery Paule Anglim: Jess.
Comment: A healthy and respectable Jess show, certainly in terms of being able to buy something. The collages are tight, 2-D as well as 3-D (check out the Art Nouveau rake lamp in the corner). Some of the earlier Eilshemius-style paintings leave me wanting, but the more expansive the composition, and-- lest we forget-- the thicker the paint, the better it gets, topping out with the fabulous "The Enamored Mage, Translation #6" from 1965, available for acquisition to the right institution (and it ain't cheap). Jess: The Impasto King.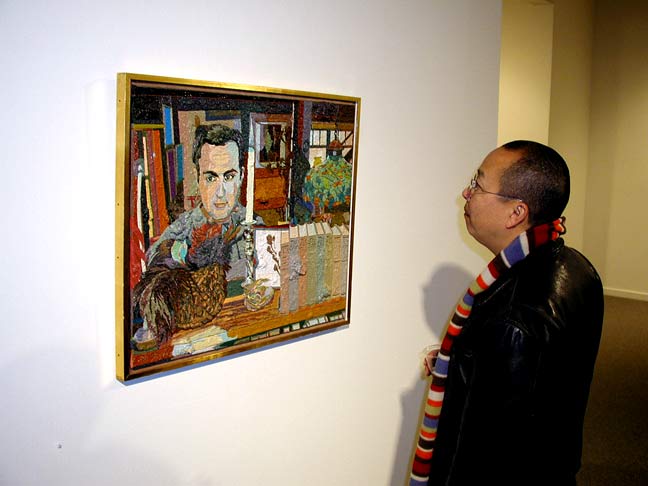 #6.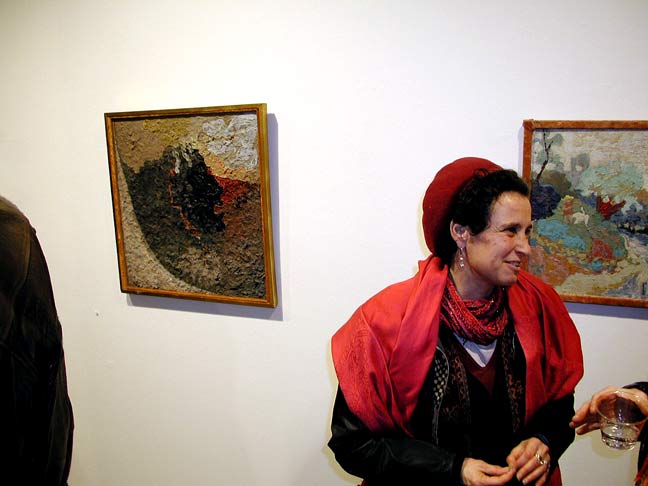 Art.


Art.


***
Fraenkel Gallery: Irving Penn; Underfoot.
Comment: Images of spit-out chewing gum on the street. You know what's great about them? They work even if you don't know what they are. They could be rocks, pebbles, digitized abstracts, anything. Who cares? And that's what makes great art great: You don't have to know what you're looking at, you don't have to read a word of explanatory, you don't need some jargon-monster babbling in your ear, but yet you're impacted in some way. In case pre-owned gum isn't your cup of tea, there's plenty more Penn to get gushy over, images from all periods of his career. They're in the next room. Nice show, Fraenkel Gallery. You're the best.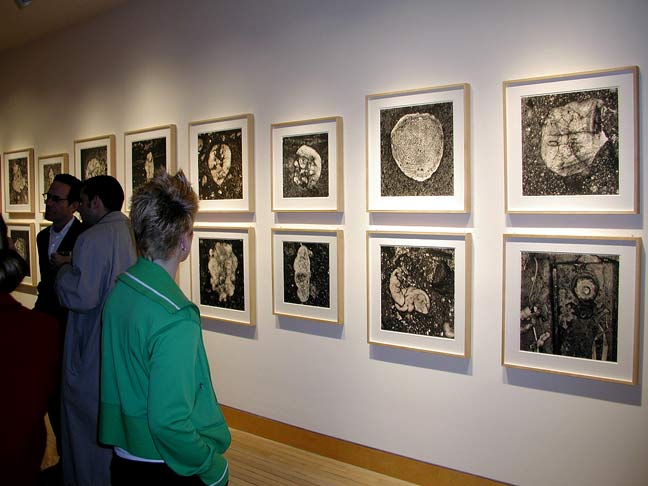 Gum.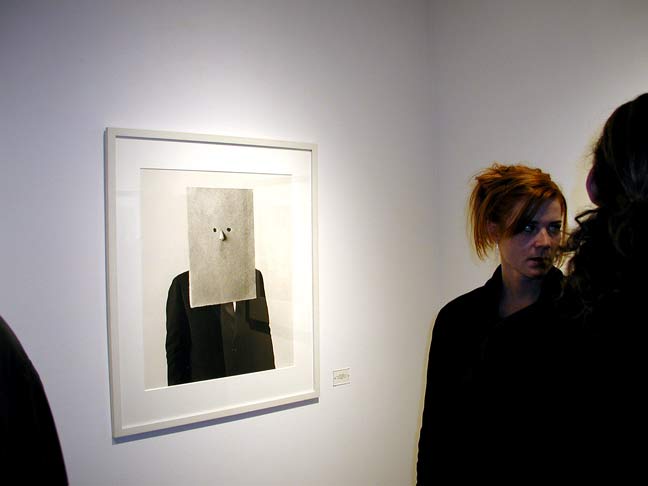 Not gum.


***
Haines Gallery: Tokihiro Sato; Photographic Light Panels.
Comment: Sato's images-- backlit translucent black and white landscapes, seascapes, and cityscapes with floating spheres of light-- are stunning and fantastic, from visual as well as technical standpoints (go to the Haines website and find out how he makes them). But I've got a pocketful of qualms. These Rube Goldberg contraptions have springs, tension, thin plastic sheets, rings, hooks, tape, hard to reach circular flourescent bulbs (harder to change), maintenance considerations, handle-with-care issues, and, last but not least, no track record as to how (or if) they'll survive over time. You know the old saying, "He who smells the roses owns the garden?" Well, I'm stayin' nasal on this one.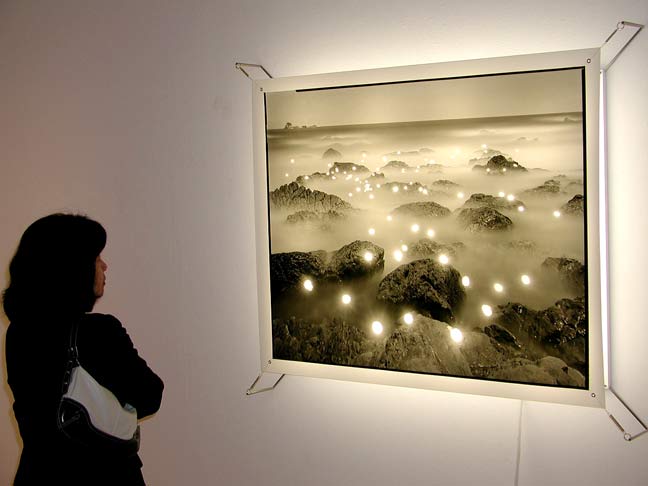 Art.


Art.


Logistics.


***
Then I saw these three dudes dressed like chipmunks. They were stingy on details, fuzzy on agenda, and weren't handing anything out. Maybe they lost a bet. Maybe they won a bet.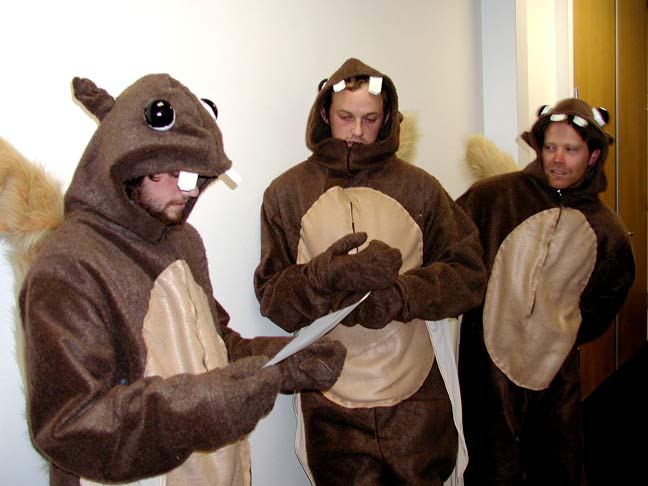 Hi.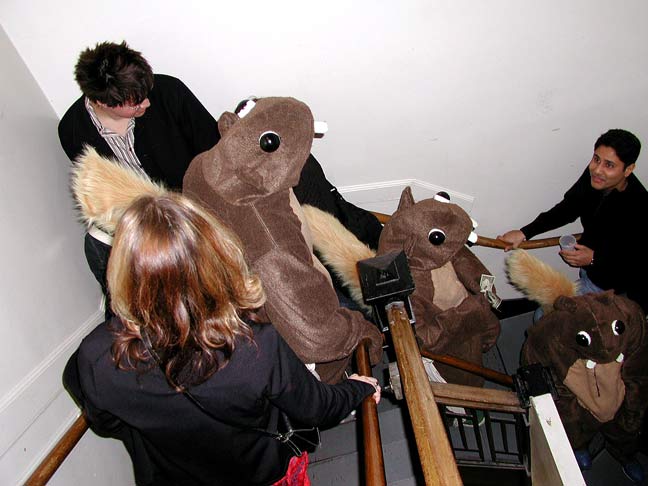 Bye.


***
Heather Marx Gallery: Tim Bavington; New Painting.
Comment: Stripes. Well-done stripes, in fact. Next. So I'm in the next gallery and overhear this licentious testosteroid deploying the relatively uncommon I-know-art-let's-go-conjugal gambit on a breezy eyeful sexpuff. He explains Bavington's paintings as each representing and interpreting famous rock 'n' roll songs and/or guitar solos while concurrently treatising various aspects of that lifestyle as a whole. So, OK. Stripes.
You see, artsters, here's the difference between Irving Penn's mastication examinations and Tim Bavington's rock 'n' roll ruminations-- you need a boatload of background for Bavington (this means this, that means that, this references that, that alludes to this, and here's the hard part-- THEN you have to buy into it). You don't need nothin' with Penn. It's gum.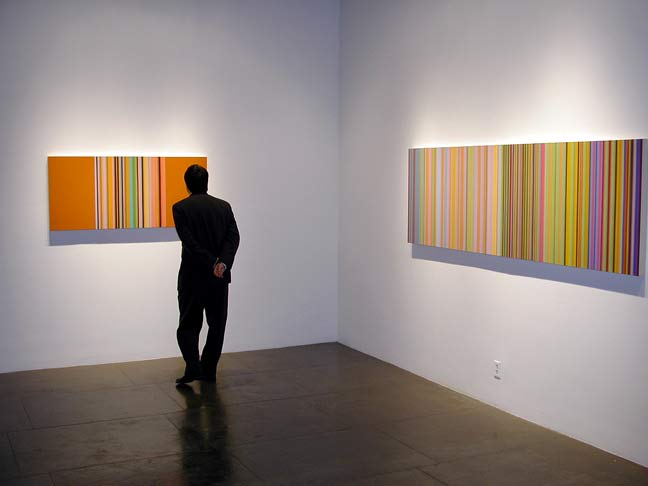 Stripes.


Rock 'n' roll.


Stripes.


***
Lisa Dent Gallery: Vanessa Marsh.
Comment: Pretty fuzzy photographs. Why? Because they're pretty and they're fuzzy.
Pretty.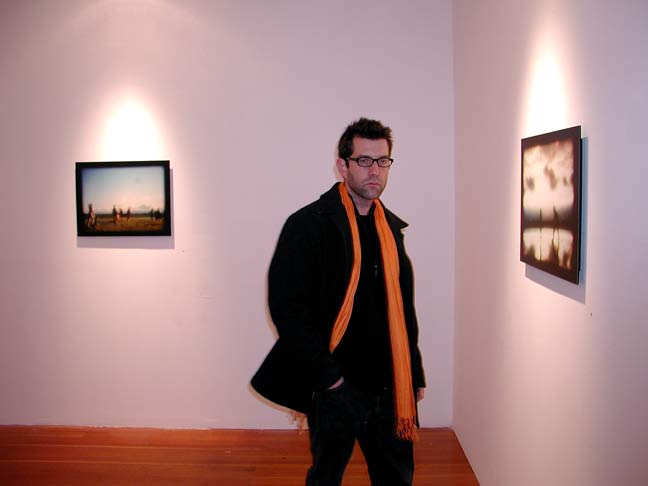 Fuzzy.


***
111 Minna Gallery: THE BLACKHOLE, A Photographic Apocalypse.
Artists: Hamburger Eyes photographers including Stefan Simkich, Jason Roberts Dobrin, Dave Schubert, Dave Potes, Ray Potes, Deanna Templeton, Dennis McGrath, Boogie, Gary Bentz Van Degriek, Ken Goto, Dylan Maddux, Silver Warner, Josh Blank, Ted Pushinsky, David Uzzardi, Vic Blue, Jon Humphries, Tobin Yelland, others.
Comment: Don't you just hate having to plow way down the review before you get the good stuff? Me too. But here you are, and it's time for your reward. I was gonna give you a cookie, but how about this instead?
If there's a photographic counterpart to street art, this is it. The Hamburger Eyes ethos is fresh, raw, real, gut-churning, squirmy, uncomfortable, mind-twisting, progressive, ground-breaking, engaging, documentary, and relentlessly in your ferkin' face. Life ain't near as pretty as the corporations would have you believe, as they drown your brain in neverending TV commercial atrophy, pummeling you with fantastical sanitized lies in order to drain your wallet on their meaningless products, assuring your spiritual impoverishment all the way to the homeless shelter. Remedy: This show. And you can get something nice for a couple hundred bucks-- or less.
You photographers who put "Ask" instead of prices, I'll ask. "Why?"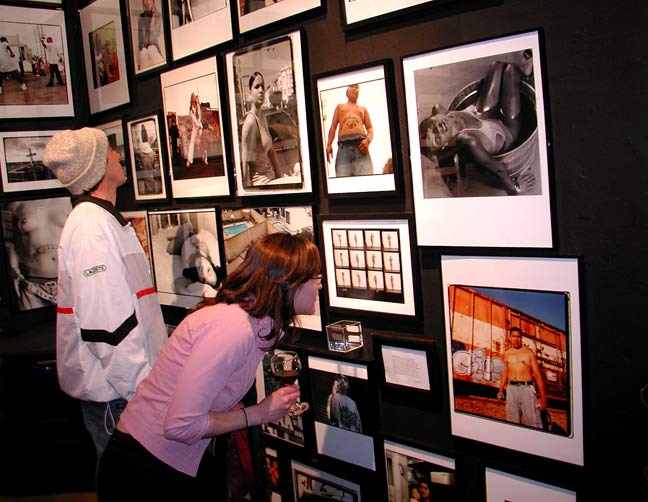 Photography (Dylan Maddux).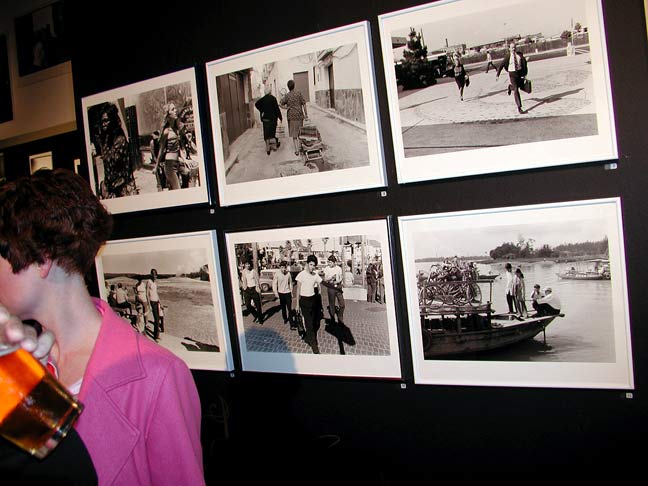 Photography (Ted Pushinsky).


Photography (Jon Humphries).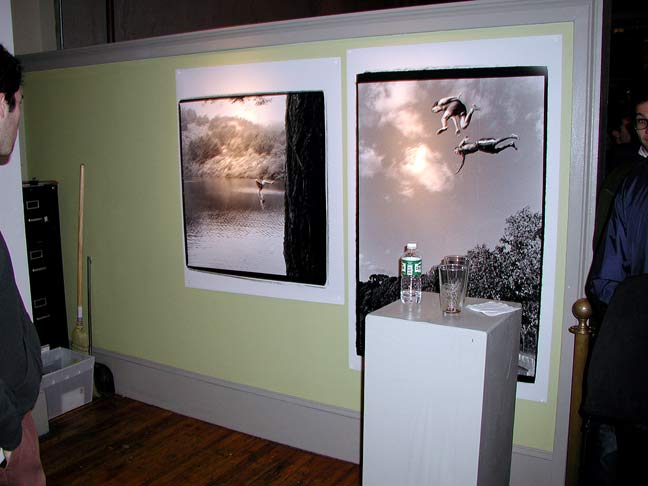 Photography (Jason Roberts Dobrin and Ray Potes).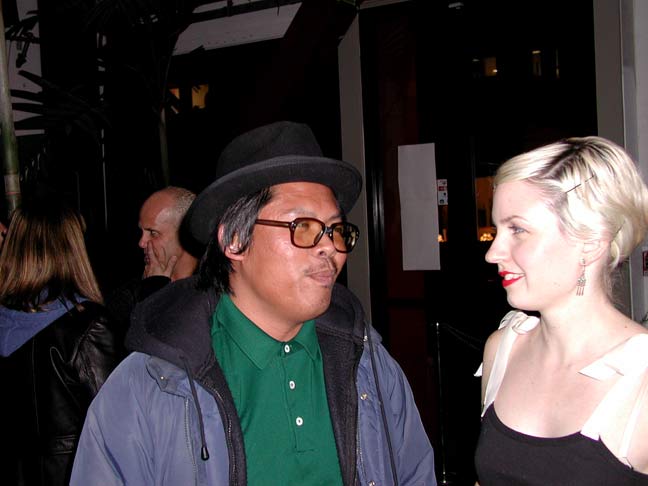 Ray Potes - Aiyanna Udesen.


Photography (Gary Van Degriek).


Photography (Tobin Yelland).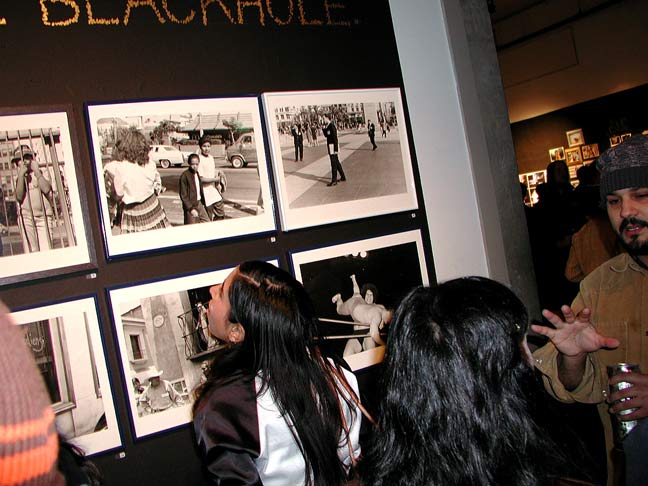 Photography (Ted Pushinsky).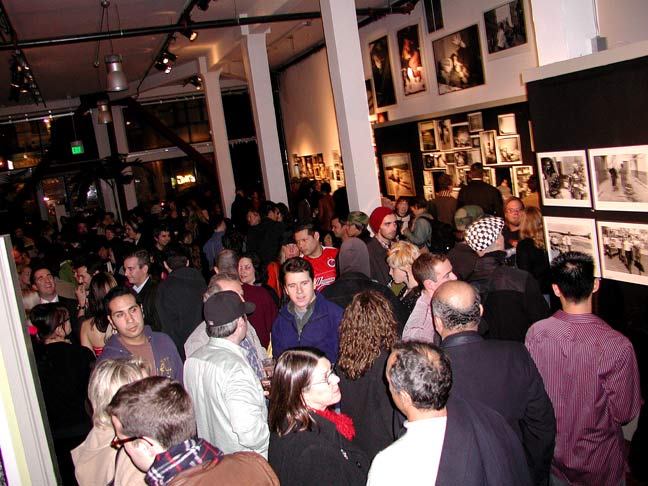 Scope.


***
Fifty24SF Gallery: Islands and Bridges.
Artists: Evol, Empte Eyes, Logan Hicks, Peat Wolaenger, Nick Walker, Pisa, Akiro, Shiro Fujioka, Adam 5100.
A dense rich stencil art extravaganza crammed into tiny Fifty24SF, stencilling like you've never seen, plus four crafty upstart reverse paintings on glass by Empte Eyes (for those of you keeping score, the last time I covered reverse glass painting was First Thursday, March 1895). Usually you see a simple one or two-color stencil on a sidewalk or a wall, but this stuff is complete, complex, finished, and, I might add, the better examples are capable of holding their own in any contemporary printmaking show. However, unlike many prints which have a pesky tendency to somnambulate you with technical minutiae, these babies are perkier than Taurine zippy drinks. As with graffiti artists, if you do it enough, you start to get good, then you get better, and then you get really good. These are really good and the show gets Best of First Thursday. Beat the rush; they're eminently affordable.
Art (Evol).


Art (Logan Hicks).


Art (Shiro Fujioka).


Art (Empte Eyes).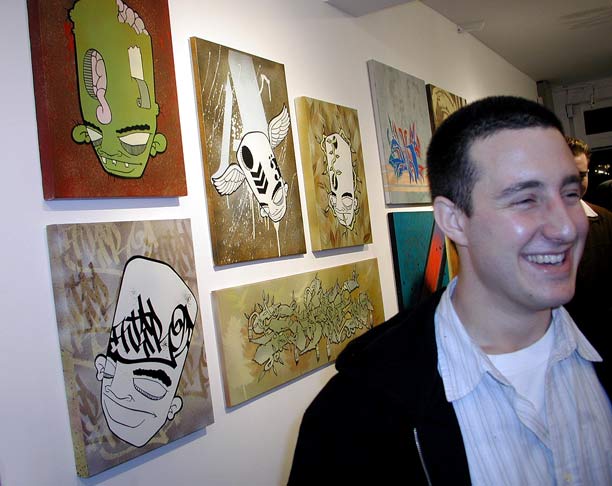 Art (Akiro) - Director.


Art (Hicks).


Art (Peat Wollaenger).


Art (Pisa).


Art (Evol)


Outer playground.


***
Addendum:


Jimi Gleason updates the layered look at Toomey Turrell Gallery.


One more from Toomey Turrell Gallery.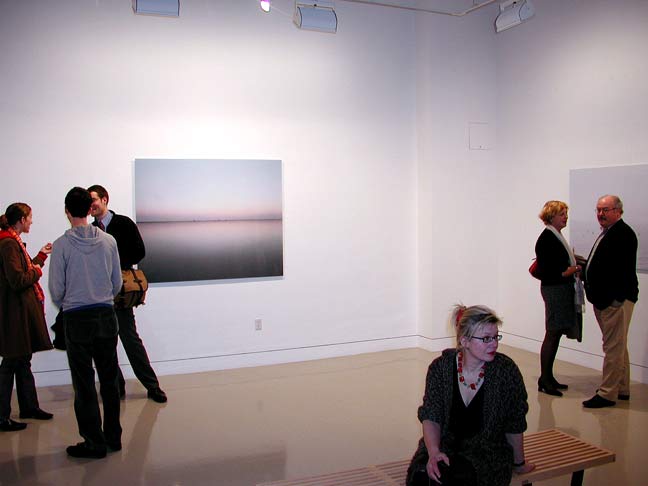 Thomas Wrede keeps it simple at James Nicholson Gallery.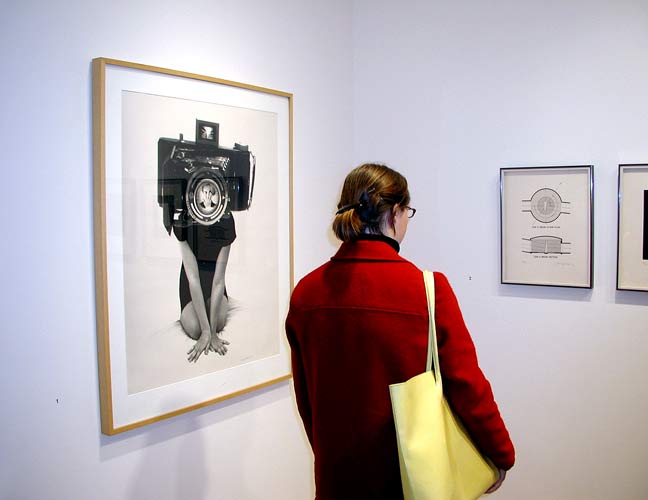 Camera-head art by Lynn Hershman, 1991, $2500, at 871 Fine Arts, 415.543.5155.


Collage potential at Punch Gallery (but clean it up).


And terrarium potential, too.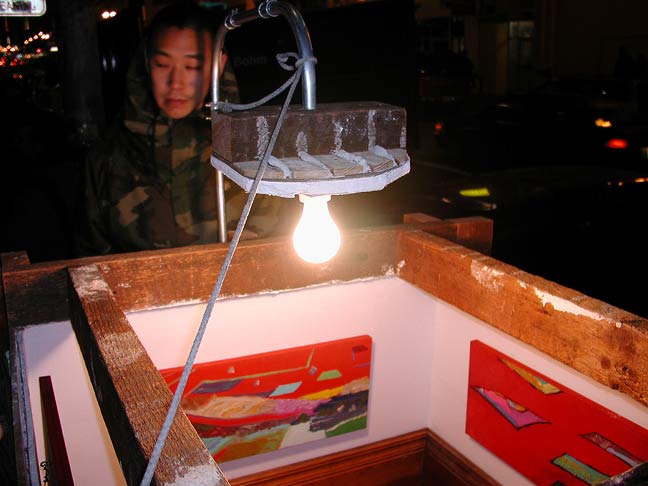 Owner exposes self at The Small Gallery.


Bah y'all.
December First Thursday; December 2, 2004