SAN FRANCISCO GALLERY OPENINGS
FIRST THURSDAY; 02.03.05
General comment: There was so much art to see tonight, I got Carpal Tunnel Syndrome just thinking about it. However, rather than blow a gasket, I opted for 30 minutes of intense pre-Darwinian mystic meditation. The intuitive force of aesthetic prana ensued, liberating me from the constraints of cognitive construct, permeating my chakra pockets-- though leaving just enough room for a sandwich later-- ultimately to reveal the course of my impending creative adventure. Purified, girded, and guided, off I traipsed into artland...
Well, well-- lookie here-- the downtown quadrant is back up and running, particularly that Bastille of high refinement, 49 Geary, where I spent more time than usual, and not just because I got trapped in the stairwell. Overall, the evening yieled the usual spate of victors and also-rans, but no losers. You see, artsters, the mere act of creating art and sharing it with others makes us all winners. Bare walls, empty pedestals, and dormant video players (for you Painting-is-Dead freaks) don't do anybody any good. And as for those shows I missed, keep the announcements coming, and please know that I do try to get there.
So are you ready for a little visual bingo? I sure am...
***
Dolby Chadwick Gallery: Willard Dixon; Meditations.
Comment: Apologies up front on this one, but I just don't get it. I'm thinking, "O.K., there's not much going on composition-wise; so the action must be in the technique." I zoom in to enjoy the finesse of finely applied paints and glazes, but nothing much is happening there either. The paintings are good and I understand the premise, but the execution falls short. The message Dixon intends, and the message I get ain't the same message. All I'm meditating on is who's gonna finish setting the table, or maybe Dim Sum at the Hang Ah Tea Room before the food gets there, or maybe final markdowns at a Cost Plus going-out-of-business sale.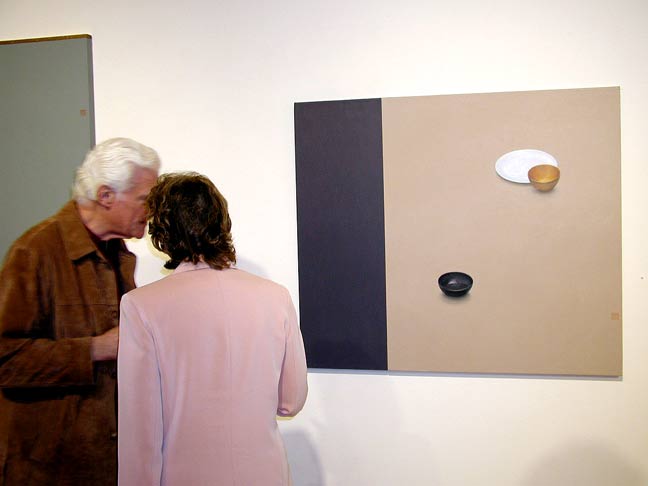 Not much.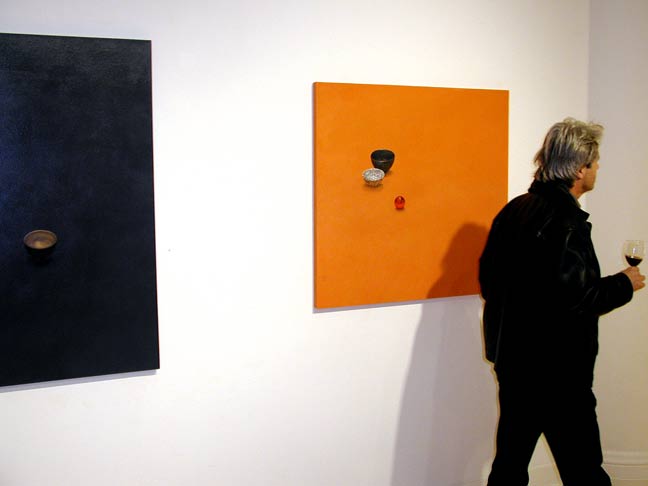 Less.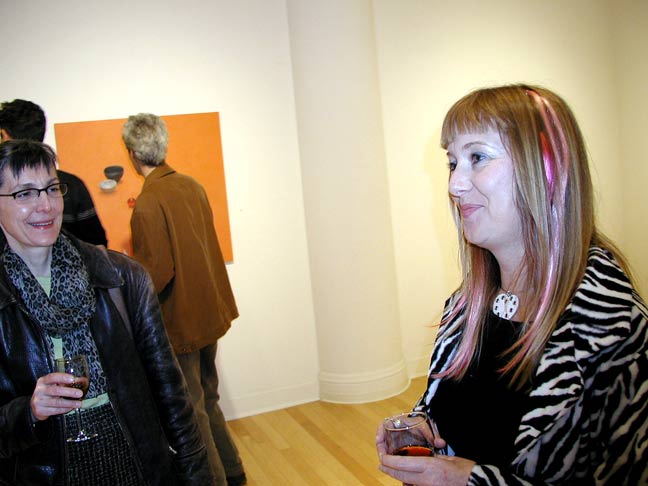 Landfill minimalist Michele Pred (right).


***
Gallery Paule Anglim: Robert Bechtle.
Comment: The seduction of Bechtle's art lies in its treatment of the ordinary. He takes the most mundane subjects (excluding his self-portraits, of course), stuff we pass by without paying a speck of attention, and with precision and respect, ascends it to noteworthiness. So now instead of driving down some nondescript street in some nondescript town in nondescript America and thinking, "Gawd, how boring! When will this end?" you take pause. You cherish the moment, thanks to Bechtle, and have a greater appreciation for the realm of the commonplace. Bechtle here works up a series of charcoal drawings on plain paper, extracting out color, even obscuring the fact that these are original drawings as opposed to maybe lithographs, and achieves new heights of meta-ordinariness. You can't really reduce things much further.
Art.


Art.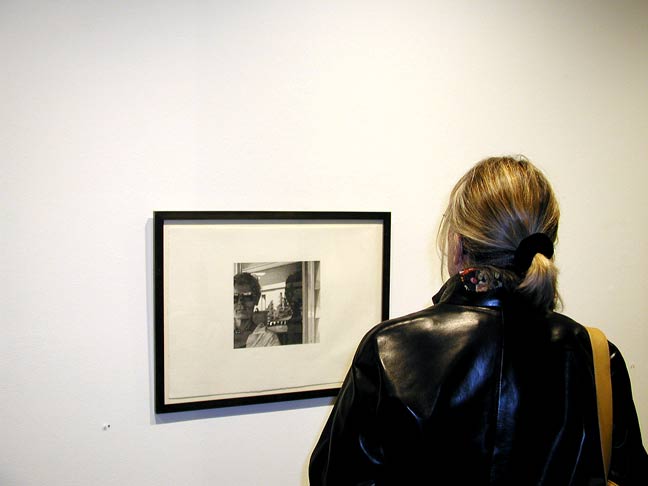 Art.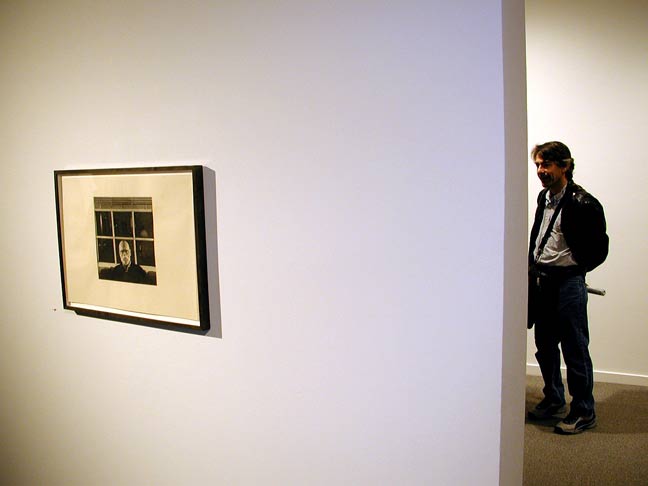 Art.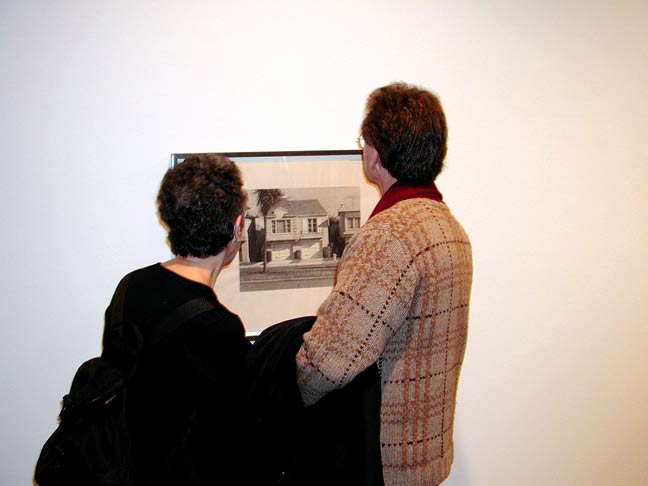 Art.


***
George Krevsky Gallery: Mary Robertson; Recent Work.
Comment: Mary Robertson paints life and landscape on and about the Russian River. Her most engaging scenes depict summer vacationers in various states of relax, lounging at the riverbank, on the beach, wading in the water, enjoying the sun, with umbrellas, coolers, folding chairs, inner tubes, and beach towels. The paintings transcend the locale, the specifics; anybody anywhere can soak up their calm. You don't have to wonder where they were painted, who the people are, what they're doing, what the temperature is, what's for lunch, whether Bill remembered to lock the car, or anything else. No assembly required. It's art that does stuff to you without you having to do stuff first in order for that stuff to be done to you-- and we like that.
Art.


Art.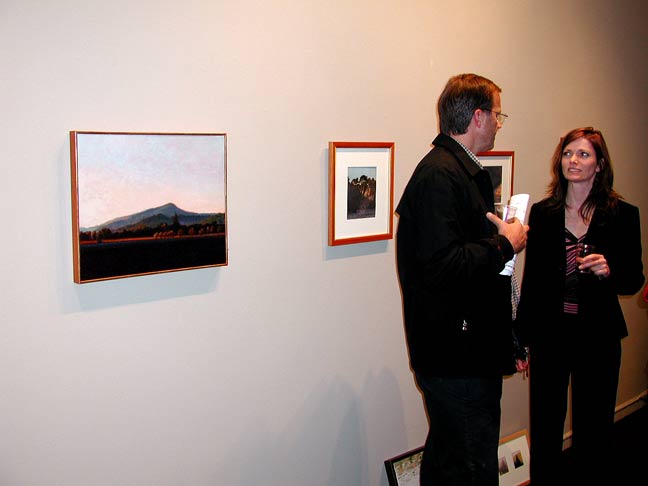 Art.


Art.


***
Steven Wirtz Gallery: Jennifer Nuss, Paintings on Paper; Heidi Zumbrun, Photographs & Video.
Comment: You can wax cerebral or visual or both with these Jennifer Nuss oversized gouaches on wrinkly fibrous paper. They're tight, enticing, mythic, active, color-rich, challenging, original, in-depth feminine, and they leave gobs of room for interpretation, discussion, and/or contemplation. In other words, Jennifer Nuss hereby nets herself a 50% share of Best of First Thursday. However, the logistics of transporting, displaying, and preserving these delicates over the long haul, without compromising their naked impact, seems a trifle perplexing (hey-- I know something about older art, I know that condition can deteriorate over time, and I know that deterioration and/or damage can substantially reduce a work of art's value, visual impact, or both).
Heidi Zumbrun locates big piles of covered up stuff and photographs them. By using pre-covered up stuff, she saves the time, labor, and expense of having to cover it up herself. It's kind of like Instant Christo.
Art (Jennifer Nuss).


Art (Jennifer Nuss).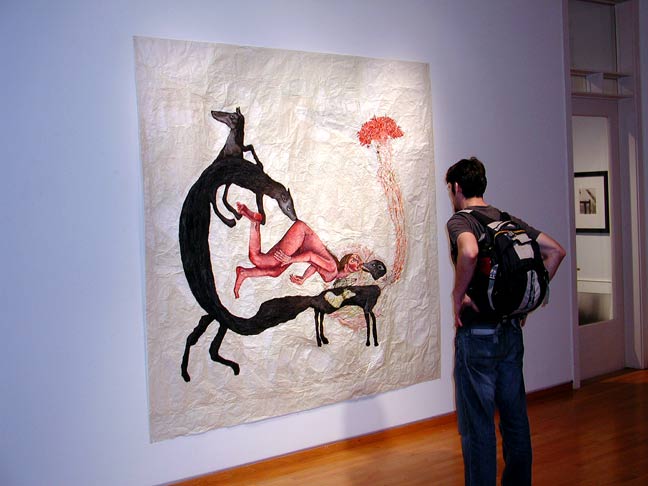 Art (Jennifer Nuss).


Art (Jennifer Nuss).


Art (Jennifer Nuss).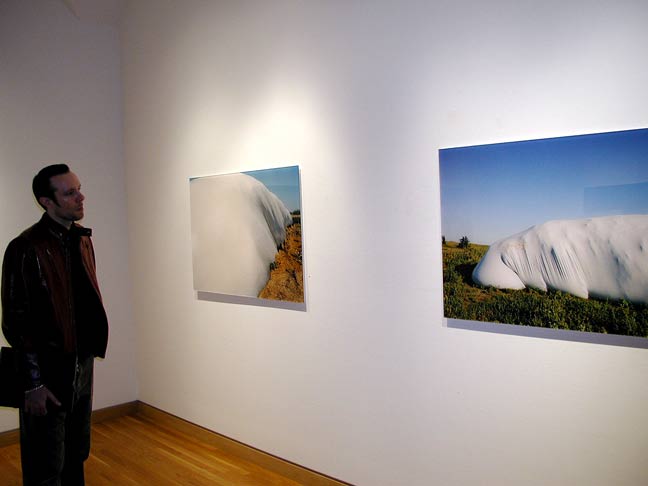 Art (Heidi Zumbrun).


Art (Heidi Zumbrun).


***
Robert Koch Gallery: Michael Wolf; Architecture of Density.
Comment: Michael Wolf lives and works in Hong Kong, one of the most densely populated cities in the world. He photographs the sides of tall buildings, mostly absent context, singly or in overlap, in ways that exponentially intensify the sense of how close together some people live. You can either marvel at the intimidating claustrophobic sheerness of these habitational walls, or tiptoe from window to window, briefly conjecturing as to the nature of individual cliff dwellers' lifestyles. The images are large enough to momentarily immerse you in mass metropolis and force you to consider the consequences of concentrated contact. If you're feeling lonely out there on the plains of North Dakota, step right up 'cause salvation has arrived. For toying with my vertigo, Michael Wolf snares 50% of Best of First Thursday.
Domicilic density.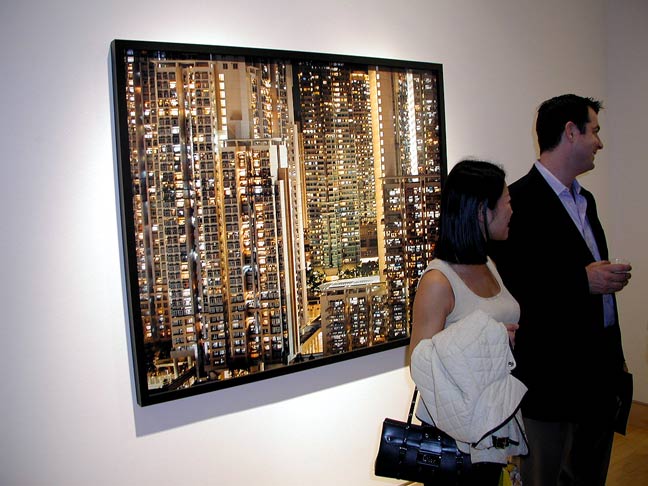 House mountains.


Condo cram.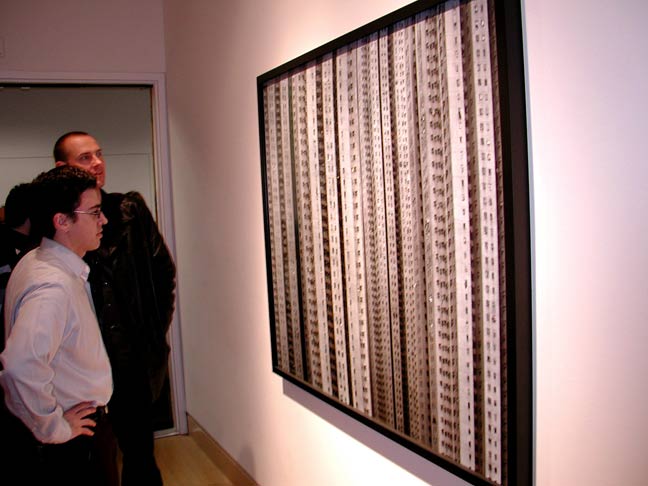 Layered living.


***
Brian Gross Fine Art: Teo Gonzalez, Recent Paintings; Project: Joe Amrhein.
Comment: A card-carrying cognoscenti tips me that Teo Gonzalez is hotter than a bottle rocket, then riddles me with factoids like Gonzalez is one of the top 25 artists somewhere, and this critic said this, and that curator said that, like I'm supposed to know. But I don't. No biggie. Here's what I know... Gonzalez drips thousands of drops of paint onto a given canvas, one at a time, positioning them into neat undulating rows, and even though every drop spreads when it hits the surface, it spreads only where it's supposed to spread, and works alongside its dripster pals to create an entrancing repetitive effect. Executing these drip-a-thons has to be painstaking and difficult, but Gonzalez perseveres to the end, doesn't make mistakes, the final outcomes aesthetically satisfy, and you have no choice but to respect the process as well as the product. If you don't think a painting of dots can hold your attention, check these babies out.
Joe Amrhein takes words and typefaces from art criticism and art periodicals, paints them onto mylar, and arranges them in hanging and/or overlapping displays. Hmmmm. Words from art criticism, huh? Amrhein's art verbalositizes in varietous coloroscopic calligraphizations the consequentiality and heightened importation of subcranial hypothalamic exhumatory, thusly and heretofore, effectualizing culminative atypicalesque fractionifications of alphebeticality.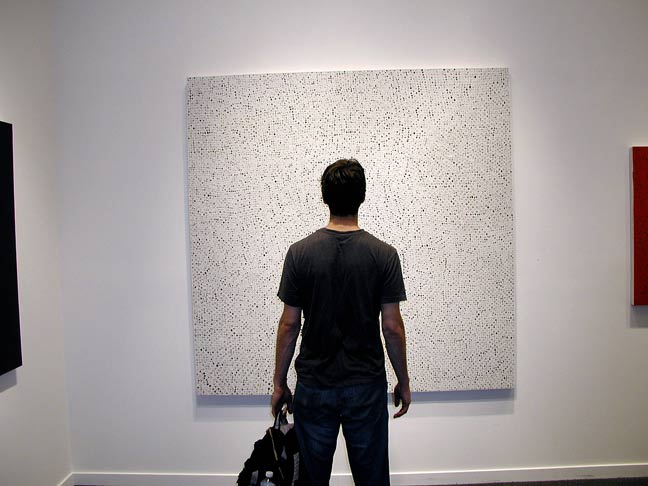 Art (Gonzalez).


Teo Gonzalez.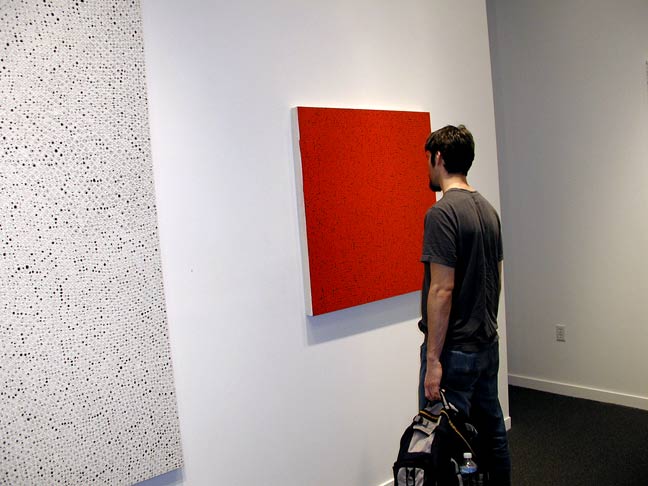 Art (Gonzalez).


Art (Amrhein).


Art (Amrhein).


Joe Amrhein (right).


***
111 Minna Gallery: New Paintings by Micah LeBrun.
LeBrun's art is bright, skillful, wacked out, satirical, wiggy, fun, and stylishly crass. Don't miss the line of boomerang color field semi-abstractions in the back room that look like sleazed-up ditzed-out sixties couch paintings. Prices range from $950-$8000.
Art.


Art.


Art.


***
Varnish Fine Art: Photo; Chris Anthony, Pete Eckert , Stephanie Gene Morgan, Patrick Hadacek.
Comment: I ask blind photographer Pete Eckert about his work, "How do you do it?" Every time I ask him a question, he gives a completely unrelated answer. So I ask questions with less and less wiggle room like, "Where do you put the camera?" Even those go astray, but I hang in there, and eventually pile enough chards to reasonably speculate that his figure photos include time exposure and laser light. Meanwhile, Stepanie Gene Morgan's portraits on cement turn flat into sculpture-- and she also makes teenie ones, perfect for the curio cabinet.
Photography (Anthony).


Photography - Pete Eckert.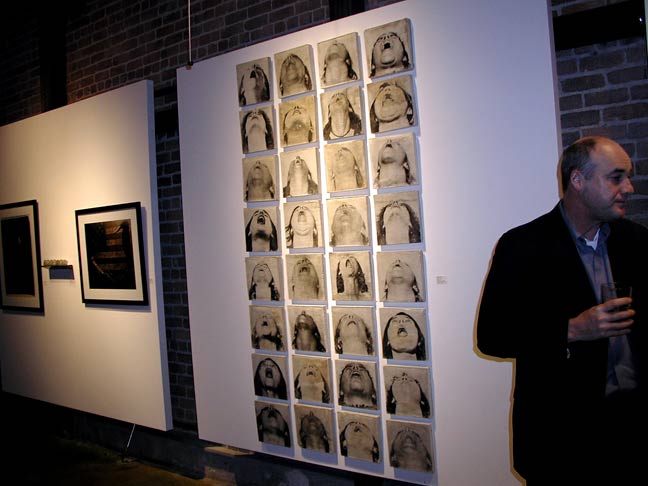 Photography on cement (Morgan) - teenies on shelf (left).


***
Future Primitive: This is a Takeover, Brian Barneclo.
Comment: Brian Barneclo paints, designs, and prints jazzy big city street scenes with an easy throwback feel. His art is versatile enough to go just about anywhere. You can hang it on a wall, perk a lobby, mellow a bar, silkscreen it on clothing, paint it on the side of a building, posterize it, even put it on coffee mugs. This guy needs to read up on licensing.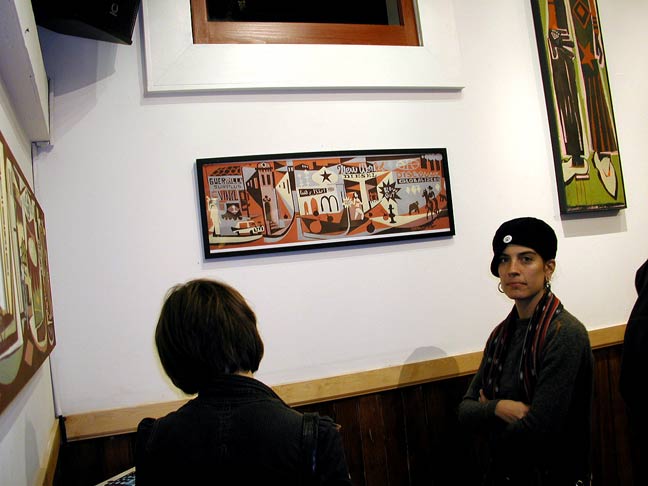 Art.


Art.


Brian Barneclo (center) getting his picture tooked.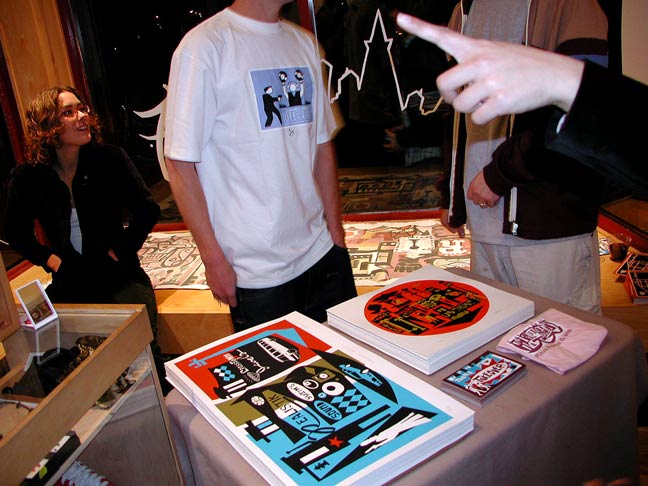 Art.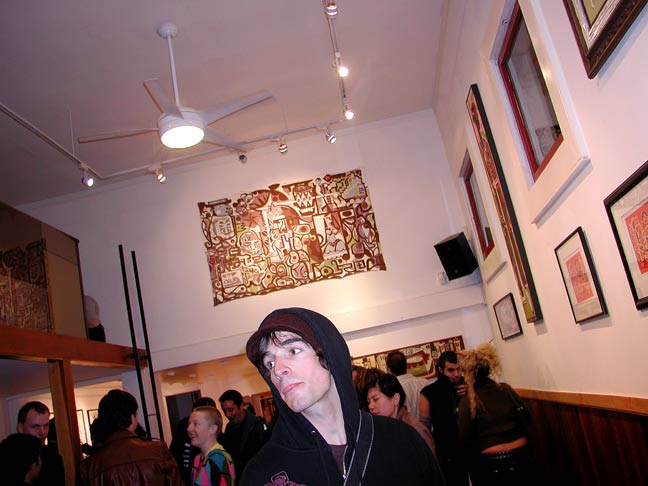 Ambience.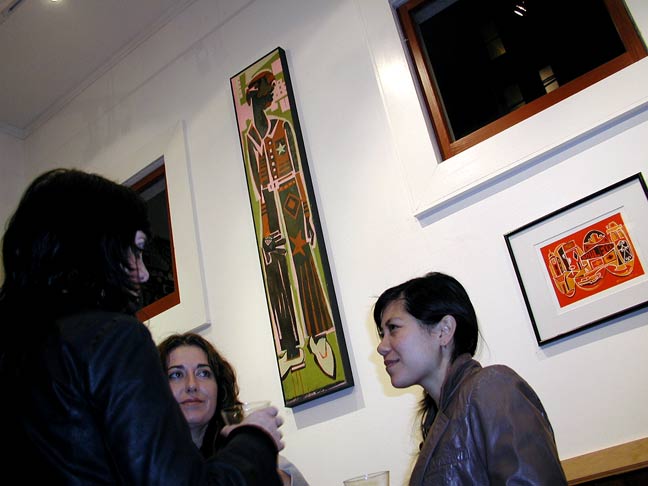 Art.


***
Addendum:


Dannielle Tegeder futurist housing design at Gregory Lind Gallery.


More circuitous lifestyling by Danielle Tegeder at Gregory Lind Gallery.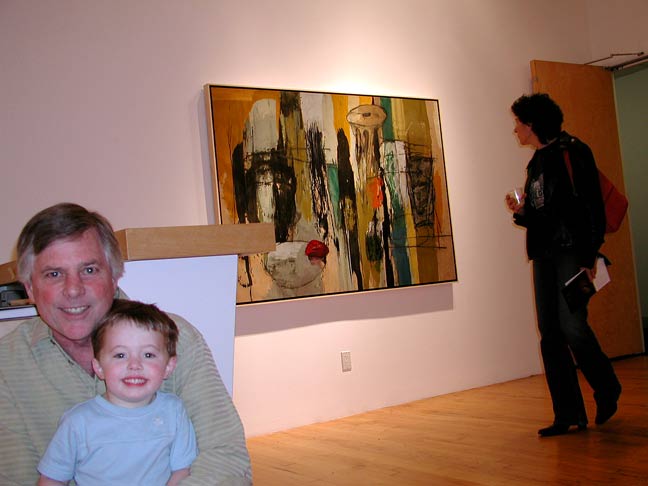 Bob Nugent, grandson, and art at Elins Eagles-Smith Gallery.


START SOMA's SF Faces 2.0 at Hotel des Arts.


Fin.
January First Thursday; January 6, 2005