SAN FRANCISCO ART GALLERIES OPENINGS
FIRST THURSDAY; 02.01.07
(with assistance from Michal Gavish Thompson)
General comment: No time to dawdle this month. Plenty to see and much of it good. Let's get right to it...
***
John Berggruen Gallery: Linda Ridgway - Between; Jasper Johns - Numerals and Selected Prints.
Comment: At first you think Linda Ridgway's soft freeflow feminine white and grey artworks are lace or knittings, maybe like doilies, but they're actually bronze. Even after I read it, I have a hard time believing it. Even after I cop a quick feel, I have a hard time believing it-- and still do. Mastery of medium doesn't get much better than this. Upstairs is a selection of Jasper Johns prints spanning 40 years, featuring a black & white numeral series from 1968, a colored numeral series from 1969, and more. Required viewing for printmakers, and for the rest of us, definitely worth a visit.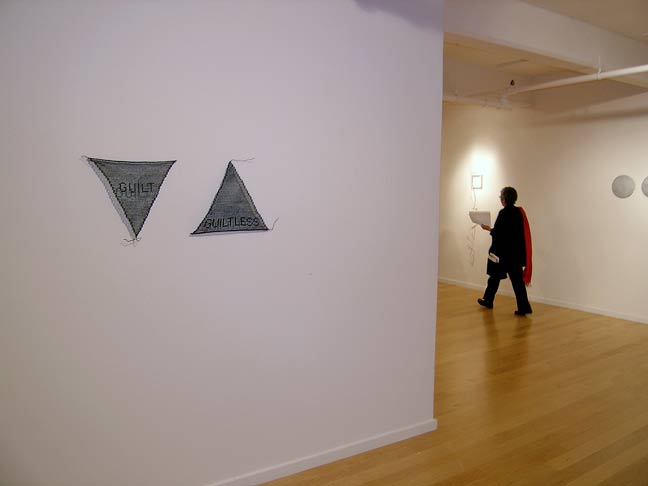 Art (Linda Ridgway).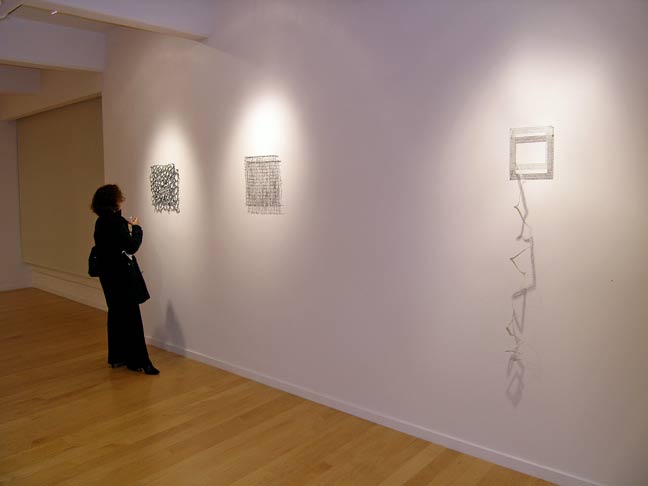 Art (Linda Ridgway).


Art (Linda Ridgway).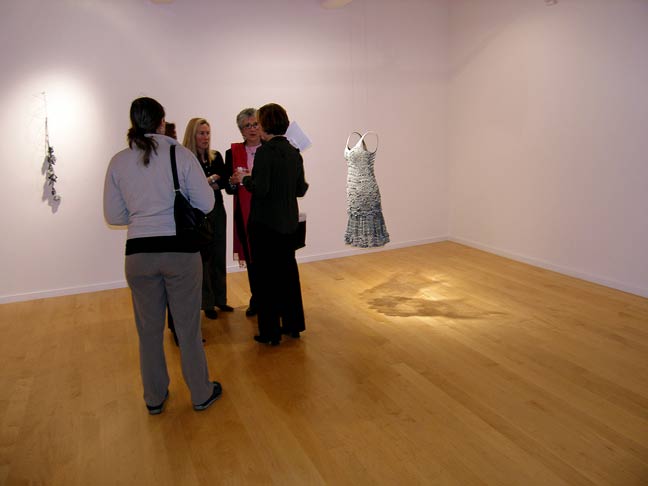 Art (Linda Ridgway).


Art (Jasper Johns).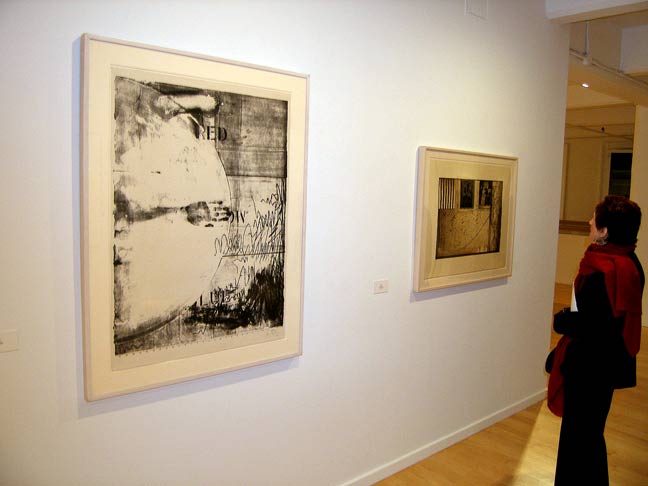 Art (Jasper Johns).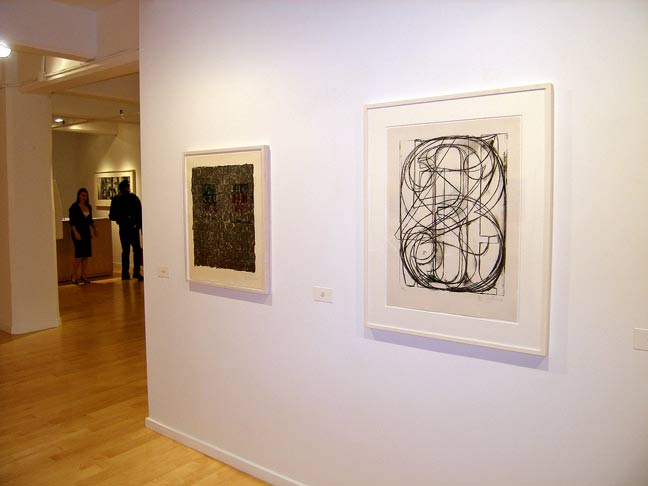 Art (Jasper Johns).


Art (Jasper Johns).


***
Takada Gallery: Stella Ling - Site Memory.
Comment: Stella Ling executes a crisp confident organic sculptural series from natural ingredients including flax, seaweed, concrete, cotten linter, paper, kelp, and tee. The works look like they belong in the wilds, like cocoons or burrows or nests or animals, like you can hike through the woods and find 'em lying on the ground or hanging from trees, but they're pure concoction. Nice trick if you can do it, and it's done well here.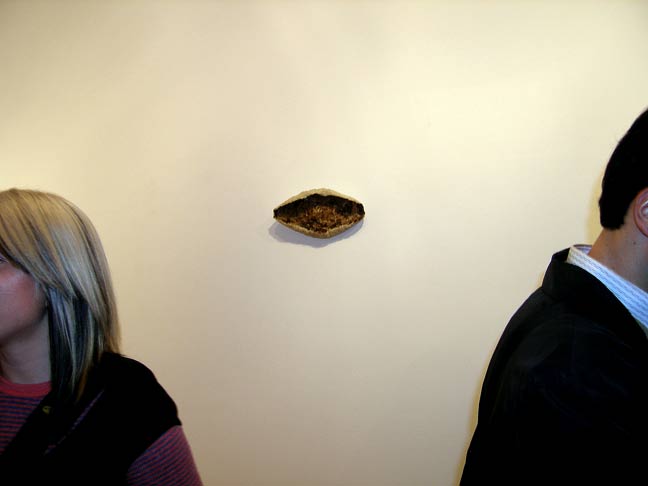 Art.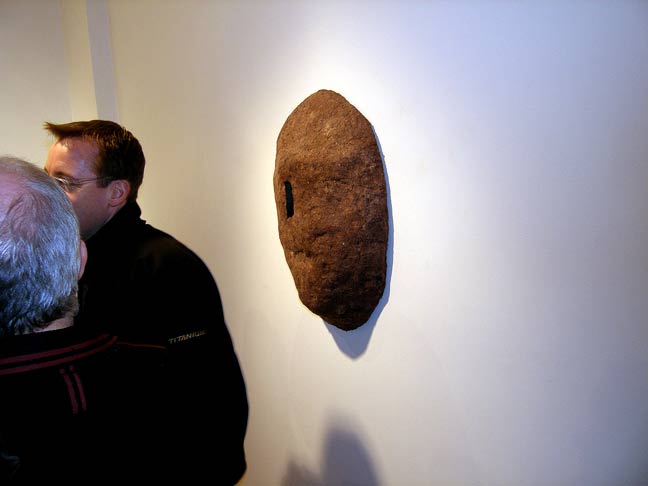 Art.


Stella Ling explains her art.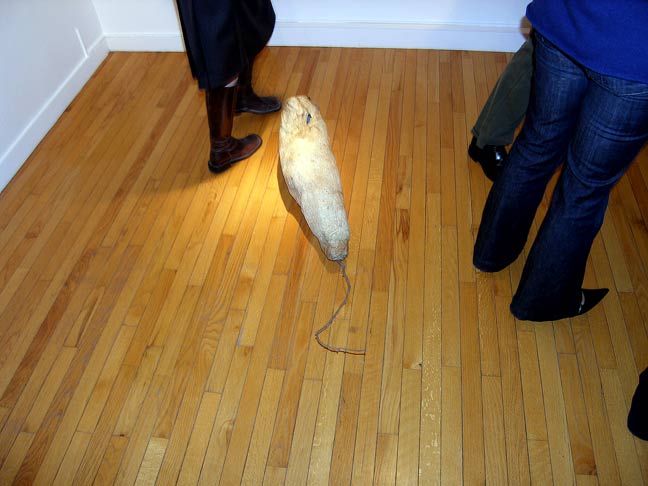 Art.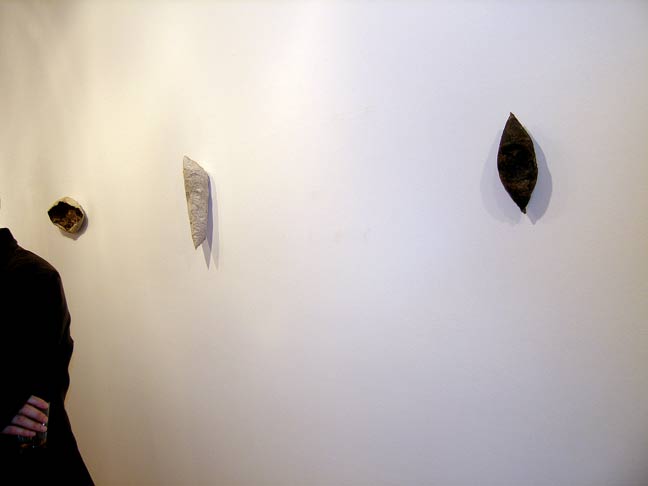 Art.


***
Hespe Gallery: Kevin Moore - Album.
Comment: Kevin Moore's classical academic range encompasses cityscapes, crowd scenes, faces that look like they're being suffocated by plastic bags, a still life of three medicine bottles on a shelf, animated superheroes, and more. An odd amalgam with disquieting overtones.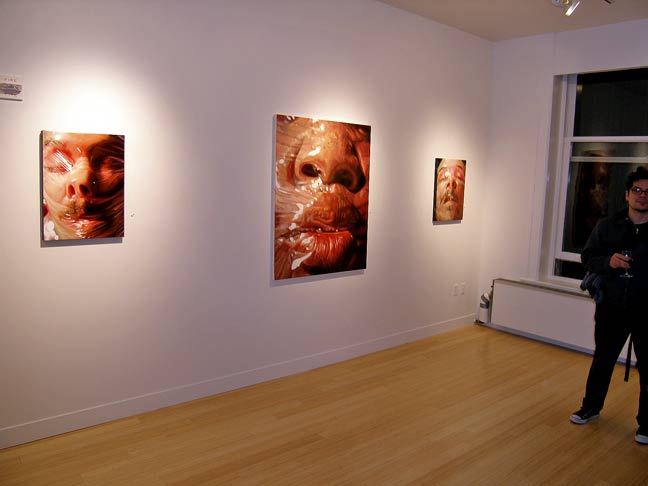 Suffocation art.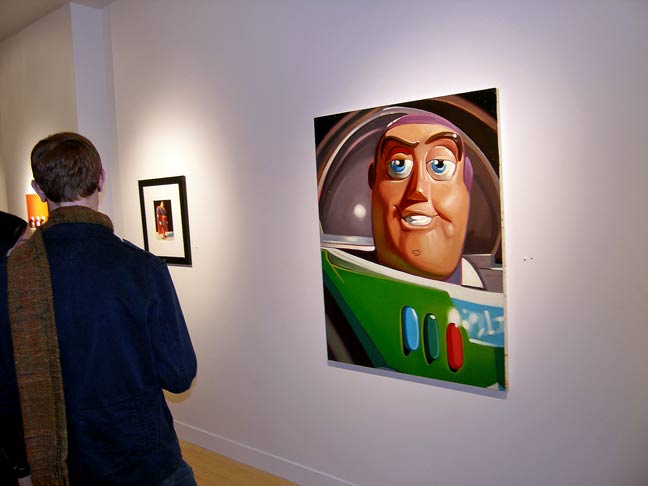 Animation art.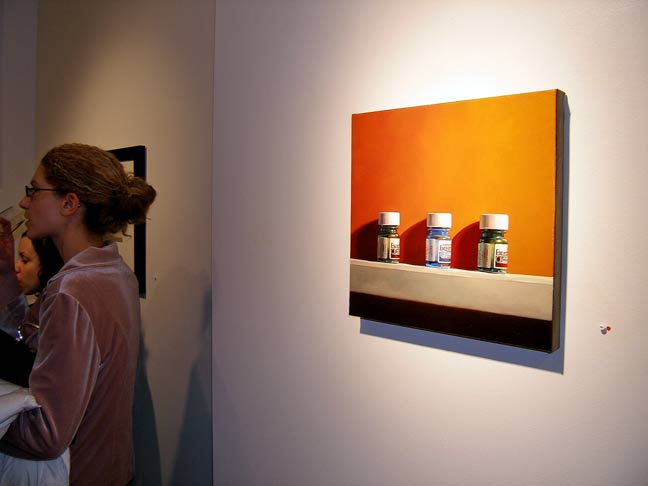 Still life art.


Underwater man art.


People in a crowd art.


Cityscape art.


***
Heather Marx Gallery: Paul Mullins - Is Heaven Any Sweeter.
Review by Michal Gavish Thompson: "Is Heaven any Sweeter?" by Paul Mullins at Marx gallery is a solo show of raw paintings and drawings of floating dogs, fish and men. It can be seen either as too sweet portraiture or as images of heaven. On the kitsch level the pinkish dogs are so touching and sad, the fish are so yummy and juicy, and the group of old guys is so nostalgic and heart warming. 
But there is also something else in these works in the way the bare images seem float on the light canvases and papers with no attempt to define their surroundings. This float gives a sense of death, maybe "Heaven," as the name of the show suggests. The same goes for the fish, held by fingers that hand them to slaughter. Even the arbitrary portraits of what seem like cheerful working men may be memorials rather than an actual live scenarios. The raw sense of the work evident from the draft makes it hard to tell which is the show, kitschy dogs and memorabilia or deeper looks at figures floating in heaven.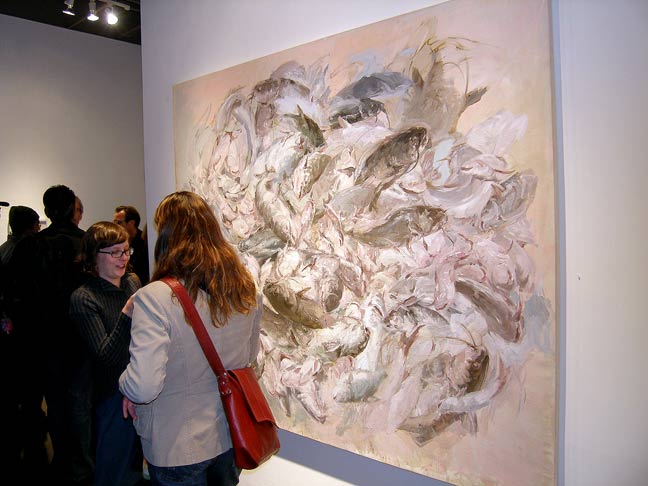 Art (kinda like it).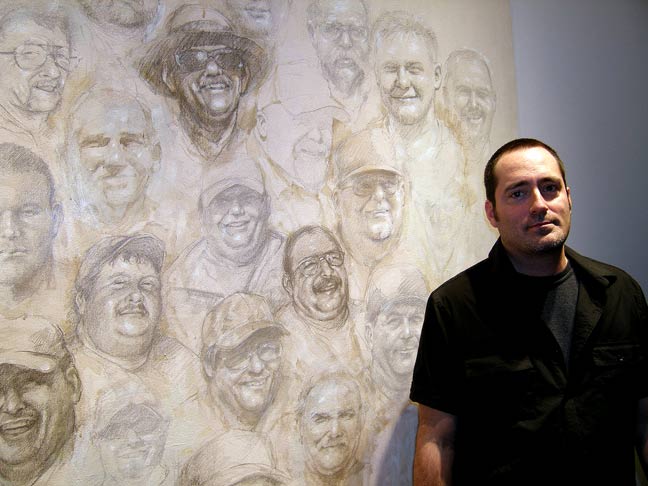 Paul Mullins - art.


Art.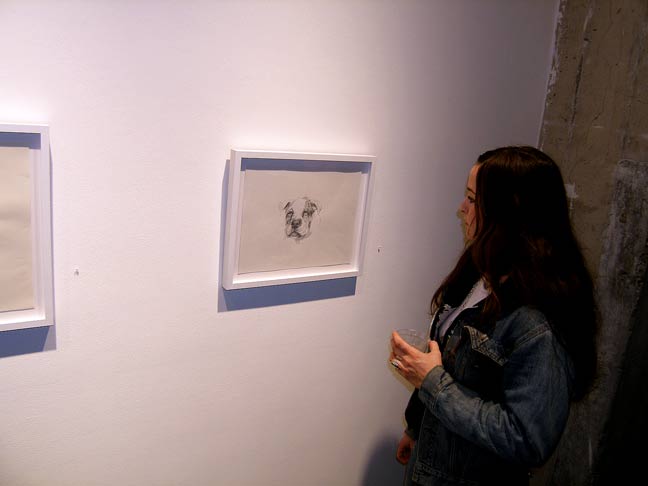 Art.


***
George Krevsky Gallery: A Closer Look.
Artists: Milton Avery, Theresa Bernstein, Ruth Gikow, John Haley, Rockwell Kent, Oswald Kurman, Jack Levine, Erle Loran, Ben Shahn, Jennings Tofel, Dorothy Winslade.
Review by Michal Gavish Thompson: The gallery collection of Krevsky is based on 20th century American modernism with an emphasis on San Francisco and the West Coast. The highlights of this show are three beautiful modern prints. Pilot Fish by Milton Avery, woodcut on paper, 1952; Thomas Hart Benton "Frankie and Johnnie" lithograph on paper, 1936; Ben Shan Blind Botanist, color lithograph, 1963;  These three different works are placed next to each other and are connected basically in the recognition of their central role in American art history. The strongest representative of West Coast art may be an expressionist "Adam and Eve" by Jack Levine hidden in the office. This figurative art show is mainly a valuable chance to look at some precious art that resonates of history.
Art looking in.


Art looking out.


***
Togonon Gallery: Small Ambitions - A Perspective.
Artists: Tom Burns, Steve Baibak, Sarah Lou Farrow, Hiroyo Kaneko, Katherine Love, Chris Rush, Fan Lee Warren.
Comment: The Chris Rush sepia works painted and drawn onto previously written-on pieces of handmade antique paper are worth a look, and perhaps reminiscent of codex pages.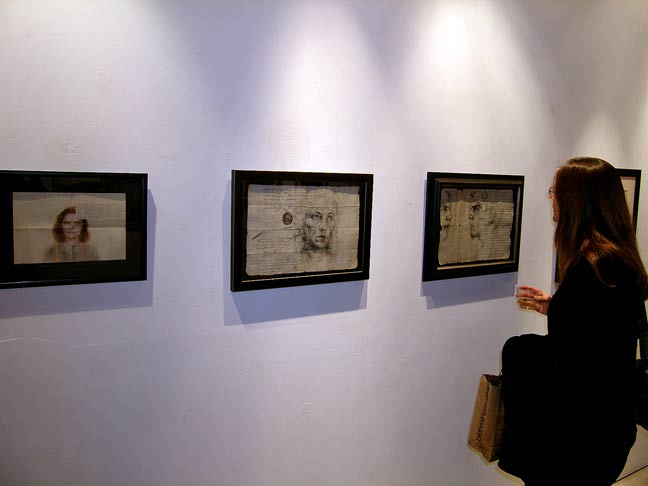 Art (Chris Rush - kinda like it).


Photography (Hiroyo Kaneko).


Art.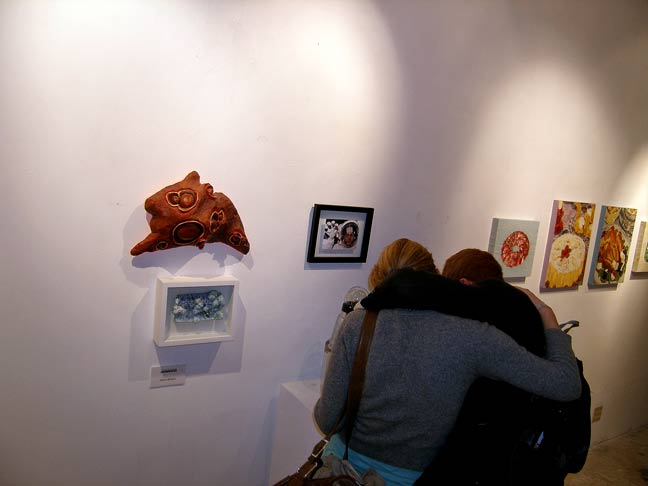 Art.


***
Catharine Clark Gallery: Masami Teraoka - Venus and Pope; Claudia Hart - Machina.
Review by Michal Gavish Thompson: Masami Teraoka is a blunt critic of American culture and world politics. This American Japanese painter has chosen to use the format of very large Renaissance canvases to create a critical picture of world events. The old genre of magnificent large paintings describing biblical and saint narratives feature the sins of the Catholic church.
Like Renaissance works, these canvases are rich with red and blue and gold, with multiple narratives in which clergymen in elaborate garments are presented as peeping at sexy naked women. These female images take central roles with multiple identities, fantasy figures portrayed as Eve, Madonna or Venus. They are featured alternately as shocking blonds, Japanese Geishas, and gorgeous black beauties.
In their nudity, some become classical wholesome Venuses or Eves. Others in black thongs and stockings create the sense of pornography in their erotic play with the classical Japanese symbol of octopus, or with consumer-oriented exercise machines. These figures appear unreal or virtual in their strange yellowish color, as if light emanates from within. They are often pregnant or holding small pink babies in their arms, which at some instances appear like angels falling from the skies. The images are often set in medieval cloisters, and in the background, idyllic landscapes of green hills are rolling into the calm blue, those behind repeated images of burning buildings featured alternately as the twin towers of Babylon or medieval cloisters. Altogether, an apocalyptic end of empire.
Comment by AB: The dude's got opinions, lays 'em out, pulls no punches, and dares you to consider his truth. Pretty near as brave and powerful as art gets. Pick of First Thursday; nothing else comes close.
Review by Michal Gavish Thompson, continued: Claudia Hart's video is well-matched with the Teraoka show. There is a fascination in watching the almost still almost real feminine nude sleeping on a comfortable orange sofa. The larger than life figure on the screen is clearly an animated figure, yet she is extremely sensual in her Olympia-like and very-much-alive minimal movement. Claudia Hart says, "I feel that my work transposes discussions about digital technology and a materialist critique of media through a metaphoric and feminist lens."
Art.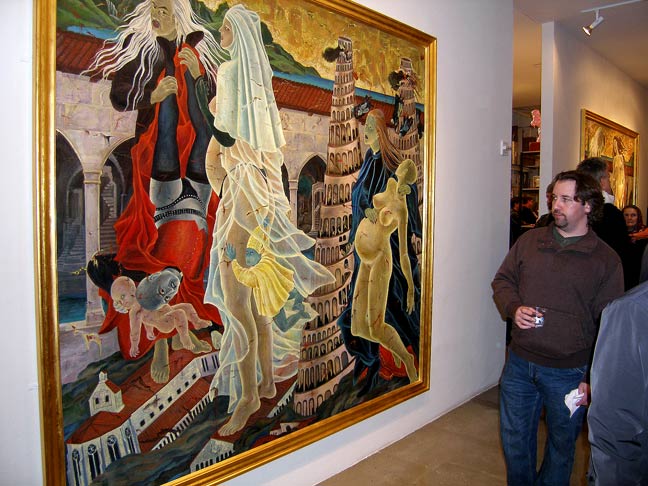 Art.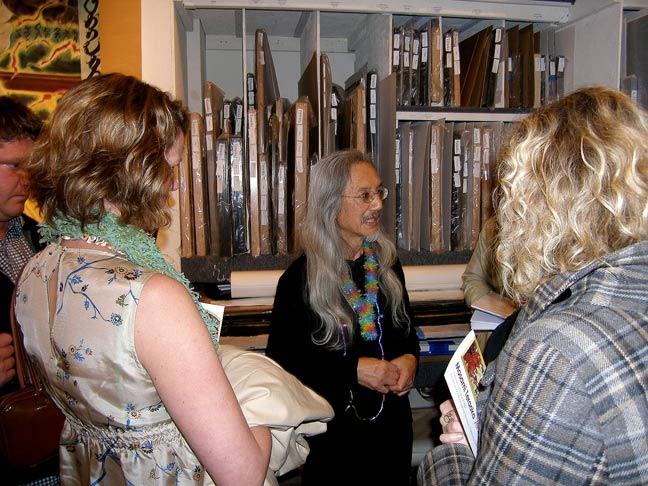 Masami Teraoka dialogues with the fan base.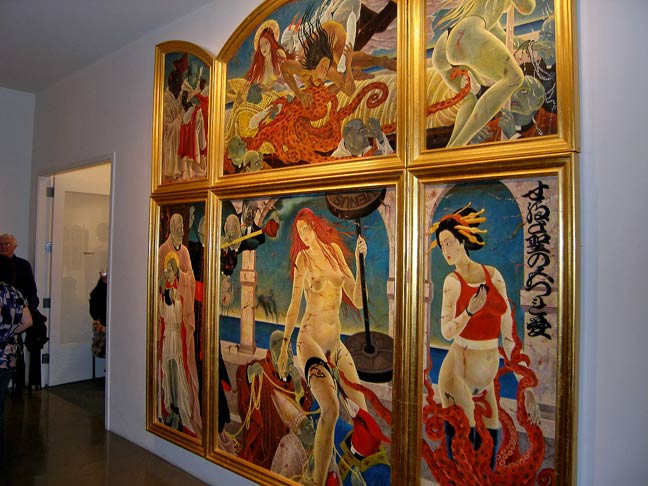 Art.


Art.


***
Mark Wolfe Contemporary Art: Jeremy Mora - Sculpture.
Review by Michal Gavish Thompson: This show is definitely a surprise. The title "Sculpture" by Jeremy Mora, raises an expectation of a monumental exhibition. Instead, his miniature landscape "dioramas" force you to approach, take the time to look closely, and to discover their fascinating worlds of miniature detail. With simple materials such as plastic, styrofoam, and twigs he creates tiny perfect wholesome manmade landscapes.
His simple materials bring up childhood nostalgia to dollhouses or model trains and give the sensation that nature is in the hand of the artist, or in our hands. Unlike the expected grandeur of vast and endless landscape art, here the tiny scale of the works gives the viewer a Gulliver sensation. Nature becomes helplessy dependent on man, with Mora is presenting it as crudely chopped segments of landscapes intervened upon and reconstructed. This show gives the viewer the feeling that, according to the artist, "humans can exert complete control over nature."
Comment by AB: Unexpected; I like it.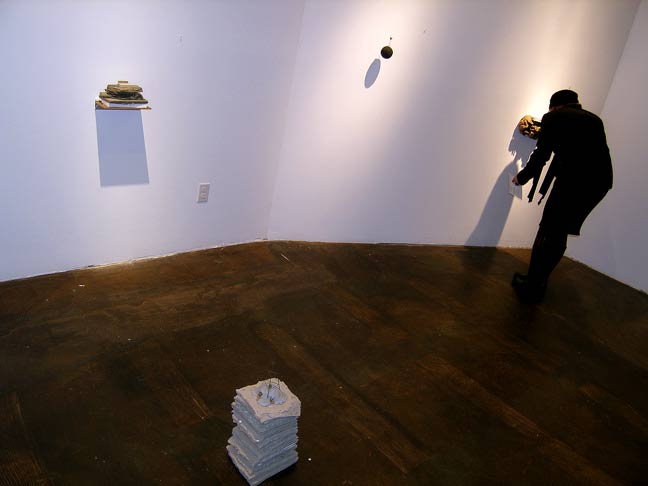 Art.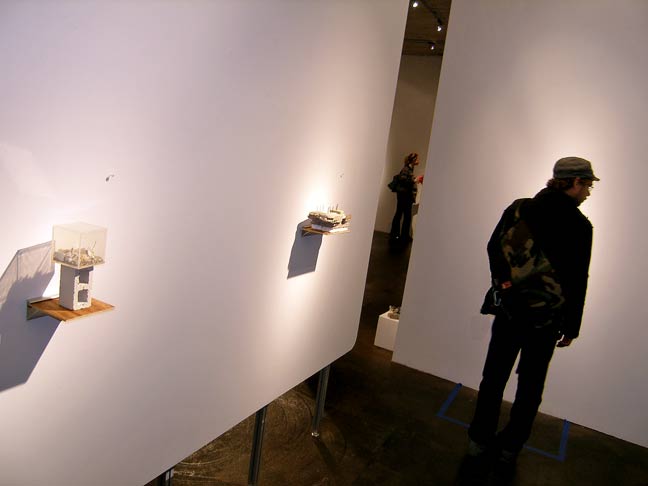 Art.


Zoom in art.


Zoom in art.


Art.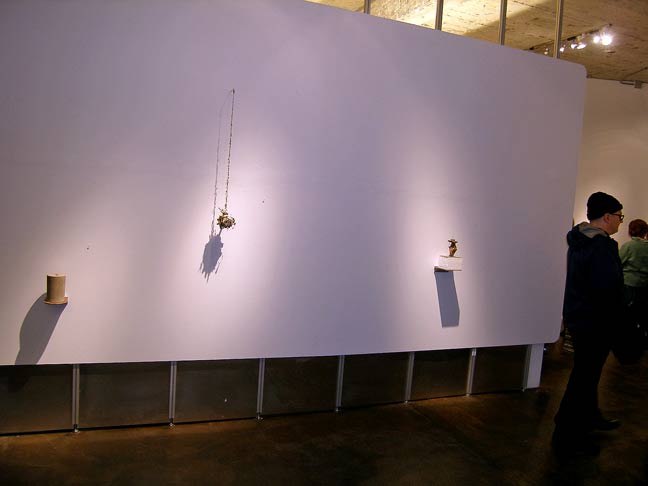 Art.


Playing field.


***
Fraenkel Gallery: Hiroshi Sugimoto - Colors of Shadow.
Comment: Hiroshi Sugimoto constructs an interior (a hilltop Tokyo apartment), finishes the walls to absorb and reflect light evenly, then photographs combinations of light and shadow at various times of day from various perspectives within the space. About as pure and elemental as reductionism gets (without going too far). You won't look at interiors the same way again. Good show; go see.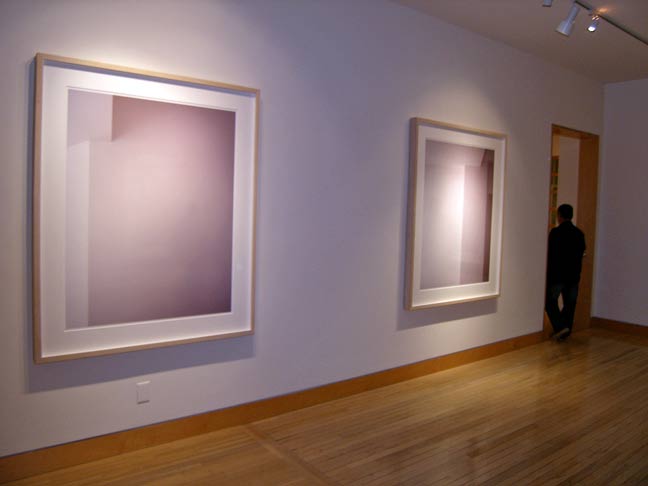 Photography.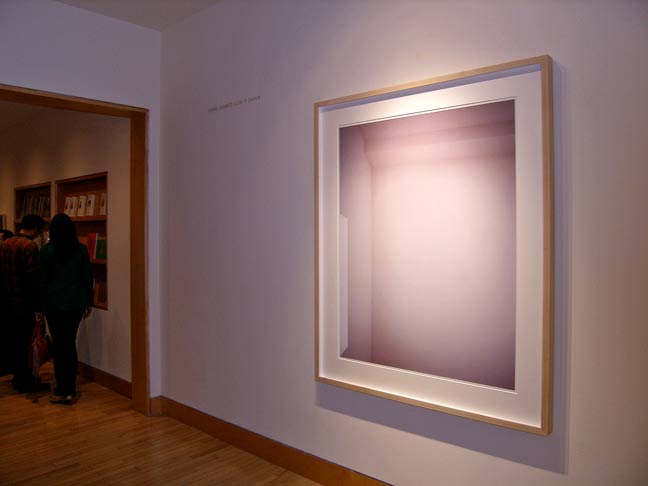 Photography.


Photography.


Photography.


***
Toomey Tourell Gallery: Roland Reiss - Visibility, New Paintings.
Review by Michal Gavish Thompson: This show is all about transparency.  There is something illusive in paintings that are hung on the wall but do not have the materiality of canvas and the weight of the paint. Still, these are definitely paintings. They clearly hang flat against the walls but at the same time cast shadows like sculptures.
The art is defined by its materials, as "acrylic on acrylic," a sense of simplicity, transparent sheets of plexiglass, arbitrary abstract patterns created by sweeping plastic acrylic gel over surfaces. Although the artist claims he does not "traffic in optical illusion," an interesting aspect is the dimensionality created by the materials. The paintings contribute to what appears on gallery walls, deliberately confusing that which is paint with that which is shadow. This dimensionality imparts a sense of motion, like that of water, rivers, rice fields in the wind, or even of the skyline of a city.  
Comment by AB: Sorry, TT was closed on First Thursday. No pics. But the art looks good on the website, and I like Roland Reiss.
***
Gregory Lind Gallery: The Unknown Quantity.
Artists: Reed Anderson, Franklin Evans, Chris Duncan, Christian Maychack, Mat O¹Brien, Mel Prest, Sarah Walker, Will Yackulic.
Comment: Group investigation of science, art, reconceptualization, altered perception, mechanisms, interweavings, necessitation, recalibration, and stuff like that. I think I need a brain augmentation; my coconut's smouldering.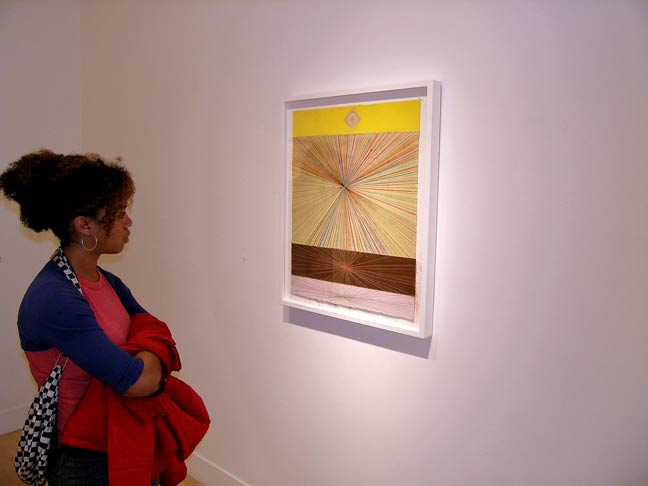 Art (Chris Duncan).


Art.


Art.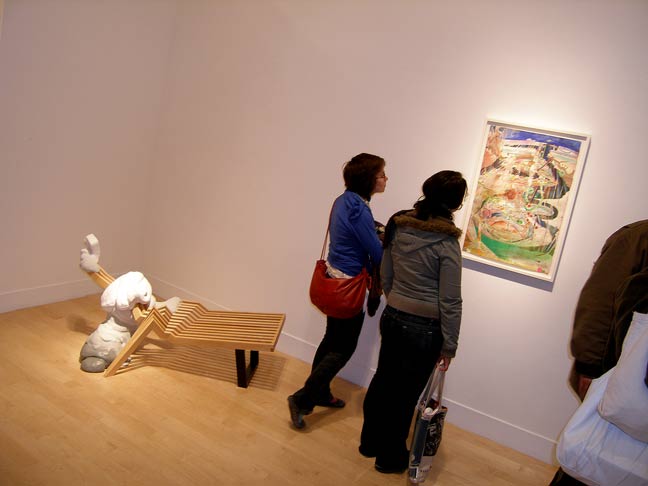 Art.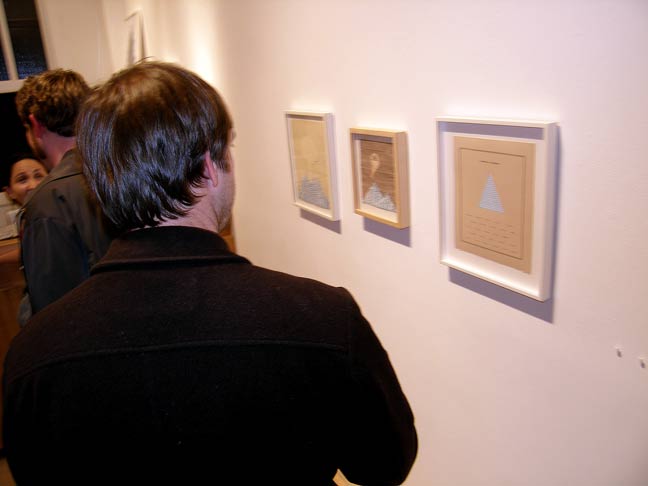 Art (Will Yackulic).


***
Don Soker Gallery: Winter Group Show II.
Artists: Julie Alland, Christel Dillbohner, Jeri Eisenberg, Jean Foos, Mary Hambleton, Archana Horsting, Theodora Varnay Jones, Hiroyuki Kitano, Victoria May, Tetsuya Noda, Amy Reuffert, Susanne Schossig, Shoichi Seino, Victoria Wagner, Eleanor Wood, Yuriko Yamaguchi.
Comment: Capable selection of what Don Soker Gallery is best known for, which when I figure it out, I'll let you know. He's got his own unruffled unobtrusive meditative take on creative product, and he puts it out there over and over and over again, unwaveringly so, until you ultimately learn to like it-- which I usually basically more or less always do.
Art.


Art.


Art.


Art.


***
Haines Gallery: Li Jin - Eat Drink Man Woman.
Review by Michal Gavish Thompson: Sometimes even Haines gallery gives up on its abstract tradition and joins the narrative world. In this show, Li Jin uses his fluent skill as a traditional Chinese painter to display contemporary images on large vertical scrolls and horizontal sheets of paper. In the scrolls, the Chinese figures are painted in watercolor and ink in multiple spaces created by interjecting traditional flora and calligraphy. The vertical pieces follow the narrative in the Western mode of a sequential story. The contemporary imagery of food items transits the message to the present. The figures are somehow detached from the random collections of food as decorative motifs, creating cultural studies or separate collections within larger compositions.
Comment by AB: Li Jin renders traditional into contemporary, with skill, humor, depth, truth, and meaning. Plenty to see, feel, consider, and cogitate on-- art you can spend time with-- like forever. Pick of First Thursday Runnerup.
Art.


Art.


Art.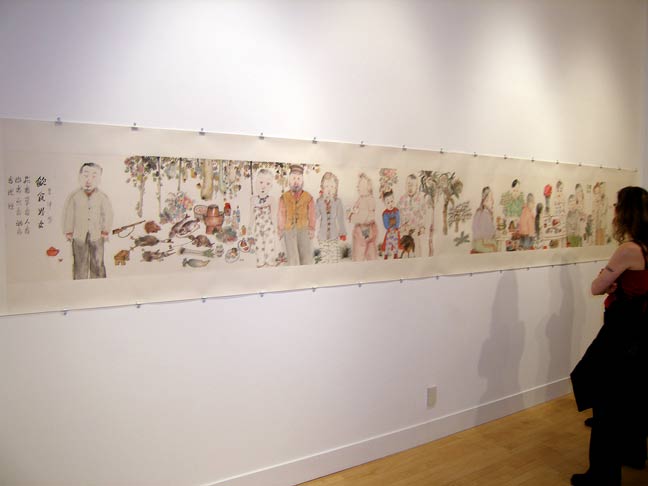 Art.


***
Gallery Paule Anglim: Anne Appleby; Robert Bechtle.
Comment: Robert Bechtle's small format plein air watercolors freely subtly beautifully depict his favorite subject matters, all that is ordinary, and exemplify yet another facet of this versatile multi-talent. In the main room, Anne Appleby's classic encaustic monotone paintings beg the question, "what do you do for an encore?"
Art (Anne Appleby).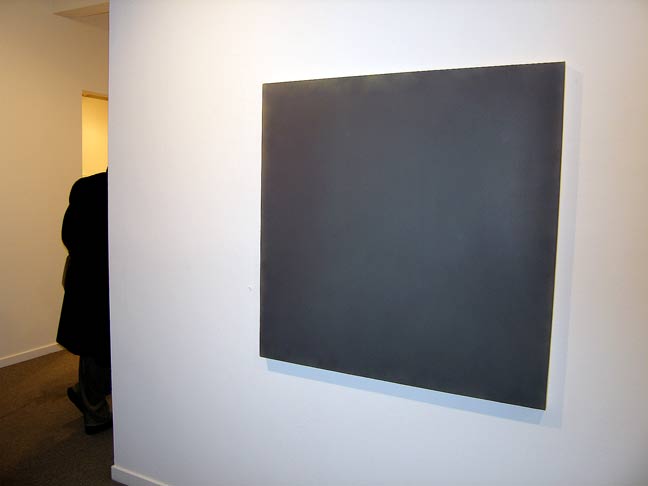 Art (Anne Appleby).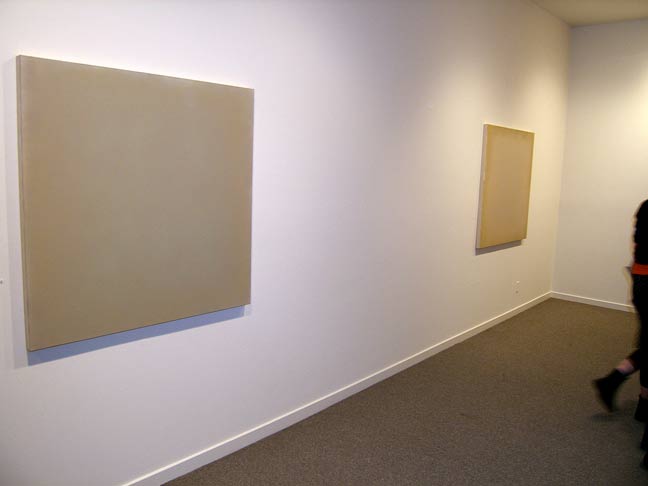 Art (Anne Appleby).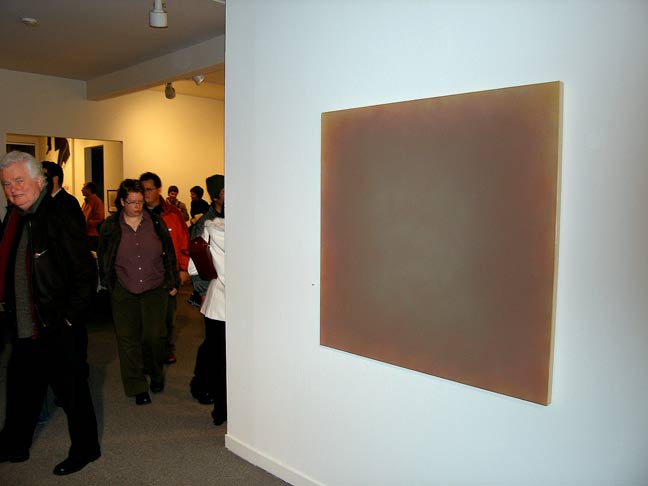 Art (Anne Appleby).


Art (Robert Bechtle).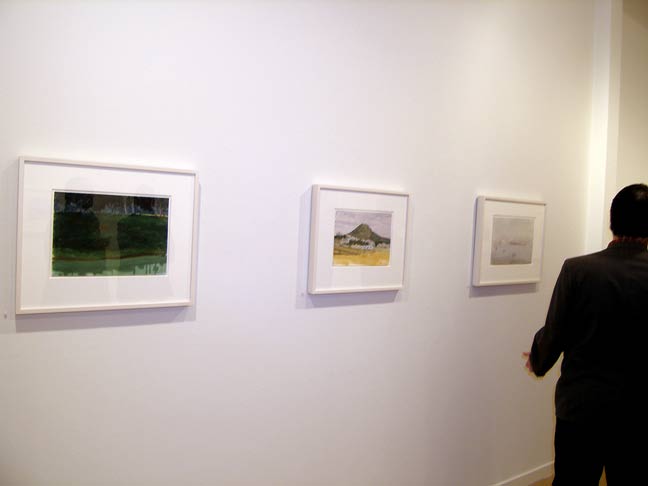 Art (Robert Bechtle).


***
Dolby Chadwick Gallery: Kim Froshin - Two Minutes and Counting.
Comment: Kim Froshin paints up a plenitudinous peck of palatable proficient postural female figure paintings.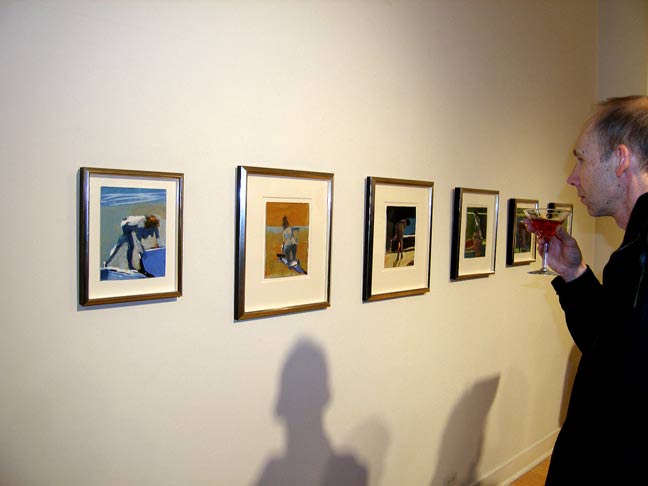 Art.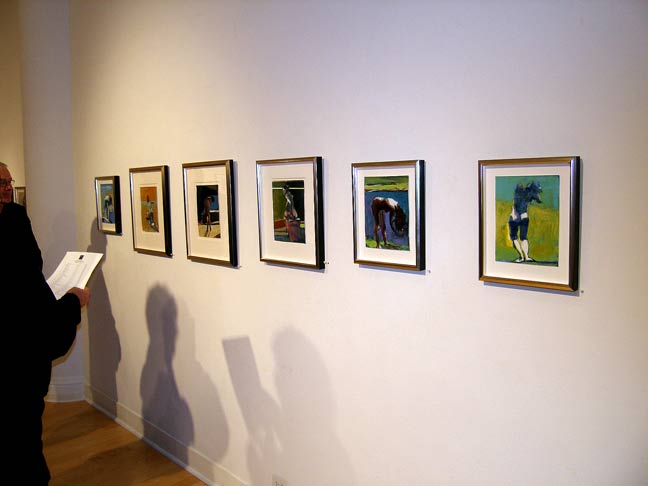 Art.


Art.


***
Frey Norris Gallery: Susannah Bettag - Vanitas Baby.
Comment: Susannah Bettag auspiciously announces she's prepared to play in the pros with an impressive debut solo show at Frey Norris. Her art is an odyssey of unrestrained fantasy, a joyous uplifting array of portraits, abstracts, and florals, abundantly infused with kaleidoscopic energy. And she tops it all off with a 14-foot floor-to-ceiling installation featuring her animesque pet character "Little Boo." Congratulations.
Art - like it.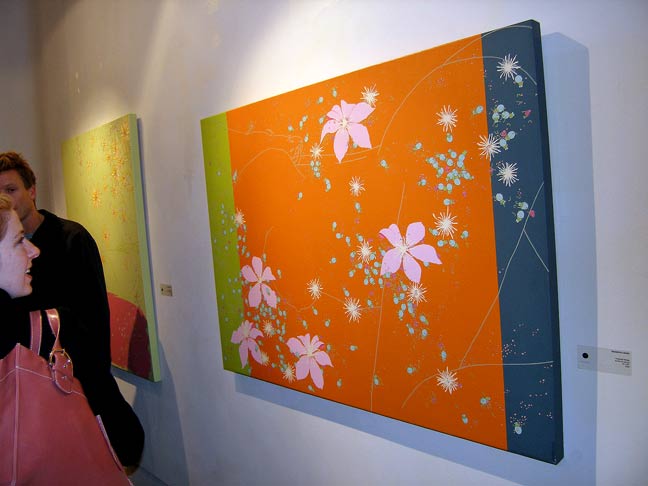 Art.


Art.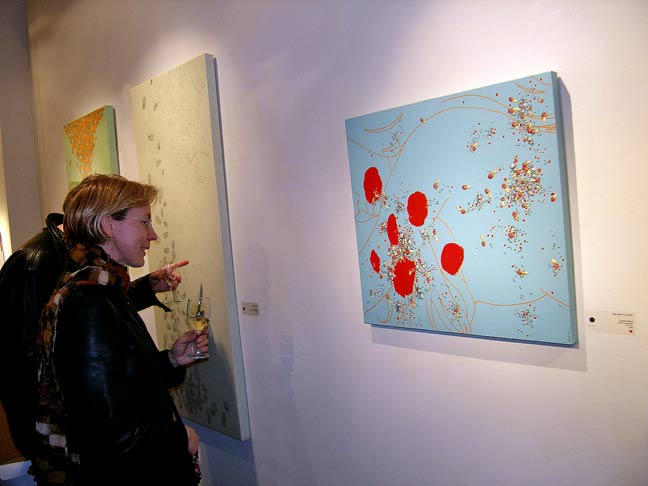 Art.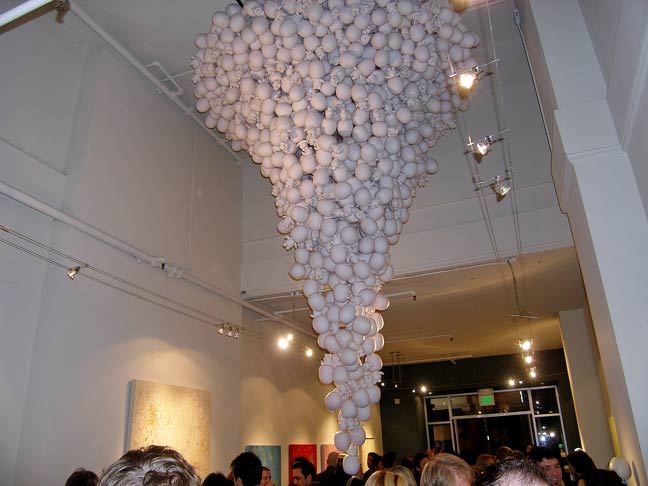 "Little Boo" stalactite art.


"Little Boo" pedestal art.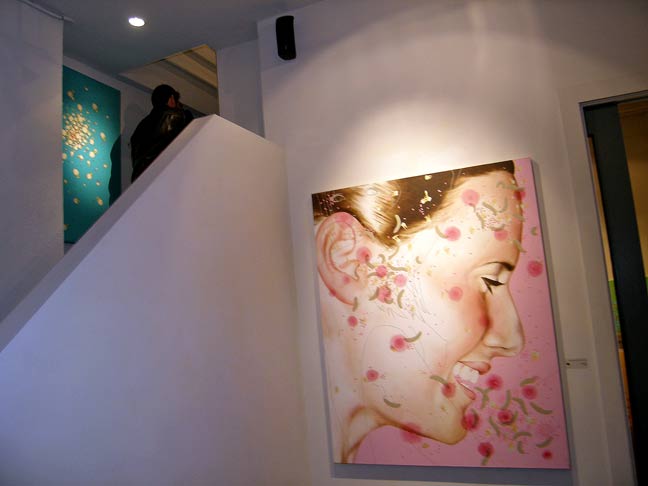 Art.


Art.


Crush.


***
Addendum:


Curtis Fields retrospective at Caldwell Snyder Gallery.


More Curtis Fields paintings at Caldwell Snyder Gallery.


Turnout for Curtis Fields at Caldwell Snyder Geary.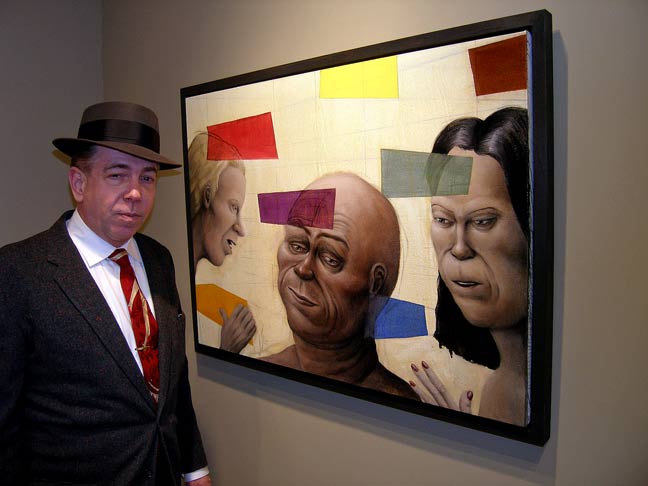 Pierre Merkl III + art at Newmark Gallery.


More Pierre Merkl III paintings at Newmark Gallery.


(Need artist's name) at The Small Gallery, squatting outside 49 Geary.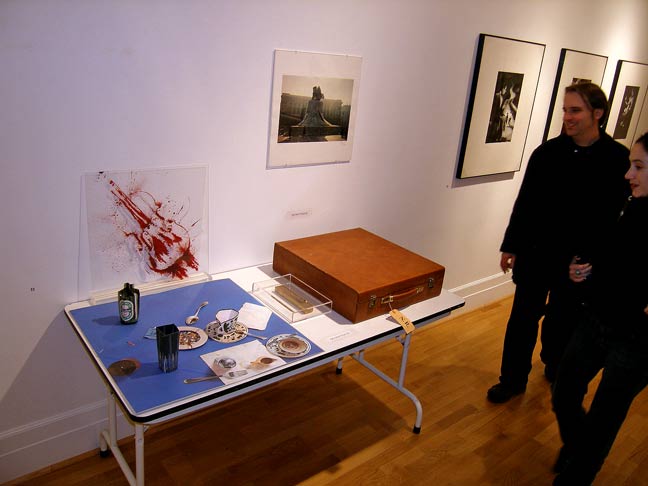 Artist books and portfolios at 871 Fine Arts.


More artist books and portfolios at 871 Fine Arts>.


"Skin Deep" group show at ARTworkSF.


***
Click here for a divestiture-related diversion.
***
First Thursday; January 4, 2007