SAN FRANCISCO GALLERY OPENINGS
FIRST THURSDAY; 03.03.05
General comment: My art heart is heavy. The night was so dense with openings, I had no doubt that something good somewhere would top off my aesthetic tank. But as is so often the case when you come into an easy match overconfident, your opponent mercilessly prevails, and you wake up the next morning with no championship ring on your finger. It's not that the galleries clobbered me with crap, but rather that I felt no great need to pull the artmobile off the road and take a better look; I slowed down a couple of times to rubberneck, but that was about it.
I suppose the good news is that 49 Geary was so ferkin' tropical, and navigating the stairwell so contortive, that I feel OK skipping Bikram yoga for a week. Thermodynamically speaking, the hot box atmosperere was likely exacerbated by the evening's flimsy fare fuming the patrons, thereby overstraining the building's antiquated ventilating system, and forcing us to breathe back our own creative exhaust. Not a pretty picture.
There, there. I know how you must feel, but stop your sobbing and wipe away those tears. It's not all that bad. We'll play "Find the Sweet Spot on the Lemon"-- the object being to say almost exclusively positive things. So take my hand; it's artin' time...
***
Dolby Chadwick Gallery: Stephen Simons; The Proscenium Series.
Comment: Tasteful still lifes applied over abstracts with cubist, constructivist, suprematist overtones. I'll have a cup of tea on top of my Malevich, thank you.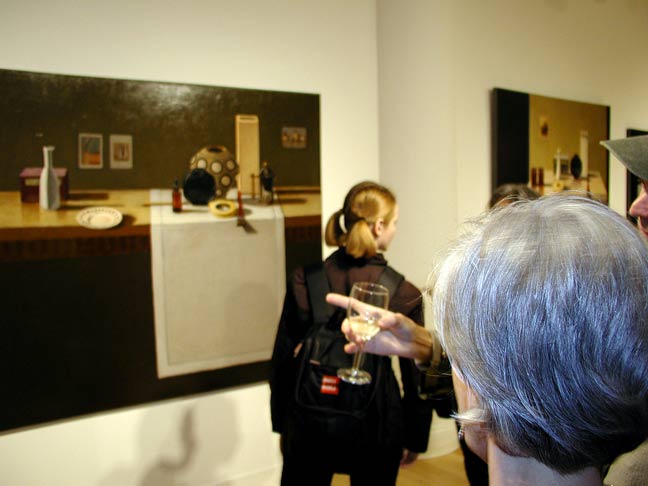 Excuse me... I'm trying to photograph that painting.


Thank you. That's better.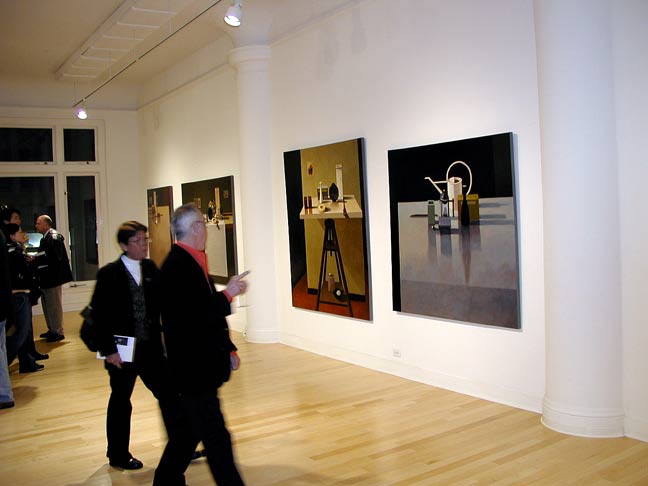 Art - out.


***
871 Fine Arts: Various Small Pettibons and a Ruscha.
Artists: Mainly Raymond Pettibon, but also Ed Ruscha.
Comment: Sometimes I wonder who buys art by artists like Raymond Pettibon. Bad boy eggheads? Corporate closet cases? That nerd in the dorm room down the hall who never did anything but study (you thought)? Pettibon is an accomplished draftsman, his work is more than competent as well as energized, he captures the essense of cultural turbulence, starting with Punk and pre-Punk, and he's got a firm, though modest, secondary market (top lot at auction--$58K for a group of ten watercolor ink drawings). In other words, he's arrived. Nevertheless, if your mother caught you saying stuff like Pettibon writes on his art, your ass would be grounded for at least a week PLUS she'd take away your cell phone. That said, if I had to choose between a Raymond Pettibon work on paper, several sessions with Mistress Malaise, or a three-day crank and alcohol bender, I'd go with the Pettibon.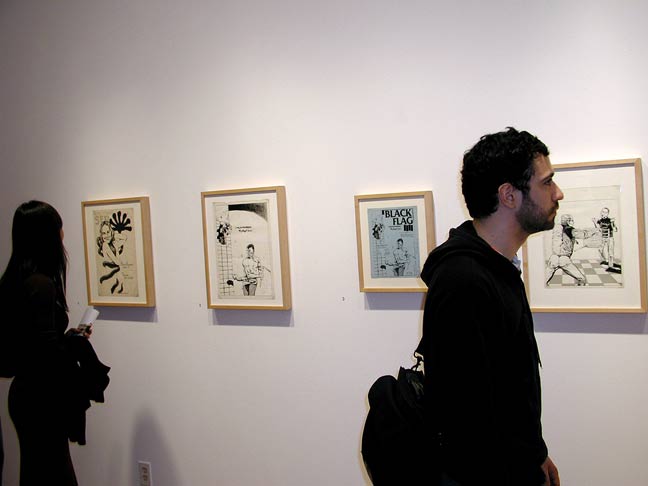 Art.


Art.


Art.


***
Catharine Clark Gallery: Strange Architecture.
Artists: Mark Bennett, Jimbo Blatchly, Dave Hamill, Julia Page, Ben Peterson, Sheri Simons, Josephine Taylor, Phoebe Washburn.
Comment: Art as entertainment at Catharine Clark, themed on architecture. Notables include crisp clean cardboard constructions by Sheri Simons ($150-$600 each), and a large Vorticist-like watercolor and graphite on paper by David Hamill ($2800). In the creative-mess-that-somehow-seems-to-hold-together-enough-to-look-like-art department are several Jimbo Blachy mixmasters.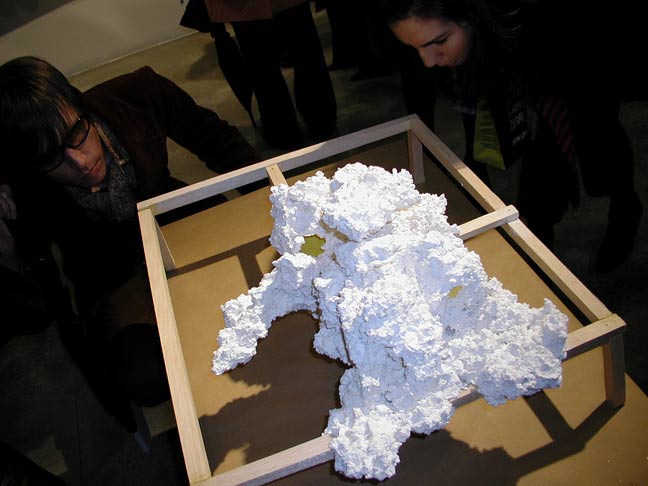 Glob on a wood frame art (Jimbo Blachy).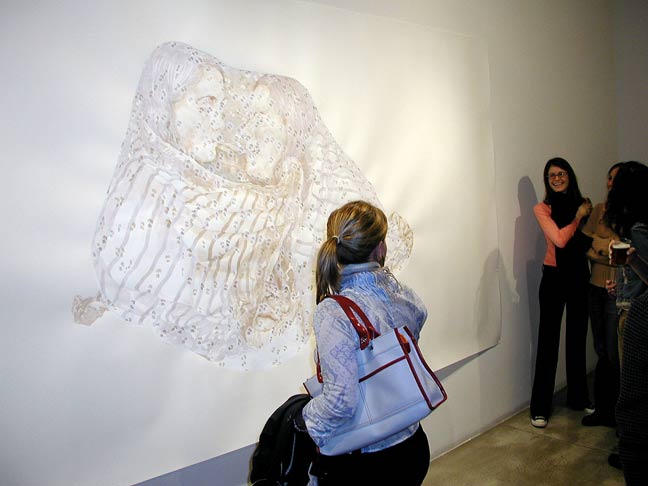 Art (Josephine Taylor).


Cardboard and record player art (Sheri Simons).


Art (Jimbo Blachy).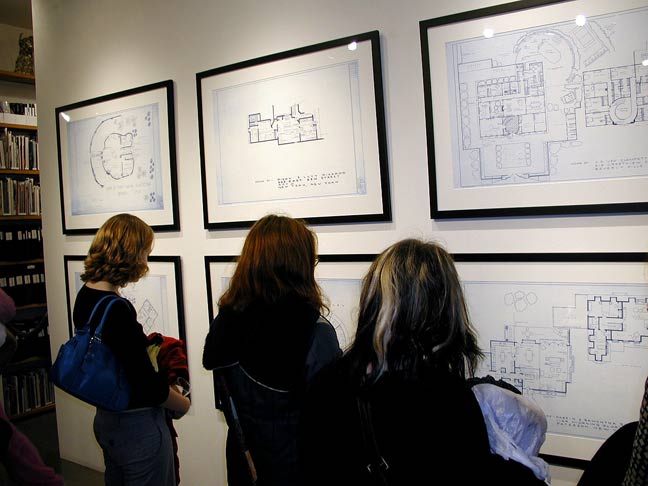 Kicky blueprint art (Mark Bennett).


Art (David Hamill).


***
Steven Wirtz Gallery: Ulrike Palmbach, Sculpture; Lucy Puls, At This Place.
Comment: Ulrike Palmbach sculpts softly, with fabric, blankets, and similar malleables. Central to her show is a precise life-sized off-white replica of a cow, accurate enough to exhibit at a natural history museum, crafted from materials formed, stuffed and sewn over an armature. Moo. Lucy Puls starts with domestic discards, thrift store remnants, and the like. She combines them with large photographs on fabric sheets-- images of unwanted items like a mattress or a stove, captured in their urban settings, as abandoned by their recent owners. I'm unsure of the longevity prognosis on these agglomerations or whether that's even relevant. However, they do make their point.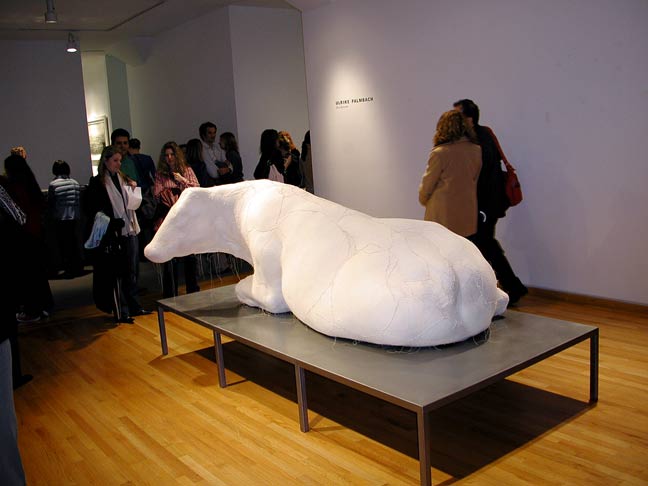 Moo art (Ulrike Palmbach).


Environmental agglomeration art (Lucy Puls).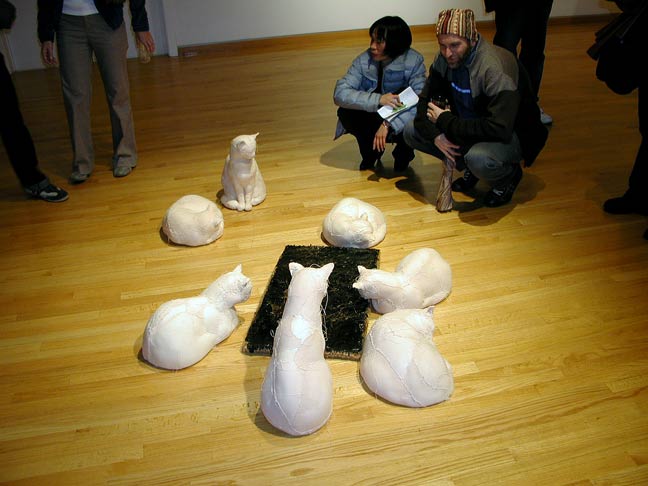 Meow art (Ulrike Palmbach).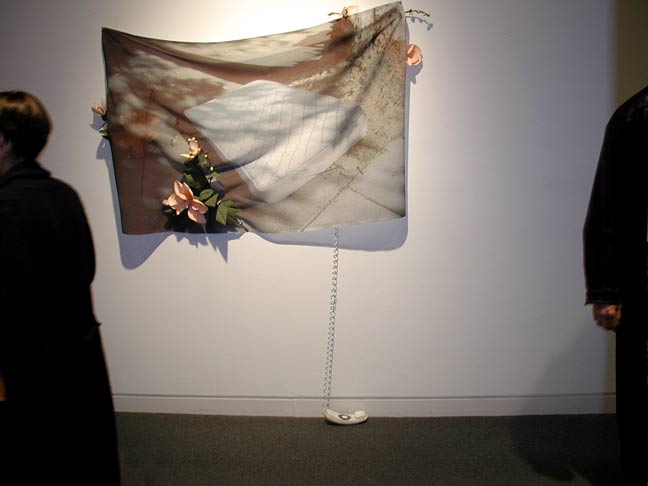 Environmental agglomeration art (Lucy Puls).


Soft milk carton art (Ulrike Palmbach).


***
Patricia Sweetow Gallery: Bill Walton, Sculpture, Paintings; Mark Emerson, Paintings.
Comment: Anything goes in art, and this show is proof. The following from the Bill Walton press release... "As in Wisteria Series, Untitled (3 x 9 1/2 x 1 1/2"), a small branch of wisteria is draped over a solid rectangle of copper, resting as though the wisteria had assumed its shape by growing over the metal in it's path. This subtle interplay of material is so visually stunning that you are tempted to inspect the tiny assemblage, whereupon you are rewarded by the mere hint of palladium at the end cut of the Wisteria." I was "tempted to inspect the tiny assemblage" because I couldn't believe that it was really what I thought it was, which, upon inspection, it turned out to be-- a piece of branch draped over a modest copper block. The only thing that stunned me was the price, in fact, all the prices-- about $2000-$5000 each! So I'm thinking on this wisteria piece, well, maybe palladium is really expensive, but I go to Bullion Direct and it's half the cost of gold. Just diaper me up and call me clueless.
Is it art?


Yes.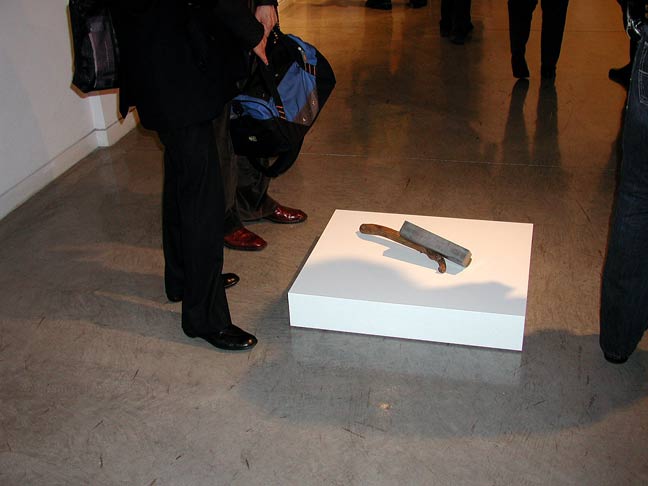 No.


Maybe (Wisteria Series, Untitled, center right).


***
Toomey Tourell Gallery: Mark Perlman; New Paintings.
Comment: Working abstract is tough these days, seeing as it's been done and done and done and done and done again. But Mark Perlman apparently knows what he's up against as his paintings, particularly the bigguns, sidestep the cliches, and distance themselves from their countless reconfigured has-been ho-hum ca-ca cohorts. Perlman appears to succeed mainly by working really really hard. His complex pageantries of color, texture, and detail obviously take a great deal of time to conceive, organize, execute, and nuance until everything's just right. And it is.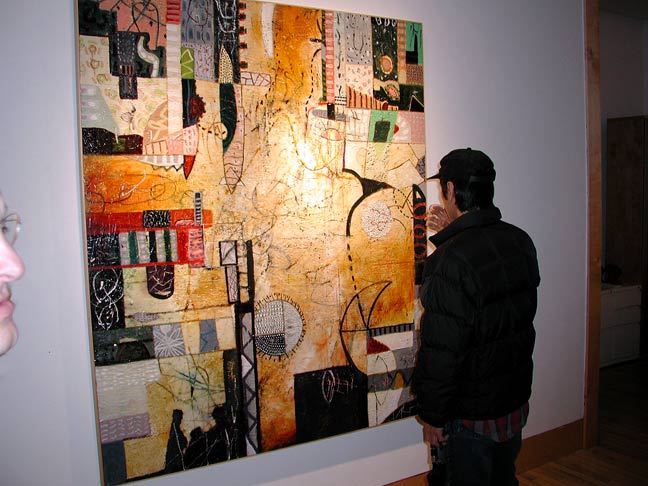 Art.


Art.


Art.


***
Haines Gallery: Max Gimblett; All Things Wild and Innocent.
Comment: I was set to unconditionally love these mantric shinies the instant I laid eyes on them, however when I buzzed in for a micro, the detail on the guilding mildly miffed my mellifluous melodiousness. But then I considered the considerable logistical challenges Max Gimblett must surely hurdle on the way to completing his art, including mastery of unconventional uses for unconventional mediums (polyurethane, polymers, gold, epoxy), and especially the skill and attention which he devotes to his art's edges (why so many artists think that nobody's ever gonna look at the edges, I have no idea, and I can't tell you how much art I see with edges that absolutely suck). Considerations duly considered, Max Gimblett gets thumbs up, hands down.
Art.


Art.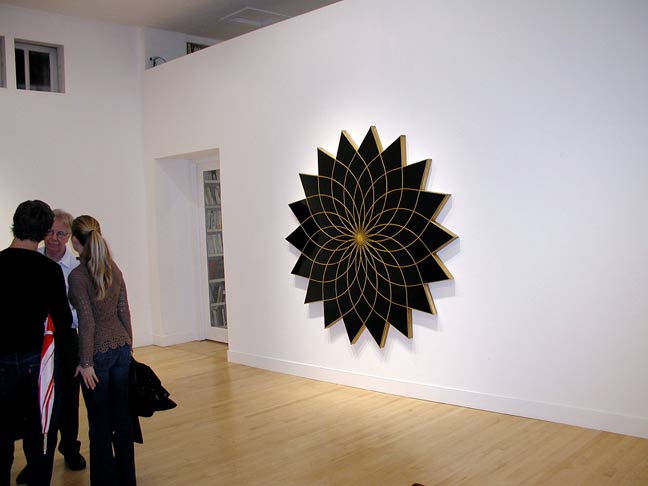 Art.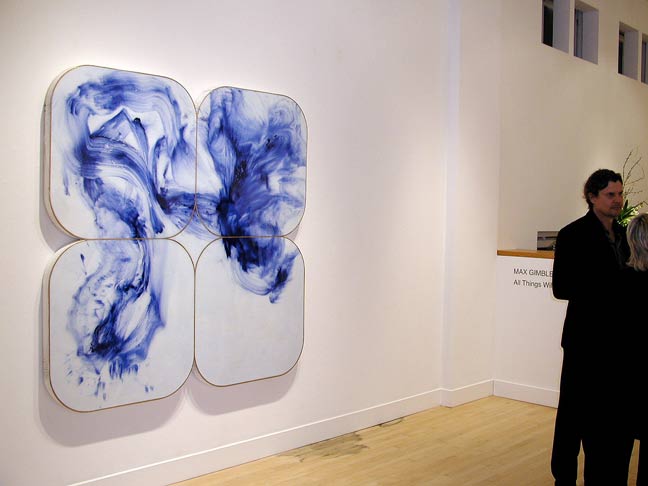 Art.


***
Robert Koch Gallery: Nathan Baker, People at Work; Bill Owens, Leisure.
Well, seeing as there's no Pick of First Thursday this month, I've got to award something. Drum roll, please. And tonight's installment of the rare and highly coveted How-Do-Dey-Do-Dat Award goes to Nathan Baker for his trick photographs of people working. But they're not really people; they're person. Each large-format color photograph appears to show a number of people at work in a given setting, but they're all the same person. Baker pulls this off by repeatedly photographing one person in a variety of poses against one backdrop, and then transposes the images. Either that or he knows several families of identical duodectuplets.
Photography.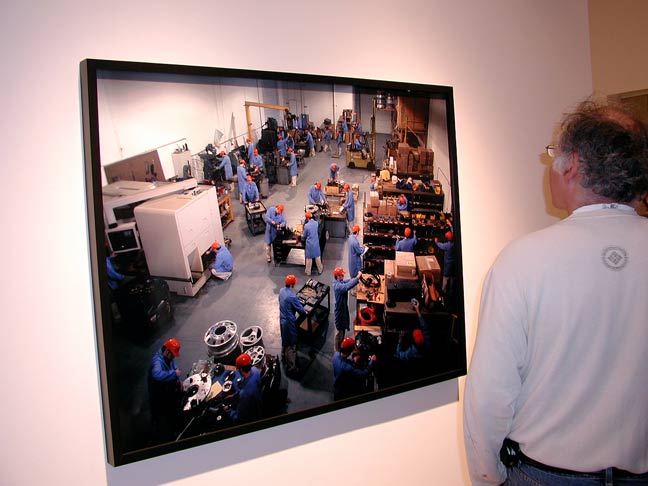 Photography.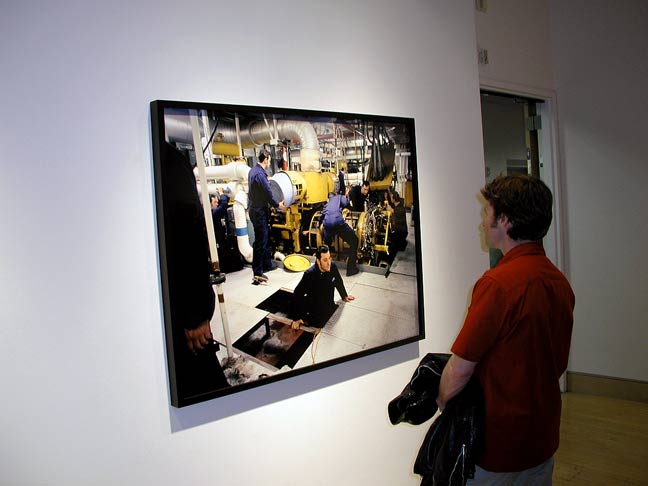 Photography.


***
OK. Enough 49 Geary already...


Trundle.


***
Rena Bransten Gallery: Candida Hofer; Photographs.
Comment: Large color photographs, mostly meta-opulent Continental interiors. From the photo on the announcement, I couldn't wait to be blown away by these images. But the blow was a no-show. Here's a possible explanation: Hofer may have been so impacted while immersed within these interiors that her cognitive "impact carryover" artificially and/or subconsciously enhanced her perception of her finished photographs as being more powerful than they actually were-- thereby, in her mind, alleviating the need to rework the images in order to more effectively convey that first-person impact to third parties, such as myself, who have not seen these interiors firsthand, and who have no "impact carryover" to play off of. It's a common artist mistake-- the artist mentally embellishes his or her art to the extent that what the artist sees and what the viewer sees become two very different "sees." Photos not cheap at $20K-$30K a pop.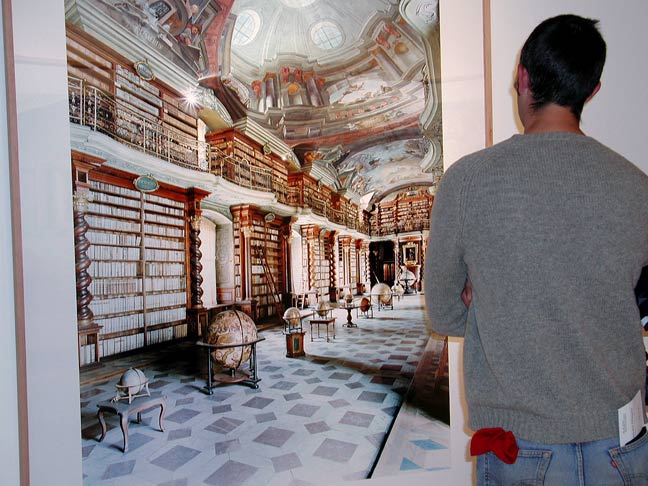 Photography.


Photography.


Photography.


***
The Blue Cube: Salifu Mohammed; First U.S. Solo Show.
Comment: A young artist from Ghana, trained in graphic design, but deciding instead on fine art, successful in Ghana, with potential to be successful here as well. He paints large, figurative, and vibrant with fields of impasto; his African-themed paintings are particularly strong, as are aspects of his jazz paintings. He continues to experiment with various styles and subject matters. We'll see what happens once he settles down. He's got the skills and the vision. Produced by START SOMA.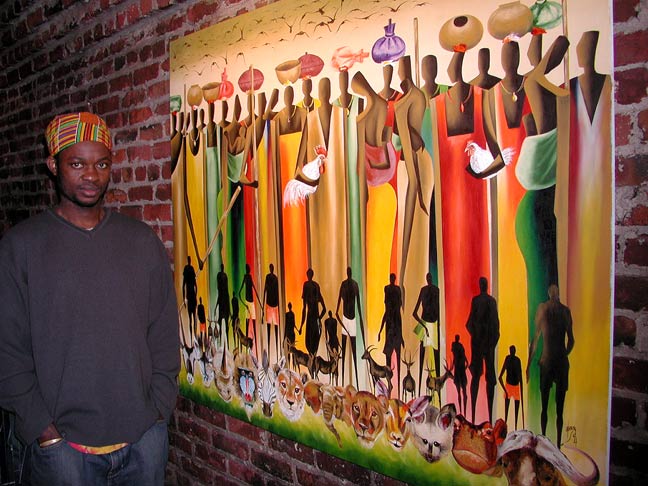 Salifu Mohammed - art.


Nasir Nolan (agent) - Salifu Mohammed - art.


Blue Cube owner / Late Night Coalition President Terrance Alan.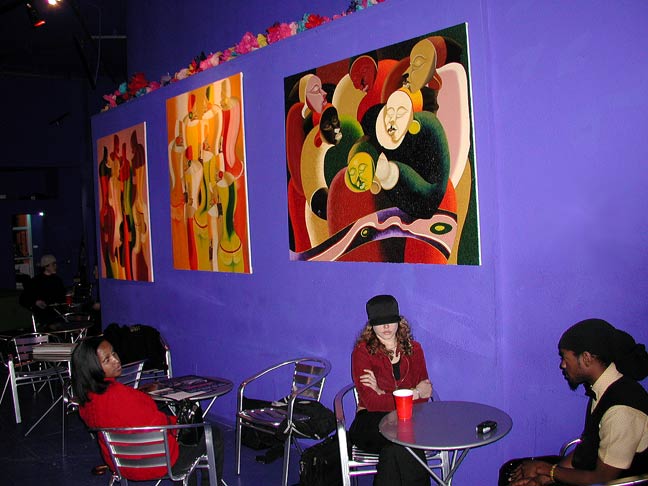 Art.


***
Addendum:


Los Angeles artist Asuka Ohsawa ventures North at Gregory Lind Gallery.


David Lyle American Pie look-back with trophy pile at Heather Marx Gallery.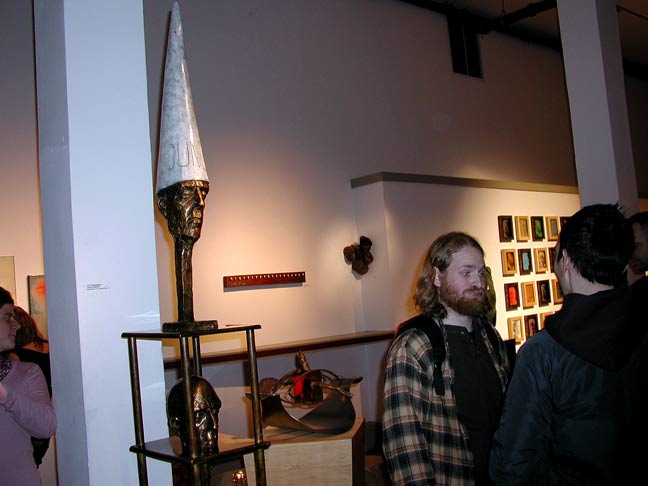 City of Paris Studios sculpture jumble at 111 Minna Gallery.


More jumble at 111 Minna Gallery.


Sacha Eckes toughs out her black period at SEAM Studio.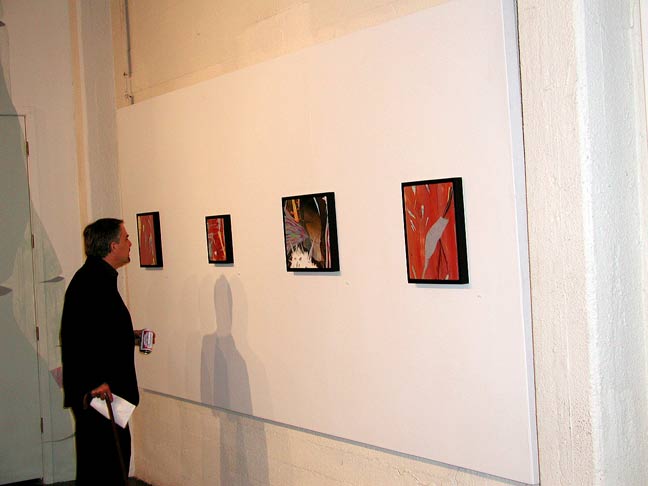 Joseph Reihsen sharp abstract fantasies at Arspace Gallery.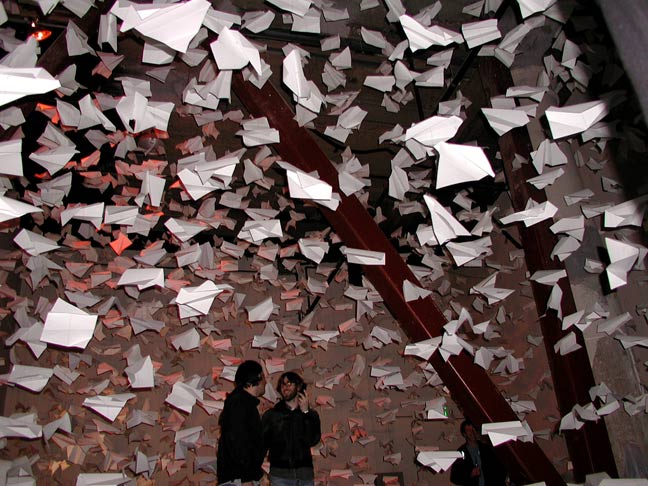 Paul Hayes Red Ink Studios installation still up at 989 Market.
Catch it before it's gone.


Speaking of gone... Poof!
February First Thursday; February 3, 2005