SAN FRANCISCO ART GALLERIES OPENINGS
FIRST THURSDAY; 03.01.07
(with assistance from Joanna Maria)
General comment by AB: I got a new camera; the old one finally fritzed me into replacement mode. You're thrilled to hear that, aren't you? Of course you are. So the deal with this new one is it's almost the exact opposite of the old one with tight close no-flash shots as opposed to long wide flash ones, which means I'm gonna have to learn how to use it. I know, I know-- I'm doing it on your dime, and I apologize profusely for that, but scheduling is mighty tight these days. Fair warning. Don your goggles. And off we go...
***
Caldwell Snyder Gallery: Gary Bukovnik - Recent Paintings.
Comment by AB: Gary Bukovnik is one of my favorite representational artists with his sumptuously vivid and fanciful oversized floral watercolors. You gotta respect his work not only on compositional grounds but also in the technical category. Watercolor painting is challenging to say the least-- one slip of the brush (especially with big bight obvious color fields like these) and it's back to square one. Under normal circumstances, collectors tend to prefer oil and acrylic paintings over works on paper. But Gary Bukovnik watercolors are not normal circumstances.
Art.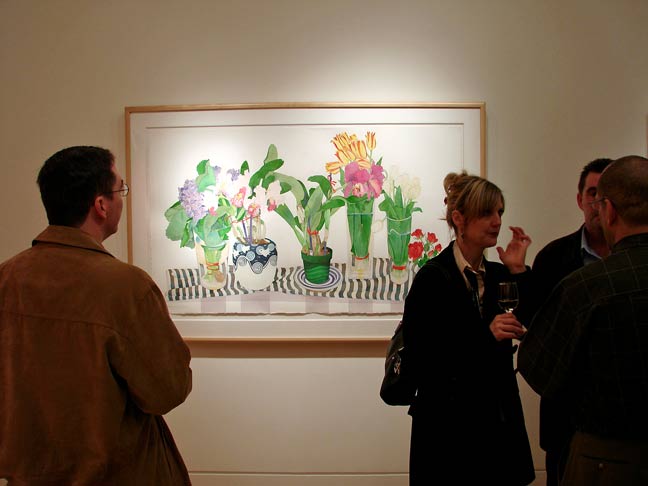 Art.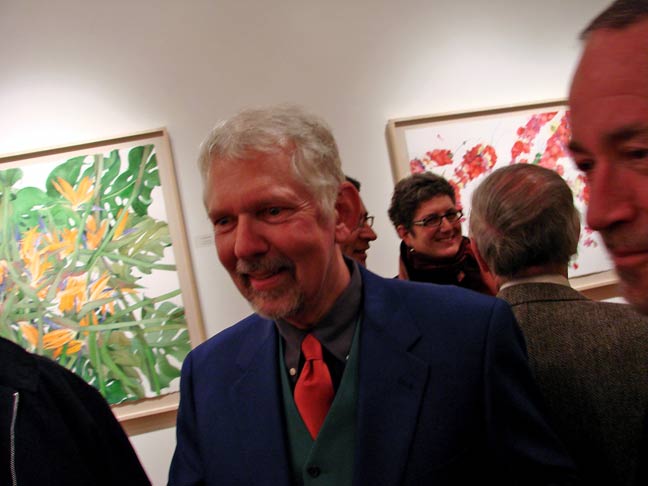 Gary Bukovnik.


Art.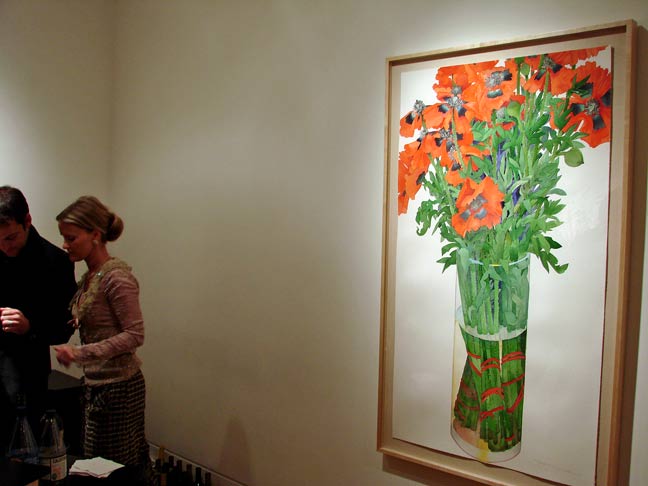 Art.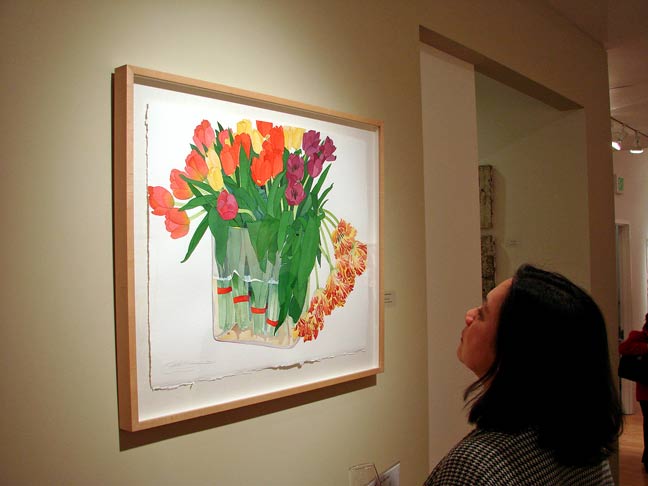 Art.


Art.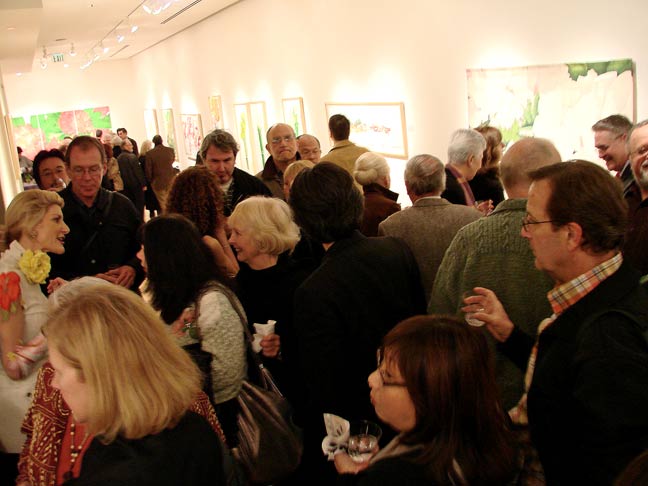 Fan base.


***
Hespe Gallery: Melissa Hutton - Looking to Land.
Review by Joanna Maria: The very glossy finish on her art is intriguing. The artist says her images combine silkscreen, photo transfer, and veneer. Then she coats them in thick epoxy resin. Most compositions are bare empty landscapes, cold and distant. The theme of fire and rich reds is common in Melissa Hutton's work, marking energy and symbolizing a rebirth of sorts. She is playful in her approach while the colors and the focus on open spaces make one ponder what's to come. I think of life in transition, hip cool art that speaks effectively to the progression from youth to adulthood.
Art.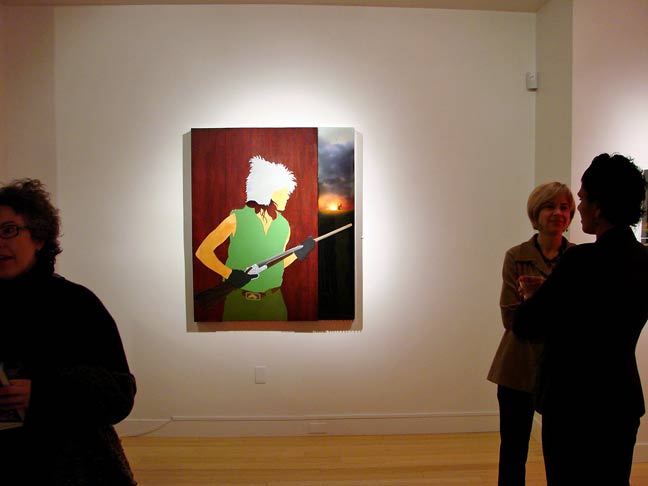 Art.


Melissa Hutton - art.


Art.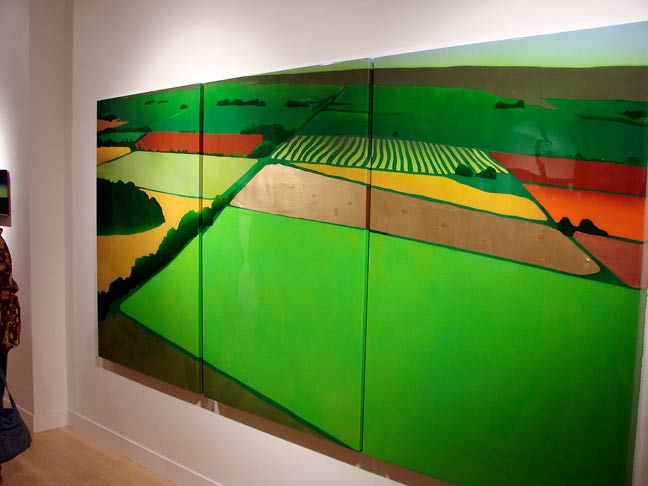 Art.


Art.


***
Newmark Gallery: Anna Conti - Red Sparrow.
Review by Joanna Maria: Anna Conti's art is full of symbolism and mystery. The paintings in the Red Sparrow series are themed on Time, Space, Humanity, and Death, which are represented by three main characters and a red sparrow. The paintings are realistic and well executed. The viewer enjoys looking at the scenes and gaining gradual familiarity with the characters, the compositions embodying Conti's complex observations on human life. The experience is similar to deciphering a secret code and thus uncovering the story in each piece of work.
Comment by AB: The paintings grab you and pull you in, whether you know their story or not.
Art.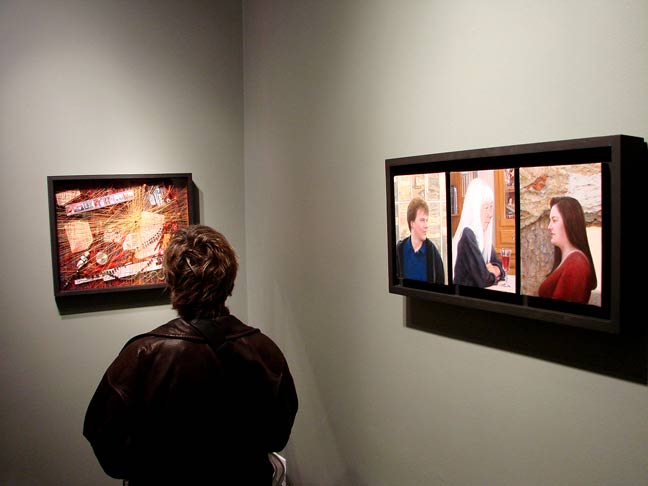 Art.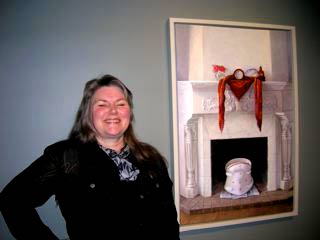 Anna Conti - art (taken by Joanna Maria).


Art.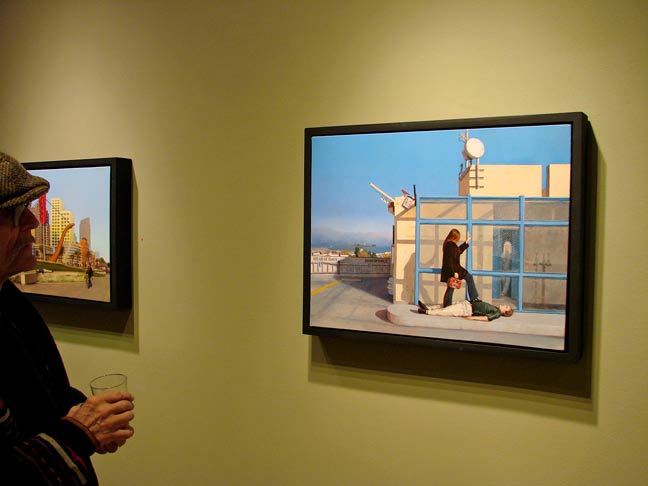 Art.


Art.


***
Scott Richards Contemporary Art: Warner Freedman - Shadow and Light.
Review by Joanna Maria: I wish I could spend a week in the house where the artist receives his inspiration! Each painting depicts a meeting of sides, one a window or opening to the world and the other a wall. The light coming in through the window creates the mood, giving the viewer a feeling of peace and serenity. The viewer is made to feel that he is given the opportunity to peak into the beauty of a world usually not accessible in everyday life. The paintings are pleasant, restful and well executed. One wonders if the artist himself has learned from life that simplicity, beauty and time for self-reflection are priorities.
Comment by AB: Cagey twist on trompe l'oeil as the shapes of the paintings soup up the ruse. Good show; go see. Near pick.
Art.


Art.


Art.


Art.


Art.


***
Robert Koch Gallery: Carl De Keyzer.
Review by Joanna Maria: The initial response is a gut-reaction to what looks like a stark, cruel world. The confusing part is that the photos are posed but the subjects and settings are real. Interesting how prison guards present themselves and the prisoners to shed the best light on the situation, aesthetically upgrading the environment to portray less miserable conditions.
According to the press release, "The vibrant color photographs from De Keyzer's Zona series capture surreal images of life as a detainee in the post-Soviet prison camps. On a trip to Krasnoyarsk, Siberia he was introduced to Camp 27, a former gulag turned model camp that functions as both a prison and a propaganda tool, shown to visiting ambassadors and Western media crews to boast the merits of the post-Soviet penal system. At a destination that often conjures notions of frigid temperatures and bleak, lifeless landscapes, De Keyzer found the unlikely juxtaposition of inmates in army uniforms posed by Russian militia guards against a Disney-esque backdrop of cartoon-like statuary and vividly painted fairytales of knights and gladiators. De Keyzer's photographs present bizarre scenes from the lives of real prisoners in a strangely fabricated reality."
Photography.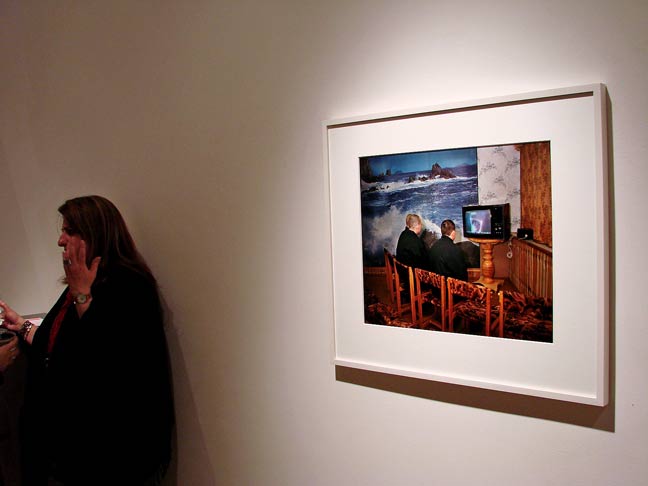 Photos.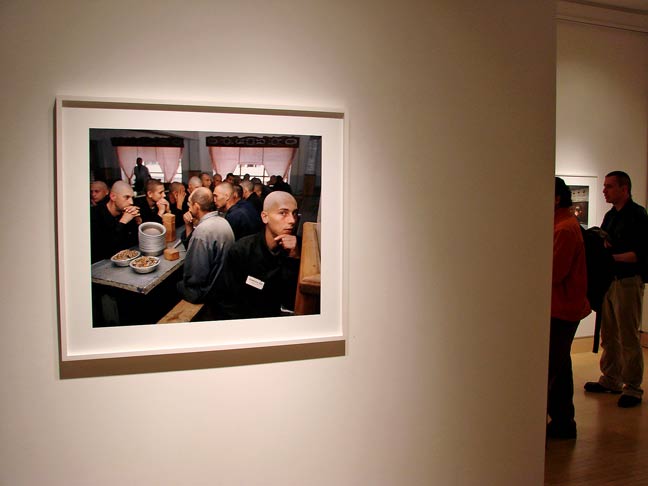 Images.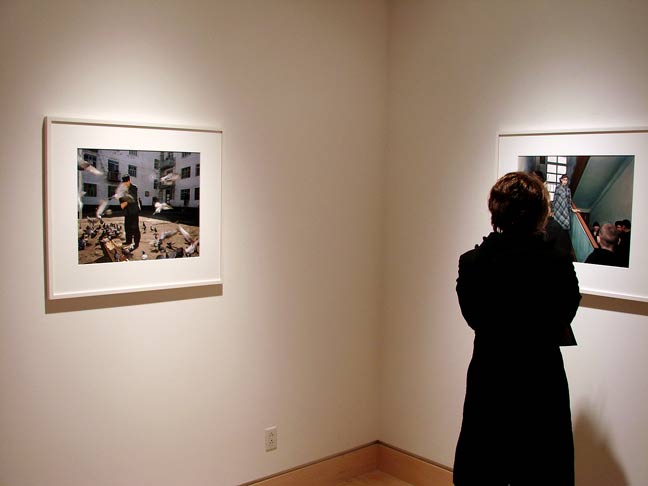 Photographs.


Photography.


Photos.


***
Haines Gallery: Max Cole - Paintings from the Autumn; Candace Gaudiani - Forty Eight States.
Comment by AB: Max Cole paints incredibly intricate and unerringly ordered minimalesque abstracts entirely in black, white, and shades of gray; the teeniest component parts of which verge on microscopic. I'd go bozo tryin' to paint these suckers. And you know what that means, don't you? Right you are. Max Cole hereby receives the rare and highly coveted "How Do Dey Do Dat?" award. Cole's steadyhanded command of the medium is hard to believe. Go see. Point of information with respect to nomenclature-- you'd expect someone named Max Cole to be a dude, but she's not.
Meanwhile over in the anteroom, Candace Plummer Gaudiani's photographs are shot through the window of a train traveling at 100 mph, blurry in the foreground, focused in the background, printed in small format, and rounded at the corners (larger format printings are also available). The results are eerily reminiscent of early early photography.
Art (Max Cole).


Art (Max Cole).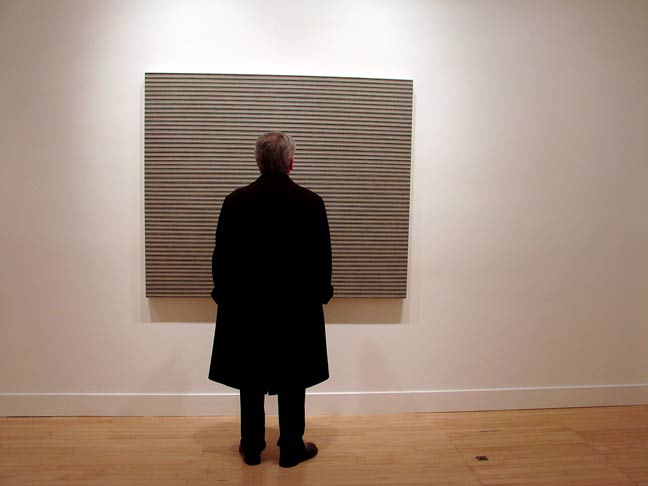 Art (Max Cole).


Art (Max Cole).


Large images (Candace Gaudiani).


Small images (Candace Gaudiani).


***
Gregory Lind Gallery: Franklin Evans - Watermoreorless.
Review by Joanna Maria: The paintings are bright, colorful and fluid. The complexity of each painting with intricate designs and use of colors can simply be described, at first sight, as fun. A photo of a real of piece of art cannot do justice to a painting and this is particularly true with Franklin Evans's work. His use of color, patterns, and shapes transports the viewer into realms of creativite fantasy. They truly inspire the desire to jump and dance.
Comment by AB: The common theme is water and its myriad ever-changing ways. Aside from that, Franklin Evans effectively portrays order and chaos side-by-side-- not an easy outcome to achieve.
Art.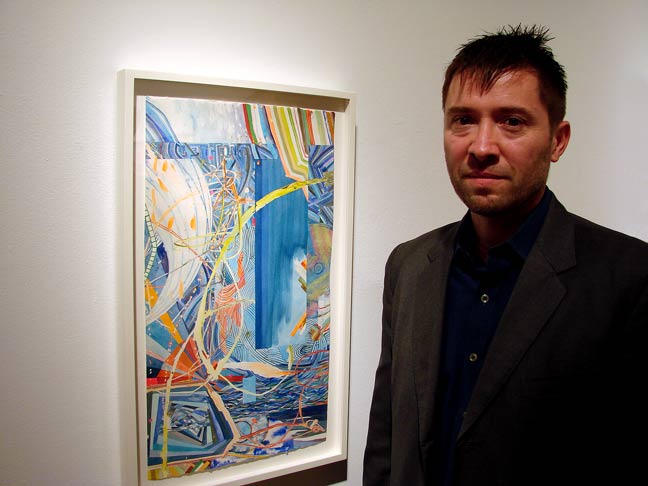 Franklin Evans - art.


Art.


Art.


***
Brian Gross Fine Art: Robin McDonnell - Flux Constant.
Comment by AB: Robin McDonnell, according to the premise, endeavors to express the idea of constant change through her art. Mission accomplished. Her abstract paintings pulse with motion, verge tempestuous, so much so in fact, that if you hang one in the bedroom, put it near the alarm clock and avoid eye contact immediately before sleep.
Art.


Art.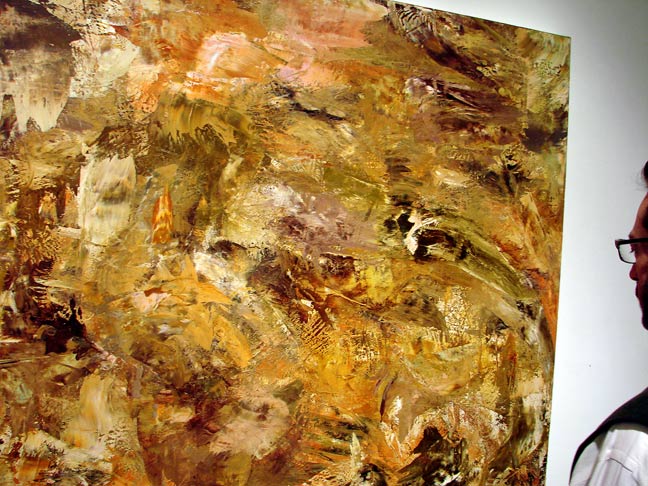 Zoom in art.


***
Jack Fischer Gallery: Caleb Duarte - Cuartitos.
Comment by AB: Caleb Duarte draws on rudimentary third world architecture as inspiration for art, using wood, drywall, charcoal, and gesso to assemble upside essays (embellished with small painted figures) on otherwise dismal bunker-style concrete and cinder block living spaces found in certain parts of Mexico.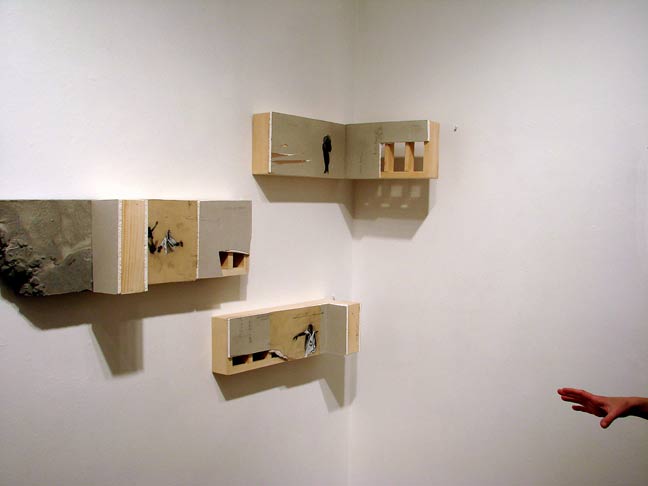 Art.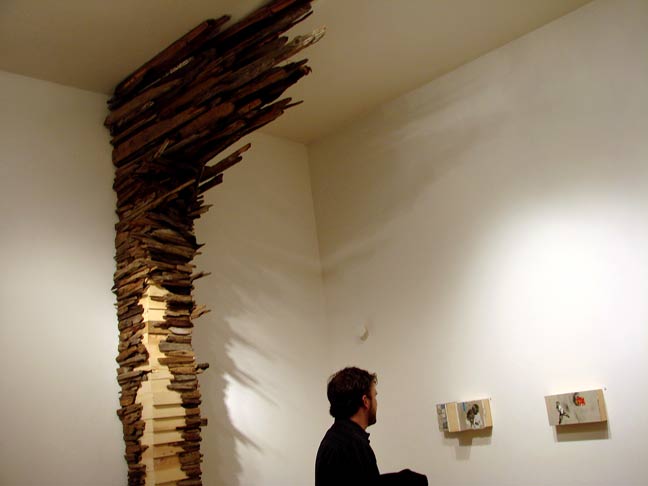 Art.


Art.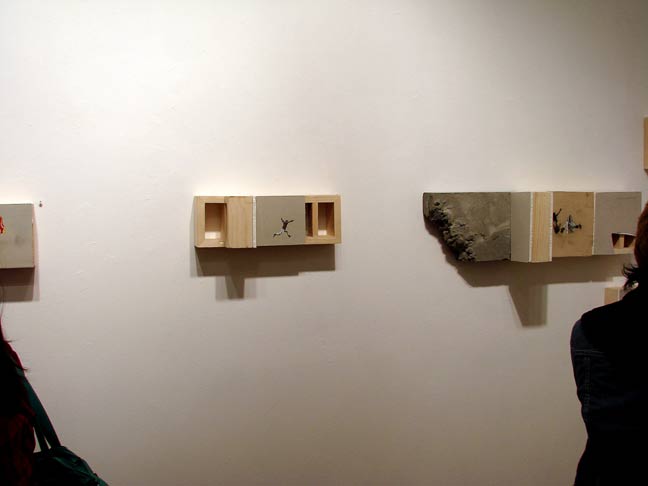 Art.


***
Gallery 415: Contemporary Colombian Painters.
Artists: Carlos Jacanamijoy, Luis Luna Matiz, Gerardo Caro, Venuz White, Leonardo Pineda, and Juan Camilo Arango
Comment by AB: New gallery in the former Patricia Sweetow space specializes in contemporary Latin American art by emerging and mid-career artists, this inaugural show presenting works by Colombian artists. The progressive globalization of the art market provides Ess Eff with yet another viable option. Like it.
Art.


Art.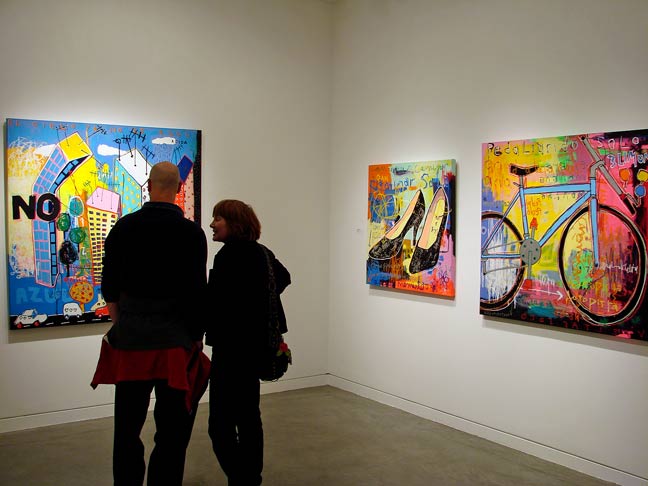 Art.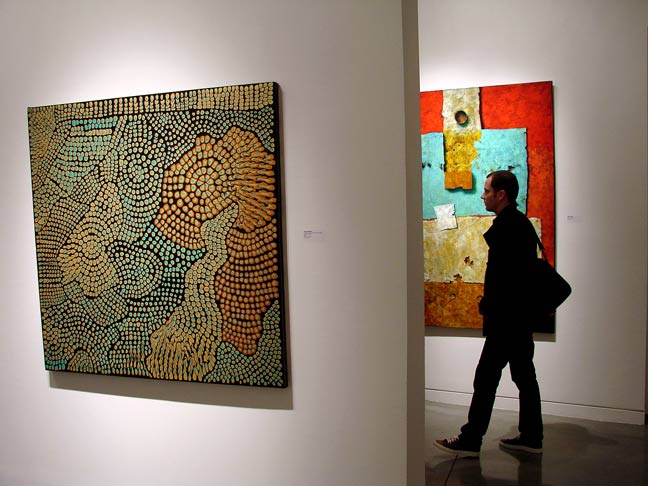 Art.


***
Toomey Tourell Gallery: Eva Bovenzi - Messenger.
Comment by AB: Eva Bovenzi tells me her serenely appealing asymetric geometric paintings derive from astronomical and navigational charts. I think it's got a little of that good old Golden Ratio in it too.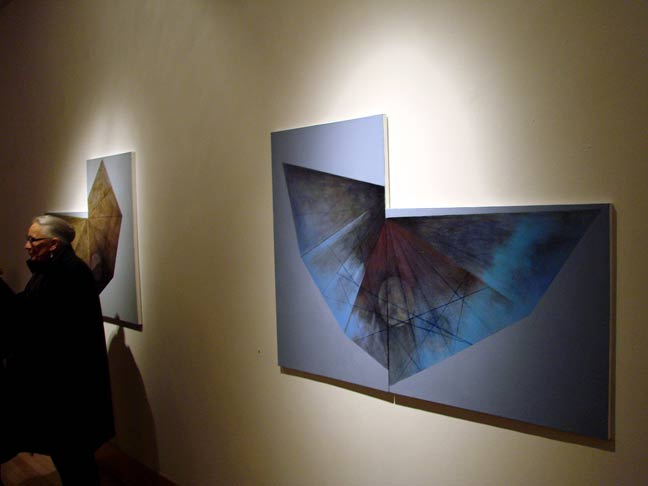 Art.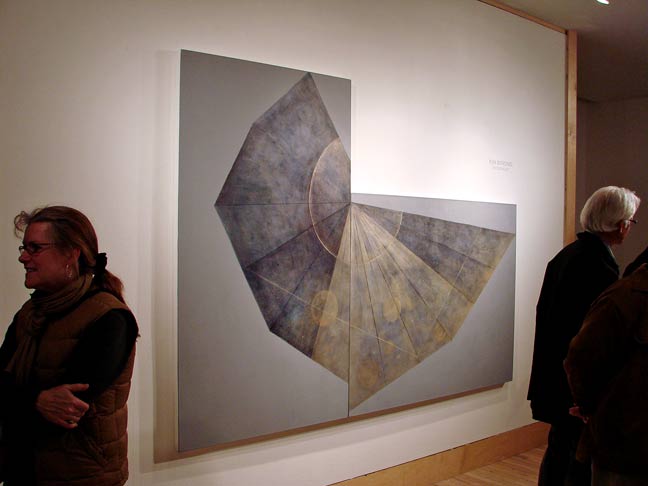 Art.


Eva Bovenzi - art.


Art.


Art.


***
Steven Wolf Fine Arts: Jacob Dahlgren - Heaven is a Place On Earth.
Comment by AB: Entertaining array of consumer product consumption plays on art featuring a perpetual weigh-in floor piece composed entirely of alternating colored Ikea bathroom scales, and a series of striped paintings which, when you get close, turn out to be conjoined numbered paint swatches like the kind you get at Home Depot when it's time to repaint the livingroom. We can't do much about mass market crass, so we might as well laugh at it. Jacob Dahlgren shows us how.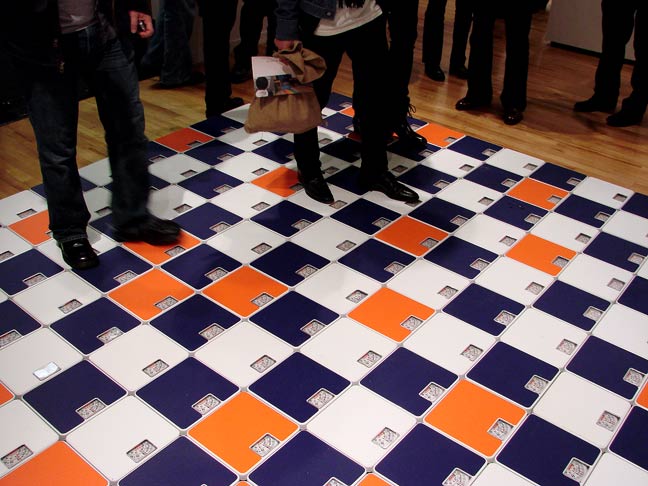 Obesity inhibitor art.


Regimented color swatch art.


Art.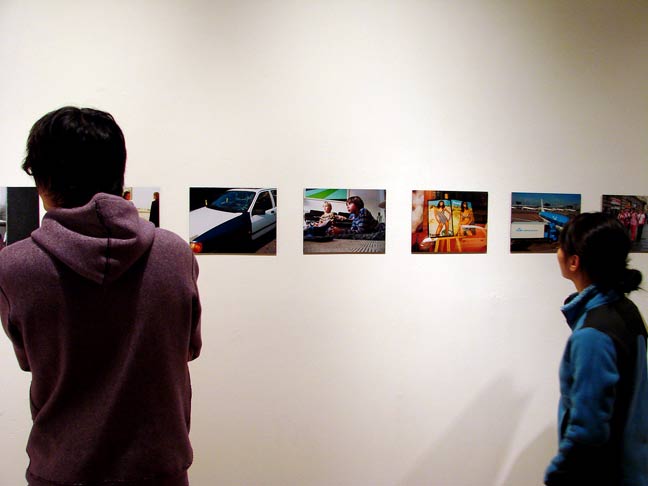 Art.


Circumstance (like the sculptural column in the foreground.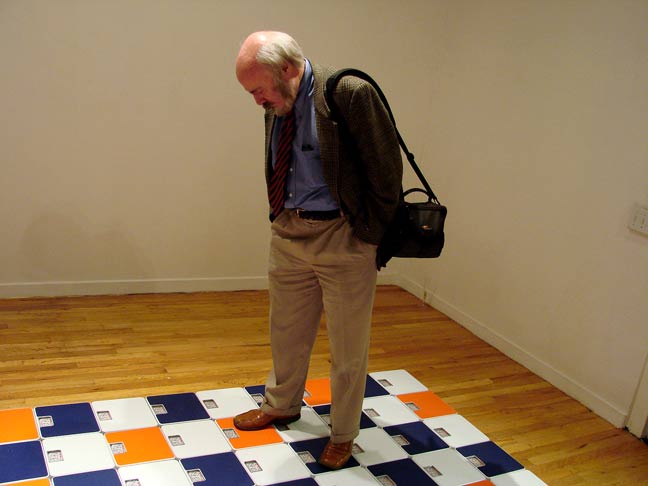 Ballast detector art.


***
Stephen Wirtz Gallery: Ulrike Palmbach - New Works; Jesus Aguilar - No Entropy.
Comment by AB: Ulrike Palmbach sculpts with atypical materials such as blankets, muslin, stitching, string, and cardboard. What's so remarkable about her work is her sense of just-rightness, her ability to manipulate these ingredients to anatomically accurately recreate in totally believable fashion whatever she chooses to replicate, be it animate or otherwise. You might think you can't make a rowboat out of flattened cardboard boxes and string, and convince viewers you can actually put it in water and row it, but think again. And you might think you can't be intimidated by a pack of stitched stuffed sewn fabric dogs, but think again. Pick of First Thursday.
In the side room, Jesus Aguilar examines through video how technology continually reconfigures our past, present, and future. Fair enough.
Art (Ulrike Palmbach).


Art (Ulrike Palmbach - like it).


Art (Ulrike Palmbach - like it).


Art (Ulrike Palmbach).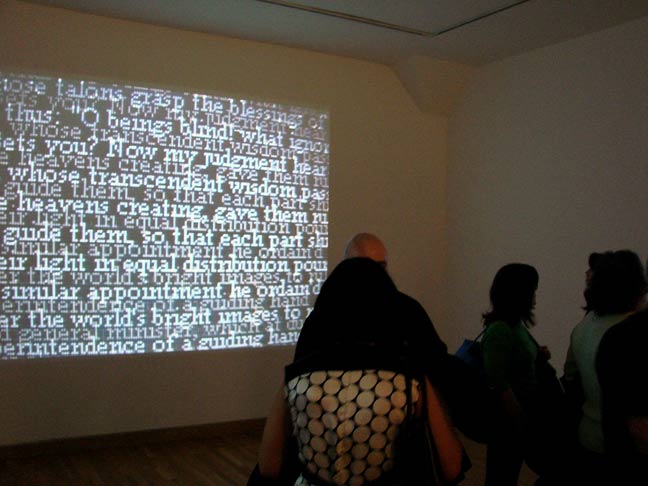 Video art (Jesus Aguilar).


Video art (Jesus Aguilar).


***
ARTworkSF: Minutiae - The Little Things Do Count.
Artists: Christine Cianci, Anne Karin Glass, Charlotte Kay, Jennifer Mack, more.
Comment by AB: It's all about the little things-- minutiae-- and it ranges and rambles and meanders and... where am I? Focus, my darlings, focus. If you're gonna script a show according to a specific set of guideliness, you'd be well advised to follow 'em. Too much too different is conducive to confusion.
Art.


Art.


Art.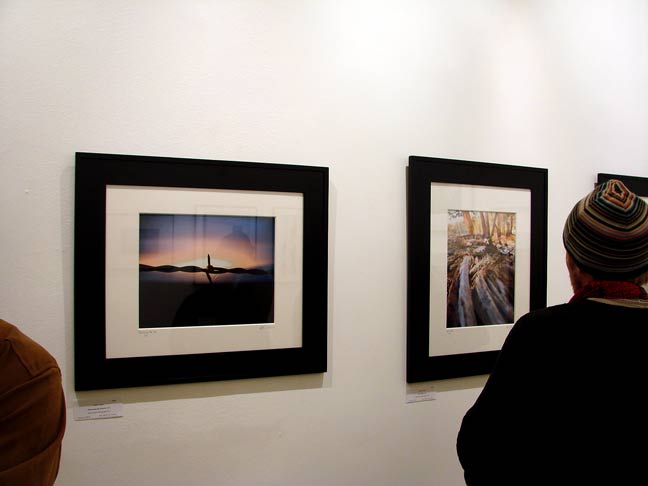 Art.


Art.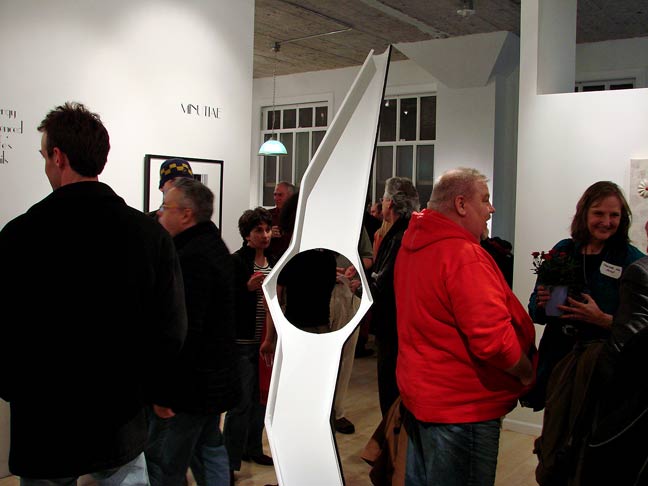 Turnout.


***
Robert Tat Gallery: 20th Century Modernism in Photography.
Review by Joanna Maria: Robert Tat has a special interest in 20th century European and American modernism. This includes classic modernism (photographs made between the two World Wars), and extends to a broader range of work influenced by the modernist school. It also encompasses 19th century photographs that anticipate modernism, vernacular and additional anonymous works with a modernist sensibility, and contemporary works. Plenty to choose from; take a look.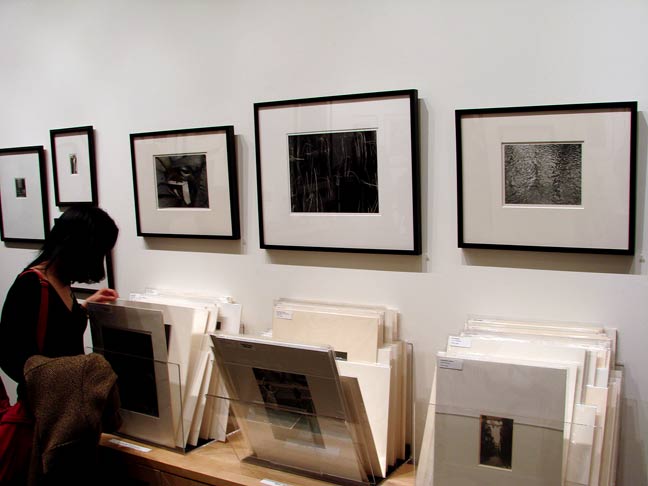 Photography.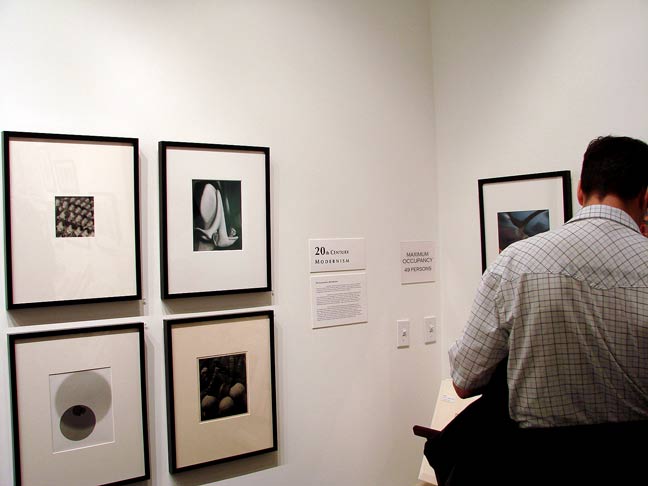 Photographs.


***
Larry Warnock Fine Arts: Gallery Selections.
Comment by AB: My favorite gallery selection is Peter Milton's etching/engraving-- the dude's work is complex, expansive, imaginative, precise, and superb. Think prints are too esoteric or inconsequential? Think they can't satisfy? Wrong. You can walk right into a Peter Milton and cop yourself a new reality.
Art (Peter Milton - like it).


Art (Peter Milton - like it).


***
Lisa Dent Gallery: Bradley McCallum & Jacqueline Tarry - Whitewash.
Comment by AB: Bradley McCallum & Jacqueline Tarry collaborate on art which focuses attention on marginalized members of society, here co-opting seminal images of the American Civil Rights Movement. They revive the Civil Rights images as a series of black and white paintings with raised sheer silk overlays, similarly painted black and white, to create translucent dimensional effects (or the appearance of a whitewash). The results are engaging, but the medium queezes me somewhat from a care and maintenance standpoint-- like what if the silk gets a little loose over time or is otherwise compromised? One rend and there goes the art. Conditional considerations aside, it's a worth a see. (The show also includes a video and a select group of McCallum & Tarry's portrait photographs.)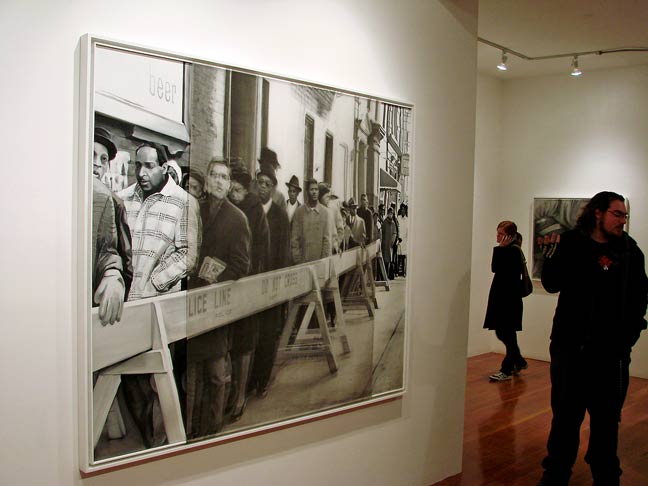 Art.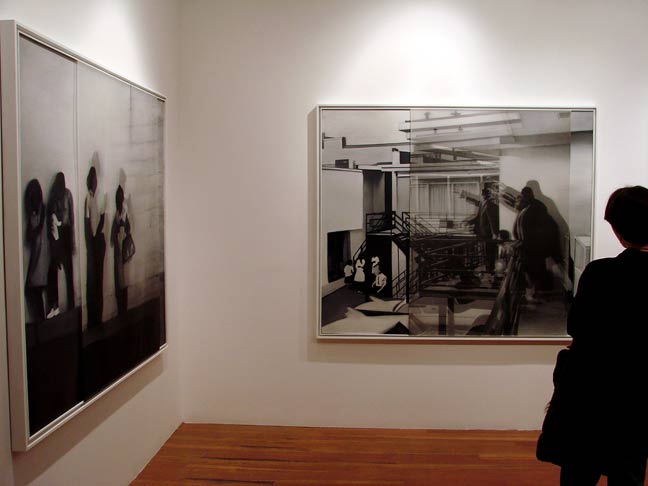 Art.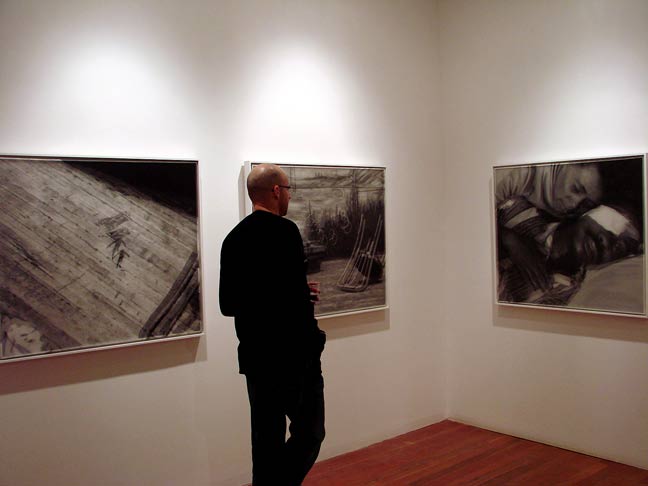 Art.


Art.


***
SF Camerawork: Not Given - Talking of and Around Photographs of Arab Women.
Comment by AB: Remarkably diverse selection of photographs from the Arab Image Foundation in Beirut soundly dismisses stereotypic notions that Arab women all look the same, think the same, act the same, or that they can be easily categtorized in any other way. A number of the images are accompanied by sound recordings. This is the only US venue for the exhibition. Too bad. The rest of the country could also benefit from enlightening in this regard. Definitely worth a visit.
Photography.


Photos.


Images.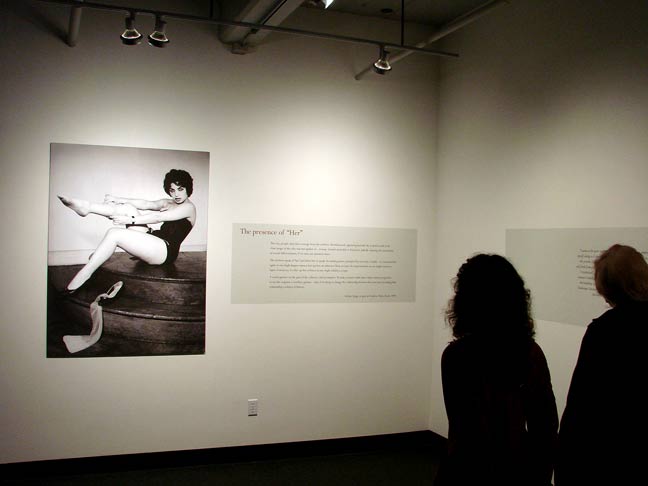 Photography.


Photos.


Images.


***
111 Minna Gallery: Onesto - Muito Perto Para Serem Tocados - So Close to be Touched.
Comment by AB: Another prolific urban talent from Sao Paulo, Brazil brims 111 Minna with confident caricature-based anecdotes on what life is like in his big big city (3d largest metropolitan area in the world behind Tokyo and Mexico City).
Art.


Art.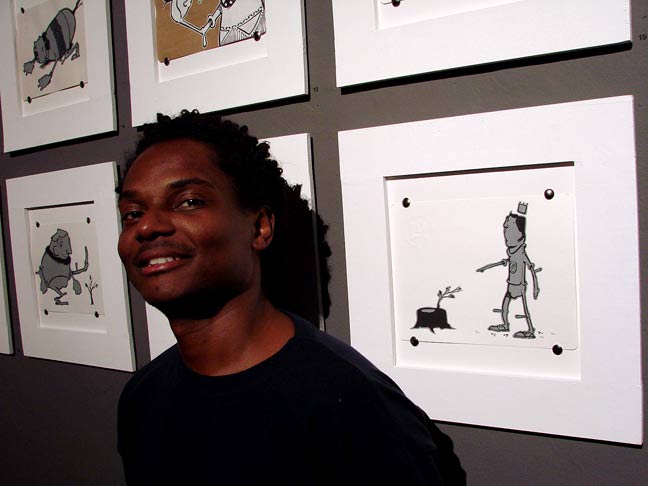 Onesto - Art.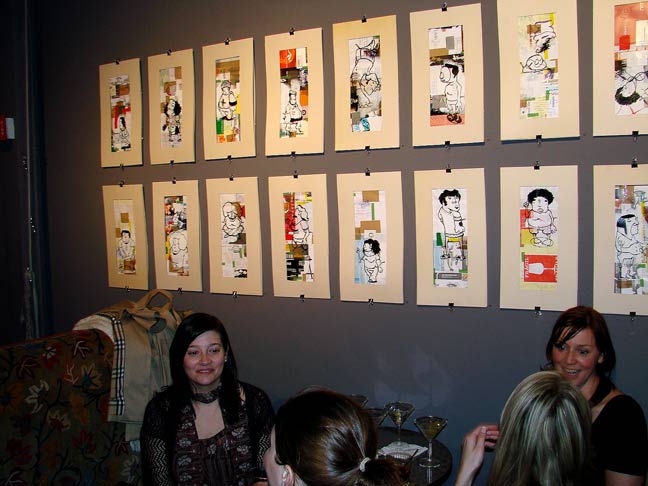 Art.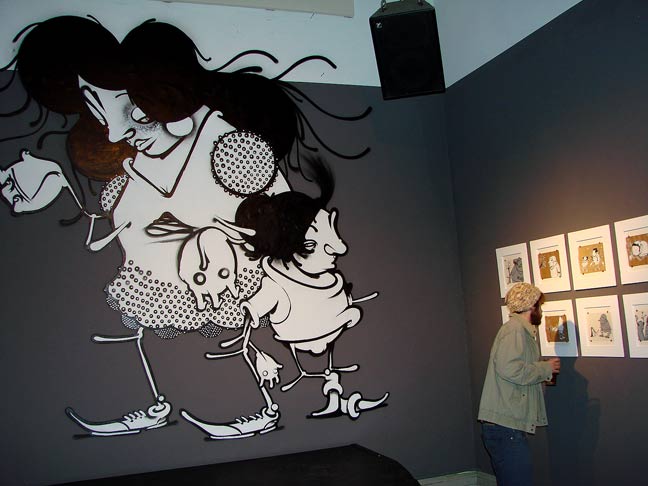 Art.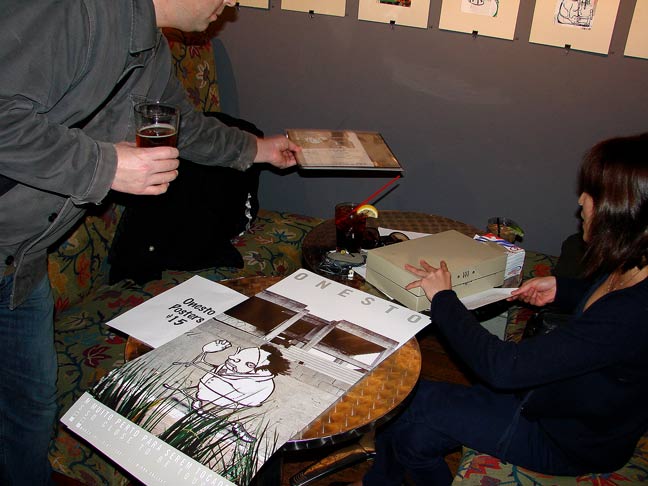 Show poster - $15.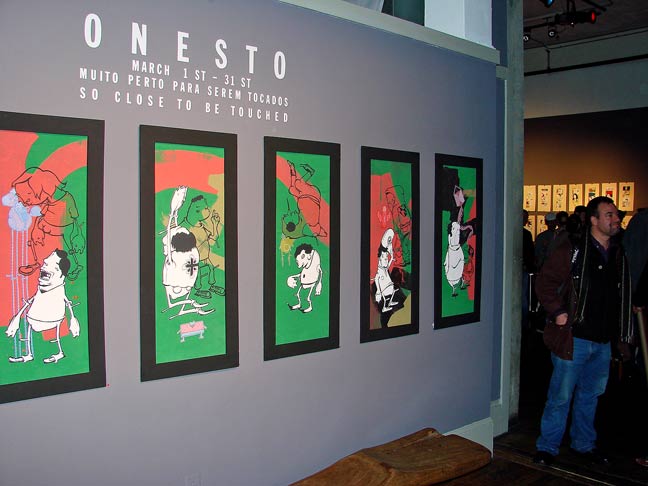 Art.


***
Lincart Gallery: Lorenzo Mardaresco - Gold Icons; Bill Culbert - Light Sculpture.
Comment by AB: Bill Culbert elevates the ordinary by conscripting oblong flourescent bulbs and combining them with sundry banalities in atypical ways, and in so doing, he also parlays his perspective on the potential of light. Bulbs run the lengths of walls, impale matched sets of empty plastic detergent and motor oil bottles, jut from suitcases, and more. These dealie-bobs ain't cheap, but hey-- they're art. In the parlor, Bucharest-born Lorenzo Mardaresco lays the gold leaf on thick to create opulent idols for hardcore materialists.
Light art (Bill Culbert)


Light art (Bill Culbert).


Light art (Bill Culbert - like it).


Light art (Bill Culbert).


Light art (Bill Culbert).


Gold art (Lorenzo Mardaresco).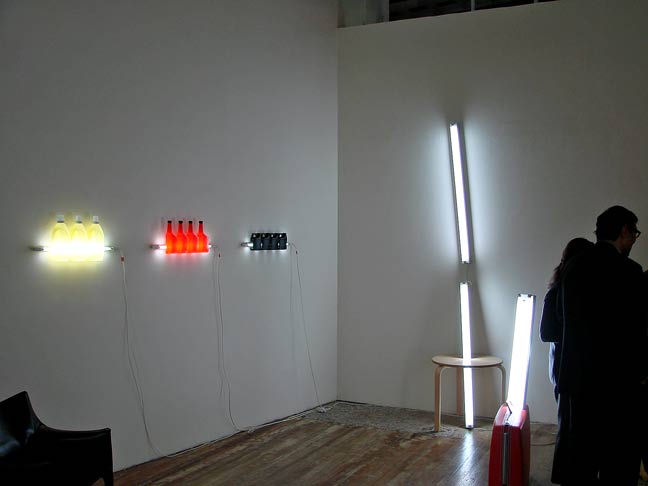 Light art (Bill Culbert).


Zoom on Hope's shoe (aka learning to use the camera).


***
Fifty24SF Gallery: Alex Pardee - Goodnight Lava.
Comment by AB: Alex Pardee tells me he's been fascinated by the grotesque since he was a kid, so much so that he now makes his living at it, turning out paintings, sculptures, posters, album covers, and more-- and lots of 'em. Tonight's opening features a lifesized creature relaxing in an armchair that Pardee's devised, along with similar critters, as rock concert stage props. If you like your art twisted, Alex Pardee's got plenty of options for you.
Art.


Art.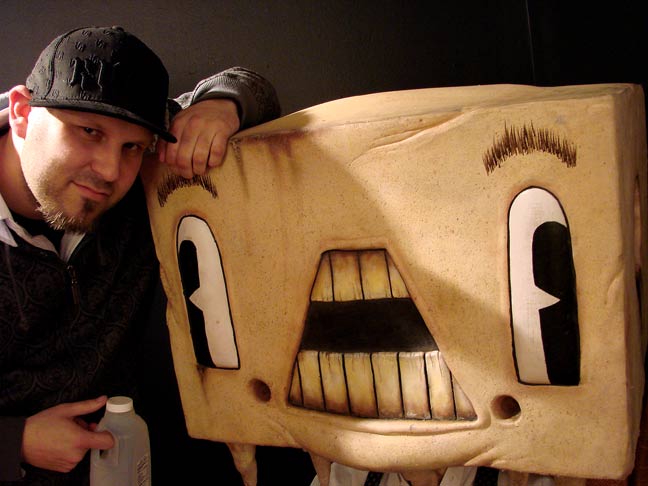 Alex Pardee - art.


Art.


Art.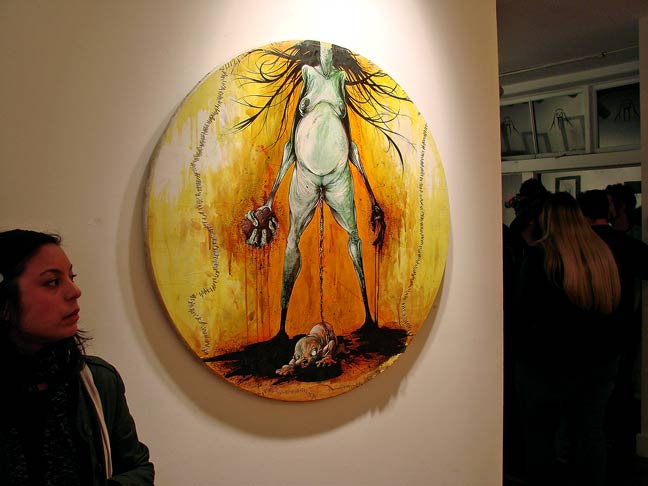 Art.


Art.


***
Addendum:


Group show at Dolby Chadwick Gallery.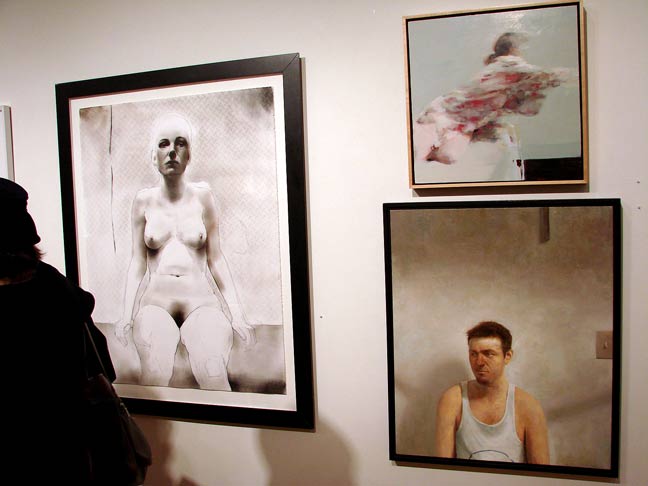 One more from Dolby Chadwick Gallery.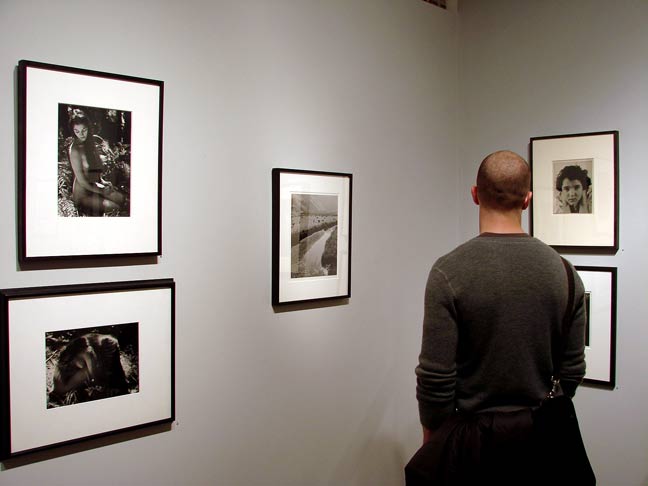 Early Ruth Bernhard images at Scott Nichols Gallery.


More Ruth Bernhard at Scott Nichols Gallery.


Group show at Elins Eagles-Smith Gallery.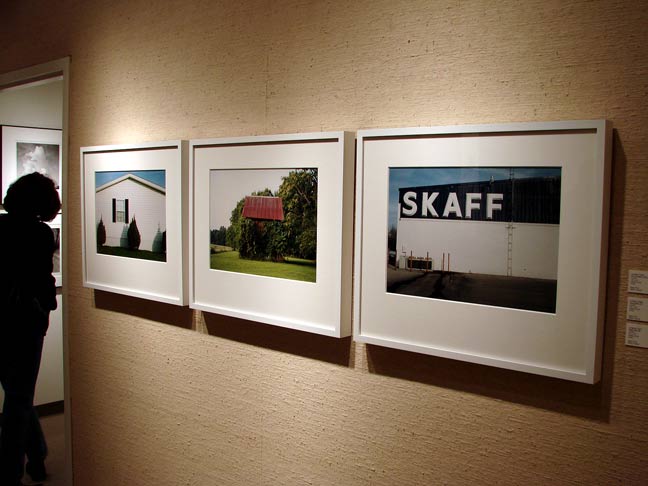 Bay Area photographers at Chandler Fine Art.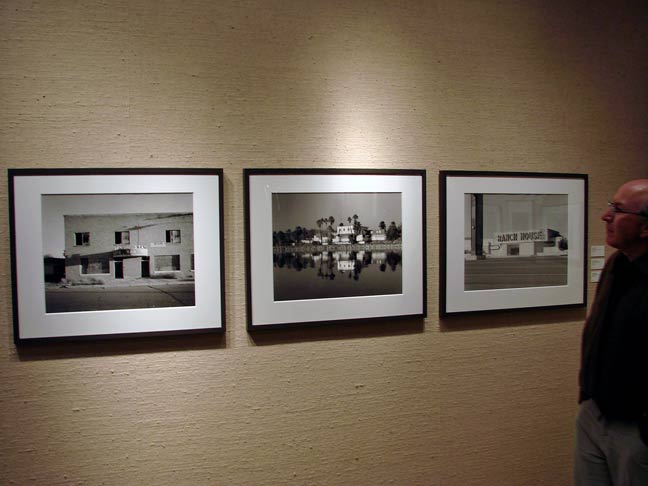 More Bay Area photography at Chandler Fine Art.


One more from Chandler Fine Art.


***
Pssssst. Yeh, you. Click here.
***
First Thursday; February 1, 2007