SAN FRANCISCO GALLERY OPENINGS
FIRST THURSDAY; 04.07.05
General comment: "Holy mixed media on board, Batman! There's over 40 openings tonight. How can we possibly protect the citizens of Gotham City West from all that art?"
"Don't panic, Robin. We'll make a list, we'll check it twice, we're gonna find out who's naughty or nice. Gotham City West depends on us to fight for cultural integrity, aesthetic fulfillment, progressive vision, and technical mastery. To the Batmobile!!"
Well, I completely missed Batman and Robin tonight, but I know they were out there in quest of the good stuff. And what a quest it was. I was up, I was down, I was skewed, obtuse, acute, bisected, trisected, and even sauteed, but never out. You see, here's how it works-- those of you who persevere through the sludge bins of mediocrity-- lambasted by discordance, flimsy premise, and academic kowtow-- shall ultimately be rewarded with art so sock-rocking that your spirits will pirouette in bliss-bathed dopeminic delight.
Incidentally, for you fitness buffs who don't think art is a contact sport, I bumped, ground, and jostled my way through scene after scene, not to mention the cardiovascular benefits accrued from scene-to-scene transits. And the cheese... well, that's a whole another story. Anyway, in preparation for this monumental journey, I harked back to the metaphysical methodologies of the sage Yogi Ramacharaka, ratcheted my aura, bowed in reverence to The Great Curator in the Sky, and off I went.
It's saga time...
***
Hackett-Freedman Gallery: Manuel Neri, Painted Bronzes and Plasters.
Comment: Manuel Neri's been doin' it up right for decades with his featureless figural painted bronzes and plasters, primarily female, timeless with classical overtones, meditatively mysterious as they coax our silent participation. But the prices top out at $280K. Kids, if you're playin' the art game at this level, you'd better kick a whole bunch of tires-- including the spares-- before you buy the car. And don't forget our non-profit visual arts organizations when donation time rolls around. The Manuel Neri's of the world have to start somewhere.
Art.


Art.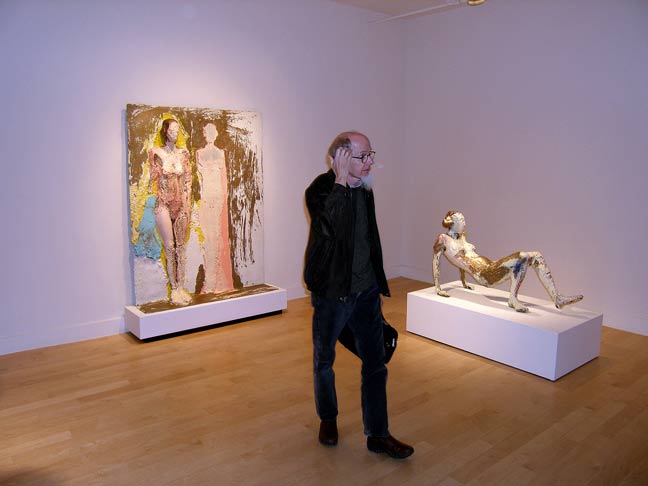 Art.


Art.


***
Dolby Chadwick Gallery: Marshall Crossman, New Oil Paintings.
Comment: Big brush loose goose figuration, sax on the fire escape, and cosmos. Cheers.
Art.


Art.


Art.


We luv the sax dude.


***
Rena Bransten Gallery: Henry Turmon, New Works, Sculptures and Drawings; John Bankston.
Comment: Henry Turmon's pure smooth painted and stained wood carvings are wonderfully uplifting in a feel-good kind of way. Maybe the neatly folded powder blue and white business shirts are feel-good because I'm reminded that I permanently archived mine decades ago. Maybe the feel-good aspect of the book carvings, particularly the stacks, has something to do with my not having to worry about reading them, seeing as I'm a visual kinda guy-- duh.
The way this review originally went, I then said the following about John Bankston's art:
"Meanwhile, John Bankston's art is oddly manly. I'm sure there's an explanation, but do I really wanna know?"
Then somebody explains it to me. And I kinda figured there was a reasonable possibility of that being the case, but when I read the show's statement on Rena Bransten's website, it didin't say anything about it, which meant I wasn't going to write it. And now I'm embarrassed I wrote what I did write. But do I just strike it and act like I never wrote it? Are people who see Bankston's art supposed to automatically understand its antecedents? Is their a Doctor of PC-ology in the house?
Which brings me to one of my major art world beefs-- there's hundreds of thousands of artists out there. Nobody can possibly know all of them, and not everybody who comes to an artist's show will be familiar with that artist. So have a sentence or two for the beginners. OK?
Art (Henry Turmon).


Art (Henry Turmon).


Art (John Bankston).


Art (Henry Turmon).


***
Heather Marx Gallery: Forrest Williams, Passage.
Comment: The theme is men making contact with each other, or trying to make contact, but never quite succeeding. They come close, but ultimately tense up, posture, turn away, or avert eye contact, as they yield to the primordial tenets of masculine autonomy. Forrest Williams pulls this off nicely with a series of rough impasto oil paintings, often deliberately hung in pairs, separated to accuente the chasmic nature of physical proximity.
Art.


Art.


Art.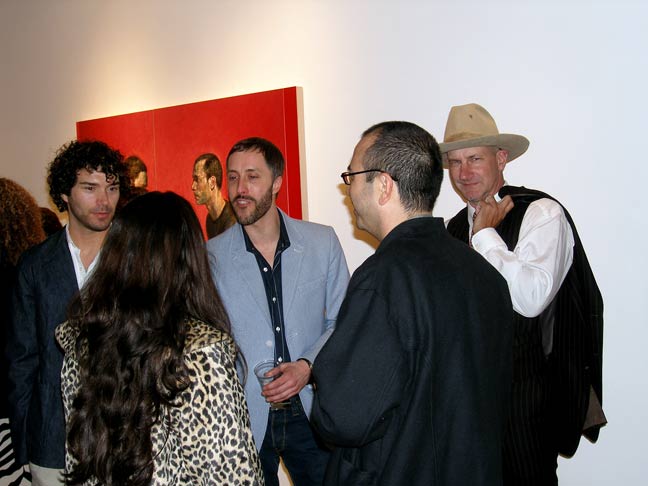 Artist (center, sportcoat).


Art.


Art.


***
Toomey Tourell Gallery: Philip Willem Badenhorst, Secret Garden.
Comment: Toomey Tourell Gallery consistently shows some of the more sophisticated and engaging abstract art in town (perhaps, in this case, semi-abstract). Philip Willem Badenhorst lightly paints the surface of each canvas with almost wash-like thinness, then overlays shapes and forms composed entirely of delicate criss-cross brush strokes. Half the pleasure of enjoying these paintings is getting up close to see how Badenhorst creates his magical dimensional effects. Then gradually step back and watch the compositions transform and evolve right before your eyes.
Art.


Art.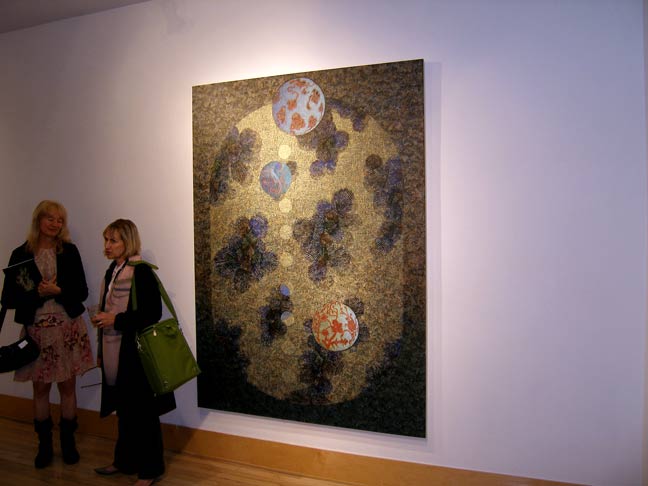 Art.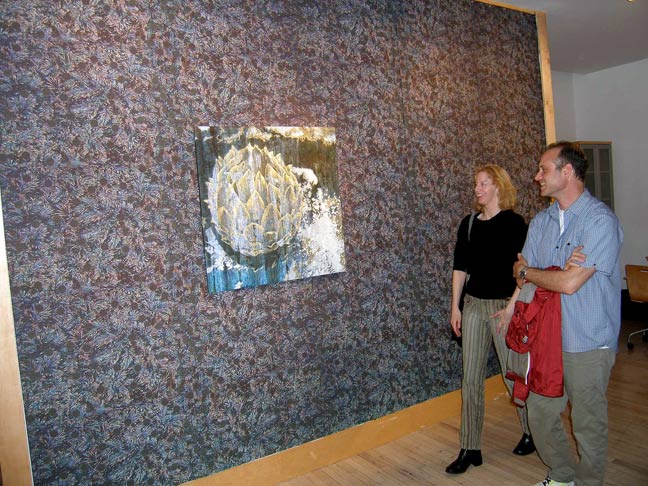 Art.


***
Gregory Lind Gallery: Sarah Walker, Systems of Capture.
Comment: I gently waxed catatonic as Sarah Walker launched into a befuddlingly lingo-drenched narrative on the theoretical underpinnings of her art. But then she tossed me a bone, which I instantly chomped, relating that someone in her family was obsessive-compulsive, and that she incorporates certain mechanics of that affliction into her art, meticulously saving everthing that happens between conception and completion of every painting she creates. That, I get. So in the end, I narrowly escape what initially looked to be an impending bout of brain-melt. Thumbs up on the art, by the way, most of which had already sold.
Art.


Sarah Walker - art.


Art.


***
Pigman Gallery: Joe Sam, Art for the Rest of Us.
Comment: Pigman Gallery, under new management, re-debuts with a big bright wild socially relevant array of Joe Sam paintings and paint/collage/assemblage works, several dating back to the seventies, including a historic Jim Jones Guyana Jonestown-era mural.
Art.


Joe Sam.


Art.


***
111 Minna Gallery: UltraMega 916, Worst Case Scenario.
Artists: Keli Reule (San Francisco), Jay Howell, Adrienne Yan, Mike Rafter, Skinner, Garin Moore, Aaron Winters, Blamo!916, Jeff Melendez, Jairus Tonel, Nathan Cordero, Judd Hertzler, Robert Bowen, Mick Sheldon, Kevin Price, John Berger, more.
Comment: UltraMega is a group of Sacramento artists on a mission, according to their website, "to elevate the status and recognition of the Sacramento art scene." So they take over 111 Minna Gallery and choke it with art in attempts to persuade the hoity-toity coastal locals that Sacramento is more than just the capitol of our state. My take on the deal? Mission accomplished.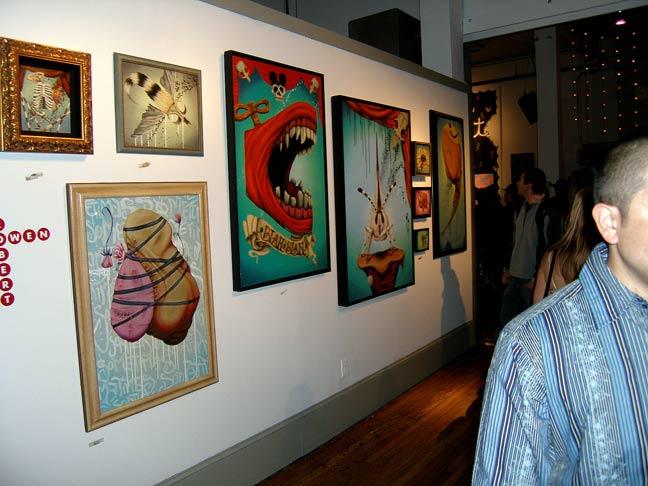 Art.


Art.


Art.


Art (plywood, painted then carved-- I like 'em).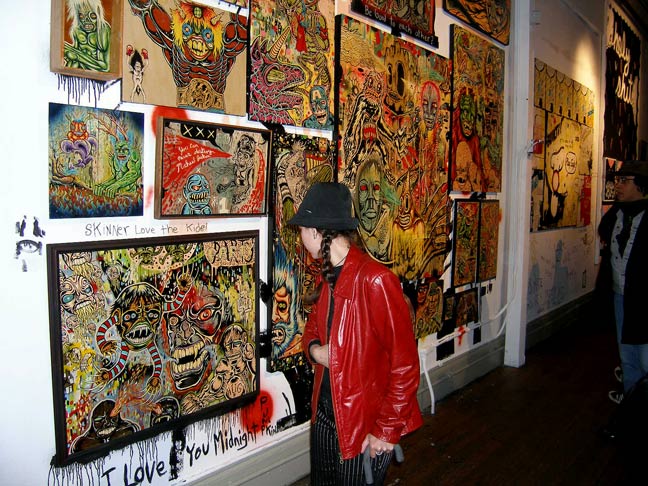 Art.


Art.


***
Locura Gallery: John Evans, Do It.
Comment: This is one of the more perverse, graphic, vile, crude, rude, up-your-ass, and down-your-throat regurgitations of American pop culture I've seen. It ain't pretty, but it's as real and as honest as art gets. For those reasons-- in addition to the fact that when I woke up Friday morning, this was the show I was thinking about-- it gets Pick of First Thursday.
Los Angeles artist John Evans used porn mags to teach himself figure drawing, he tells me, particularly noting the challenge entailed in occasionally having to decipher whose limbs belonged to who. He churns art out like a maniac, having no problem filling this high-ceilinged 5000+ square foot space-- including a twelve by sixteen foot mural started Monday, dry in time for the opening-- and claims another several thousand works of art to his credit. Although the selection for this show is lopsidedly sex-doped, Evans depicts a wide range of subject matters in his art. In the tradition of the proverbial canary in the coal mine, John Evans is a bellwether among bellwethers. Plus he's sharp, insightful, clear in intent, and a good interview.
Art.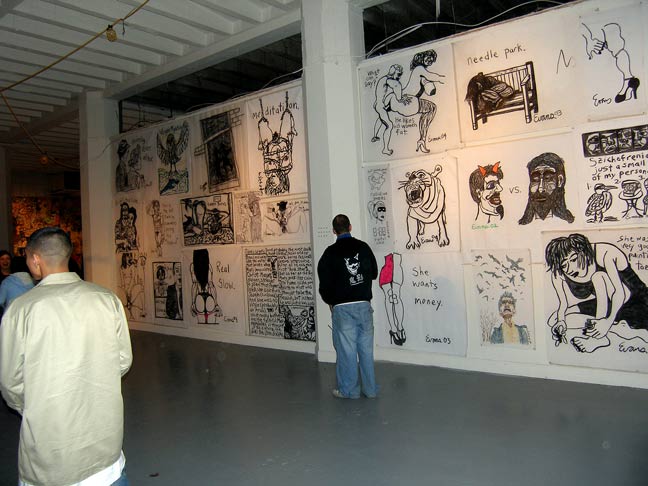 Art.


John Evans.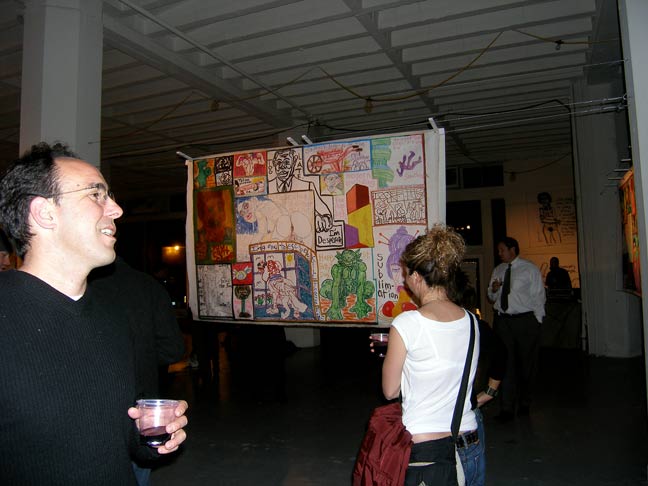 Art.


Art.


One more.


***
Future Primitive Sound: Old is New, New Works by Morning Breath (Doug "Dug1" Cunningham and Jason Noto).
Comment: Slick urban silkscreen and paint combination collaborations by this talented duo. Doug Cunningham's art tends to reference his formative years, particularly pop culture icons like Rambo and Fred Flinstone, while Jason Noto's work goes more downtown mean-street in feel. But they weave it together smooth, and that's what counts. One more time-- urban art-- true and on the pulse. By the way, the relatively recent resurgence of stencil and silkscreen as popular art forms recalls the depression-era days of Social Realism, classifying the art of Cunningham, Noto, and their contemporaries as Neo-Social Realism, I suppose.
Art.


Doug Cunningham - art.


Art.


Jason Noto - art.


Art.


Art.


***
Addendum: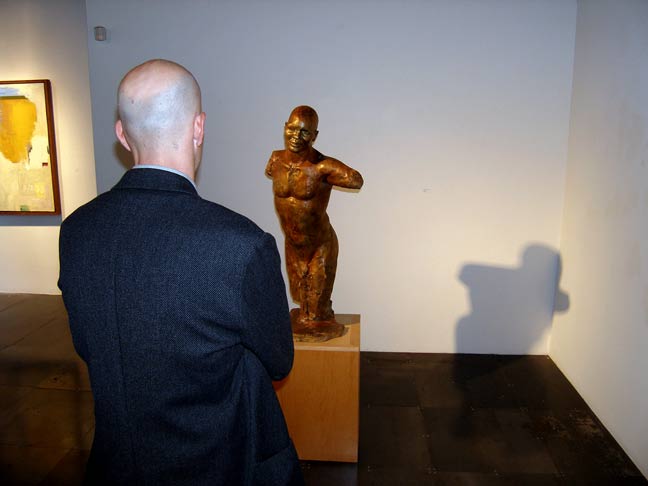 Kevin Christison paintings and sculpture at Larry Evans Gallery.


Paint a truck - get a plug.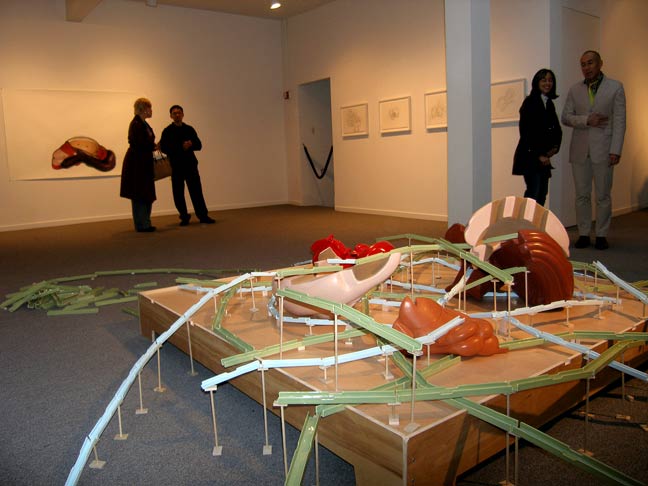 Hari-kari art by Michelle Lopez at Gallery Paule Anglim.


Martina Mullaneyeds documents beds slept in by homeless at Fraenkel Gallery.


Group show at HANG ART.


Bohemian Chicks (not including him) at Artemis Gallery.


Toulouse and Winslow (not the people-- the art) at Pasquale Iannetti Art Galleries.


I Am Currently Away From My Computer, "art opening and mixer,"
at EVB Broadcast + Broadband.


One more from EVB.


Our Mother Mary Found, Interfaith Sacred Art by Beth Grossman
at California Institute of Integral Studies.


That's it for now, artsters. I'm dust.
March First Thursday; March 3, 2005