SAN FRANCISCO ART GALLERIES OPENINGS
FIRST THURSDAY; 04.05.07
(with assistance from Kristen Farr & Jennifer Mullen)
General comment by AB: I have announcements for well over 30 openings tonight, but can only make 25. My profuse apologies. Here's a hint-- if your gallery is not in the immediate downtown vicinity and you want to coax the collector base, First Thursday is an exceptionally inadvisable night to open a show-- especially if you run the hours roughly concurrent with those downtown. I mean how clueless can you be? (You know who you are.) But all's not lost; the dilemma of premiering your hinterland high jinx on First Thursday just to get your merit badge IS solvable. How? Stay open until at least 9 PM, preferably 10 PM. That way, you might snag a little of that invigorating hardcore cognoscentic blow off. Then again you might not. At least you tried.
But enough about me. There's a surprise ending to tonight's artventures. Wanna read it now? Of course you do. Well, my lovelies-- oddly enough and with all that complaining, tonight's best art is out there in the boonies (those shows open UNTIL AT LEAST 9, that is). (But enough about me.) The time has arrived to experience what our local purveyors of hout gout are perpetrating to foist on our perilously precarious perspicacity this time around...
***
Caldwell Snyder Gallery: Rusty Wolfe - Recent Paintings and Sculpture.
Comment by AB: Rusty Wolfe actualizes a mix of upbeat perky circle abstracts and minimalism for the masses-- professionally executed on both counts. Caldwell Snyder sneaks a kindler gentler version the gen-u-ine hardcore art-icle into the collections of mainstream mavens who appreciate art, but are disinclined to have their intellects mauled at 49 Geary et al. (Take note: That's a lot of mavens.)
Art.


Art.


Art.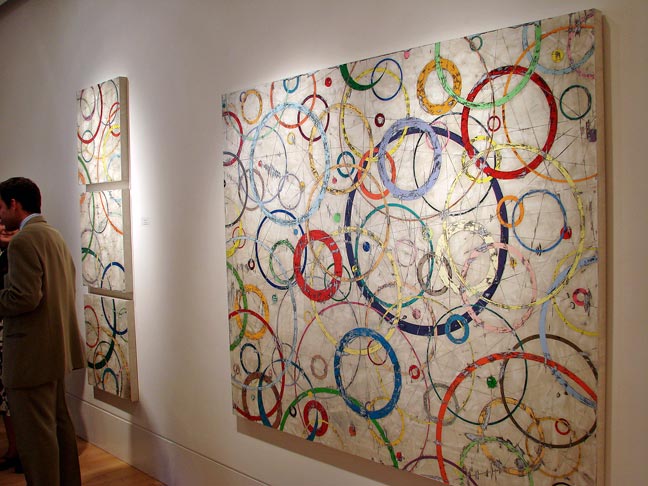 Art.


***
Newmark Gallery: Anne Subercaseaux - Reflections: on Crossing.
Comment by AB: Anne Subercaseaux reduces the trauma of crossing the Bay Bridge to placid elemental abstraction, and if you've ever crossed the Bay Bridge, you know you need whatever you can get to relax the transit. Concrete, steel, shadows, and aggression; I've crossed it way more than enough to appreciate (depreciate) the episode. The best part about the Subercaseaux solution? She proves you can upside even a moribund mundanity such as this-- and that's why we have artists.
Art.


Art.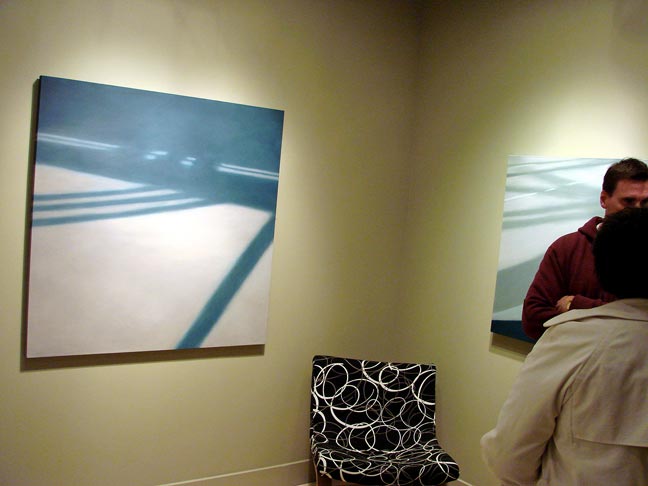 Art.


***
Scott Richards Contemporary Art: Simon Casson - Catalogue of the Iliad.
Comment by AB: Scott Richards tells me he opened his gallery last July, he participates in a variety of art fairs, consults with a variety of collectors, and plans on having about seven shows at his gallery in 2007. This time around, Simon Casson demonstrates that everything is everything by blending Old Masters with abstract with a smattering of everything in between.
Art.


Art.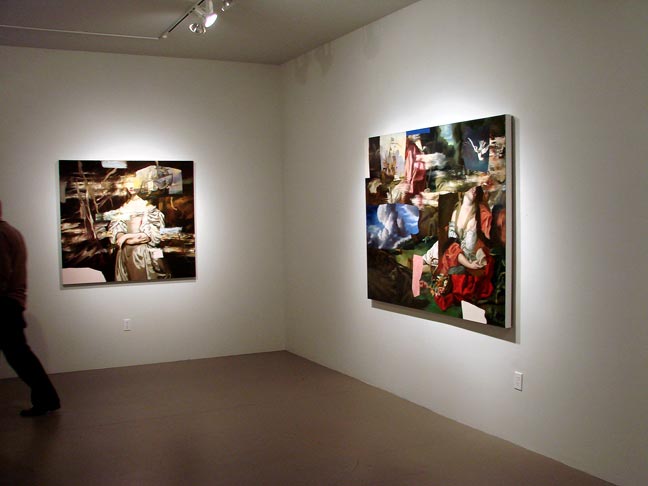 Art.


***
Heather Marx Gallery: Lisea Lyons - Something Borrowed.
Comment by AB: Lisea Lyons demonstrates that family photographs, specifically those of her twelve-year old daughter, can cut to many more chases than your classic antiseptic posed face-front portraiture, and in so doing, she preserves infinitely more intimate nuances.
Photography.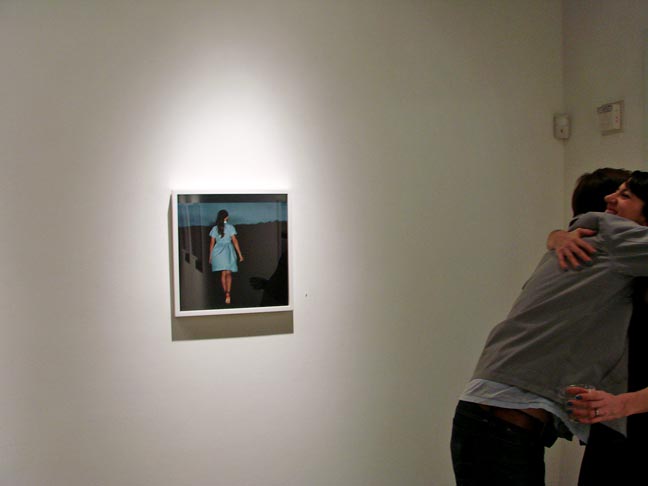 Photo.


Photograph.


Images.


Photos.


***
Gregory Lind Gallery: Mark Mulroney - What Fits in Your Mouth Doesn't Always Fit in Your Stomach.
Review by Jennifer Mullen: Mark's show is entertaining and bizarre. He offers a few themes, some more obvious than others. Much is centered on a notion of "just because it's for sale doesn't mean you have to buy it." He expresses this theme with images like a picture of a cupcake with a phallic appendage and an innocuous looking cat with breasts. There is also a dresser with pictures of cats on the top of it.  He also shows a number of surreal landscapes involving cacti with a Dr. Suess-esque look to them in terms of the softness and colors in the images. Usually he breaks up the fluidity of these paintings with jarring phallic objects. There are a couple charcoal or pencil drawings of muscle men and one of a very suggestive-looking secretary. My favorites are the detailed and gruesome drawings of dismembered body parts juxtaposed with vibrant advertising photos of food. So you have this pencil drawn decayed foot, with torn ligaments and bone tissue pouring out of where it's been severed from the rest of the body, right next to a grossly bright photo of a hyper-colored donut.    
I enjoy the show but find it a little confusing. However, upon picking up a copy of the Walt Disney book, The Living Desert, strategically placed with the artist statement and price list at the front desk of the gallery, much about the artist's choices are revealed. The book has a surreal and absurdist theme about it, and it qualifies much of the cacti art as well as the general sentiment of much of his work for this show.
Comment by AB: The press kit discusses stuff like the desert, food, and meditation, casually referencing the sexual nature of several pieces in the show, but the art is so rife with overt and covert erectile and pubic adjuncts of every ilk (let's call it transcendent suggestive carnality) that I practically sprout a new stalk on my penis. Repression casualty Freud might surmise that a sublimation of this magnitude could indicate a lack-o-nookie. Plausible, I suppose. Meanwhile back in artland, several works sport natty handmade paper mache frames, a refreshing departure from Cheap Pete's.
Come hither cleft art.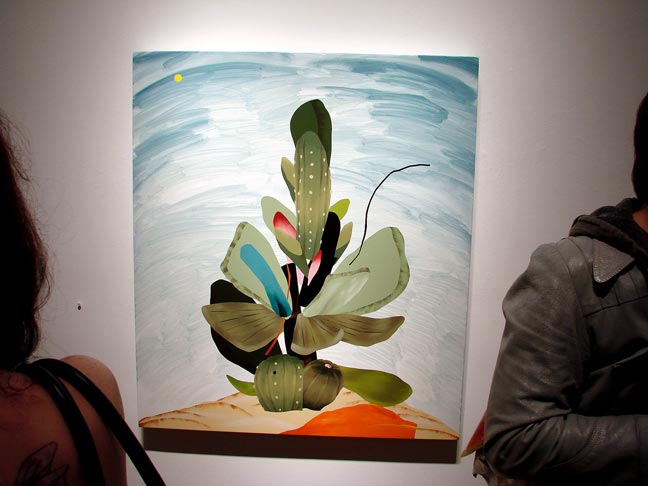 Benign erectile art (sorta like it).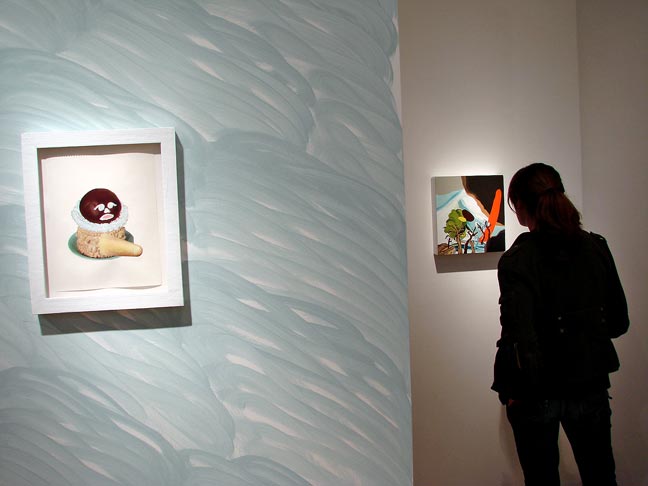 Boner donut art with paper mache frame.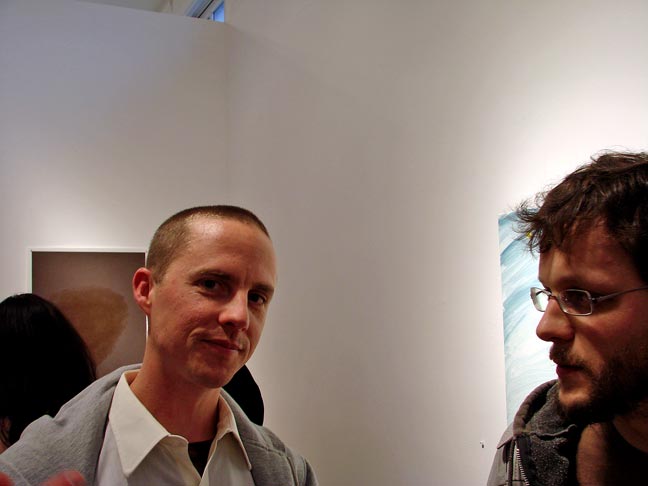 Mark Mulroney (left).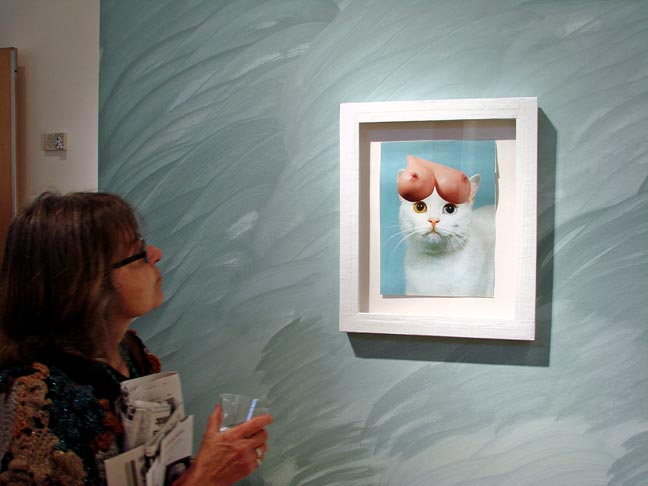 Titty kitty art with paper mache frame.


Horizontal phallic art.


Penile push pin art.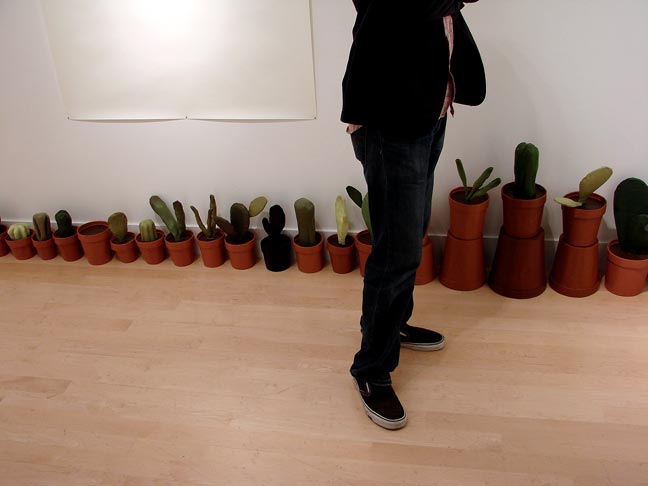 Cocky cacti art.


Hovering merkin art.


***
Brian Gross Fine Art: Robert Sagerman - Dematerializations/Interstices/Permutations.
Comment by AB: I really like these paintings-- so sumptuously rigorously rainbowy thick and rich, the fragrance of recently laid down oil paint scenting the air. But then my evil anti-matter obsessive-compulsive twin starts buggin' me about what a bitch these babies are gonna be to keep clean and pristine like they are tonight. Maybe a plexiglass covering? In related news, I once asked an artist how he kept his over-the-top impastos so immaculate, and he told he he stores 'em in airtight containers until they're ready to show.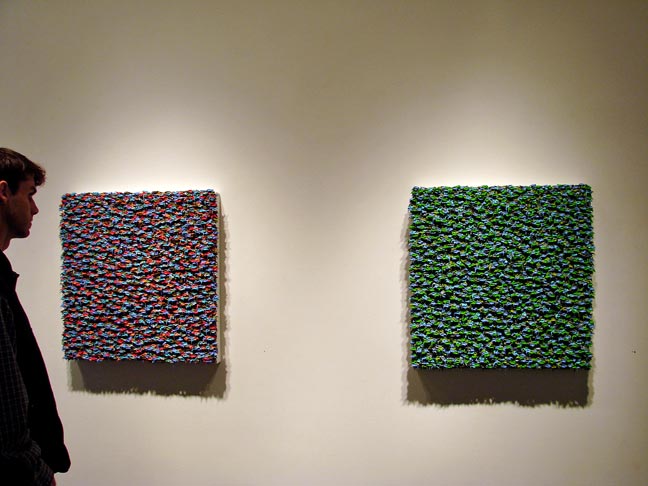 Art.


Art.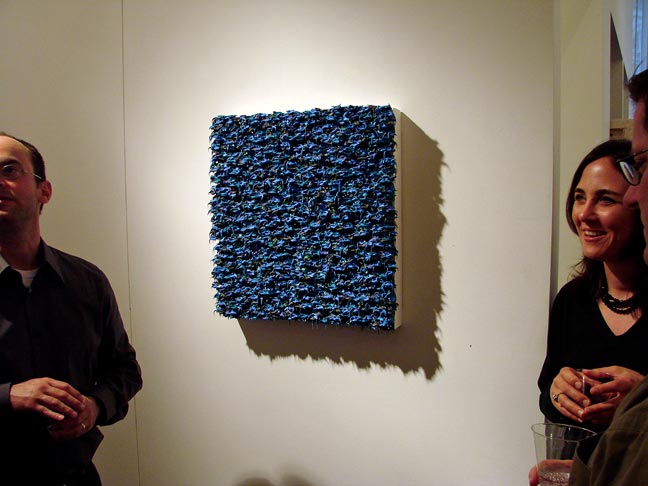 Art.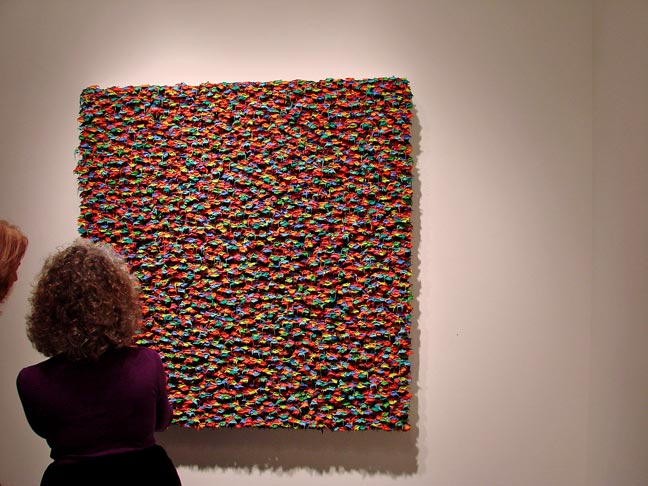 Art.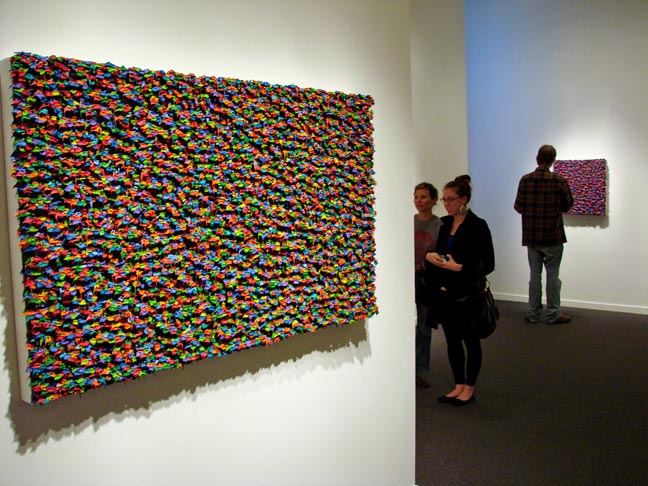 Art.


***
Fraenkel Gallery: Robert Adams - Trees, 1968-2006; Nicholas Nixon - Patients.
Comment by AB: Another superior show for Fraenkel Gallery, the main exhibition spaces featuring a 40-year retrospective of Robert Adams portraits of trees, quiet impactful reminders to be nice to Mother Nature-- or else. In the back room are Nicholas Nixon's stark unflinchingly real images of patients in varying states of disrepair. I actually hear several people gasp, perhaps wondering why anybody would dare to document funereal proximity, let alone show it in public. But hey-- an occasional straight shot of truth is healthy-- reminding us that we only visit planet earth for an eye-blink in an eternity. Then again, as they're fond of saying in the corporate sector, "Reality is bad for business." Or is it business that's bad for reality?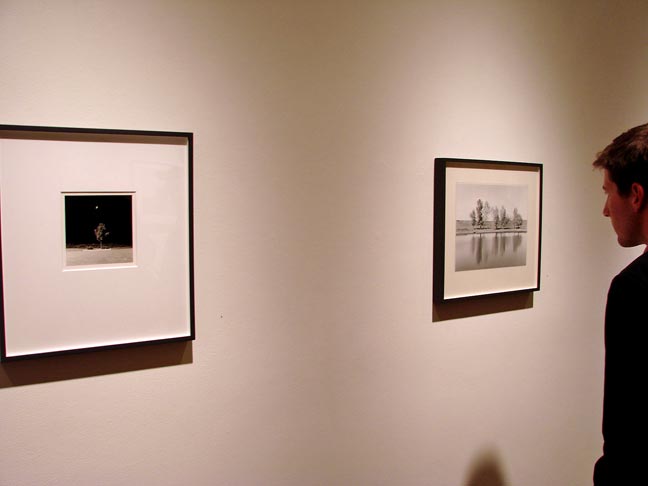 Photography (Robert Adams).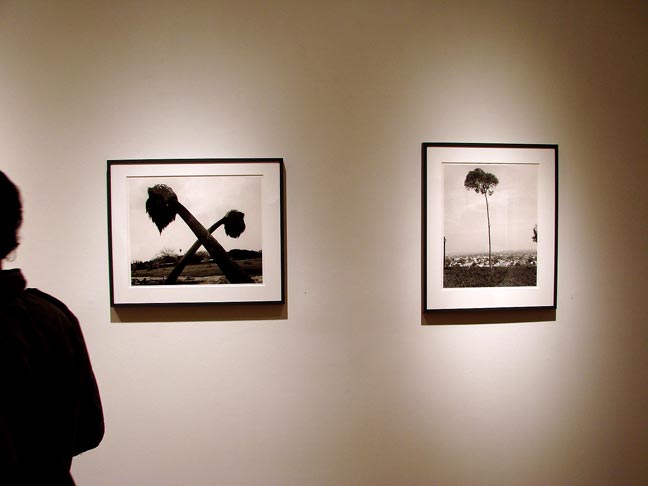 Photos (Robert Adams).


Images (Robert Adams).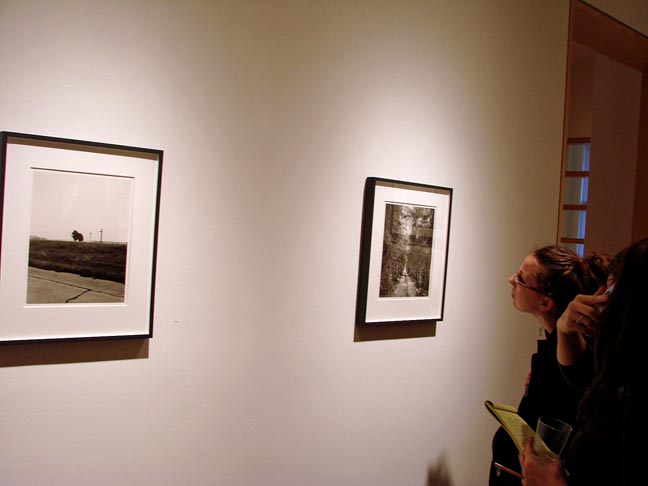 Photographs (Robert Adams).


Photos (Nicholas Nixon).


Photos (Nicholas Nixon).


Photos (Nicholas Nixon).


***
Jack Fischer Gallery: Atelier Incurve Artists Studio in Osaka, Japan.
Artists: Terao Katsuhiro, Shinki Tomoyuki, Yumoto Mitsuo.
Comment by AB: Atelier Incurve in Osaka, Japan fosters artists with developmental disabilities, and if the art here is any indication, they foster those artists admirably aesthetically well.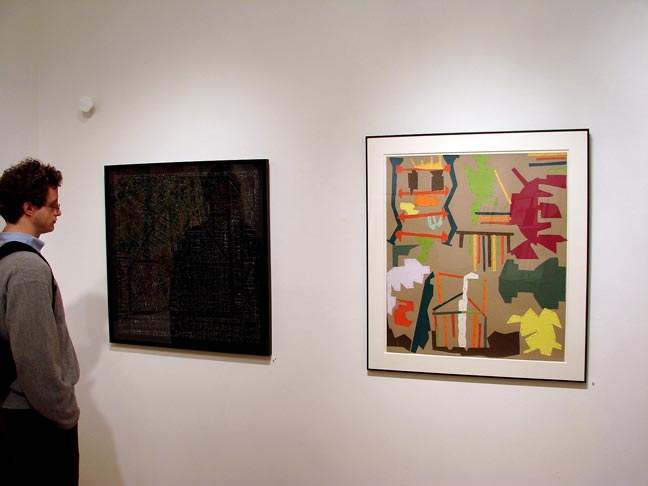 Art.


Art.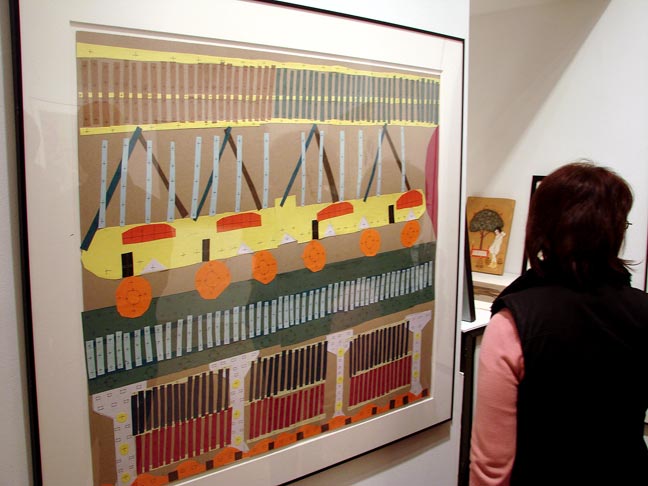 Art.


Art.


***
Gallery 415: Gerardo Caro - Solo Exhibition.
Review by Jennifer Mullen: Gerardo R. Caro hales from Bogota, Columbia, and has a degree in Architecture and Design. What a great show! Caro's pieces are literally selling off the walls while I'm there. He is an artist with my favorite characteristics; he is highly skilled in realism and has found a creative way to show his abilities via abstract portrayals. Most pieces have backgrounds that look like layered pieces of fabric and tissue paper, with each piece brightly distinctive and separate from the rest. The pieces are seemingly on the same visual plane whilst being layered on top of one another-- it reminds me of that drawing of staircases that lead to nowhere.
Much of his work looks like paint layered on aged photos; he integrates a new and aged feel to his work. He also uses backgrounds that look like a bright and well-lit close-ups of old maps. His use of many colors does not become overwhelming or gratuitous, surprisingly. The colors are bright and fresh but seemingly covered in a film of translucence. His work often incorporates spheres and other distinctively 3-D shapes that seem to jump off the page with their shininess. He paints many shapes that are very vibrant and clear while the rest of the scenes blurred and out of focus.
Comment by AB: Deep vibrant effective textural abstracts with trompe l'oeil overtones and realist flourishes by mid-career Columbian artist Gerardo R. Caro. Like 'em. The dude can paint.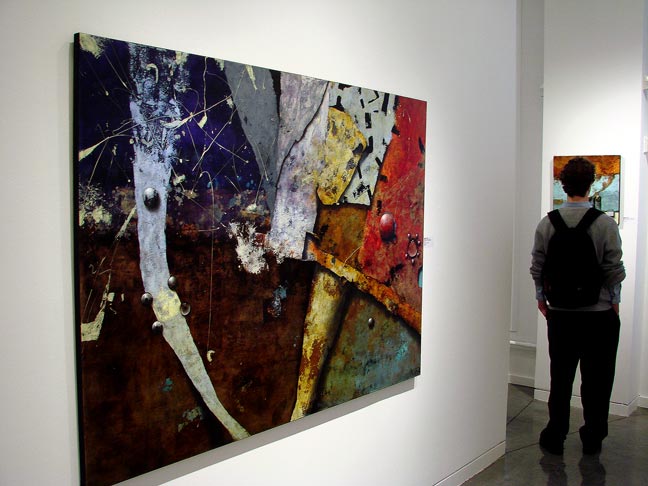 Art.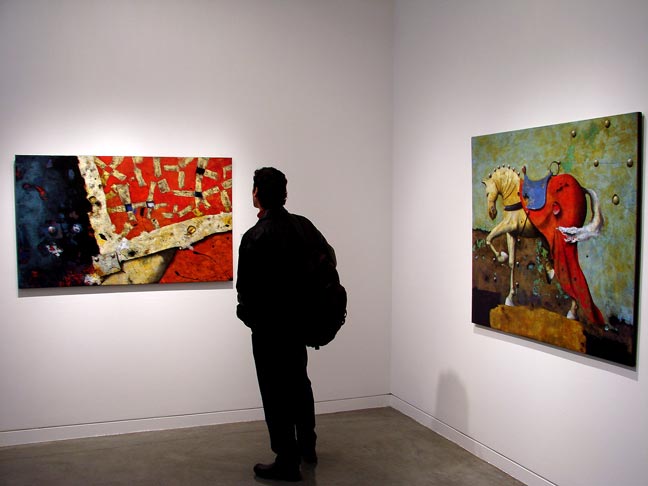 Art.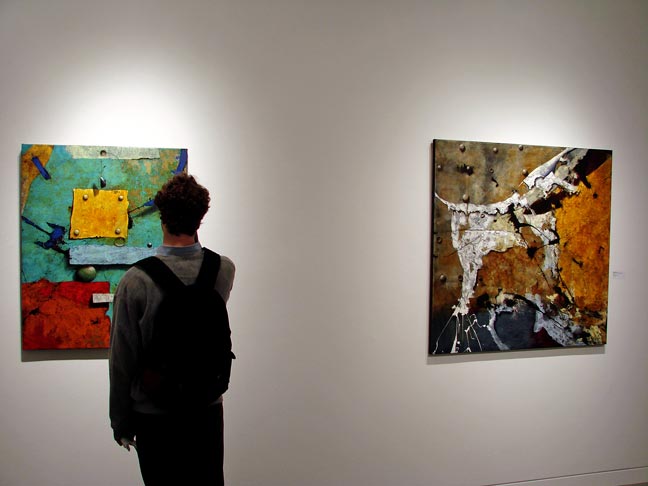 Art.


Art.


***
Toomey Tourell Fine Art: Matthew Picton - City Sculptures.
Comment by AB: Matthew Picton maps actual cities out of mind-bogglingly complicated razor-cut Durular grids, overlaid and vertically mounted with push pins. Holy smokes!
Art.


Art.


Art.


Art.


***
Stephen Wirtz Gallery: Catherine Wagner - A Narrative History of the Light Bulb.
Comment by AB: Catherine Wagner accesses the 50,000+ light bulb collection of the Baltimore Museum of Industry to mix and match select contestants in a series of deliberate arrangements incorporating both artistic and historic implications. Myself being a former trafficker in antiques, collectibles, rare books, vintage clothing, and so on and so forth ad infinitum gimme a break already, and having viewed countless curios in all manner of circumstances over the decades, I frankly don't see what the big deal is here. Then again, I suppose if you're virgin to the antiquarian idiom, you'll find Wagner's work fresh, exotic, and peppy.
Photography.


Photo.


Photograph.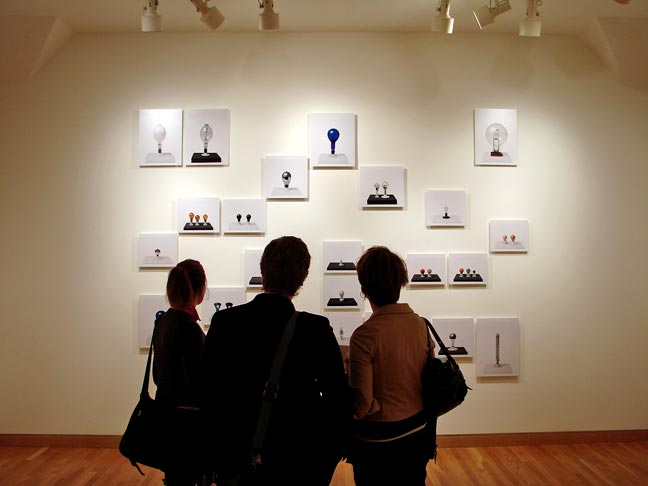 Images.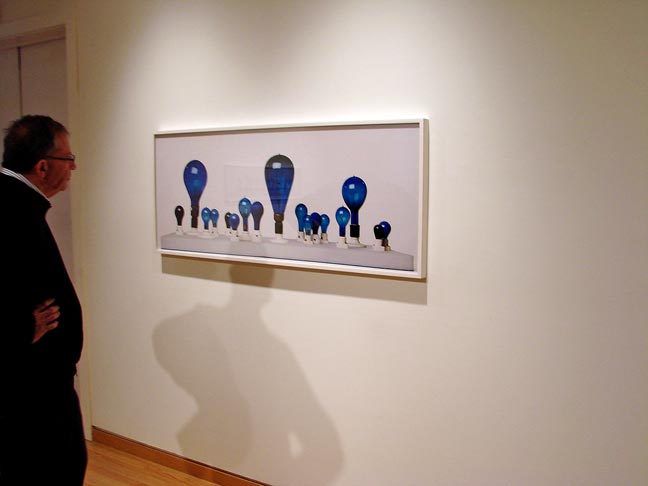 Photograph.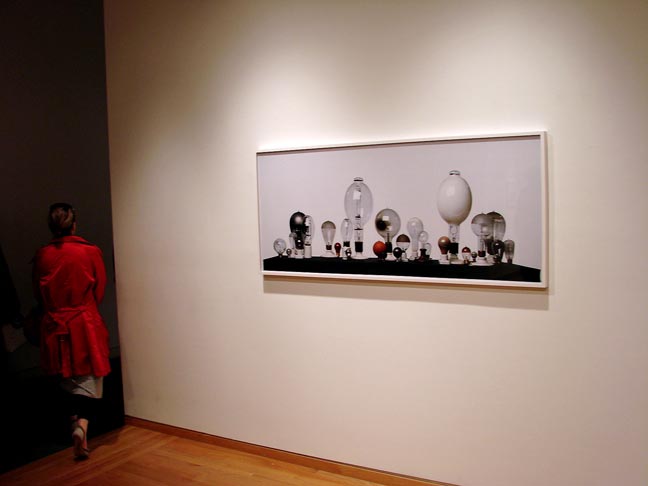 Photo.


***
Mark Wolfe Contemporary Art: Ajna Lichau and Jessica Pezalla.
Reviewed by Kristin Farr: Jessica Pezalla's delicate driftwood and wire sculptures are reminiscent of sea creature fossils. "Wavelet" is a lovely sculpture of wire circles that recalls seafoam bubbles, as it creeps down the wall projecting shadows "like little drawings," according to the artist. The chunky driftwood Pezalla uses in several works is juxtaposed with the feminine curves of coated wire, the contrasting materials unified by a white clay epoxy coating. Most impressive is a large-scale curtain constructed of iridescent wallpaper scraps pieced together and dyed blue. "Rare Earth Elements," a silver-leafed driftwood sculpture, is sensitively displayed in a plexi-glass case on a pedestal. Except in several instances, Pezalla avoided pedestals, installing most of the pieces on the floor, and thereby adding to the delicacy of her work.
Anja Lichau's work carries the viewer through a garden of curled paper tubes that lead to single-channel video installations. The performance-based pieces are unique in that the frames around the projections become equally as important as the videos themselves. Seeing herself as her medium, Lichau works with the ideas of fetish and modernizes the sillouette image of a vintage cameo necklace. Three pieces from the series are displayed including "Fetish Cameo," a small-scale video installation in which the artist is filmed while corn syrup is poured over her head to evoke sensuality and fluidity. White plaster ovals are continuously installed throughout the exhibit, many with pigment prints mounted on them, including one titled "Fuck" in which the artist is pictured in profile sporting an enormous hickey. A gorgeous paper wall sculpture serves as a frame for a slideshow projection of the artist unfolding a large plastic sheet on a beach in the Headlands, creating a postcard-perfect silhouette. Some of the videos are back-projected through small ovular mirrors cut into black wooden frames and appear holographic. A true performer, Lichau was wearing the same silky blue dress at the preview reception that she dons in some of her video work to further blur the line between artist and artwork.
Art (Anja Lichau).


Art (Jessica Pezalla).


Art (Jessica Pezalla).


***
ARTworkSF: Mixed Message.
Artists:  Steven Haas, Simon Dye, Karen Gutfreund, Shawna Scarpitti, Taiko Fujimura, Alan Mazzetti, Ann Simms, Rosalie Anelli Yerby, Michael Azgour, Les Phillips, Anne Karin Glass, James Walsh, Scott Wyman
Comment by AB: According to the prepared remarks, "materials insouciant in their first 'life' become 'extroverted' through intentional reinterpretation." I'm mildly hazy on the gist here because the reinterpretation or transformation of materials essentially describes all art. Anyway, no biggie. I'll check out the show and take a few pics.
Art.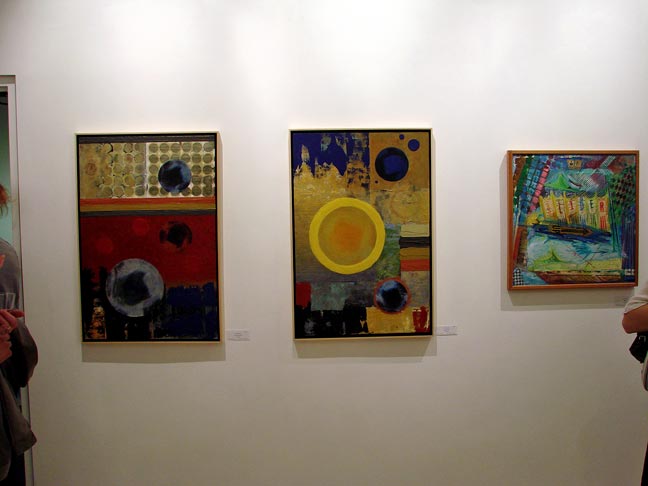 Art.


I sure don't wanna be around town when this happens.


Art.


Turnout.


***
Gallery Paule Anglim: Tony Ourlser - Nayland Blake.
Comment by AB: Tony Oursler creates babbling abstract videos infused with facial features, eyes and mouths in particular, and then projects them onto amorphous sculpted forms. The anthropomorphic upshot makes you feel like you're communing with extraterrestrials. As for Nayland Blake, his assemblages are a mite haphazard for my tastes cuz' when art gets random like that, you have no idea whether it's thrown together in five minutes, meticulously nuanced over a period of months, or something in between. A brief video of the artist at work might help dispel the vagary. His digital chromographic assemblagesque prints, on the other hand, appease my aesthetic itch.
Art (Tony Oursler - like it).


Art (Tony Oursler).


Art (Tony Oursler).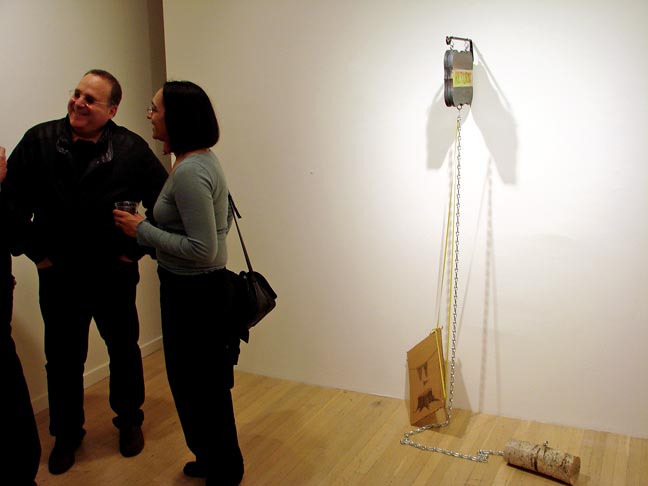 Art (Nayland Blake).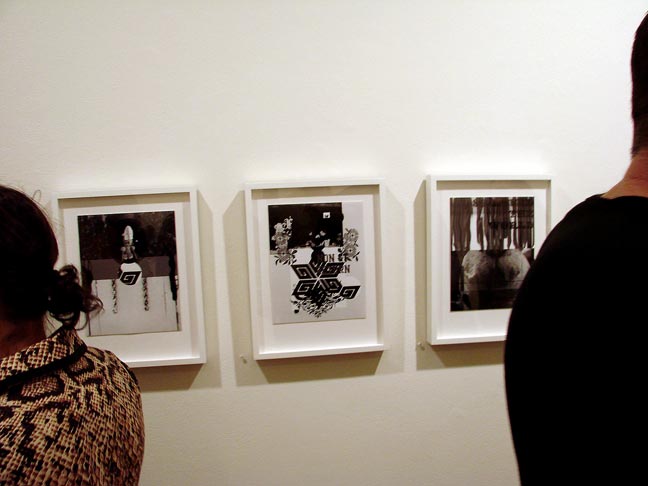 Art (Nayland Blake).


***
Lisa Dent Gallery: Group Show.
Artists: Adam Longatti, Nadol Pak, Ryan Pierce.
Comment by AB: Adam Longatti's lonesome little landscapes engage my goat, at first glance appearing ever so ordinary, but no-- there's more going on than that. The precision accuracy of Nadol Pak's cartographic abstracts nicely satisfies. And Ryan Pierce proffers a set of good-sized hallucinatory genre-logues that challenge you to slow for a moment and step inside (kinda like 'em).
Art (Ryan Pierce).


Art (Ryan Pierce).


Art (Nadol Pak).


Art (Adam Longatti).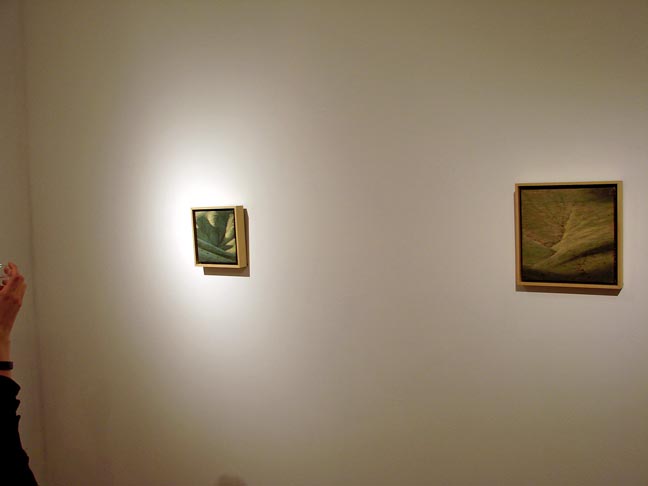 Art (Adam Longatti).


***
Consulado de Mexico en San Francisco (The Consulate General of Mexico in San Francisco): Valentin Toledo - Work on Glass, 2005-2007.
Comment by AB: Valentin Toledo tells me he creates his spontaneous action-infused abstracts on tempered glass entirely by dripping his paints-- no brushstrokes. Nice. The Mexican Consulate has an excellent gallery space, by the way.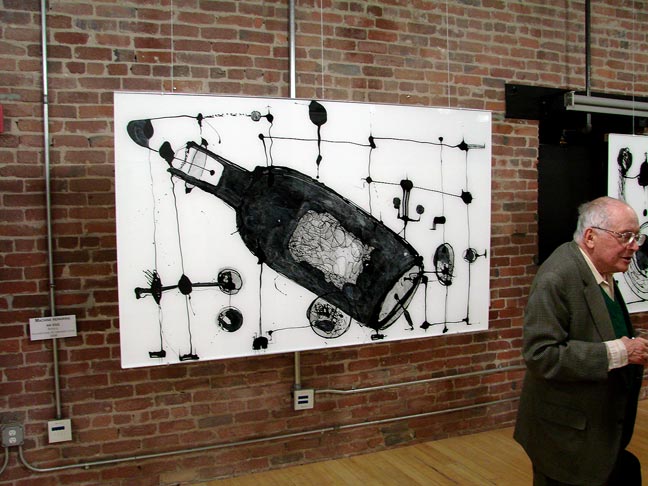 Art.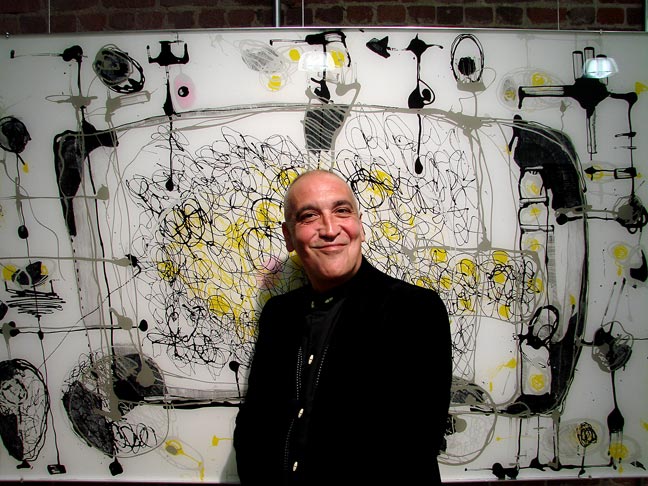 Valentin Toledo - art.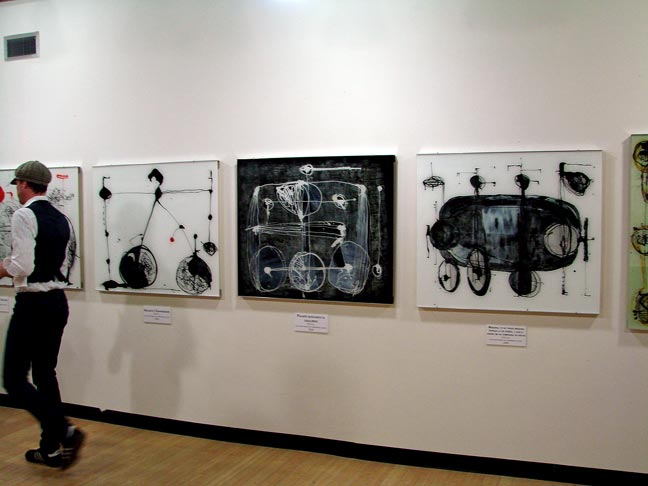 Art.


Gallery.


***
Art Engine: Exploded View - Landscapes.
Artists: Francis Baker, Sasha Bezzubov, Krescent Carasso, Alex de Cordoba, Stefan Klocek, Jesse Goff, Chris Jordan, Robert Larson, Charles Linder, Jason Mortara, Christophe Piallat, Matthew Savage.
Comment by AB: Artist-curator Yuri Psinakis takes twelve decidedly diverse photographic perspectives and masterfully melds them into a cohesive focused show, the essence of which will likely ratchet your global awareness up a notch. I'm gonna give this one a Pick Runnerup for curatorial valor above and beyond the call of duty.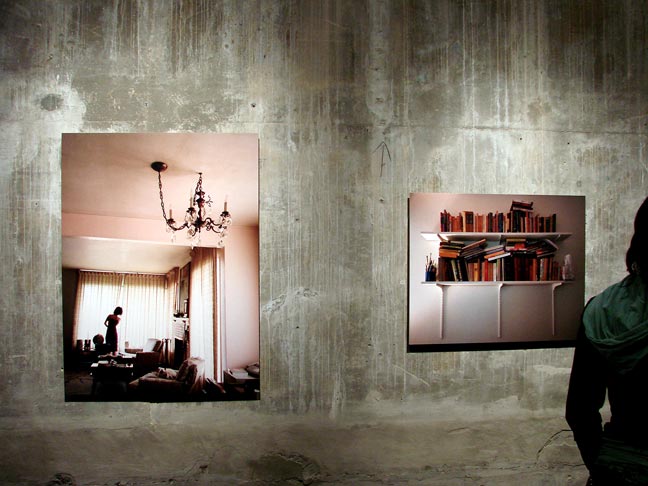 Photography.


Photographs.


Images.


Photos.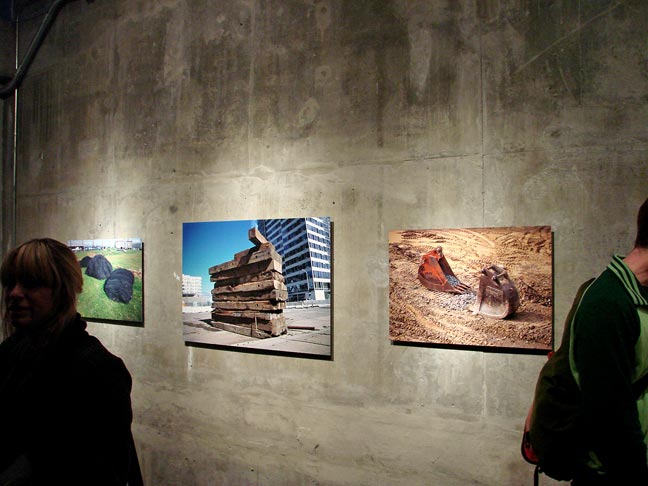 Photography.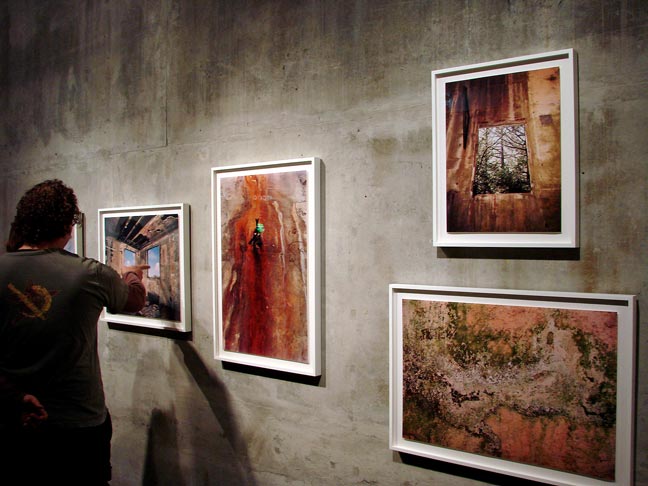 Photographs.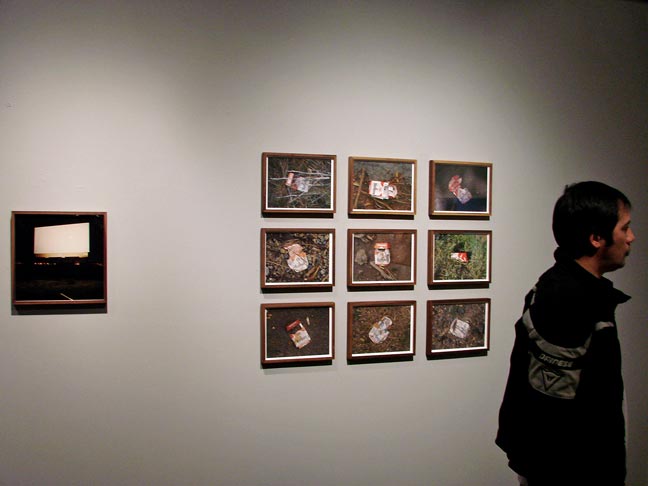 Images.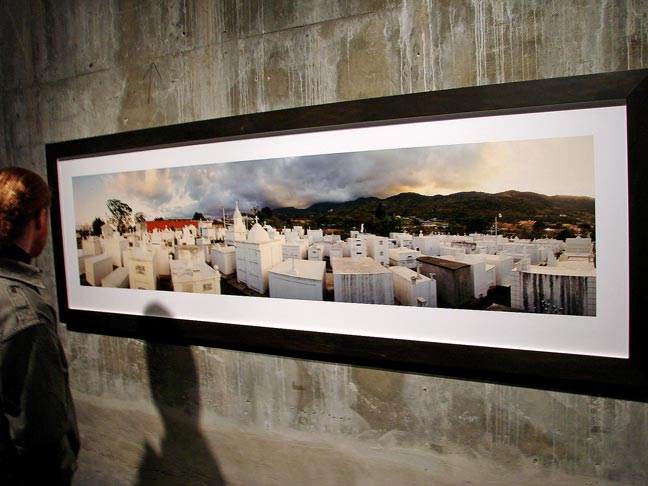 Photos.


***
David Cunningham Projects at New Langton Arts theater: Austin McQuinn - Virtuoso.
Comment by AB: The room is dark. Three or four artsters watch in rapt silence as Austin McQuinn, clad scalp-to-toe in an outfit fashioned entirely of medals won by a champion traditional Irish step dancer, stands motionless atop a spotlit aluminum hemisphere centered on a low pedestal-- looking much like a trophy himself. Meanwhile, the dancer who won the medals performs on an endless reel video playing on a screen in the rear of the theater. Quinn periodically changes position, gently rattles the medals, or leaves his pedestal altogether to strike a new pose in a different part of the theater. This mesmerising human sculpture performance piece, commissioned by International Dance Festival Ireland and tonight debuting in America, is meant to convey the tenuousness of championship, which it does impeccably well-- and more more more. Pick of First Thursday.
Performance art.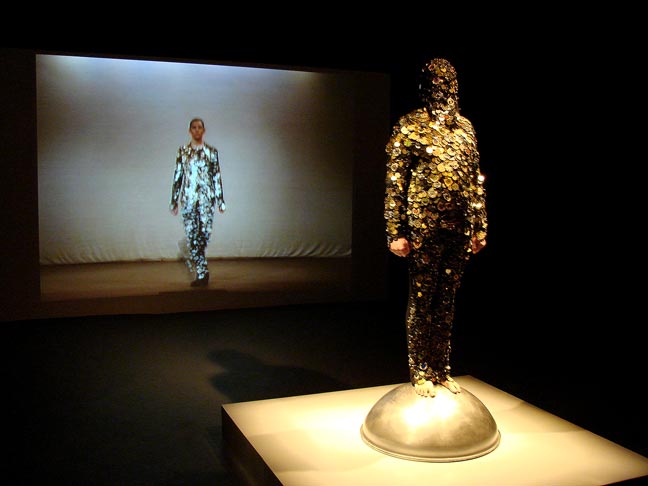 Performance art.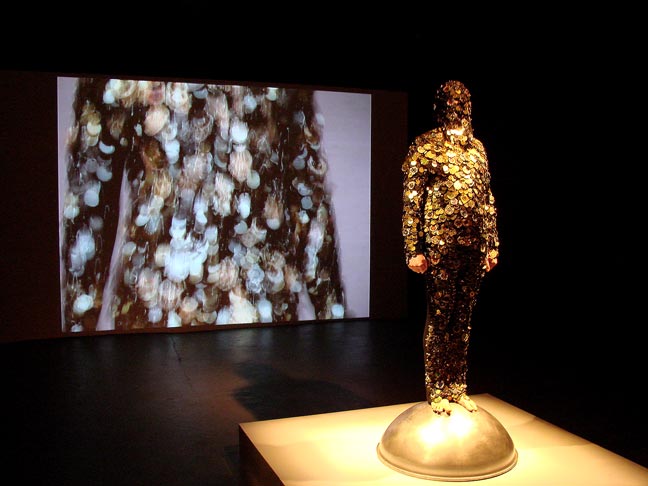 Performance art.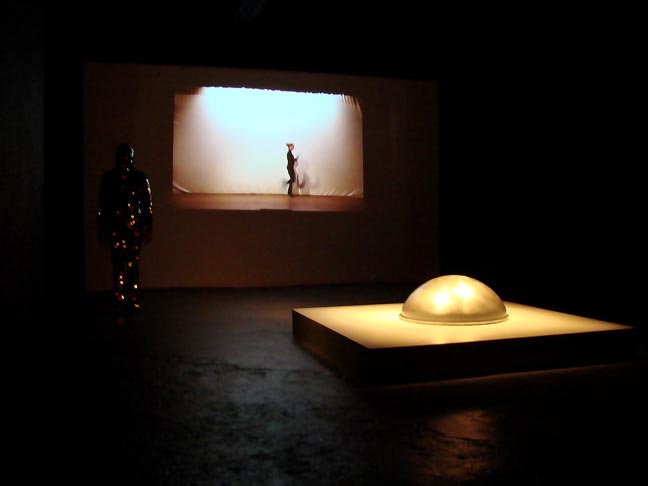 Performance art.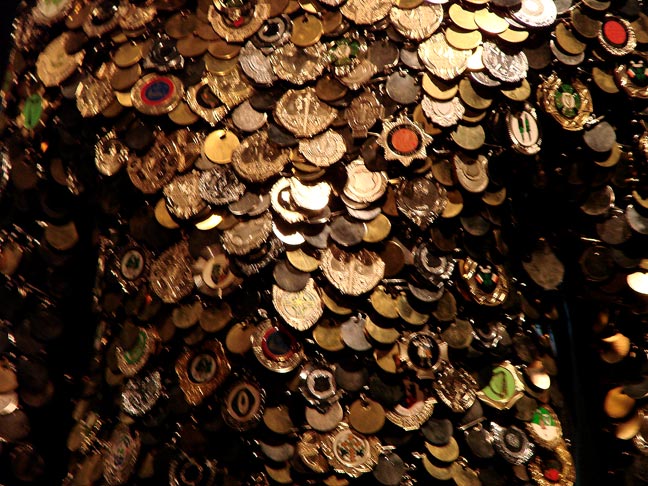 Garb art.


***
Fifty24SF Gallery: Estevan Oriol & Yasumasa Yonehara - Show Me Your Heart.
Comment by AB: Estevan Oriol and Yasumasa Yonehara present two takes on femininity and the female form-- call it "urban erotica" if you will-- as they transit pretty much the entire spectrum from vulnerable to vixen to vicious. Yonehara's work is particularly singular, his medium of choice being small Polaroid prints displayed in atypical ways. For instance, he groups sets of sixteen figure studies of single subjects into plexiglass shadowboxes of sorts, each image self-contained and leaning in its own separate space, the totality of a given grouping arranged to evince intimacy with the sitter. He also slices, dices, and shrinks various nude studies into complex repetetive patterns, printing them out as large-format digital prints that appear decorative from a distance, but increasingly fragment and fascinate on the zoom. Pick of First Thursday Runnerup.
Photography (Estevan Oriol).


Photos (Estevan Oriol).


Images (Estevan Oriol).


Photograph (Estevan Oriol).


Estevan Oriol - Yasumasa Yonehara.


Shadowbox erotica (Yasumasa Yonehara).


Shadowbox erotica (Yasumasa Yonehara).


At a distance (Yasumasa Yonehara).


Up close (Yasumasa Yonehara).


***
Addendum:


Jason Michael Aumann photos at Hilliard Architects.


One more Jason Aumann at Hilliard Architects & Gallery.


Michael Iofin woodworks at Garry Belenky Gallery.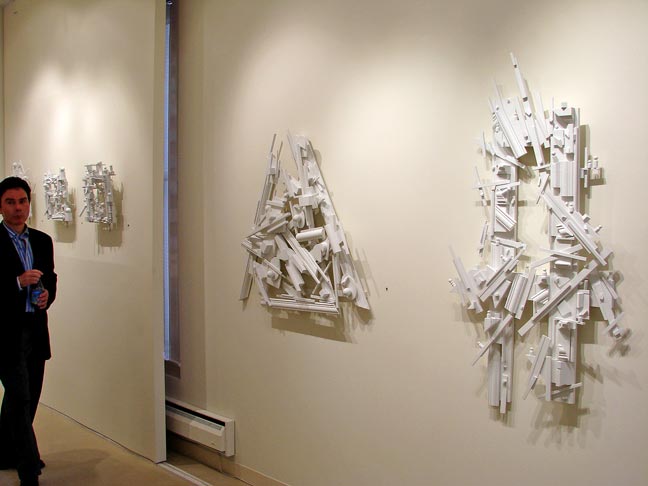 More Michael Iofin at Garry Belenky Gallery ($5K-$9K).


Final Michael Iofin at Garry Belenky Gallery.


Serene Giovanni Mancini landscapes at Hespe Gallery.


More Giovanni Mancini at Hespe Gallery.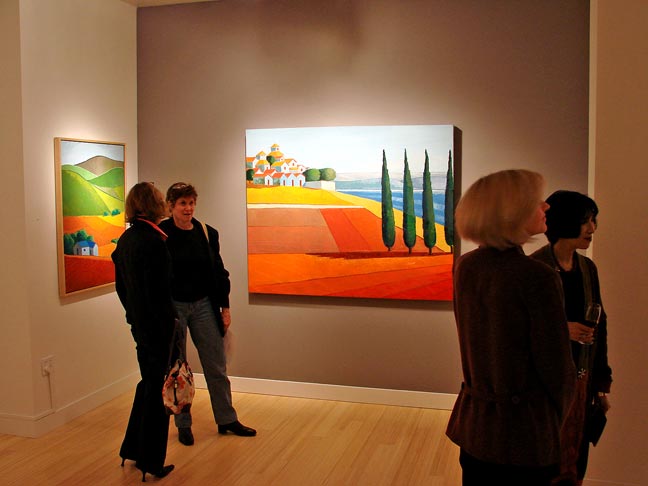 One more Giovanni Mancini at Hespe Gallery.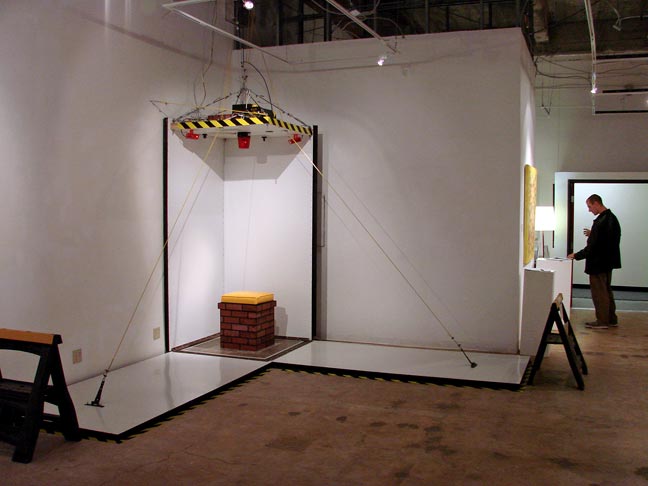 Ariel Erestingcol installation at Togonon Gallery.


One more Ariel Erestingcol at Togonon Gallery-- created with those little plastic circles kids make patterns with and then enlist adults to melt together with hot irons-- sorta kinda like it.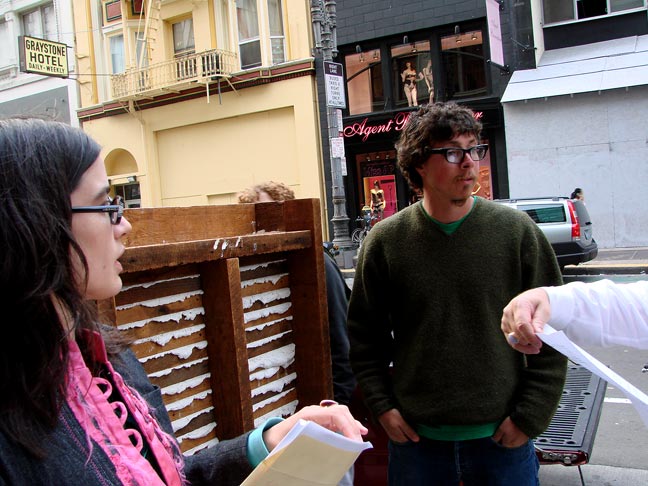 Katie Kurtz (left) solicits donations to help start a war, courtesy of The Small Gallery.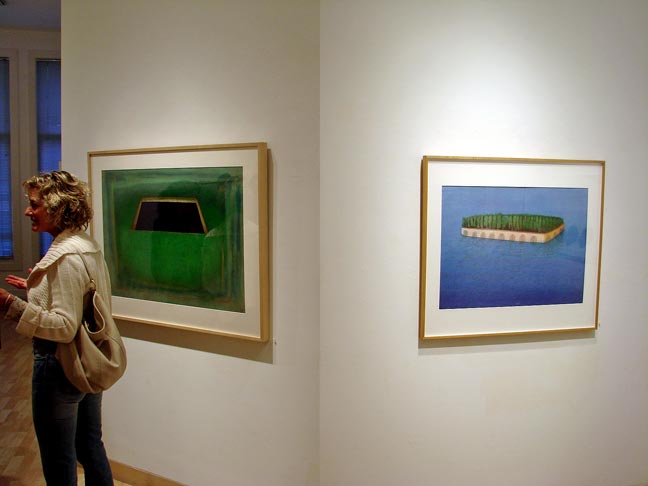 Three European artists at Don Soker Gallery.


Daniela Bikacsi, Katrine Van Houten, Susanne Schossig at Don Soker.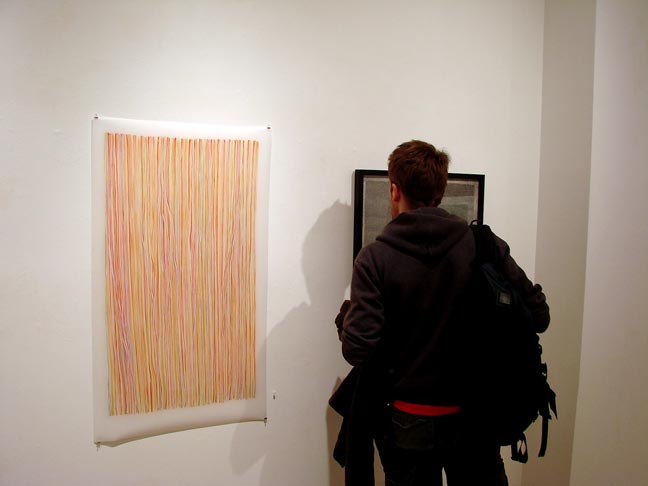 One more from Don Soker Gallery.


I encounter this congenial couple at Garage Gallery.


***
OK. Every once in a long long while, I gotta wax a little surly, and now is once in those whiles. You who co-opt my images without my permission to make yourselves look good on your websites should maybe think about asking first or maybe think about this. It's not enough what I do for you already, is it? You want more. Ancillary gratis. How would you feel if someone used images of your art without your permission (and didn't even credit you as the artist)? If anyone understands copyright infringement, artists do. Right? Right.
But back to the matter at hand, I don't know a lot of takers who ever make much of a mark. Do you? I doubt it. I'm not talking about taking whatever you want whenever you want it no matter whose dick you step on while you're doin' it-- purely for your own personal engorgement-- any pinhead can do that. I'm talking about shit like respecting the protocol, prioritizing the greater good, giving at least as much as you take, and generally positioning yourself positively in the minds of others. That's not so easy.
Got it? Good. You captain your fate; captain it wisely.
***