SAN FRANCISCO GALLERY OPENINGS
FIRST THURSDAY; 05.05.05
General comment: They're beginning to recognize me. For what seemed like three eternities I stealthed with unhibited abandon from show to show, shot my pix, rated the players, even ate cheese when I could find it, and no one bequeathed me the least neutrino of notice. But now they approach, they introduce themselves or stare as I enter a gallery (at which point I check to make sure my zipper's up). They ask whether I'm "art business," pummel me effusion, tell me I completely missed the point, tell their friends to tell me I completely missed the point, hand me show announcements, talk about their art, or simply smile and say hello. Hello.
I suppose, at this juncture, I could legitimately begin to take myself seriously or at least toy with the concept of being somebody. However, during these fleeting hubric interludes, I'm reminded of the teachings of that ancient Chinese philosopher and sage, Clint Eastwood, who once said, "Opinions are like assholes; everybody has one." Not that I'm an asshole, but I do have opinions.
Here, I'll show you...
***
John Berggruen Gallery: David Bates - Black Water; Ed Ruscha - A Selection of Prints.
Comment: David Bates creates a body of work centered around his native Texas backcountry marshlands. The art is an odd mix of well-defined black outlined edges, a bit on the abstract side, applied to naturalist wildlife art, maybe like Bernard Buffet meets John James Audubon. Now there's an unlikely duo.
As you ascend the stairs to level deux, you look up and see an Ed Ruscha print that simply reads "EVIL." See how civilized the art world is? Somebody hangs a print with wicked word on it at the top of the stairs. And that's about as rowdy as it gets. Beats the crap out of war, don't you think?
Art (David Bates).


Art (Ed Ruscha).


Art (David Bates).


Art (Ed Ruscha).


Art (David Bates).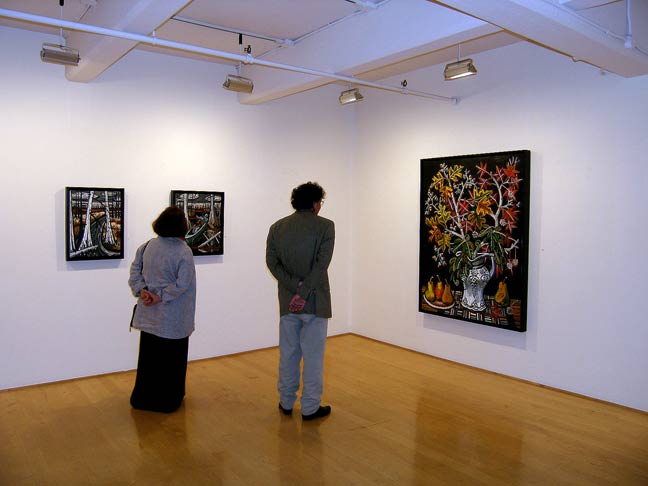 Art (David Bates).
Art (David Bates).


***
Major-Screw-Up: I (and numerous other unfortunates) attempt to access the Hackett Freedman Gallery Guy Diehl show at the customary location, 250 Post St., 4th Floor. However, the elevator refuses to open onto that floor even with the generous assistance of several tenants from other floors. Nothing worked, so we all gave up. Now, I'm reading the press release wondering what went wrong, when I see that the opening was actually at The Apple Store Theater, 1 Stockton St. The moral of the story: Always read the complete press release 'cause sometimes they try to trick you with venue changes to see if you're paying attention.
***
Heather Marx Gallery: William Swanson - All in Electric Lights.
Comment: William Swanson's clean precision straight line meta-futuristic architectural abstractions look almost like interplanetary places you can visit. The explanatory notes get off to a reasonably good start, talking about where Swanson gets his ideas, but then collapse into unintelligible name-dropping art critic gibberish which is certain to perplex normal educated people who like art, but who only speak English. As for Swanson's acrylics on panels, the compositions are so meticulously accurate that I expect the finishes to be equally polished, but they're just a trifle uneven in places, possibly due to knot-like irregularities on the surfaces of the panels. The paintings are still plenty good and I'm definitely a fan, but I'd really really like 'em if they were totally smooth.
Picky, picky, picky, right? Wrong. Big league art has to be bulletproof.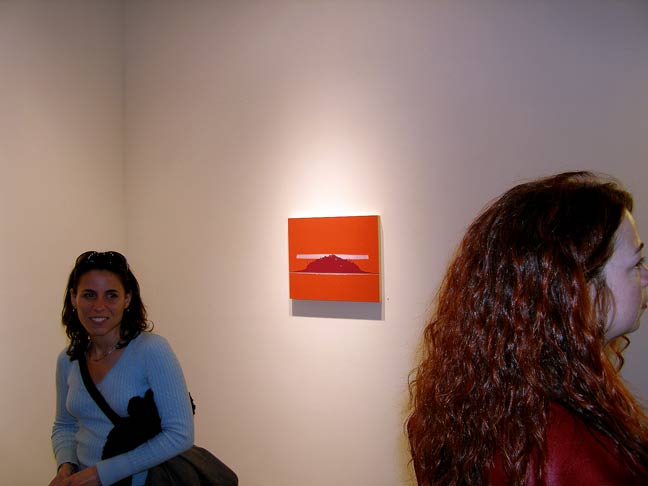 Art.


Art.


Art.


Art.


***
871 Fine Arts: Four Hands Examining the Color of a Thought - 26 Collaborative Boxes by Geoffrey Hendricks and Brian Buczak.
Comment: In order to fully appreciate this kind of art-- boxes with curious items in them that date from circa 1977 and cost $4500 each-- you have to precurse yourself up on Joseph Cornell and an avant-garde art and performance movement called Fluxus. Joseph Cornell made boxes while Fluxus had manifestos, doctrines, rituals, rules, and demanded cult-like adherence (in a laissez-faire kind of way). I've got a 600+ page book in my library called Fluxus Codex (Harry Abrams, New York, 1988) which I'm sure explains everything, but it's even harder to understand than the manual that came with my cell phone. Can you hear me now?
Art.


Art.


Art.


Art.


***
Fraenkel Gallery: Ralph Eugene Meatyard; Obsessions of the Occulist.
Comment: Ralph Eugene Meatyard photographs are cool for several reasons. First, I get the feeling he was a pretty strange dude who saw things radically differently, but was comfortable enough with his strangeness to incorporate it into his art, thereby sharing his raw unadulterated take on reality without self-consciously sifting it for the populace. But in order to succesfully convey your weirdness, you have to master your medium of conveyance, which Meatyard also accomplished. So you have the perfect confluence, and even though he's gone, he leaves traces of his mind for us to trip over.
In the gallery's center room is a most entertaining show of antique and vintage occulist and optometric artifacts, signs, contraptions, posters, charts, and memorabilia including a bowlful of glass eyeballs. Please pass the hors d'oeuvres.
Art (Ralph Eugene Meatyard).


Art (Ralph Eugene Meatyard).


Art (Ralph Eugene Meatyard).


Occulist art.


Optometrist art.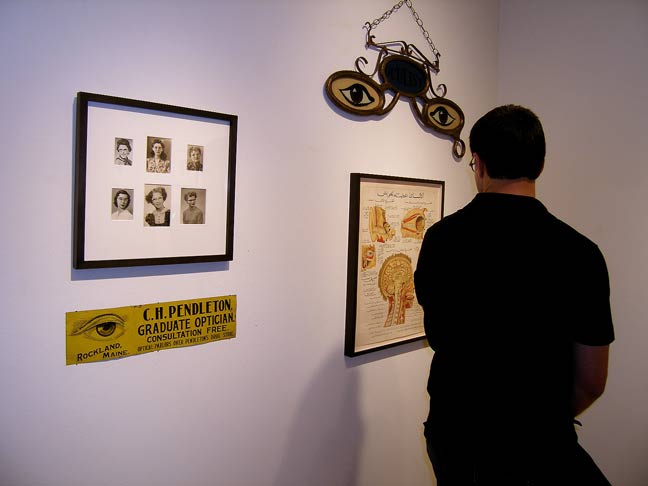 Optometric art.


***
Toomey Tourell Gallery: Xavier Damon.
Comment: Xavier Damon makes 48 x 40 inch blow-ups of polaroid photographs, then mounts them on aluminum with white borders to make them look exactly like giant polaroids. I have no idea why he does this because I can't get the ferkin' Toomey-Tourell website to work on my Mac OS X G4 Safari web browser (tech specs so the web designer can fix the problem).
Art.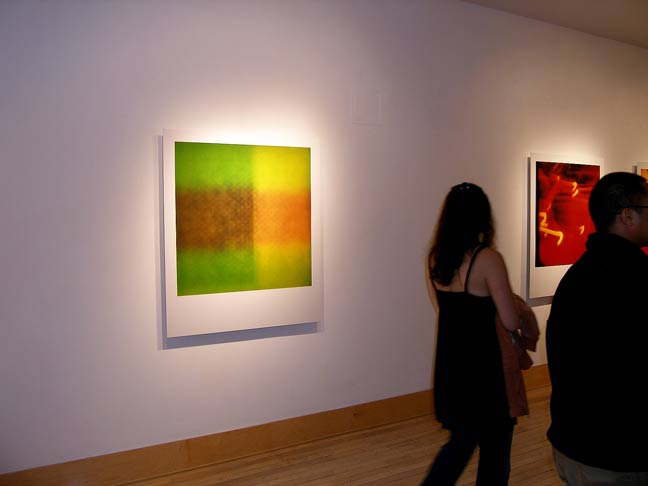 Art.


Art.


***
Gregory Lind Gallery: Donald Traver - Paintings and Polaroids.
Comment: Donald Traver's acrylic on canvas paintings convincingly revise, expand, and update the type of firm form abstraction popular in America before Abstract Expressionism, as exemplified in early works by members of the American Abstract Artists. They also, perhaps even more so, remind me of the art of San Franciso artist Charles Howard. OK. Enough esoteric art history. What I'm trying to say is that the art reveres and respects its roots, plus it progresses the idiom to the next level-- all at the same time-- and that's a pretty good trick. You guessed it. Pick of First Thursday goes to these tight smooth soft harmonious dimensional color-rich free-float contoured journeys into the geometric outer realm.
Art.


Donald Traver - art.


Art.


Art.


***
Steven Wolf Fine Arts: Charles Gaines - Airplane Narratives.
Comment: Charles Gaines superimposes images of crashing planes onto center city settings, creating what appear to be fictitious versions of the instants immediately preceeding the 9/11 debacle. Alongside these images, he adds drawings of explosions, police reports, and miscellaneous other documents generated by governmental agencies in response to catastrophic events. Gaines employs this format to make us think about the emotionless official reportage of disasters, and what may or may not be missing from that coverage. The problem is that I look at the art and think about only one thing-- 9/11. You might as well show me a picture of the McDonald's Golden Arches and ask me to think about Kentucky Fried Chicken.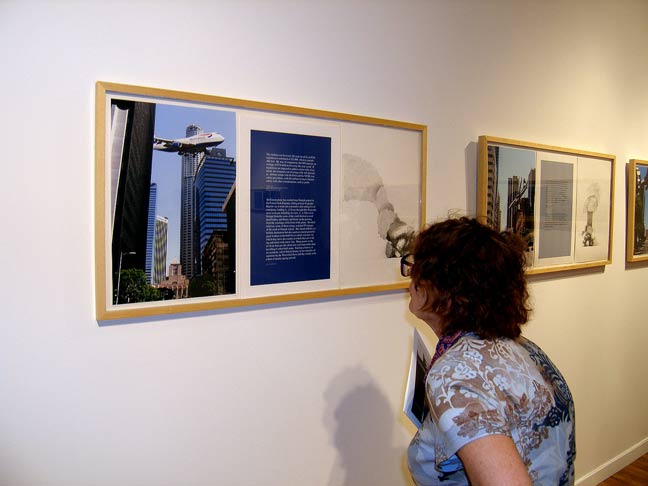 Art.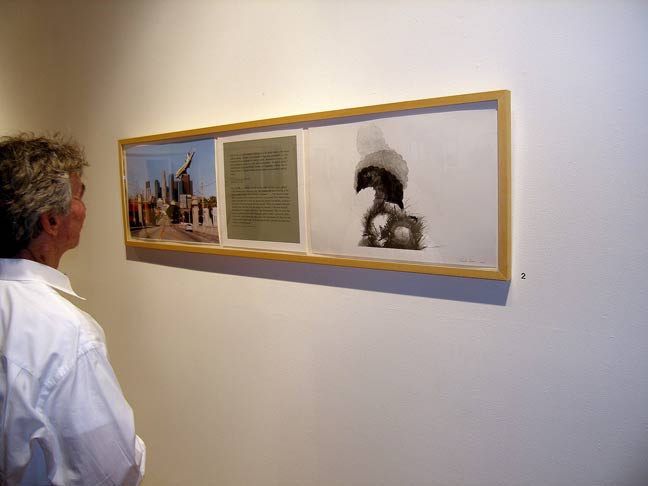 Art.


Art.


***
111 Minna Gallery: City Portraits - New Paintings by Kim Cogan.
Comment: Street scenes, aerial views, rooftop views, and various other perspectives on San Francisco, usually with buildings, many slightly skewed, most sans people or vehicles, several composed on multiple canvases. That's enough to infect them with a legitimate case of Hopperian vacancy, but then Cogan's use of color seals the deal tight. He captures light and shadow, atmosphere, even air texture and temperature in ways that few artists are capable of-- and you can't teach that. Certain details in certain paintings appear a mite tentative when you hover in close, but Kim Cogan's got plenty of time to excise hesitation from his repertoire, and I'll wager that with dedication and plenty of hard work, he could be a contender. Prices $750-6500.
Art.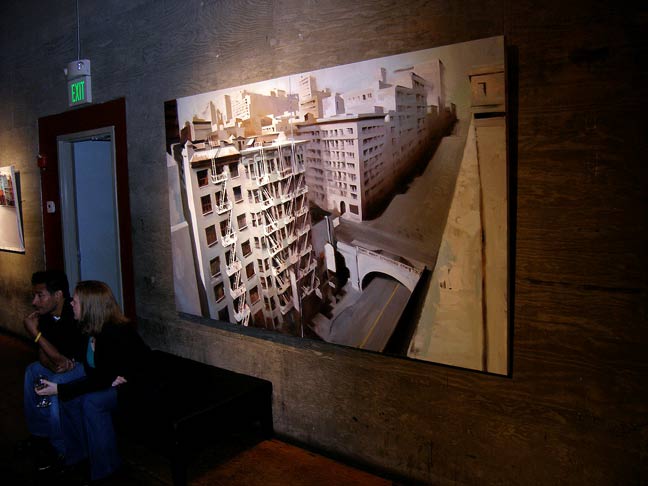 Art.


Kim Cogan - art.


Art.


Art.


Art.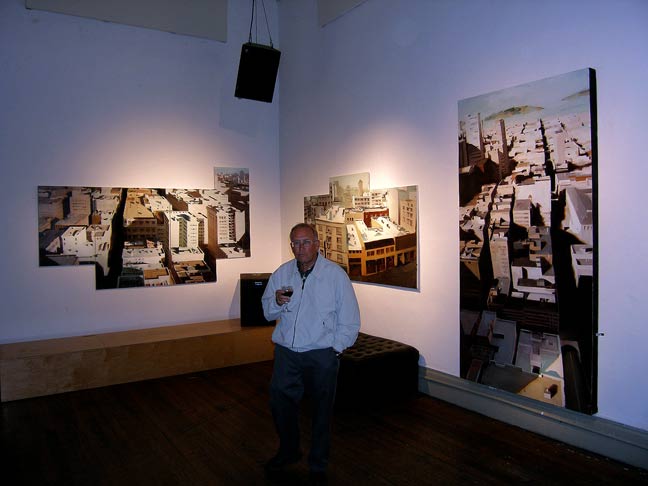 Art.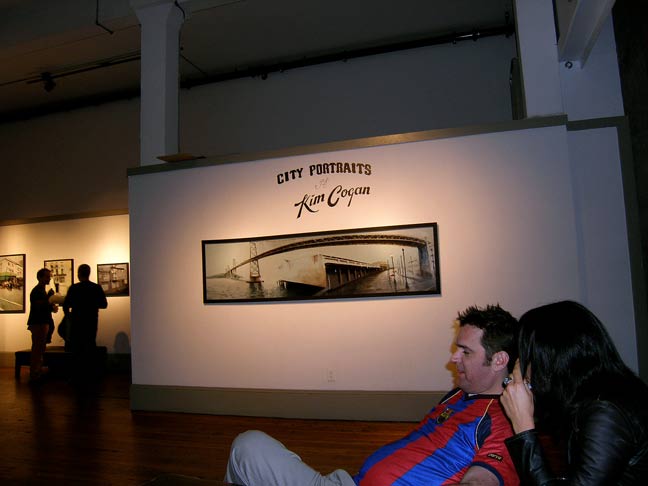 Art.


***
Baxter Chang Patri Fine Art: Miguel Osuna - California.
Comment: Miguel Osuna paints sunny spare serene streamlined warm hazy Southern California cityscapes, accessorized with fractionated freeways, street lights, palm trees, and maybe the faint outline of a building or two in the distance. LA is rough, tough, tense, and high energy, meaning that periods of relaxation are pretty much mandatory in order to survive. If Osuna's art doesn't ease the stress and mellow you out, about the only option left is prescription medication.
Art.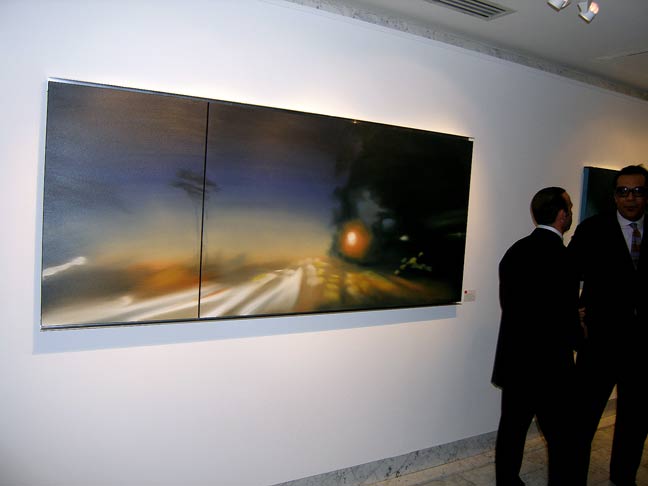 Art.


John Evans.


Art.


***
Virgin69 Presents: Dear Diary - A Group Collection of Art and Photography.
Artists: Ron Donovan, Ms. Mikki, Jaya Bonderov, Sam Flores, Henry Lewis, Greg Galinsky, Buder, Karina Figueroa, Ferris Plock, brian Barneclo, Byron Brown, Spencer Mack.
Comment: What better way to close out First Thursday than with a good old fashioned upstairs South of Market art party, heavy with local urban talent, and tunes and hooch and things that make parties work. This is really what it's all about 'cause life kinda sucks if you've got no one to party with.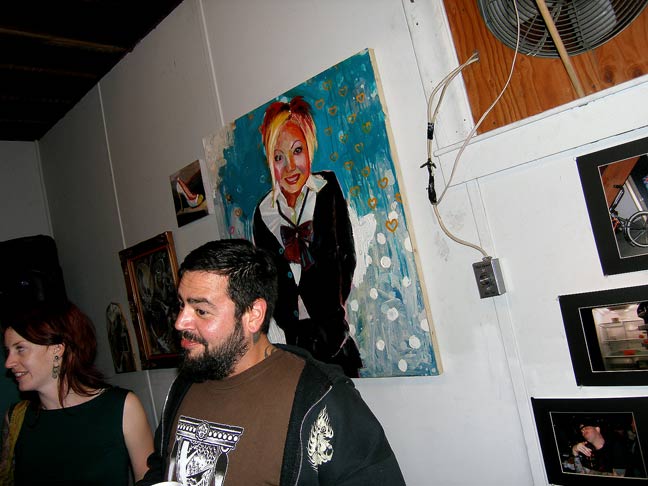 Art (center - Karina Figueroa).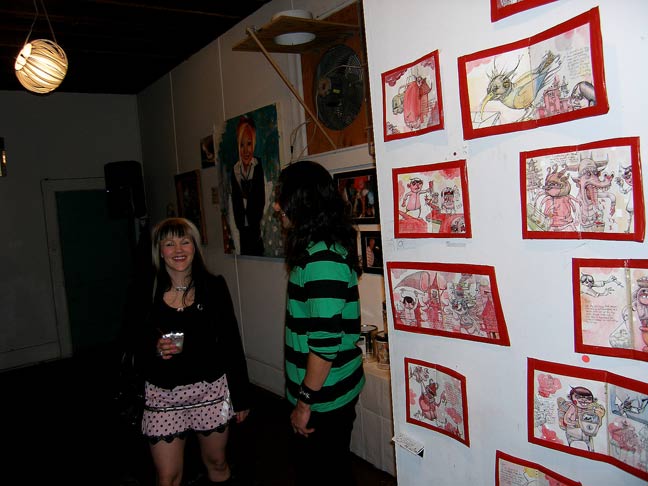 Art (left - Ferris Plock).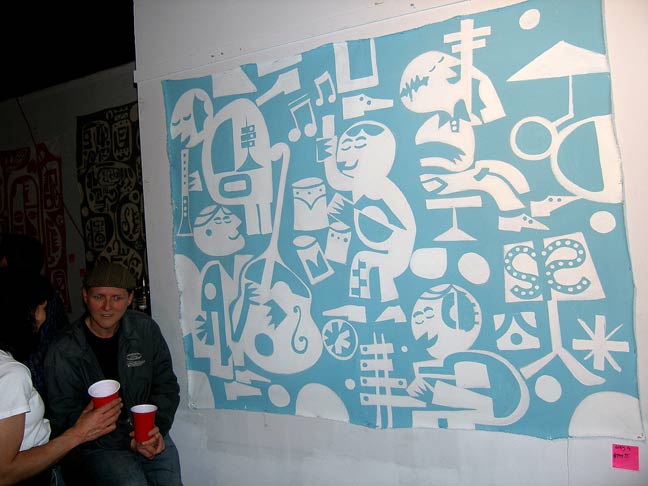 Art (Greg Galinsky).


Art (left - Brian Barneclo).


Art.


Greg Galinsky at work.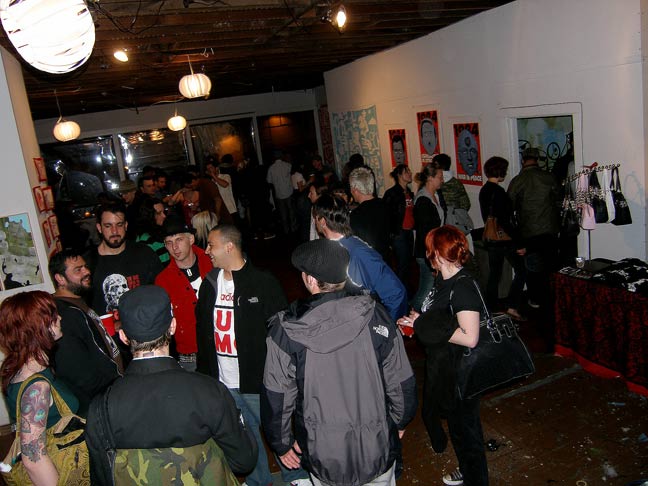 Situation.


***
Addendum:


Kirsten Stolle applies paint in many ways at Dolby Chadwick Gallery.


Freddie Fong (right) shows Tetsu Okuhara at Freddie Fong Gallery.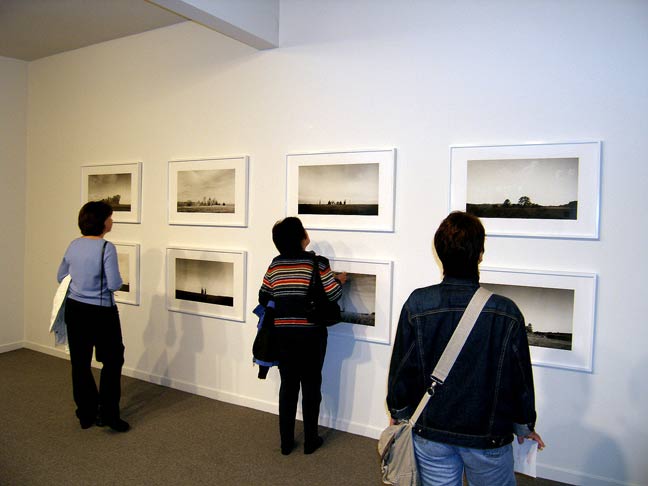 J. John Priola ratios 20% farm to 80% sky at Gallery Paule Anglim.


Group sculpture show at George Krevsky Gallery.


Super subtle abstracts by Kathryn Van Dyke at Steven Wirtz Gallery.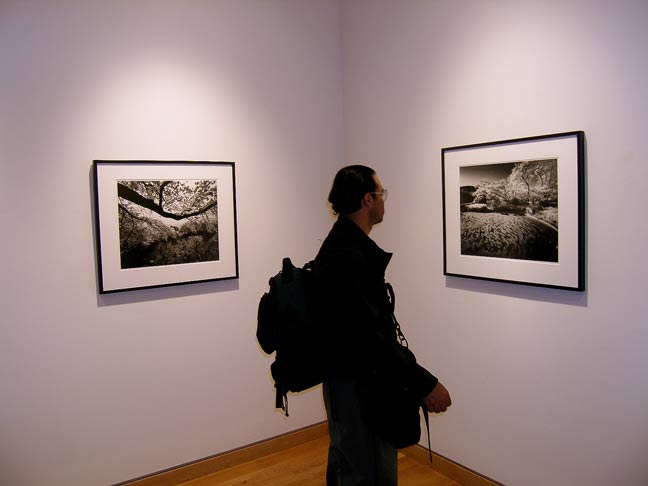 Taku Aramasa pinhole pics capture cherry blossom spectacle at Steven Wirtz Gallery.


Stripes from Stripe King Gene Davis at Official Stripe Headquarters
Patricia Sweetow Gallery.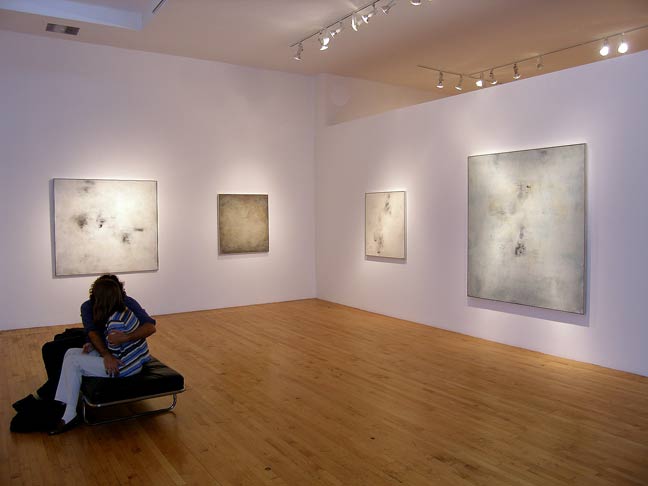 Raphaelle Goethals encaustic paintings facilitate human relations at
Elins Eagles-Smith Gallery.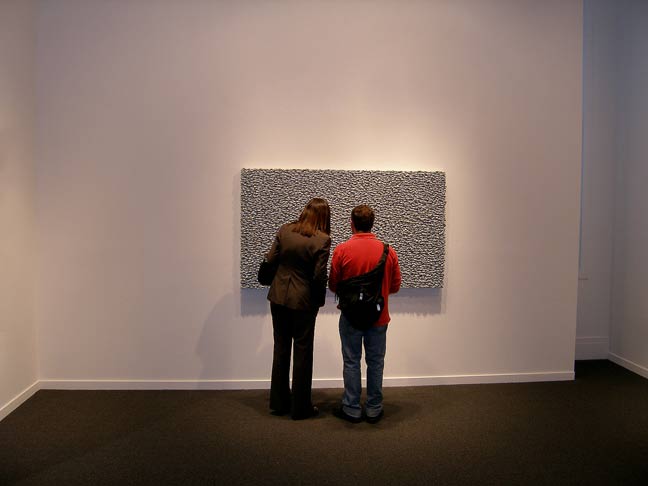 Robert Sagerman gets thick at Brian Gross Fine Art.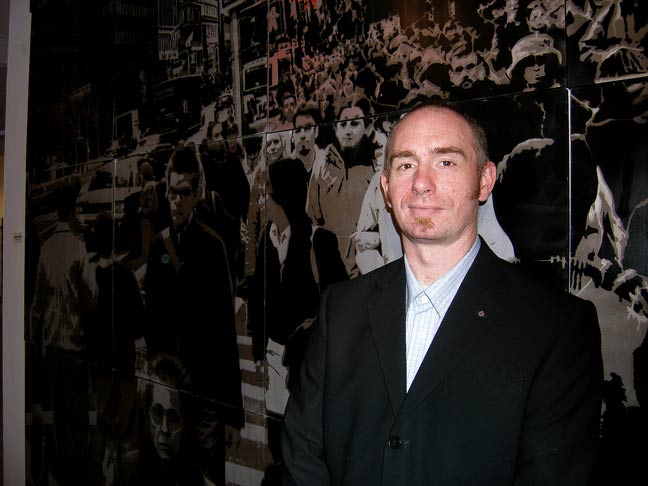 Stencil ace Logan Hicks at Urbis Artium Gallery.


Steven Raspa at San Francisco International Arts Festival fundraiser.


Nap time.
April First Thursday; April 7, 2005