SAN FRANCISCO ART GALLERIES OPENINGS
FIRST THURSDAY; 05.04.06
General comment: Art is a curious commodity. Nobody needs it to survive, yet life is interminably uninspiring without it. Many people believe they know something about art when all they really know is what they like, and once they start learning, they realize they don't like what they thought they liked as much as they thought they liked it. Art has no tangible value, yet many people buy it because they think it's a good investment, and once they buy it, they tend to believe it's worth more than it actually is; sooner or later they find out it's not, but by then they don't really care because they like it and they don't need the money anyway-- but they don't like it quite as much as they did when they thought it was worth more. Makes sense, right?
Then you've got your aesthetic enablers, professional purveyors of creative contrivances, commonly known as art dealers, who every month, like clockwork, present the flat out freshest newfangled hifalutin magnum opus du jour they can conceivably corral, complete with unfathomably brain bending airtight alibis for why you should own it. And let's not forget the palavering opinators, commonly known as art critics (some of whom actually get paid to say things that only they can understand), regularly weighing in on this or that aspect of this or that art with such convoluted fervor that even though you draw a complete blank, you are compelled, as a matter of personal pride, to sham up an all-knowing nod and hope nobody notices.
Yes, dear artsters, it's that simple and no more complicated. So are you ready to poke for plums? I sure am...
***
Museum of Craft and Folk Art: Circles Unbroken - Four Generations of African-American Quiltmakers.
Artists: Gladys Henry, Laverne Brackens, Sherry Byrd, Bara Byrd.
Comment: Four generations of a Texas quiltmaking family piece quilts in unconventional semi-symmetric semi-abstract patterns. At first glance, the designs look traditional, but then you quickly realize how wonderfully whimsically atypically consummate they are.
Quilt art.


Quilt art.


Quilt art.


***
John Berggruen Gallery: Donald Judd - A Series of Twelve Anodized Aluminum Sculptures from 1991; John McCracken - Selected Sculpture.
Comment: The most impressive aspect of these Donald Judd wall-mounted metalworks (price on request) is the flawlessness with which they're forged and colored. They look like metal shop girders until you move in close; then you get impressed as they almost take on a jewel-like aura. In case you're interested, Judd's high selling price at auction is $4.2 million for a 1966 installation, as he and his fellow minimalists continue to max out at the box office. And typical of any important artist, the early seminal works fetch the megamoney.
Art (Donald Judd).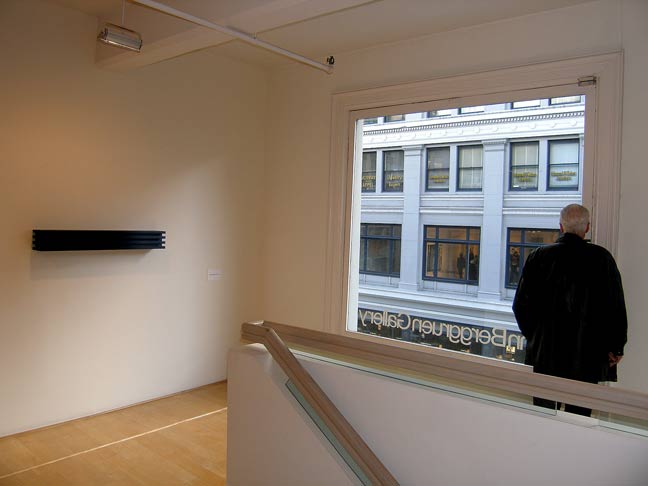 Art (Donald Judd).


Art (Donald Judd, wall - John McCracken, pedestals).


Art (Donald Judd, wall - John McCracken, pedestals & leaner).


***
Gallery Paule Anglim: Deborah Butterfield.
Comment: Nobody sculpts like Deborah Butterfield. She miraculously assembles pieces of scrap metal and tree branches into anatomically correct equine forms that are so instantly lifelike and believable, you wanna hop right on and ride. Her tree branch horses make for additional magic in that they're not really tree branches, but rather bronzes cast directly from the original tree branch prototypes.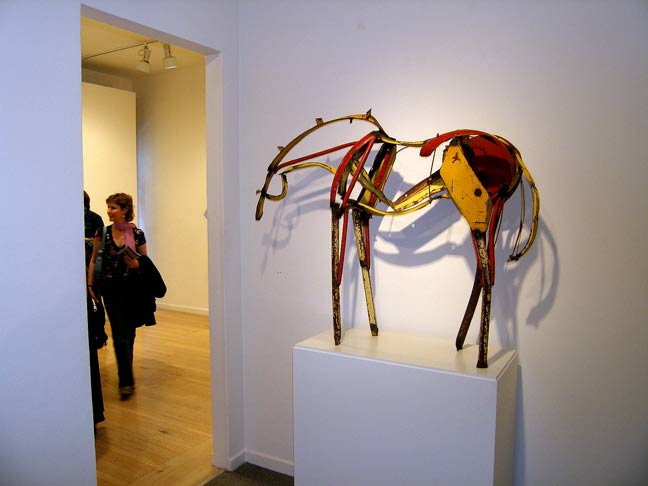 Sculpture.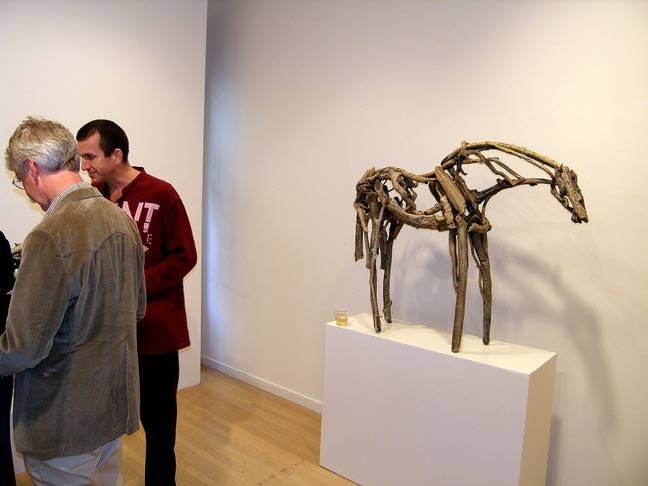 Sculpture.


Sculpture.


Sculpture.


***
Robert Koch Gallery: Nicholas Prior.
Comment: Nicholas Prior goes a bit Stepford in his series of photographic essays on children's lives in small town New England. The difficulty in Prior's attempts to set up and then perpetrate premeditated outcomes such as these is the tendency to "lead the witness," to risk overplaying or even ignoring what really happens in favor of what he wants to happen or is trying to make happen, thereby contriving marginally believable conclusions that tell us more about Prior's agenda than they do about his subjects.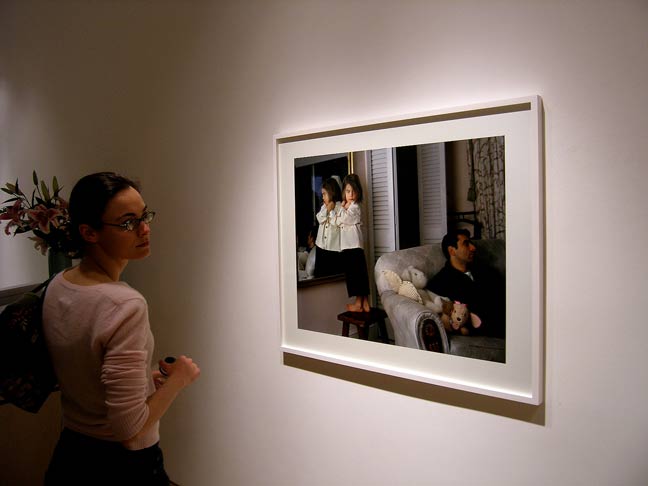 Photography.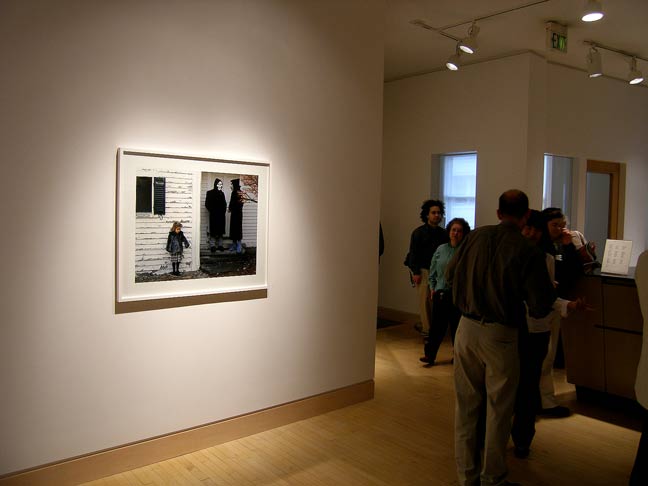 Photos.


Photographs.


Photography.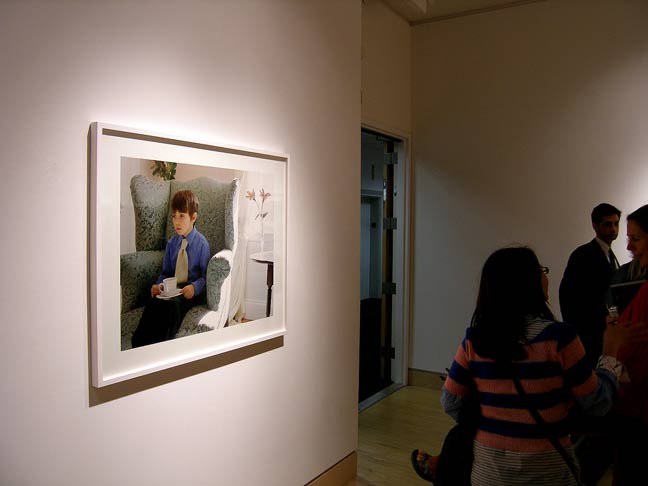 Photos.


Photographs.


***
Gregory Lind Gallery: Marti Cormand - Undercut.
Comment: Slick little show featuring Marti Cormand replications of famous photographers' black and white images in graphite, gouache, and oil on paper, so accurate you can hardly believe they're not real photographs unless you zoom in close, and even then you still may need convincing. Cormand then superimposes curious little interruptive blips of color, which I don't quite get-- apparently to "undercut" the essence of the images like the show's title says, but if that's the deal, why? In any event, he's exceptionally good at making paintings and drawings that look exactly like photographs, and that renders the art worth a look.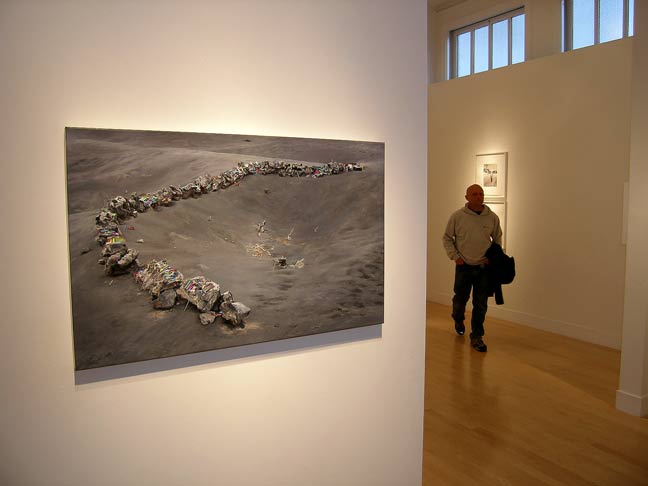 Art.


Gregory Lind explains the illusion.


Art.


Art.


***
Fraenkel Gallery: Idris Khan.
Comment: Idris Khan creates his compositions by layering well-known writings, musical compositions, works of art, and photographic images one on top of the other over and over again, resulting in entirely new morphed up stand-alone artworks that elaborate on and even progress the intents of the originals. For example, he superimposes the images of every Joseph Mallord William Turner painting reproduced as a postcard and available for purchase from the Tate Museum. I know I'm looking at a J.M.W. Turner something, but it's not just Turner; it's more, it's better, it's a new way to see and appreciate Turner's art. For Khan, basing art directly on the art of others is daunting to say the least. You can blow it in so many ways, it's almost like asking for an upbraid. But Khan accepts the challenge, sidesteps all obstacles, completes the course, and gets Pick of First Thursday.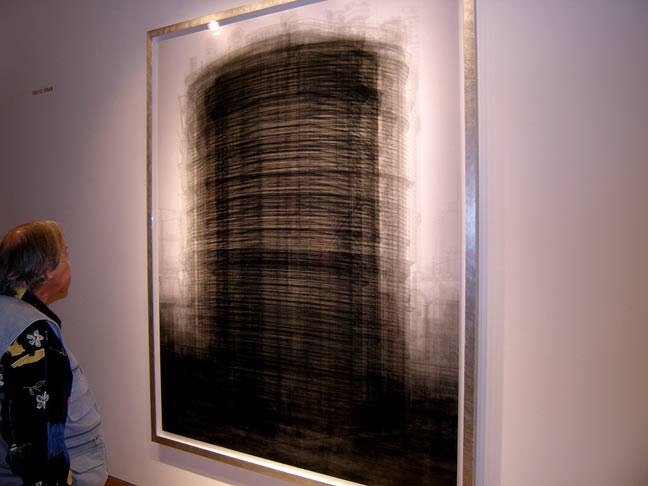 Photography (pick).


Photographs.


Turner transmogrification (pick).


Photos.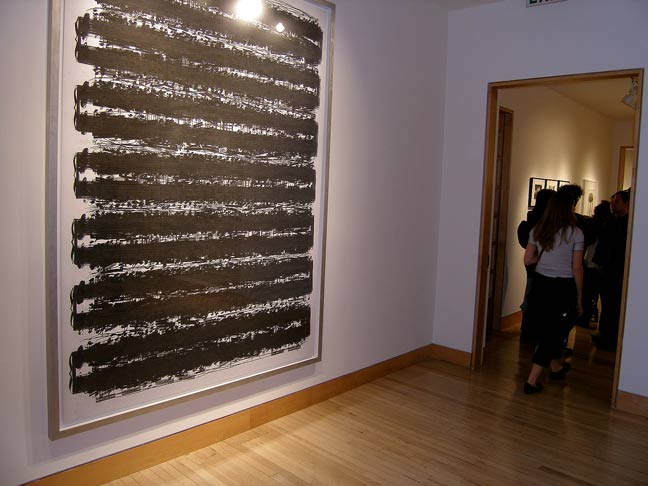 Photography.


***
Steven Wolf Fine Arts: International Waters.
Artists: David Bunn, Linda Burnham, Adriane Colburn, Ginny Cook, Matthew Gerring, Alex Hartley, Tania Kovats, David Maupin, Situationist International, Archigram, Ed Ruscha, Chieko Shiomi, Nam June Paik.
Comment: The jargon juked dossier showcases panoptic vocabulary such as "global" and "international," referencing rappers, writers, anthropology, Africa, Paris, history, bourgeois capitalism, and that's only the beginning. Each work of art is then bundled with protracted explanatory and significance. I'll stop back sometime when I can spare a couple of years to take it all in. A more appropriate title for the show might be "Everything."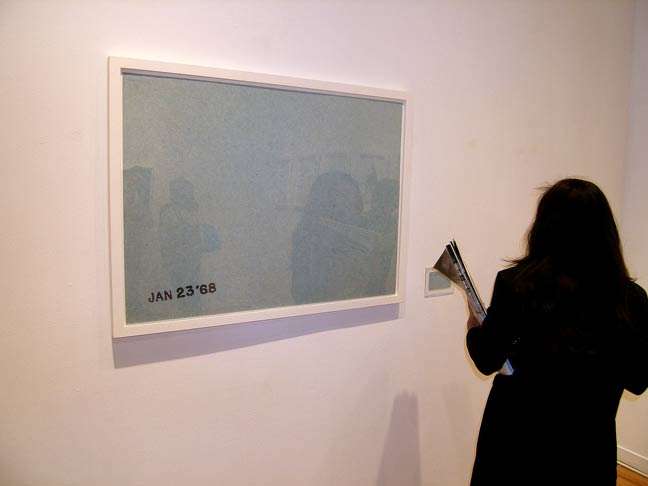 Blow-up file card art.


Art.


Embroidered sleeping bag art (like it).


Floaty painted collaged butterfly art (like it).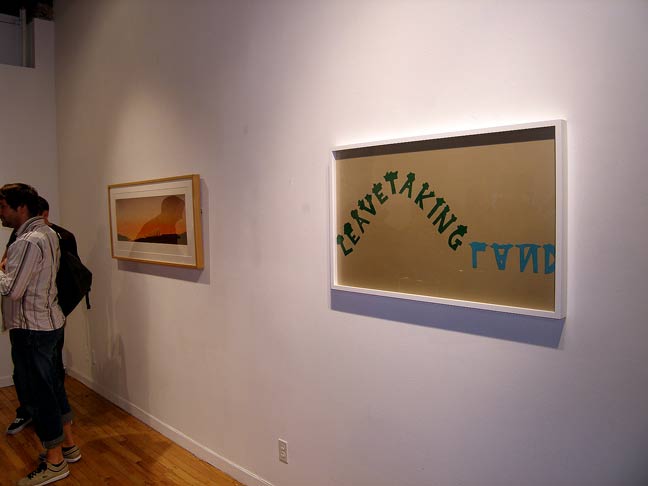 Art.


Art.


***
Jack Fischer Gallery: John Hundt - Collages.
Comment: Deceptively fundamental collages entertain as well as impress with clean direct eccentric effectiveness. They're modest in size, but ample in impact. You get your money's worth here. Hundt tells me he also paints.
John Hundt - collage art.


John Hundt - collage art.


Collage.


***
Stephen Wirtz Gallery: Kathryn Spence.
Comment: Art from found, discarded, leftover, throwaway materials, shreds and chards, fragile and temporary. The medium requires a palpable level of technical mastery in order to convince the viewer (not just the informed viewer) that refuse has been irrevocably rescued, recycled, rejuvenated, or reconfigured into substantive works of art. I only kinda get that feeling here. More cajolery required. To be fair, I think when art stretches limits (experimental or otherwise) to the point of inviting incredulity, you gotta include a tip sheet for the pikers. Like it or not, the art world is a part of society and does owe it a nod of acknowledgement every now and again.
Art.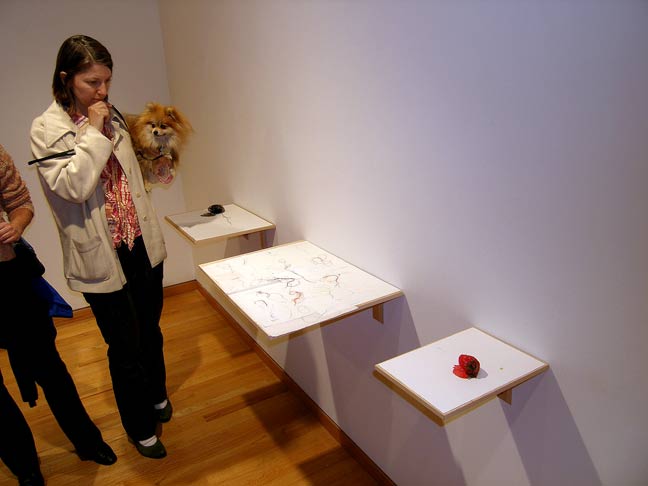 Art.


Pile of stuff in the middle of the floor art.


Circumnavigating pile of stuff in the middle of the floor art.


Art.


***
Urbis Artium Gallery: Caesurae.
Artists: Jordan Eagles, Clint Imboden, Craig LaRotonda, Kim Maria, David Zuttermeister.
Comment: The artist selection is a mite cryptic in the raison d'etre department, but no biggie. The art saves the day, especially Clint Imboden's walk-in cylindrical chamber of tuberculine chest x-rays complete with heartbeat soundtrack, and Jordan Eagles's fascinating blood paintings, several of which look like tranverse translucent tree trunk sections.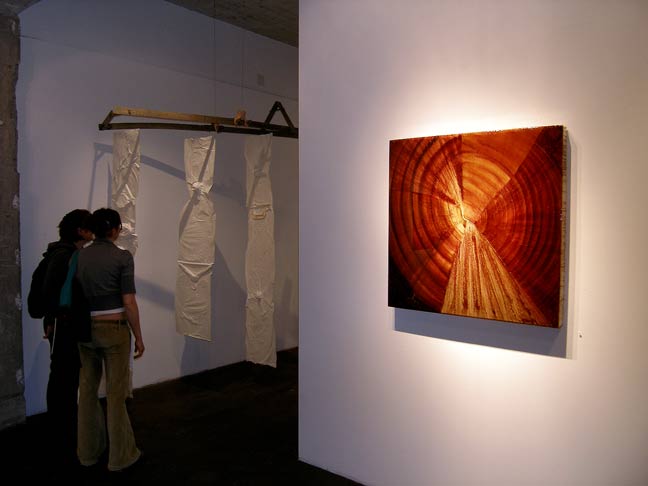 Blood art (Jordan Eagles).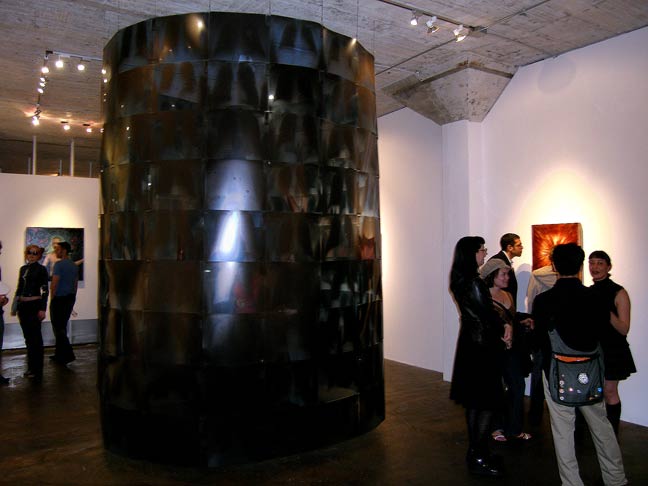 X-ray cylinder art (Clint Imboden).


Inside x-ray cylinder art (Clint Imboden).


Art (Craig LaRotonda).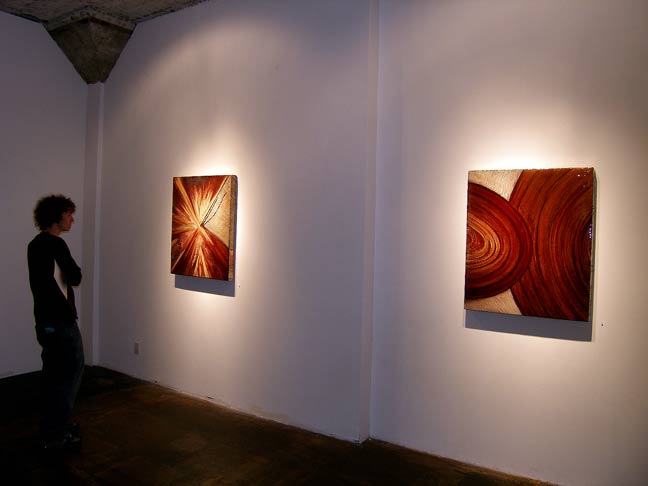 Art (Jordan Eagles).


***
Modernism Gallery: Jacques Villegle - Decollages & Drawings, 1972-2005; Sheldon Greenberg - Between Here and Now.
Comment: Ever see an urban wall layered with remains of different posters and handbills that have been repeatedly pasted up and torn down, pasted up and torn down, pasted up and torn down, over and over until the remains resemble a random-act collage? I used to think this was blight, but now I find out that Jacques Villegle sees it as art, working the idiom to create purposeful torn paper billboard-size collages with twists, turns, plots, and all manner of overlapping adventures. I'll never see outdoor walls quite the same way again-- from eyesores to art, just like that. Meanwhile, in the rear gallery, Sheldon Greenberg paints up his interpretations of seminal moments in motion picture history.
Art (Jacques Villegle).


Art (Jacques Villegle).


Art (Jacques Villegle).


Movie moment art (Sheldon Greenberg).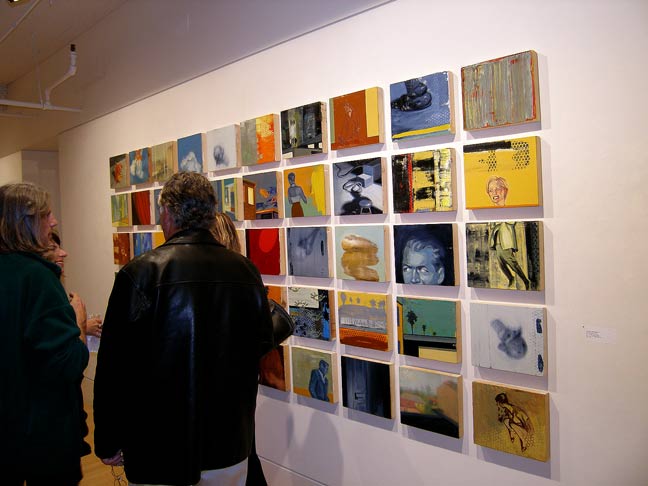 Movie moment art (Sheldon Greenberg).


Art (Jacques Villegle).


***
111 Minna Gallery: Michael Garlington - Portraits from the Belly of the Whale; Christopher Irion - PhotoBooth Across America.
Comment: Michael Garlington's work includes the series "Positively Sixth Street," images of inhabitants of San Francisco's skid row. You know all those people you go out of your way to ignore and avoid? Well, you can't avoid 'em here. Garlington additionally exhibits a wide range of portrait and figure photographs, many of which are either collaged into groups or incorporated into installations. Christopher Irion's version of portrait photography is to make a portable photo booth, haul it coast to coast, set it up anywhere and everywhere from parking lots to restaurants, and take over 600 portraits, a number of which are on display here-- an oversized, up close and personal cross section of America.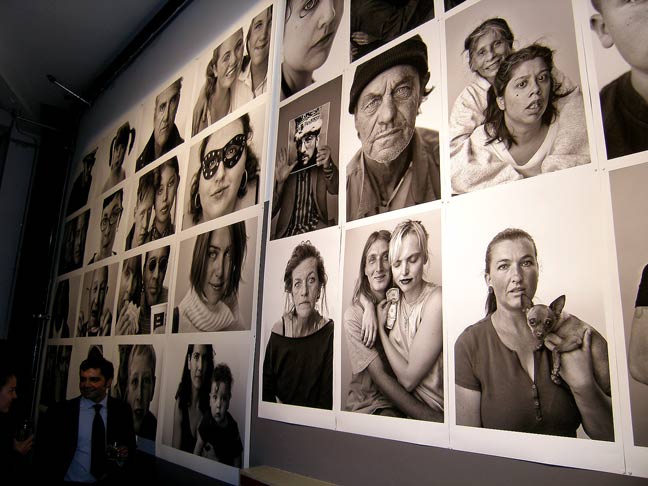 Photography (Christopher Irion).


Photography/art (Michael Garlington).


Photography (Michael Garlington).


Photography (Christopher Irion).


Photography/art (Michael Garlington).


Photography (Michael Garlington).


Photography/art (Michael Garlington).


Michael Garlingtonmobile.


***
White Walls Gallery: Kim Cogan - Still City.
Comment: Kim Cogan's on the rise, painting all manner of San Francisco city scenes with aplomb. He extracts out the urban hubbub and mutes the rest down to capture that raw marine climate, that damp grey atmospheric chill, and he does it as well as any artist out there. Go see-- Cogan's filled a good-sized gallery with plenty of evidence.
Art (like it).


Art.


Kim Cogan - art (like it).


Art.


Art.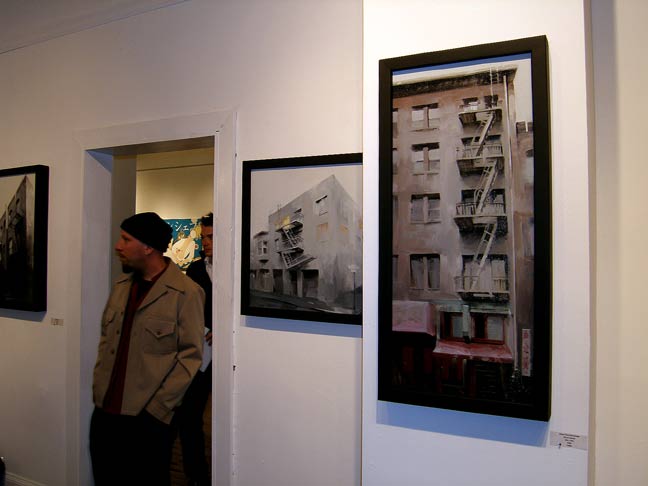 Art.


***
The Shooting Gallery: Yumiko Kayukawa & John John Jesse - Year of the Dog.
Comment: Eminently accomplished anime-style art, accurate as it gets, delicate in touch, sensual in essence, and all with a razor's edge by Yumiko Kayakawa. On the opposite wall, John John Jesse serves up a healthy dose of hot-blooded tough love erotica.
Art (Yumiko Kayukawa).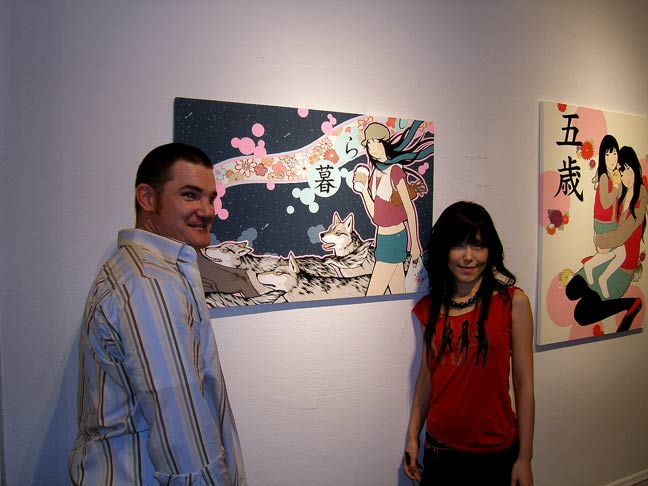 Justin Giarla (owner) - Yumiko Kayukawa - art.


Art (John John Jesse).


Art (John John Jesse).


Art (Yumiko Kayukawa) & Sara Thustra.


Art (Yumiko Kayukawa).


***
Fifty24SF Gallery: Herbert Baglione - Vossia - A Collection of New Paintings.
Comment: Sao Paulo, Brazil artist Herbert Baglione's show is almost sold out. The art's mainly black and white with traces of gold, meticulously detailed smaller format paintings of odd characters in unusual circumstances. I ask what the deal is with the run on the art, and curator Ben Belsky tells me to go to Baglione's website. So I do. It helps-- a lot. Baglione's considerable credits include book and magazine illustrations, posters, some superslick lettering, logos, and a unique take on outdoor art. I went through the entire website and that's unusual 'cuz I bore easily. Interesting show-- go see.
Art.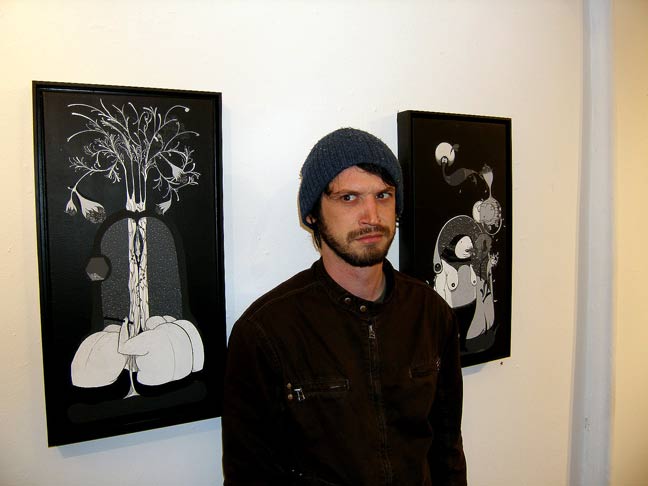 Herbert Baglione - art.


Art.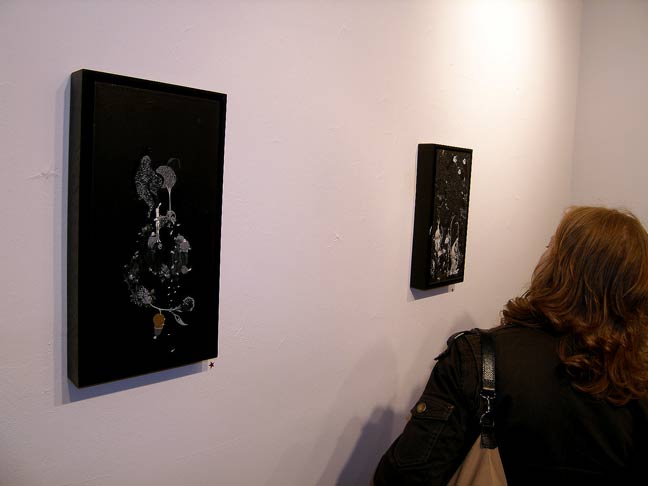 Art.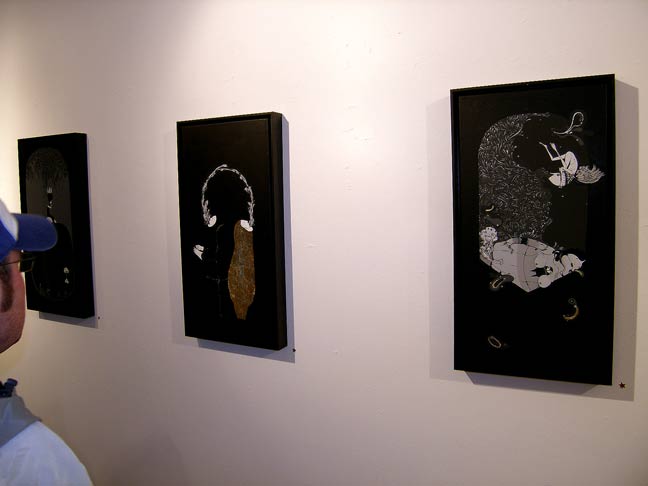 Art.


***
Addendum:


Jamie Yoon paints mostly abstract at Freddie Fong Gallery.


One more Jamie Yoon paintings at Freddie Fong Gallery.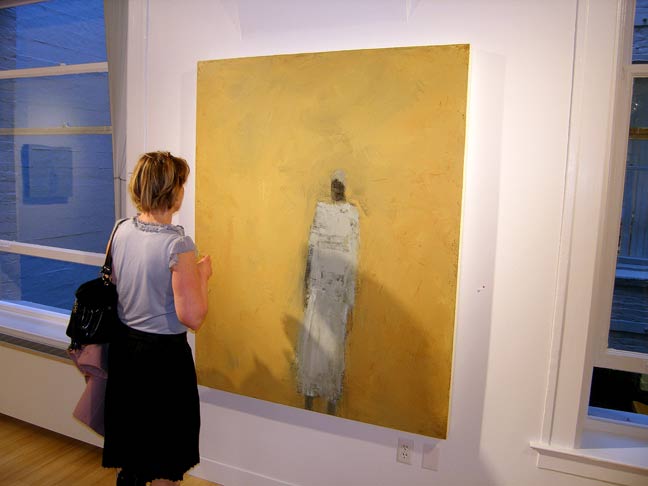 Nathan Oliveira-- oops-- I mean Marian Kolb at Hespe.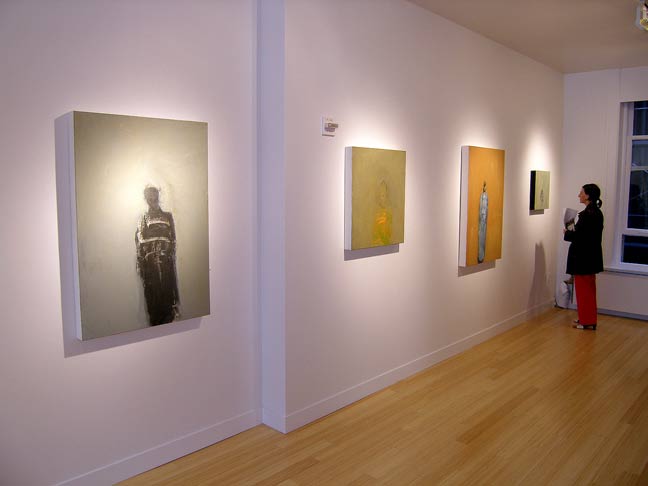 Marianne Kolb at Hespe Gallery.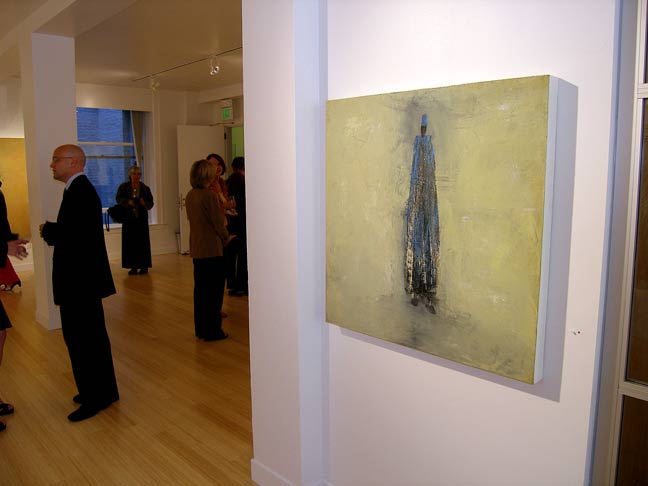 One more Marian Kolb at Hespe Gallery.


John DiPaolo abstracts at Dolby Chadwick Gallery.


John DiPaolo paintings at Dolby Chadwick Gallery.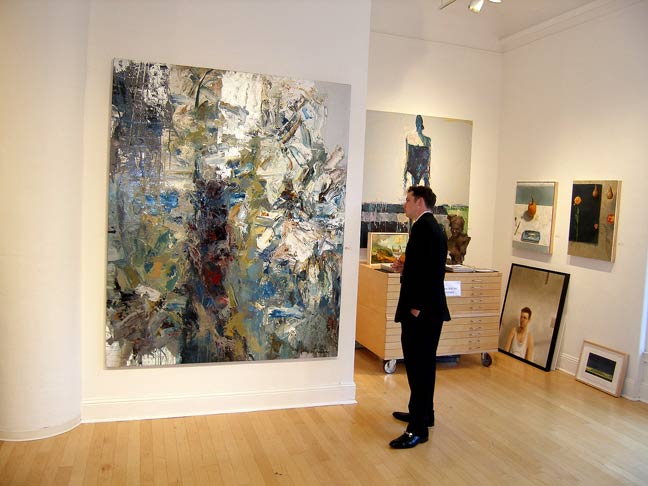 One more John DiPaolo at Dolby Chadwick Gallery.


John Goodman variety-pak at Elins Eagles-Smith Gallery.


John Goodman, The Language of Paint, at Elins-Eagles Smith.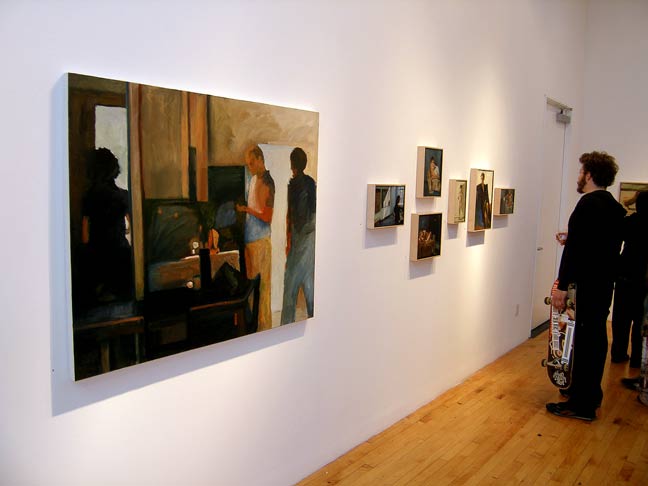 Final John Goodman at Elins-Eagles Smith Gallery.


Stephanie Weber stripes at Toomey Tourell Gallery.


Stephanie Weber abstracts at Toomey Tourell Gallery.


Another Stephanie Weber at Toomey Tourell.


Images of the Darfur disaster at FiftyCrows Gallery.


Damn! Forgot the Davis & Davis show at Heather Marx.
By the time I remember, it's too late. Sorry.


***
I thank all of you who donate to artbusiness.com. Your support is most appreciated.
***