SAN FRANCISCO ART GALLERIES OPENINGS
FIRST THURSDAY; 05.03.07
(with assistance from Joanna Maria)
General comment by AB: For starters, I gotta give a great big shout out and a bright shiny gold star on the forehead to each and every outskirts artstablishment that decided NOT to have an opening tonight. Kiss kiss. I love you. Sadly, the thrill of this momentous manifestation is short lived, as I forthwith commence to contemplate where some of our most beloved galleries come up with some of the "art" that they show, and yes, I use the term loosely. Is the good stuff really in that short supply? Or maybe it's just me and I've temporarily misplaced my astute evaluatory chops. (Doubt it.)
What? You want names? You want me to call out the mung peddlers right here? Right now? Well, just you forget it. I ain't never gonna cowtow to no bloodthirsty art mob, lying in wait to witness and subsequently revel in the pathetic aftermath of a merciless critical blindside. It is neither my duty nor my intention to ever identify any gallerist who perpetrates to pawn pablum on the populace. I am merely a vehicle whereby, through the magic of my insanity, you get to see a whole shitload of art in one place.
Speaking of which...
***
Hackett-Freedman Gallery: Marc Trujillo - You Are Here; Guy Diehl - Recent Paintings.
Review by Joanna Maria: Guy Diehl's still-life paintings embrace two themes-­ one of bottles set among other objects, the other of an open book with one page showing a painting by a famous painter with the opposite page covered by a smaller book and an envelope... very well executed, intriguing and delightful. They are thoughtfully composed, each object casting a shadow onto the next, directing very carefully how your eye moves around a painting. Composition is centrally compressed and highlighted by the use of light which adds an extra dimension. There might be a hidden message in what kind of object is placed on each painting, but it is hard to decipher. If you like this kind of art, you'll enjoy everything here.
Like Guy Diehl, Marc Trujillo's paintings are very realistic. While Diehl's are still-lifes, Trujillo's paintings focus on icons of our times-­ a gas station, a Wendy's restaurant, and so on. They are unmistakably American, looking geographically from the Southwest with their big skies, clouds and moody night atmospheres. They seem to pull you in-- so lonely that they need your energy to stay alive-- almost evil. During a talk, artist says he executes his images very carefully, every form and detail created using knowledge and techniques originating from great painters of the past.
Comment by AB: You instantly recognize brand names like Wendy's or Chevron in Trujillo's paintings, but look again-- those names are merely groups of shapes and forms-- your mind has been so numbed by incessant relentless corporate bombardment, you subconsciously fill in the blanks and see them as words-- like obedient little boys and girls.
Art (Marc Trujillo).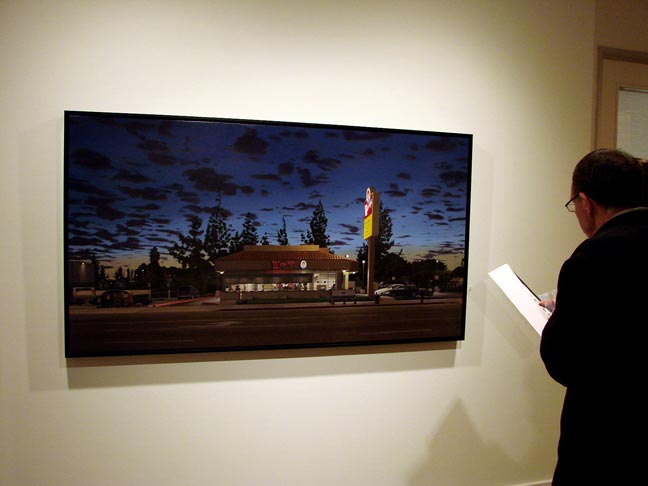 Art (Marc Trujillo).


Marc Trujillo explains art (photo courtesy of Joanna Maria).


Art (Marc Trujillo).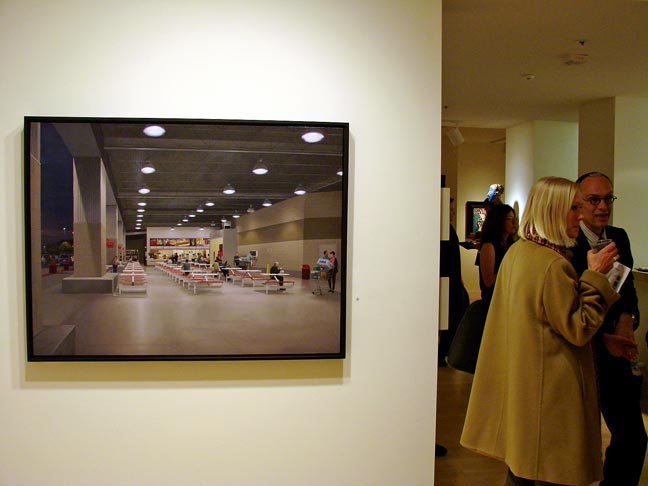 Art (Marc Trujillo).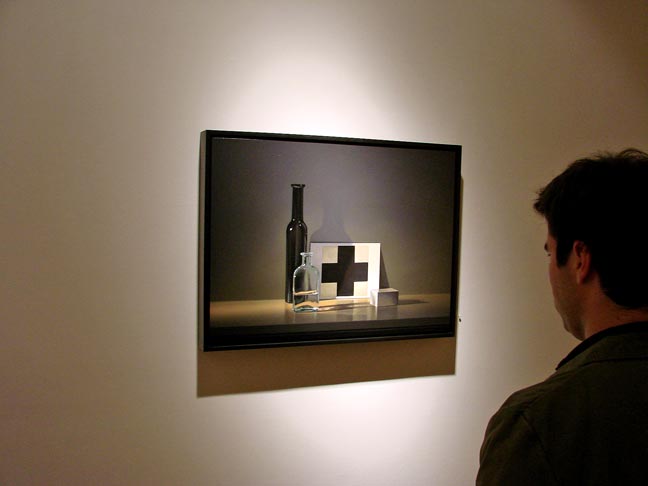 Art (Guy Diehl).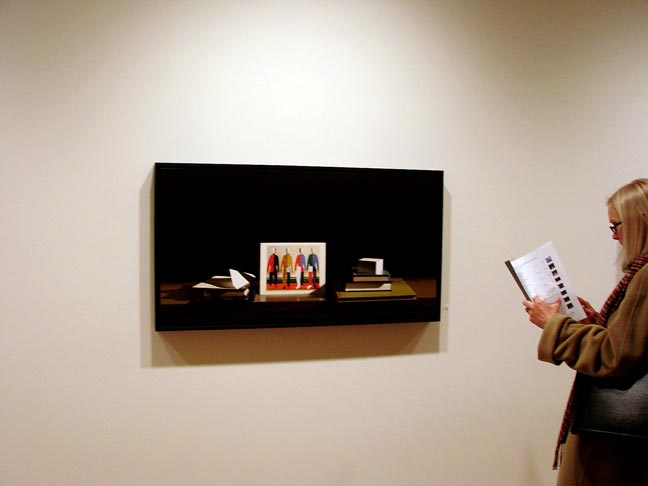 Art (Guy Diehl).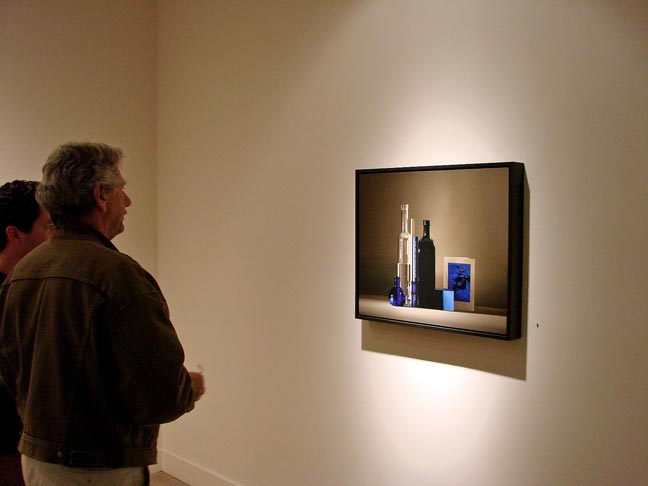 Art (Guy Diehl).


***
John Berggruen Gallery: Lee Mullican - Paintings, 1952-1968; New Dimensions.
Artists (New Dimensions): Darren Almond, Stephan Balkenhol, Los Carpinteros, Gregory Crewdson, Iran do Espirito Santo, Tom Friedman, Anton Henning, Anish Kapoor, Jenny Pockley, Jenny Scobel, Kiki Smith, Veron Urdarianu, Rachel Whiteread.
Comment by AB: Meticulous top shelf early abstracts by Lee Mullican, stylistic iconoclast and co-conceptor of the philosophically expansive Dynaton movement with Gordon Onslow Ford and Wolfgang Paalen, the association culminating in a significant show at the San Francisco Museum of Art in 1951. But that was only the beginning for Mullican who fruitfully produced right up until his passing in 1998. I put my appraiser's hat on for this one, hit the art price databases, and find that the most expensive Mullican painting to go through auction-- an early one at that-- sold for $8000. Most expensive painting in this show? $80,000.
Works in the New Dimensions show upstairs which opened in mid-March represent a mix of prominent and promising talents.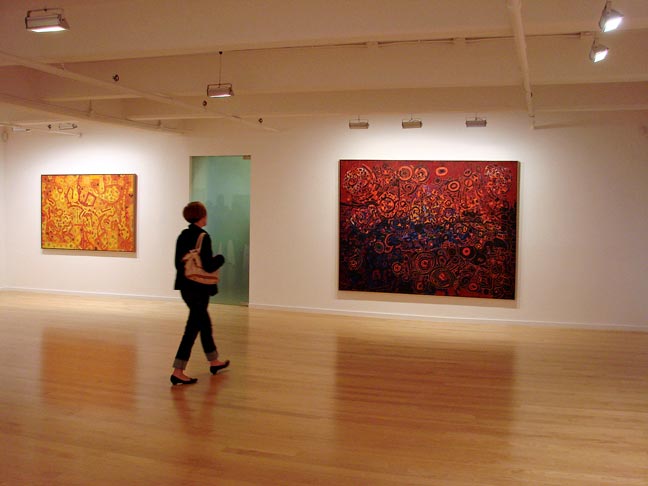 Art (Lee Mullican).


Art (Lee Mullican).


Art (Lee Mullican).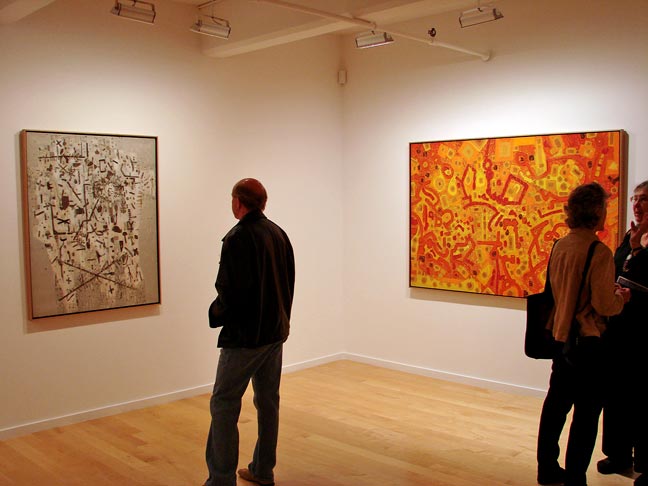 Art (Lee Mullican).


Art (Lee Mullican).


Group show upstairs. Art (Los Carpinteros, I think).


***
Togonon Gallery: Johanna Poethig - Driven.
Comment by AB: Johanna Poethig waxes vehicular with art about cars, the centerpiece of the show being a tile work depicting that icon of gross gluttunous unconscionable consumption, the Hummer. An amusing progression of paintings showing a woman at the wheel is also mildly enticing.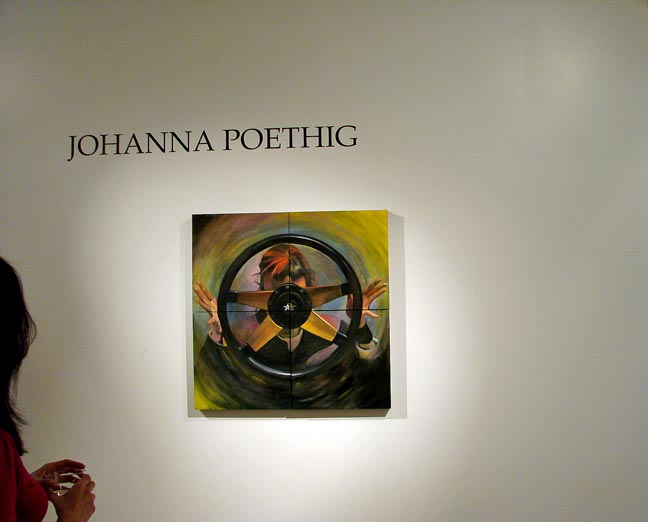 Art.


Art.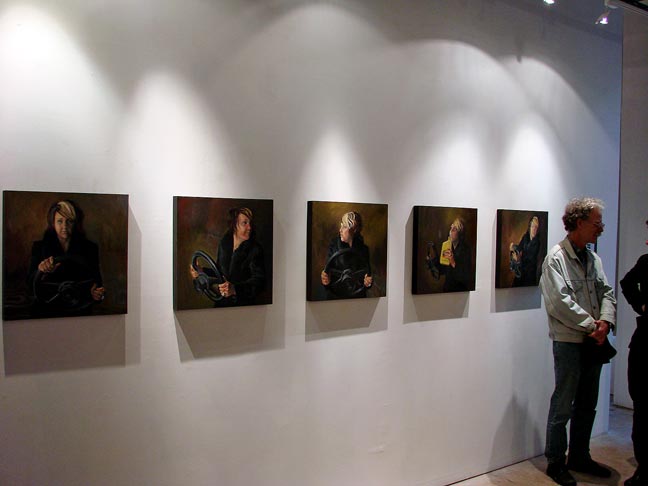 Art.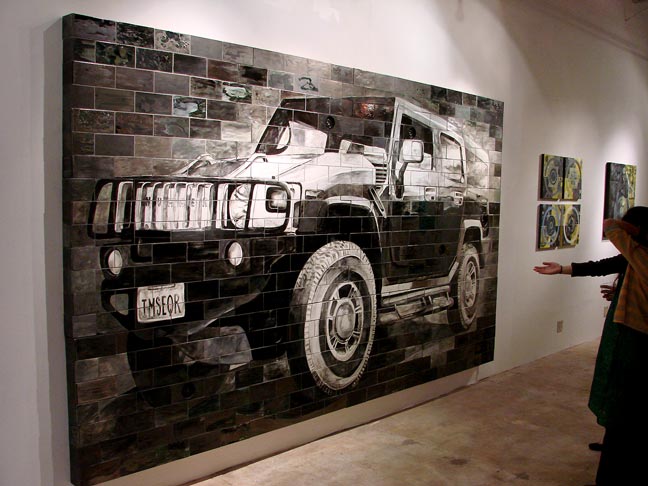 Bummer... I mean Hummer art.


***
Heather Marx Gallery: Taravat Talepasand - seeya and sefeed.
Comment by AB: Born and raised in America plus studying art in Iran, Taravat Telepasand broaches contemporary issues via techniques of classical Persian painting, incorporating elements of Middle Eastern history, religion, and culture.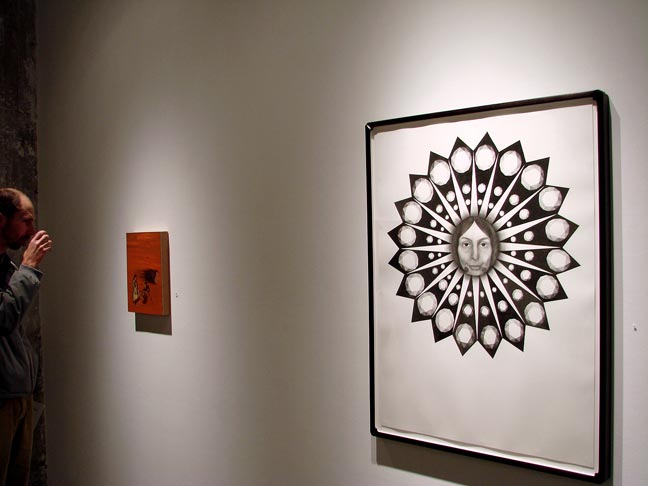 Art (kinda like it).


Art.


Art.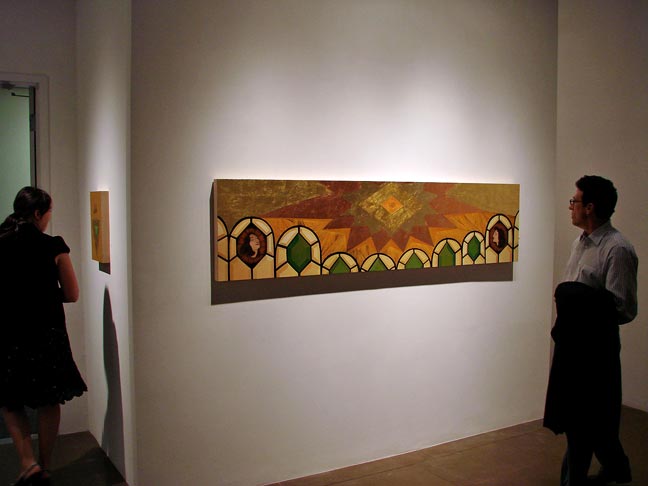 Art.


***
George Krevsky Gallery: John Dobbs - Balancing Acts.
Comment by AB: Curiously composed, mildly foreboding paintings examine the tenuous nature of human relations.
Art.


Art.


Art.


Art.


***
Robert Koch Gallery: Michael Wolf - Copy Art & 100 x 100.
Comment by AB: Currently residing in Hong Kong, photographer Michael Wolf tosses up a two-fer, part one presenting residents of a Hong Kong housing project in their sardine-can apartments, with part two featuring Chinese copy-painters proudly posed alongside their pirate renditions of the world's great and not-so-great art. Good show. Go see. Brain food.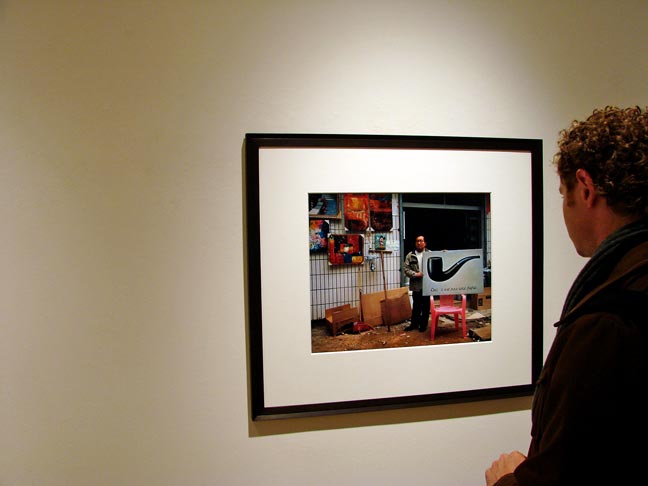 Photography.


Photos.


Michael Wolf (center).


Photographs.


Images.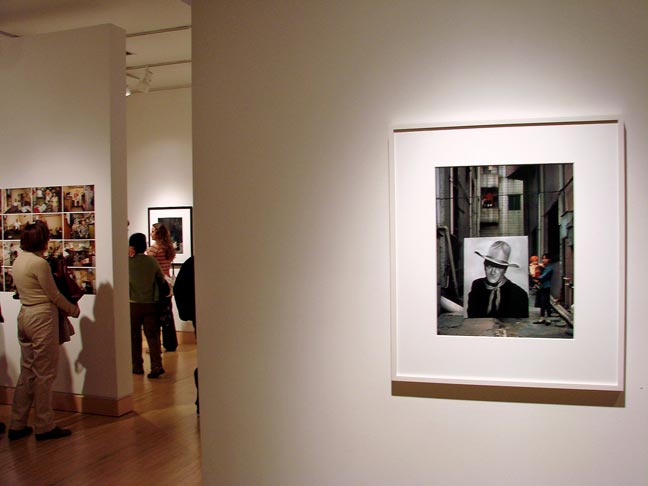 Photos.


Photography.


***
Don Soker Gallery: Robin Hill - Drawing the Line.
Comment by AB: Robin Hill hatches a batch of flat and spherical meanders in red. Maybe this for a subtitle-- "Brice Marden Drops the Ball."
Art.


Art.


Art.


***
Toomey Tourell Gallery: Eric Johnson - Baltic Madame; Ned Evans - Pettway.
Comment by AB: Twisty sculpture by Eric Johnson; stripey checky paintings by Ned Evans.
Art (Eric Johnson).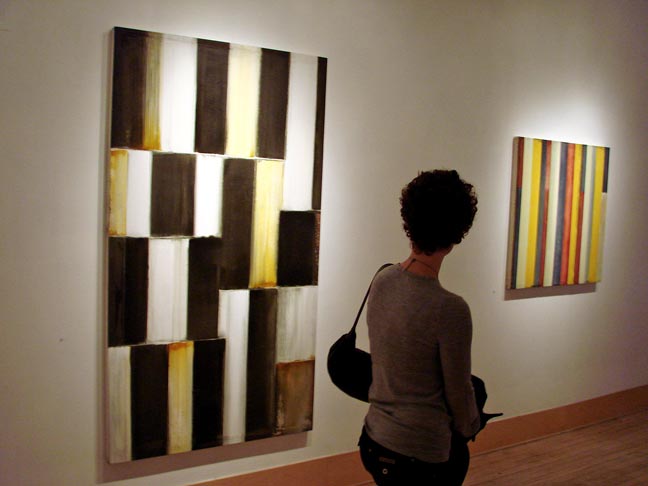 Art (Ned Evans).


Art (Ned Evans).


Art (Eric Johnson). (I think I had one of these removed once.)


Art (Eric Johnson).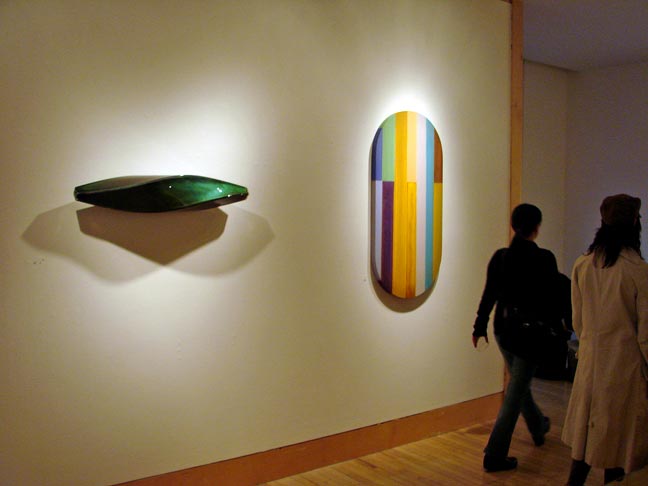 Art (Eric Johnson, left - Ned Evans, right).


***
Steven Wolf Fine Arts: Orly Cogan - The Wonder of You; Nicholas Knight - Sentences.
Comment by AB: Orly Cogan capably embroiders vintage linens and tablecloths into complicated action-oriented identity-infused fantasies transiting sex, sexuality, drugs, sweets, and more. In the parlour, Nicholas Knight gets jiggy with sentence diagrams reminding me of my abiding disdain for proper English and those ivory tower junkies overly principled about it. (I took one English course in college-- F first semester; mercy C second semester-- yuck-- plus the professor was a pompous prig.) And I don't read much either, particularly for recreational purposes, because if I did, I'd have precisely that much less time to write. So there.
Art (Orly Cogan).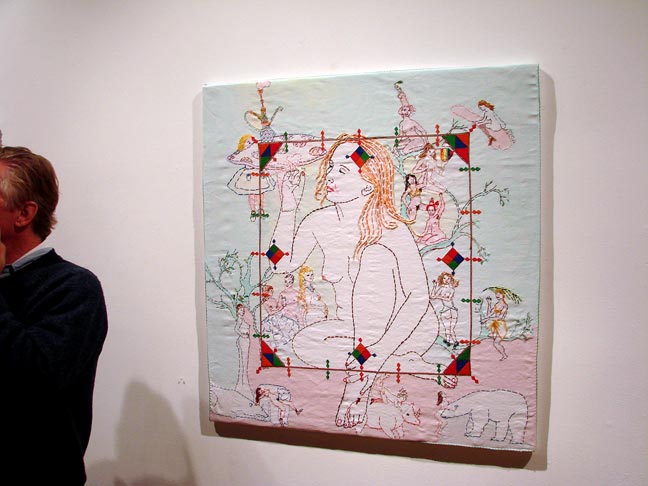 Art (Orly Cogan).


Art (Orly Cogan).


Art (Orly Cogan).


Nicholas Knight - art.


Art (Nicholas Knight).


***
Stephen Wirtz Gallery: Gordon Moore - Paintings and Short Drawings.
Comment by AB: Clean primal abstracts, a number enhanced with trompe l'oeil flourishes. Can't find a press release anywhere on this one, so that, as they say, is that.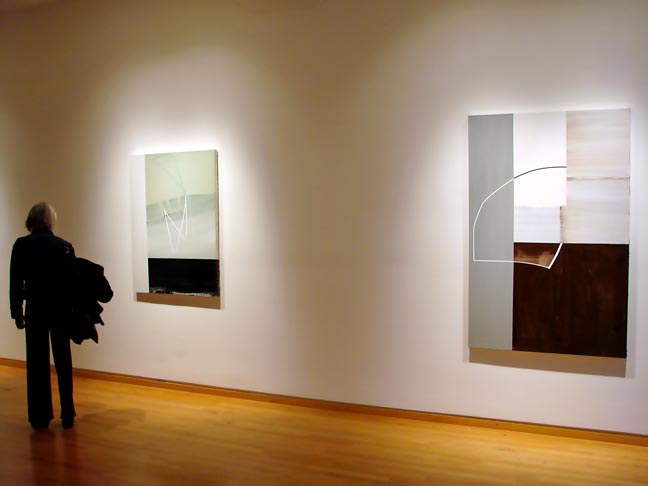 Art.


Art.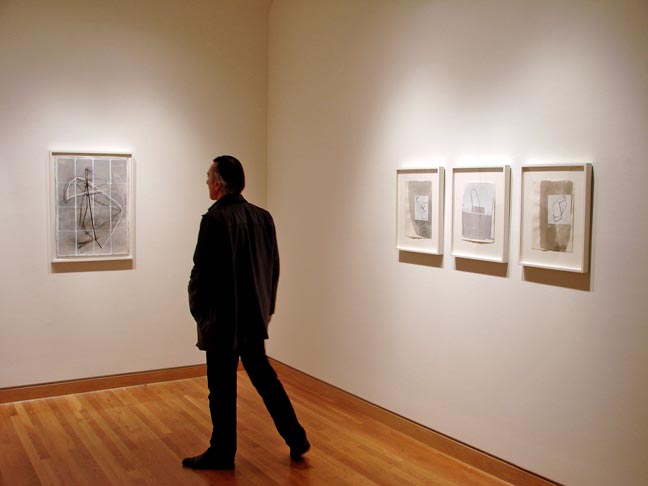 Art.


Sociogram.


***
871 Fine Arts, 49 Geary, 2nd Floor: Four Generations of Women at CCA.
Artists: June Felter, Jane Grimm, Ruth Laskey, Emily McVarish.
Comment by AB: Delicate blend of refined works on paper, diaphanous embroidery, fastidious ceramics, and more by four CCA women artists spanning four generations.
Art.


"But Daddy, look... they're weavings, not works on paper."


Art.


***
ARTworkSF: Fired, Forged, and Fabricated.
Artists: Terry Mason, Alexander Koulouris, Michele Rudenko, Rosalie, Anelli Yerby, John Wilson, Natasha Dikareva, Lois Llewellyn, Nina Goldfeather, Michael Childs, Rebecca Zemans, Grayson Malone, Elizabeth Starr, Sherri Cavan.
Comment by AB: Group sculpture show offers a variety of dimensional styles and mediums, suitable for display pretty much anywhere-- wall, ceiling, end table, floor, pedestal, you name it, they've got it.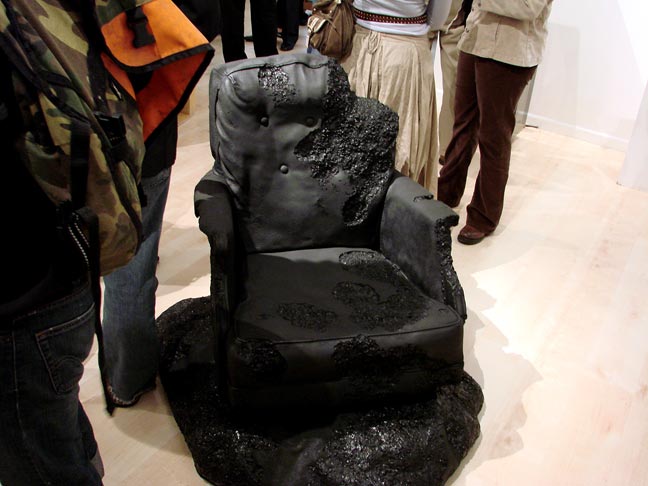 Asphalt armchair art (sorta like it).


Art.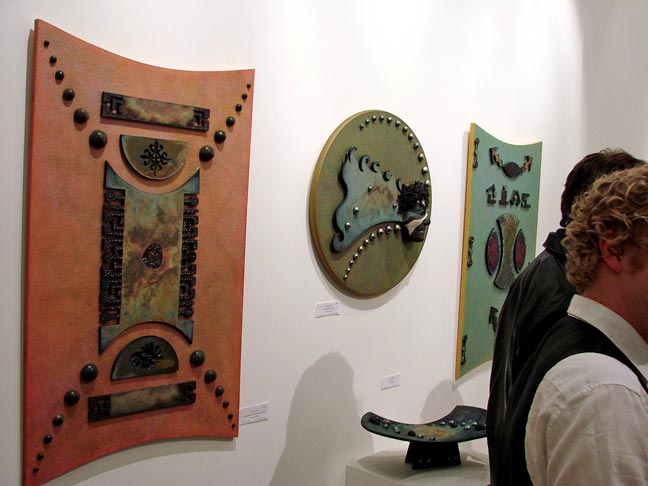 Art.


Upper.


***
Dolby Chadwick Gallery: Robert Kingston - New Paintings.
Review by Joanna Maria: Robert Kingston paintings, although abstract, seem to possess 3-dimensional qualities. Mostly light and airy with monochromatic backgrounds, they suggest of enlarged details of a lake surface or a vast desert space. You can almost feel the heat. They are very playful, like a music written with a brush. A joy to look at and contemplate.
Art.


Art.


Art.


***
Hespe Gallery: Leslie Lusardi Rice - Ride.
Comment by AB: Leslie Rice tackles the not inconsiderable task of composing paintings from the perspectives of travelers in moving vehicles looking through windows. The scenes are souped with motion, and if you stand just so, think righteous thoughts, and click your heels three times, the illusion may perchance alight upon on your psyche.
Art.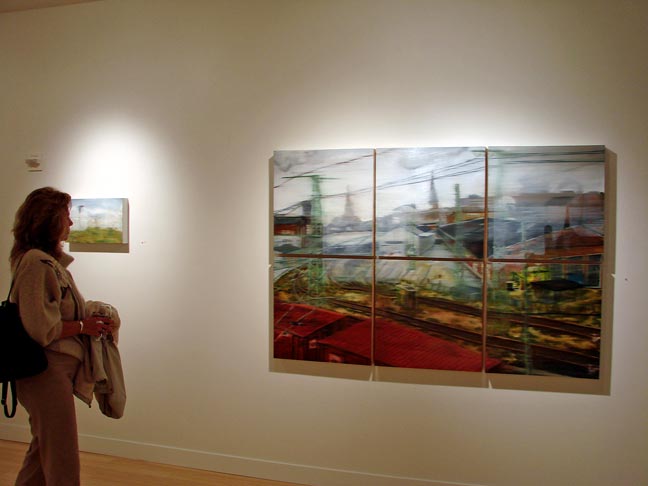 Art.


Art.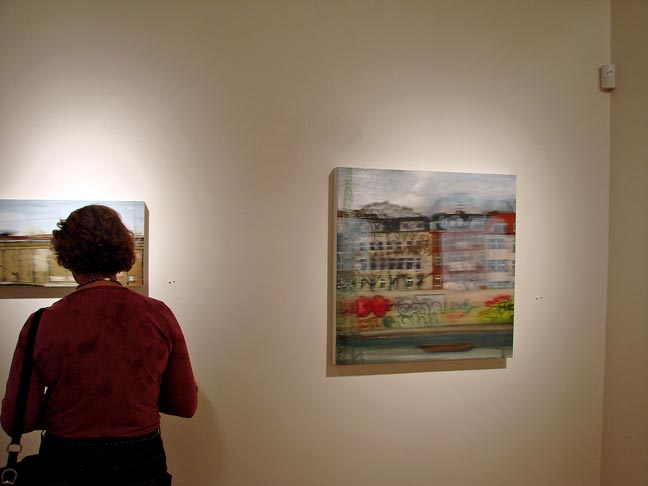 Art.


***
Gallery at A.C.T, 2nd floor: Annie Arrasmith - The Garden, New Work.
Comment by AB: Annie Arrasmith melds monoprint, painting, earthy clay pigments, and batik stamps to upshot a unified grouping of satisfying nonrepresentational sojourns to the garden. Kinda like 'em.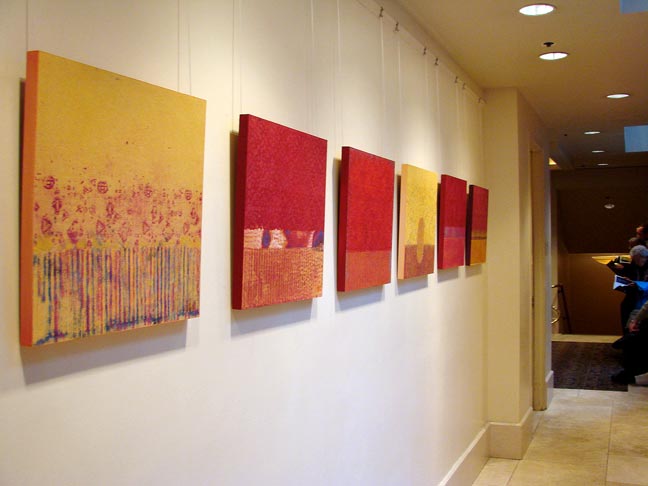 Art.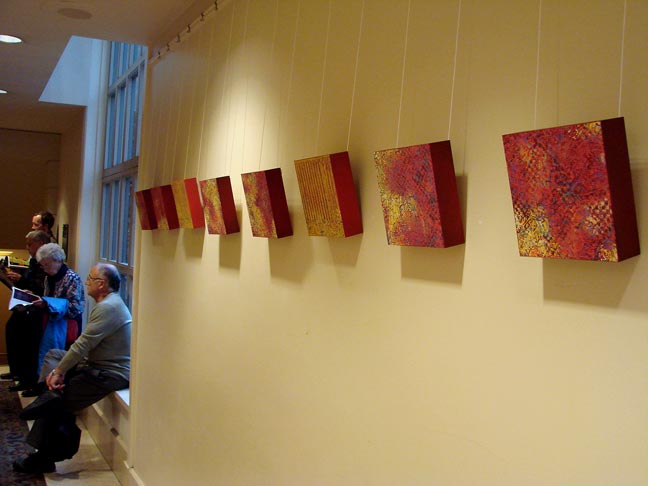 Art.


Annie Arrasmith - art.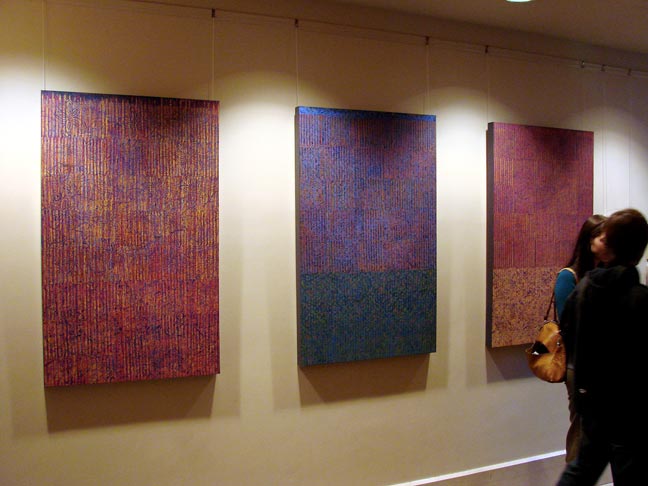 Art.


Art.


Art.


***
Frey Norris Gallery: Zhong Biao - American Debut.
Comment by AB: Shanghai artist Zhong Biao splays out the cataclysmic one-two punch inundation of China by twin titans, Western culture and materialism. With dynamic resounding drama, Biao overlays images of traditional workers with those of rampant rancid godless glamour. It's all you can eat whenever you want. How long will it take to bust the gut? You can probably get odds in Vegas. One thing for sure-- Pick of First Thursday. I'd buy here. The art's not cheap, but China's got bux on bux, and someday they're gonna want their best shit back, you barbarian speculators.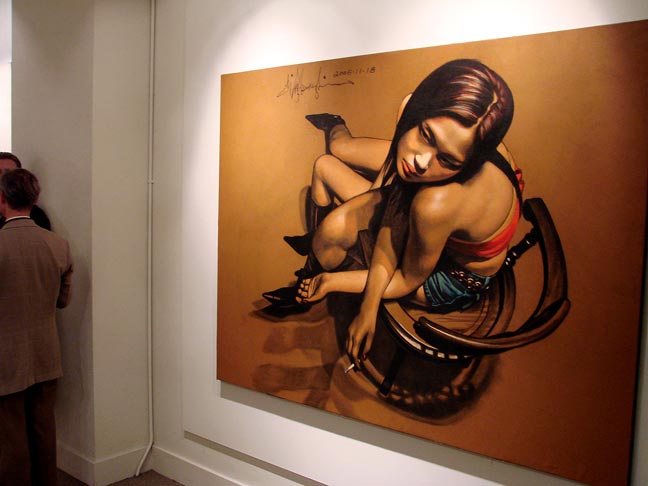 Art.


Art.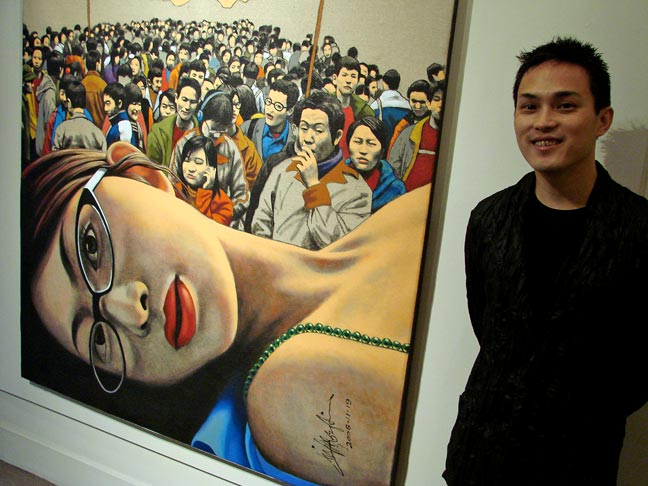 Zhong Biao - art.


Art.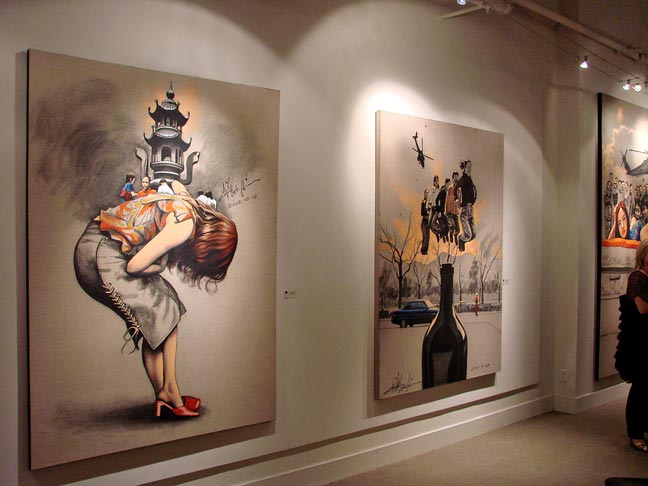 Art.


Art.


Playing field.


***
The Atrium, 600 Townsend Building, San Francisco, CA 94103: Modern Bronze - Notable Works by Notable Bay Area Sculptors.
Artists: Grant Irish, Michael Maes, Karl Reichley.
Comment by AB: Indubitably adept sculptures range from traditional to progressive, small to large. Good solid show. Well presented in a premium space.
Sculpture.


Sculpture.


Sculpture.


Sculpture.


Sculpture.


***
Fifty24SF Gallery: Matzu Mtp - Polarize.
Comment by AB: Matzu Mtp aka Tomokazu Matsuyama takes the act on the road, from Japan to SF, for a show of tight colorific paintings and works on paper, plus a limited edition book release. The works here are smaller format for the most part, but the dude can also supersize with exceptional effect.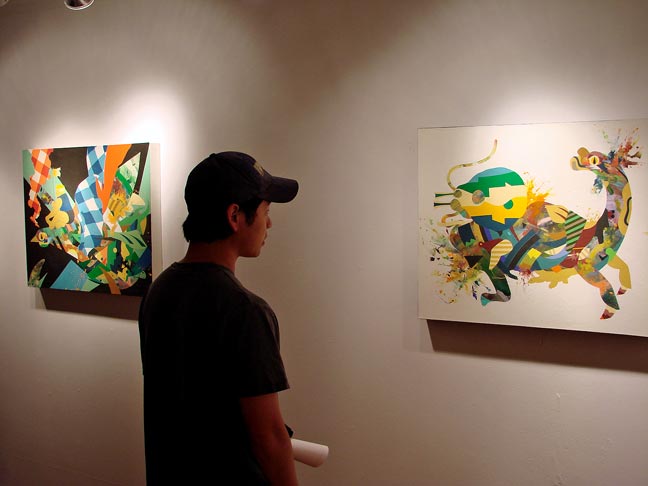 Art.


Art.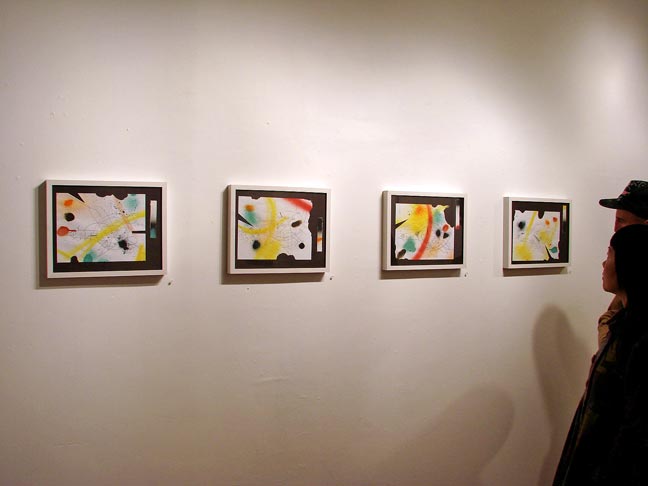 Art.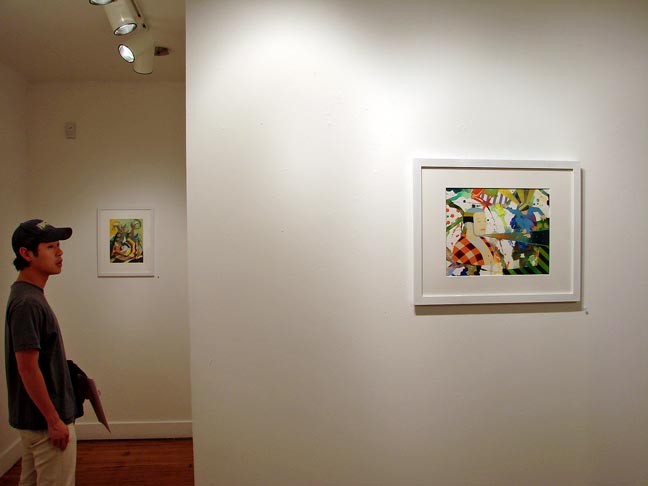 Art.


***
Bonus Review from SOMA South Beach Last Saturday Art Walk, April 28, 2007 courtesy of Joanna Maria--
Andrea Schwartz Gallery: Seamus Conley - Oil paintings & Drawings.
Review by Joanna Maria: I went on the Art Walk last Saturday. My first stop was Andrea Schwarz Gallery. Big brown friendly dog greeted us as we walked in. Immediately, it felt good... as I looked at the "Cowboy" painting. Very well executed and painted, with a thought-provoking pose. Go see it for yourself ­- it looks better on the wall than the announcement. An image of a pilot, crouching, enclosed in what seems to be a passage to somewhere, has a sense of danger and command at the same time. A must see.
Art (photo courtesy of Joanna Maria.


***
Addendum: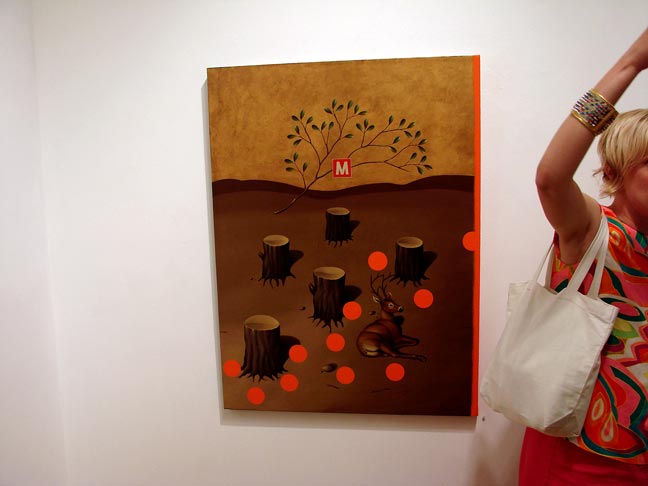 Bernardo Roman Palau paintings at Jack Fischer Gallery.


More Bernardo Roman Palau at Jack Fischer Gallery.


Yet more Bernardo Palau at Jack Fischer Gallery.


Latin American art at Larry Warnock Fine Arts.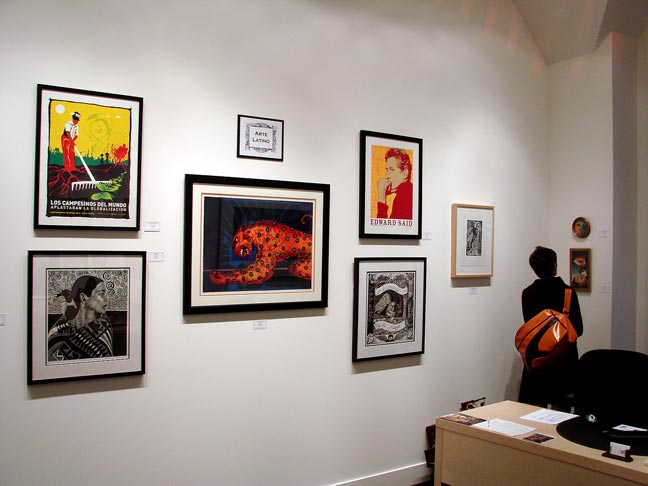 Latin American group show at Larry Warnock Fine Arts.


Anna Mir + art at Newmark Gallery.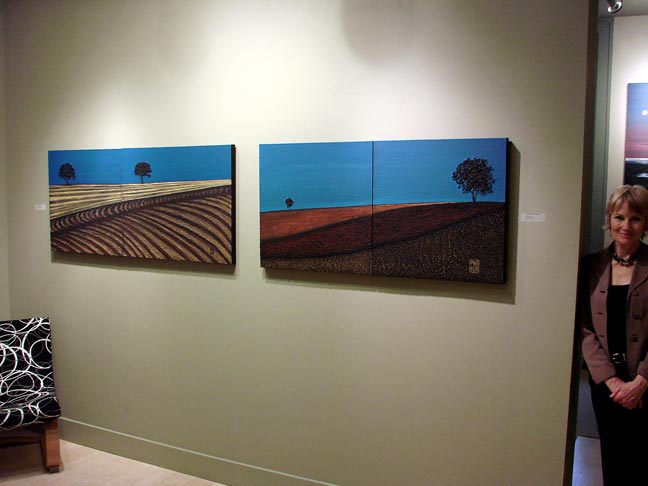 One more from Anna Mir texture-scapes at Newmark Gallery.


Group show at Oxenrose Salon.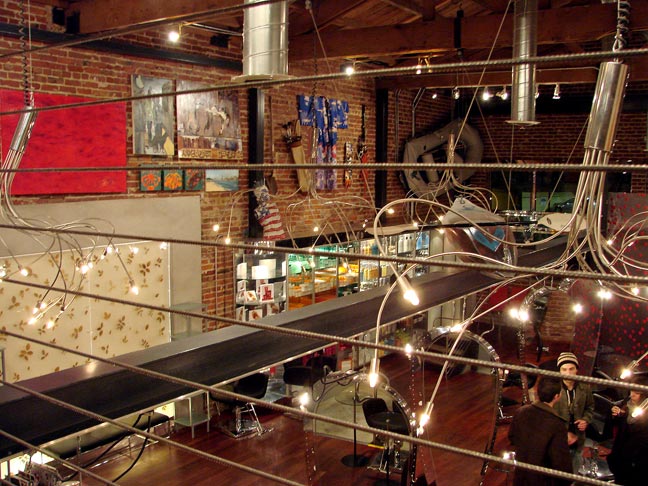 Free range interior + art at Oxenrose Salon.


Last one from group show at Oxenrose Salon.


***
See you next month. Find fulfillment here.
***