SAN FRANCISCO GALLERY OPENINGS
FIRST THURSDAY; 06.02.05
General comment:
Art art everywhere.
Over here, over there.
Gallerists wond'ring whether their
Pedestals topp'd with dimensional fare,
Walls festooned with fruit to bear,
Shall beckon with sufficient flair,
Exhorting us to stop and stare,
Imploring that we dare
To care,
Entreating that perchance we share
The green green moolah
In
Our
Mukluks.
***
Hackett-Freedman Gallery: Richard Ryan - Still Lifes and Narratives.
Comment: What's striking about these paintings is the velvet intensity of the colors, particularly the opulent reds, rich subterranean blues, and obsidian blacks. Colors create and control the atmospheres of Ryan's paintings, setting the emotional tones. Only then does the mind kick in to identify the objects, frozen mute in time, and assess the compositions. This is one of those relatively uncommon instances where it's color first, subject matter second, instead of the other way around. In one painting, a sturdy red horse stands isolated against a black background, the far rear leg shadowed save for the bright red hoof. Though separated from the body, almost surreally so, the lone hoof is anatomically positioned with perfection. Nice trick if you can do it; Richard Ryan can. Prices top out around $40k.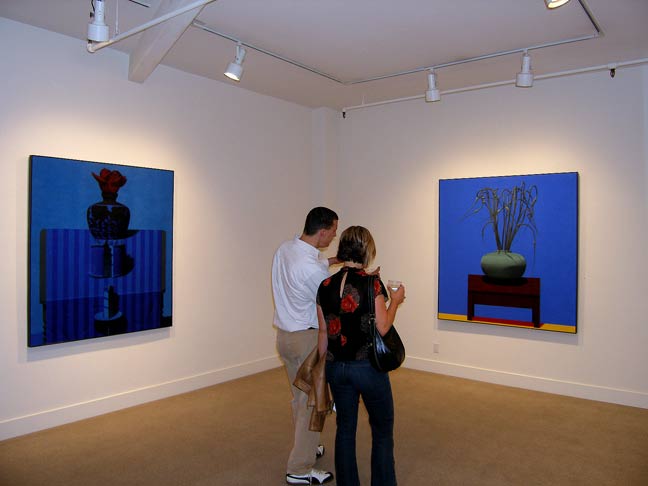 Art.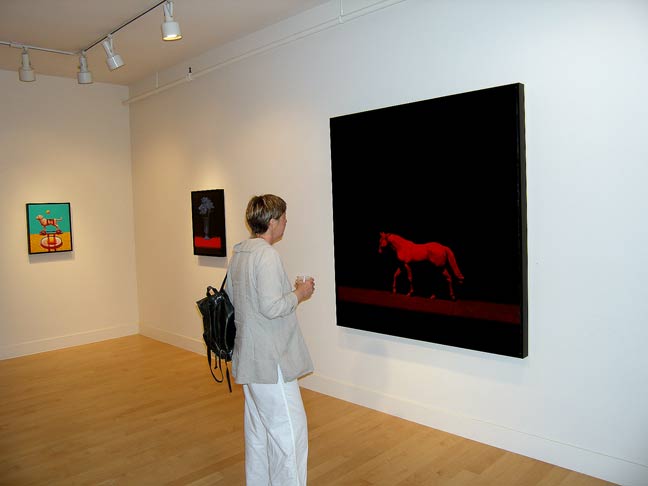 Detached hoof art.


Art.


Art.


***
Dolby Chadwick Gallery: Lance Morrison - Sequence.
Comment: OK. You start beige on top, and end sorta green beige brown at the bottom. Then in the beige part, you paint an itty bitty bird, except in one painting you paint four itty bitty birds, and in another painting you paint no birds, so the birdless painting takes on the aura of maybe the mysterious or unfinished one, and they all fit together to make a sequence, and that's the name of the show. Whether the paintings must stay together in order to maintain the integrity of the sequence is unclear. If they do, that's gonna crimp sales.
The best way to eliminate commentary like what you just read is to create art so compelling and convincing that it makes such commentary look vapid (or maybe more vapid), and it makes people who are inclined to write it not write it. Lance Morrison undoubtedly paints well and he accomplishes precisely what he sets out to accomplish; that's not the point. It's rather that there's all kinds of people out there who say all kinds of weird stuff, either in print or otherwise, and you've gotta consider them when you conceive your art, or else they prevail, and not the art.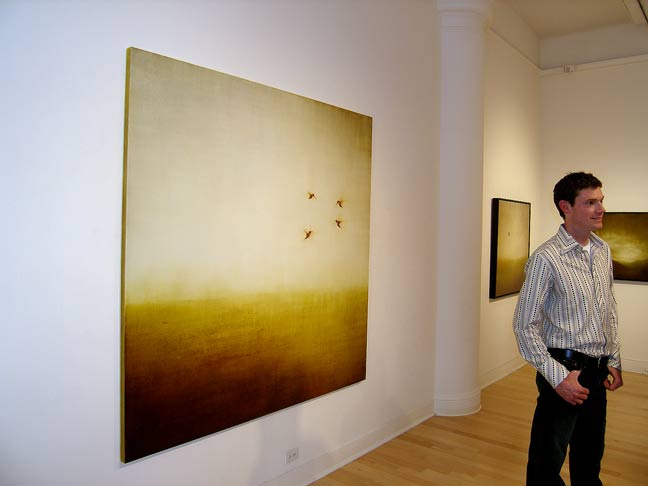 Art.


Art.


Art.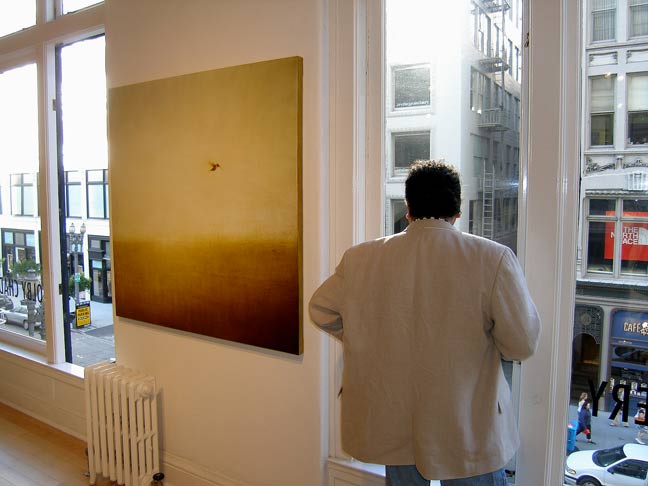 Art.


***
Gallery Paule Anglim: John Zurier - New Paintings.
Comment: According to the crib sheet, the abstract paintings of John Zurier are supposed to make us think of seasons, times of day, psychological dispositions, and the like. This is the type of art where if you don't have someone in your ear explaining exactly how it's supposed to work its magic, then most likely, you're never gonna get it. And once you get the explanation, you have to understand it, and once you understand it, you have to believe it, and once you believe it, you have to learn it well enough so that if someone asks you what the deal is, you can explain it so that they understand it (and believe it, and learn it, and explain it), and so on and so forth, ad infinitum. Get it? Nice try, but nix.
Art.


Art.


Art.


Art.


***
Catharine Clark Gallery: Philip Knoll - Smiling So Hard it Hurts; Scott Roberts - Indexcision.
Comment: There's no liner notes for this show on the Catharine Clark website, and there's no way I have time to read every word in every notebook in every gallery, so I have no idea what this art means, but you know what? I don't care. Because it's so fresh and peppy and technically sound (except maybe for several folds on Scott Roberts' geometric paper doggie sculpture sitting on the counter-- but the rest of his sculptures are wonderful) that it plays my aesthetic strings with harmonious symphonic delight. If I feel the need for meaning, I'll make something up. In the interim, how many times do you see pencil drawings on canvas? They're by Philip Knoll, smudgelessly crisp, flawless and ordered, right down to each deftly leaded stroke. Excellent choice, by the way, in pairing these two artists for a show.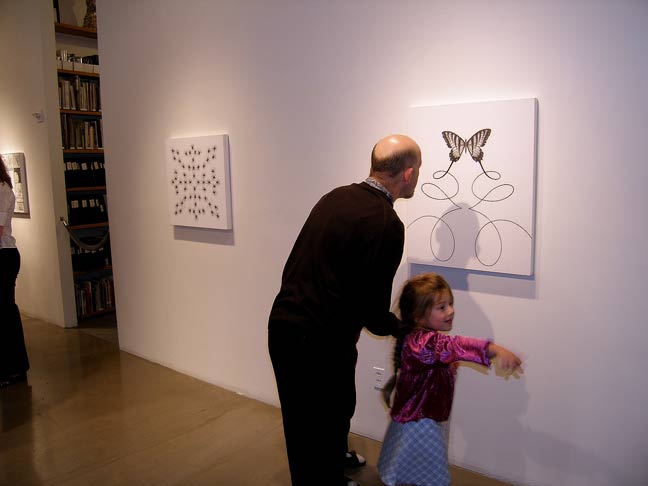 Art (Philip Knoll).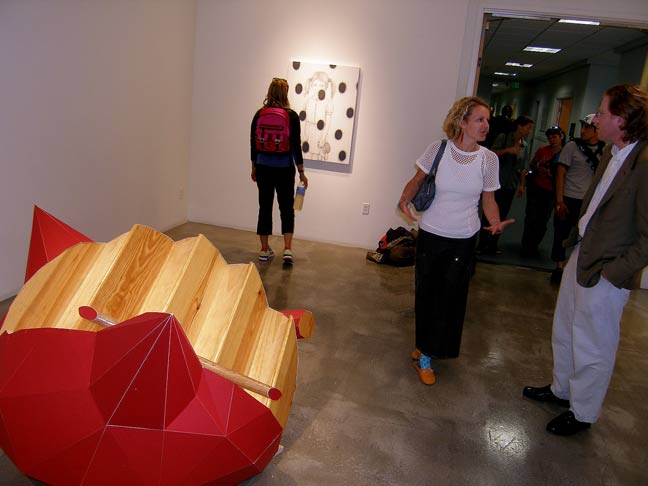 Sculpture (Scott Roberts).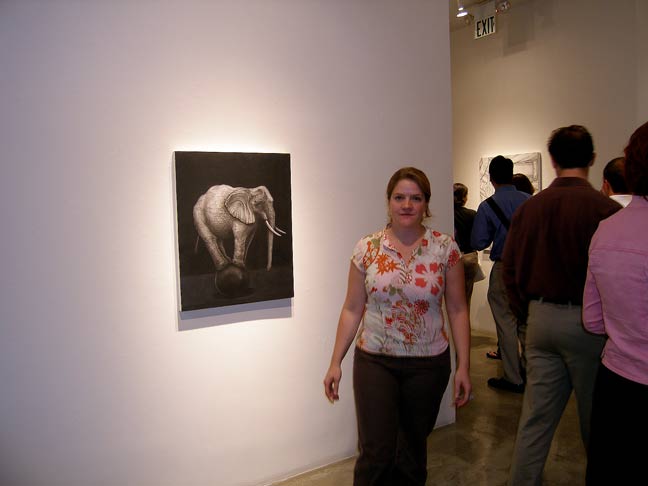 Art (Philip Knoll).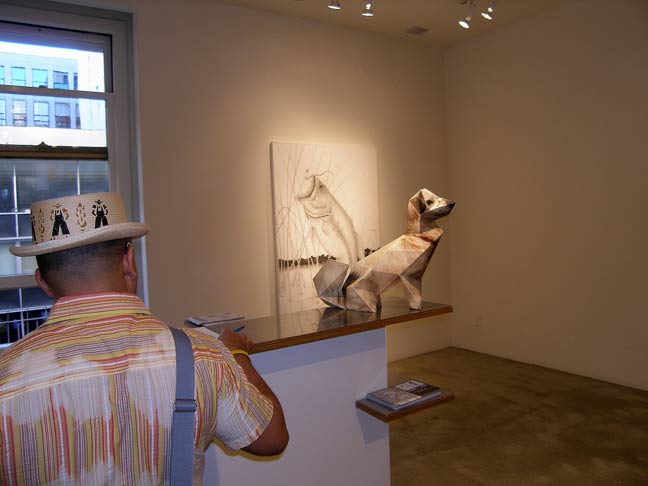 Sculpture (Scott Roberts).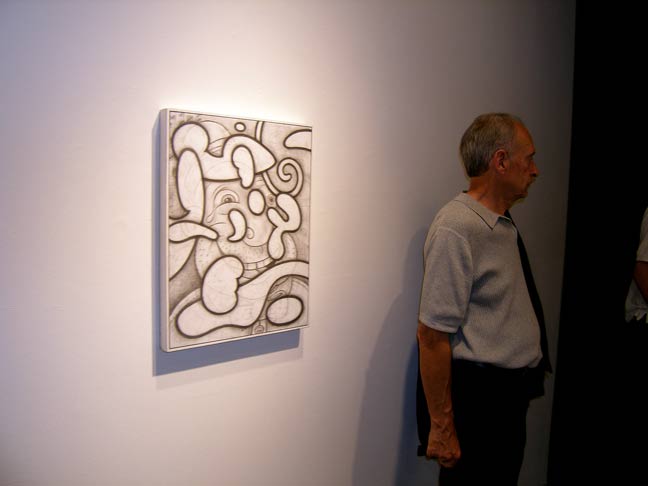 Art (Philip Knoll).


Sculpture (Scott Roberts).


***
Toomey Tourell Gallery: Monica Jm. Lin - Double Happiness.
Comment: Monica Jm. Lin sets various small objects like pills into clear acrylic and combines them with layers of paint, each also layered into the acrylic. The semi-abstract semi-representational works are color-rich, visually engaging, and nicely executed in terms of medium control, however the object placements seem a bit random, and don't necessarily contrbute to the overall impacts of the compositions.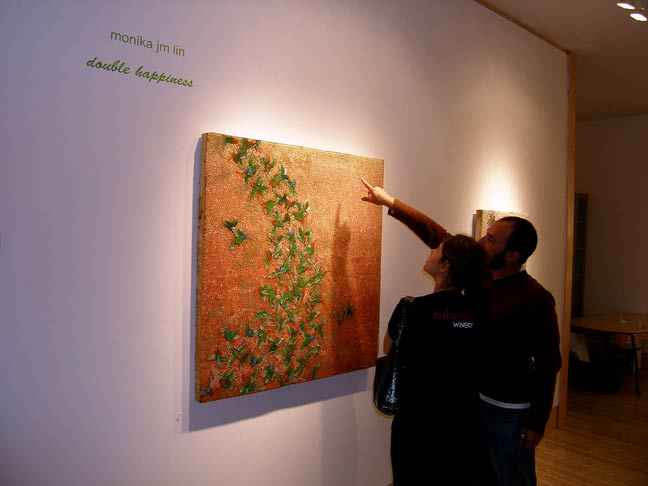 Art.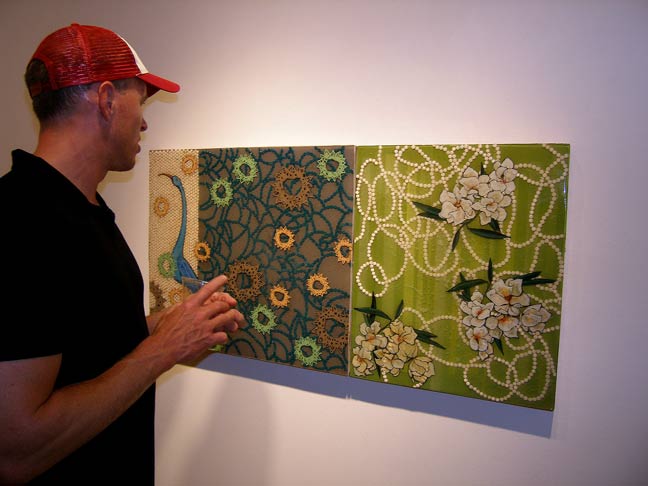 Art.


Art.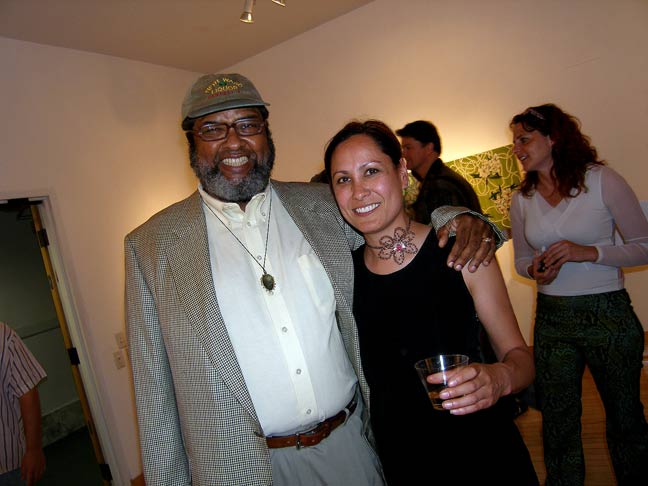 Artist Gregory Edwards - Monica Jm. Lin.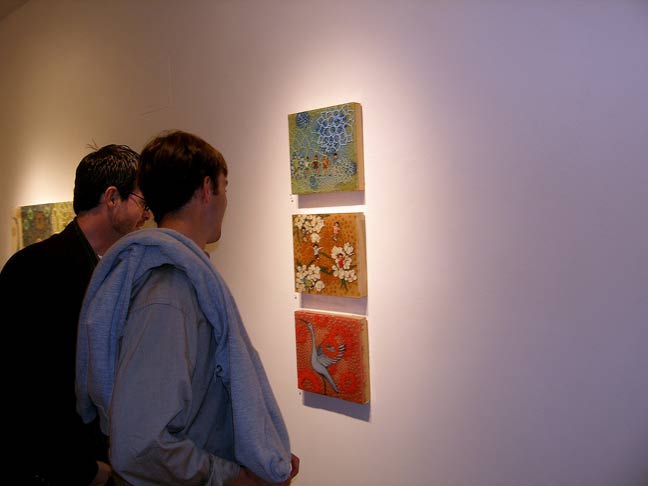 Art.


***
Art Exchange Gallery: Group show.
Comment: Art Exchange relocates from the North Beach outskirts to that vortex of creative endeavor, 49 Geary St. The gallery (aka Claire Carlevaro) has been in business nearly 25 years and resells contemporary name-brand art, mainly by California artists, mainly from the forties through the now. You never know what you're gonna find there, so you have to shop them everyday-- and be first in line. It's kinda like Loehmann's. If you're an artist, stop by and see what the future may hold for your art.
Art.


Claire Carlevaro (center).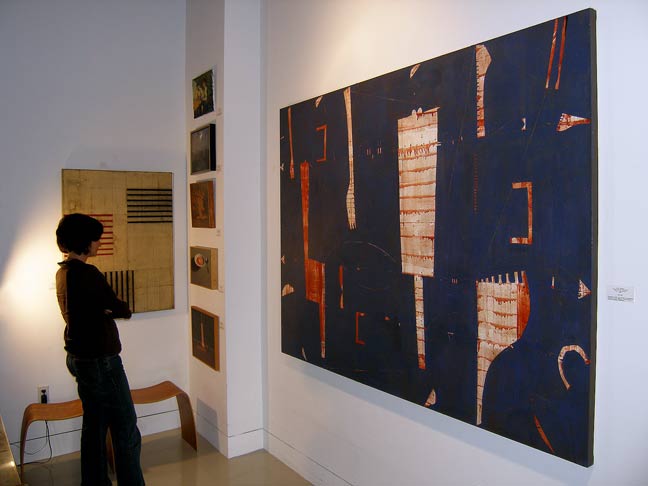 Art.


Partial.


***
Steven Wolf Fine Arts: Sociedad De Vida - Fifteen Years of Transforming Refuse into Art at the Norcal Residency.
Comment: You might also call this show "The Best of the Trash Heap," featuring outstanding works of art culled from fifteen years of the Norcal Artist-in-Residence Program directed by Paul Fresina. Pretty good show, not only from an art standpoint, but it also politely suggests that we think about how much of what we buy we'll be throwing away BEFORE we buy it, and not once it's too late.
Art.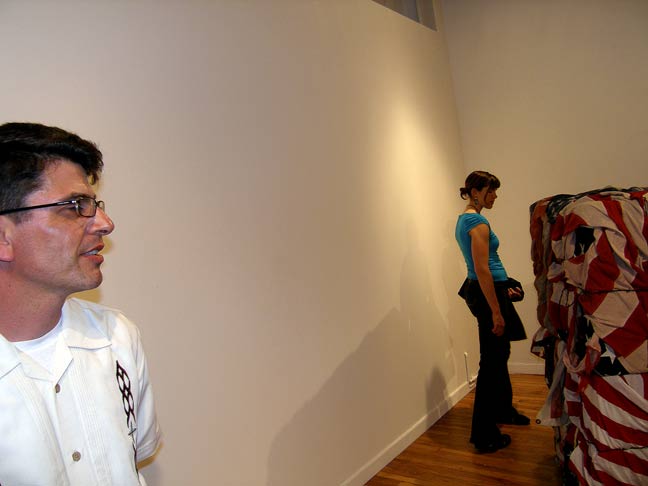 Paul Fresina (left).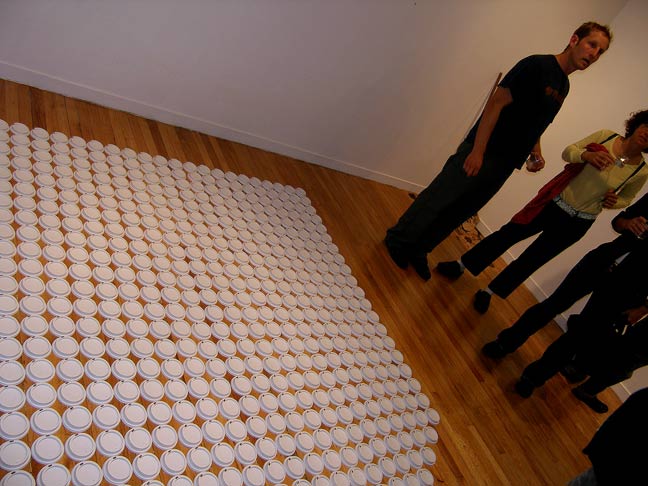 Art.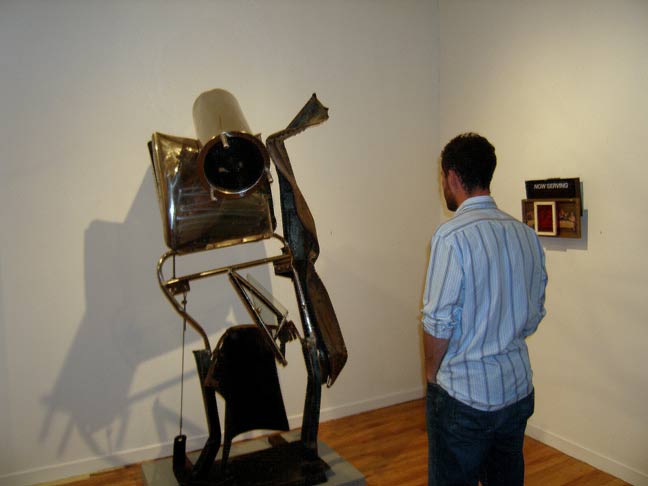 Art.


Art.


***
111 Minna Gallery: Urban Jungle, A Satellite Exhibition for World Environment Day.
Artists: Francis Baker, Chris Jordan, Robert Larson, Sandow Birk, Jane Woolverton, Reuben Lorch-Miller, Wendy Testu.
Comment: The art's good, but the show didn't thrill me; not forceful enough. The best piece, which is forceful enough, is a large collage of Marlboro box tops with encaustic on canvas by Robert Larson (his smaller pieces aren't too shabby either). What's interesting about Larson is that he individually selects each piece of litter for every composition, sometimes taking months to gather the quantity and quality of pieces that he needs. Instead of randomly collaging his found litter, which would adequately illustrate his point, he deliberately positions each piece-- by color, texture, fade, and other criteria-- essentially using the pieces as brush strokes to create stand-alone works of art.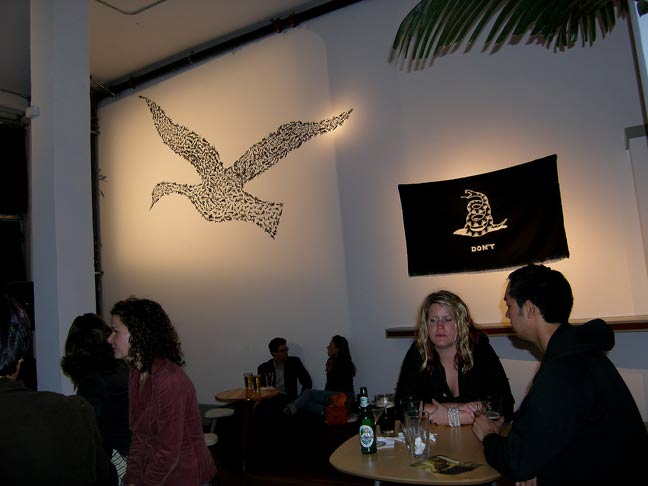 Art.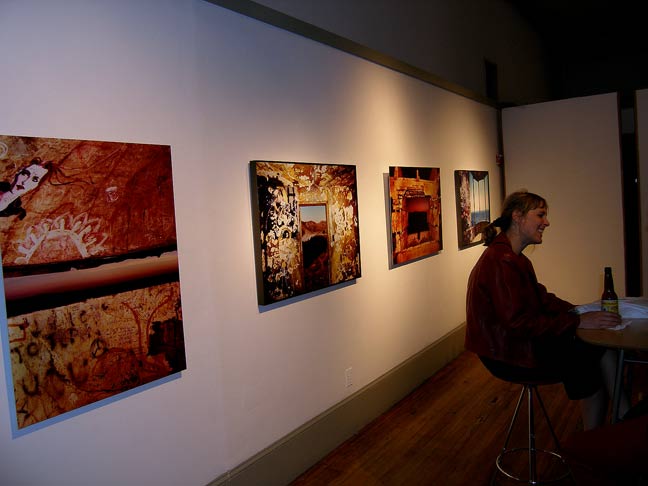 Art.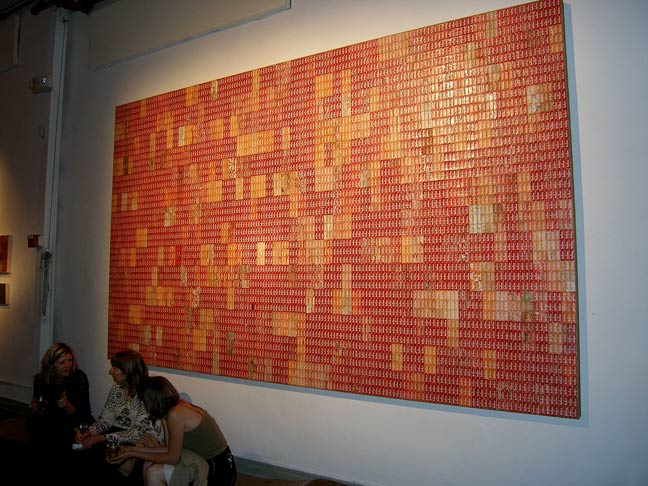 Marlboro art (Robert Larson).


Art.


Art (Robert Larson).


***
Pigman Gallery: Shiri Mordechay - The Glories of Youth Itself, Its Boundless Energy and Vitality and Its Willingness to Abandon the Safety of the Rules.
Comment: I almost didn't go to this show, but I'm extra glad I did. I don't have to describe the art because the show's title sums it up perfectly. Shiri Mordechay does what she does, hangs it out for public inspection, and that's that-- no regrets. Her pastels with stitching, watercolor, and various other dimensional flourishes hold nothing back as she throws up an unrelenting full-frontal mangle into the fractionated fissures of her mind. Her Baconesque vision isn't necessarily pretty, but it's a courageous act of sharing. Mordechay's art powers me into realms of hitherto uncharted brainery, places I'd never find on my own, not even with the GPS, many of which I can now stop looking for. With this art, there's no turning back, and viewers have no choice but to submit. So to Shiri Mordechay goes Pick of First Thursday. Nothing else comes close.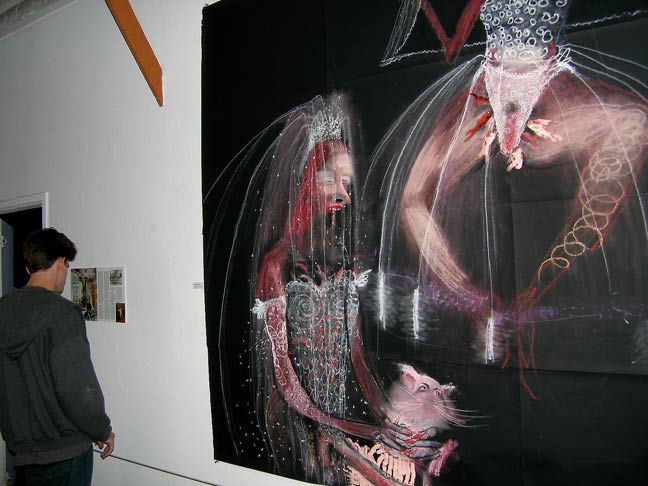 Art.


Art.


Shiri Mordechay - art.


Art.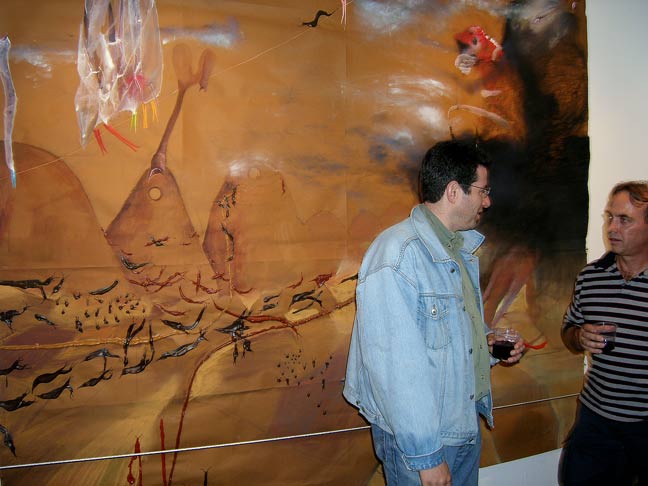 Art.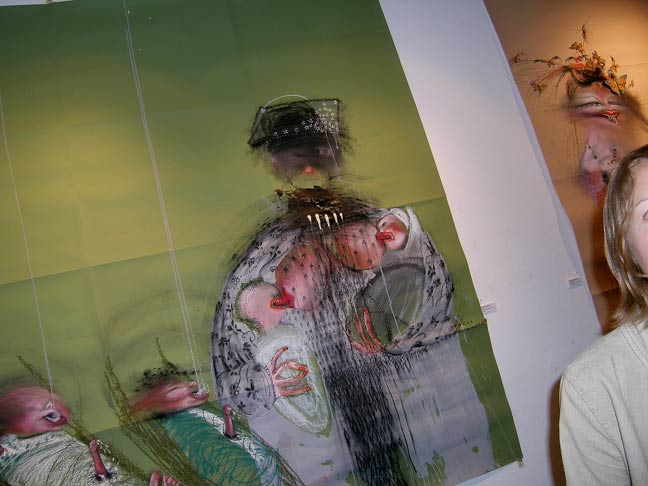 Art.


Art.


Art.


***
Addendum: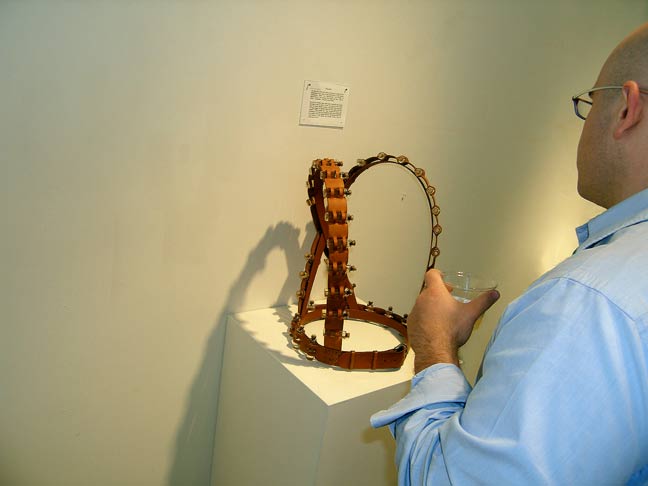 Strange design art at Graystone Gallery.


Journey-in-a-box art at Graystone Gallery.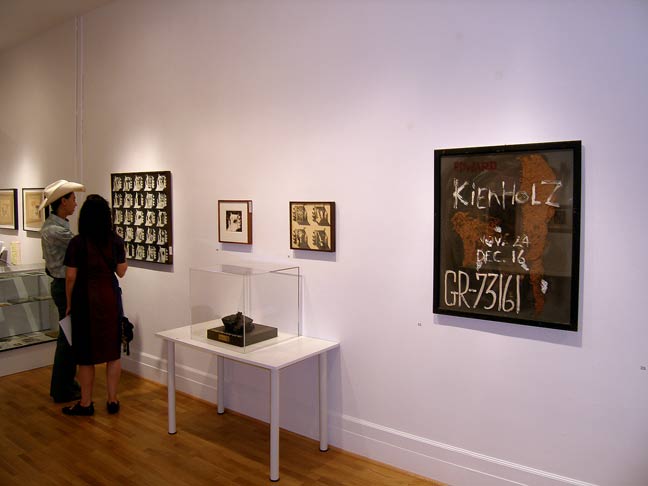 Top drawer California assemblage at 871 Fine Arts.


One more from 871 Fine Arts. Go see.


One of Nine Portraits at Steven Wirtz Gallery.


Swirlies by Mark Katano at Steven Wirtz Gallery.


Self-taught selection at Jack Fischer Gallery.


Michael Toenges thickathon at
Patricia Sweetow Gallery.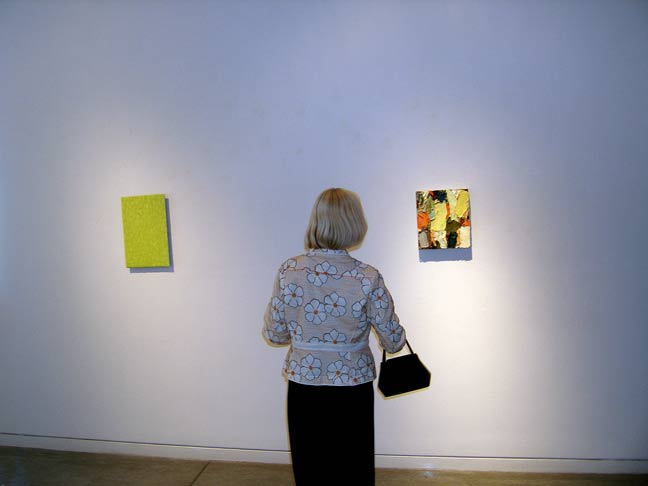 Peter Tollens left - art lover center - Michael Toenges right
at Patricia Sweetow Gallery.


Group show at Gregory Lind Gallery (Jim Gaylord art - I like it).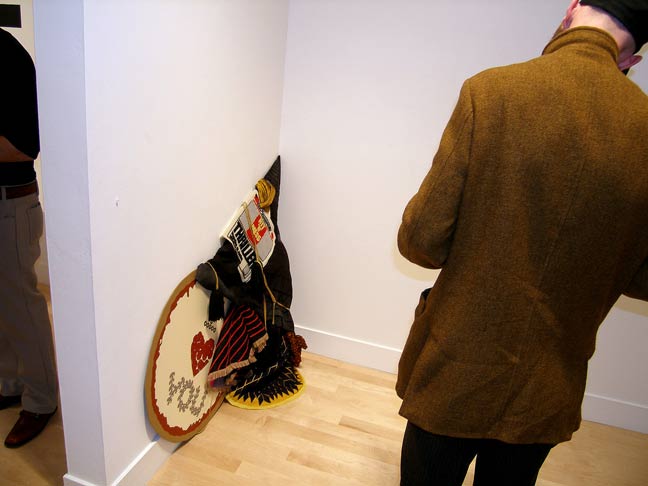 One more from at Gregory Lind Gallery (Ruby Stiler art, I think).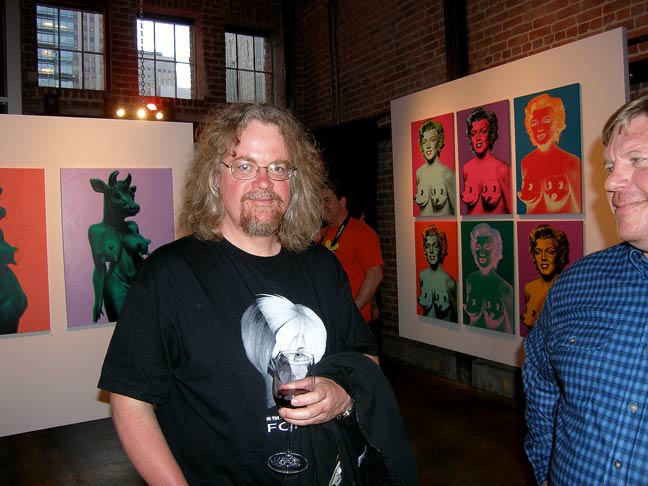 Ron English (center) and show at Varnish Fine Art.


Ta-ta.
***
May First Thursday; May 5, 2005