SAN FRANCISCO ART GALLERIES OPENINGS
FIRST THURSDAY; 06.07.07
General comment: Summertime... and the artin' is easy. That's the watchword here in Ess Eff as we ever so trepidatiously embark upon fog season, the essence of which is that no matter where you stand, the wind is always in your face. So naturally, rather than freeze our ferkin' appendages off, we turn our thoughts indoors, to those cozy repositories of high refinement-- our art galleries-- where we can only shiver with bliss at the veritable pu pu platter of visuals they generously offer up, and all they ask in return is that we whip out our wallets and buy something. Isn't that just marvelous? Fortunately, admission is free (as one press release I receive this week so notes), meaning that anyone can opt to top off their aesthetic tank at anytime. Plus as we all know, "He who smells the roses owns the garden." Or She.
Speaking of gardens, what do you say we pocket our trowels, hit the artway, and see if we can't unearth us a truffle or two. Is that a 'yes' I hear? Excellent...
***
Gallery Paule Anglim: Caitlin Mitchell-Dayton; Jerome Caja.
Comment: Caitlin Mitchell-Dayton paints up a peck of head/shoulder and full figure portraits, mostly students and people she knows. Caricature-esque yet geniune, each distinctly individual, her substantive character studies seem better suited to public spaces, where exposure is brief, than private homes, as I'm not sure how many people are inclined to have total strangers stare directly at them for all eternity. Yes, they're endearing, but they still stare. The art in "portraiture with a point," by the way, is to render the subjects generic and congenial enough so as to disarm viewers, and free them up to receive the "message" without feeling self-conscious or getting bogged down in unfamiliar personalities. The good news? If I were commissioning a portrait, Caitlin Mitchell-Dayton would be right at the head of the line.
In the parlour, Jerome Caja (1958-1995) broaches sensitive social and political issues from atypical perspectives with unconventional materials. His art appears deceptively uncomplicated, even primitive, almost dismissive-- at a cursory glance-- but look close and you'll be waxing reflective in no time.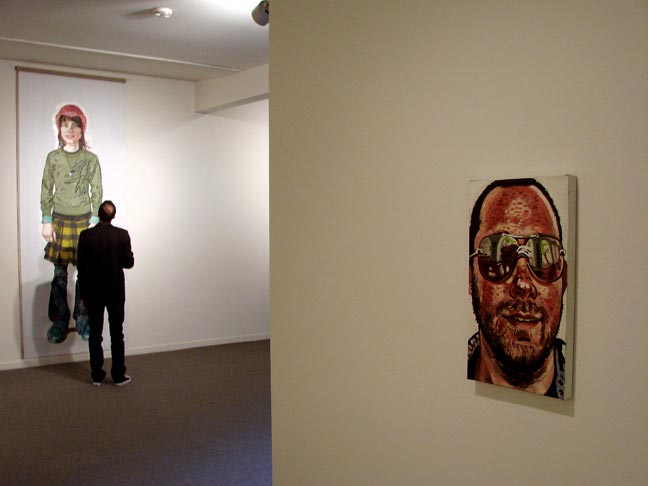 Art (Caitlin Mitchell-Dayton).


Art (Caitlin Mitchell-Dayton).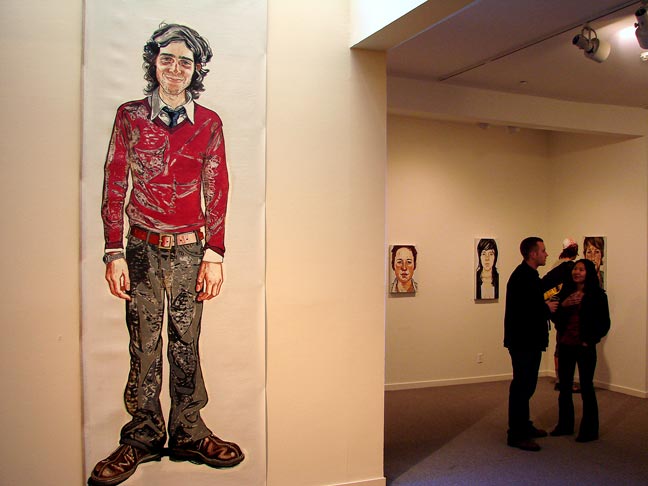 Art (Caitlin Mitchell-Dayton).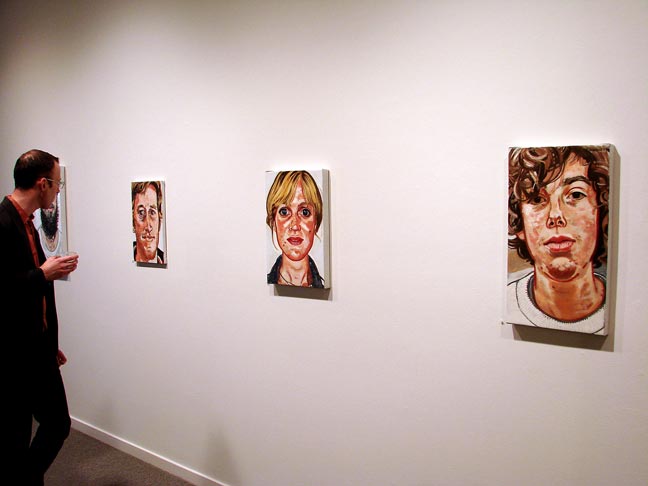 Art (Caitlin Mitchell-Dayton).


Art (Caitlin Mitchell-Dayton).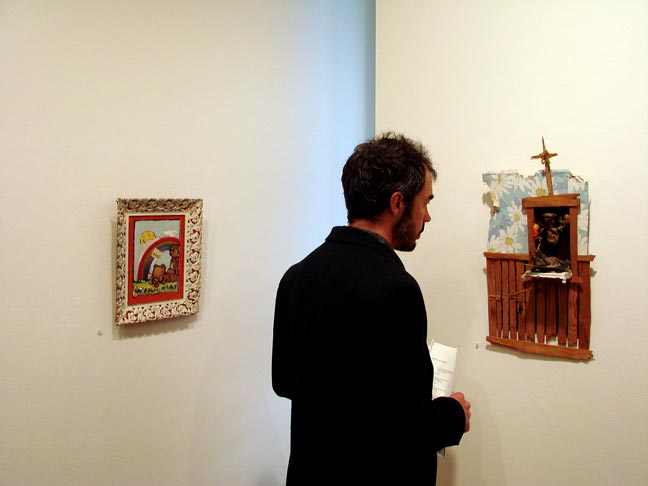 Art (Jerome Caja).


Art (Jerome Caja).


Art (Jerome Caja).


Art (Jerome Caja).


***
Haines Gallery: Landscape & Memory II.
Artists: Xu Bing, Linda Connor, Binh Danh, Song Dong, Andy Goldsworthy, Shao Yinong & Muchen, David Nash, Dennis Oppenheim, Tokihiro Sato, Qiu Shi-hua, Stephanie Syjuco, Zhan Wang, Yin Xiuzhen .
Comment: Group show sports a haymaker of a press release that alleges to unify the assortment, but only confounds the issue. Balderdash aside, there's a clear thread of focus on social and cultural upheaval in China. You know, it's OK to have a good old fashioned down home group show every once in a while. No need to twist the limits of logic to justify its existence.
Art.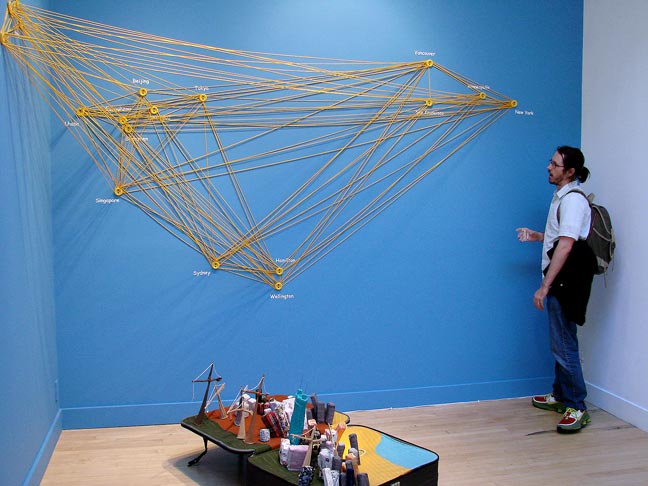 Art.


Art.


Art.


***
Elins Eagles-Smith Gallery: Gary Komarin - Recent Paintings.
Comment: Tasteful abstracts with a benign edge. Perfect for adventurers who verge on exiting the mainstream, but still wanna stay sorta close.
Art.


Art.


Art.


***
Brian Gross Fine Art: Teo Gonzalez - New Work.
Comment: Complex meticulous "droplet" paintings reference the microscopic magnificence of cell structure and the fabric of pattern in life.
Art.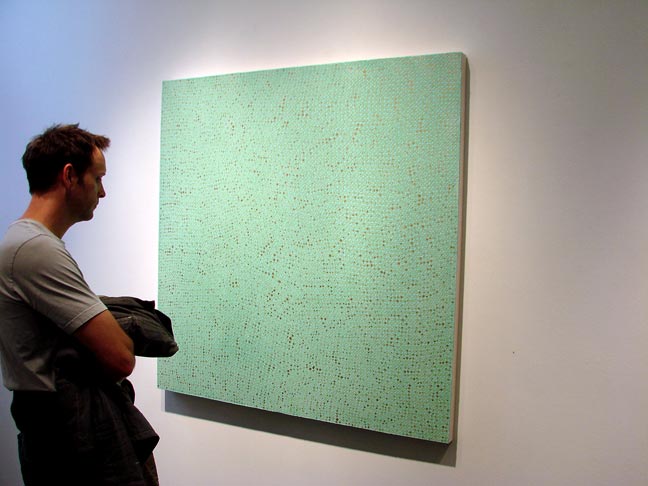 Art.


Art.


***
Fraenkel Gallery: Several Exceptionally Good Recently Acquired Pictures XIX; The Book of Shadows.
Artists: Idris Khan, Richard Misrach, Nan Goldin, Adam Fuss, Robert Frank, Garry Winogrand, Hiroshi Sugimoto, Diane Arbus, Lee Friedlander.
Comment: "The good stuff" group show up front is gooder than good (as usual), but the treat is in the back-- 88 anonymous photographs,amateur images, from the private collection of Jeffrey Fraenkel, unified in that the photographer's shadow is visible in every image. Most entertaining assemblage-- available in book form at the gallery (The Book of Shadows)-- and a delightfully refreshing respite from art world earnestness.
Photography.


Photos.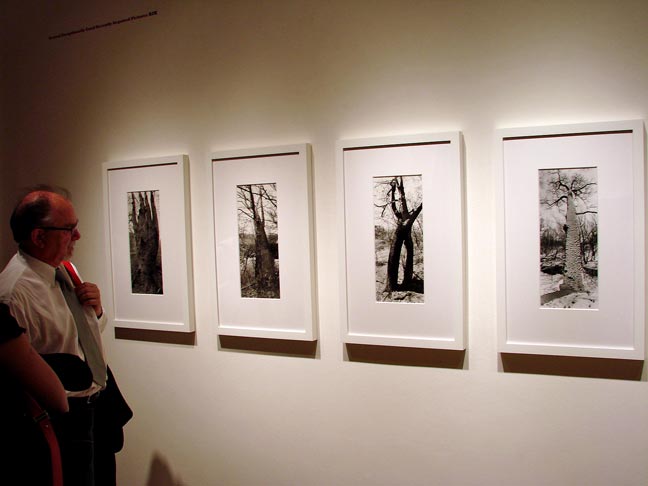 Images.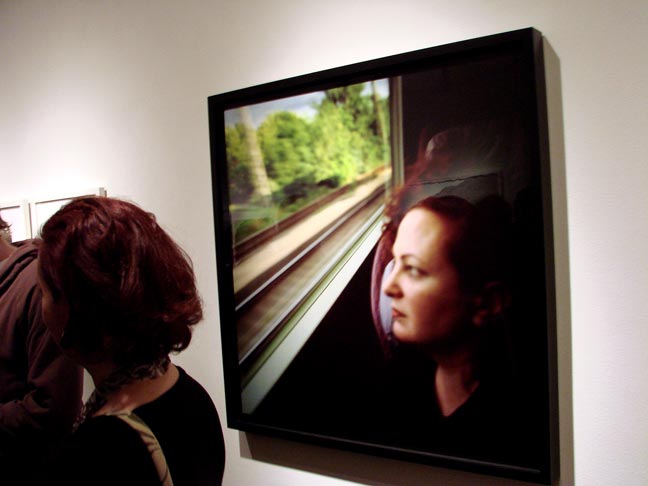 Photographs.


Photography.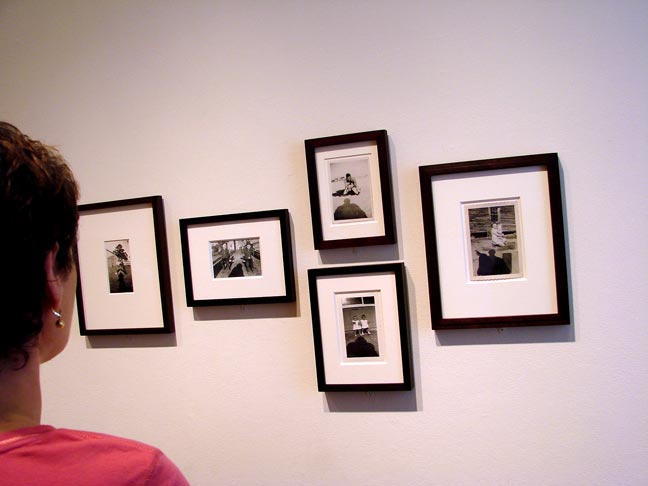 Shadow photos.


Shadow photo.


Shadow photos.


***
Stephen Wirtz Gallery: Rick Arnitz - Pieces; Kelli Connell - Double Life.
Comment: You might call the paintings of Rick Arnitz trompe l'oeil abstracts-- or semi-abstracts-- with their overlays, shadows, and see-through dimensionality. The liner notes say Arnitz lays down the paint exclusively with an ordinary paint roller-- which explains the relative uniqueness of his textures. Kelli Connell, meanwhile, portrays pairs of women in various settings, engaged in varying degrees of interraction, the punchline being that they're all the same woman-- a college friend of Connell's-- seamlessly digitally combinated, and entirely credible. Tricky.
Art (Rick Arnitz).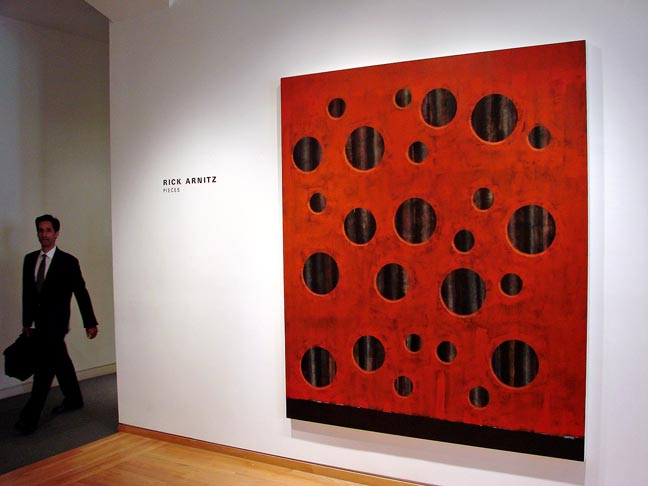 Art (Rick Arnitz - like it).


Art (Rick Arnitz).


Art (Rick Arnitz).


Art (Kelli Connell).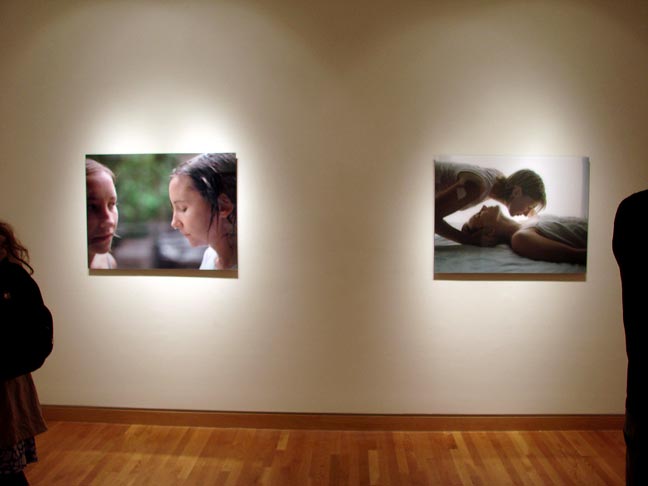 Art (Kelli Connell).


Art (Kelli Connell).


Art (Kelli Connell).


***
Gallery 415: Leonardo Pineda - Por Fuera.
Comment: Colombian artist Leonardo Pineda sets vibrant upbeat urban imagery, agreeably raw, against nonrepresentational backgrounds, then peppers the pairing with snippets of text.
Art.


Leonardo Pineda - art.


Art.


Art.


***
Toomey Tourell Gallery: Patrick Day.
Comment: Patrick Day translates architectural drawing into visionary geometric artscapes, particularly aerial views, exactingly orderly, notable in that your mind tends to fill in the details and complete the pictures by converting the schematics into land, water, plant life, and domiciles.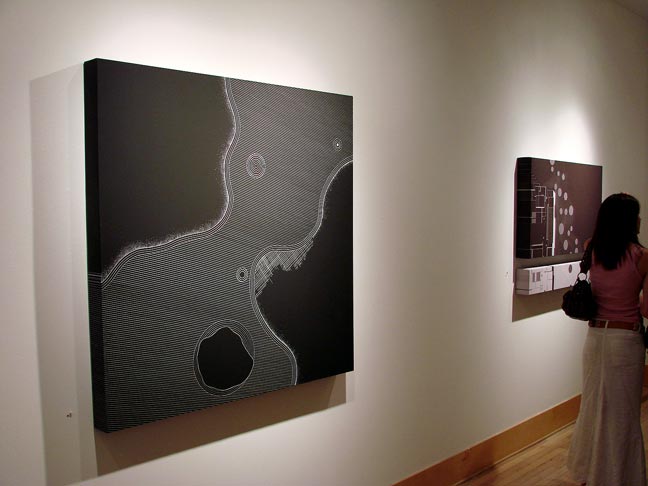 Art.


Art.


Art.


Art.


Art - one for the shelf.


***
ARTworkSF: Rubberneck.
Artists: Avani Agarwal, David Blumin, Deborah Cain, Maury Edelstein, Michelle Elmore, Jo Farrell, Blake Farrington, Beryl Fine, Steven Gelberg, Fima Gelman, David Gilbert, Lorraine Grassano, Andre Herman, Anthony Kurtz, Lois Llewellyn, Louis Mattarelli, Maria Bartola-Mejia, Scott Serata, Trish Tunney.
Comment: Group show; documentary photographs.
ARTworkSF-- you gotta go easy and lighten up on the modus here. As it stands, you got security at the door, a line to get in, and operatives accosting photographers about taking pictures, all unflatteringly uncharacteristic of an art gallery-- a rock concert or a baseball game maybe, but certainly not an art gallery. Wanna control the crowds? Don't open shows on First Thursday. That simple and no more complicated. You're at 49 Geary, dudes. Behave.
What it is.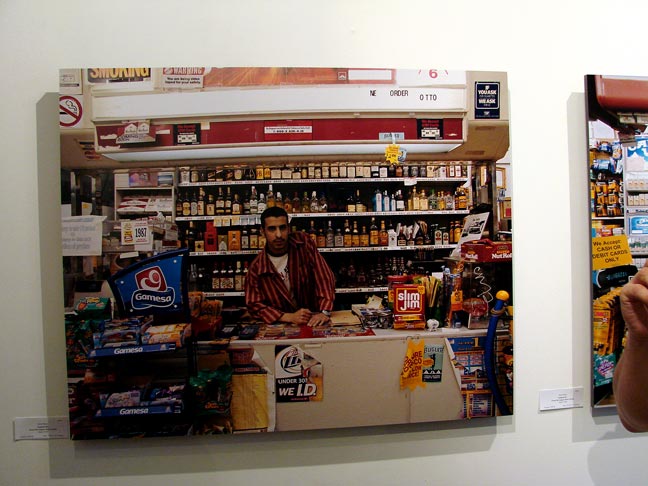 Photo (kinda like it).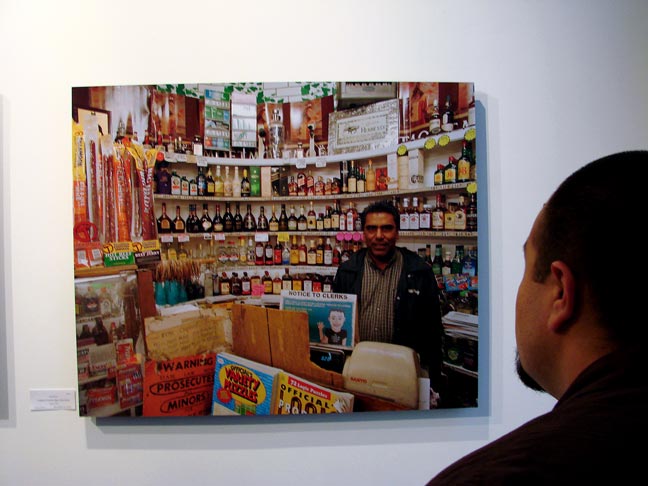 Photography (kinda like it again).


Photographs.


Images.


***
Mark Wolfe Contemporary Art: Dennis McNulty - "When one of your own color could be so different it puts you on a wonder."
Comment: According to the briefing, Dennis McNulty's stark silhouette compositions "explore his Southern roots," and a number of pieces appear to do just that, however a number of others comment rather than explore-- or perhaps even judge-- and do so harshly. Yes, different parts of our country are... well... er... different, very different, in fact, and we all know that. The part that we either don't know, or seem to have forgotten, is how to rise above those differences in hopes of establishing a peaceful plot of common ground, no matter how small, no matter how shakey, and then build out from there. The alternative? We slowly sadly agonizingly eat ourselves alive.
Art.


Art.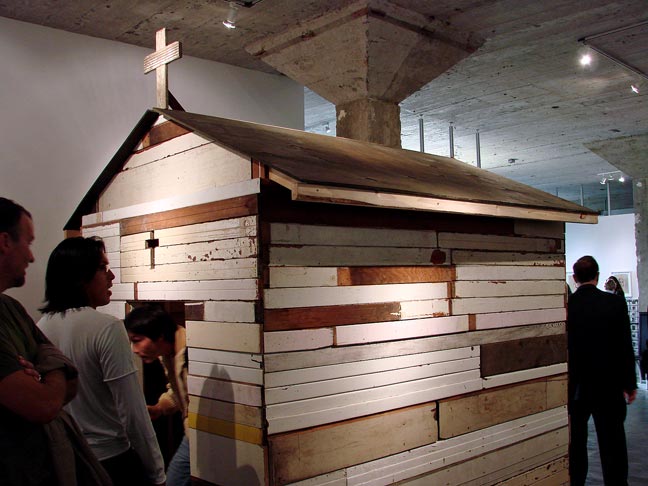 Art (nicely done).


Art.


Art.


***
John Berggruen Gallery: Mark Adams - Watercolors.
Comment: Retrospective show of Mark Adams watercolors dating from the late 1970's through the early 1990's, serene elemental subject matters, meditative in nature, delicately transcending the representational realm. Adams worked in other media as well-- all with consummate skill-- including tapestry, stained glass, oil painting, mosaic, drawing, and printmaking.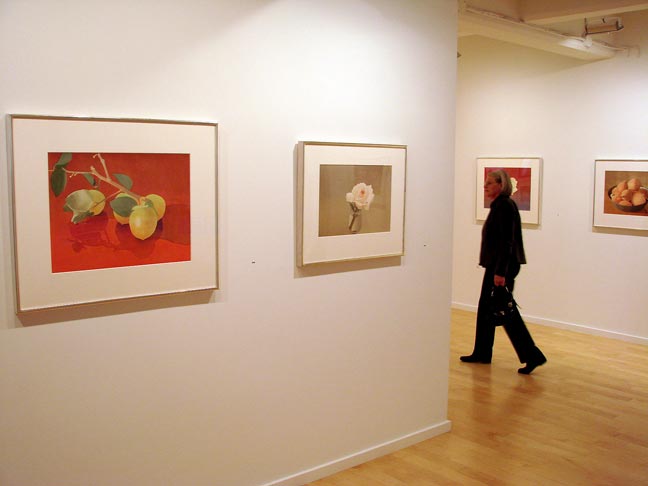 Art (Mark Adams).


Art (Mark Adams).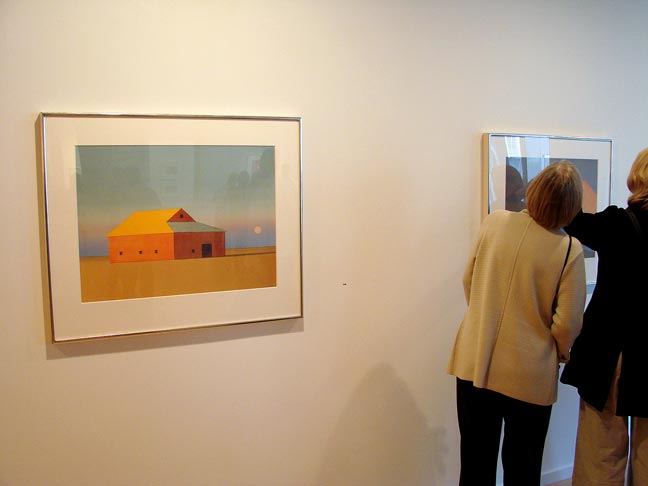 Art (Mark Adams).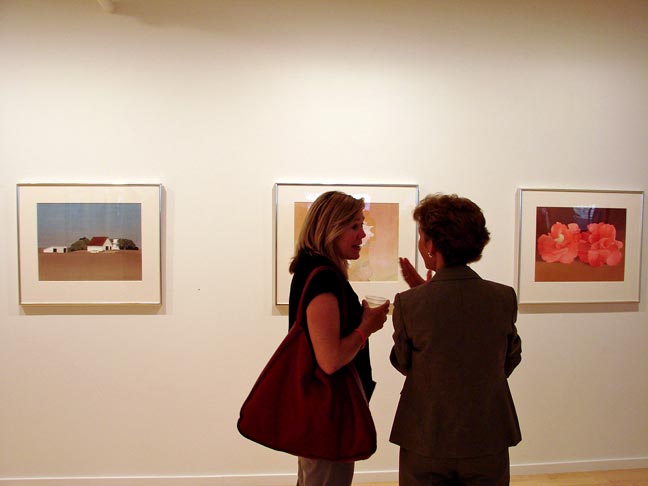 Art (Mark Adams).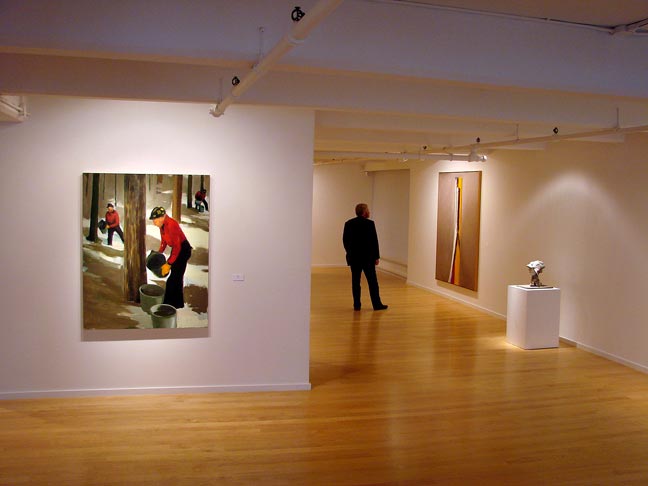 Group show downstairs.


Group show downstairs.


***
Patricia Sweetow Gallery: Stop Pause Forward.
Artists: Dear Kim Anno, Gale Antokal, Sonya Blesofsky, Joachim Bandau, Jonathan Burstein, Jane Harris, David Huffman, Jeanne C. Finley/John Muse, Frederick Hayes, Irmel Kamp, Markus Linnenbrink, Cornelia Schulz, Weston Teruya, Michael Toenges, Peter Tollens, Jamie Vasta, Bill Walton.
Comment: Patricia Sweetow grand re-opening at her new location, the mezzanine floor of 77 Geary. The remodel is in process, but there's plenty of art to peruse. Stop by and say hello.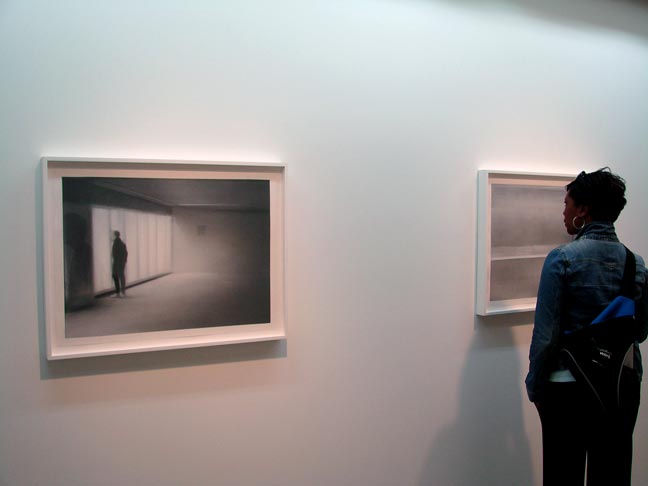 Art.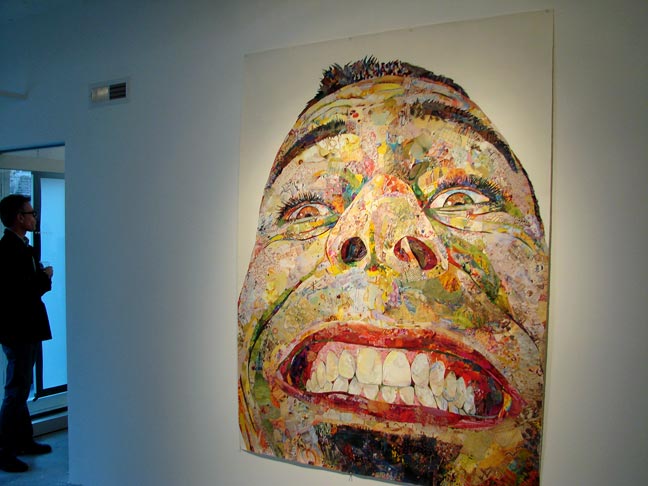 Art (like it).


Art.


Art.


Art.


***
Heather Marx Gallery: David Lyle - Leisure Time.
Comment: David Lyle's black and white paintings look like they're taken directly from old photographs, anomolous ones at that, maybe dating from the 1950's or 1960's. Whatever their origins, the act of rendering (or reconstituting) these compositions in paint removes them slightly from reality, hallucinating them up just enough to clip the cusp of surreal. You kinda stand there and stare, wondering what's gonna happen next.
Art.


Art.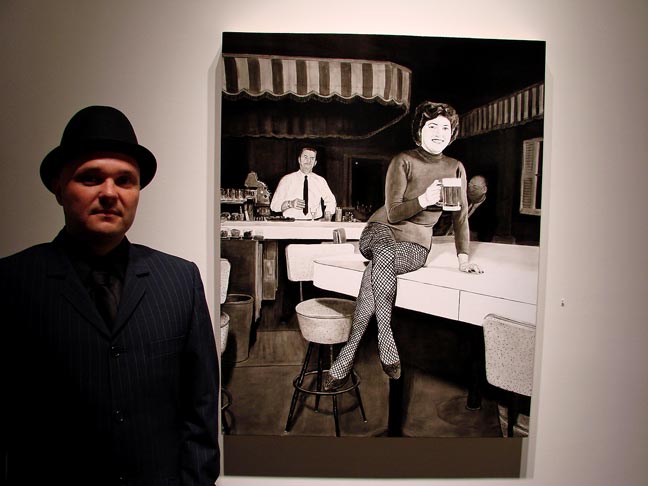 David Lyle - art.


Art.


Art.


***
Catharine Clark Gallery: Group Show.
Comment: Kevin Clarke was kind enough to cover Catharine Clark's grand opening show, but wanting to check out the new digs for myself, I saunter on by after 49 Geary et al close, and am delighted to discover that in an absolute fit of brilliance, Catharine Clark has kept the gallery open late.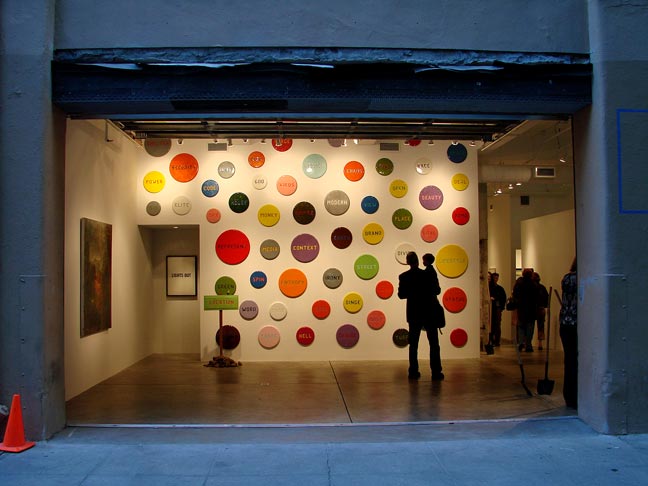 Here we are (art - Walter Robinson - like it).


Art.


Art.


Art.


***
111 Minna Gallery: Nondescript.
Artists: Brad K. Alder, Michael Azgour, Ray Buffalo, David Coddaire, Rene Fressola, Lily Martine, Meryl Press, Mike Puccio, Randee Silv.
Comment: Abstract extravaganza; styles range from traditional to contemporary.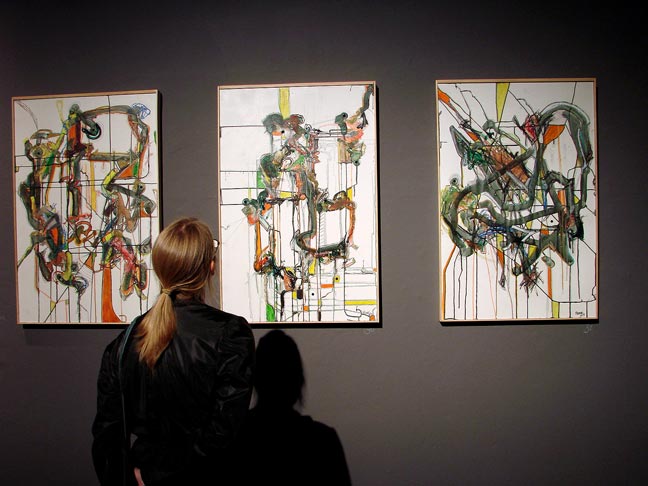 Art (Rene Fressola).


Meryl Theo Press - art (sorta kinda like it).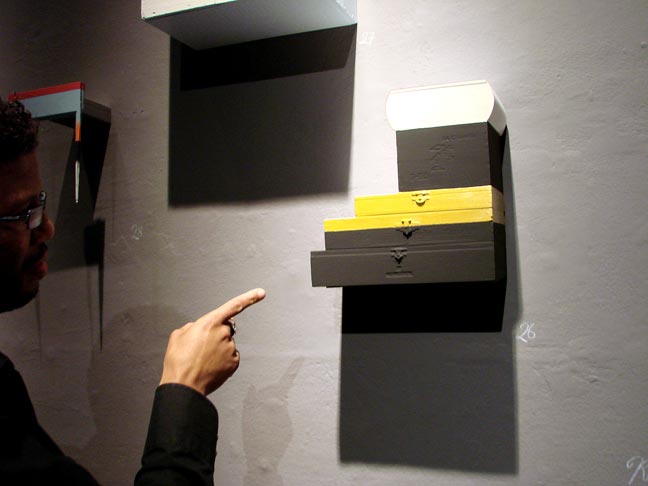 Art (Brad K. Alder).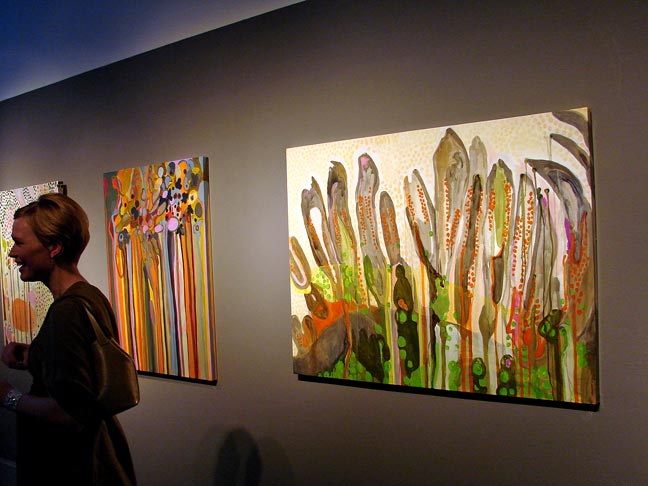 Art.


Art.


Art.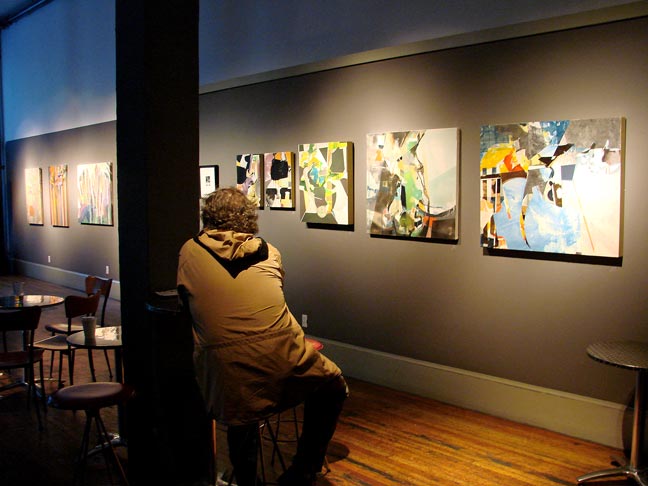 Art.


***
Addendum: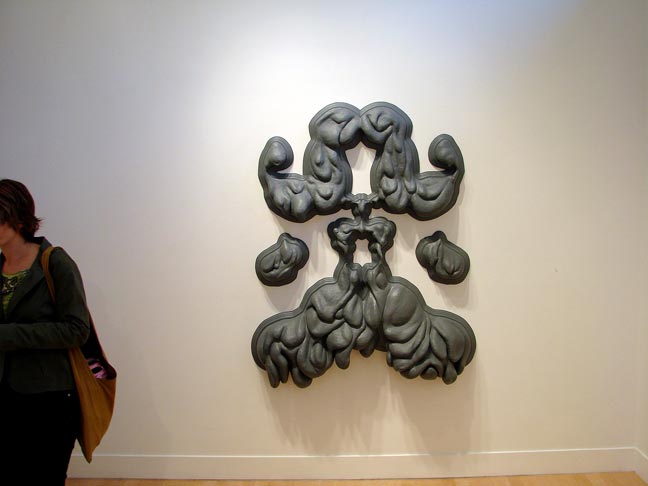 Christian Maychack sculpture at Gregory Lind Gallery (like it).


Another Christian Maychack at Gregory Lind Gallery.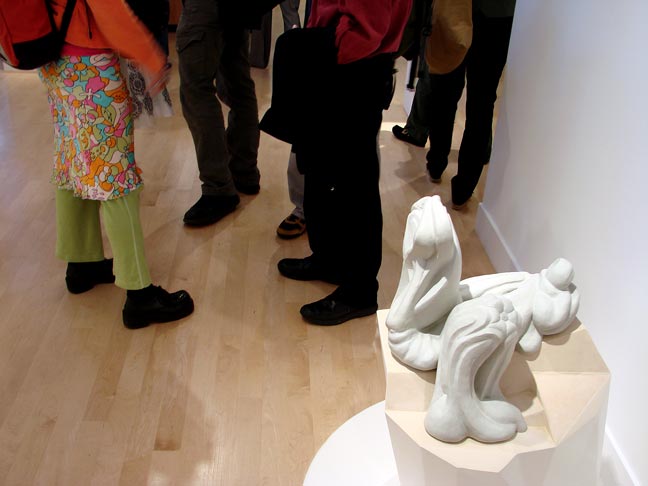 One more Christian Maychack at Gregory Lind Gallery.


Paul Caponigro photographs at Scott Nichols Gallery.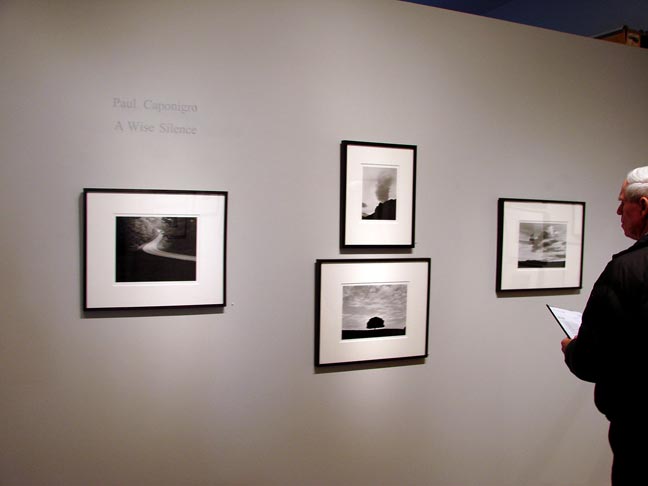 One more Paul Caponigro photos at Scott Nichols Gallery.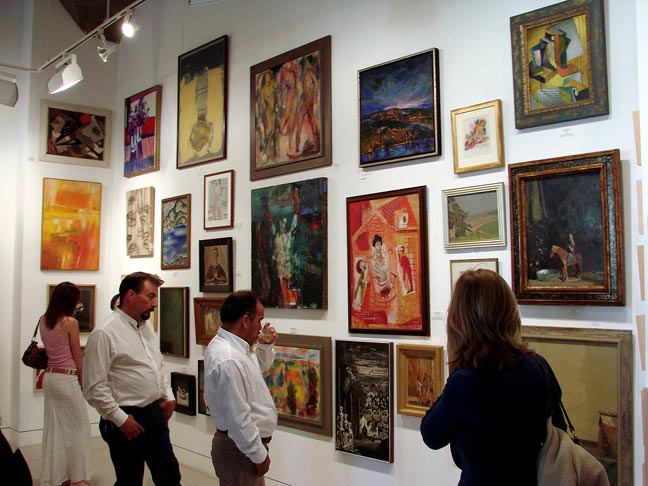 Art-o-rama at Art Exchange Gallery.


Kyle McDonald abstracts at Dolby Chadwick Gallery.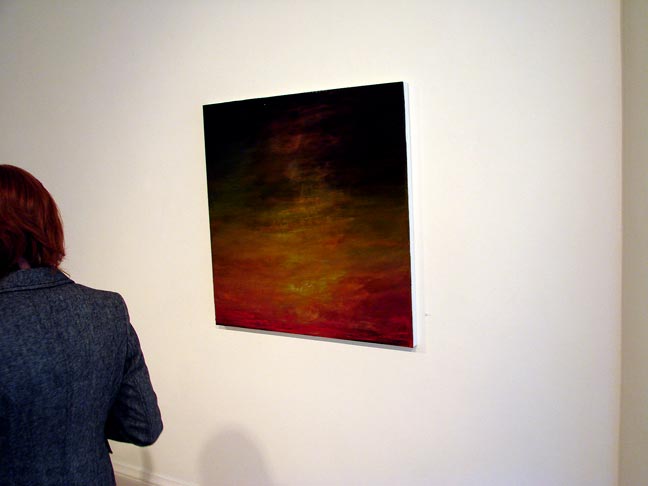 Kyle McDonald hazy glazed abstracts at Dolby Chadwick.


Another Kyle McDonald at Dolby Chadwick Gallery.


Kevin Pincus "Wastescapes" at Newmark Gallery.


One more Kevin Pincus abstracts at Newmark Gallery.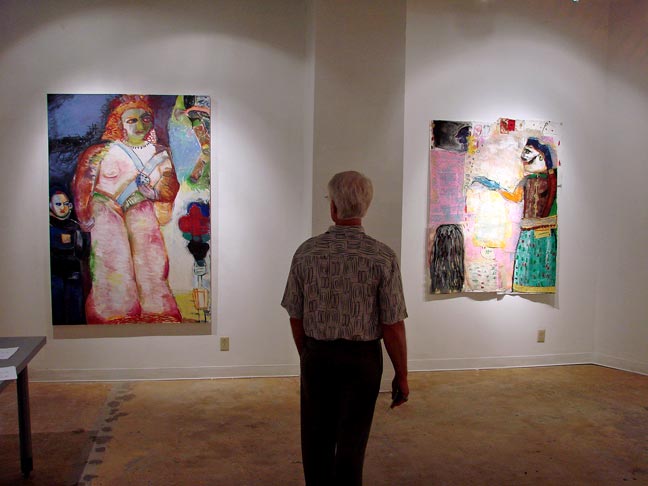 Livia Stein paintings at Togonon Gallery.


More art from Livia Stein at Togonon Gallery.


Final Livia Stein paintings at Togonon Gallery.


Post show door delta at 49 Geary.


***
Woah! Almost forgot-- click here for absolution.
***