SAN FRANCISCO ART GALLERIES OPENINGS

FIRST THURSDAY - 06.03.10 - Part II

(with assistance from RWM and Geoff Smith)


***
Hespe Gallery: Erin Cone.
Comment by AB: Erin Cone's cropped figures positioned against plain backgrounds inspire viewers to contemplate their contexts.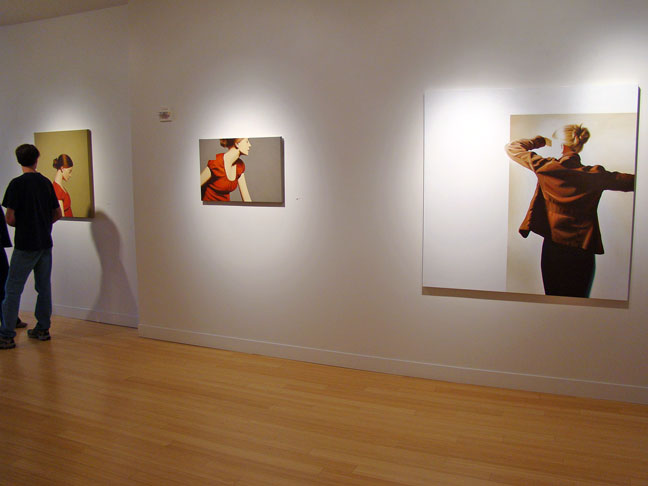 Art by Erin Cone.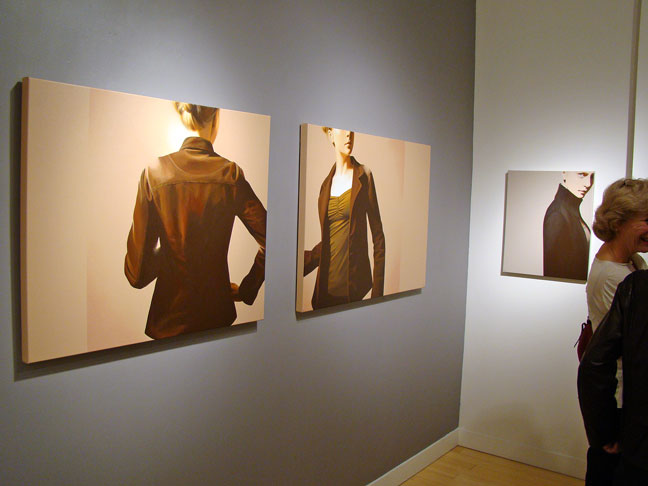 Erin Cone art.


Art by Erin Cone.


***
Meridian Gallery: The Candy Store - John deFazio and Leigha Mason. Curated by Jarrett Earnest.
Comment by AB: John deFazio's outrageously flamboyant ceramics incorporate pretty much one of everything as he adeptly blends often discordant elements into remarkably cohesive and coherent wholes. His mind-boggling prices, though, would seem to indicate that he loves his work way too much to ever want to sell any. In the front room, Leigha Mason creates an actual candy store complete with cotton candy, other edible goodies and special bonus attraction-- hairy lollipops. On the second floor, works on paper by Mason; on the third floor, an intriguing gallery-length photocopy and plexiglas installation by deFazio. Amble on by.
Ceramic art by John deFazio (like it).


John deFazio ceramic art.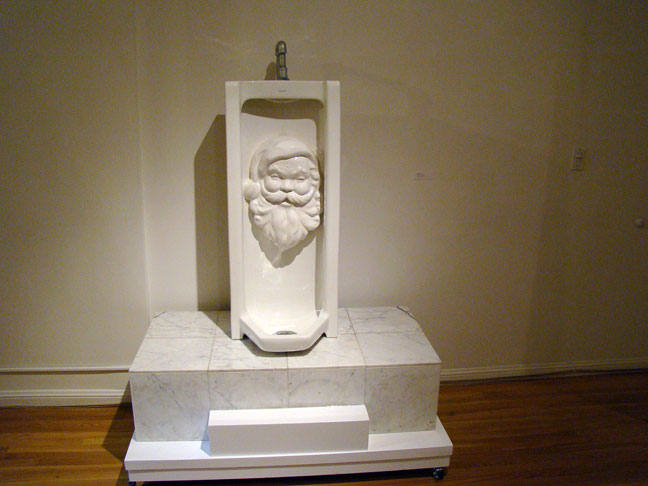 Merry Pissmas urinal art by John deFazio (uh... at least there's no bullseye).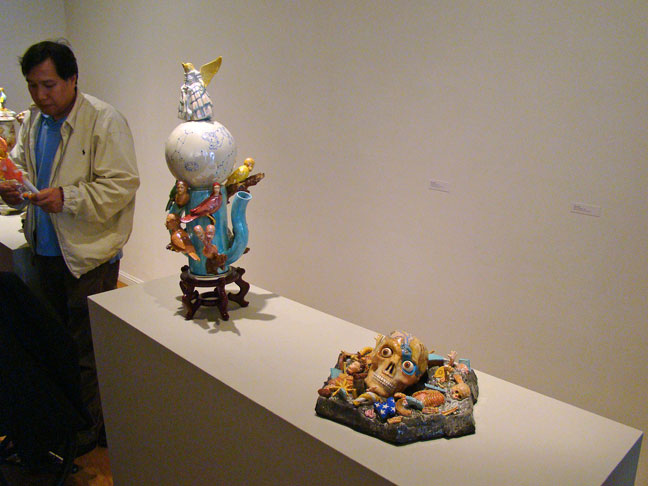 Ceramic art by John deFazio.


Third floor installation art by John deFazio.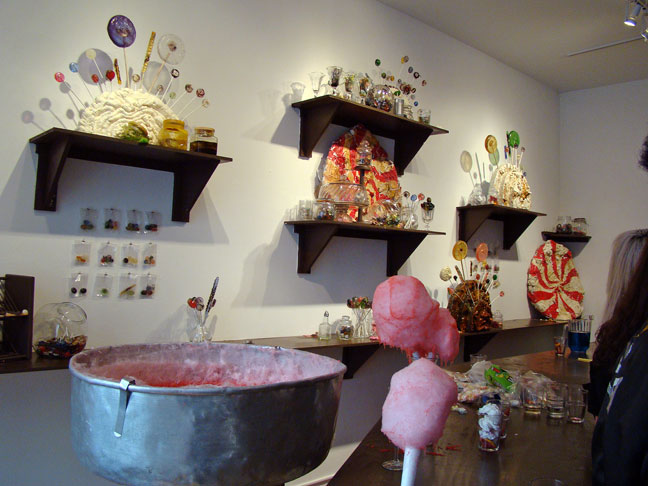 Functioning candy store installation art by Leigha Mason.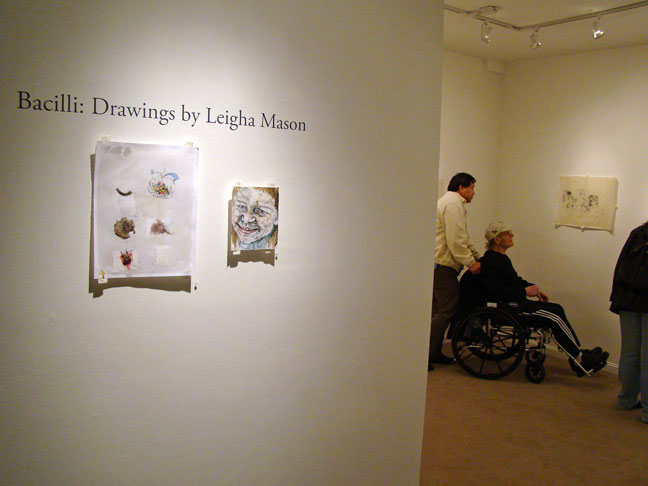 Drawings by Leigha Mason on the second floor.


***
Nieto Fine Art: Grand Opening Reception.
Artists: John Nieto, John Asaro, Craig Poindexter, Luke Harnden, John Axton, Diane Komater.
Review by RWM: Huge turnout for the grand opening of Nieto Fine Art. Hot show. Variety and anxiety at this momentous occasion.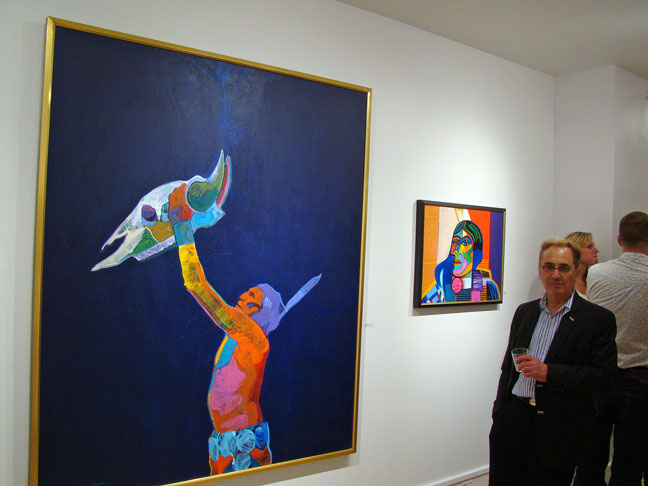 Art by John Nieto.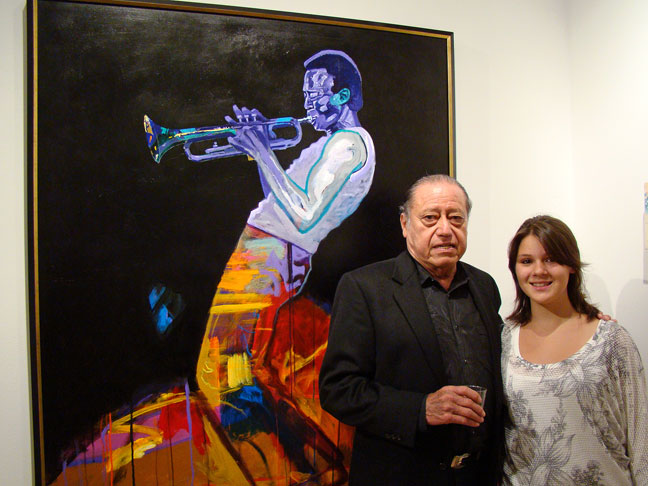 John Nieto, his niece, and his art.


Art by John Nieto.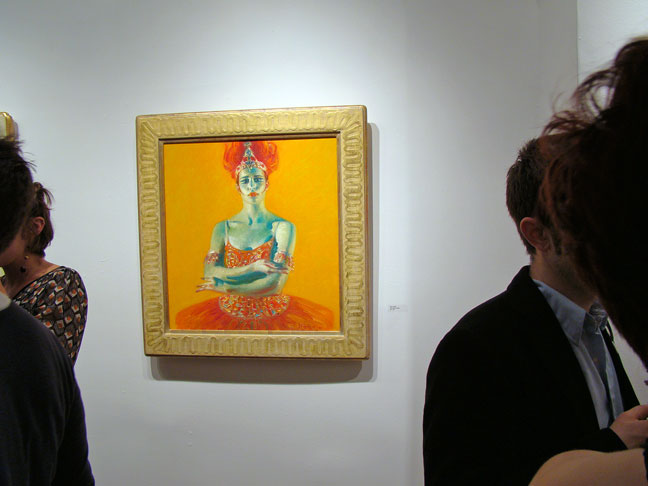 Art by John Asaro.


John Asaro art.


Art by John Asaro.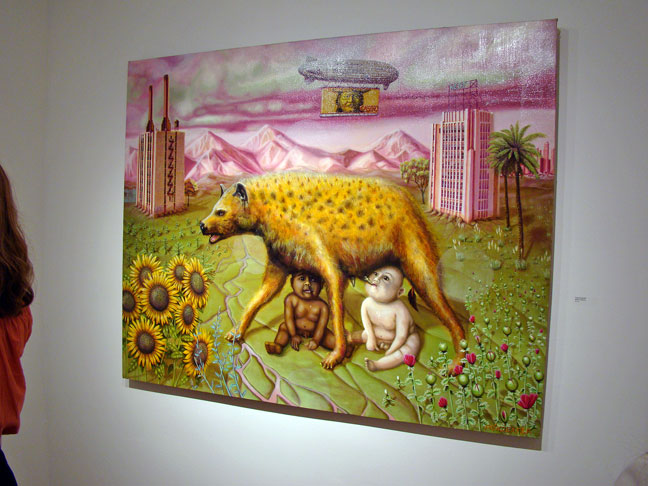 Art by Craig Poindexter.


View from the loge.


***
Hangart Gallery: Positive Reception - Nicholas Bohac, Jim Damron, Klari Reis.
Review by RWM: Nice paintings by Jim Damron intermix with the other works on display. These land-friendly paintings show peaceful scenes, wind turbines and fresh air. One may be surprised to see so much packed into such small works. There are beautiful farms, boulevards, and even a giraffe. In the adjacent room, cool psychedelic circular mixed media works by Klari Reis fill the walls. Looking like large lustrous buttons, they're worth a closer look.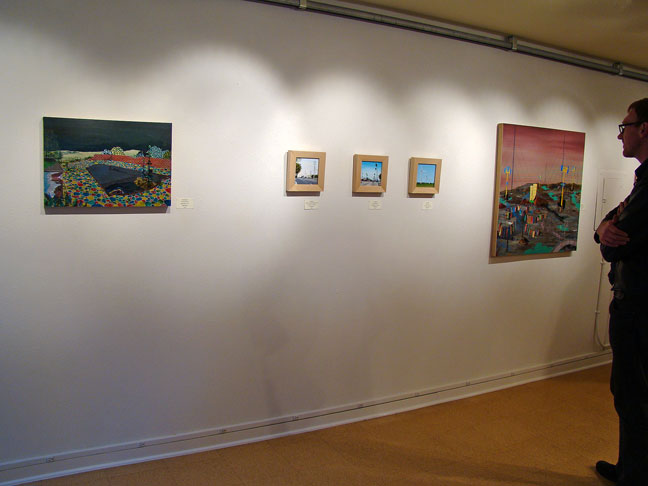 Art by Nicholas Bohac (far left, far right) & Jim Damron (two center pieces).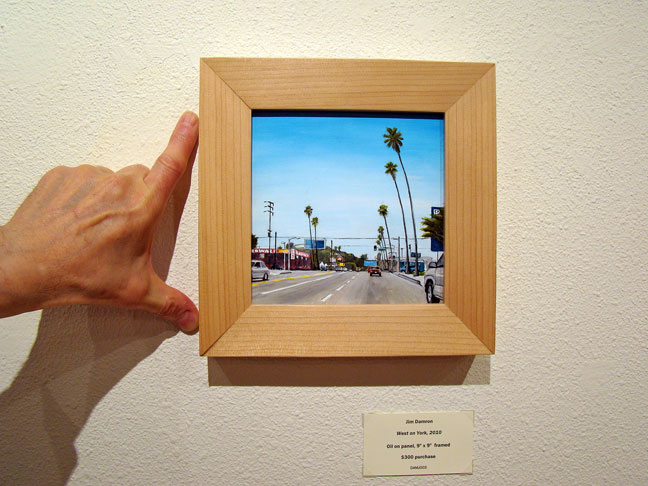 Art in above image by Jim Damron closer (kinda like it).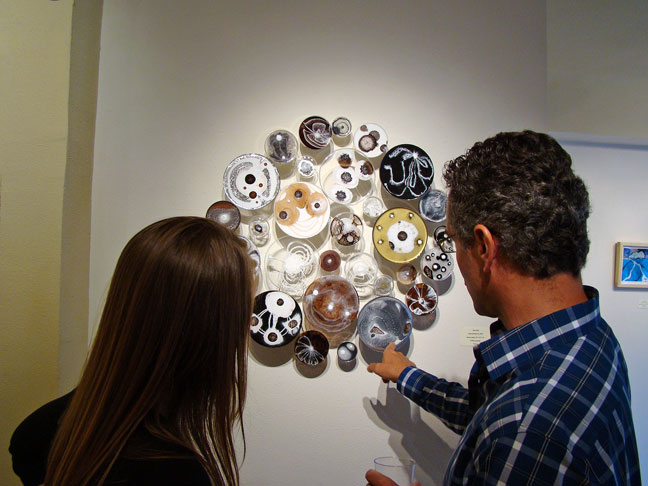 Art by Klari Reis.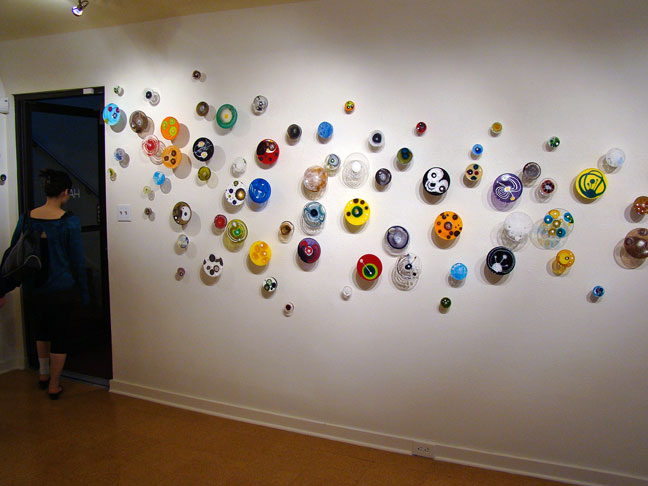 Klari Reis art.


***
Cafe Royale: Hipster Apocalypse.
Artists: Megan Wolfe, Teppei Ando, Kevin Buckley, Mario Delgado, Albert Nguyen, Tamar Solomon, Marcus Thiele, David Young V.
Review and images c/o Geoff Smith: Dan Cowan, one of the Café Royale owners, curates this Hipster art show. In fact, Café Royale is so crowded at this opening it's quite difficult to navigate, see the artwork up close, and pick up or even find any material on the show, the art, and the artists. From a distance the quality appears mixed, but some pieces stand out.
The "Hipster Headshot" by Mario Delgado is well painted, but more than a little gruesome-- although probably just fine after a few martinis. Marcus Thiele's "Four Horsemen of the Apocalypse" is also well done and reminds me of a Magical Mystery Tour style poster from the Haight Ashbury sixties. Without any background literature I can't completely figure out the pen-and-ink piece "Fashionable 01" by D. Young V, but like the composition and workmanship, and resolve to research this San Francisco artist's work further. Albert Nguyen's monster art piece with marauding T Rexes ("American Apparel") also has a certain appeal deriving from it's colors and composition. In summary this opening is interesting, but unfortunately too crowded at the time for a serious look-see.
Comment by AB: Any degree of hip is too hip for me, but not for you, I'm sure...
Hipster art (image c/o Alan Bamberger).


Hipster art in above image closer - Hipster Headshot by Mario Delgado.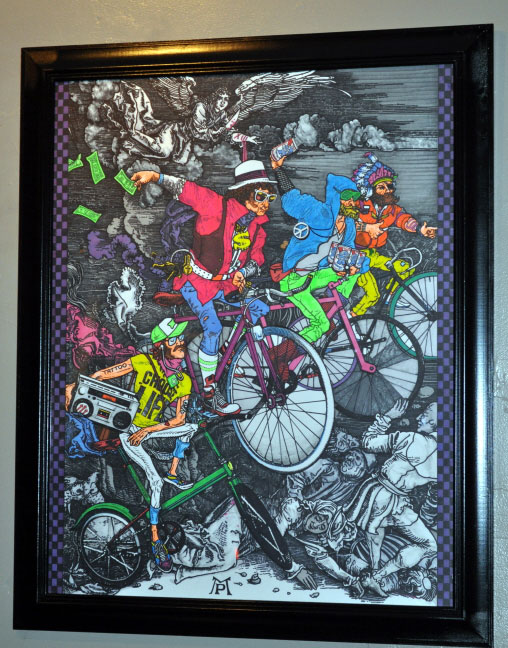 Four Horsemen of the Apocalypse by Marcus Thiele.


Hipster art by David Young V.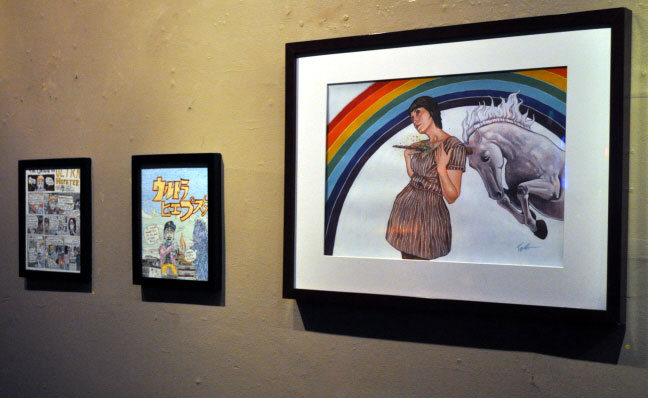 Hipster art.


***
Kokoro Studio: Dream Portal - Paul Kalcic; Jellystones - Guest Artists.
Review by Geoff Smith: There is a kind of playful sweet innocence associated with the works of both Paul Kalcic and Jellystones-- they share that in common even though their styles are quite different. Kalcic is self-taught as an artist, yet his work reflects raw talent and commitment as well as a reverence for nature and a yearning for harmony between things manmade and natural. Jellystones' work is both detailed and vibrant. It reflects a delight with color and a playful exuberance that is truly refreshing and fun.
Review by RWM: Even in the Tenderloin can you find the dreamy stuff of wonderland. The paintings here are inspiring. Nice and sweet stuff mostly, the wholistic elements perhaps a bit New Agey, but contagious just the same.
Art by Jellystones aka Keiko Kuramoto.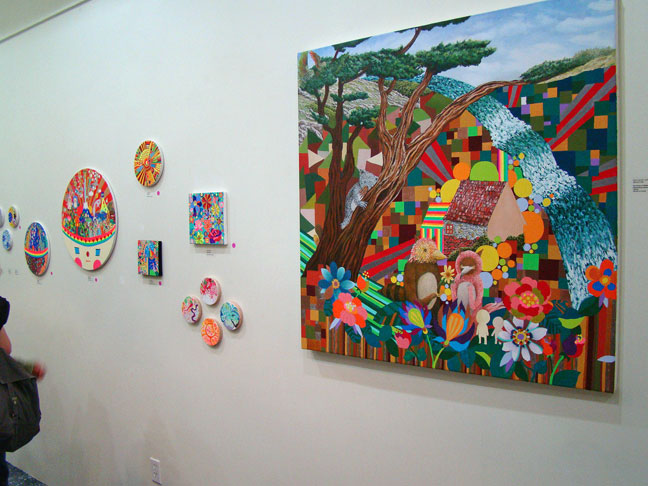 Art by Jellystones aka Keiko Kuramoto.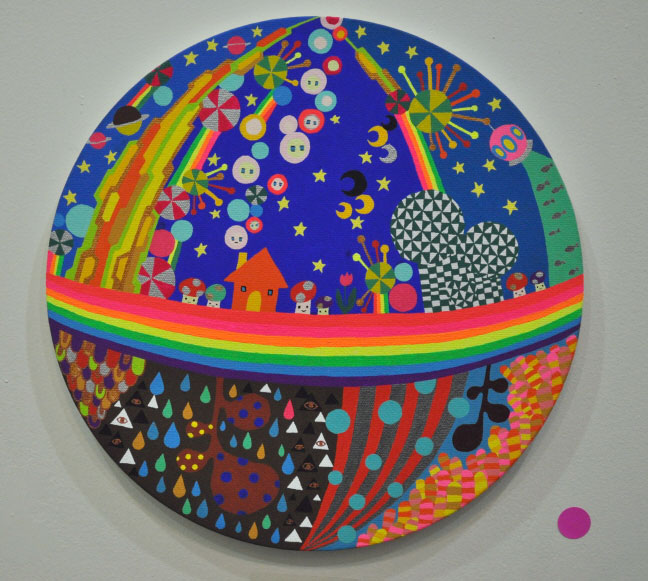 Art by Jellystones aka Keiko Kuramoto in above image closer (image c/o Geoff Smith).


Paul Kalcic and his art (image c/o Geoff Smith).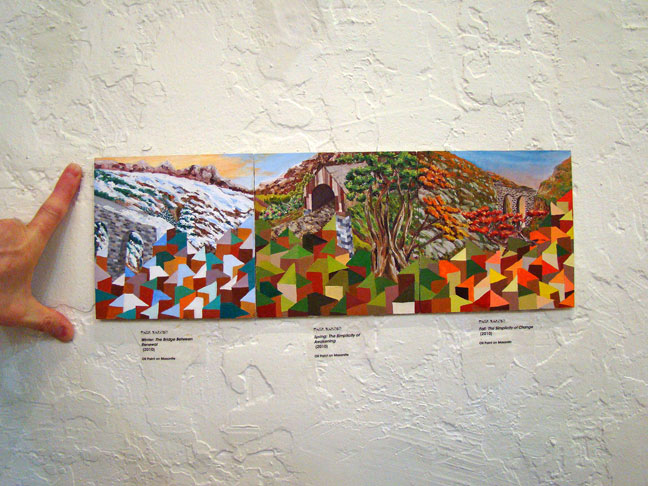 Art by Paul Kalcic.


***
Ever Gold Gallery: Who Needs Friends When You Have a Partner in Crime - Austin McManus and Brandon Chuesy.
Comment by AB: One one wall, reasonably appealing paintings by Brandon Chuesy rate high on the affordability scale, averaging in the low hundreds of $$. On the opposite wall (plus a nifty back room installation) experience brash urban romance in the photographs of Austin McManus.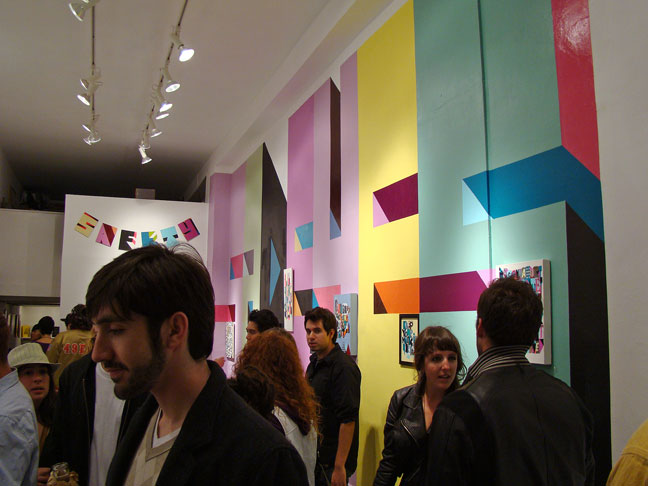 Art by Brandon Chuesy.


Brandon Chuesy art closer.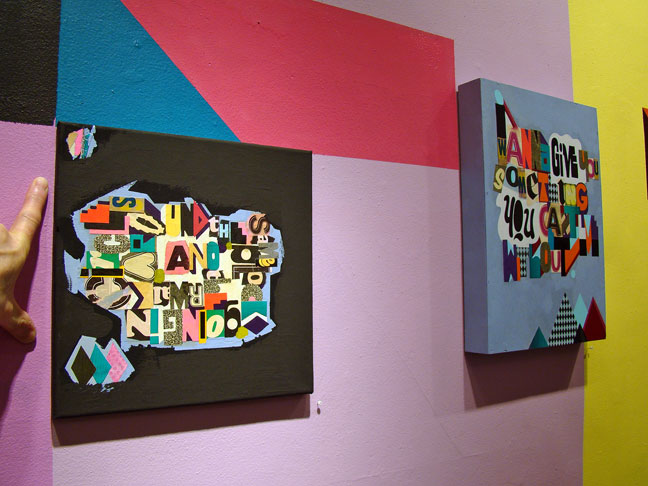 Art by Brandon Chuesy closer.


Photography by Austin McManus.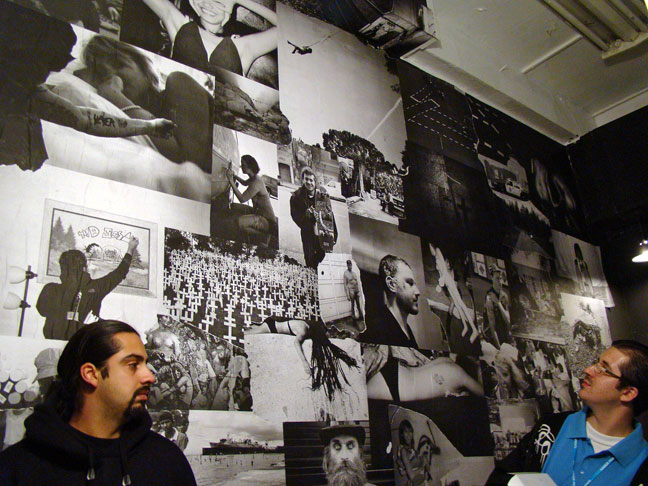 Austin McManus photograph installation.


Photos by Austin McManus.


Out front.


***
Fivepoints Arthouse: The Trophy Room. Curated by Obi Kaufmann.
Artists: Ken Davis, Jaime Lakatos, Nathaniel Parsons, Savanna Snow, Derek Weisberg, Lexa Walsh.
Review by Geoff Smith: This show is curated by Obi Kaufmann, an Oakland-based curator, gallerist and website host, and features six Oakland-based artists in this show where the artworks are characterized as "trophies." Although the show title is a little obscure, some of the individual works are quite thought-provoking. Derek Weisberg's 8-ft high sculpture "The Star that Never Sets" has a universal quality to it that appears focused on the lives of everyday folks like most of us, and additionally considers our trials and tribulations. The arrangement of the figures and facial renderings are really quite remarkable as is the entire piece. Jaime Lakatos' two pieces in the show are creative and well made but a little eerie and unsettling as she seems to be tampering with nature itself in a Frankenstein-like manner to create new and as yet unknown creatures. I felt like I'm looking into the future to see part of what might evolve someday as the result of natural or artificially induced evolution.
Comment by AB: According to the promotional brochure, The Trophy Room is "based around a model of the artist as collector of souvenirs. Souvenirs that may or may not transcend the world of Kitsch but are certainly profoundly resonant with memory and intention. These souvenirs are crafted heroically from an unknown and creative challenge that are then brought back to the community as evidence of said challenge." Well my lovelies, I have absolutely no clue what that means, so on to the pics...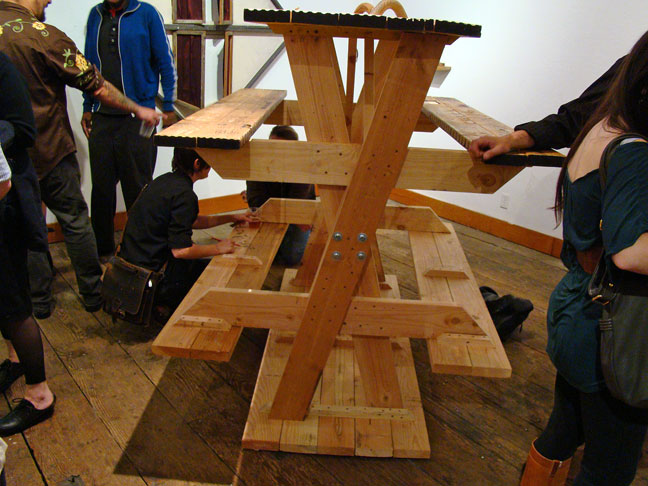 Strange Siamese picnic table art.


Art (image c/o Geoff Smith).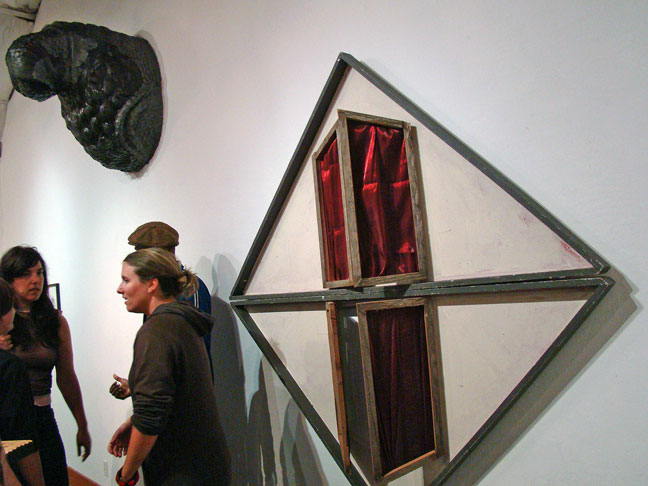 Art.


Walrus head art in above image closer (image c/o Geoff Smith).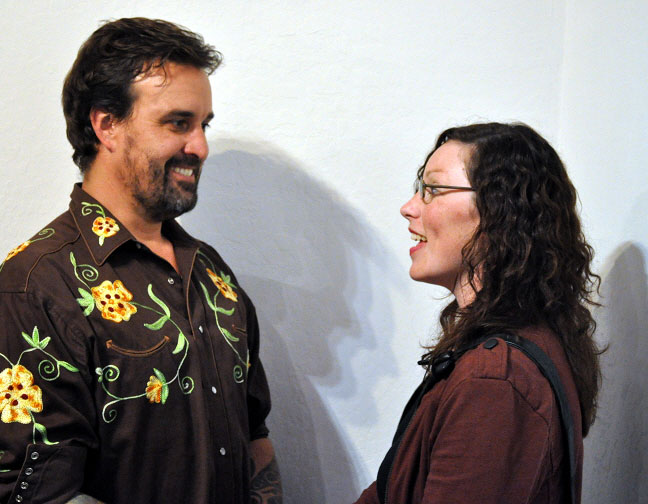 Curator Obi Kaufmann & Jessica Wallen (image c/o Geoff Smith).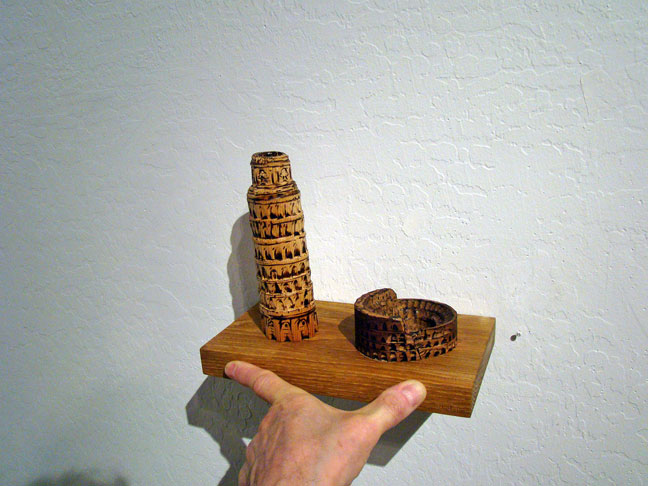 Little art.


Big ass ceramic art by Derek Weisberg - The Star That Never Sets.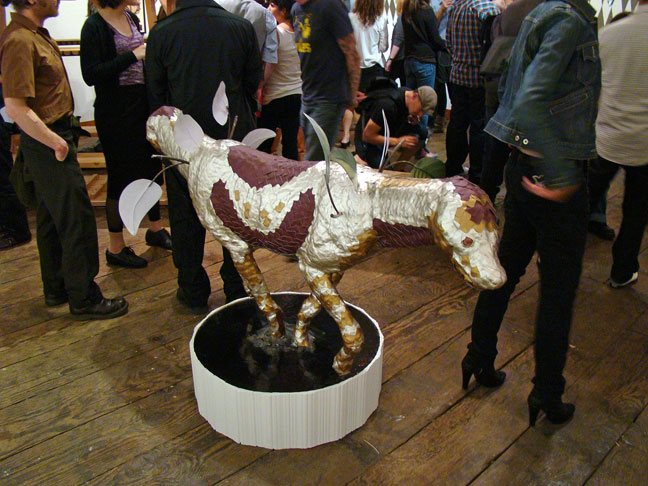 Not sure.


***
111 Minna Gallery: Las Calles Electricas - Uriel Marin, Rene Almanza and Daniel Berman.
Comment by AB: Three talented Oaxacan artists from the city's Artecocodrilo collective tootle up north to share the fruits of their creative endeavors with all of San Francisco. Good stuff; worth a visit.
Rene Almanza art.


Art by Uriel Marin.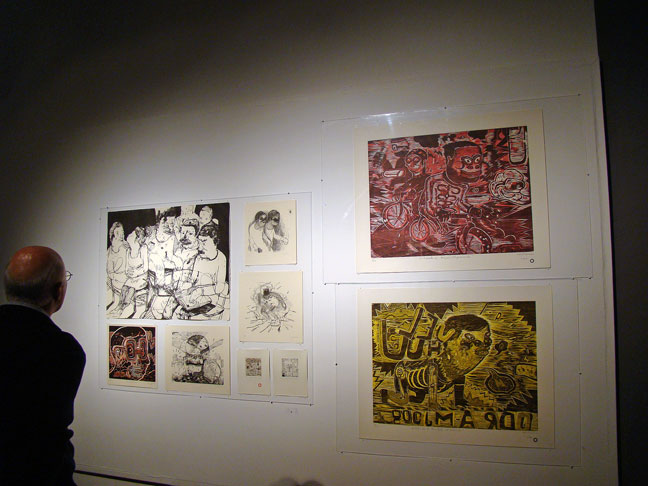 Art by Uriel Marin (right), Daniel Berman (left).


Artists Rene Almanza - Uriel Marin - Daniel Berman.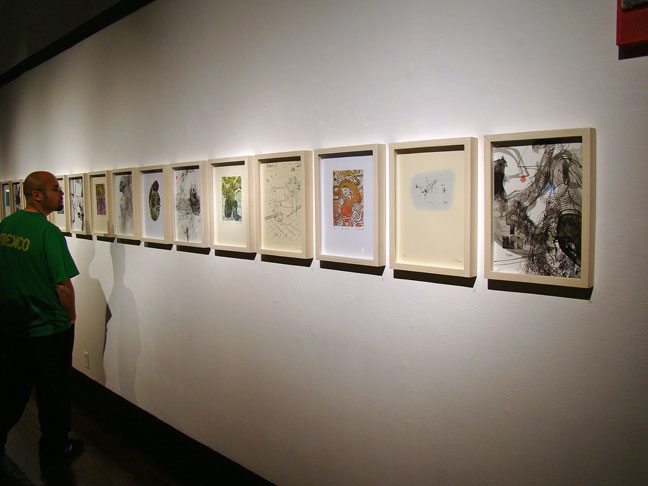 Art by Daniel Berman.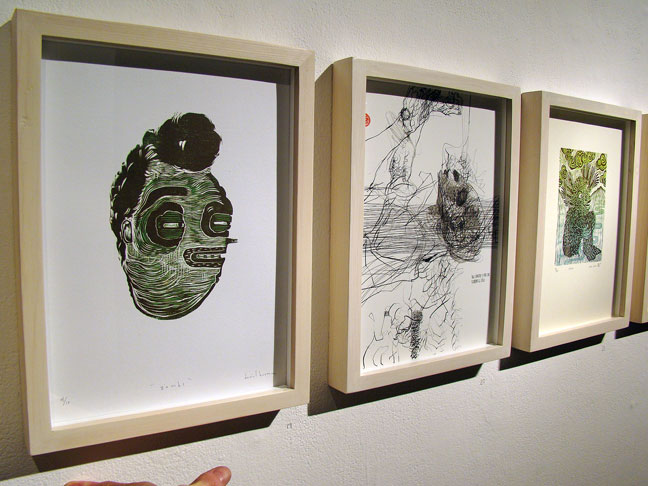 Art by Daniel Berman in above image closer.


What it is - art by Uriel Marin, Rene Almanza and Daniel Berman.


***
Addendum:
Adam Flores prepares for his Saturday opening at Gallery Heist.


Uh oh. Porous Walker's in town for his opening tomorrow at Fifty24SF.


***
Yo! Lay your pretty little peepers on THIS.
***
First Thursday - April 1, 2009
***