SAN FRANCISCO GALLERY OPENINGS
FIRST THURSDAY; 08.04.05
General comment:
On the one hand August is slow, the weather's hot (except here), and life takes a breather including for the art dealers, most of whom beach it and work their tans-- even Krevsky. But that doesn't mean the scene's a dead dog. You see, what happens is some dealers revisit their stagnant stashes, lug out the ballast they can't believe didn't sell the first time, and throw it up for reruns. So kiddies, this means you get to see what dealers think you should buy rather what dealers think people who buy art want to buy-- which is not altogether a bad thing. But wait; there's more. Other dealers experiment, take risks, float newbies, stretch limits, and alternatively garnish their kunsthalles with meritorious creatibles that aren't necessarily peak season slam-dunks. And then there's the spoilsports, galleries that don't care what time of year it is; they just keep dishing up the good stuff. At least I think that's how it goes.
Here, you decide...
***
Rena Bransten Gallery: Take Shape - Group Show; Ron Nagle - Recent Work.
Artists: Libby Black, Margarita Cabrera, Jim Christensen & Leah Modigliani, Andrea Cohen, Seth Koen, Rachael Neubauer, Michael O'Malley, Jared Pankin.
Comment: The show looks good-- Rena Bransten has a really conducive space-- and the art is a perfect example of what I was just talking about. Artists like Seth Koen and Libby Black get floated in a group circumstance at a new venue, and we all watch to see what happens. Jared Pankin's mixed media collages are pretty tasty, but I have trouble staying in the present, and wonder wether these wood scrap wonders will retain their current perk once the dust settles. Meanwhile, Ron Nagle's peerless precision porcelain overglaze forms make you marvel (priced around $8K-$9K). And the gallery's website is excellent-- one of the best, cleanest, most straightforward, most accessible, and easiest to navigate I've seen-- ever. It makes art look great, and that's how art has to look if you want to sell any.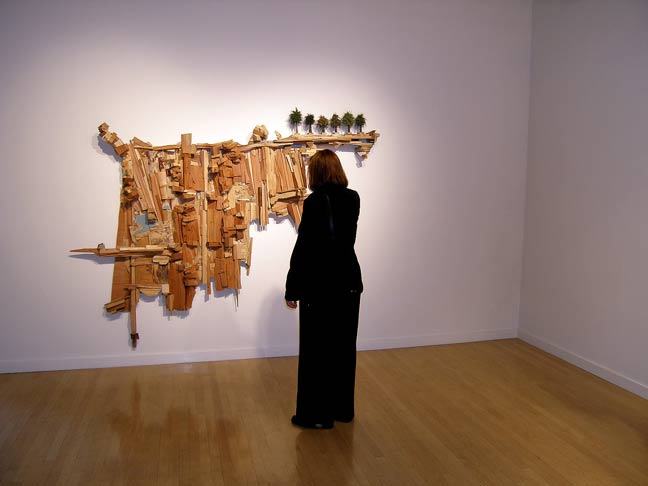 Art (Jared Pankin).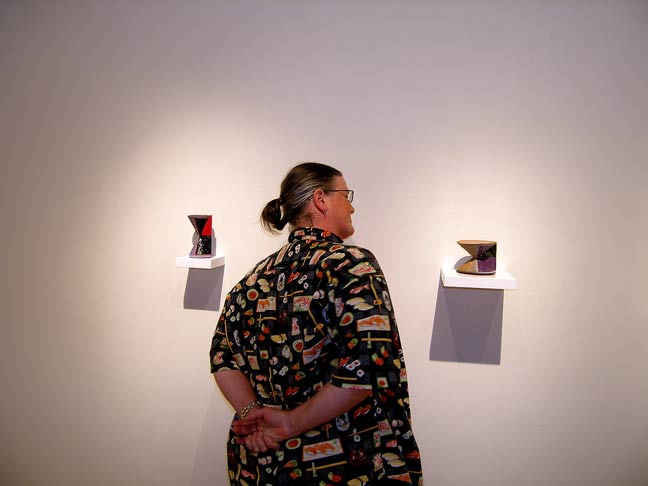 Art (Ron Nagle).


Gucci golf art (Libby Black).


Art.


***
Gallery Paule Anglim: Joan Brown - Jack Fulton.
Comment: Works on paper from the 60's and 70's by Joan Brown-- nice, nostalgic-- she left us too soon. The Jack Fulton collages date from the 1970's and were reproduced as digital images in the 1990's. This means the original collages were either scanned or digitally photographed, converted into image files, uploaded to a computer, and then printed out on an inkjet printer. Is that art? Doubt it. Are the images engaging? Yes. Are they worth owning? Yes. Should they be priced like art? Doubt it.
Art (Joan Brown).


Computer printout of a Jack Fulton collage.


Art (Joan Brown).


Art (Joan Brown).


***
Catharine Clark Gallery: Summer Group Show.
Artists: Christoph Draeger, Julia Page, Sandow Birk and Elyse Pignolet, Packard Jennings, Mike Rollins, Ray Beldner, leonardogillesfleur, Chester Arnold, Masami Teraoka, Travis Somerville, Al Farrow, Reuben Lorch-Miller, Julie Heffernan, Andy Diaz Hope, Yoram Wolberger, Scott Greene, Walter Robinson, Scott Roberts, Timothy Cummings.
Comment: This motley upbeat funathon certainly gets a gold star on the forehead for entertainment value. Among the highlights are Ray Beldner's expertly sewn Gelt Suit (starchy at $8500, but he probably really likes it because it's really good, and he probably isn't going to make another one because it took so long to make this one, so once it's gone it's gone-- just thinking out loud), Walter Robinson's blue pink Republican Democrat gumdrop cookie vision of America ($7200), and Yoram Wolberger's giant plastic Toy Soldier No. 3 ($15K, with a mite more plastic overhang just south of the butt crack than I care to contemplate). And that's not all-- there's more. Check it out.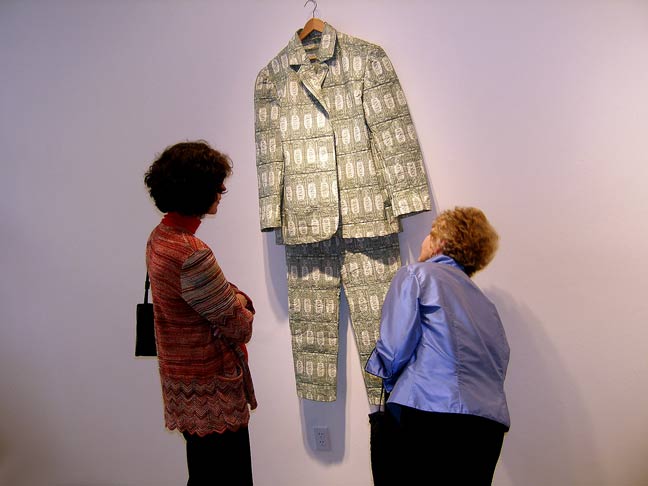 $$ art (Ray Beldner).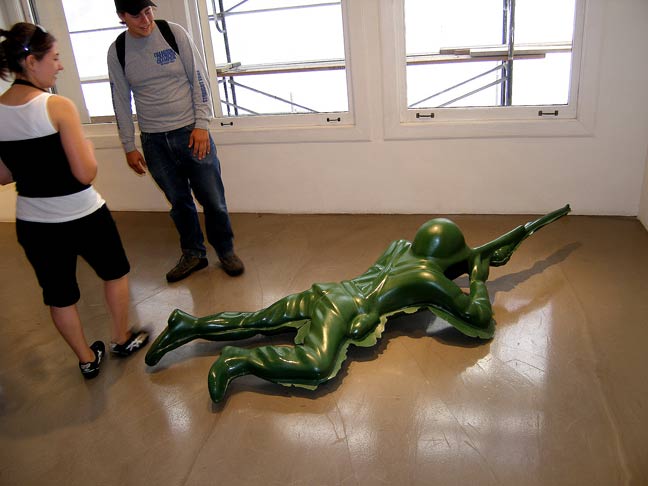 Art (Yoram Wolberger).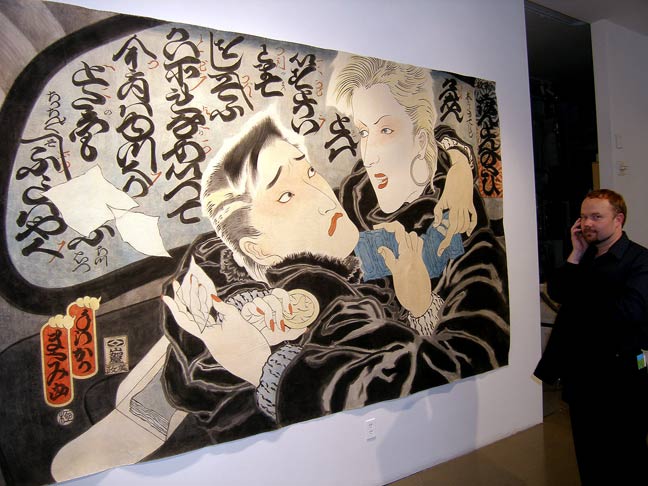 Art (Masami Teraoka).


Art (leonardogillesfleur - left; Mike Rollins - right).


Art (Walter Robinson).


Art (Chester Arnold).


***
Steven Wirtz Gallery: Rrose Selavy.
Artists: Christo, Jim Goldberg, Eikoh Hosoe, Michael Kenna, Robert Mapplethorpe, Tony Labat, Echiko Ohira, Deborah Oropallo, Lucy Puls, Raymond Saunders, Andres Serrano, Kathryn Spence, Doug and Mike Starn, Larry Sultan, Debora Warner, Terri Weifenbach, Masao Yamamoto.
Comment: The rose is the theme and the show's worth a visit.
Art.


Art.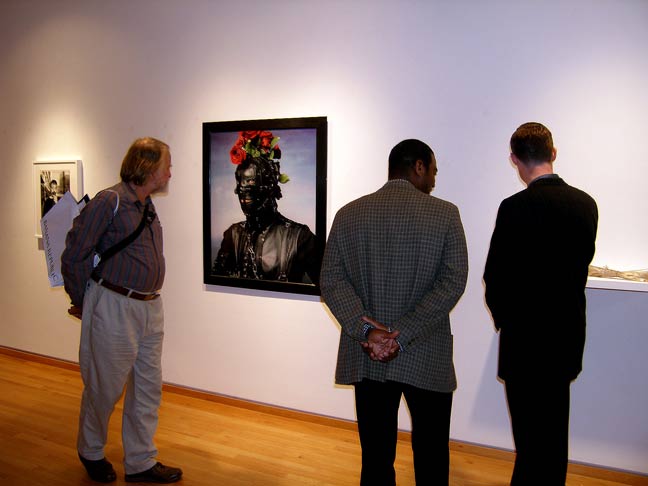 Art.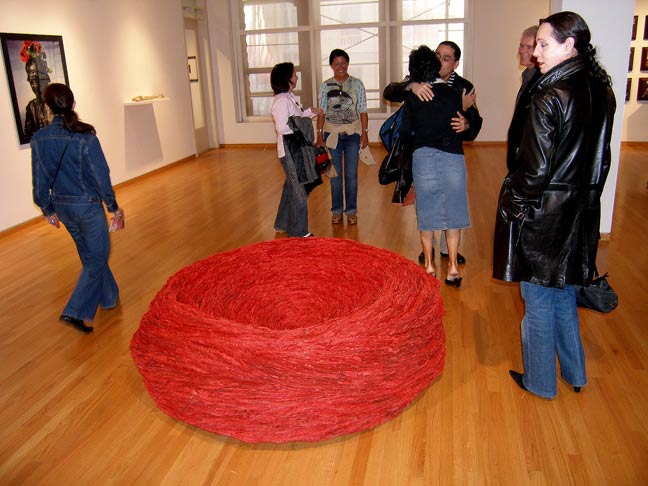 Art.


***
Fraenkel Gallery: John Gutmann at 100; Group Show.
Comment: Best photography gallery in San Francisco and one of the best anywhere. That simple. John Gutmann paintings and photographs in the back room; great photographs from all time periods everywhere else.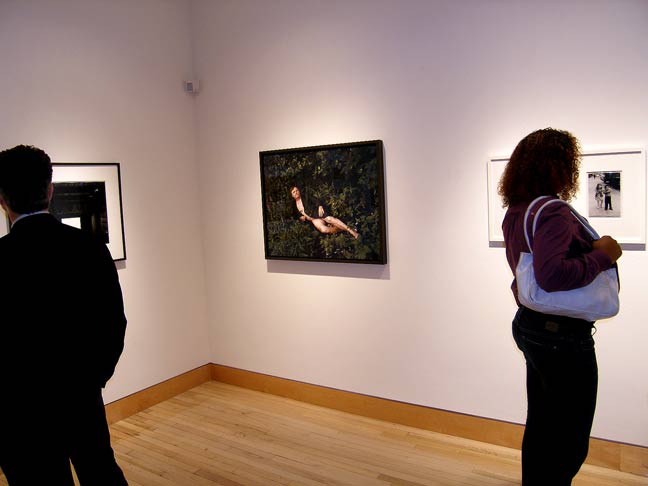 Photography.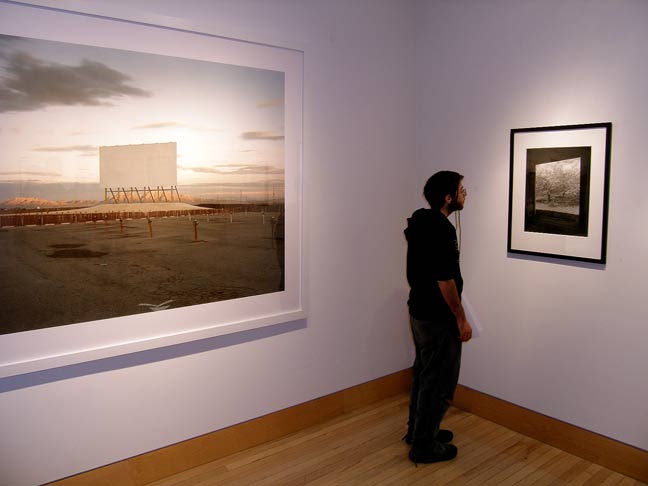 Photography.


Art, photography (John Gutmann).


Photography.


***
Toomey Tourell Gallery: South African Photography - Past / Present.
Artists: Jurgen Schadeberg, Andrew Tshabangu, Jan Verboom, Dale Yudelman.
Comment: I like going to far away places without actually going there; it's environmentally responsible and very cost effective. One of the best ways to go there without going there is to experience foreign lands through the eyes of their artists, and the South African photographs at Toomey-Tourell not only convey a sense of being there, but additionally blend in historical perspective.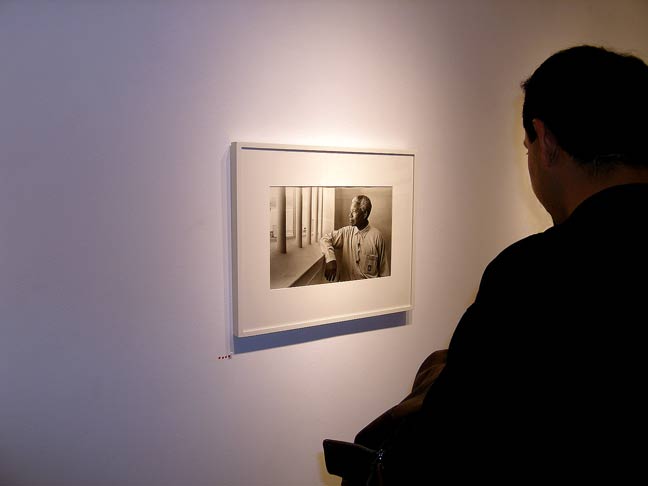 Photography.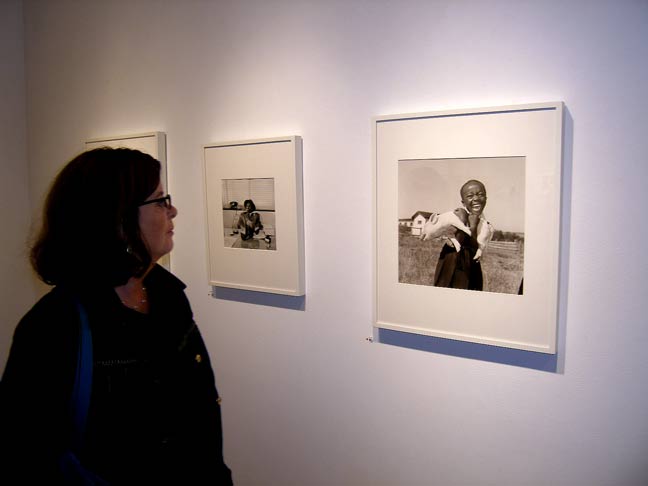 Photographs.


Photos.


Photographics.


***
Steven Wolf Fine Arts: Pop Spelled Backwards is Pop - Ghost Signatures.
Artists: Pop - Robert Dowd, Joe Goode, Wallace Berman, George Herms, Ed Kienholz, Tony Berlant, Richard Pettibone, John Clem Clarke, Robert Stanley, Ray Johnson, Derek Boshier, Archigram, Al Wong; Ghost Signatures - Jose Ruiz.
Comment: Ever heard of a Pop Art show without a Warhol? Well, this is it. Steven Wolf presents the arcane side of the idiom with a selection of vintage works by artists who aren't exactly household names. If you're like me, you get tired of looking at the same old icons over and over and over again, and you want to see whether anybody else was doing anything interesting. And they were, and some of it's here. In the back room, a three-screen Jose Ruiz video installation shows, on one screen, graffiti being sprayed, on another screen, that graffiti being painted over, while on a third screen, a chap cuts grass on a riding mower.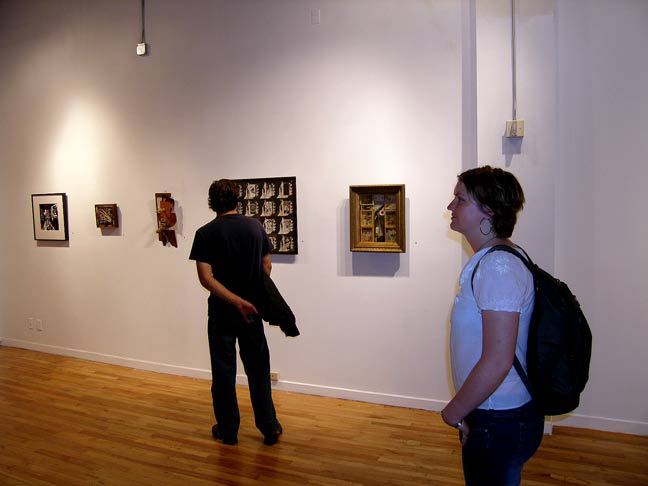 Art.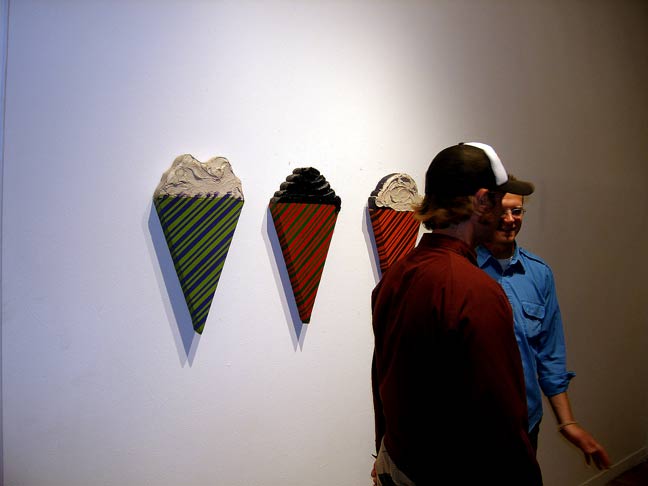 Art (like 'em).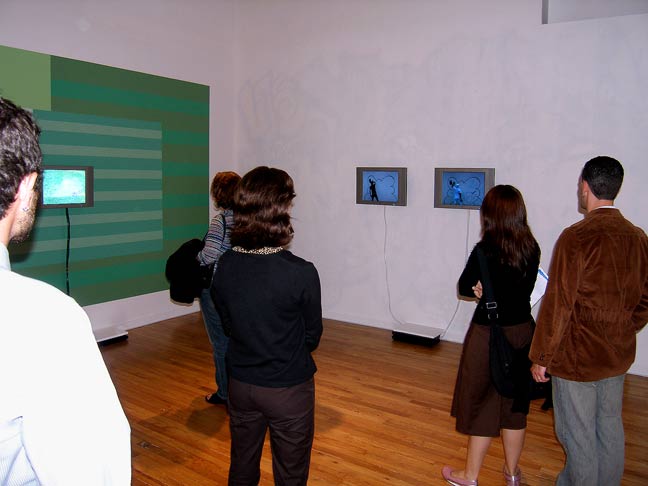 Installation art (Jose Ruiz).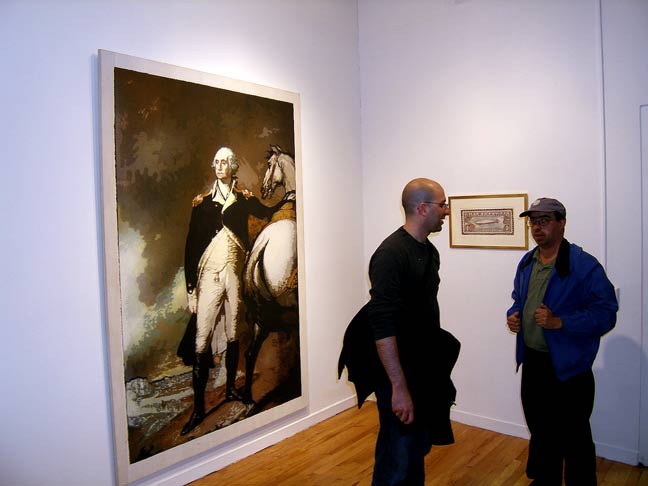 Art.


***
Haines Gallery: Ad Infinitum - The Aesthetics of Repetition II.
Artists: Carl Andre, Rana Begum, Omar Chacon, Max Cole, Rob Craigie, Amy Ellingson, David Klamen, Nigel Poor, Alan Rath, Ed Ruscha, Yoshitomo Saito, Stephanie Syjuco.
Comment: The show's title is self-explanatory, but that doesn't stop Haines Gallery from wringing a Byzantine three-paragraph press release out of it including the word "amongst." It takes more than convolution to fool me, though-- I have a college diploma (plus a little Masters work)-- and I'm sticking with the title. Oh, the art. It's all good, but I especially like three David Klamen watercolors, each composed of many mini-landscapes-- absolutely excellent.
Art.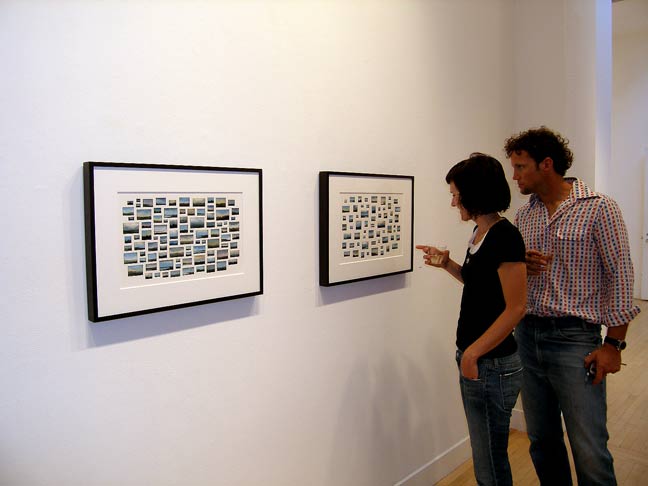 Art - pick (David Klamen).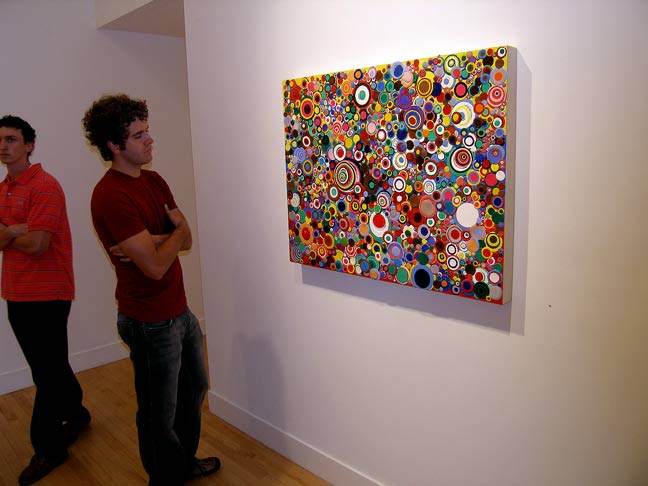 Art.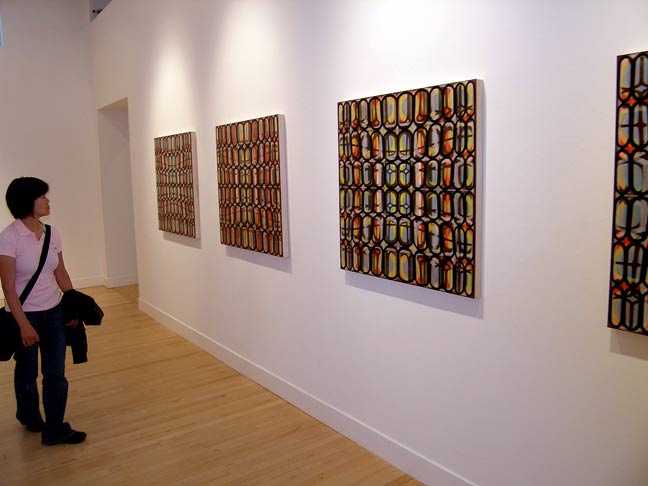 Art.


***
Brian Gross Fine Art: Michele Pred - (re)collections.
Comment: All kinds of artists make art from recycled materials, but few make it as well as dumpster diver diva Michele Pred. Pred's recycled art transcends its component parts-- which much recycled art fails to do-- so with Pred, you have the choice of either appreciating the re-use aspects of the compositions, or enjoying the work as fine art without having to worry your pretty little head about where the ingredients came from.
Art.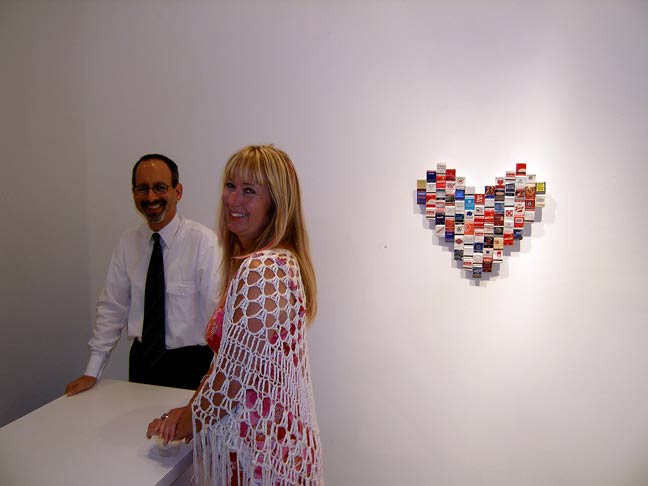 Brian Gross - Michele Pred - art (no multi-level meaning intended).


Art.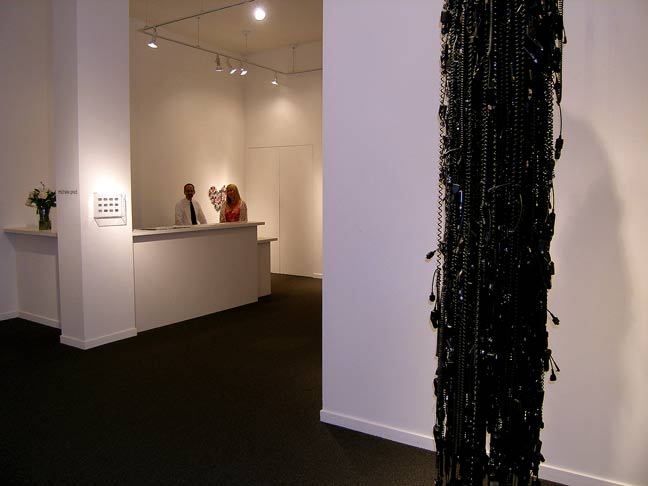 Art.


***
111 Minna Gallery: Cannonball Press - Thanks for Nothing - Losers, Lucky Breaks and Lost Causes.
Artists: Martin Mazorra, Michael Houston, others.
Comment: My favorite kind of art-- real good and real affordable. 8 x 4 foot black and white relief-cuts are $500. The most awsome piece in the show-- a gargantuan monster print on stitched pieced canvas (I think), is $2500. A ratty old moving blanket with the show's title printed on it is $200 (major megadeal). Or you can buy smaller prints for as little as $10 (and I get the feeling that if you ain't got the tenner, Brooklyn-based Cannonball Press co-artist-owners Martin Mazorra and Michael Houston will make sure you don't leave empty-handed). It's rude, it's crude, and it's Pick of First Thursday.
Art.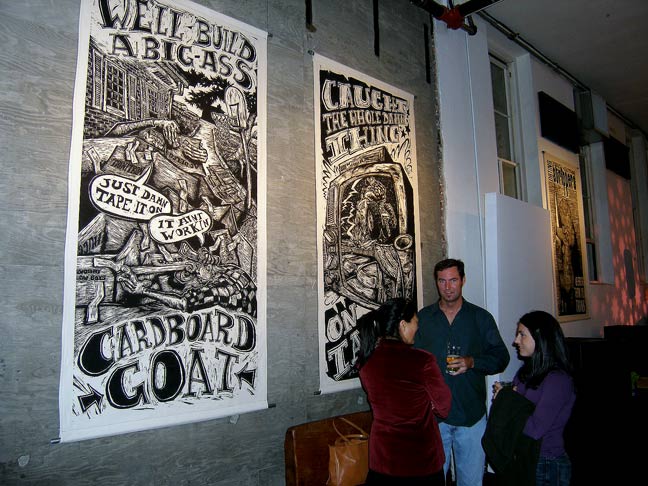 Art.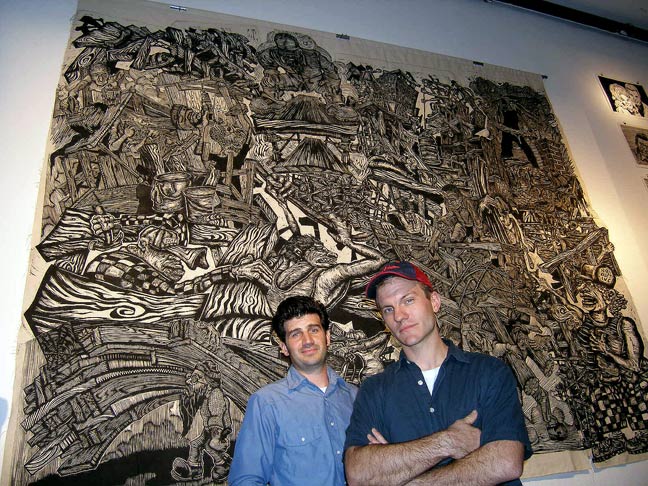 Martin Mazorra - Michael Houston - $2500 art.


Art.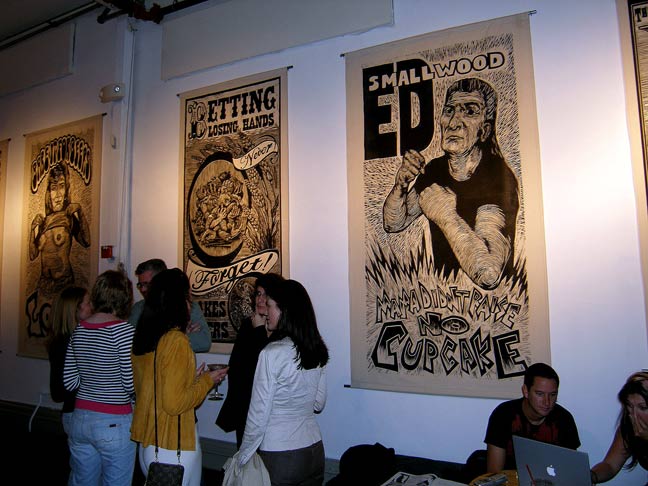 Art.


***
Red Ink Studios and Chatterbox: The Ultimate Altered Barbie & Friends Show.
Artists: Pop - Stan Askew, Ben Fishman, Big Al, Jerry Blue, Cherrie Elliott, Deborah Colotti, Patricia Herbert Crowley, Dana Smith, Dana Merik, J.W. Diehl, Fanklin Lim Liao, Julie Andersen, Michel Fraser, Mauricia Gandara, Nora Garcia, Jenne Giles, Kate Grady, Marc Ellen Hamel, Elaine, Tanya Jaffe, Sofia Larsson, Laurie Toby Edison, Catherine Lynch, Steven Stodor, Jose Mondragon, David Pang, Ruby Pearl, Pernilla Pesson, Rik Livingston, Leigh Radtke, Roxanne Worthington, Elizabeth Schmid, Jordan Hines, Adele Louise Shaw, Caroline Shields, Susan Bistline, Susan Koroly, Susie Kameny, Emeson Taymor, Tina Vietmier, Wendy Robinette, Amber Zayac, Zmanart, Jody Banks, FrancisE Kohler, Diane Komater, Nicolette Yarbrough, Lynne Lee, Hestar Michaels, Etya Makiyer Skaya, Mey Lee.
Comment: Barbie like you've never seen her before-- twisted, tweaked, dismembered, contorted, permutated, and everything else you can conceivably imagine, plus a little extra. In fact, this show is so off the wall, it should be institutionalized. Oh, wait. It's already institutionalized-- it's in San Francisco!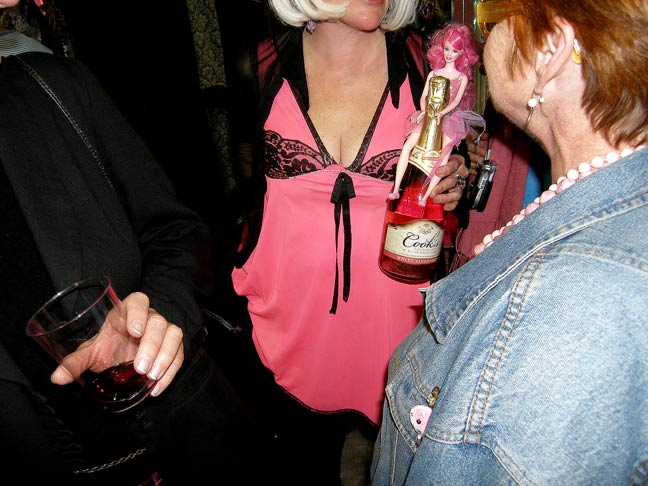 Barbie art.


Barbie art.


Barbie art.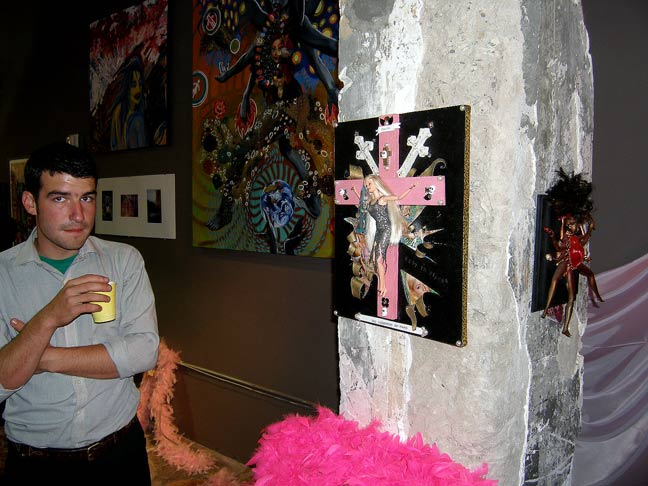 Barbie art.


Not sure.


Barbie art.


Barbie art.


Barbie art.


Barbie art.


***
Fifty24SF Gallery, a division of Upper Playground: Anthony Yankovic.
Comment: Columbus, Ohio artist Anthony Yankovic creates Seventies-style collaged works on paper with diluted acrylics and ink. He also designs T-shirts for Upper Playground. A nice departure for a gallery that typically tilts serious-side Urban.
Art.


Anthony Yankovic - curator Ben Belsky.


Art.


***
Addendum: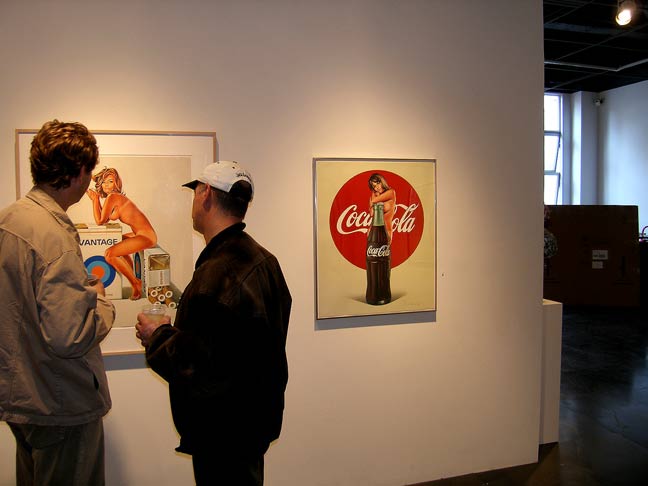 Mel Ramos cheesecake at Graystone Gallery.


Kyle Mock teensies at The Small Gallery.


Kyle Mock - Northeast quadrant of The Small Gallery.


Outsider, naive, self-taught at Jack Fischer Gallery. NEW to 49!


Group Show at Don Soker Gallery, 49 Geary, 4th Floor, 415.291.0966.


Isidro Blasco photo sculpture at Patricia Sweetow Gallery.


Isidro Blasco (left) - Christian Nguyen (right) at Patricia Sweetow.


Portraits at Scott Nichols Gallery (forgot artist- help needed).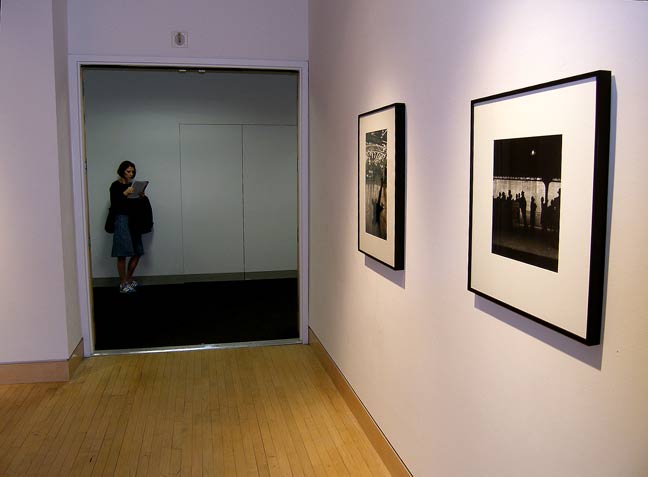 Elliott Erwitt, Homeland, USA at Robert Koch Gallery.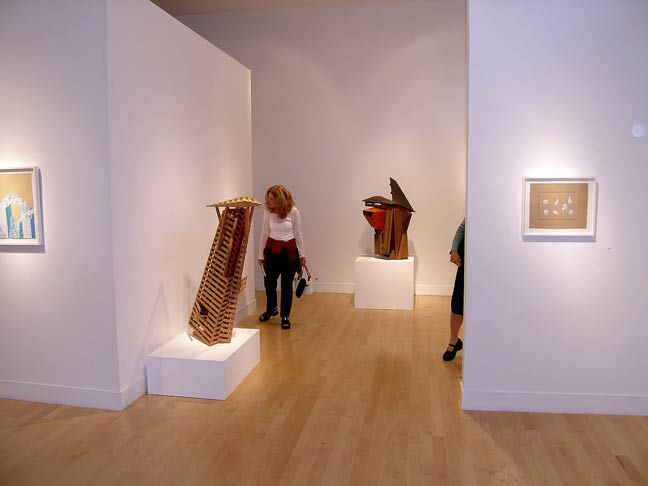 Randy Dixon sculpture - Will Yackulic gouache & inks at Gregory Lind Gallery.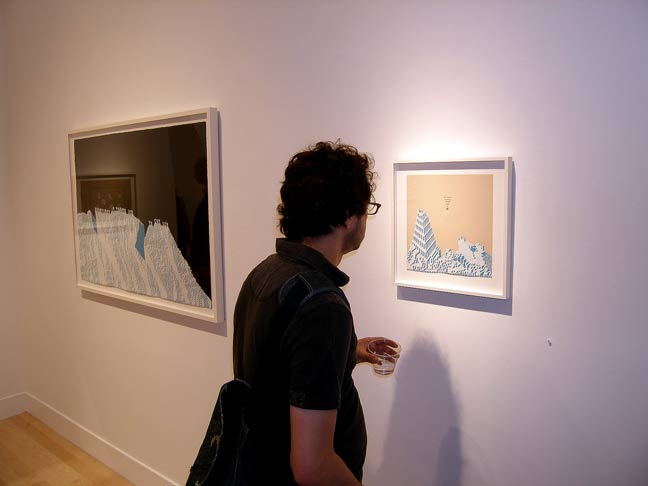 Will Yackulic at Gregory Lind.


Erik Jacobsen pencils a wall at Cafe Royale.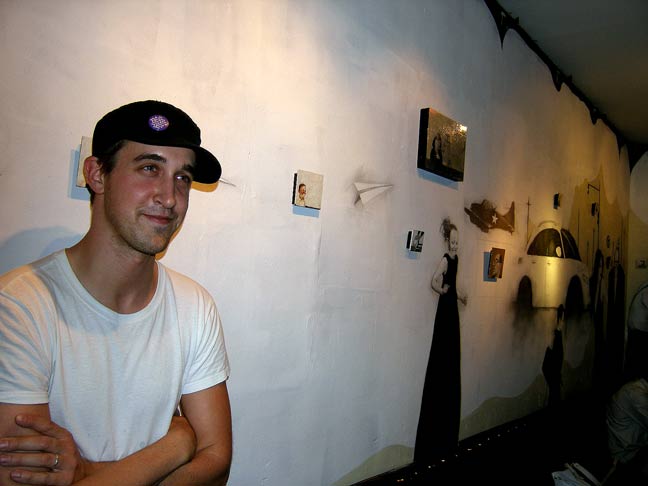 Erik Jacobsen at Cafe Royale.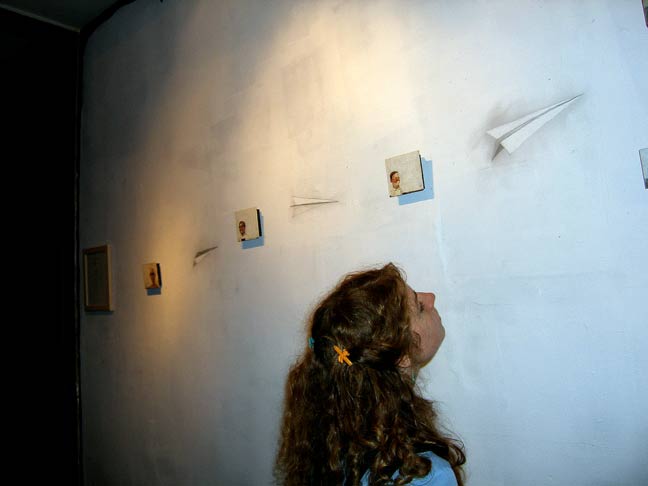 One more Cafe Royale.


Like what I do? MAKE A DONATION. Thank you. Most appreciated.
***
June First Thursday; June 2, 2005