SAN FRANCISCO GALLERY OPENINGS
FIRST SECOND THURSDAY; 09.08.05
General comment:
Option A: I felt genuinely bewildered tonight. Show after show battered the bulwarks of my intellect. By evening's end, I didn't have enough IQ left to pass a blood test. Not everything looped me, but I gotta tell you, there was no vacancy on the outer oblivia of the aesthetic galaxy. Let me get this straight-- people are supposed to buy this stuff? It's in galleries, it's priced, so that means it's for sale, right? Or maybe y'all have plenty of money and you're just playin' around. Don't ask cuz I don't know. Thanks for asking cuz here's what I think. Genteel erudite artsters travel in packs, bask in the void of dissenting opinion, ultimately to spin off into trifling irrelevance. It's kinda like inbreeding or, at best, the secret handshake.
Option B: Artland has no rules. As artists, your duty is to float your product no matter what it looks or sounds or feels or smells or tastes like because that's how creative evolution happens. You gotta have the scrotumular pugnacity to strut every last impulse on gallery walls and pedestals or else the art world keels over in abject stagnation. You make it, you show it, it works, it doesn't, it sparks, it fizzles, it clicks, it thuds. That's what exploration and discovery are all about-- your contributions to that noblest of causes-- seasoning art's soup with good intentions. Creativity ripples relentless, unmuzzlable; innovation ensues-- better living through art. If you can't respect inception, what can you respect?
There you go. Two takes. Take your pick. Here's some art to help you make up your mind...
***
Larry Evans Fine Art: Douglas Schneider - Recent Paintings.
Comment: Abstract backgrounds; representational foregrounds; competence throughout. Schneider's dreamy imaginary suspensions are like glimpses inside the mind. Thought, memory, concept, idea, fantasy, reality, past, present, future-- whatever you want, it's all right there in brainland-- a venue without bounds.
Art.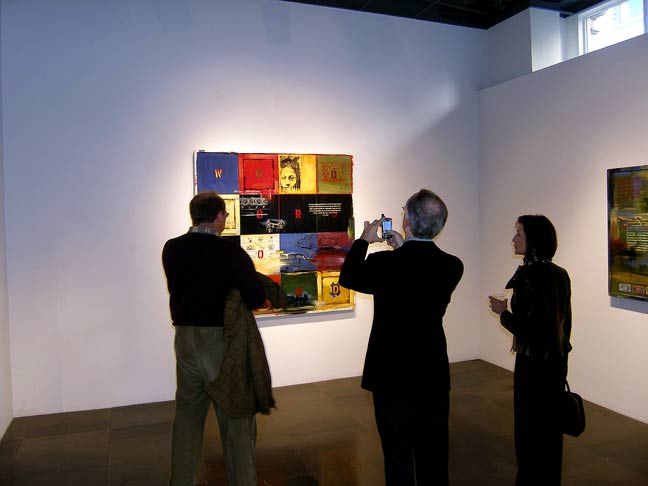 Art (without Douglas Schneider).


Art (with Douglas Schneider).


***
Rena Bransten Gallery: Doug Hall - Photographs.
Comment: Need a view? Get a Doug Hall photograph. His oversized images convey expanse and grandeur so effortlessly that you think you're looking through windows, bathed in panoramic circumstance. It's mirage travel without ever leaving the comfort of your living room. As for art value, you know you're lookin' at the good stuff when the impact transcends the medium.
Photography.


Photographs.


Photos.


Images.


***
Heather Marx Gallery: Libby Black - Caught Up in the Moment.
Comment: Libby Black calls our attention to pretention by counterfeiting items manufactured by the biggest names in conspicuous consumption. Her art explores the pathetic pursuit of self-validation through luxury brands, but I think the Chinese do it better.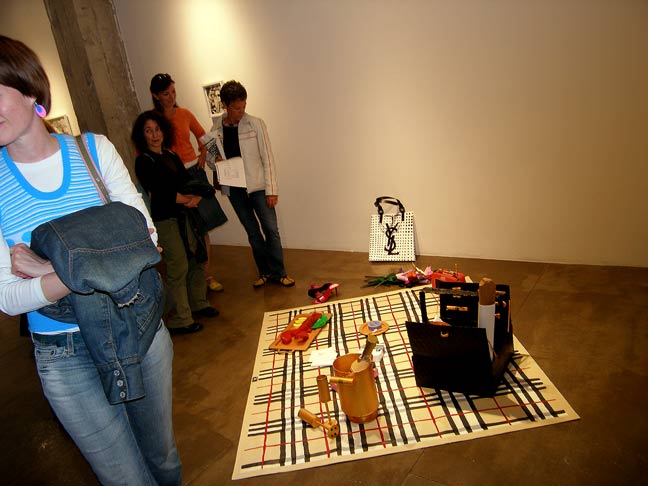 Art.


Art.


Art.


Art.


***
Catharine Clark Gallery: Inez Storer - Seismic Fallout.
Comment: I couldn't find a press release, so I can't theme it for you quick, but Inez Storer's kinder gentler stream-of-consciousness oil and collage paintings on canvas anchor the show. Most priced mid to upper thousands.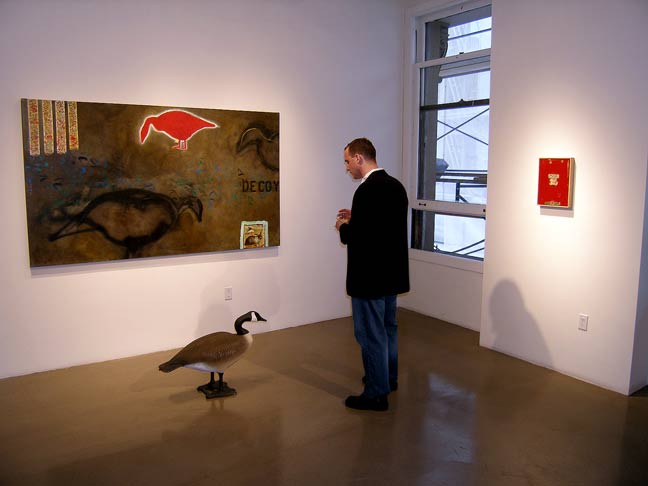 Art.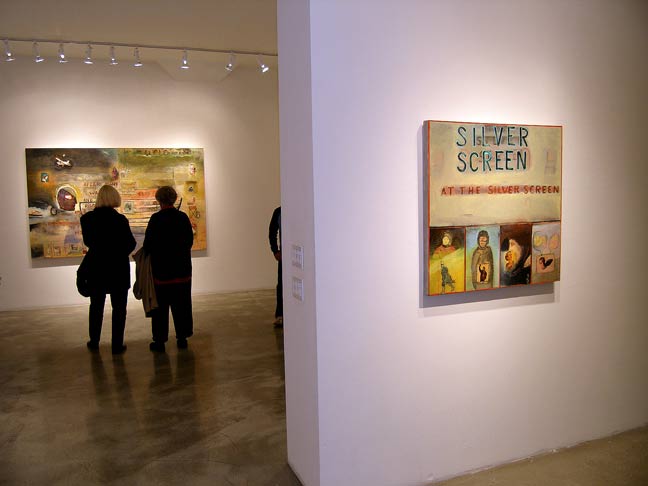 Art.


Art.


Art.


Art.


***
871 Fine Arts: Lynn Glaser - Recent Paintings - Letters From Iceland.
Comment: For her third show at 871 Fine Arts, Lynn Glaser paints Iceland in a series of large oils on linen, and also builds and paints several standing sculptures. They make Iceland look pretty sparse (and nippy) so I ask Glaser whether anything happens there. She tells me Reykjavik's got a pulse. Price range mid-thousands.
Art.


Art.


Peek-a-boo, I see Lynn Glaser - art.


871 owner Adrienne Fish in the book room.


***
Patricia Sweetow Gallery: Bernhard Hartter - In/For; Louise Belcourt - Water, Land, Mammal.
Comment: German artist Bernhard Hartter presents a wall of precision color-rich upbeat spin paintings on brushed aluminum, each measuring 5 by 5 inches and weighing in at an ultra-affordable $275 per. Brighten up your display case, bookshelf, or your life.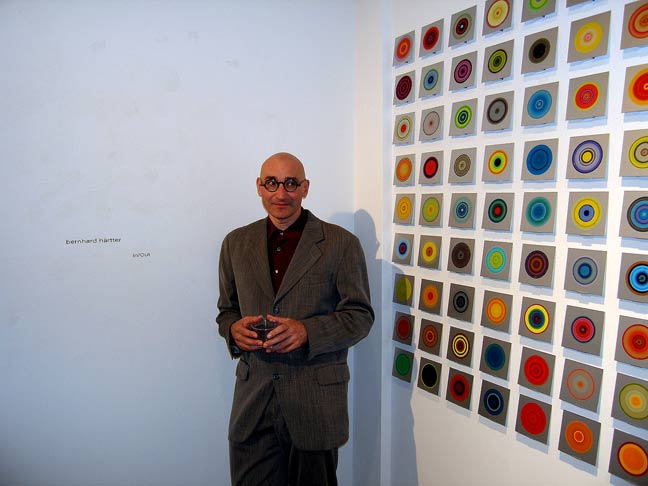 Bernhard Hartter - art.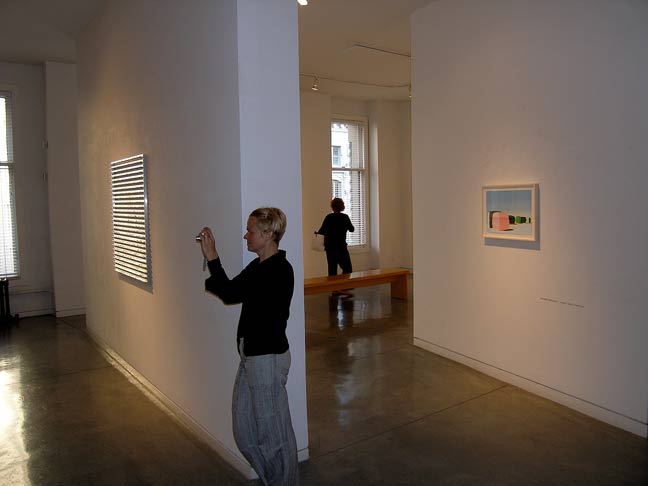 Art (Bernhard Hartter left - Louise Belcourt right).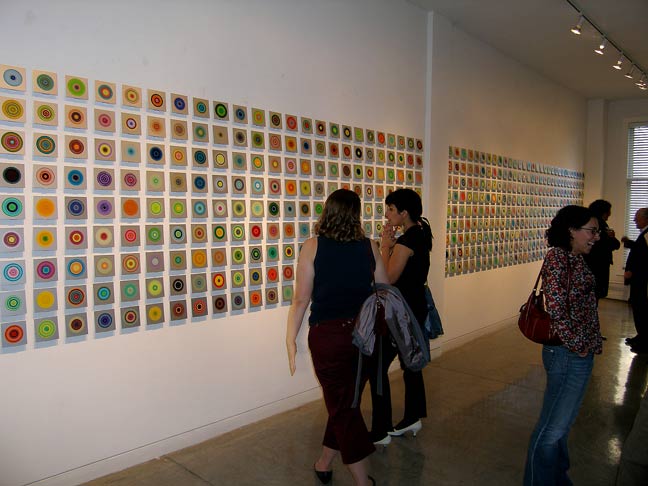 Art (Bernard Hartter).


***
Haines Gallery: Eat Drink Man Woman - Li Jin; Alan Rath - Motion Pictures.
Comment: Traditional Asian arts trend a smidge subtle and intricate for my tastes, but Li Jin's watercolor washes with calligraphy are modern, fun, odd, expressive, extremely well executed, reasonably priced for the acreage, and nuanced just enough to assuage my pro-Western pro-clivities. Video art trends a tad distracting for my tastes-- complicated by monitors, screens, projectors, CD players, wires, and other components. However, Alan Rath neatly dispenses with those pesky irrelevant incidentals by incorporating the wires into the art, framing the flat screens, hanging them on the wall, and presenting them more like animated paintings than video components with "art" happening on them.
Art (Li Jin).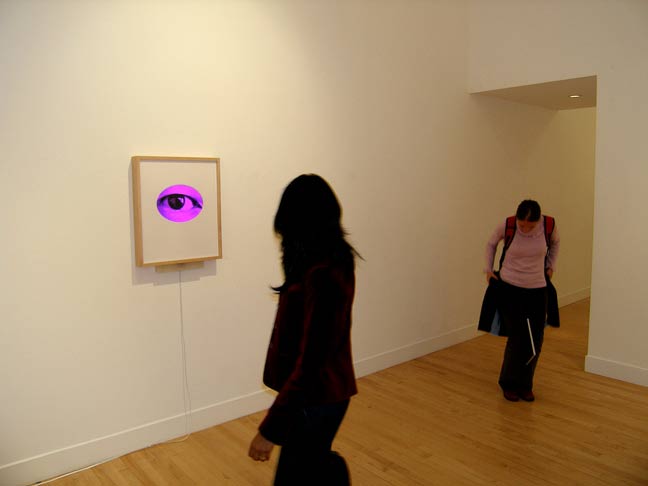 Art (Alan Rath).


Art (Li Jin).


Art (Li Jin).


Art (Alan Rath).


Art (Li Jin).


***
Toomey Tourell Gallery: Matthew Picton.
Comment: The most remarkable aspect of this show is that I have no idea how Matthew Picton gets his capillary art from Ashland, Oregon (where he lives and where I assume he makes it) to the gallery in what appears to be perfect original condition, assuming it's actually in perfect original condition (you can't really tell). I suppose if you're comparably baffled by Picton's logistical challenges, you can buy a piece, and accompany him as he transports it from the gallery to your home.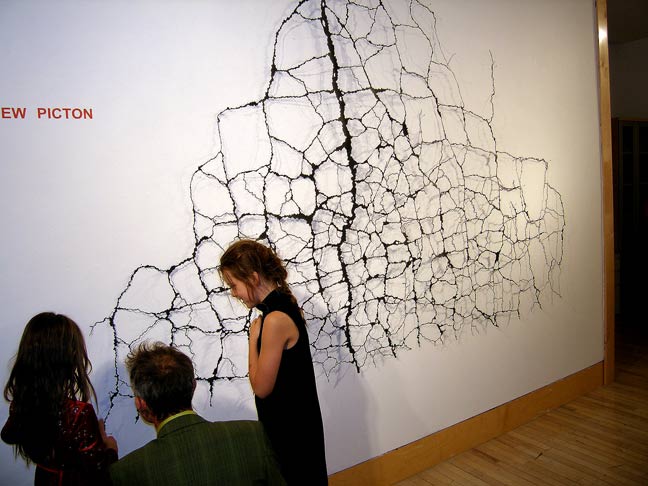 Art.


Art.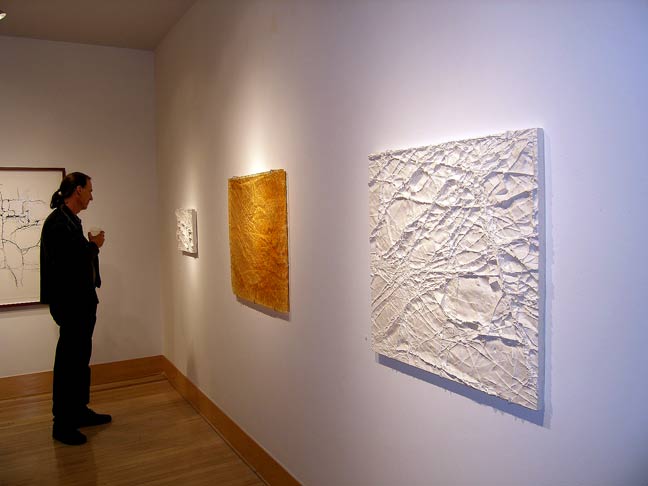 Art.


Art.


***
Gregory Lind Gallery: Seth Koen - Around the Corner.
Comment: The press release states "Koen's color palate, particularly red, establishes a robust graphic presence in which the constructed object merges easily with the drawn line. Koen's rudimentary forms are both the Kantian 'thing-in-itself' and placeholders for other concepts." The announcement quotes Laura Richard Janku as stating "A marriage of historical opposites can yield unexpected, well-balanced contemporary offspring, as evidenced in Seth Koen's uncanny union of craft and minimal aesthetics." I state "Seth Koen crochets the living shit outta yarn."
Art.


Art.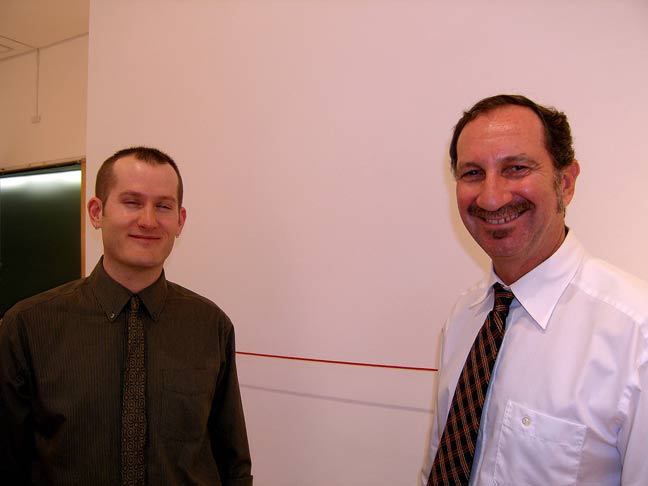 Seth Koen - Gregory Lind.


Art.


Art.


***
Brian Gross Fine Art: Chad Buck - LYHT/LHUDE/NU; Jill Baroff.
Comment: Textural color field abstractions by Chad Buck; interpretations of tides and waves by Jill Baroff.
Chad Buck - art.


Art (Jill Baroff).


Art (Chad Buck).


Art (Chad Buck).


***
Modernism Gallery: Charles Arnoldi - New Work; Henri Hayden & Friends - Cubist Paintings from the 1910's & 1920's.
Comment: The crisp clean ultra-bright oversized Charles Arnoldi paintings appear to be composed of individual canvases consolidated into single works. The Cubist show is gratifyingly extensive, a mite after-the-fact, but still worth seeing-- we don't get much early modernist art here, especially quality prime period examples by secondary talents. Modernism, as the name suggests, is SF's best resource for seeing how modern got started.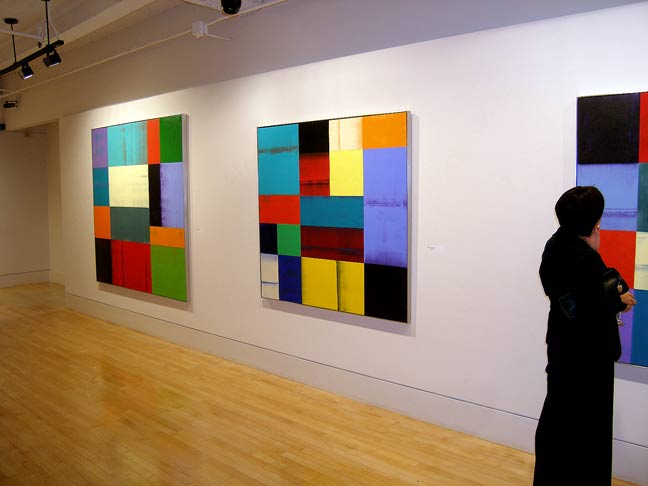 Art (Charles Arnoldi).


Art (Henri Hayden & Friends).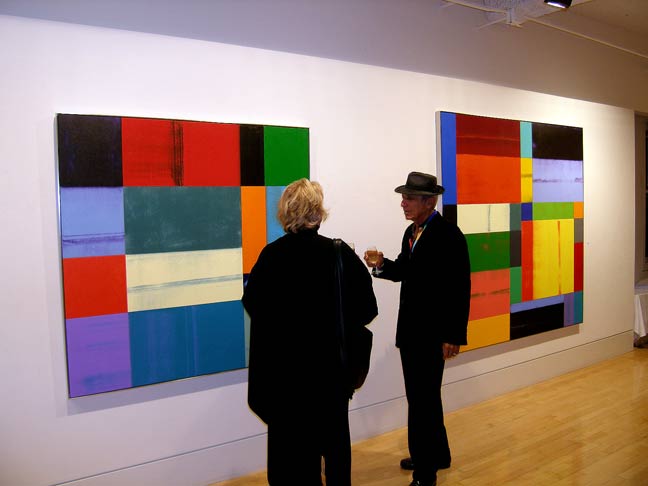 Art (Charles Arnoldi).


Art (Charles Arnoldi).


***
Jack Hanley Gallery: Haley Tompkins - When I Broke the Room; Joe Jackson - History, The Complete Drawings.
Comment: The bus left without me. Either that or the cupola's comatose at Brain Depot. Mommy! I want my bottle!!
Art (Haley Tompkins).


Art (Haley Tompkins).


Art (Haley Tompkins).


Art (Haley Tompkins).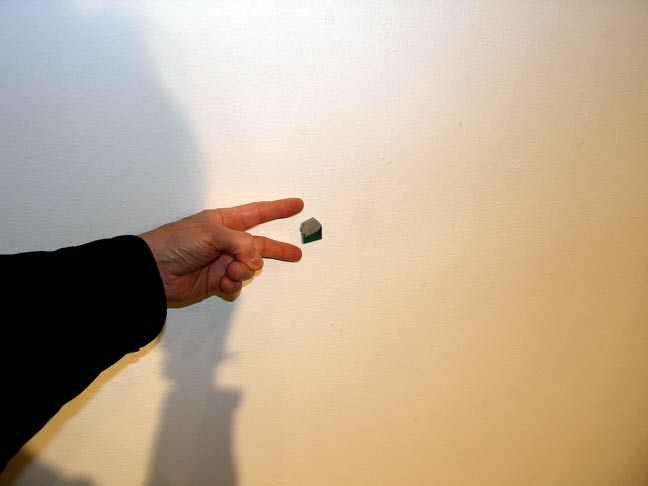 Art (Haley Tompkins) $1200 plus shipping.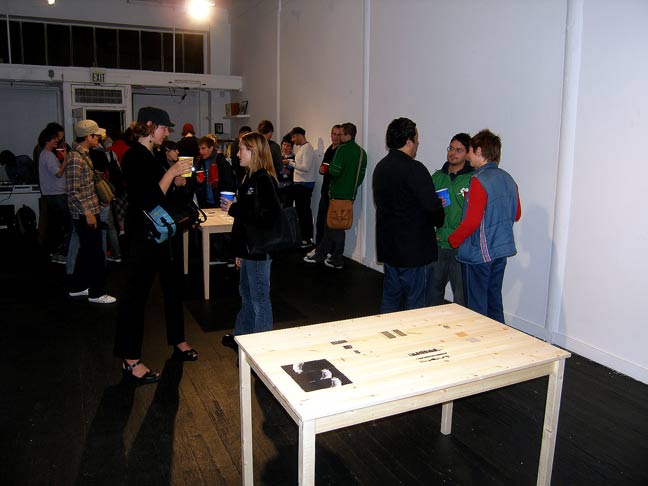 Art (Haley Tompkins).


Art (Joe Jackson).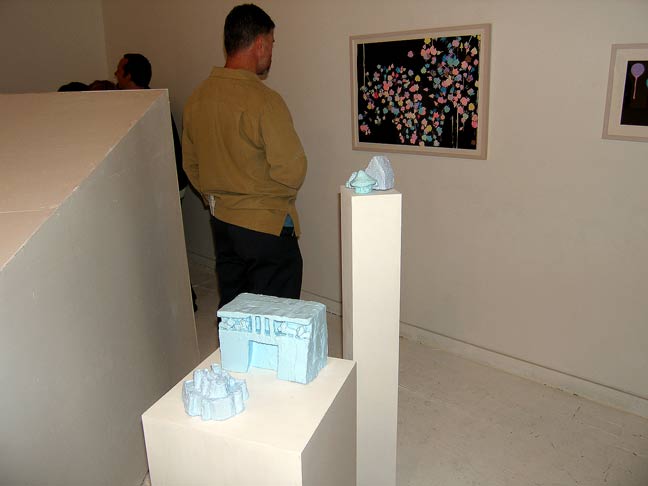 Art (Joe Jackson) (I like the work on paper).


Art (Joe Jackson).


***
Linc Art: Omar Chacon and Jose Sarinana.
Comment: Linc Art is more a lifestyle choice than a gallery. Yes, they sell art, but that's just a fringe benefit you get when you give them money. I'm sure I've made similar statements before, but I luv that Linc ethos (courtesy of artist galleriest, inveterate iconoclast, creative crusader, and all-round art dude Charles Linder). Supporting Linc is about maintaining a venue among venues for exceptionist expression, trial, error, resourcefulness, dignity, and above all, sense of humor-- an ongoing redefinement and amplification of what we call art. Now amplification and redefinement happen other places too, but the atmosphere here is optimally optimistic + noticeably free of the politics, pomposity, heavy-handedness, entitlement, severity, conniving, and edict so often associated with who shows what where when and why.
During the course of my Linc frivolities this evening, I inadvertently find myself in a bit of a dust-up with a couple of seasoned no-nonsense art gals when I dare to impugn the long term care and maintenance considerations of a large meta-multi-ribbon-surfaced doggie sculpture, red paint tongue waggling, in the center of the main floor. If I recall correctly, the discussion became so heated that the word "Swiffer" was used. But them's the risks I gotta take to bring you the unexpurgated mosh pit of artistic endeavor.
Oops. Almost forgot. Thumbs up on the show-- all of it.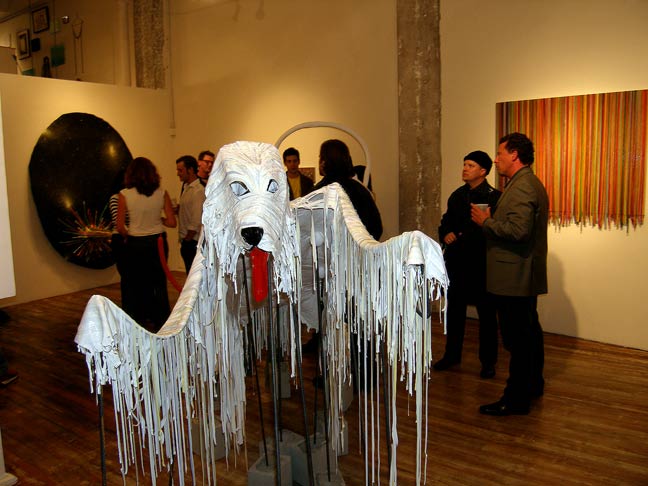 Overview - woof art.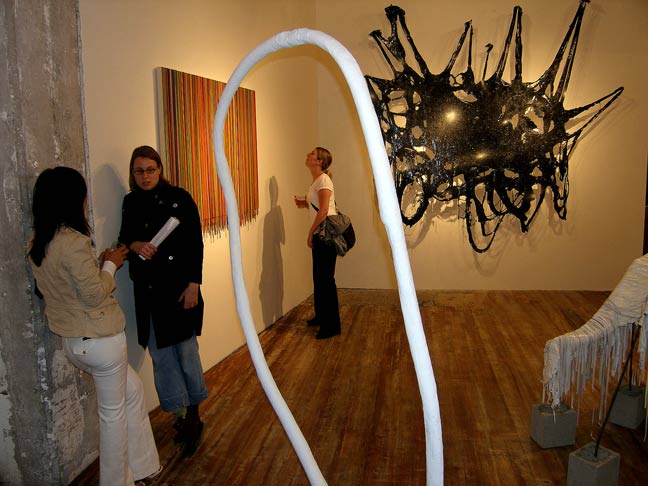 Art.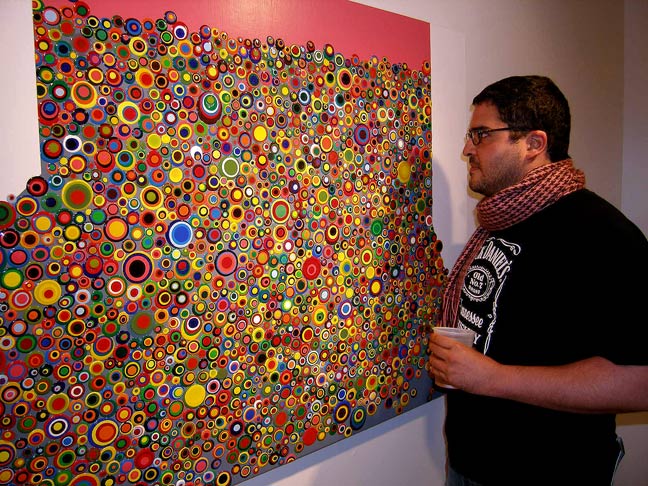 Omar Chacon - art.


Jose Sarinana - art.


Art (front).


Art (back - 100% cardboard - I like it); Charles Linder.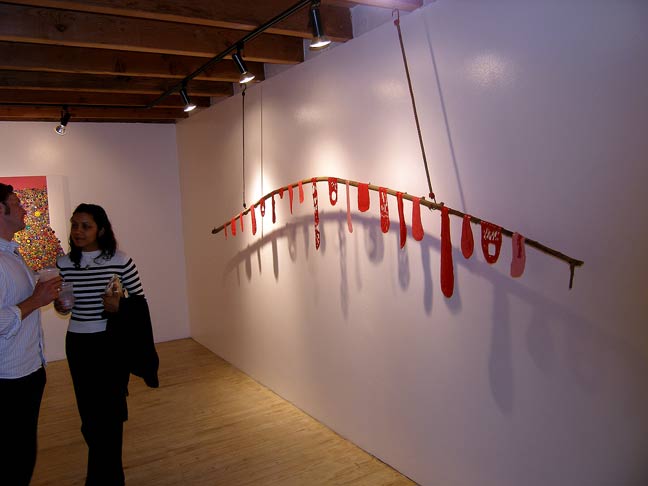 Hanging red paint tongues on bent galvanized pipe art.


Defender of the dust-prone doggie.


***
Arspace: Sustain Ability - Ade lun sec and Peter I. Robinson.
Comment: In a seminal episode of dangling potential, Ade lun sec and Peter I. Robinson paint a painting, imbed it with a global positioning device, leave it leaning against a tree in Dolores Park, allow it to be abducted, and then monitor its subsequent geographical adventures on Google Earth, mapped out and projected onto the gallery wall for all to see. The End.
Sampler plate of eminently answerable unanswered questions--
Who took the painting?
How, when, and why did they take it?
What's the connection between the places it's been?
Who gets to see it?
Does the new owner like the painting?
Does he/she think it's worth anything? If so, how much?
Would he/she be willing to sell it?
Great concept; light on follow through.
Art.


Art.


Michael Morehouse - art.


Art.


***
Addendum:


Proficient pencil drawings priced around $200 by Ann Regan at The Small Gallery.


Masterpieces of 19th and 20th century Chinese art at Urbis Artium Gallery.


Light sculpture by Spencer Finch at Steven Wirtz Gallery. $20K.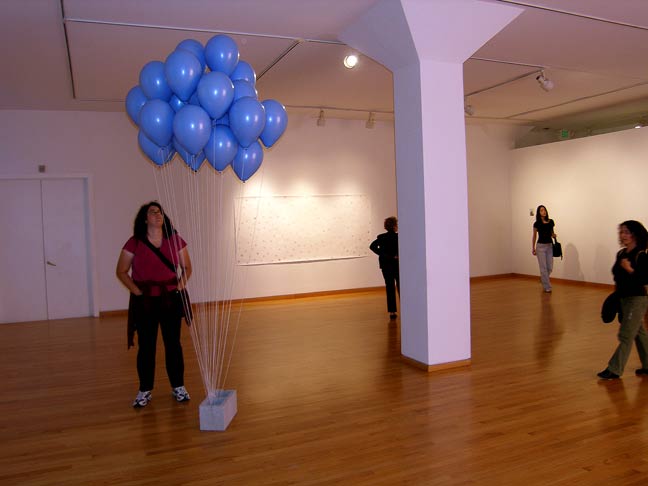 Cinder block balloon art at Steven Wirtz.


"Circa 1970," Mountain West bleak-side images
by Robert Adams at Fraenkel Gallery. Go see.


"Three Women" at Jack Fischer Gallery.


Kerry Damianakes, Camille Holveat, Aurie Ramirez at Jack Fisher.


Eleanor Kent retrospective at Art Exchange Gallery.


Wade Hoefer monotypes at Elins Eagles-Smith Gallery.


Shane Aslan Selzer at Lisa Dent Gallery. The food was good.


***
Do I save you gas money and travel time? Make a donation. Thank you. Most appreciated.
***
August First Thursday; August 4, 2005