SAN FRANCISCO ART GALLERIES OPENINGS
FIRST THURSDAY; 10.06.05
General comment: I'm delighted to report that the October 2005 installment of First Thursday Art Openings was absolutely, completely, and entirely without incident. There was good art, a light dusting of really good art, the obligatory wacky art (hey-- it's San Francisco), and last but not least, there was the rest. And nothing toasted my brain, which is always a huge bonus. Lots of out-of-towners have shows this month, enhancing San Francisco's interplanetary stature and pointing up the increasingly global nature of the trade, however profiting our local creatives from educational standpoints only. With respect to aerobics, the geographically disparate nature of the night's venues netted me a decent workout and as we all know, seeing a lot of art is an essential part of a heart-healthy diet.
So what are we waiting for? Let's see some already...
***
Steven Wirtz Gallery: Raymond Saunders - Paintings.
Comment: A Raymond Saunders painting and painting/assemblage show is always a treat. His art delivers pretty much everything-- competence, balance, harmony, complexity, color, uplift, variety, maturity, and to top it all off, satisfaction. But wait; there's more. For those of you who like to think with your art, some pieces broach sensitive issues, but in sensitive ways, so you can ease into the morass rather than get tossed in without your safety goggles. I particularly like the assembageless paintings-- pure, simple, smooth, and direct.
Art.


Art.


Art.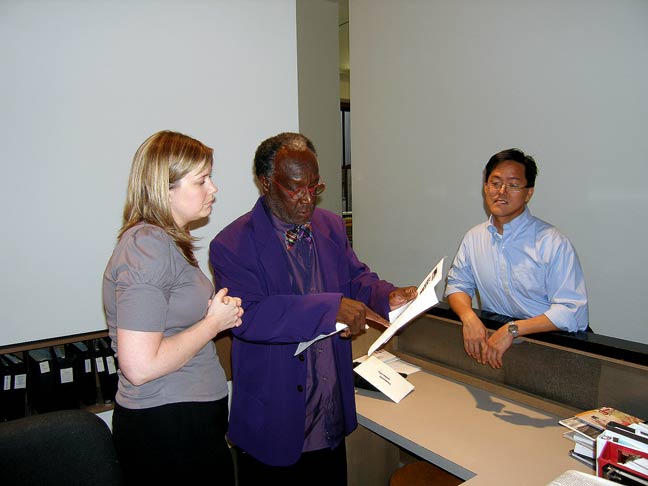 Raymond Saunders (center).


Art.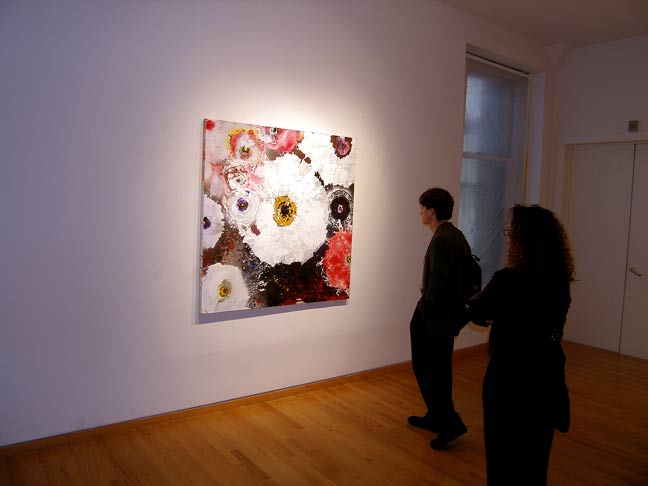 Art.


Art.


See you next time.


***
Don Soker Contemporary Art Gallery: Veronika Dobers - It Is So Good That You Are Here.
Comment: Mild airy reverse paintings on acrylic glass by German artist Veronika Dobers.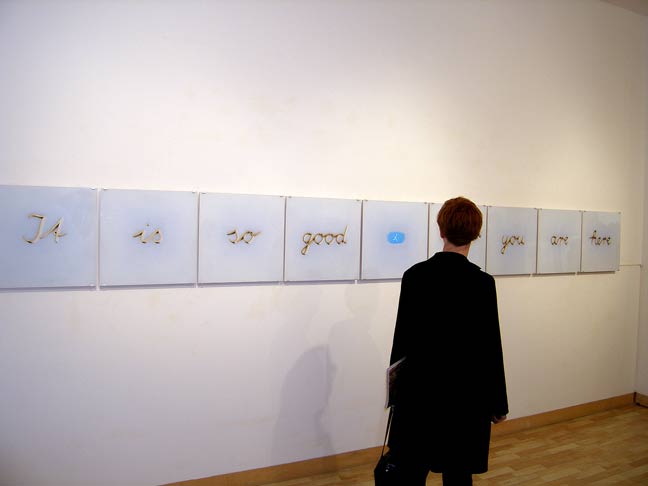 Art.


Art.


***
Toomey Tourell Gallery: Claire Burbridge - Luminescence.
Comment: Single figures three ways-- on paper, negative spaced in epoxy resin pigment wax wire blocks, and in a two-dimensional shiny golden somewhat bas relief way I can't quite figure out, but that I liked the best of the three-- all by London, England artist Claire Burbridge.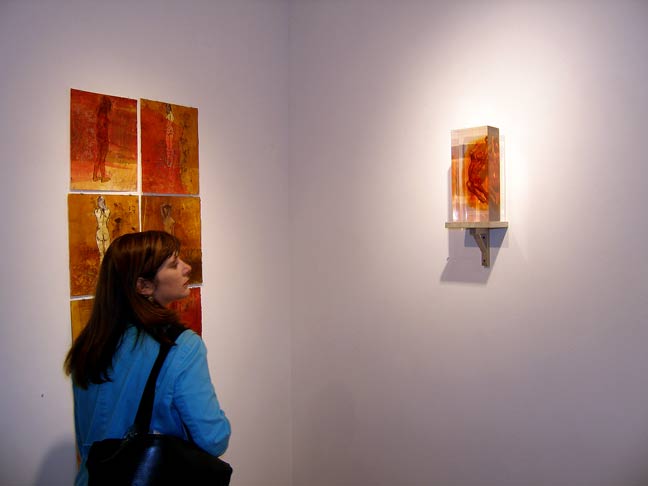 Art.


Art - liked these the most.


Art.


Art.


***
Steven Wolf Fine Arts: Lance Letscher - "Plan B"; Annie Cheung - Making Time.
Comment: I'm never quite sure where on the art-o-sphere Steven Wolf cribs, but I like the front yard this time around. Austin Texan Lance Letscher makes meticulous intricate collages from vintage ingredients, mainly old paper, and I cut my teeth on vintage so I'm favorably predisposed, but that's cheating, so let's see-- why do I like them? OK. First, they fool me-- they look old, but they're brand new, and I know old, so when I get fooled, I respect the fooler. Lots of artists incorporate old stuff into their art, but their art looks like new art with old stuff in it-- boring. Second, there's no slop. Detailed collages like these are really easy to make little mistakes on, and then leave them there thinking no one will notice (HA!)-- and I didn't notice any, and I gave 'em the eagle eye. Third, some of them look like paintings (most collages look like collages so no big deal); these are painterly collages and that's notable. Fourth, they're aesthetically sound and all that other recondite abracadabra artspeak jibber-jabber. Yes, they're a bit outsider, offbeat, and subtle, but WTF-- Lance Letscher gets Pick of First Thursday anyway.
Art (Lance Letscher).


Art (Lance Letscher).


Lance Letscher.


Art (Lance Letscher).


Annie Cheung had time to sort but not hang them.


***
Robert Koch Gallery: Edward Burtynsky - China.
Comment: Sometimes I wish I didn't like Robert Koch Gallery so much-- including this excellent show of oversized photographs by Canadian photographer Edward Burtynsky surveying the apocalyptic scope of industrial development in China. The powerful symmetric images give viewers plenty to think about like environmental impact issues, corporate subjugation of humankind, and the fact that what used to be here is now there, except much much more so. So what if those of us who aren't in debt already can buy it cheaper with whatever dwindling ducats we have left?
Anyway, this fellow works at Robert Koch who doesn't seem to like me. He once lectured me about identifying myself and stating my purpose before taking pictures in the gallery, so I apologized and did. He's lectured me twice for using the flash, the second time reminding me that he warned me once already. (I have my flash set to go off every time I take a picture-- my mistake the second time-- I am sorry-- maybe I forgot or was too lazy or too rushed to turn it off-- I have complied ever since.) (The first flash lecture, he told me the light compromises the physical condition of the images-- and I'm OK with that-- I'd like to know how-- art easily compromised by environmental factors is one of my favorite topics.) So this time around, no flash (as required) and I'm behaving myself. I take a handful of pictures and politely ask him if I can get something like a show announcement (to remember what I see where). He looks straight at me and says, "No." I'm embarrassed ruminating in public like this, but I don't know what to do. Any suggestions other than avoid the gallery permanently?
Photography.


Images.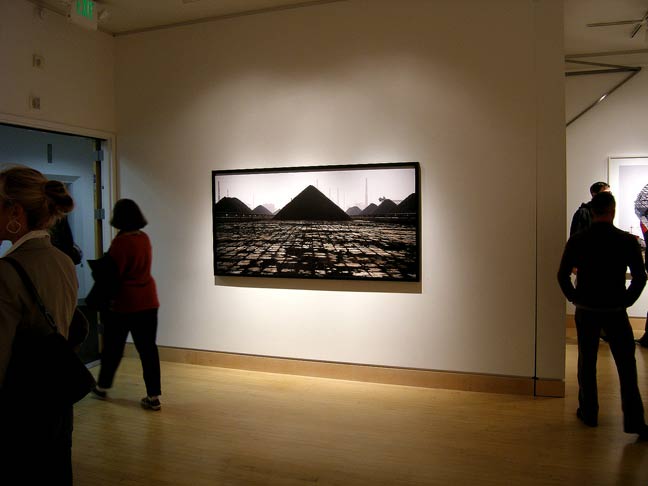 Photographs.


Photography.


***
Urbis Artium Gallery: ROJO.golden.
Artists: Neasden Control Centre (UK), Joel Dugan (USA) , Faile (USA) , Fupete (Italy) , Maya Hayuk (USA) , Cody Hudson (USA) , Derrick Hodgson (Canada) Boris Hoppek (Germany) , Will Lemon (USA) , Eltono & Nuria (Spain) Raquel Sacristán (Spain) , Javier Tles (Spain) , Tofer (USA) , Nuno Valerio (Portugal) and Miss Van (France).
Comment: Travelling show, second stop, the first being Brooklyn, New York, featuring 15 international artists, presented by ROJO magazine of Barcelona, Spain.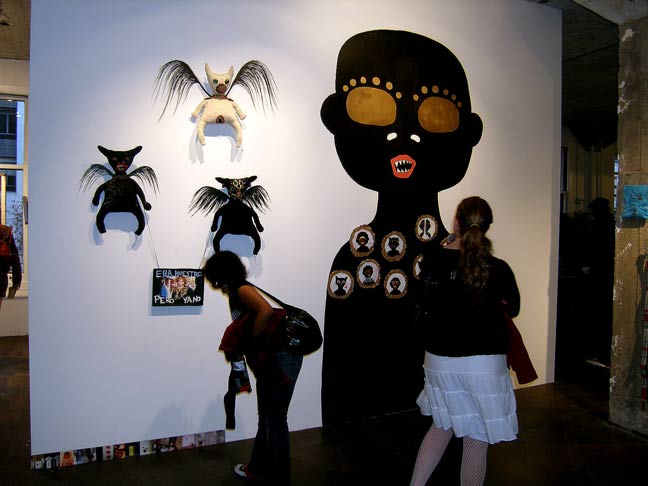 Art.


Art.


Art.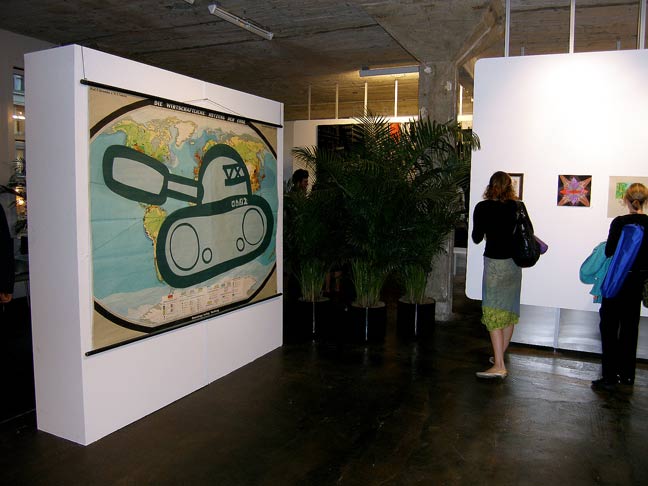 Art.


Art.


***
Takada Gallery: Nancy White - between the backbeat.
Comment: Hermetic hygenic unconstrained ethereal birdlike triangulesque abstract oil paintings on plexi.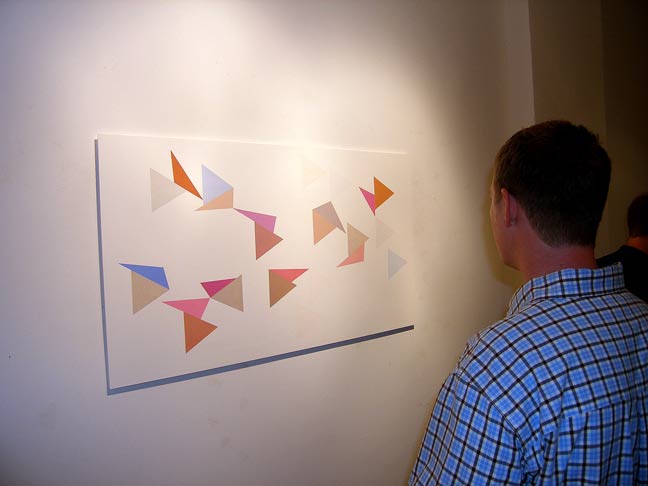 Art.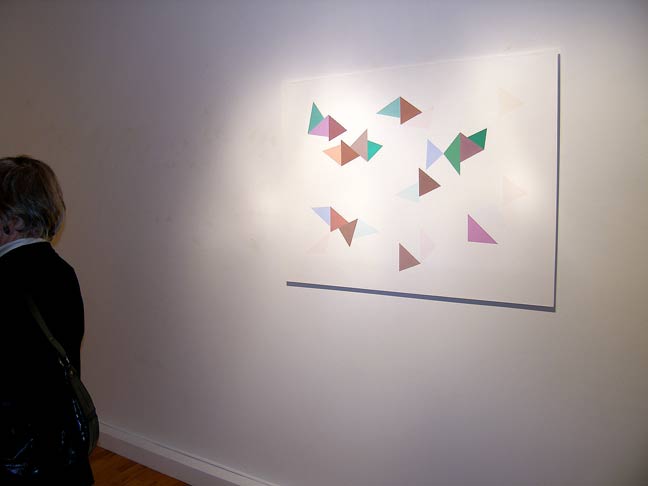 Art.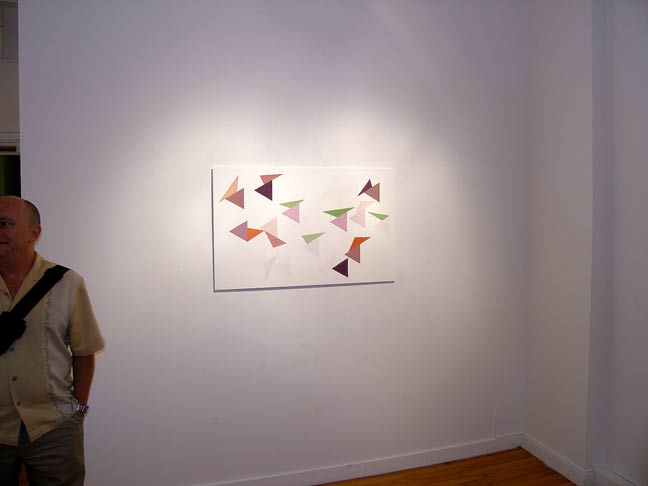 Art.


Situation.


***
Dolby Chadwick Gallery: Rick Chapman - Circle.
Comment: What a great title for a show-- "Circle"-- especially since every piece on display is round. Excellent. My favorite part is considering the logistics of stalking, capturing, and transporting tumbleweeds from the wide open prairies to Center City San Francisco to be hung from Dolby Chadwick's ceiling as they are for this show. "Here tumbly... here tumbly... gotcha, you shiftless spheroid... you're goin' to the Big City, little buddy!" Anyway, the large black & white chromographic prints are amiably arresting, particularly the rubber strap ball and the ball of nails ball.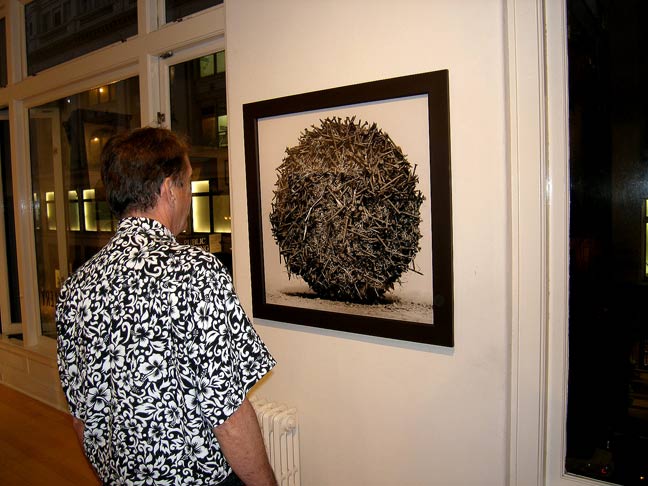 Ball of nails ball photography (like it).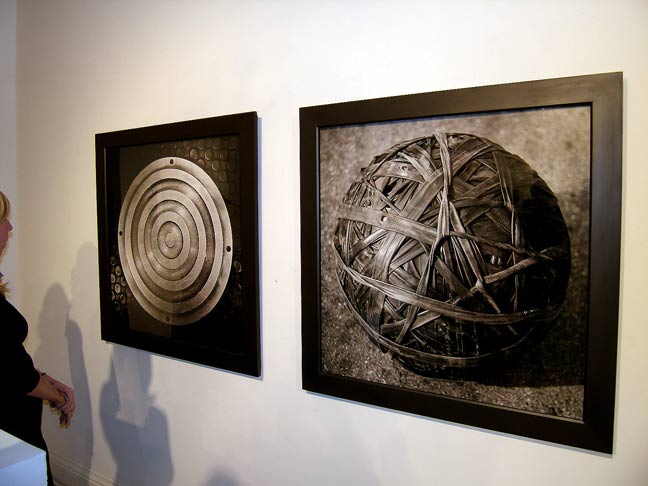 Rubber strap ball photo and companion pic (like 'em).


Images.


Shrub hover.


Photography.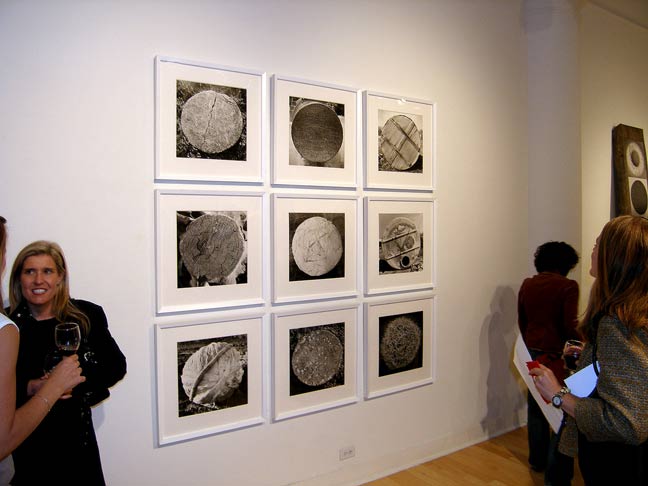 Photographs.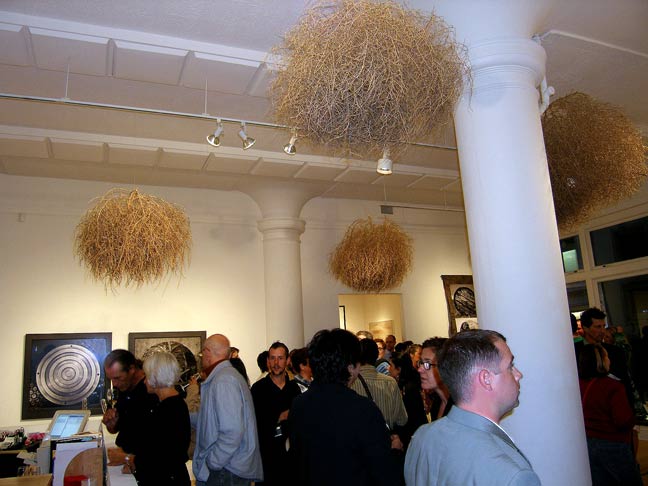 Circumstance.


***
Graystone Gallery: David Maxim - Nets and Templates.
Comment: The wall-hung net picture assemblage sculptures (I have no idea what to call them) are remarkably convincing, looking like they've been hauled in off a junk pile where they've been weathering the elements for years. So I'm convinced; now what? The large Aboriginally tinged "Templates" are equally impressive.
Nets.


Templates.


***
Lisa Dent Gallery: Kianga Ford.
Comment: According to the handbill, "Ford's installations experiment with sound, narrative, and environmental design in a critical play that is, at bottom, about the psycho-physical dimensions of contemporary social identity." One thing for sure-- I don't ever wanna find myself at the bottom of a critical play. But enough about me. Kianga Ford's first solo show in San Francisco gets the award for Most Comfortable Opening.
Art.


Art.


Layout.


***
111 Minna Street Gallery: Mear One - Speaking in Tongues.
Comment: I know plenty of you don't want to hear plus stuff about graffiti culture, but a number of its artists are good and getting better. They're fully aware of the risks of their trade, yet they categorically ignore the downside, and by default master a variety of specialized skills (not the least of which is arting under pressure). Age will eventually retire them from scaling buildings in the middle of the night, at which point, they'll likely continue their creative contributions in more traditional ways, from their non-traditional perspectives. And as we all know, the art world can never have too much non-tradition. That said, I have no answers other than that maybe it's time opposing sides breathe deep and begin the long hard search for common ground.
Self-taught Mear One is a pretty solid example of downtown multi-talent, incorporating wall art and wall ethos into his easel art, along the way harvesting a hefty heap of corporate, museum, and gallery credits in addition to his considerable open-air achievements. For you office-bound high-rise business bodies who don't don't go deep dark urban that much, art by artists like Mear One might help roust you out of your corporate comas. (I can dream, can't I?) Prices $75-$12,000.
Art.


Art.


Art.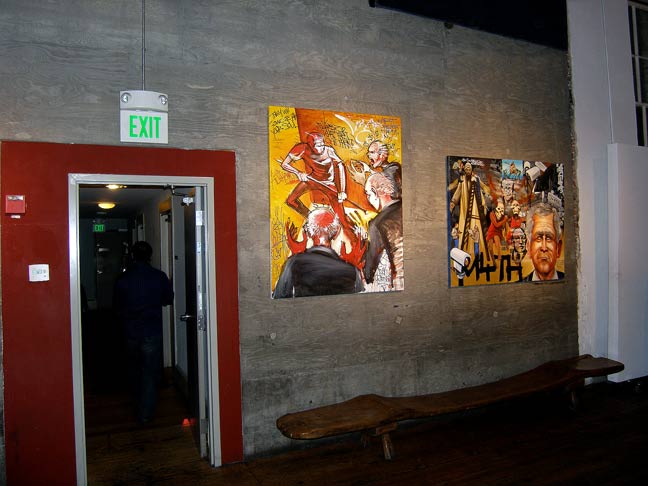 Art.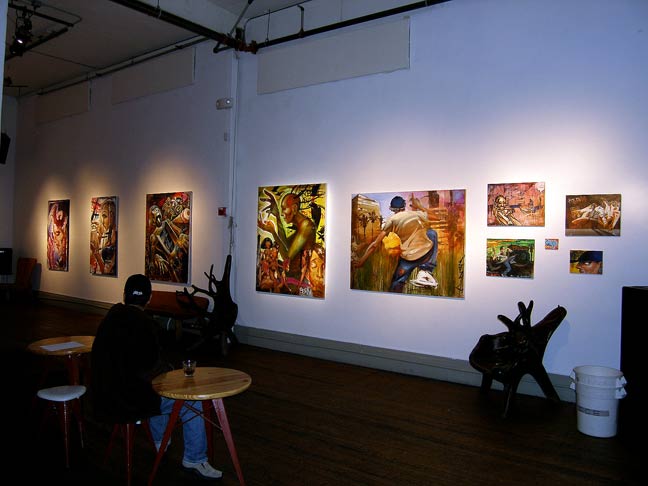 Art.


***
Yerba Buena Center for the Arts: The Zine Unbound - Kults, Werewolves, and Sarcastic Hippies.
Artists: Scott Hug, Suzanne Ackerman, Carl D¹Alvia, Hrafnhildur Arnardottir aka Shoplifter, assume vivid astro focus, Dan Attoe, Ben Beaudoin, Hisham Bharoocha, Olaf Breuning, Jared Buckhiester, Chris Caccamise, Peter Coffin, Ryan Compton, Ann Craven, Joanna Ebenstein, Franklin Evans, Brendan Fowler, Jay Foxx and Edgar Um Bucholtz, John Hogan, Rachel Howe, Matthew Day Jackson, John Kleckner, Terence Koh, Oliver Lutz, LoVid, Noah Lyon, Michael Magnan, Ashley Macomber, Dominic McGill, Deborah Mesa-Pelly ,Billy Miller ,Mirror Mirror, Kenneth Andrew Mroczek, Mary J. Nicholson, Shay Nowick, PFFR, Phiiliip, Jon Rappleye, Theo A. Rosenblum, Justin Samson, Bill Saylor, Adam Shecter, Christian Siekmeier, A. L. Steiner, Tracy Stewart, Scott Treleaven, Michael Wetzel, Grant Worth, Jeremy Yoder, Trinie Dalton, David Altmejd, Sue de Beer in collaboration with Aura Rosenberg, Jim Drain, Matt Greene, Marnie Weber, Folkert de Jong, Adam Putnam, Sammy Harkham, Sean Dungan, Benjamin Weissman, Lorenzo de Los Angeles, Jesse Bransford, Francine Spiegel, David Hamma, Greg Dalton, Molly Dove Keogh, John Kleckner, Anna Sew Hoy, Nick Lowe, Takeshi Murata, and Thaddeus Strode in collaboration with Flannery Seager-Strode, Chris Duncan, Griffin McPartland, Mary Joy Scott, Rebecca Miller, Kyle Ranson, Chris Pew, Jen Smith, Ryan Wallace, Vic Blue, Crust & Dirt, Paul Urich, Matt O¹Brien, Lori D.
Comment: A celebration of independent publishing spotlighting three art and artist zines-- "K48" of Brooklyn, New York, "Werewolf Express" from Los Angeles, and the Bay Area contribution, "Hot & Cold," emanating outta Oaktown. YBCA here presents the art zine as an alternative exhibition opportunity as well as an exemplary vehicle for collaboration among artists-- something the art world's got far too little of, in my opinion (collaboration, that is). Plenty of artists stepped it up for the occasion including Chris Duncan and Kyle Ranson, to name a quick two, but there were plenty of other standouts.
Wanna help caption artists' names? Email me.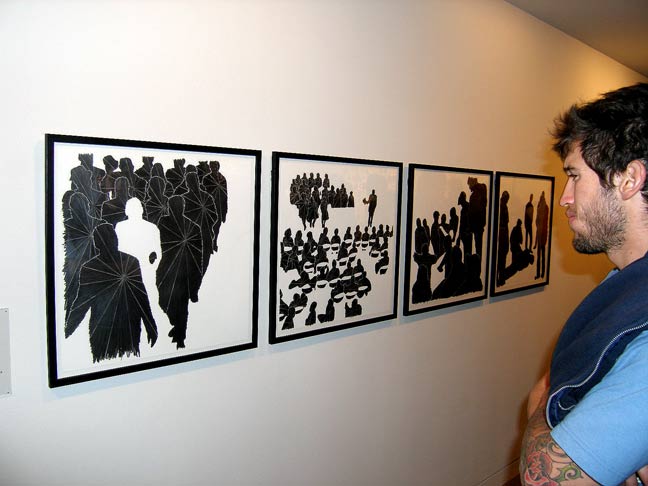 Art (Jen Smith - like 'em).


Art (like it).


Art (Chris Duncan).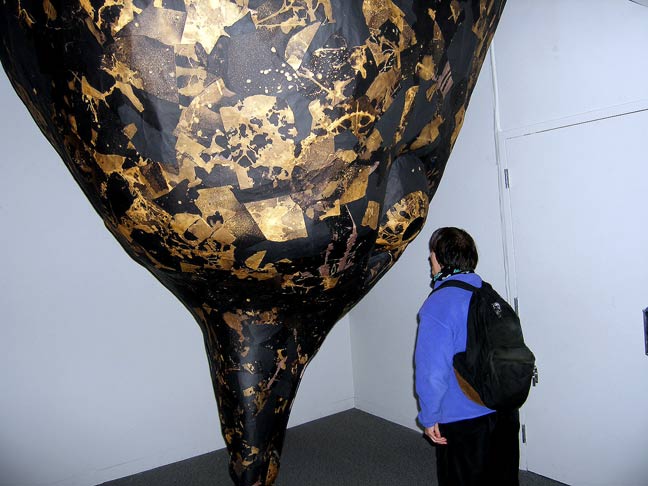 Gold leaf goiter art (Crust + Dirt).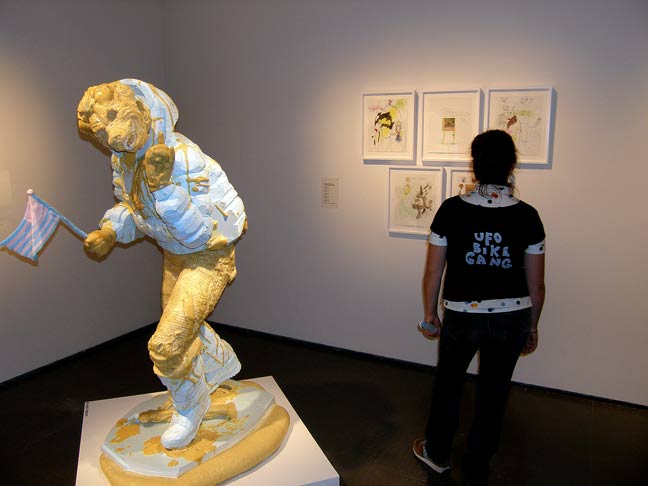 Figural foam lion head flag art (like it).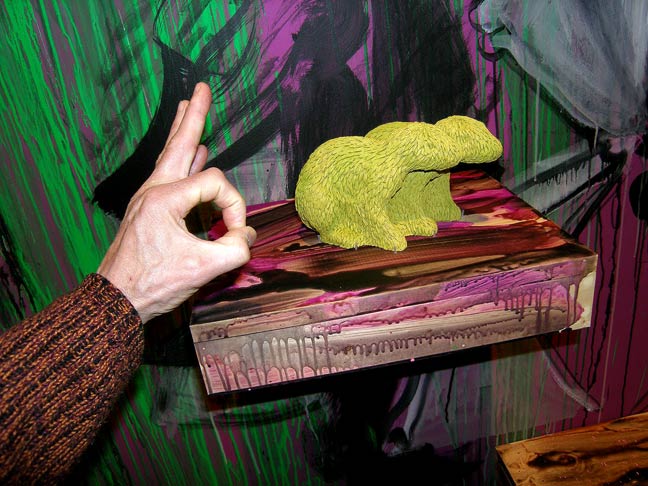 Precision pine needle critter art (pick).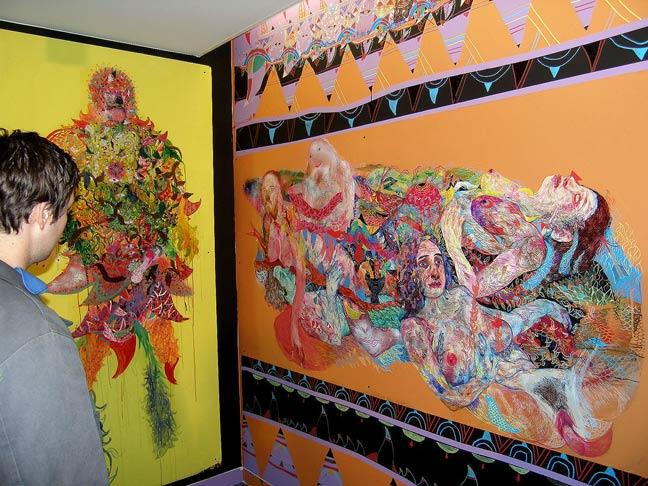 Art (Kyle Ranson).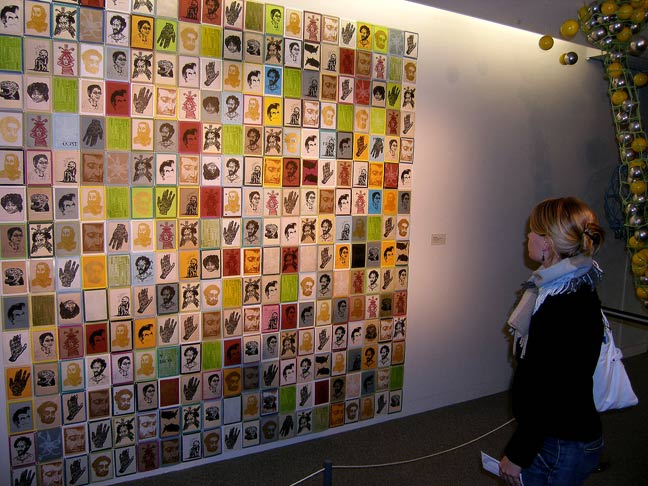 Art (Mat O'Brien).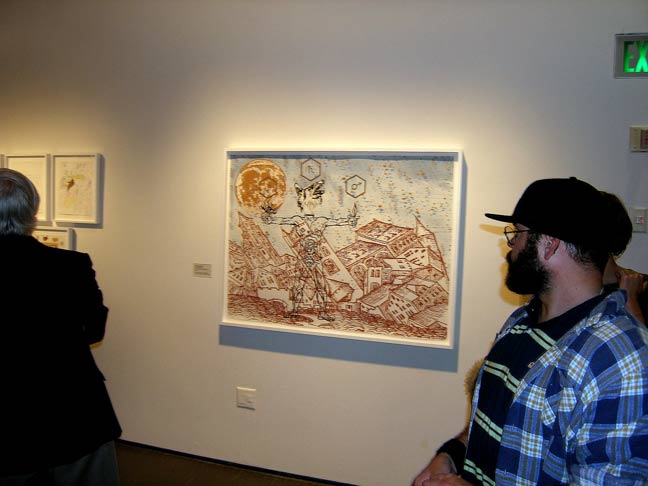 Art.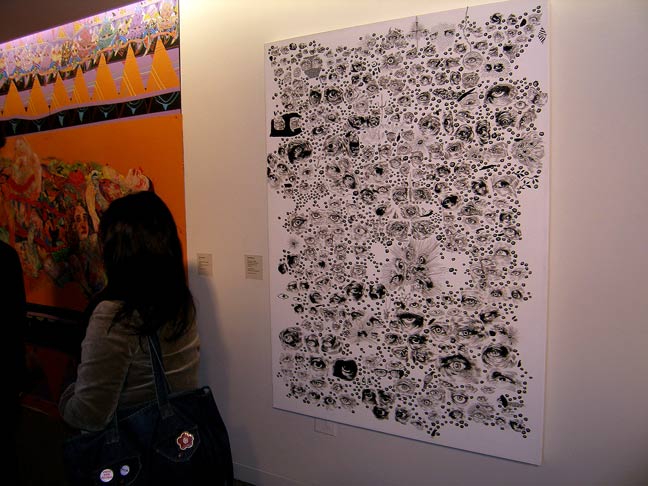 Art (Mat O'Brien).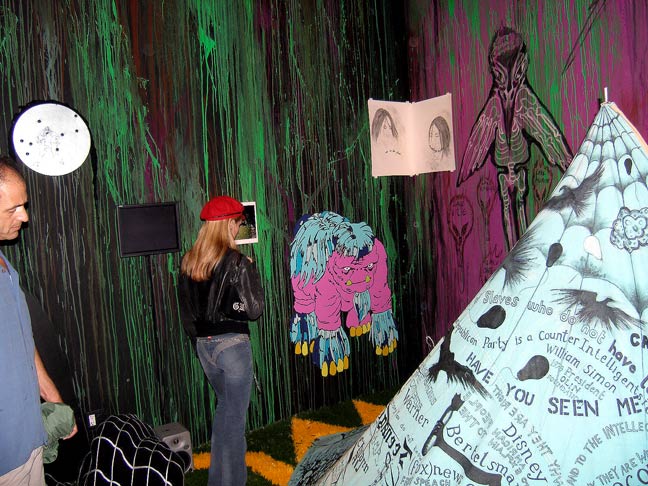 Installation art.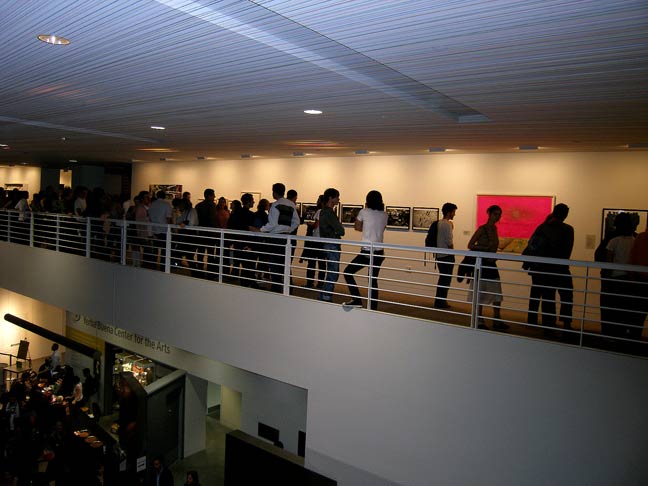 Grid partial.


***
Red Ink Studios: Checkpoint - Bike Art Opening.
Artists: Shaun O¹Dell, Thomas Campbell, Taliah Lempert, Peter Sutherland, Swoon, Ricky Powell, Mike Martin, John Stewart, Eric Zo, Julia Chiang, Cheryl Dunn, Amy Bolger, Massan Fluker, Jeff Anderson, Cyclecide, John Bucklin, Gabe Morford, Andrew Sutherland, Jason Chaste, John Trippe, Patrick Trefz, Silver Warner, Jessica Findley, Tod Seelie, Benny Gold, Dustin Klein, Kevin White, David Mashburn, Nick Haggard, Steve Macdonald, Ryuta Nakajima, Amanda Marsalis, Moses Nadel, Bryce Kanights, Charlie Becker, Justin Fines, Brendt Barbur, Miriam Wilson, Josh Lazcano.
Comment: Group essay on how the bicycle impacts and influences urban culture, held in conjunction with the 5th Annual Bicycle Film Festival.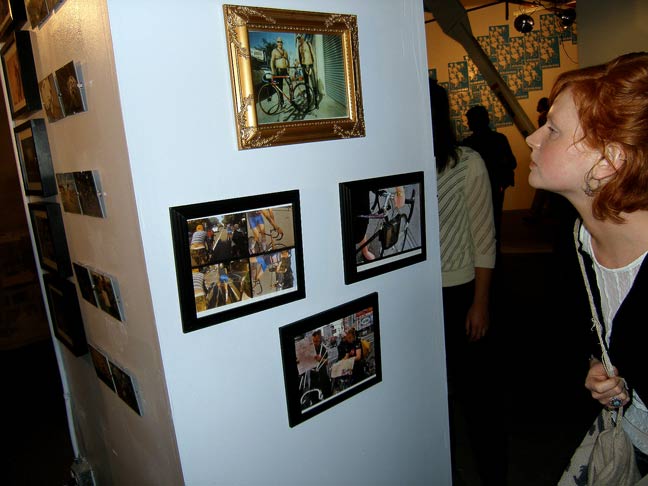 Bicycle art.


Bicycle art (like it).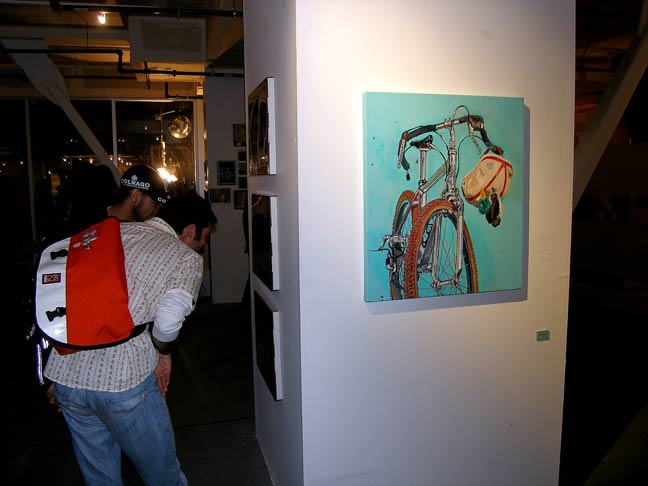 Bicycle art.


Bicycle art.


Bicycle art.


Bicycle art.


Meanwhile, out back in the parking lot.


***
FIFTY 24 SF Gallery: Greg "Craola" Simkins - KofieOne.
Comment: Another yes for FIFTY24SF, this time a central city LA double dose-- the tight action-packed creature surrealism of Greg "Craola" Simkins, kind of an updated downtown Tex Avery, and the streamline architectural urbanism of KofieOne. Priced reasonably with plenty in the low to mid-hundreds $$. Special added bonus-- you can see, shop, and buy any piece in the show directly off the FIFTY24SF website with absolutely no human interaction whatsover. Isn't that just too flippin' fabulous with a cherry on top? (And now a brief word from our sponsor: Online shopping is the future of the art biz-- always nice to see a gallery that finally gets it.)
Art (Greg "Craola" Simkins).


Art (KofieOne).


KofieOne - art.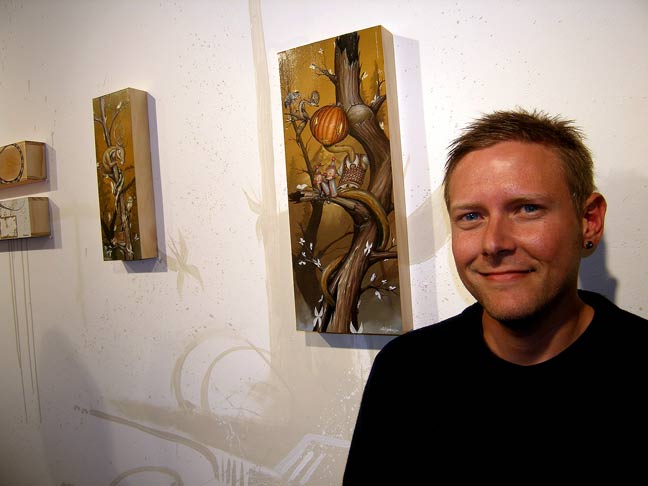 Greg "Craola" Simkins - art.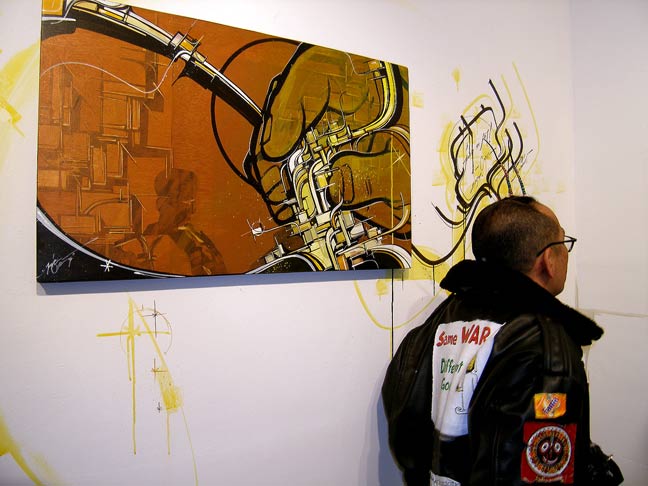 Art (KofieOne).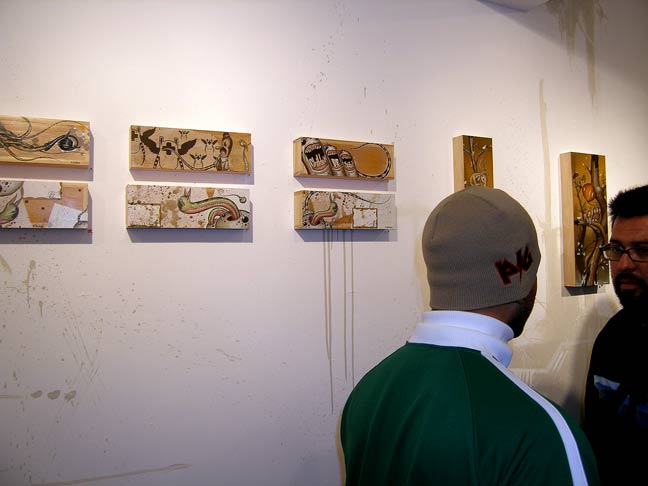 Art (Greg "Craola" Simkins).


***
Addendum:


Sam Gant and Jsun Laliberte at Jack Fischer Gallery.


Jack Fisher and art (Jsun Laliberte) at Jack Fisher.


George Tice photographs at Scott Nichols Gallery.


Gary Komarin big abstracts at Elins Eagles-Smith Gallery.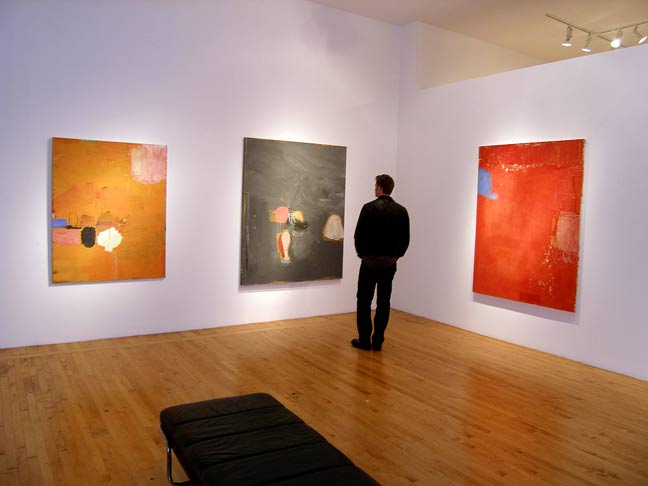 One more Gary Komarin at Elins Eagles-Smith.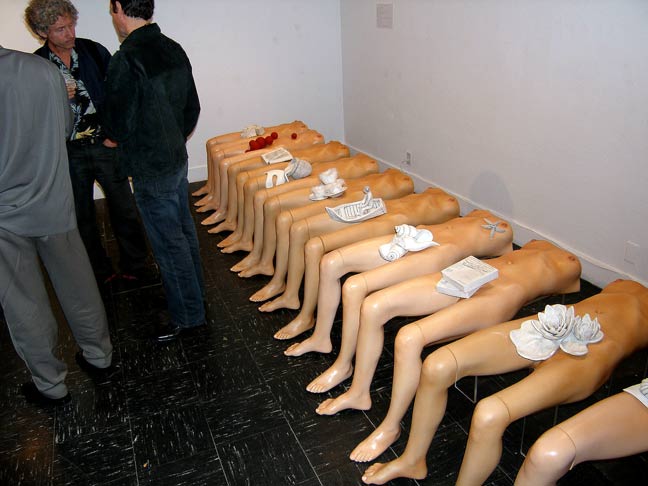 Jung Ran Bae torsos at Pigman Gallery.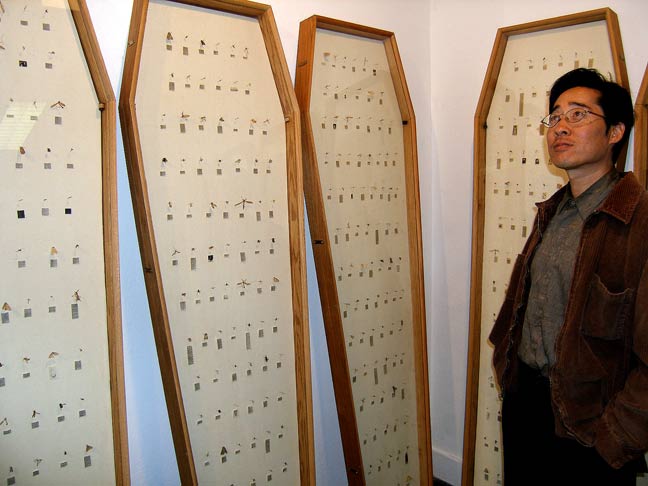 Jung Ran Bae insect archives at Pigman Gallery.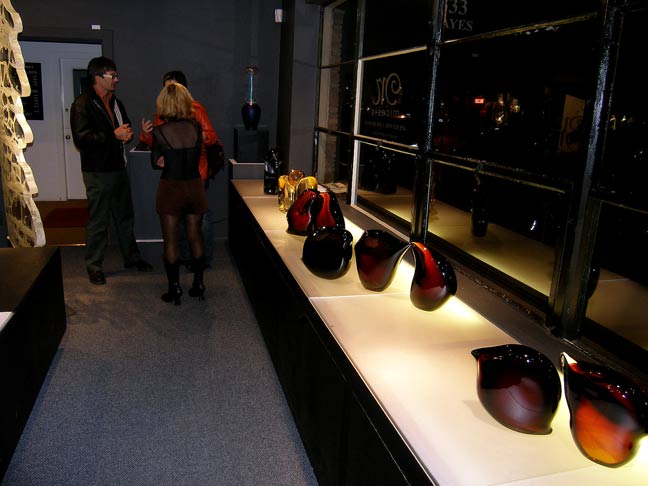 Group glass at Micaela Gallery.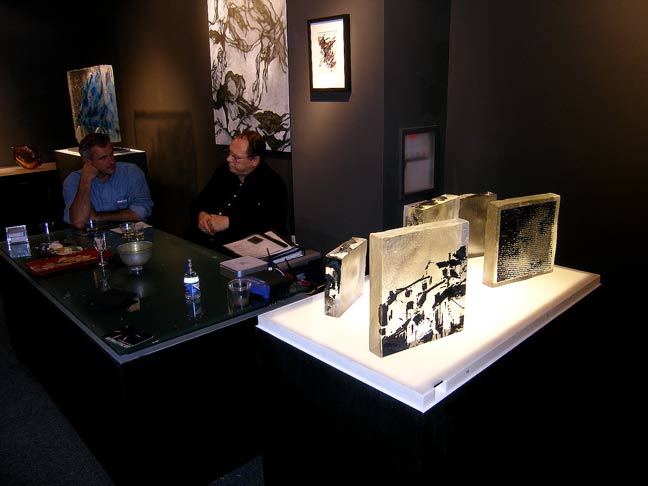 Ed Kirshner, Julie Lazarus, David Ruth, Victoria Skirpa, Warren at Micaela.


Hornblower hosts BlackBook Black Party previewing
International Fashion Week SF.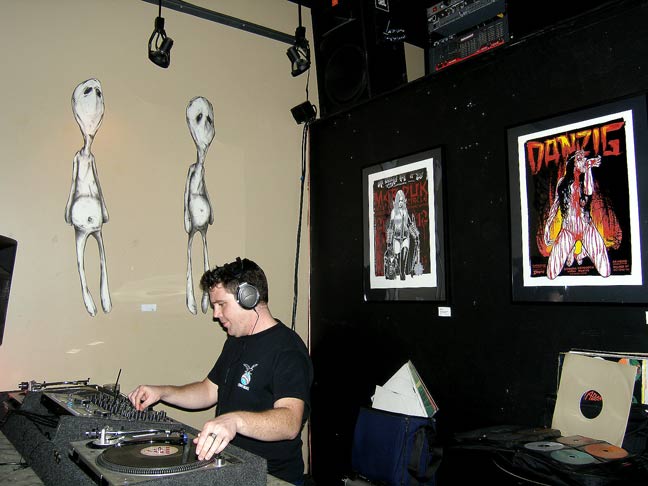 Alan Hynes / Christian Hall Metal Punk posters and wall aliens at
The Gallery Lounge.


***
Are you several thousand regular readers of San Francisco Art Openings aware that artsters do not live by cheese alone? Of course you are. We're not talkin' rocket science here. And thank you for your support. Most appreciated.
***
September First Thursday; September 9, 2005