SAN FRANCISCO ART GALLERIES OPENINGS
FIRST THURSDAY; 12.01.05
General comment: So what if the wind's blowing 50 mph, it's driving rain, half the galleries are closed, half are open, three-quarters of the open half still have last month's shows up, half the open half's owners are home hiding under their beds, and the other half are in Miami? You think chintzy little punk-ass crap like that is gonna stop me? And now that I've got TIVO, I never have to miss another moment of anything ever again; if only they had that for art openings. Wait-- they do! It's me-- and it's FREE! But you can always show your support and make a donation (like maybe some of that scratch you save by attaining aesthetic enlightenment here instead of there).
OK. Enough begging. Let's strap on the old hip boots and see us some art.
Waddya mean you're not coming? Oh-- you think December odds are against me, do you? You think I'm gonna whiff and throw a cultural gutter ball. Well then, pony up the dubloons, pal, and place your wager, cuz I got an itch there's gonna be an early Holiday suprise or two underneath all that tinsel...
***
Gallery Paule Anglim: Lynn Hershman Leeson - Exhibition of Selected Works, 1974-2005; Benji Whalen - New Work.
Comment: The Lynn Hershman Leeson show coincides with her travelling retrospective currently at the Henry Art Gallery, Seattle. The interactive video screen "Artificial Intelligent Bot" impresses ($60K)-- love that technical proficiency. Most of the show is photographic digital and C-prints ranging $1500 - $15K. I start reading about Leeson's art and see she's pretty major, but after a bit, I abandon my quest for essence-- it's the kind of art you really have to want to understand. Don't get me wrong-- I want to understand it, but with all the great art out there, why spend inordinant time on any one artist? Maybe next time have a quick easy intro for dabblers-- that would be nice.
In the vestibule, Benji Whalen's paintings have a quaint amateur antique Victorian feel. The stitched tattooed arm art is pretty spiffy, but the sleeves could be better. If you're gonna spend all that time nuancing the arms, why do a rush job the sleeves and dilute the drama?
Art (Lynn Hershman Leeson).


Art (Lynn Hershman Leeson).


Art (Lynn Hershman Leeson).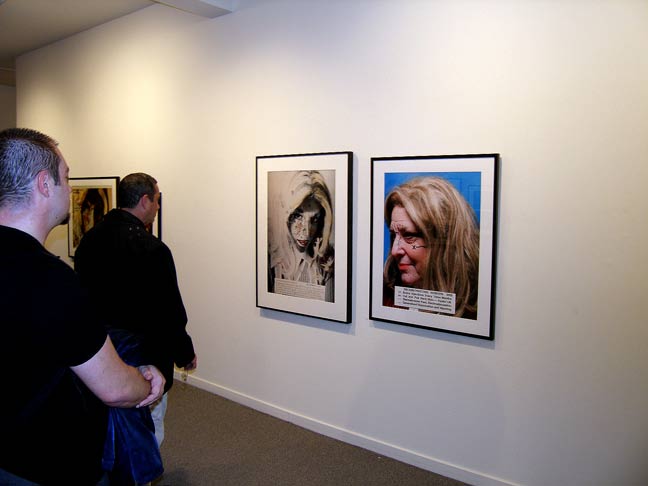 Art (Lynn Hershman Leeson).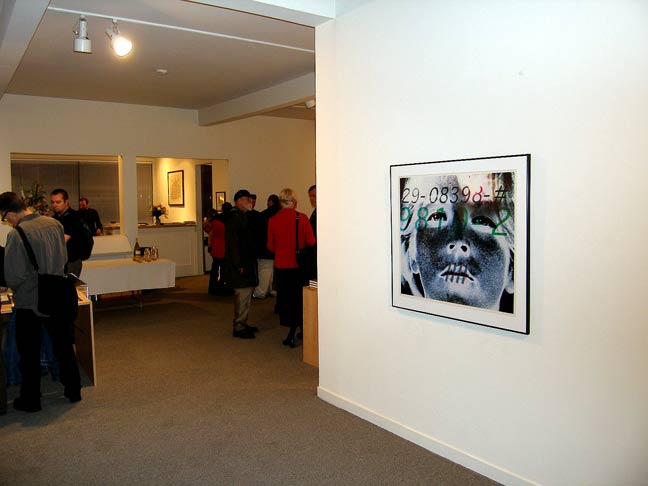 Art (Lynn Hershman Leeson).


Art (Benji Whalen).


Art (Benji Whalen).


Art (Benji Whalen).


Art (Benji Whalen).


***
Dolby Chadwick Gallery: Alex Kanevsky.
Comment: Very competent mild-to-medium abstracted figures, buildings, interiors, and landscapes. The vegetation paintings work for me as does a large Hopperesque corner perspective on a lone red house angling up toward a monotone cloud-grey sky. So I'm sashaying down the hall and see this sign taped to the wall-- "Please Keep Voices Low, Artist Talk in Progress"-- and then I see another and another and yet another. OK. Got it. I imperceptibly tiptoe into the gallery, spot Kanevsky in mid-monologue, engaged in an around-the-room painting-by-painting expositization. The audience stands motionless in abject respect looking like, "Hey, dude-- we just wanna get buzzed and banter." Helpful Artist Career Advancement Tip #6645, Section 7, Clause B: Record yourself talking about your art for 10 minutes, play it back, and see if you even come close to holding your own attention. Repeat the exercise, this time for 2 minutes.
Uh-oh.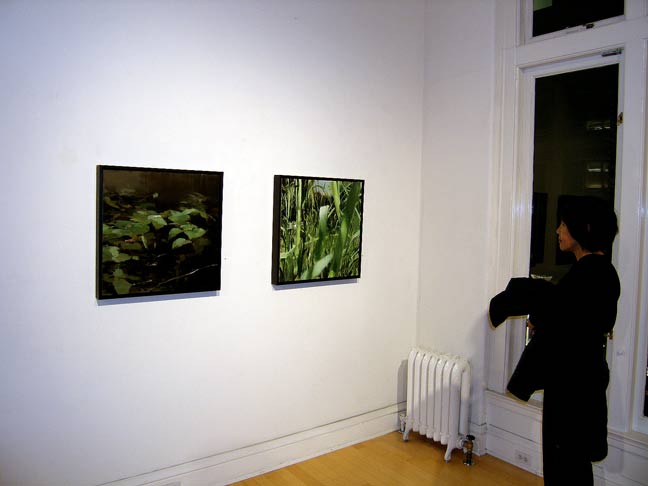 Vegetation art - pick.


Art.


Alex Kanevsky.


Art.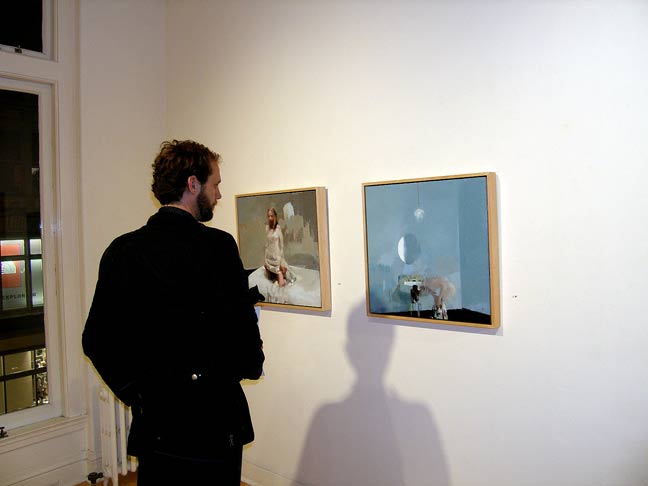 Art.


Art.


***
Stephen Wirtz Gallery: Deborah Oropallo - Stretch.
Comment: Deborah Oropallo takes digital images and stretches them out, interspersing the stretches with "digital slits" (same image, no stretching). According to the briefing, Oropallo explores how much you can distort objects and still recognize them. Reasonable pretext, I suppose; serene results. Aesthetically healthy. Next.
Art.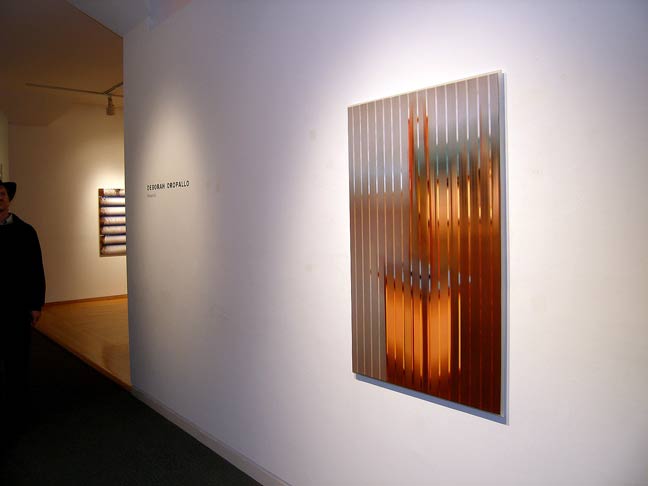 Art.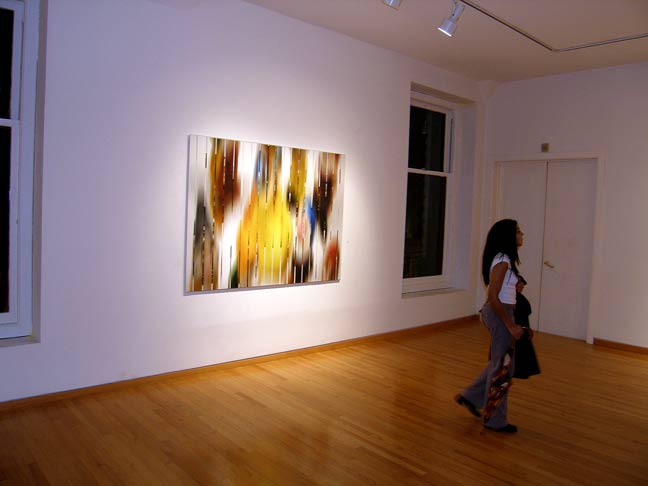 Art.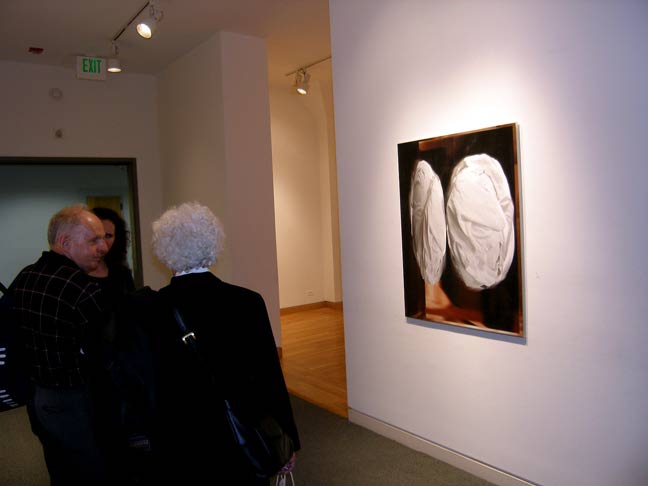 Art.


Art.


***
Robert Koch Gallery: Dylan - John Cohen, Barry Feinstein, Jim Marshall.
Comment: "Dylan" is Bob Dylan, of course, and a number the images in this extensive impressive exhibit have attained iconic stature since they were taken in the 1960's, not only with respect to Dylan, but with respect to the era as a whole. If Dylan and The Sixties were a part of your life, you'd be highly advised to get on down to Robert Koch Gallery for this show.
From a technical historical perspective, the photographs present several issues worth mentioning. Serious photography scholars, historians and collectors term the Dylan images here as "Printed Later"-- contemporary printings of vintage images (usually printed from the original negatives, but you'd have to ask the gallery, the photographers, or both, to be sure). Unless otherwise legally specified, photographers, their agents, their executors, or contractually authorized parties can produce new prints of vintage images at anytime, anywhere, in any limitation, and for whatever reason. Now if you want an image, regardless of price, regardless of printing, preferably signed by the photographer, and nothing else matters, fine. But if you're one of them there historical sticklers, you prefer images printed by the original photographers at or shortly after the time they were taken by those photographers. (Just a little arcane photography collector stuff you might think about.)
Photographs.


Photography.


Photos.


Images.


***
Urbis Artium Gallery: Worlds Apart.
Artists: Francesca Berrini, Diem Chau, Kathryn Arnold, Lisa Allen, Zane Peach.
Comment: Portland, Seattle, and San Francisco artists. Portland artist Francesca Berrini takes old maps and atlases, cuts them up, and reconfigures them into fantasy lands so convincing that you wonder whether they're actual places. They're not. Her fabricated geographies originate entirely within her conscious confines. They're painstaking, deliberate, well-crafted, ambitious, dedicated, astute, coherent, complicated, deviously misleading, and satisfying from all viewing distances. You know what that means, don't you? You got it. Francesca Berrini and her maptasmagorical imaginaries get Pick of First Thursday. Top price, $10K for the biggun which took over two months, often working 12-14 hour days. You wanna be an artist? Berrini does. So she does what it takes. And she is. Also check out the large Diem Chau figure paintings-- nice.
Diem Chau - art.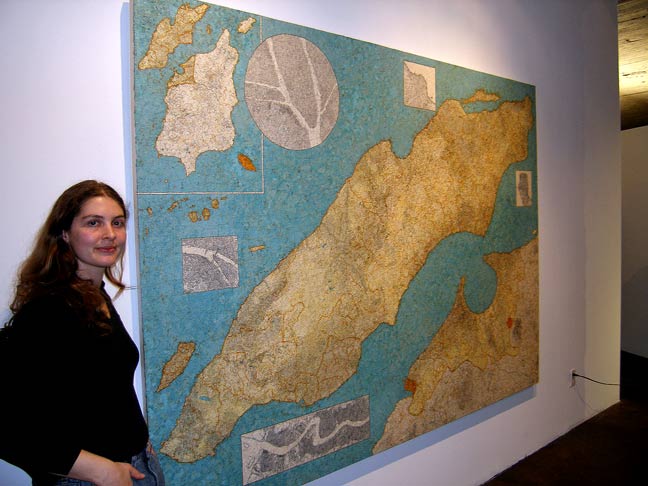 Francesca Berrini - art.


Art (Diem Chau, left - Francesca Berrini, right).


Art (Francesca Berrini).


***
111 Minna Gallery: Ten Years of ALARM Magazine - A Retrospective Art Show.
Artists: Alicia McCarthy, Andrew Schoultz, Sara Thustra, Ian Johnson, Dawn, Frasch, Kimric Smythe, Alvin Gregorio, Mohammed Ali, Darrel Mortimer, JD Wilkes, Ben Chickadel, Gary Tso, Sabeen Raja, James Smolleck, Katy Rush, Ryan Wallace, SP.ONE, MATS?!, Tony Bevilacqua
Comment: According to the ALARM website, the Chicago-based magazine publishes "the best new music and art." They listen to thousands of CD's, go to hundreds of gallery openings, and then they pick the finalists. Well, I go to thousands of gallery openings and listen to no CD's, and if the art at this show is any indication of how valid the music part of the above claim is, it's valid. That simple and no more complicated.
Art (Sara Thustra prints, left).


Outsider pipe man Darrel Mortimer.


Art (like it).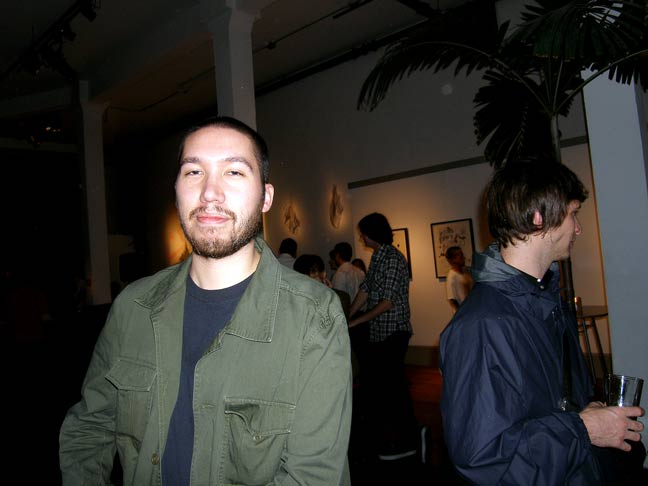 Chris Force, ALARM Editor/Publisher.


Art.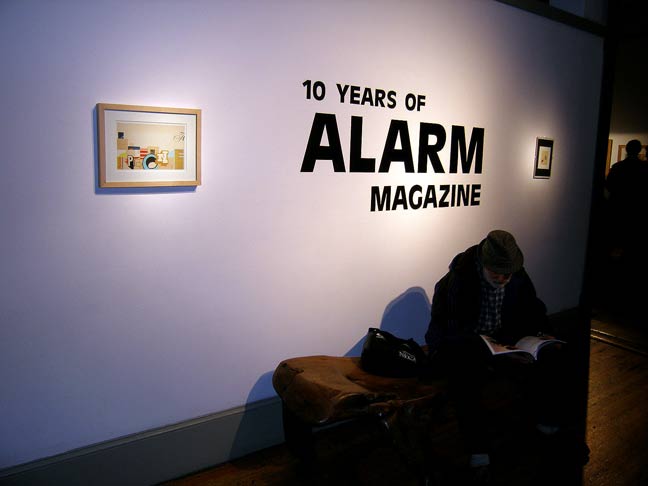 Occasion.


***
Ligne Roset: Monochromatica - Miya Ando Stanoff, Julie Nelson, Logan Hicks.
Comment: Versatile Los Angeles stencil man Logan Hicks shows consummate mastery of medium with a series of slick lush hi-gloss close-in impressions, primarily foliage. He goes upscale uptown as easy as he goes deep downtown; makes no difference. Brushed metal surface works by "minimalist steel worker" Miya Stanoff also satisfy.
Miya Stanoff, Director Jacques Savage, Logan Hicks (art - Hicks).


Art (Logan Hicks, left - Julie Nelson, right).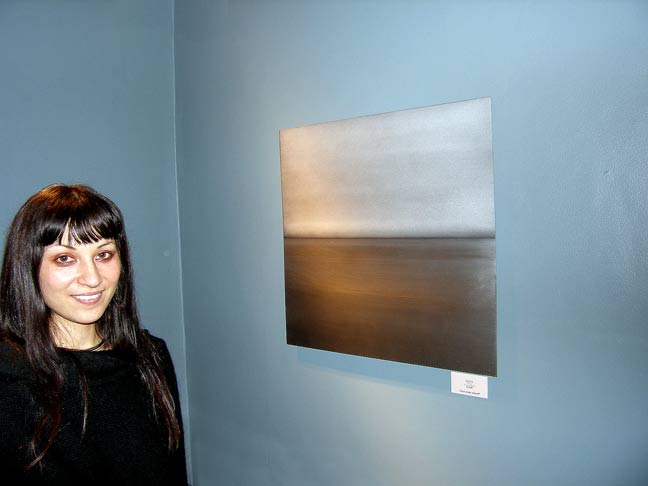 Miya Ando Stanoff - art.


Art (Logan Hicks).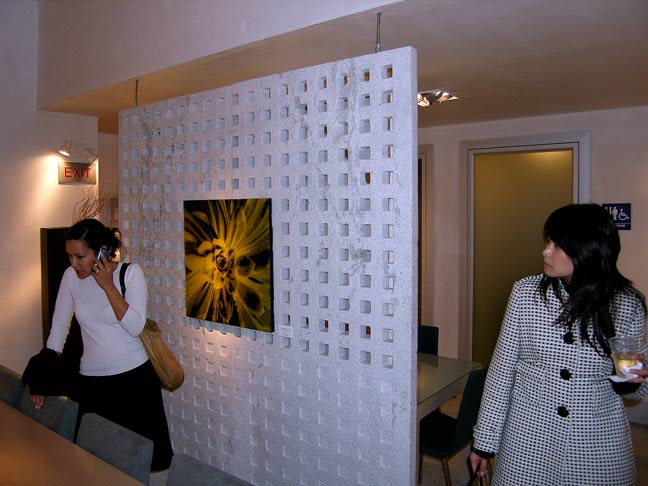 Art (Logan Hicks).


***
FIFTY24SF Gallery: David Choe.
Comment: David Choe makes all kinds of art everywhere including fashion, fine art, magazine illustration, posters, book illustration, walls, shoes, movies, and so on and so forth. Here he shows paintings drawings, and sculpture in East, West, abstract, and representational styles and flavors. Most art under $500, plenty to choose from, and if you got $$$, there's stuff for you too. Director Ben Belsky tells me some of Choe's art's only eight bucks, but there's height and age requirements for qualified buyers, so bring your fake ID and trick yardstick, and leave the heels home (especially you dudes). Check out Choe's website too. Nice.
Art, Eastern style (like it).


David Choe - art.


Art.


Art.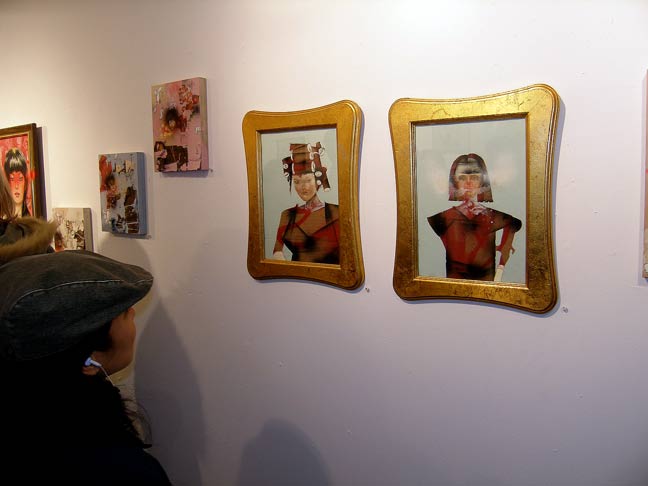 Art.


Art.


***
Micaela Gallery: Michael Sosin - Blown Glass Objects, Sculpture.
Comment: Voluminous varietous affordable colorific collection by established Berkeley glass guy Michael Sosin (been making a living at it for 20 years, he tells me).
Michael Sosin - glass art.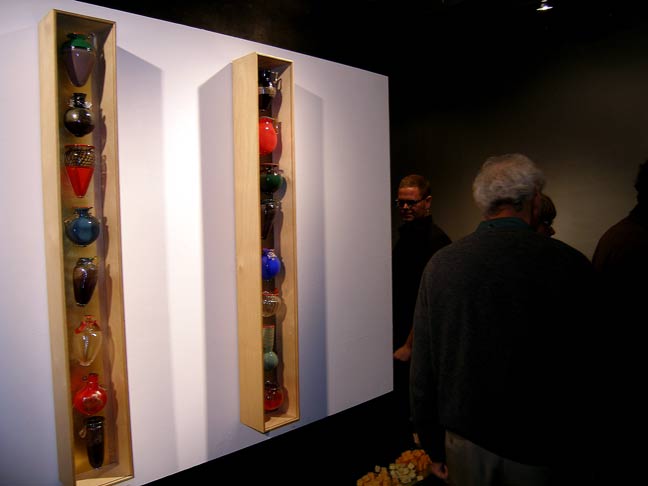 Glass art.


Glass art.


***
Addendum:


Ilan Laks abstracts at Newmark Gallery.


One more Ilan Laks (San Francisco artist) at Newmark Gallery.


Ivan and Ellen Yamada Tzvetin tandem show at
Hilliard Architects & Gallery (new gallery).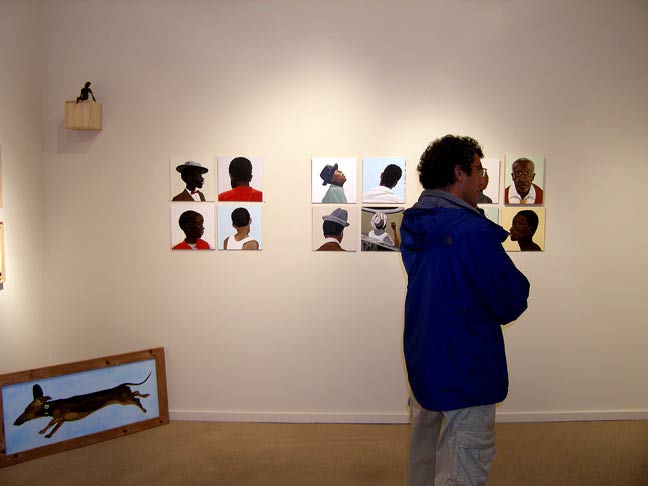 Jonathan Parker at Jack Fischer Gallery.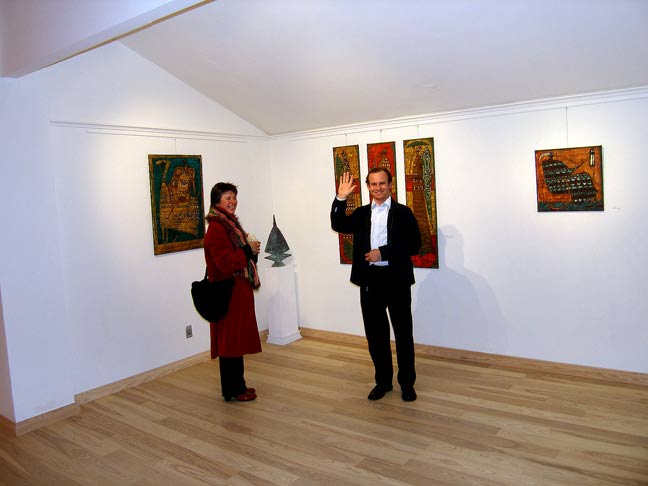 Wladislaw Safronow + art at Himmelberger Gallery.


David Himmelberger at Himmelberger Gallery.
(I kinda like the Chagall knock-off.)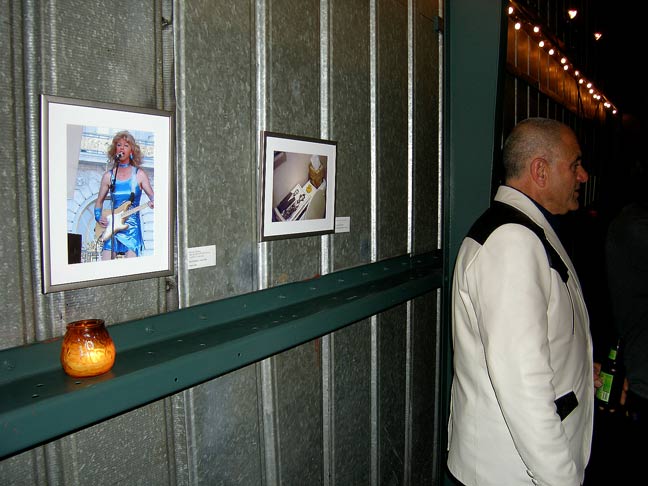 Randy Clark photos at Triptych Restaurant.


Jennifer Alexander mixed media at Triptych Restaurant.


***
Peek-a-boo! It's me again-- your art pal, Al. I see you've trundled all the way down here to the bottom-- again. So maybe ante up a little of that Holiday Cheer? Don't be shy. In exchange, you get a link-- if you want it. Most appreciated.
***
November First Thursday; November 3, 2005