HEADLANDS CENTER - PENINSULA ART MUSEUM

(Reported by Pakayla Biehn and DeWitt Cheng)

01.17.10



Headlands Center for the Arts: Front + Center - Weather Streams.
Artists: Timothy Armstrong, Elisheva Biernoff, Lisa K. Blatt, Matt Borruso, Luke Butler, John Chiara, Jordan Essoe, Sean Horchy, Jennifer Kaufman, Joshua Keller, Kim Miskowicz, Daniel Nevers, James Sterling Pitt, Dave Stein, Jordan Stein, Primitivo Suarez-Wolfe, Chris Thorson.
Review and images by Pakayla Biehn: An excellent group show of California artists in a truly incredible setting. The space is utilized well with installations and vibrant works on paper by a multitude of great artists. My favorites include Matt Burruso and Star-Trek-enamored Luke Butler.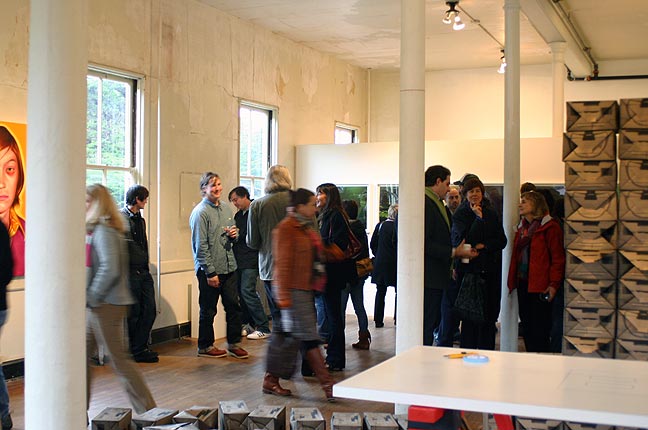 The group of attendees.


Jamie Alexander from Park Life and Dan (my carpool dudes).
Jamie also just got on the board of the Headlands.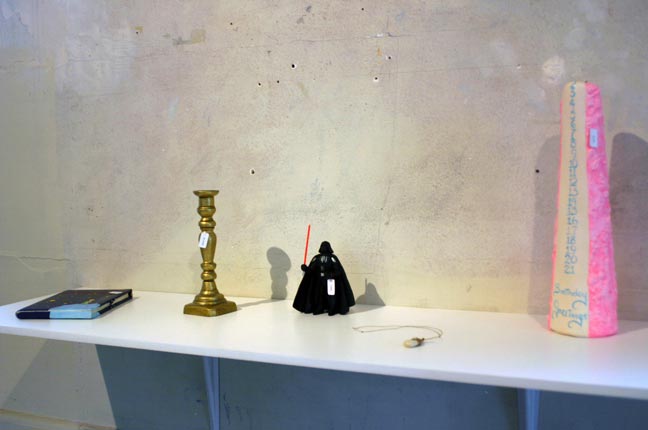 Hand carved and painted wood sculptures by Elisheva Biernoff.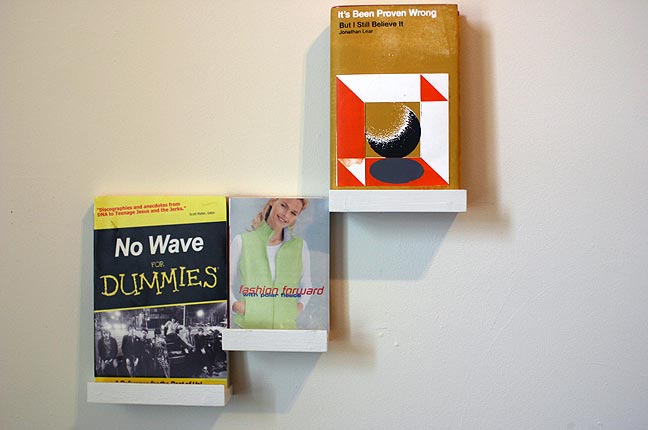 Hilarious book covers made by David Stein.


Watercolours by Jordan Essoe.


More drawings/installation view.


Luke Butler! So rad.


Installation by James Sterling Pitt.


Matt Borruso's creature drawing. Beautiful stuff.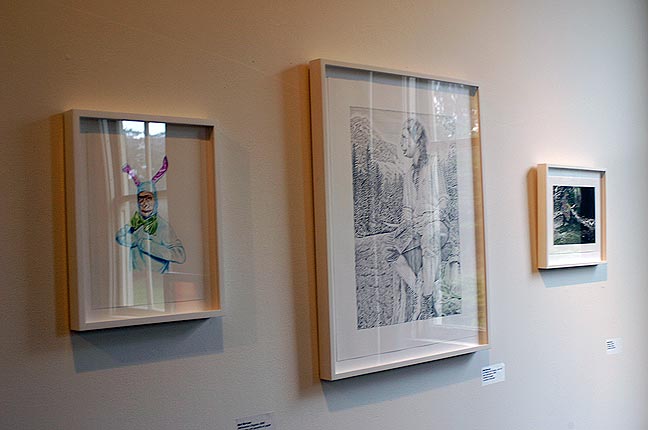 More of Matt Borruso's amazing drawings.


***
Peninsula Art Museum: Joe Zirker - Memory Machines.
Review and images by DeWitt Cheng: This show, assembled by San Francisco Palace of the Legion of Honor Curator Emeritus Robert Flynn Johnson, presents a selection of black-and-white monotypes by Peninsula printmaker Joe Zirker that are based on his memories of working in a foundry next to a roller coaster, fifty years ago, apparently before serious zoning laws. The monotypes (actually printed/painted on a substrate of acrylic gel medium, then laminated to paper or cloth) present cubo-dadaist machines somewhere between comic (Chaplin's gizmos in "Modern Times") and infernal (Fritz Lang's "Metropolis"). But the surprise here is the sculptures, small contraptions in wood and cardboard that are coated with photocopied handwriting, Zirker's notes on art. The gears and belts appear to be locked in place by layers of snowy/icy verbiage. One of the best shows around right now, it travels in two months to Smith Andersen gallery and then to Santa Cruz Museum of Art and History. Zirker will talk about his printing process on February 7. Catalogue available.
Art by Joe Zirker.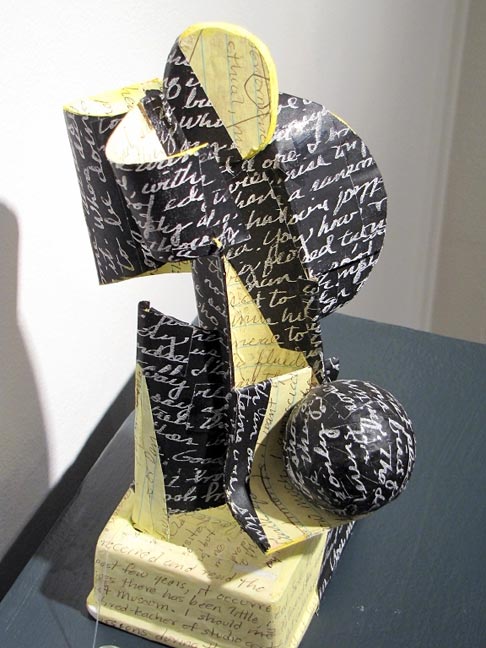 Art closer by Joe Zirker.


Joe Zirker art.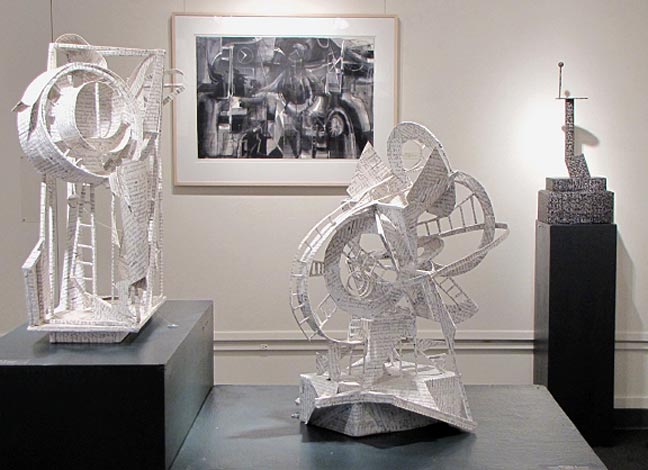 Art installation by Joe Zirker.


Art by Joe Zirker closer.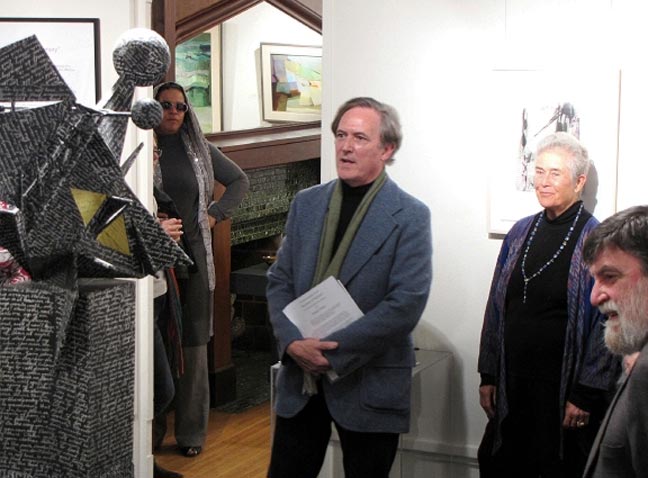 Curator Robert Flynn Johnson (center) and PAM president Ruth Waters.


Art by Joe Zirker + artsters.


Art by Joe Zirker + artsters.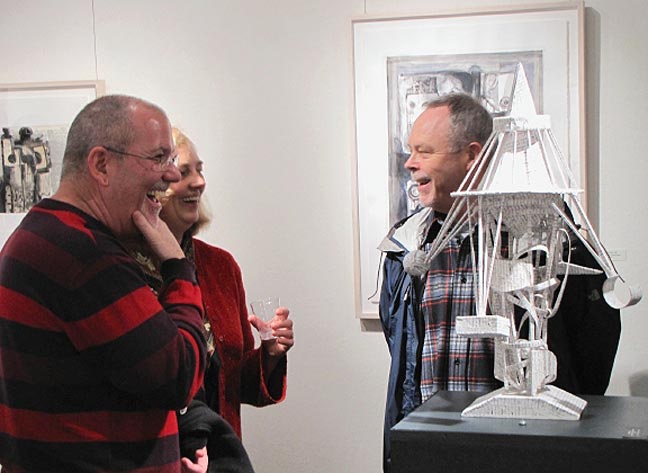 Art by Joe Zirker + artsters.


***