Alan Bamberger Biography & Profile

About ArtBusiness.com
Site principal, Alan Bamberger is an art consultant, advisor, author, and independent appraiser specializing in research, appraisal and all business and marketing aspects of original works of art, artist manuscript materials, art-related documents, and art reference books. He has been consulting, advising and appraising for artists, galleries, businesses, organizations and collectors since 1985.
Bamberger has appeared live on CNN's Daywatch, KTLA's Making It (Los Angeles), and KRON-TV in San Francisco, and answered art business questions on New York City Cable TV's Project Art Show. He's been quoted in numerous media including the New York Times, The Wall Street Journal, the International Herald Tribune, Great Britain's Guardian Unlimited, the Toronto Star, Marketplace (National Public Radio), the Los Angeles Times, New York Newsday, the San Francisco Chronicle, Esquire, ESPN Magazine, Real Simple, ARTnews, The Arizona Republic and Wired and has been featured in the Chicago Tribune, the San Francisco Examiner, Kiplinger's Personal Finance, Your Money, and other publications.
Bamberger has been selling art since 1979 and rare and scholarly art reference books since 1982. He has written about the art business since 1983. His syndicated column, "Art Talk," debuted in 1985 and appeared in antique and collectibles newspapers and magazines nationwide including Antique Week, Mid-Atlantic Antiques Magazine, Yesteryear, Antique and Collectables, The Collector, Antiques and Auction News, Antique Gazette, Old Stuff, and Collectors Journal. Bamberger also authored the "Turning Pro" column for Coagula Art Journal and "Your Business Questions" for Art Calendar Magazine, and has written numerous articles about the art business for publications like American Artist, Art Ltd., Antiques and Fine Art, Antiques West, Antique Trader, San Francisco Review of Books, and Art of California. He has also written three books, Buy Art Smart and Art For All, published by Wallace-Homestead in 1990 and 1994 respectively, and The Art of Buying Art, published by Gordon's Art Reference in 2002, and then revised and enlarged in 2007.
Additionally, he advises and provides information, opinions and perspectives relating to legal and market matters involving art, has given expert testimony in court, done numerous radio interviews, spoken with Spencer Michaels of The News Hour With Jim Lehrer regarding a PBS news story about eBay, consulted with financial columnist Andrew Leckey for his annual predictions on what's hot in the art market, been included in the art section of the Random House book The Practical Guide to Practically Everything, and is a listed expert in Tony Hyman's Trash or Treasure. He also speaks to museum, collector groups and artist groups across the country and was the original moderator of the "Topics in Art" forum on the Antique Week website.
Bamberger is a member of the Association of Online Appraisers, and has served on their Ethics Committee). He was also a member in good standing of the Antiquarian Booksellers Association of America and the International League of Antiquarian Booksellers for a number of years. He has served on the board of directors of Creativity Explored, an organization dedicated to encouraging artistic expression in the developmentally challenged, on the exhibition committee of Visual Aid, a service organization serving artists with life threatening illnesses, and worked with ArtSpan which produces San Francisco Open Studios.

Current Features
How to Buy Art on Instagram and Facebook
More and more people are buying more and more art online all the time, not only from artist websites or online stores, but perhaps even more so, on social media ...
Collect Art Like a Pro
In order to collect art intelligently, you have to master two basic skills. The first is being able to...
Services for Artists and Collectors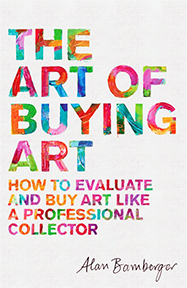 Buy the Book