Privacy Policy
Effective Date: August 15, 2019
Welcome to ArtBusiness.com
My name is Alan Bamberger. I own and operate this website, ArtBusiness.com. You are welcome to explore any pages of this site. It has been designed primarily a consumer resource for anyone who has any interest in learning more about art or the art business including collectors, artists, art buyers, art sellers, and anyone else who has art-related questions or situations that they would like to learn more about.

Please read on if you are interested in seeing what types of personal information are collected on this site, and who collects it. Thank you for visiting, and I hope you enjoy your stay.
Cookies
The ArtBusiness.com website sets one cookie. This is a small file stored on your computer, tablet or mobile device. A web designer added this function to the site years ago. I have no idea what this cookie does, how to access whatever it does, whether it even does anything, and have never even tried to make any sense out of it. If you have any concerns about this cookie, please make contact via the contact information below.
Data Collection from Third-Party Forms
There are three third-party forms on the site where you are asked to provide personal information if you decide to fill them out. These forms are for ordering appraisal and consulting services from me, Alan Bamberger, ordering a copy of my book The Art of Buying Art, and making a donation to the site.

If you choose to fill out a Form, you will be asked to provide personal information for identification purposes. This information includes but is not limited to:

Your email address
First and last name
Phone number
Street address, City, State, Province, ZIP/Postal code

These forms are hosted by JotForm.com. You can read the JotForm Privacy Notice here: https://www.jotform.com/privacy/

The payment sections of these forms are hosted by Paypal. You can read the PayPal Privacy Statement here: https://www.paypal.com/us/webapps/mpp/ua/privacy-full
To keep track of any changes to this Privacy Policy, stop back from time to time. Policy change dates will be located at the top of this page after the words "Effective Date".
Contact Us
If you have any questions, please contact:
Email: alanbamberger@me.com
Landline phone: 415.931.7875

Current Features
How to Buy Art on Instagram and Facebook
More and more people are buying more and more art online all the time, not only from artist websites or online stores, but perhaps even more so, on social media ...
Collect Art Like a Pro
In order to collect art intelligently, you have to master two basic skills. The first is being able to...
Services for Artists and Collectors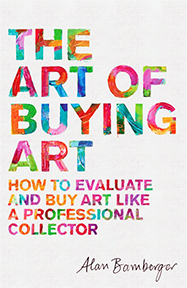 Buy the Book