***
John Pence Gallery: Still Life.
Artists: Juliette Aristides, William Bartlett, Noah Buchanan, Emil Carlsen, Jacob Collins, Andrew Conklin, Tony Curanaj, Carl Dobsky, Douglas Flynt, Adam Forfang, Greg Gandy, Carin Gerard, Kevin Gorges, Michael Grimaldi, Russell Harris, Justin Hess, Lance Hewison, Tara Keefe, Thomas Kegler, Jonathan Koch, Sarah K Lamb, Dean Larson, Steven J Levin, Jeremy Mann, Edward Minoff, Cuong Nguyen, Elizabeth Nourse, Jacob A Pfeiffer, Christopher Pierce, Christopher Pugliese, Travis Schlaht, Randall Sexton, John Christopher Pierce, Chris Thomas, Jason Toney, Anthony Waichulis, Will Wilson.
Comment by RWM: Amazing. Startling. As real as photographs with lighting.
Comment by AB: The descriptive "realer than real" might be appropriate here as you peruse these remarkably resplendent depictions. We think we can see, but these artists help us see better. Go see... better.
Art by Russell Harris at John Pence Gallery.


Michael Molnar dartboard art (center).


Pinkie cam detail of Michael Molnar art above at John Pence Gallery.


Art by Jacob A. Pfeiffer.


Jacob A Pfeiffer art at John Pence Gallery.


Group still-life art show.


Libation art at John Pence Gallery.


Arch view - group still life art show at John Pence Gallery.


***
San Francisco Art Institute: ¡Oye, Mira! - Reflective Approaches in Contemporary Latin American Video Art.
Artists: Edgardo Aragón (Mexico), Alexandre Arrechea (Cuba), Miguel Calderón (Mexico), Sergio De La Torre (Mexico), Humberto Diaz (Cuba), Felipe Dulzaides (Cuba), Ana Teresa Fernandez (Mexico), Luis Gárciga (Cuba), Claudia Joskowicz (Bolivia), leonardogillesfleur (Argentina), Julio Cesar Morales (Mexico), Yoshua Okon (Mexico), Eamon Ore-Giron (Peru), Amapola Prada (Peru), Maya Watanabe (Peru).
Review by RWM: Tough times south of the border, but it is great that they are being presented and remembered. Not sure what to make of all of the pieces which tell individual stories. More alarmist than interpretive makes for a great show and serious visit to a different clime.
Comment by AB: "A selection of artists from Latin America who use video as a tool of reflection and contemplation, exploring relationships of identity to site, history, and memory." Worth a visit.
Video art by Edgardo Aragón at San Francisco Art Institute.


Alexandre Arrechea video art.


Tony Labat transforms a concrete bunker into Cafe Video (like it).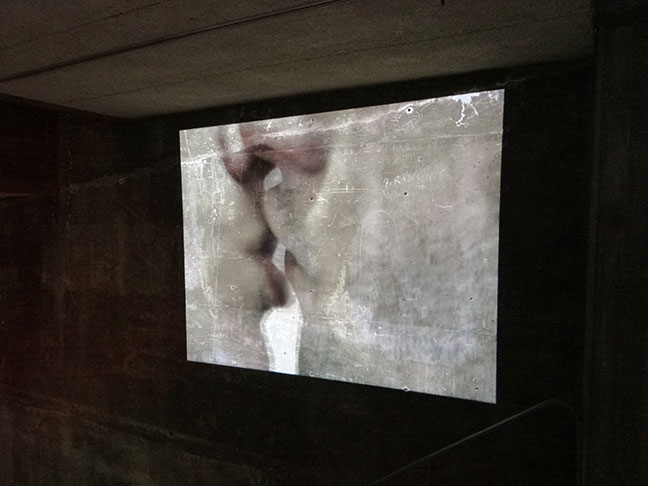 Kissing video at San Francisco Art Institute.


Kissing closer.


Eamon Ore-Giron video art at San Francisco Art Institute.


Latin American video art group show.


Entrance to Latin American video art show at San Francisco Art Institute.


***
Incline Gallery: Art Auction to Benefit the Artists.
Artists: Adam Feibelman, Aimee Friberg, Alicia Escott, Andrew Schoultz, Anthony Torres, Ben Venom, Bill McRight, Brian Lucas, Christa Assad, Claire Colette, Clare Judith, David Molesky, Dennis Parlante, Eric Parra, Ezra Eismont, Felix Macnee, Giancula Franzese, Gina Borg, Guy Colwell, Harley Lafarrah Eaves, Hilary Pecis, Jean Oppermann, Jeff Petersen, Jenny Sharaf, Jesse Schlesinger, Jonathan Steinberg, Kara Maria, Kathryn Kain, Kelly Ording, Kevin Taylor, Kim Frohsin, Kottie Paloma, Kristen Van Diggelen, Kyle Ranson, Lauren Douglas, Lawrence Ferlinghetti, Llewelynn Fletcher, Mark Bettinger, Mark Van Proyen, Masako Miki, Megan Gorham, Megan Seiter, Michael Krause, Michael Rauner, Nellie King Solomon, Paz de la Calzada, Ryan Coffey, Ryan Shaffer, Sarah Jane Lapp, Tahiti Pehrson, Tom Schultz, Yuri Psinakis.
Comment by AB: Not sure how this event turned out, but it's an admirable endeavor for sure-- an auction with all proceeds going to the artists. I checked the opening bid amounts and some of 'em seem kinda high, which is generally an error in judgment when it comes to auctions. The number one best way to attract action is with really reasonable opening bids. If the attendees get discouraged right from the get-go because even the opening bids are close to or above their spending limits, then less gets sold-- or bid on, for that matter. But if you at least entice attendees with low openers, and give them a sense that they stand a chance to come away with something, they'll make whatever opening bids they can afford. Even though they may not win, the auction is officially off and running because cards with bids generally attract more bids, while cards with none... well, you know. Hopefully, loads of art sells and everyone comes away happy.
Art by Ezra Eismont at Incline Gallery.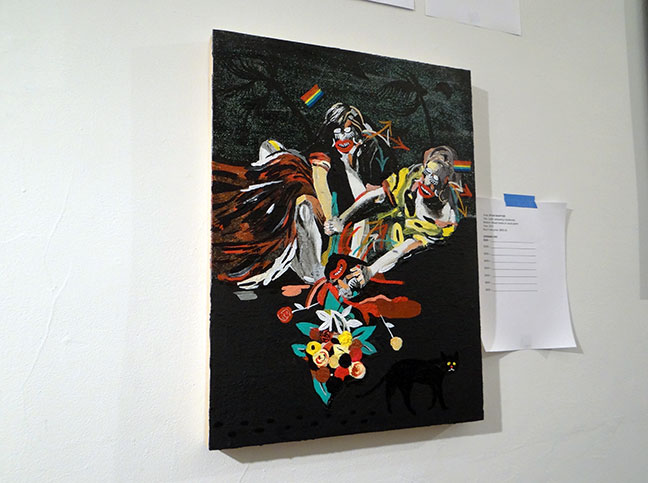 Ryan Shaffer art.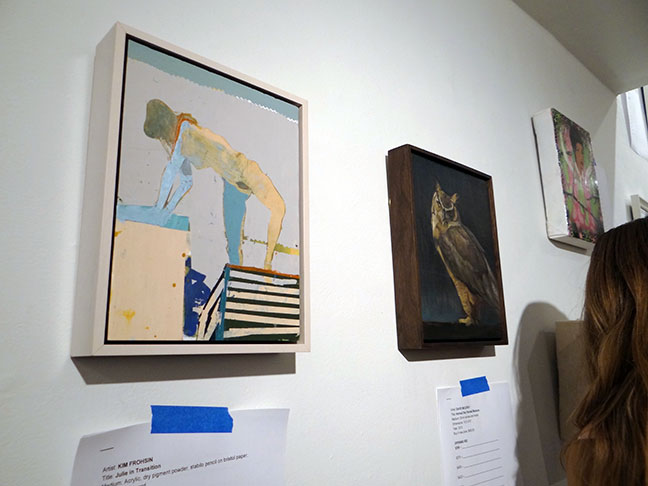 Art by Kim Frohsin (left) at Incline Gallery.


If you can't afford the original, there's this by Michael Krause.


Spirited bidding on this Andrew Schoultz edition at Incline Gallery.


Already a $1500 bid on the Christa Assad grenade sculpture (right).


Healthy turnout - group auction to support artists at Incline Gallery.


***
Fifty24SF Gallery: Style is the Limit - ARYZ.
Comment by AB: First off, you gotta give props to Fifty24SF for consistently importing an international pick of artists to Ess Eff (in too many ways, we're pathetically inbred and provincial here, so exposure to art & artists from faraway places always helps). ARYZ is from Spain, and the best part is that Spanish art education apparently includes teaching artists how to paint, as opposed to how to bullshit their way through the fact that they may have good ideas, but lack the necessary skills to hold a brush properly (how the ability to contextualize while lacking the technical skills necessary to deliver the goods is worth $100K-150K in "art education," I'll never understand). Meanwhile back at the show, ARYZ offers up an engaging multimedia mix of paintings, sculpture, neon and works on paper. Check it out.
Art by ARYZ at Fifty24SF Gallery.


Art by ARYZ.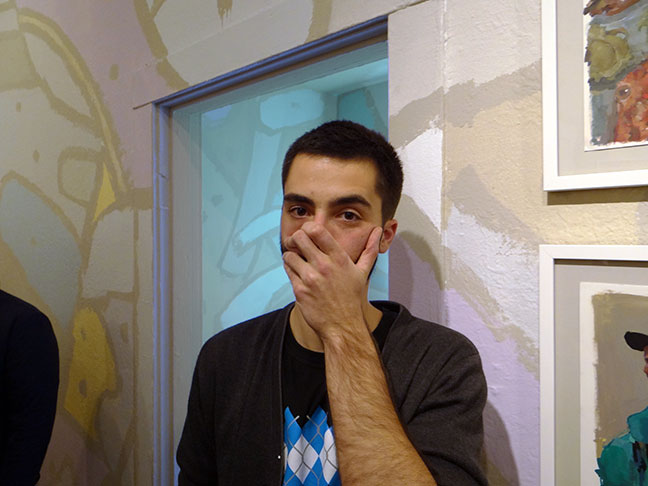 ARYZ and his art at Fifty24SF Gallery.


Art by ARYZ.


Sculpture by ARYZ at Fifty24SF Gallery.


Neon art by ARYZ.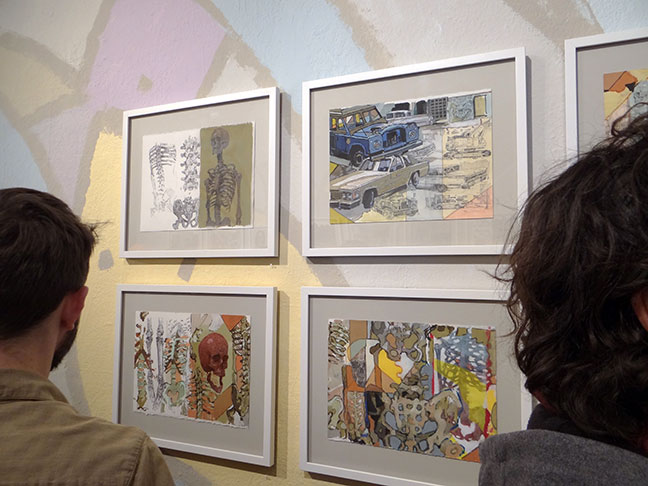 ARYZ art at Fifty24SF Gallery.


Relative density (plus a line to get in) - ARYZ art show at Fifty24SF Gallery.


***
Park Life: Potboiler - Christoper Lux.
Comment by AB: Christoper Lux lures you in with happy colors and easily resolvable imagery, but now that he's got you, buckle up and get ready to ride. Rainbow Breugel perhaps? Could be. Stop on by.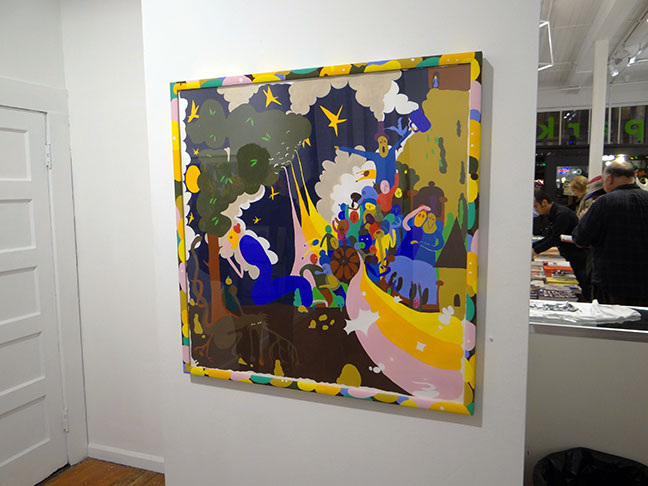 Art by Christoper Lux at Park Life.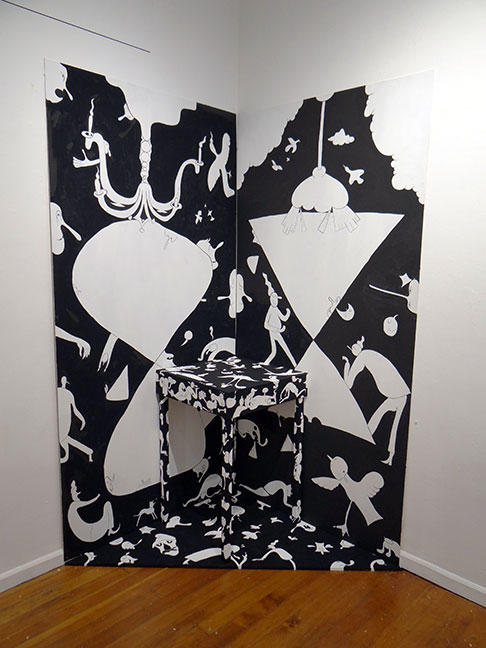 Christoper Lux art and furniture.


Christoper Lux art at Park Life.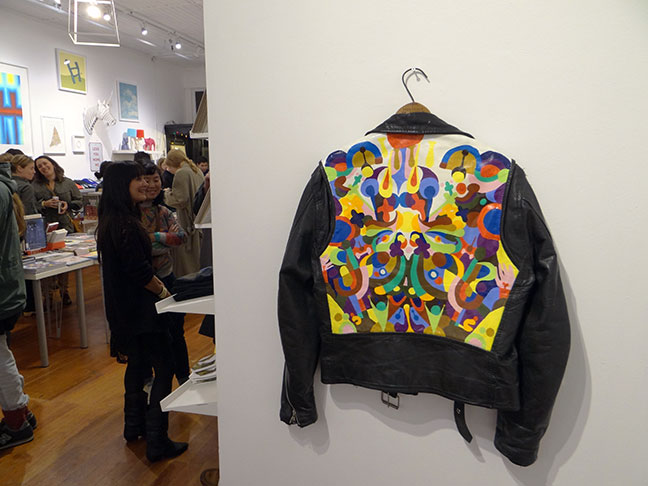 Fashion art by Christoper Lux.


Art by Christoper Lux at Park Life.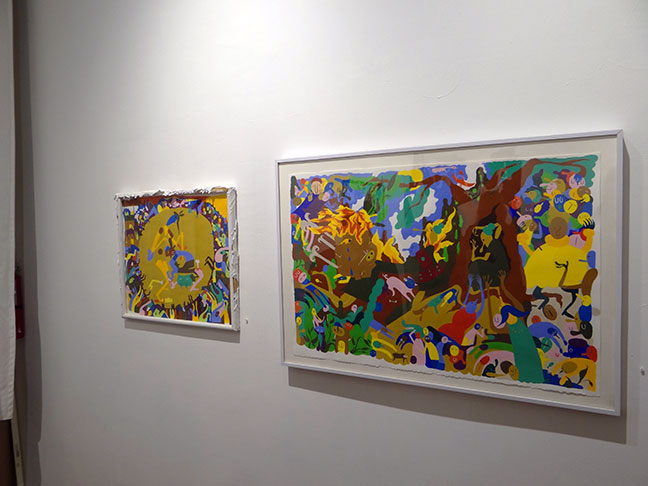 Christoper Lux art.


Circumstance - Christoper Lux art show at Park Life.


***