How to Sell Art at Open Studios
I've been to plenty of art walks and artist open studio shows and sales over the years and would like to share my thoughts with all artists who take part in these events. Typical settings are certain parts of cities or towns with high densities of artist studios, galleries, studio buildings, exhibition spaces and related venues presenting anywhere from several dozen to many hundreds of artists who simultaneously open their studios either individually or in groups to present and sell their artwork. These events often take place on evenings or weekends with the general public being invited to stroll from studio to studio or space to space, meet artists, see plenty of art and hopefully buy.
At open studios, all kinds of paintings, sculptures, prints, watercolors, drawings, mixed media, digital art, photographs and more are on display in all kinds of shapes, sizes and price ranges, priced from perhaps five or ten dollars per piece well on up into the thousands... and sometimes even higher. Each artist usually offers anywhere from several dozen to several hundred works of art, so if you do the math, at least hundreds and more often thousands-- and sometimes even tens of thousands-- of works of art are being shown at once. In other words, there's no shortage of art and artists competing for attention. With most art lovers setting aside only a single afternoon or evening to see what they can see, they've got an awful lot to digest in short periods of time.
During their visits, people are often confronted with studio after studio, exhibition space after exhibition space, artist after artist, artwork after artwork ad infinitum. Some of these people know maybe an artist or two or maybe several more than that; many know hardly anyone or anything, especially first timers, and often have no idea what to expect. At best, they might be handed maps or directories, but these handouts typically mean little or nothing to newcomers who tend to make their decisions at random-- like starting with whatever studio is closest to where they park their cars.
The general progression of events for visitors is that at the start of an art walk, everything is fresh, exciting and engaging-- new studios, new spaces or buildings, new artists, new art. They spend time in individual studios, observe working environments, occasionally speak with artists, look at all kinds of art, and generally do what they have to do to acclimate themselves to the circumstances. At some point, they begin to feel comfortable and get the general idea of what's going on. They now spend less time in each studio, perhaps skipping those studios that are basically repeats of ones they've already seen or that offer no immediate attraction. As the day or evening wears on, art-overload begins to set in and eventually controls viewer's actions to such an extent that they now stop only at those studios that, for whatever reason, stand out from all others. The rest, they ignore.
Not surprisingly, a good percentage of visitors gravitate toward studios where art's for sale at affordable prices. Why? Because a major reason people go to open studios in the first place is that they believe they can buy art cheaper than they can at galleries-- and they're usually right... or at least they should be.
Which brings us to helpful hint number one: Artists who tend to price their art reasonably because they know open studio goers tend to have modest budgets stand better chances of making sales than artists who price higher or closer to gallery retail. Know going in that there's absolutely nothing wrong with giving buyers bargains and moving your art out of the studio and into the homes or offices of these lucky new owners. You make money, you get your art out into the public where even more people will see it, and you make buyers happy. Its a win/win all the way around. Remember-- your art is your business card and one of the main ways new buyers discover and learn about you is by first coming into contact with your art in someone's home, office, business, art space or gallery.
Many artists don't seem to realize that at open studios they're in direct competition with each other. Each and every artist may believe that his or her art and studio are unique, stand apart from the rest, and that no further efforts to attract attention are necessary, but nothing can be further from the truth. The truth is that card-carrying members of the general public are not good at making fine line distinctions between one artist and the next. With the immense amount of art that inundates them at these events, one studio begins to look pretty much like the next after a while, so you can't simply sit there and expect sales to come to you simply because you think your art is special, regardless of how you price it. You have to make an effort to get people into your studio and in direct contact with your art.
Attracting buyers and selling art are arts in and of themselves, and two goals that must be accomplished in order for open studios to be worthwhile and profitable for you. So with that in mind, here are some recommended do's and don'ts for your forthcoming open studios adventures...
Do's:
* Do what you can to make your space stand out. Catch the attention of passersby with your most striking or imposing works of art. Whether or not you think you can sell them, put them in locations where people can't help but see them. The point is to slow them down and coax them out of the halls or off the streets and into your studio. Think of your studio like a store in a mall and do what you can do from "show window" or signage or display standpoints to make your space appear as unique, appealing and enticing as possible to anyone passing by.
* Select, theme and organize what you're showing, and avoid the temptation to show everything you've ever done. You want your studio to look like a gallery, not a jumble shop. Too many types or styles or subject matters confuses viewers and can even scare them away, especially ones who don't know you. People have a far easier time understanding and connecting with your work when you keep the variety to a minimum.
* Make your guests feel comfortable. Say hello, offer to answer questions, be hospitable, accessible, and available. If you have problems relating to people, talking about your art or dealing with money issues, have a friend or acquaintance be there to help you. Keep your greetings brief and let people browse at their leisure. Most importantly, make clear that you or an associate is present and available to assist at all times.
* Have at least several works of art clearly displayed in a part of your studio that approximates a gallery setting. These pieces should be professionally lit, separated from one another and not wallowing in clutter. Many people have trouble appreciating or understanding how particular works of art might look in their homes or offices when too many nearby objects are distracting them (including other similar works of art), and they end up getting confused or overstimulated by the sheer volume and complexity of too many visuals. Take a lesson from the art galleries on this one. At the very least, have a place where anyone interested in any single work of art can see and think about it with little or no interference from the immediate surroundings, where they can be "alone" with that art.
* Clearly price your art so no one has to ask. Show prices on or near the art, post a price list, or have a price list on hand for anyone who's interested. For a variety of reasons, many people are reluctant or even afraid to ask prices... so they won't. You never know who's going to be a buyer so make that buying process as welcoming, comfortable and easy as possible.
* Offer art in a variety of price ranges. An affordably priced initial sale may lead to a larger one later. As previously noted, most people go to open studios to buy modestly priced art or even to find bargains. People who spend thousands of dollars and up tend to know what they want, where to buy it, who to buy it from, and often buy from either established galleries, dealers or artists who they already know. Hardly anyone buys in those price ranges from artists they've never met or whose work they're experiencing for the very first time. A journey of a thousand miles starts with a single step-- corny but true-- so do what you can to make that first step as easy as possible for buyers to take.
* Have your Instagram username in plain sight so that anyone interested in your art can follow you on the spot. (Way too many artists forget to do this)
* Make sure your business cards, your statement or intro to your art, your resume, your website URL (including your computer turned on and showing your website), and any other relevant promotional materials are on display and even available for the taking. Do whatever you can to keep your name in the minds of your visitors-- especially those who may be on the fence about whether or not to buy your art and who might need more time to think about it. Also have a place where people can sign up to be on your email or mailing list.
* Consider all reasonable offers. Suggest payment plans if interested parties seem hesitant to buy. Good procedure with people you don't know is to either sign an agreement on how the art is to be paid for, or better yet, to hold the art until paid for in full and then personally deliver it. Remember-- your number one mission is to make as many sales as possible, so do whatever you can to make that happen.
Don'ts:
* Don't make yourself so inaccessible that no one can comfortably approach you. For example, don't get lost in long conversations with friends, be totally focused on making art while people are there, give brief one- or two-word answers to people's questions, ignore or refuse to acknowledge the presence of visitors, or show any kind of attitude when talking about your art. Between you and me, I'm endlessly amazed at how many artists can either be difficult to talk to, or even more astoundingly, are nowhere to be seen at these events. Again, if you're not that great with people, have someone there to help you.
* Don't hide your most affordably priced art and only show the expensive stuff. That instantly eliminates a huge percentage of potential buyers.
* Don't jack up your prices for the occasion. If anything, lower them. Putting certain pieces on sale or reducing all regular prices by a set percentage for a limited time are great ways to attract buyers. This is your big chance for significant public exposure, and to meet and sell to people who love art-- not only your regular customers, but here's the biggie-- hopefully to first-time buyers who'll turn into regular customers over time. First time buyers are the best!
* Don't display your lower priced art in such a way that it looks like crap you'd just as soon throw in the trash. If this is how you present it (or how you present any aspect your creative output), that is exactly what viewers will think of it-- and you. Make it perfectly clear that you respect every single work of art you produce, no matter how much or how little it costs.
* Don't show every art piece of art you've ever created. That's a great way to overload viewers, confuse them, and cheapen the overall impact of your art. You want to look like an art gallery, not a flea market or secondhand store. Offer a carefully selected representative sampling of your work-- organized by subject matters, groups, series or by other easily understandable criteria-- and show more only when asked.
Now get out there and sell!

Current Features
How to Buy Art on Instagram and Facebook
More and more people are buying more and more art online all the time, not only from artist websites or online stores, but perhaps even more so, on social media ...
Collect Art Like a Pro
In order to collect art intelligently, you have to master two basic skills. The first is being able to...
Services for Artists and Collectors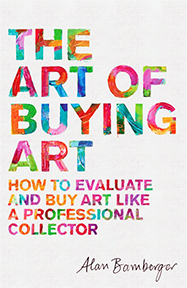 Buy the Book