<< Back to San Francisco Gallery Openings Reviews
Upcoming San Francisco Gallery Openings Calendar >>
***

Get your art fix fast: Instagram @alanbamberger
***
San Francisco Decorator Showcase 2019 at Le Petit Trianon
Exhibitors: Zeterre Landscape Architecture, Elan Evans Decorative Finish, Heather Hilliard Design, Kari McIntosh Design, De Meza + Architecture, The Wiseman Group, Studio Collins Weir, Deniece Duscheone Inc., Martin Kobus Home, Catharine Clark Gallery, Jonathan Rachman Design, Jane Richardson Design, ABH Interiors, Cass + Nico Studio, Jo Ann Hartley Interior Design, Dina Bandman Interiors, K Interiors, Lauren Berry Interior Design, Navarra Design Inc., Brandon Pruett Design, Susan Lind Chastain, Inc., Willem Racké Studio, Studio Heimat, Anyon Interior Design, Julie Rootes Interiors, Schein & Schein, Atelier 19, Peruri Design Company, ECHE LLC, Geddes Ulinskas Architects, CroWorks, Applegate Tran Interiors, Jaimie Belew Interior Design and David Armour Architecture, Scott Robert Design, Kelly Hohla Interiors, UHS Visual Arts.
Comment by AB: First things first. This is the best Decorator Showcase I've seen so far. Above all, there's the setting-- Le Petit Trianon located at 3800 Washington Street-- 18,000 square feet of grandeur and opulence. Then there's the seemingly endless array of rooms, foyers, lobbies, bathrooms, closets, marble stairways, antique stained glass windows, sculpted rear yard, views of The Bay, and of course the art provided by Catharine Clark Gallery. Lastly and most importantly, there are the designers and decorators who absolutely outdid themselves. All proceeds from the event go to support San Francisco University High School's financial aid program.
You really have to see the see this event in person. Photographs simply don't do the lavish interior spaces and sheer splendor of the venue justice, especially in terms of size and scale. Main living spaces are the size of large apartments, and the subterranean ballroom can easily host several hundred guests. For those of you won't be able to make it, here's a taste of what you'll be missing...

Le Petit Trianon, the site of this year's SF Decorator Showcase.


Main floor livingroom designed by Studio Collins Weir.


Second floor family room c/o Jonathan Rachman Design.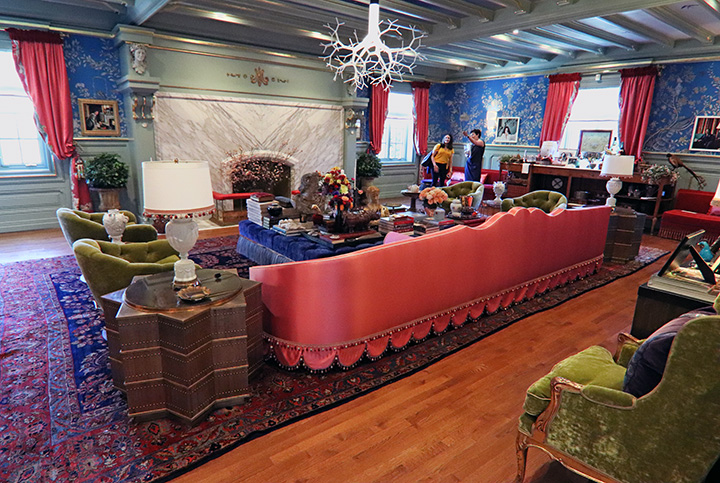 Another view of the family room above.


Cavernous subterranean ballroom c/o Applegate Tran Interiors.


The ballroom's mosaic stage.


Cozy little corner of the ballroom designed by Applegate Tran.


"Haute Hideaway" by Paul Wiseman and James Hunter (The Wiseman Group).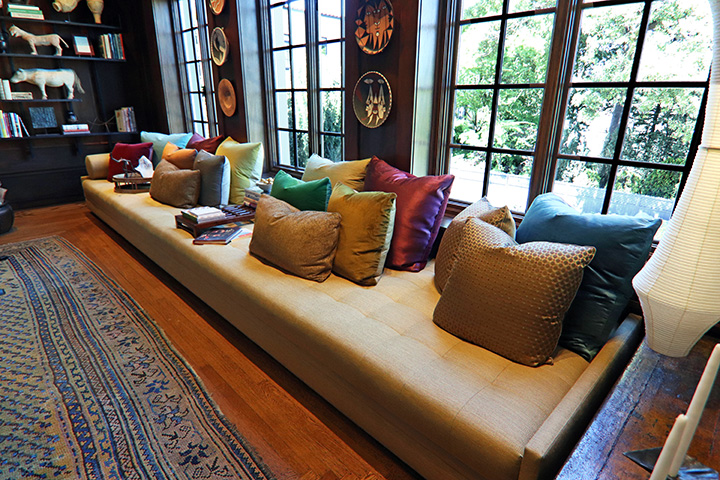 Easy seating for at least twenty in above image closer.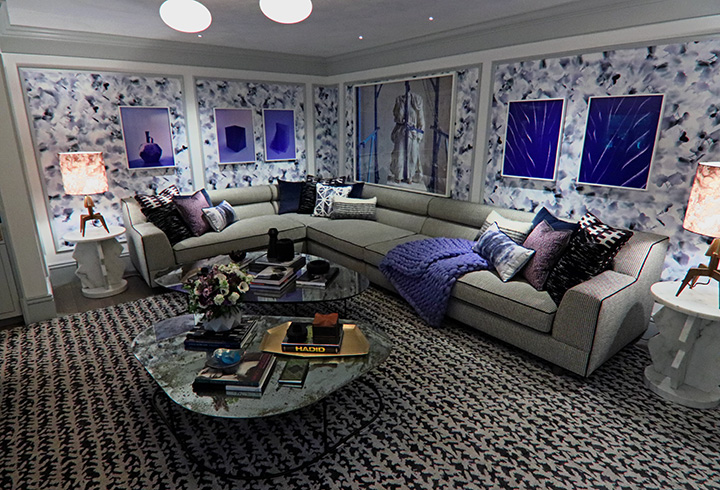 "Wo-Man Cave" designed by Kelly Hohla Interiors.


Art by Julie Heffernen oil painting on canvas available for $65K.


Deborah Oropallo photomontage priced at $12K.


Gorgeous glazed vitreous china and gilded wood piece by Laurel Roth Hope.


"Bizibots Bedroom" created by Virginie Manichon of Atelier 19.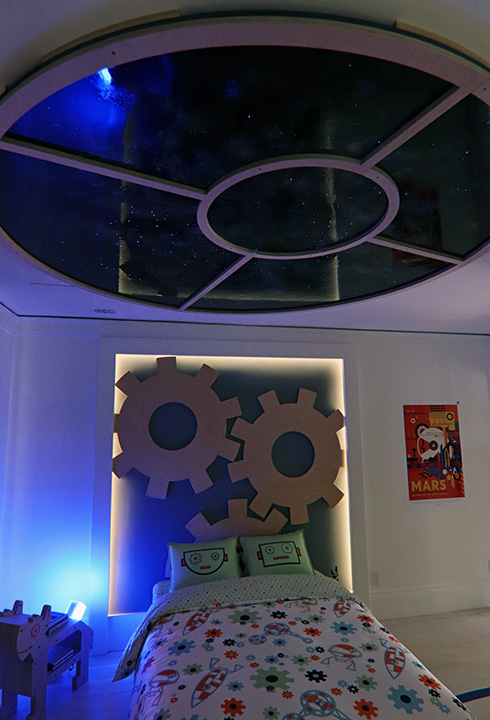 Another view of kids room above complete with personal planetarium.


Virginie Manichon lounging in her "Bizibots Bedroom" nook.


Art for "Bizibots Bedroom" by Virginie Manichon of Atelier 19.


"Rooftop Rendez-Vous" by Susan Lind Chastain and Willem Racké.


Cavern-like recital room by Martin Kobus Home at SF Decorator Showcase.


Library for people who don't read by Heather Hilliard Design.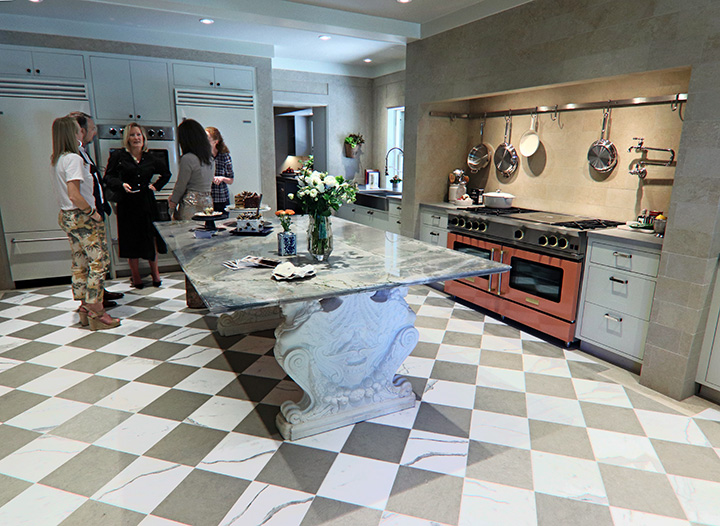 Service kitchen by Jaimie Belew Design and David Armour Architecture.


The Entry by Elan Evans Decorative Finishes.


Upstairs breakfast room by Eche LLC.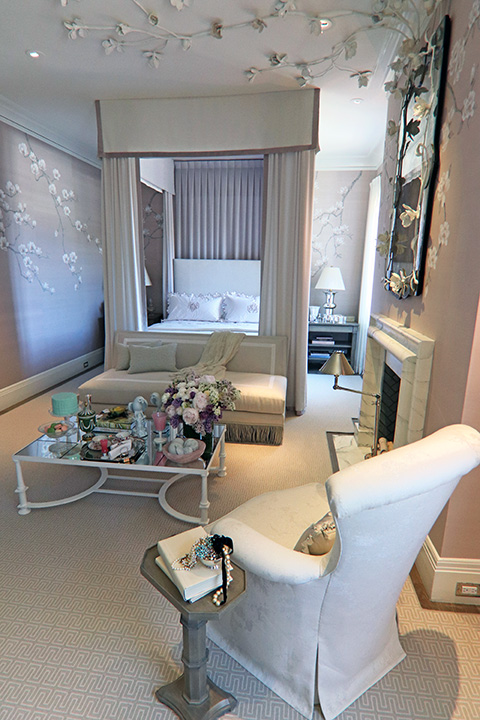 "Marie's Magnolias" room by Dina Bandman Interiors.


The modest rear entrance to Le Petit Trianon.


Garages and guest quarters with 2nd floor promenade - Le Petit Trianon.


***