<< Back to San Francisco Gallery Openings Reviews
Upcoming San Francisco Gallery Openings Calendar >>
***

Get your art fix fast: Instagram @alanbamberger
***
San Francisco Design Week: Opening Night 2019
Designers/Exhibitors:, Andrew Ashton, Work Art Life Studios, Angela McCarthy, Christopher Doyle & Co, Folk, For The People, Frost Collective, Garbett Design, James Brown, UFO Agencies, Jeremy Matthews, Mucho, Never Sit Still, Parallax, Sean Hogan, Studio Band, The Colour Club, The Sum Of, Underline Studio, Related Department, S&Co, Anette Lenz, Fanette Mellier, Jean Jullien, Laurent Fétis, Loran Stosskopf, Mucho, Toan Hu-Huu, Studio baldinger*vu-huu, Eike König, Hort, Neubau, Anagrama, Catherine Griffiths, Jasmax, Narrow Gauge, Nell May, Osborne Shiwan, Seachange, Sons & Co, Autograph, Studio Dumbar, Larssen & Amaral, Work in Progress, Anastasia Genkina, Sulki & Min, Diego Feijóo, Hey Studio, Javier Jaén, Lo Siento, Pablo Juncadella, Mucho, Ateljé Altmann, BVD, Lundgren+Lindqvist, Sakaria Studio, Stockholm Design Lab, Balmer Hählen, Erich Brechbühl, Niklaus Troxler, Alphabetical, Astrid Stavro, Pentagram, Bibliothèque, Bunch, Charlie Smith Design, Chris Labrooy, dn&co., Harry Pearce, Pentagram, Hat-trick, Hingston Studio, Jonathan Barnbrook , Magpie Studio, Marina Willer, Pentagram, Martin Brown Design, Michael Johnson, Mike Dempsey, MuirMcNeil, Mytton Williams, Nevs Hamling, Nomad, Olly St John, NB Studio, Osborne Ross, Paul Belford, Peter Horridge, Peter Saville, Rebecca Sutherland, Robert Shaw, Northbank, Sascha Lobe, Pentagram, Sawdust, Simon Cryer, Northbank, Spin, Steers McGillan Eves, Stuart Radford, Superunion, Studio Build, Studio Sutherl&, Studio Texture, Supple Studio, Airlift, Ammunition, Anton & Irene, Aufuldish & Warinner, Boon, Brett Wickens, Mucho, Brian Jacobs, Brick Design, Chris Wilson, Corey Holms, David Carson Design, Design Studio, DIA Studio, Eric Schmitt, Studio 1500, Forest Young, Wolff Olins, Hybrid Design, Iron Creative, Jeff Keedy, Jennifer Morla, Joyce N. Ho, Julio Martinez, Studio 1500, Luke Robertson, Mucho, MacFadden & Thorpe, Manual, Matt Harris, MCKL, Moniker, Moving Brands, Poulsen Projects, R/GA, Rob Duncan, Mucho, Robert & Gary Williams, Robert Selfe, Brick Design, Someguy, Studio Hinrichs, Studio Scott, Territory, The Original Champions of Design, Thomas Williams, TF Design, Todd Richards, Triboro, Ueno, Vehicle, Volume Inc.
Comment by AB: According to the website, "SFDW is an essential week-long city-wide festival that showcases the unique intersection of ideas, design, business & entrepreneurism that makes the Bay Area the birthplace of the future." The 10-day event offers nearly 200 separate workshops, panel discussions, seminars, lectures, meetings, and activities at locations all over town. Tonight's opening party at Pier 27 presents a mix of exhibitors including graphic designers, technology concerns, functional furniture and object designers, artists, videos, and an extensive international exhibition of poster and graphic arts on the second floor.
The notable aspect of Design Week is that a number of the events have to do with ways art is now interfacing with technology and design across broad sectors of business, corporate, innovational, and creative realms. Maybe those of you holed up in your studios creating the next great masterworks, might consider a brief sabbatical to check out the complete calendar of Design Week happenings here.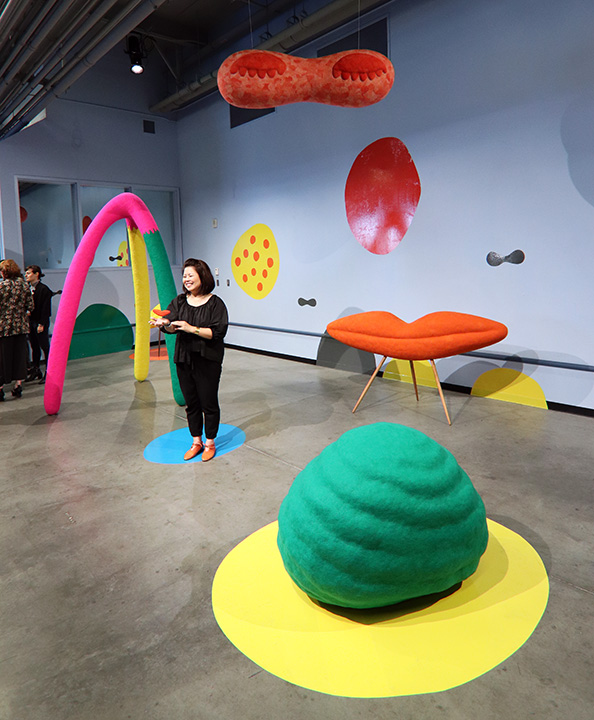 Masako Miki and her art/installation at San Francisco Design Week.


Cloudflare - lava lamp extravaganza & phone-activated Tarot cards.


L-R, art by James Lanahan & Lia Cook. Curated by Christine Duval.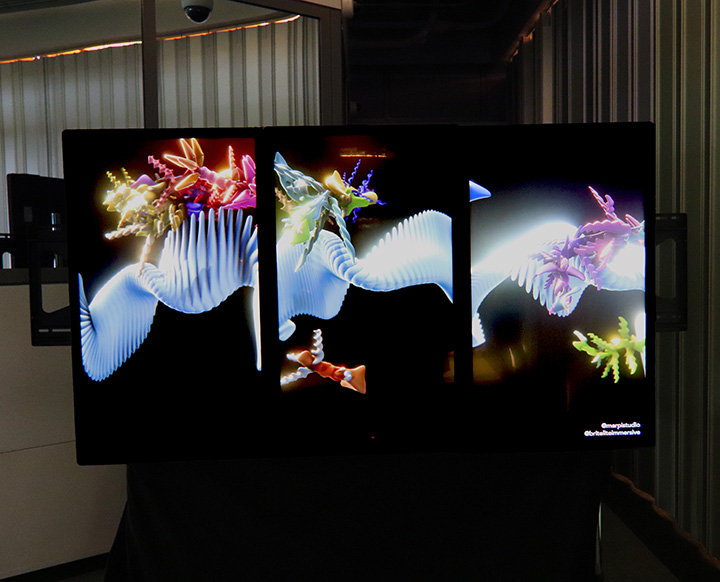 Animated video c/o Marpi Studio & Britelite Immersive.


Inflatable seating designed by Adrien Rovero.


Another view of inflatable relaxation by Adrien Rovero.


L-R, art by Windy Chien & Clive McCarthy. Christine Duval curator.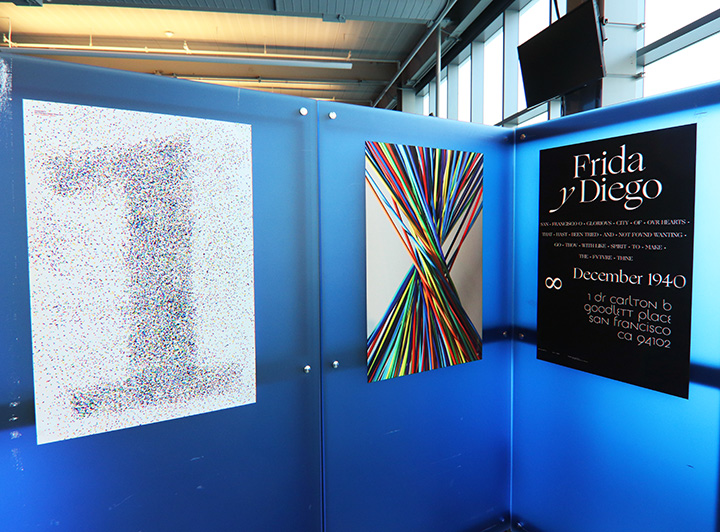 L-R, graphic arts by Loran Stosskopf, Moniker, Forest Young of Wolff Olins.


Mike Dempsey poster art.


L-R, poster art by Diego Feijóo and Javier Jean.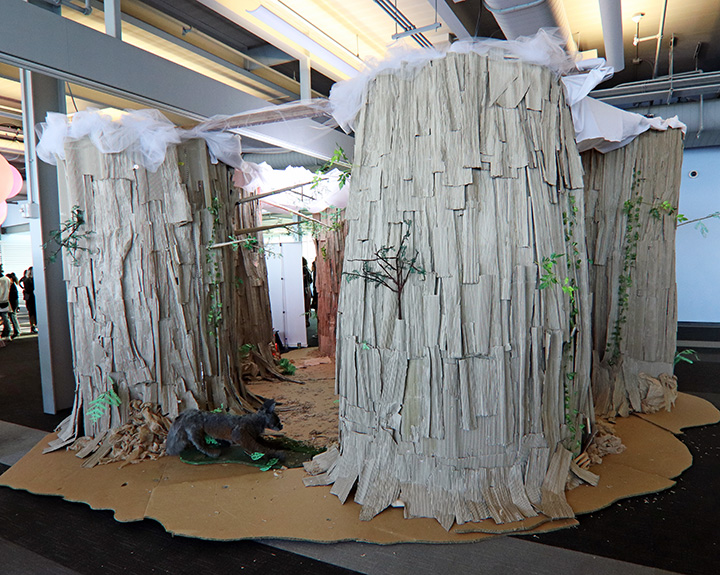 Cardboard forest c/o Design Tech High School on the grounds at Oracle.


Inhabitants of the Design Tech High School forest at SF Design Week.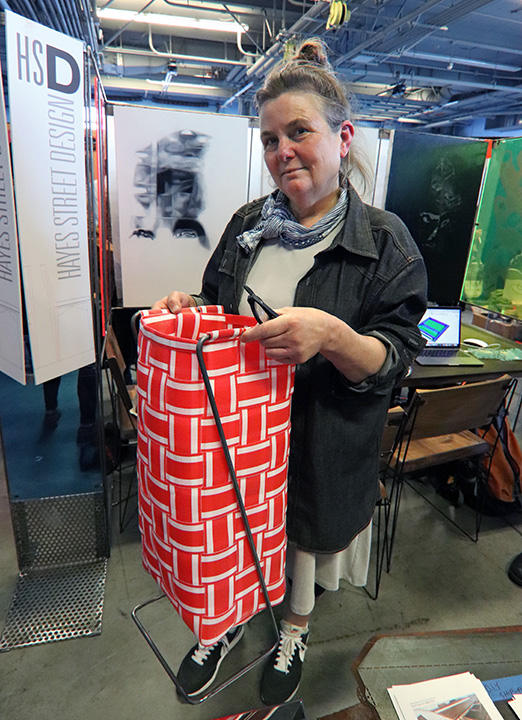 Leslie Straw of Hayes Street Design with their lawn chair fabric hamper.


International graphic arts exhibition, poster by Airlift, right.


Pier 27 San Francisco Design Week exhibition venue. Stop on by.


***