<< Back to San Francisco Gallery Openings Reviews
Upcoming San Francisco Gallery Openings Calendar >>
***

Get your art fix fast: Instagram @alanbamberger
***
The LAB: GROUP HANG - New Work by Facebook Artists in Residence
Artists: Jessalyn Aaland, Jonathan Anzalone, Michelle Blade, Serra Victoria Bothwell Fels, Val Britton, Charlie Callahan, Thomas Campbell, Jeffrey Canham, Carissa Potter Carlson, Randy Colosky, Francesco Igory Deiana, Chris Duncan, Kristin Farr, Joe Ferriso, Casey Gray, Barbara Holmes, Wendy Hough, Rachel Kaye, Jane Kim, Isaac Lin, Chris Lux, John Martin, Creative Growth, Alicia McCarthy, Barry McGee, Travis Meinolf, Masako Miki, Robert Minervini, Serena Mitnik-Miller, Brendan Monroe, Paul Morgan, Chris Natrop, Jay Nelson, Kelly Ording, Tahiti Pehrson, Yulia Pinkusevich, Sofie Ramos, Sarah Rara, Adee Roberson, Leah Rosenberg, Nathaniel Russell, Jessica Sabogal, Adrien Segal, Sonnenzimmer, Mason St Peter, t.w.five, Sage Vaughn, Rob Moss Wilson, David Wilson, Lena Wolff, Zio Ziegler.
Comment by AB: Celebrating the fifth anniversary of Facebook's outstanding Artist in Residence Program (FB AIR), this exhibition features new works by fifty former Artists in Residence at the company's corporate headquarters in Menlo Park, CA. Quality art all the way around, and plenty of it. Good show worth seeing. On view through September 16.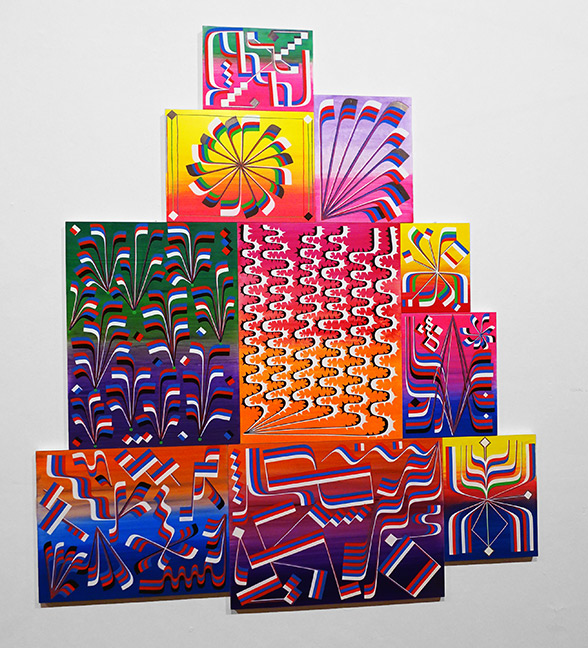 Art by Isaac Lin for Facebook Artists in Residence show at The LAB (like it).


Detail of art in above image.


L-R, art by Brendan Monroe, Casey Gray and Chris Lux.


Channeling Matisse - art by Carissa Potter Carlson.


Precision woodwork art by Lena Wolff (nicely done).


Detail of art in above image.


Facebook Artist in Residence program director Drew Bennett.


Pinkie cam detail of mini fabric sculpture by Masako Miki.


High-energy abstraction by Zio Ziegler.


Floral wonderland art by Sage Vaughn.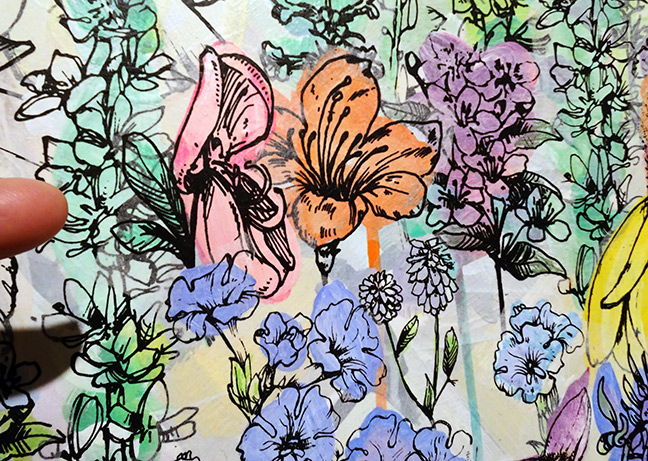 Pinkie cam detail of art in above image.


Relative density - Facebook Artists in Residence show at The LAB.


***
Italian Cultural Institute: Matthew Giuffrida - Artist Reception & Talk
Comment by AB: The exhibition opens with a talk by Matthew Giuffrida about his art and life.

Art by Matthew Giuffrida at The Italian Cultural Institute.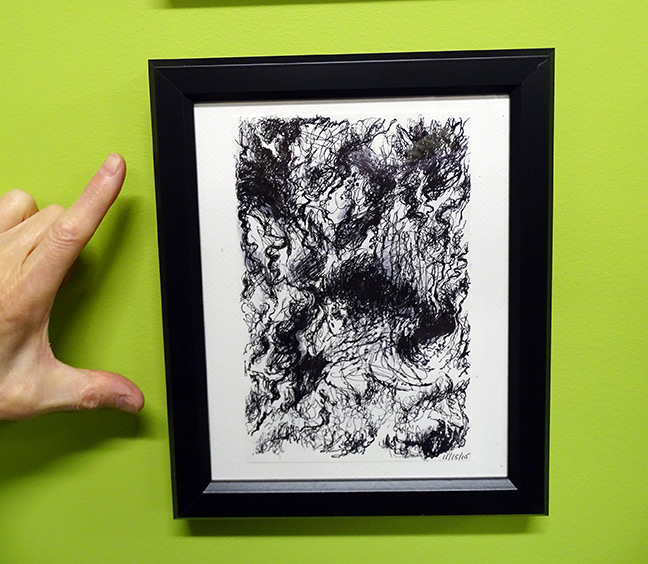 Drawing by Matthew Giuffrida up close.


Matthew Giuffrida (right) discusses his art.


Abstract painting by Matthew Giuffrida.


Black & white abstract drawings by Matthew Giuffrida.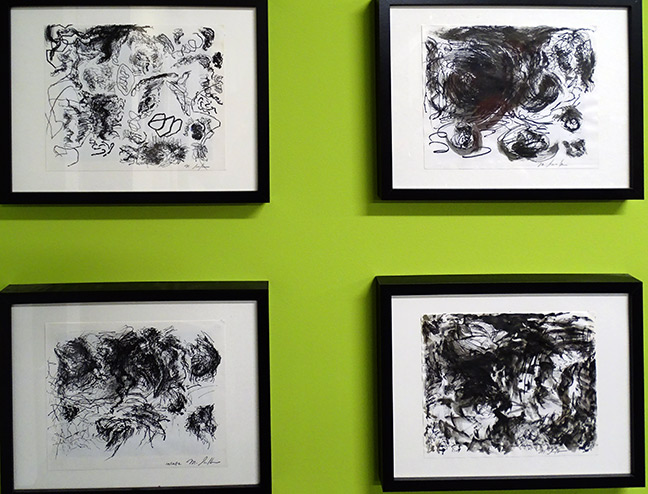 Art in above image closer.


***