ANTHONY MEIER - BAER RIDGWAY - JOHN PENCE

LUGGAGE STORE - GALLERY 16 - ELECTRIC WORKS

CALIFORNIA INSTITUTE OF INTEGRAL STUDIES - RATIO 3

CAIN SCHULTE - SILVERMAN - 1 AM - ELEANOR HARWOOD

PARTISAN - D-STRUCTURE - REVOLUTION CAFE

(with assistance from Laura Chenault, Kathryn Arnold, Kristin Farr and RWM)

09.11.09



Anthony Meier Fine Arts: Barnaby Furnas - the lesser light.
Comment by AB: I didn't think it was possible, but Barnaby Furnas can actually paint music. His electrifying rock concert renditions crackle with energy. Excellent.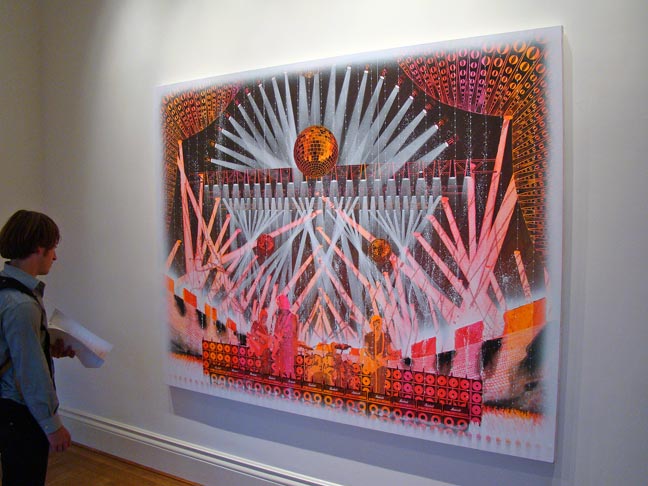 Painting by Barnaby Furnas.


Art by Barnaby Furnas.


Art in above image closer (Barnaby Furnas).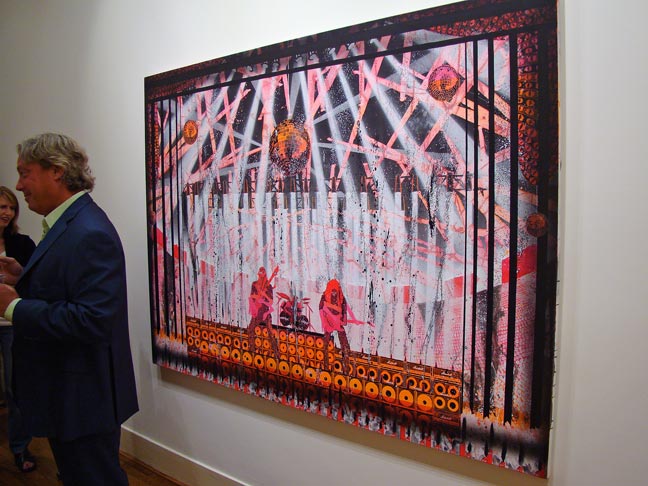 Art by Barnaby Furnas (that's Anthony Meier at the left).


Art closer by Barnaby Furnas.


Barnaby Furnas art.


Barnaby Furnas literature (profuse apologies for thumbing the "B").


***
John Pence Gallery: Tony Curanaj; Dean Larson.
Review and images by Kathryn Arnold: Here is a scene that seems straight from the mid 1700s or 1800s but it's Now! A very classy space and the patrons well-dressed, many holding the information sheets and magnifying glasses, viewing the works close up to catch the detail. Two artists being featured, Tony Curanaj, portraits and still lifes, or should I say Master of Portraits and Still Lifes, and Dean Larson city and dance studio scenes with techniques that rival and surpass some of the major French artists of the mid 1800s. Yet at the same time the work is experienced as contemporary-- SF city scenes at twilight and on gray summer days, and the portraits like Gerhard Richter in their fineness of touch and supra-real realism. Magical works.
The gallery also creates a magical sense in its environment with dimly lit spaces and figures, almost as if posed straight out of a Daumier. I go around to the back and walk through a narrow byway to get to the other side where multitudes of additional works are held. On one large wall dozens of black and white classical drawings are exhibited-- most fine, and hung salon style. Going further, I enter a room with realist paintings as if from yesteryear-- one I swear is a John Frederick Kensett or a Fitz Hugh Lane (look 'em up).
On my way out I take a shot of the curio cabinet (painting-- although a true trompe l'oeil). Nice! Great respect. This shows truth to the fabrication of the linear narrative in art history and makes you wonder what are we missing?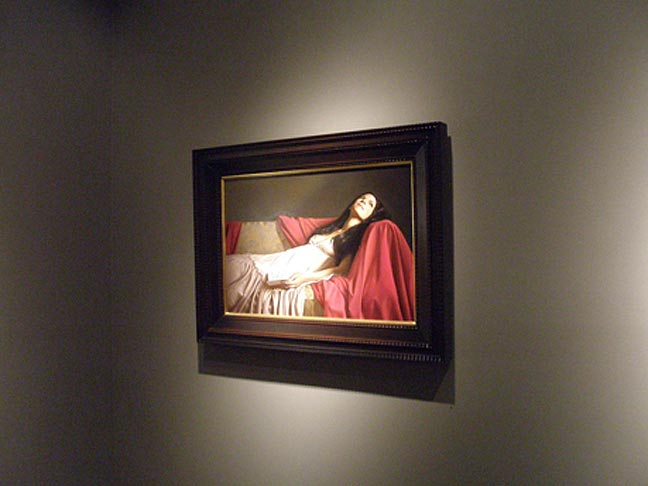 Art by Tony Curanaj.


Tony Curanaj painting.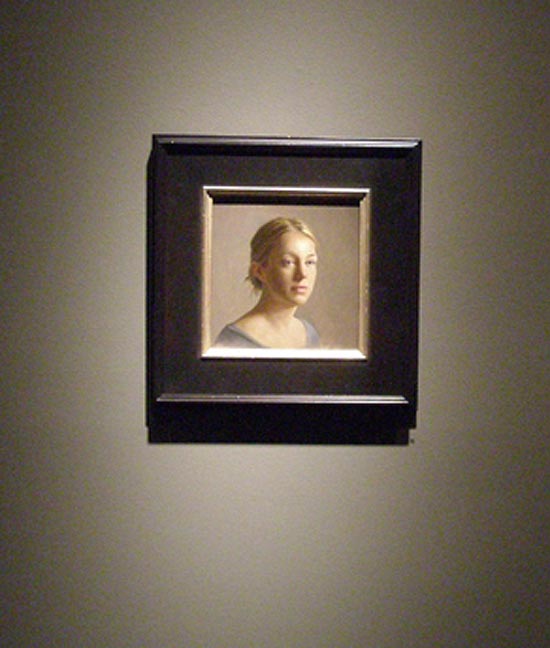 Art by Tony Curanaj.


Painting by Tony Curanaj.


Paintings by Dean Larson.


Dean Larson art.


Looking towards the front from the rear gallery.


***
Baer Ridgway Exhibitions: HOT & COLD - The End is Here.
Artists: Heidi Anderson, Reed Anderson, Michael Arcega, Michelle Blade, Monica Canilao, Tammy Rae Carland, Cynthia Connolly, Chris Duncan, Edie Fake, Amy Franceschini & Wilson Diaz, Kathleen Henderson, Rich Jacobs, Xylor Jane, Mads Lynnerup, Griffin McPartland, Reuben Lorch-Miller, Jay Nelson, Matt O'Brien, Brion Nuda Rosch, TM Sisters, Daniel Tierney, Ryan Wallace, Lindsey White, David Wilson, Will Yackulic.
Review and images by Laura Chenault: This exhibit marks the end of the Hot and Cold Fanzine and Baer Ridgway is not only selling the final issue, they are showcasing artists featured in the 'zine. The artists in this show work in every medium imaginable and the eclectic selection is inspiring. Even the finger food is artfully prepared.
A giant drawing by David Wilson dominates the first wall as you enter the gallery. A beautiful ink drawing on dozens of folded, clearly reused, pages. The mixed media piece by Griffin McPartland is intriguing. Featuring a utility sink with a video of black gloved hands under running water, the monitor shows what could happen in this sink. Looking up the viewer is reflected in a mirror that is reminiscent of high school bathrooms everywhere. Nearby encased in Plexiglas and sitting on a pedestal is a giant recycled ball of soap slivers.
One conceptual piece by Reuben Lorch-Miller features a waist high pedestal that is exactly the dimensions of a standard piece of paper. The top of the pedestal is a stack of bright pink "unlimited" photocopies with mystical imagery and text for each viewer to take. A monitor featuring old-school video game graphics stars a figure flying through fields of colored rectangles and silhouetted palm trees by TM Sisters. A joystick allows control of the flying figure. A nostalgic and entertaining piece.
Brion Nuda Rosch's "99 Somewhat Culturally Significant Artifacts Purchased at the 99 Cent Store" is a humorous installation perfectly displayed on the ledge around the stairs leading down. The monochromatic statues are an interesting commentary on the globalization of culture. A tall totem by Rich Jacobs is a graphic assemblege of wooden pieces with ink drawings transforming it into a mythical human like creature. A stark white background focuses the eye on the large object in "Hers & Hers", a photograph by Tammy Rae Carland. Clearly fabricated to be photographed, the altered mason jars are intriguing with their attached, almost fetishistic, bindings.
Reused file folders are combined to create an earth-toned background in Monica Canilao's mixed media piece featuring a beautiful foreground created from teabags. The folders are stitched together and they meet in a stylistic god's eye. A pure white sculpture by Kathleen Henderson portrays a donkey pulling a cart that has morphed into some strange creature. Prominently featured downstairs is the final issue of Hot and Cold f in a large display case. The issue includes records, DVD, photos, buttons, bandannas, books, stickers and more including a golden ticket.
Review by Kristin Farr: Most Epic Zine Ever! Hot and Cold Zine produced by Griffin McPartland and Chris Duncan release #1, the final edition of a series of 10 zines. The release party and coordinating exhibition is a star-studded event, and the zine is sold out and it's easy to see why-- chock-full of photocopied artwork, limited-edition prints, stickers, a bandana, a secret treasure map and golden ticket for special zine #0, and even a photo of Duncan and McPartland's cute kids, both born during the zine's 7-year run. The zine and show are a terrific survey of Bay Area artists.
Art by David Wilson - Heal Again.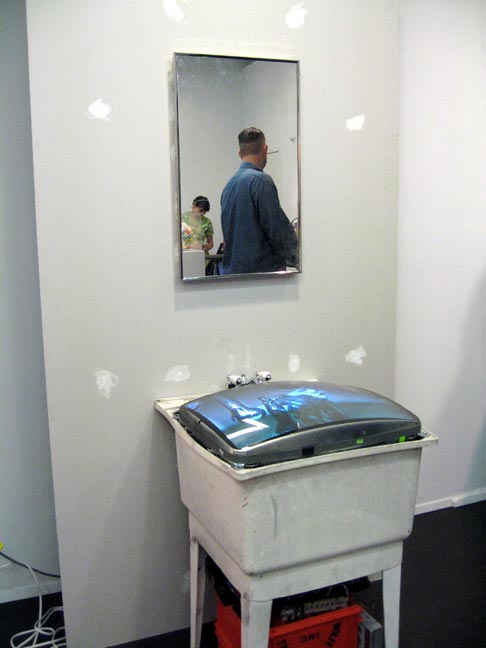 The Good Friend/Girlfriend Dynamic by Griffin McPartland.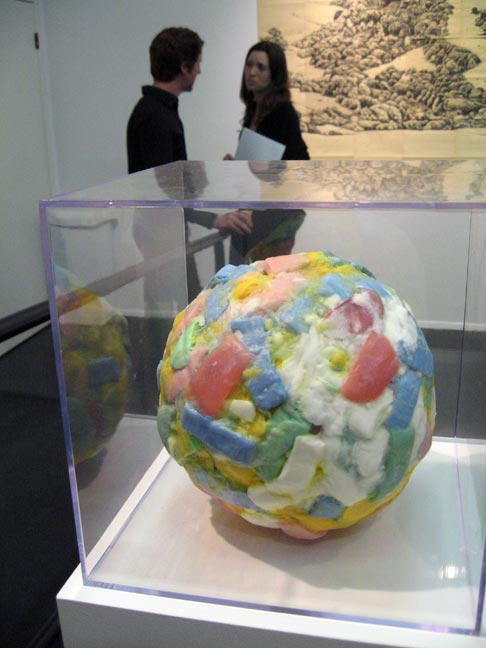 The Good Friend/Girlfriend Dynamic closer by Griffin McPartland.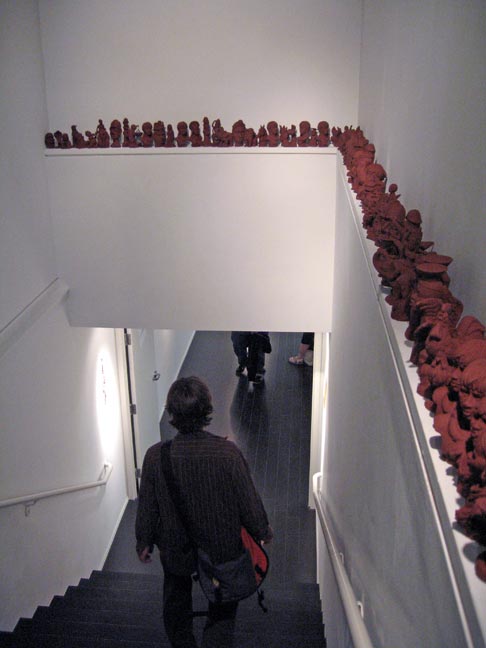 99 Somewhat Culturally Significant Artifacts Purchased at the 99 Cent Store
by Brion Nuda Rosch.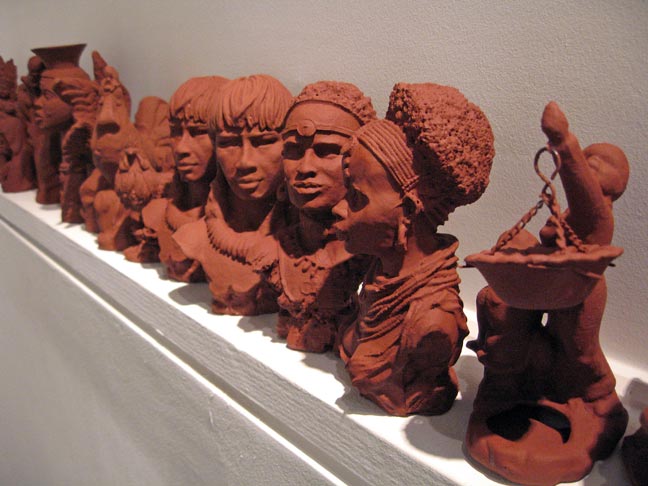 99 Somewhat Culturally Significant Artifacts Purchased at the 99 Cent Store
(detail) by Brion Nuda Rosch.


Art by Cynthia Connolly - East of Union Springs, Alabama 3-14-03.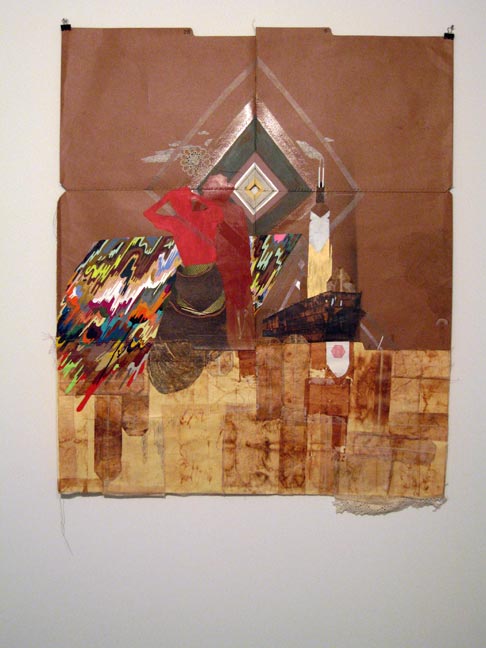 Time Machine by Monica Canilao.


Detail of Time Machine by Monica Canilao.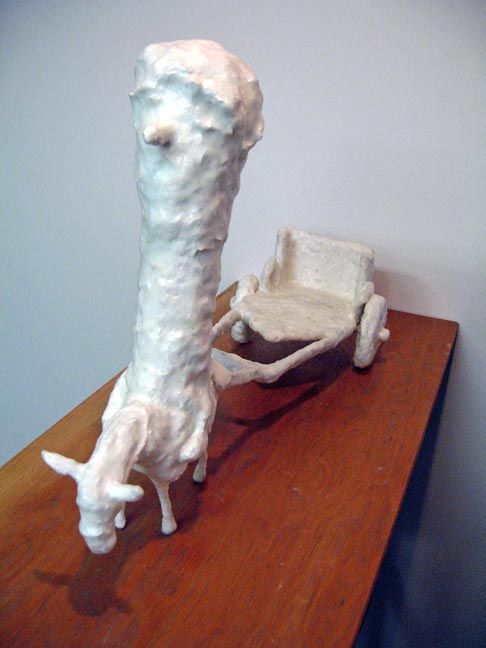 Magog by Kathleen Henderson.


Bird's nest by Daniel Tierney.


The Good Bye Ranch by Jay Nelson.


Reuben Lorch-Miller - We Become Holy.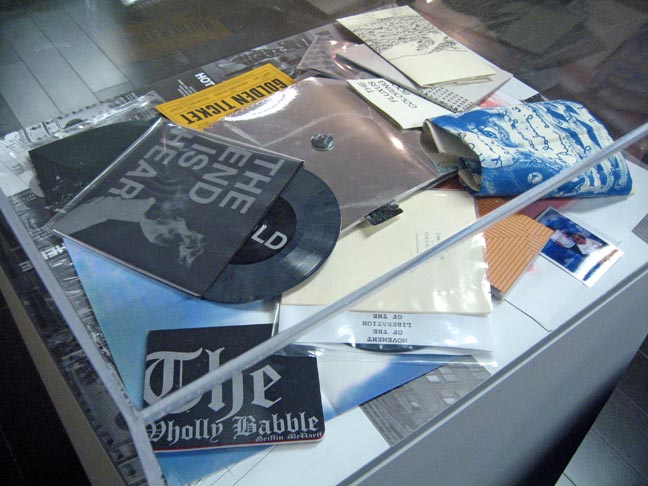 Hot & Cold of days of yore (Chris Duncan & Griffin McPartland).


Even the edibles are artful.


***
The Luggage Store Gallery: Ricardo Richey - Sculpture, Painting; Robyn Twomey - Large Scale Photographs.
Review and images by Laura Chenault: Robyn Twomey's large color photographs are interesting portraits of unique individuals. Former Playboy Bunnies, rap stars, sports figures, models and artists. Powerful Patty Baker, a former Bunny, stands proud in front of a tattered plastic shade in black leather pants and a Playboy tee. Kelly Morgan, another former Bunny, is shown languishing on a small, ornate couch and sharing the frame with a dog and a child, presumably hers. An unnamed older Bunny is still glamorous and connects with the camera while smoking a cigarette. William Kentridge, the talented multimedia artist, is shown larger than life allowing inspection of every pore and wrinkle on his face.
Ricardo Richey's work is an interesting counterpoint with a couple of organic, mobius strip-like sculptures and an almost entirely white massive drawing dominating the wall over the stairwell. Although the curves and lines are smooth, the surfaces are textured, adding another dimension to the piece. The scale is impressive and the sculptures evoke imagery of complicated knots, crashing waves and rolling clouds.
Sculpture by Ricardo Richey.


Ricardo Richey art.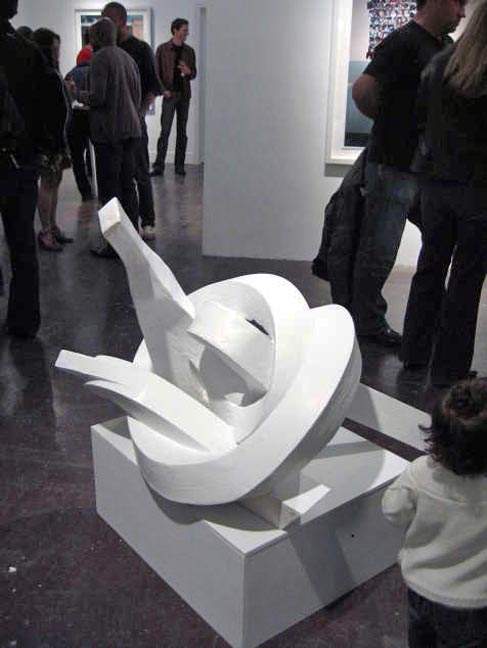 Art by Ricardo Richey.


Detail of sculpture by Ricardo Richey.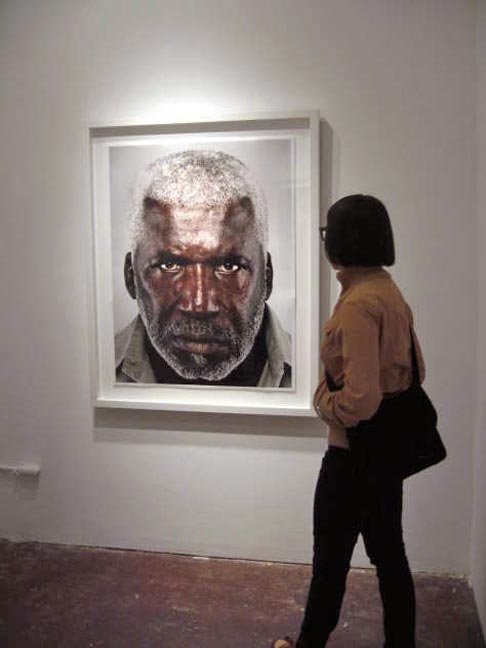 Photograpy by Robyn Twomey.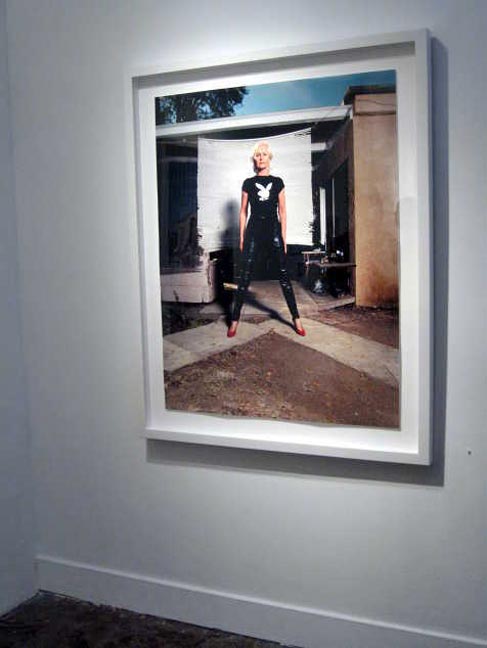 Robyn Twomey photograph.


Photo by Robyn Twomey.


Floor plan.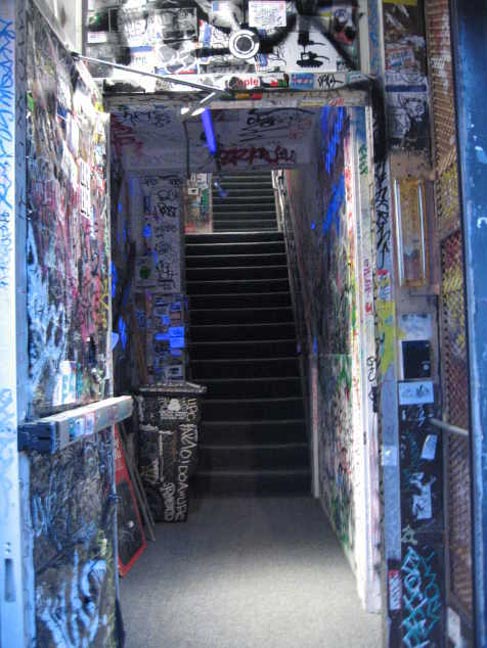 Ingress.


***
Gallery 16: Rex Ray - New Work.
Review and images by Laura Chenault: Upon entering, the front space has been transformed into a Rex Ray living room complete with a Rex Ray designed rug and wallpaper depicting colored droplets. Smaller and medium size pieces are featured in the front area. Paintings on wood with a high gloss epoxy finish. The main gallery, however, is where the breathtaking work is hanging. Completely filled with bright colors creating massive mandala like patterns. The layered cut papers, each textured with brush-strokes of color are meticulously combined and ordered into intricate designs. Shapes and forms repeat and recombine into kaleidoscopes of color and texture. Despite the obvious layers, the work is integrated and seamlessly becomes one field where all the texture, color, and pattern combine into a large, cohesive piece. Approachable and friendly, the artist is even wearing a shirt that features a subtle combination of patterns and colors.
Review by RWM: Nice to see the playful and optimistic work of Rex Ray whose images explode on the canvas like celebration fireworks and amusement park structures. His images are fun to behold and lighten one's mood. The colors are impressive and decorative.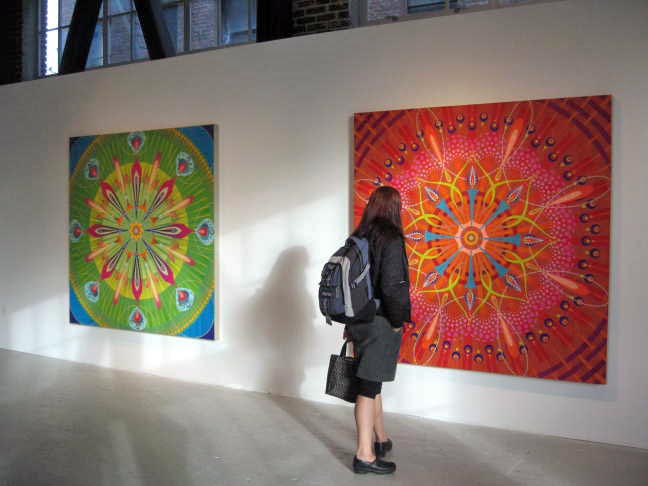 Art by Rex Ray.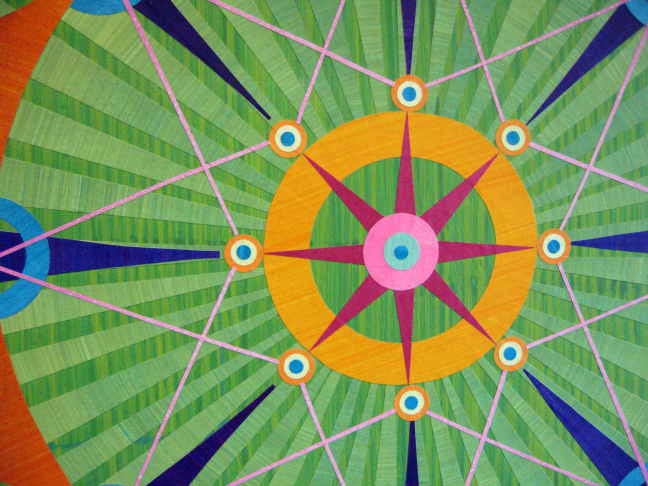 Detail of art in above image by Rex Ray.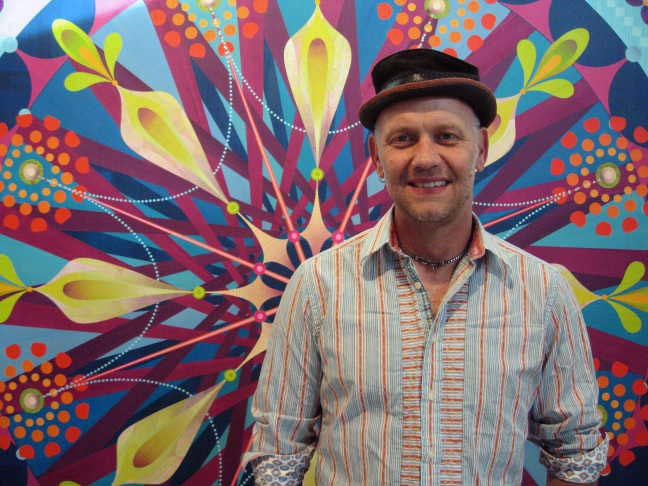 Rex Ray and his art.


Detail of Rex Ray art in above image.


Rex Ray art.


Detail of Rex Ray art in above image.


Art by Rex Ray.


Rex Ray wallpaper.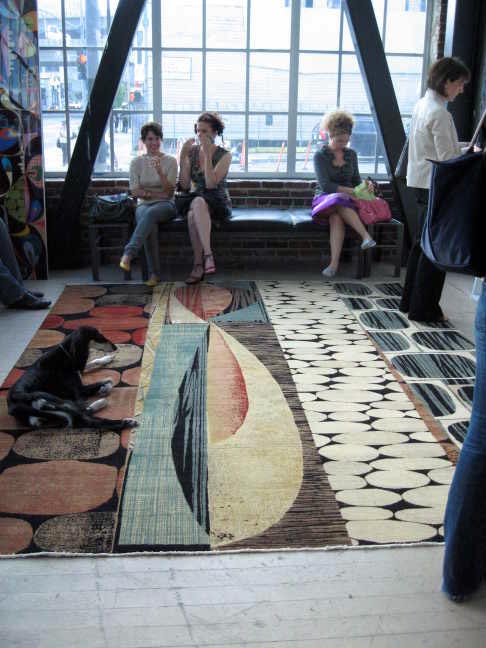 Rex Ray area rug (like it).


***
Electric Works Gallery: Nathan Redwood - On a Neck; Robyn O'Neil - There does come a time when laughs become sighs; we put all to rest, we said our goodbyes.
Review by Kathryn Arnold: Just up the street from my studio is Nathan Redwood's exhibition "On a Neck" here at Electric Works. His artwork with the purple head (I think called Punker) intrigues me and I overall enjoy these twisting forms. The works are modest in size and done with acrylic. Some of the pieces feel very sci-fi perhaps because of the otherworldly colors combined with earthy hues, while others feel humorous, such as the Pinocchio nose. The space is filled with his art, and they're really worth taking a trip to see.
Review by Laura Chenault: This unique gallery is also "a studio for experimental traditional and digital printmaking" as well as a store featuring great toys for grownups. Walking in, the first thing that catches the eye are a series of small prints displayed salon style. Each mini print is a reproduction of a piece by one of the gallery's artists. The goal-- to offer easily collectible art without the cost of original works. Most of these prints sell for under $50. Equally lust worthy are the great toys and books including Edison style light bulbs and Klein bottles.
The real show begins as you turn the corner out of the front store area and into the main gallery space. Nathan Redwood's medium size paintings are twisty, colorful portraits. "Dee Vine" features green, yellow, and purple lines looping and intertwining on themselves to form a voluminous head framed by a gold leaf background. Blues, grays, and blacks swirl into another figure with strong diagonal lines that almost appear to be rain. An explosion in red and black appears to be a cosmic image, but remnants of neck and shoulders are clearly visible at the bottom of the canvas. Beautifully displayed next to a face that is melting. Lava-like colors and dripping horizontal lines almost look as if the figure is being effected by it's neighbor. Another striking piece is a red mass of swirly lines on a blackish brown body that seems to have been burnt and torn to create white areas on the page. Nathan's work has a very unique look and his technique is reminiscent of finger painting or traditional paste paper.
Contrasting this body of work is a selection of six black and white hand drawn lithographs by Robyn O'Neil. As a series, they seem to be images from a dream. One features a bird with a human face, laying prone; a second face, ghostly, looks to be rising from the body. Another piece depicts a rocky island in a calm body of water. The back of a man's head fades into whiteness leaving him shoulderless and distant. All in all, two talented artists and an amazing array of fun unique goods.
Art by Nathan Redwood (image c/o Kathryn Arnold).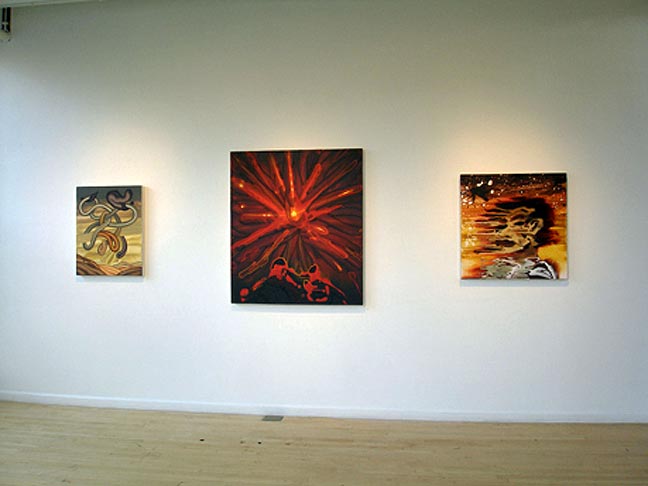 Nathan Redwood art (image c/o Kathryn Arnold).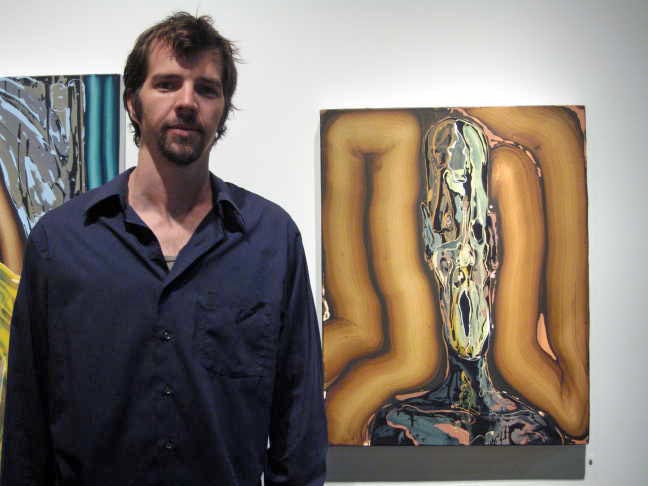 Nathan Redwood and his art (image c/o Laura Chenault).


Art by Nathan Redwood (image c/o Laura Chenault).


Art by Nathan Redwood (image c/o Laura Chenault).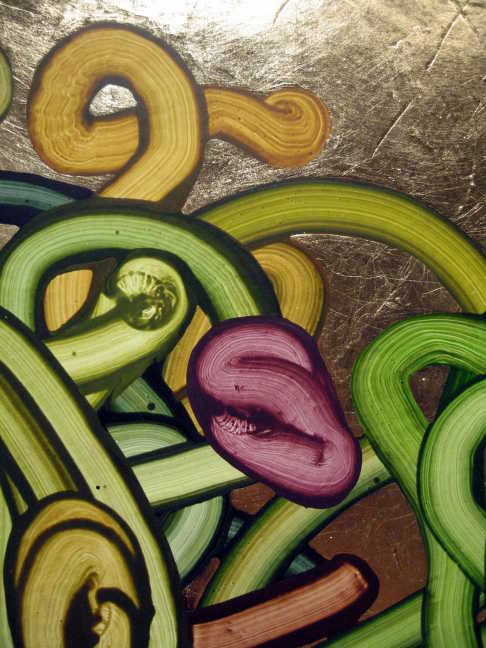 Detail of art above - Nathan Redwood (image c/o Laura Chenault).


Art by Nathan Redwood (image c/o Laura Chenault).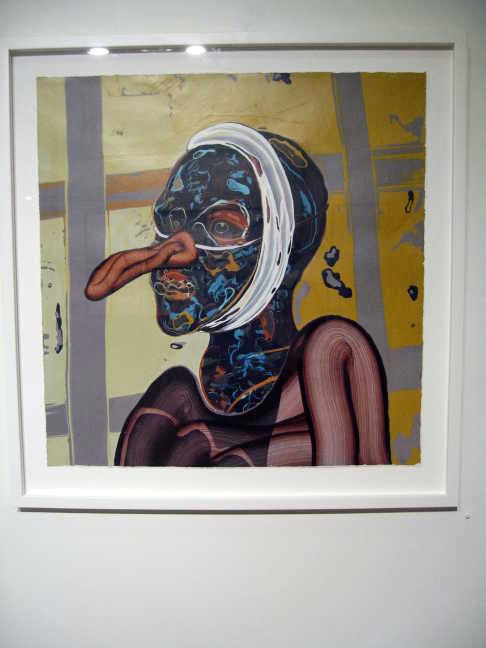 Nathan Redwood art(image c/o Laura Chenault).


***
California Institute of Integral Studies: Richard Bollingbroke.
Review and images by Kathryn Arnold: Just across the street from Electric Works, I go into the artspace located inside of CIIS and come across Richard Bolingbroke's large flower and almost Mandala-like paintings. Based upon a circle and divided into quadrants, many pieces have this spiritual sense. Crisp clean edges and bright colors adorn these works that he describes as process pieces. Some feel connected in attitude to Georgia O'Keefe's Southwestern works and I swear I see a cow's skull. Beautifully crafted and framed. Transcendental and 'take you away' works.
Art by Richard Bollingbroke.


Richard Bollingbroke art.


Art closer by Richard Bollingbroke.


Relative density.


***
Ratio 3 Gallery: Mitzi Pederson - I'll Start Again.
Comment by AB: I get what Mitzi Pederson's up to-- really needling the definition of what art is, sculpture in particular, and I'm OK with that. But I wanna see her needle it for 10 or 20 more years-- with consistency, direction, and progressively more complex. Then you can for sure count me a convert.
Art by Mitzi Pederson (sorta kinda like it).


Art bt Mitzi Pederson.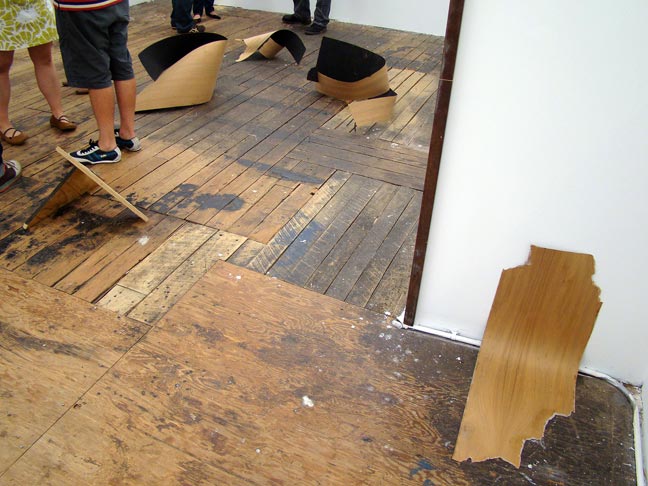 Mitzi Pederson art.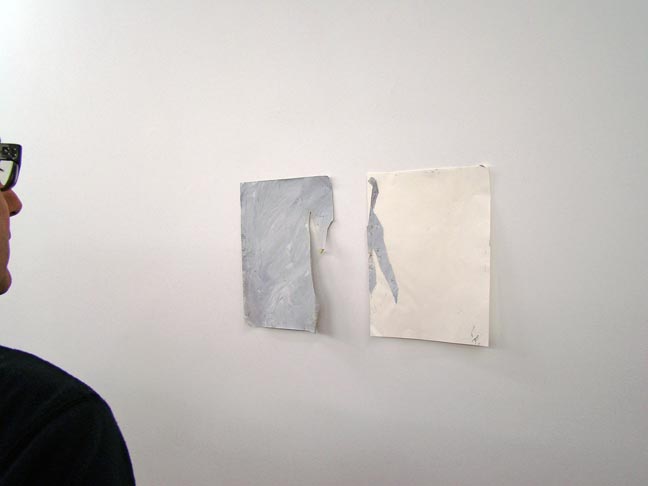 Art by Mitzi Pederson.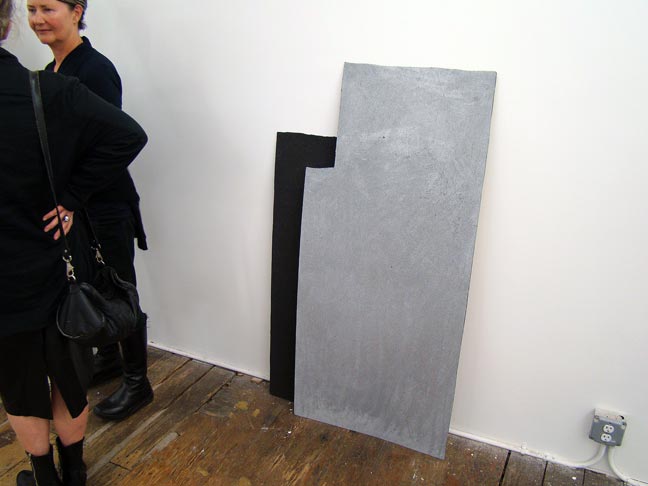 Sculpture by Mitzi Pederson.


Works on paper by Mitzi Pederson.


Mitzi Pederson sculpture.


***
Cain Schulte Gallery: The Conceit of Counting - New Work by Owen Schuh.
Comment by AB: Perhaps Owen Schuh's most notable work here is comprised entirely of lines, circles and numbers, mainly penciled onto canvas-- geometry as art-- enticing in its compositional intricacy and rather impressive overall. Most of the rest of the works, gratifyingly meticulous as well, remind me of when I was little. I would chew up a mouthfull of food, then smile a great big smile, and force the resulting mulch through the spaces between my teeth... much to my mother's dismay. But in the end, she would always laugh. So if your lookin' to blame someone, blame her.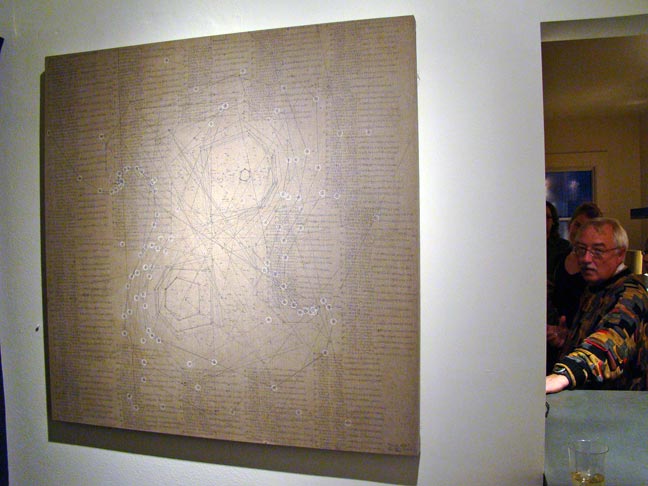 Art by Owen Schuh.


Pinkie cam zoom of art in above image by Owen Schuh.


Art by Owen Schuh.


Art in above image viewed from the side (Owen Schuh).


Art by Owen Schuh.


Detail of art in above image by Owen Schuh.


Owen Schuh art.


Pinkie cam detail of art in above image by Owen Schuh.


***
1 AM Gallery: Ode to the Spraycan - Montana Colors and Estria Invitational Graffiti Battle.
Artists: Estria, Eon 75, Chez 1, Ceybal 1, Wane One, Queen Andrea, Cern, Cekis, Rome Won, Chucho,Tsel One, Melon, Like One, Debl, Ckaweeks, Prime, Katch 1, Eukarezt, Vyal, Neon, Bounce, Vogue, Germs, Marcial Cruz Cabada, Bam, Peps357.
Review and images by Laura Chenault: The large gallery is filled with a wide range of graffiti art; some pieces are whimsical and others are almost traditional in their execution. Bam's piece features a traditional looking geisha girl with a stylized "B" in the background holding a can of spray paint. Whimsical ducks are the focus of Cern's trio of paintings while Marcial Cruz Cabada has a series of small tattoo inspired watercolor and ink pieces. Estria has an amazing large diptych with a colorful crab and a paint-wielding octopus.
A duo of paintings by Katch 1 are executed across multiple canvases. One shows a humanistic spray paint can draped over a crescent moon and lifted by hot air balloons on a field of blue sky. The companion piece is an armored soldier carrying a fallen comrade or captive that is another human paint can that is draped in the arms of the soldier bleeding from arrows puncturing the body. Chez 1 has incredible paintings with photo-realistic images of other graffiti artists.
A vibrant show celebrating decades of graffiti art. On the way out the artist BAM is caught promoting the Estria Invitational Graffiti Battle on the outside wall of the gallery-- in spray paint of course.
Art by Bam.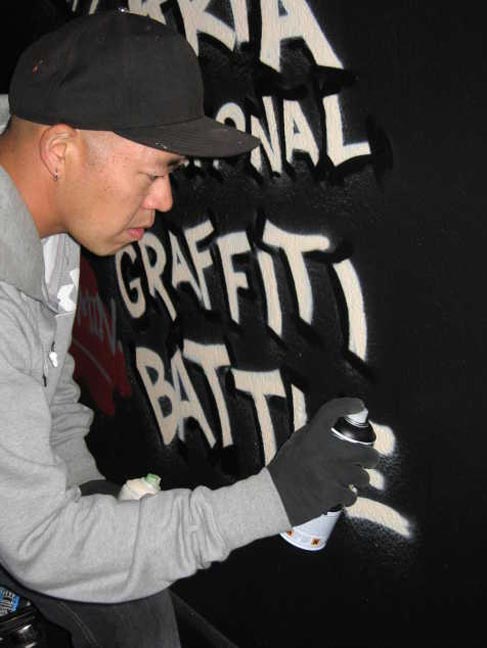 Bam in action.


Art by Cern.


Chez 1 art.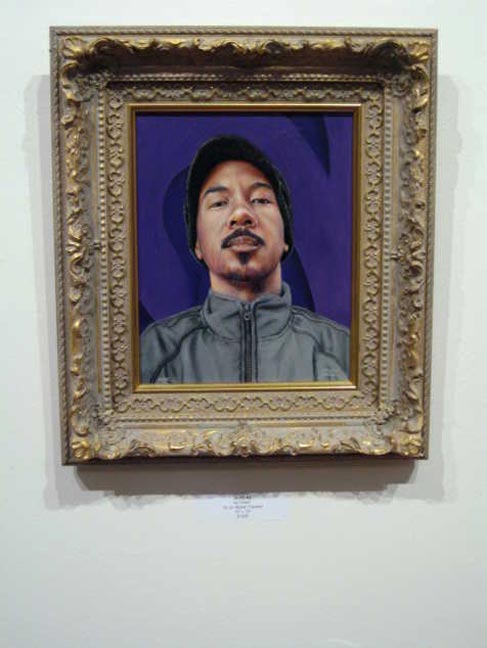 Art by Chez 1.


Eon 75 art.


Art by Katch.


Art by Melon.


Queen Andrea art.


Art by Vogue.


***
Silverman Gallery: Luke Butler - Captain!.
Review and images by Kathryn Arnold: At Silverman I view Luke Butler's exhibition titled "Captain!" The works are small in scale, featuring appropriated imagery from television, movies and additional sources-- Star Trek in particular. One of my favorites is a landscape done in gray-scale containing scenery similar to that from a Wild Wild West film shot in California. I think most cool is the phosphorescent lit up sky (in orange). Here it is also fun to find image identification from the various sources and piece together meaning like a puzzle-- but on some of them I find myself being pop-culturally illiterate. Really nice exhibition overall-- I look forward to seeing more of Luke Butler's work in the future!
Art by Luke Butler.


Art closer by Luke Butler.


Luke Butler paintings.


Attendance figures.


***
Eleanor Harwood Gallery: Nancy Chan, Matt Momchilov, and Jesse Schlesinger - Always is Always Forever.
Comment by AB: Genuinely rendered portraits in sumi ink on watercolor paper of people sitting on top of other people's shoulders by Nancy Chan; frank social commentary on personal freedoms in America by Matt Momchilov; an essay on finding a bird's nest by Jesse Schlesinger. The good news? All admirable and all three artists more than capable of scripting compelling solo shows. Hint.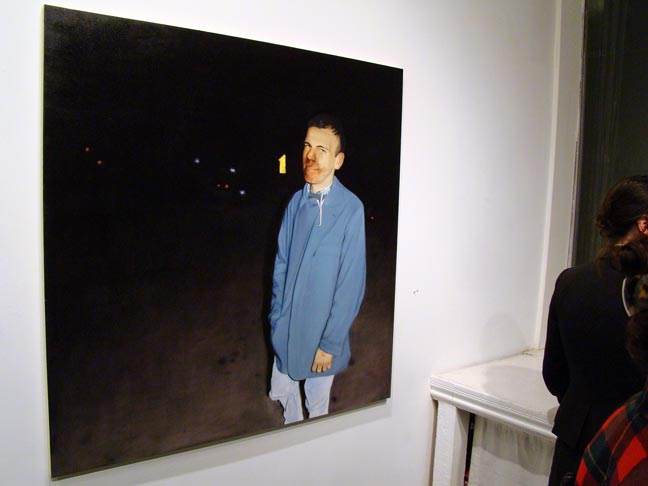 Art by Matt Momchilov.


Matt Momchilov and his art.


Painting by Matt Momchilov.


Nancy Chan and her art (nicely done).


Jesse Schlesinger and his art.


Art by Jesse Schlesinger.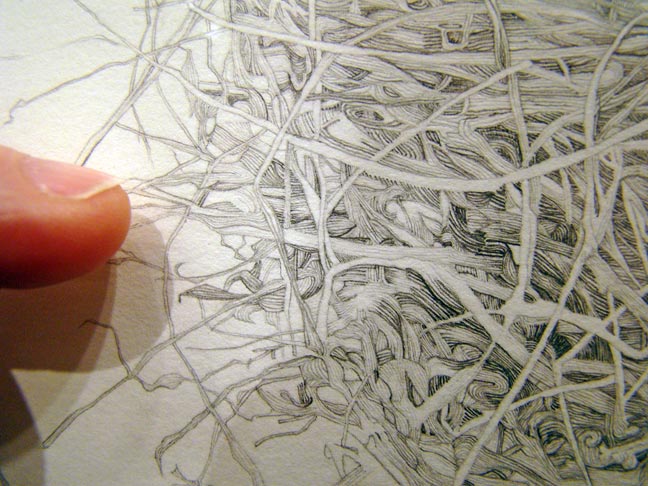 Pinkie cam zoom on drawing above by Jesse Schlesinger (good stuff).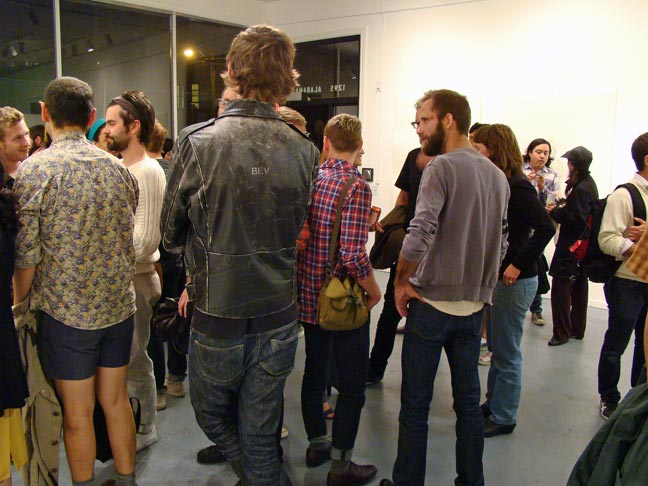 Demographics.


***
D-Structure: The Black Art Show.
Artists: Tres Rock, Erin Yoshioka, Scott La Rockwell, Shaun Este, Borish, Djay Pele, Cece, Miguel Bounce Perez.
Comment by AB: TrustYourStruggle Collective arts up an actualization about getting what we deserve in life. And by we, they mean everybody.
Art by TrustYourStruggle Collective.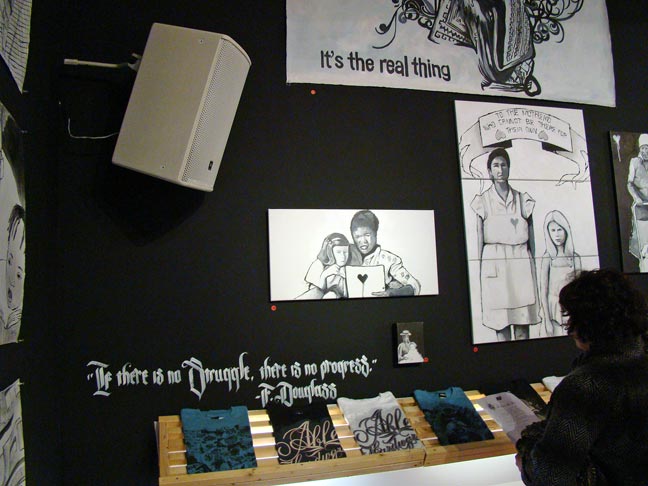 TrustYourStruggle Collective art closer.


Art by TrustYourStruggle Collective.


Art by TrustYourStruggle Collective.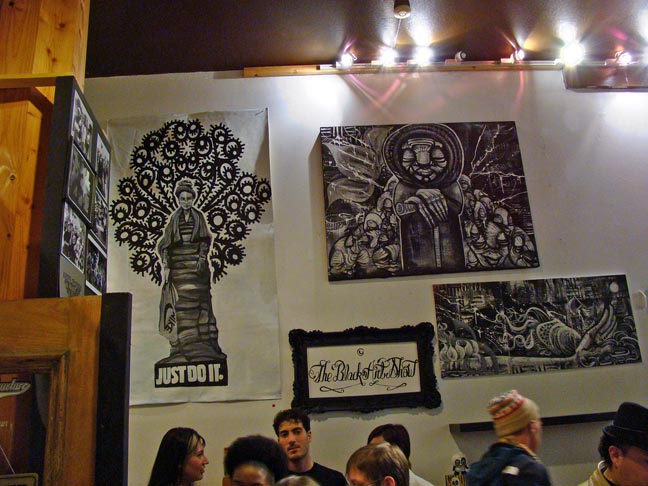 TrustYourStruggle Collective art.


***
Addendum:
Jeremy Novy eco-art at Revolution Cafe.


Art by Jeremy Novy at Revolution Cafe + tunes.


Revolution Cafe in.


Revolution Cafe out.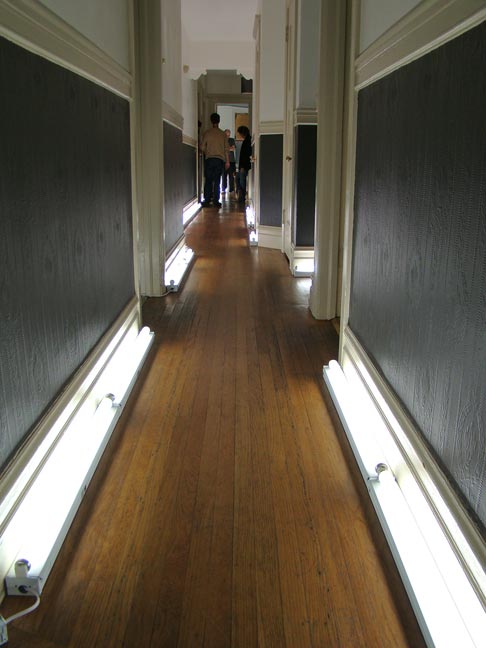 Adventures in illumination by Jordan Stein at Partisan Gallery.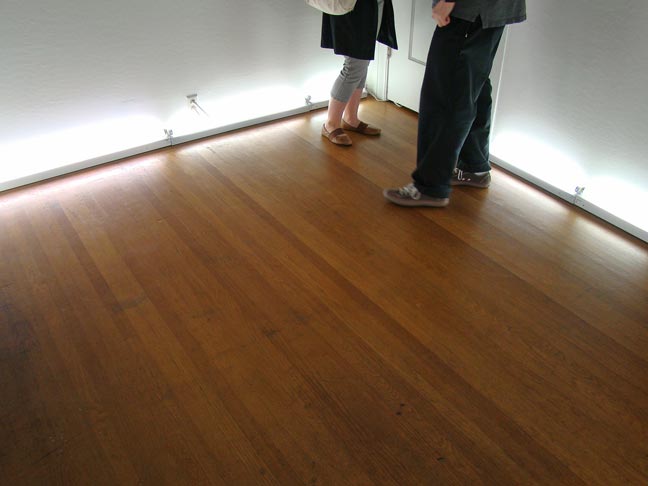 One more from Jordan Stein installation at Partisan Gallery.


***