UC BERKELEY EXTENSION - SOUTH END ROWING CLUB

ALTMAN SIEGEL - SAN FRANCISCO 20TH CENTURY MODERNISM

(with assistance from RWM)

09.24.09



Altman Siegel Gallery: Charley Harper.
Review by RWM: Old style depictions of our wild neighbors and the exploration of the wild kingdom. The categorization is old school, but evokes the tales of discovery we have read. We are looking again at what we have looked at in the past, but here depicted with style, albeit an illustrational one used for books with pictures instead of photographs. There are still voyages of discovery left.
Comment by AB: This one's a bit of a boggle. And I'll tell you the surprise ending first-- it's not the only Charley Harper exhibit on tap in San Francisco tonight; the other one's at sf20 (see review below). Charley (Charles) Harper (1922-2007) was an accomplished graphic artist and illustrator, and his precision modernist aesthetic is in the vicinity of exemplary. But the Harper exhibit at sf20 considerably outshines this one, which is kind of embarrassing for Altman Siegel. The Harper booth at sf20 is pure cream, whereas with the exception of a couple of crackerjack paintings, Altman Siegel is basically offering the dregs of Harper's commercial illustrations-- oddly cropped floater compositions on commercial artist board, signs of handling and wear, publisher's markings, pieces of tape, paste-overs and so on. Erk. Priced distinctly extravagant too-- $3500-$20K (and up to $35K at sf20). Double erk. Like pulling numbers out of a hat. But I really like his art.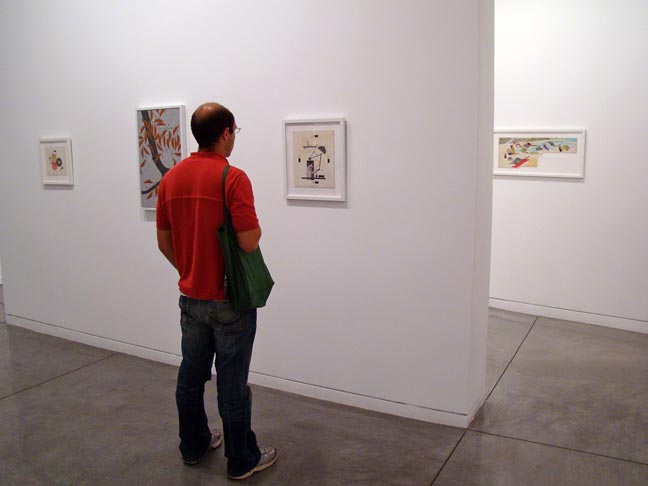 Art by Charley Harper.


Art in above image closer (Charley Harper).


Art by Charley Harper (nice).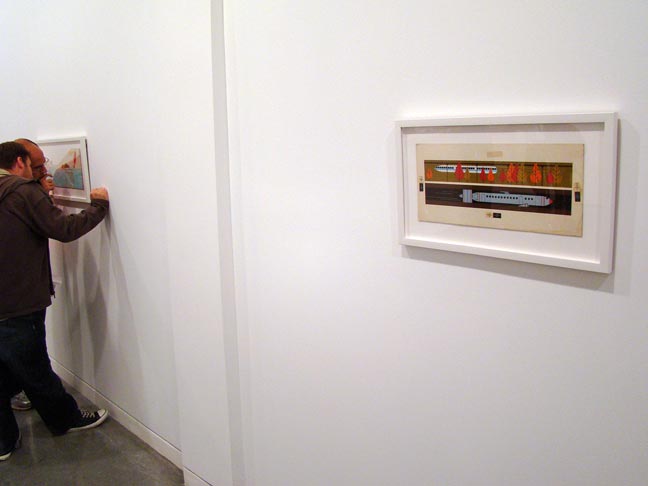 Charley Harper art.


Art closer by Charley Harper.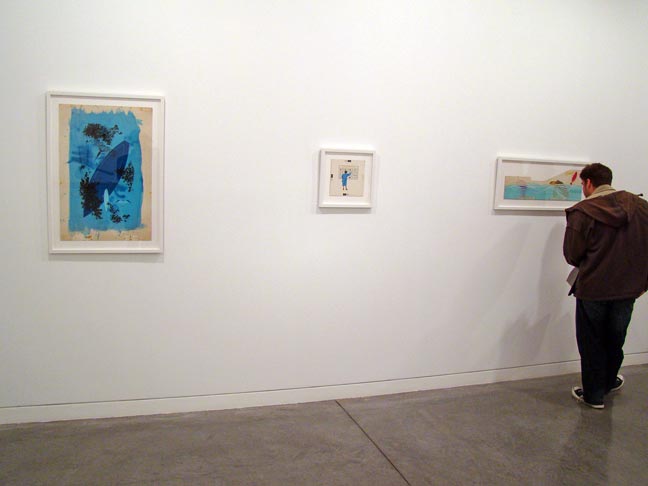 Art by Charley Harper.


***
Hotel Triton: Katie Gilmartin - The City With No Shame. Curated by McKinley Art Solutions.
Review by RWM & image c/o McKinley Art Solutions: Fabulous exhibit which melds the literary with the artistic. One goes on to imagine the stories accompanying the linocut pulp covers presented. They evoke the grayer side of the city, but also what is so special about it. San Francisco can be a wild and free town. Usually these pulp stories have a male bent, but it is refreshing to see them advertised here with the feminine side. Fantastic ideas, but very real, earthy and humorous, all at the same time.
Linocut show announcement by Katie Gilmartin.


***
UC Berkeley Extension Gallery: Topher Delaney - Westward Ho! An Installation Celebrating Land Values.
Review by RWM: Jump on the train and ride through this imaginary landscape which leads you in circles, but has one guessing where they are going. The projected video on the wall above is taken by a camera mounted on the model train which circles the created naturalistic topography. The Western experience is explored through the recurrent landscape. Look closely and one can see where people put their drinks by the train tracks.
Comment by AB: An editorial installation on how the West was won (and sliced, diced and priced) by award-winning landscape architect, owner of Seam Studios and San Francisco Arts Commissioner, Topher Delaney.
View of Topher Delaney installation from Third Street.


Installation art & video by Topher Delaney closer.


Installation art & video by Topher Delaney closer yet.


***
South End Rowing Club: S.F.F.D. Annual Alcatraz Swim Social and Art Opening Benefiting the San Francisco Firefighters Cancer Prevention Foundation.
Comment by AB: Fundraising event for cancer prevention heralds the annual San Francisco Fire Fighters' Alcatraz Swim. Art and photography courtesy of J. Arthur Milestone.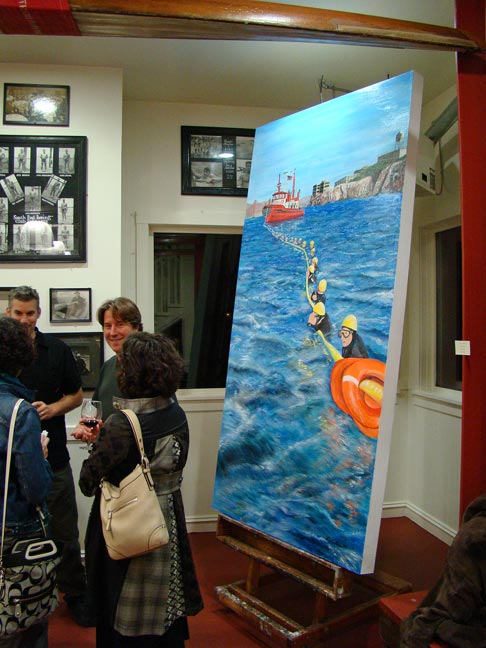 J. Arthur Milestone painting (that's him smiling on the right).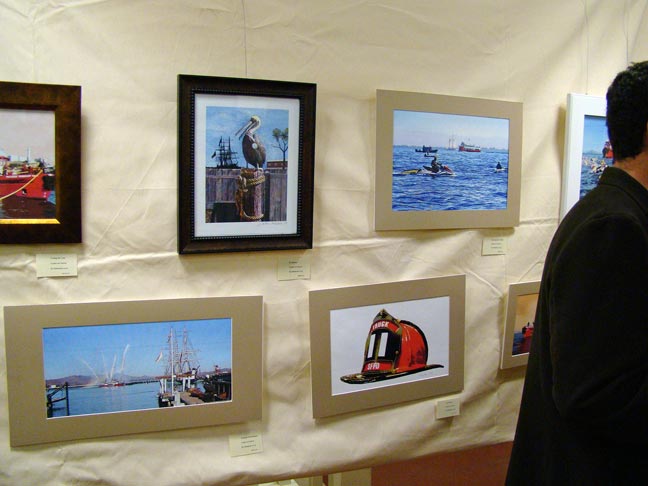 Photos by J. Arthur Milestone.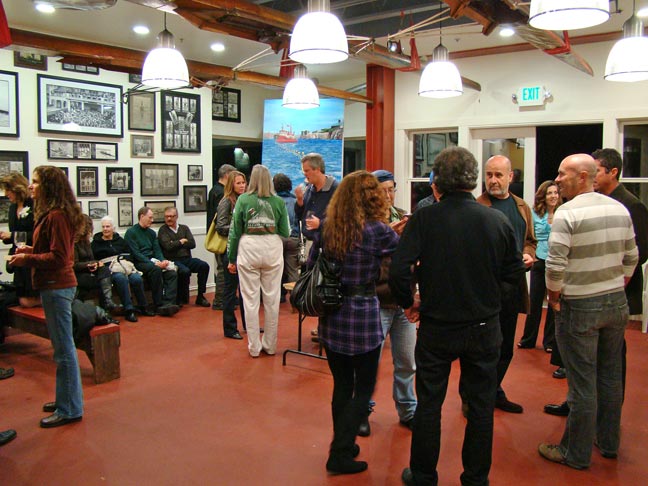 Turnout.


South End Rowing Club.


***
Herbst Pavilion at Fort Mason: sf20 - San Francisco 20th Century Modernism Show & Sale.
Exhbitors: Amarcord Fine Decorative Arts, Sausalito CA; 20th Century Interiors, San Francisco CA; Kathleen Avery Fine Art, Palo Alto CA; Antik, New York NY, Susan and Rod Bartha, Riverwood IL; Battersea, San Francisco CA; Big City Galleries, Malibu CA; Bridges Over Time, Newburgh, NY; Charley Harper Art Studio, Cincinnati OH; Lawrence Converso, Chicago IL; Craig Evan Small, Los Angeles CA; Downtown, Los Angeles CA; Europa, Santa Barbara, CA; Peter Fetterman Gallery, Santa Monica CA, Eric Firestone Gallery, Tucson AZ; First 1/2, Palm Springs CA; Habite, Los Angeles CA; Ma(i)sonry Napa Valley, Yountville CA; Mondo Cane, New York, NY; Monument, San Francisco, CA; Nexxt, Dallas TX; Off the Wall, Los Angeles, CA; Peter Pap Oriental Rugs, San Francisco CA; Papillon Gallery, Los Angeles, CA; R 20th Century, New York NY; Neil Rassmussen, Atherton CA; Reform, Los Angeles CA, Sarah Stocking Fine Vintage Posters, San Francisco CA; The Silver Fund, London UK, Studio 101, Santa Barbara CA; Torso Vintage, San Francisco CA, Vintage European Posters, Oakland CA; Voila! Gallery, Los Angeles, CA; Jeffrey Winter Fine Art, West Hollywood CA.
Comment by AB: Dolphin Promotions of Chicago finally brings a world-class 20th century design event to San Francisco-- top tier exhibitors, exceptional Postwar furnishings, original art, posters, ceramics, silver, sculpture, rugs, tapestry, glass, lighting, photography, jewelry, industrial design, and more. Correct accessories for luxurious metropolitan living. This show is so far superior to any similar event I've ever been to here in Ess Eff (and I've been to plenty), there's simply no comparison. Yes, I'm a modern design junkie, but you don't have to be that to love this show. I promise. Already looking forward to next year's. As cherry as it gets.
Opulent metropolitan living at sf20 Modernism San Francisco.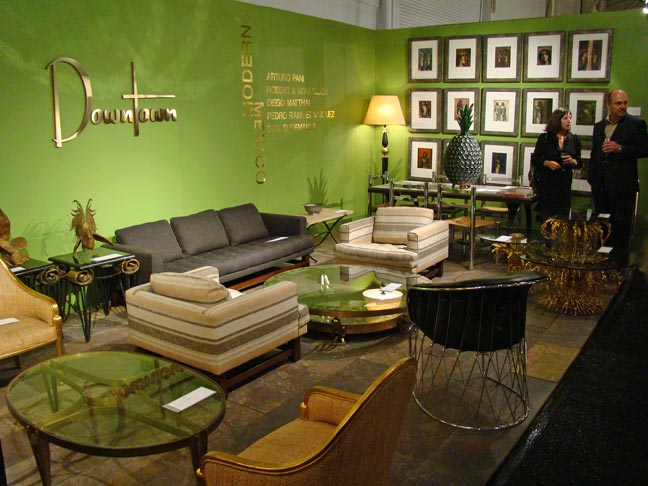 Furnishings for the modern home at Downtown, Los Angeles.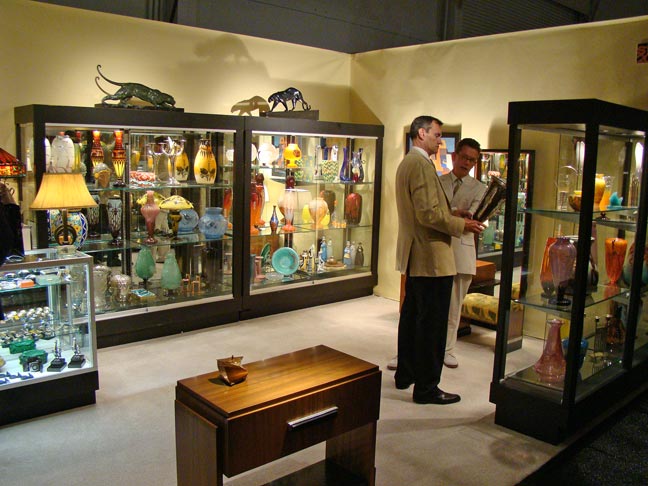 Art glass galore.


Mint celluloid radios ($12.5K on the left; $4.5K on the right).


Awesome Spartan cloisonne radio at $14K (love it).


Hand crafted ceramics.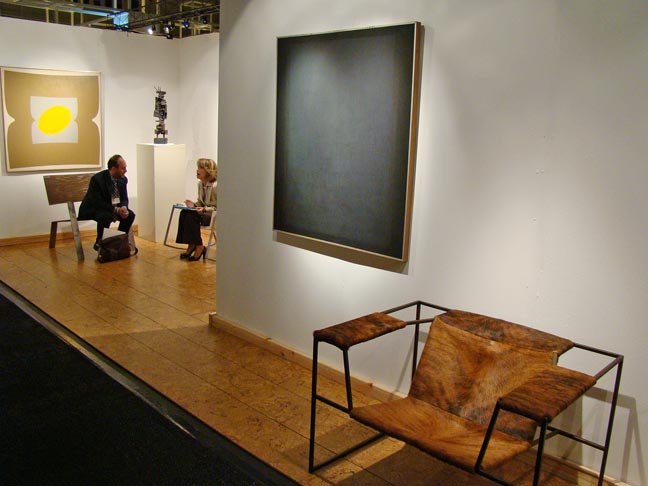 Fine art.


Big gold.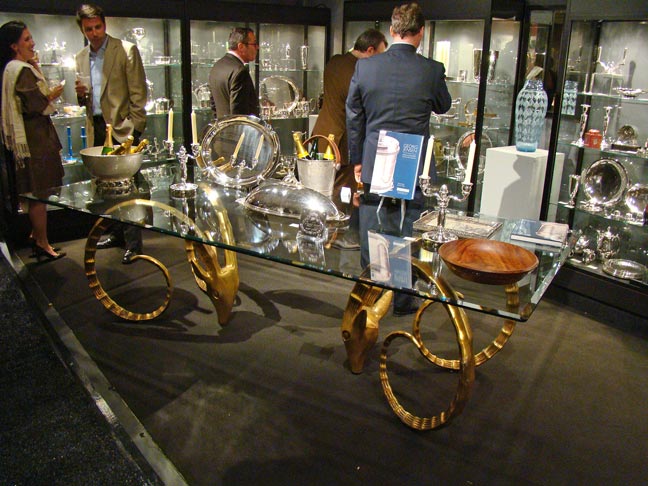 Fine silver.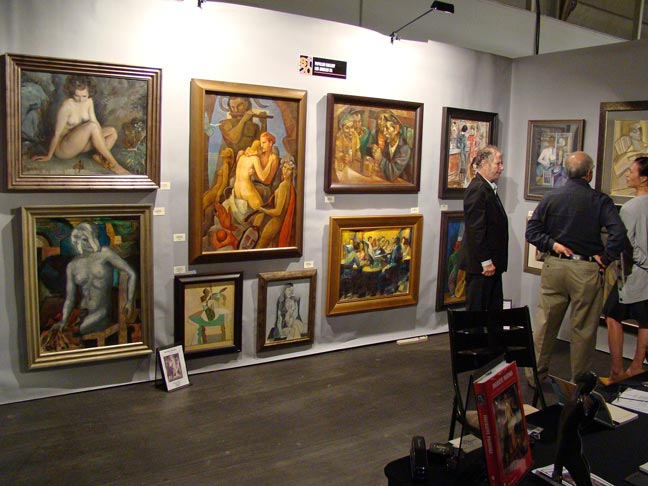 Paintings at Papillon Gallery, Los Angeles.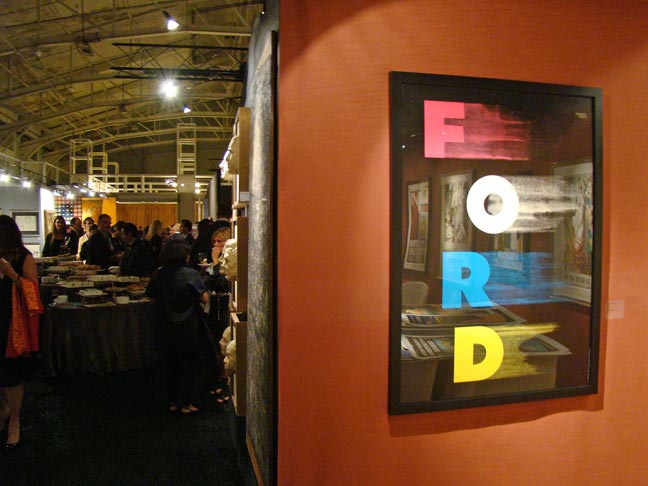 Vintage posters at Sarah Stocking, San Francisco.


Carpets and tapestries.


Spiffy Alexander Calder wall hanging at Los Angeles Modern Auctions.


Primo Charley (Charles) Harper originals here (sorry, Altman Siegel).


Fine wood furniture by Sam Maloof.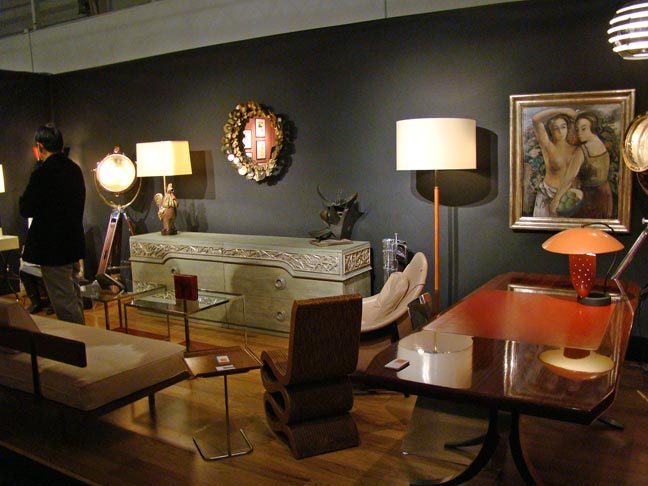 Modern living.


See you here next year.


***