NEEDLES & PENS - SOAP - FIVEPOINTS ARTHOUSE

PEANUT - PUSH STUDIOS - ARTSPAN

PLUS A SPECIAL REPORT FROM SLAUGHTERHOUSE SPACE

(with assistance from RWM and DeWitt Cheng)

10.03.09



Needles & Pens: If, Then Maybe...
Artists: Tim Kerr, Russ Pope, Mathew Rodriguez, Michael Sieben.
Comment by AB: Russ Pope's from Southern California; Tim Kerr, Mathew Rodriguez and Michael Sieben hale from Austin, Texas; the inspirations for the art appear to emanate from pretty much everywhere, including musical overtones. And of course, everything's always eminently afforable.
Art.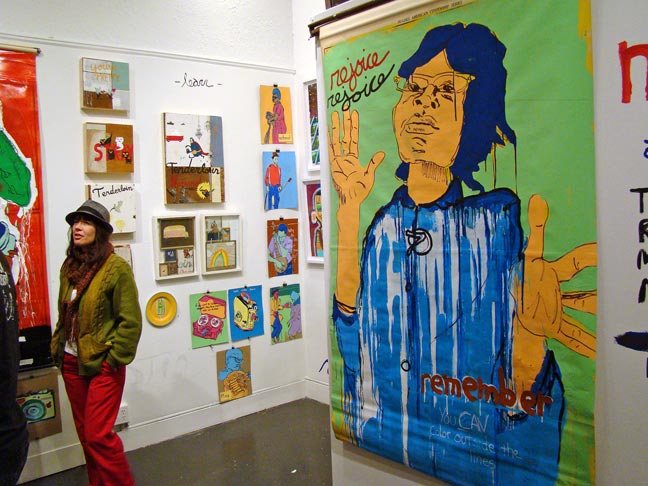 Art.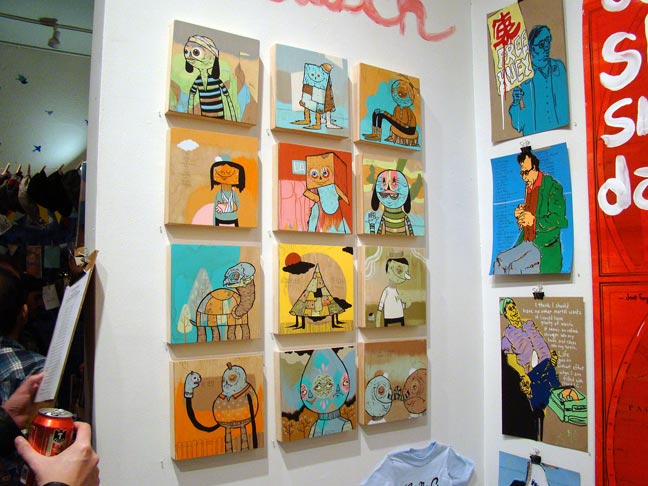 Art.


Art.


Art.


***
Soap Gallery: Thinking about Animals - Photography by Elliot Ross & Sharon Wickham.
Comment by AB: Uh oh. I completely got this review totally wrong. My profuse apologies on both counts. Here's the deal-- Elliot Ross photographs his subjects live (not taxidermized) and Sharon Wickham photographs ceramics etc. that look like animals (not actual animals). You can consider our furry and feathered consorts in all kinds of ways, and this show certainly substantiates that.
Photography by Elliot Ross.


Elliot Ross & his photographs.


Photography by Sharon Wickham.


Sharon Wickham & photo of a penetrating blue-eyed ersatz kitty.


Photos by Sharon Wickham.


***
Fivepoints Arthouse: In Bloom - First Biennial Show.
Artists: Winston Smith, Erik Parra, Ben Johnston, Jamie Spinello, Jessica Laurent, Ben Venom, Josh Barone, Rachel Hornaday, Luke Butler.
Comment by AB: Rangey group show of Fivepoints Arthouse's greatest hits.
Art (large painting by Erik Parra).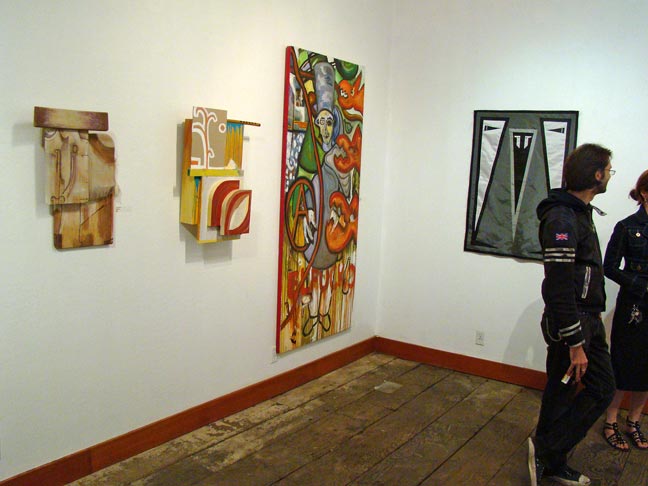 Art.


Gerald Ford takes a Sunday stroll art (Luke Butler).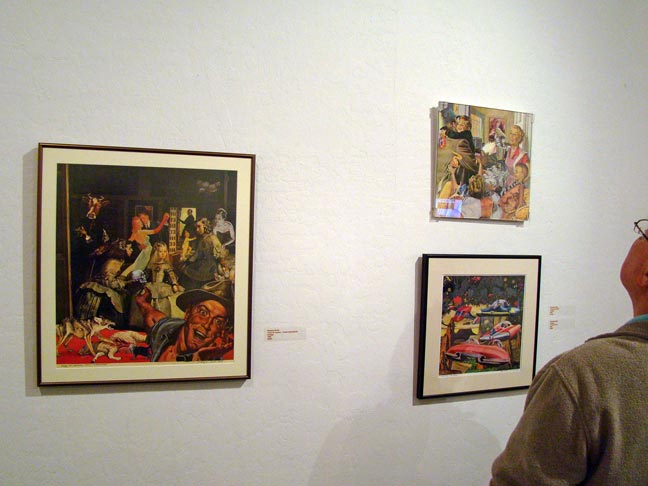 Art by Winston Smith.


Art.


***
The Peanut Gallery: Hanky Panky.
Artists: Will Atkinson, Vassie Constantine, Genevieve Dupre, Fleur de Lies, Lennin, Merkley???, Lisa Weiss.
Comment by AB: Group show tightropes its way between erotica and obscenity, passion and depravity, frankness and nausea. A touching tribute to vulgarity and poor taste.
So-called art.


So-called art.


So-called art.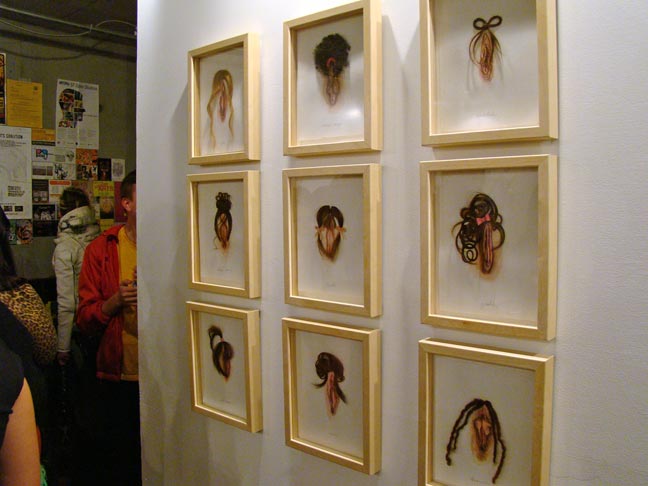 So-called art.


***
Push Studio: Luke Brown - Spectral Eyes.
Review by RWM: Amazing images of the ethereal beings which some notice, while many don't. Much magic, some mayhem, and lot of inspiration. The gleaming images awake the dormant spirit. The detail is impressive, the effect is wondrous.
Comment by AB: Luke Brown tells me his kaleidoscopic meta-celestial visionary images combine digital special effects and traditional media like painting. If you're curious about the vanguard of the cosmic transcendental arts, then this show would be required viewing. Like it.
Art by Luke Brown.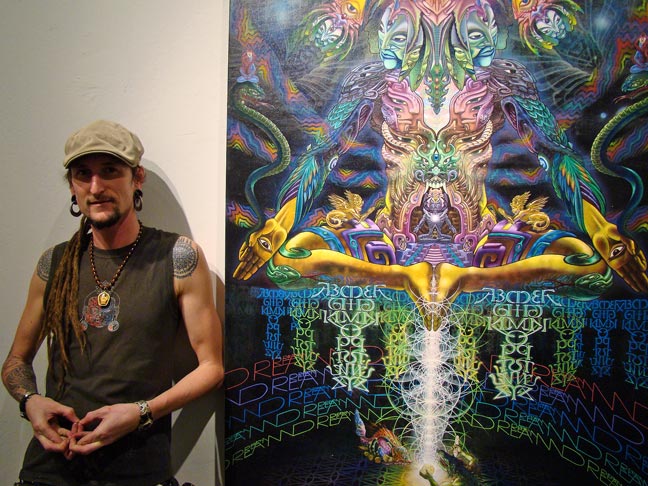 Luke Brown and his art.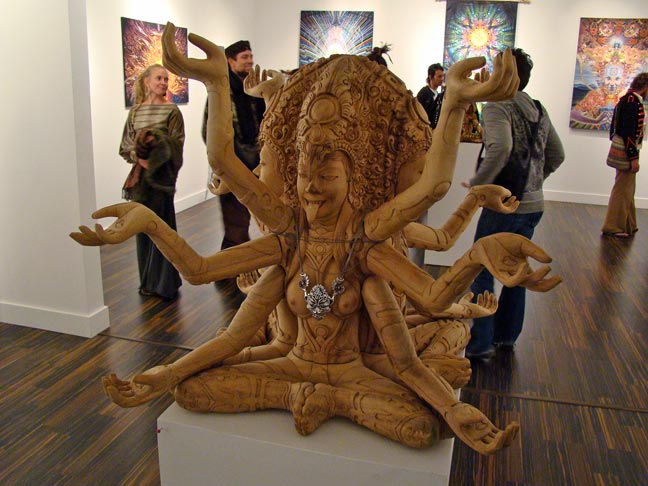 There's sculpture too - art by Luke Brown.


Luke Brown art.


Cosmic art by Luke Brown.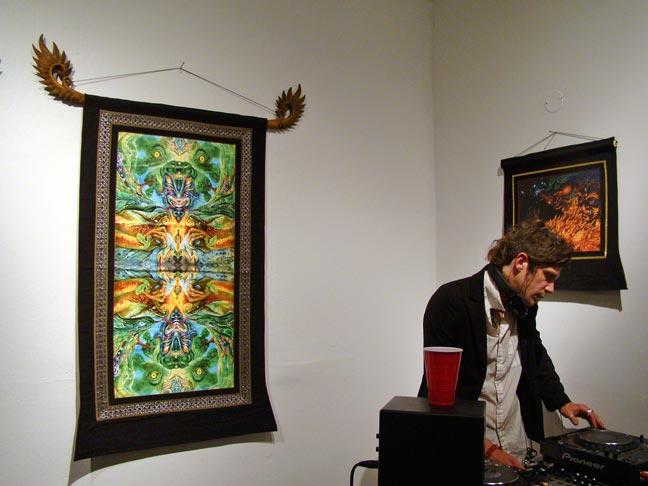 Tunes.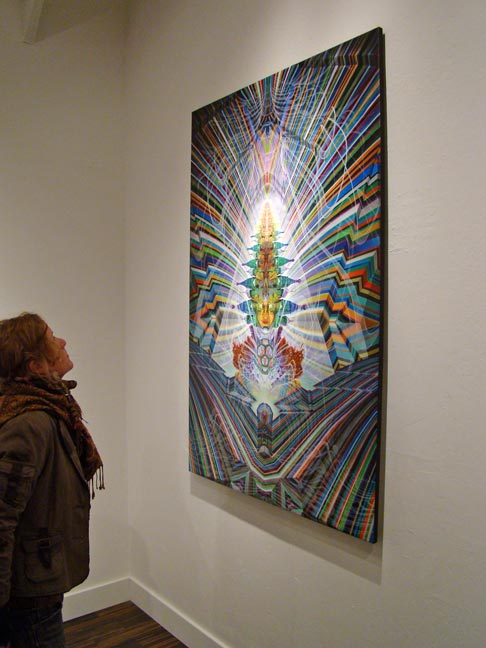 Luke Brown art.


Long view.


***
SOMArts Gallery: Private Preview Gala 2009 for ArtSpan's San Francisco Open Studios.
Artists: Loads and loads, more and more, and then some.
Comment by AB: Festive annual kickoff event for San Francisco Open Studios, featuring art by hundreds of artists who will be opening their studios to the public throughout the month of October. For additional information, a schedule of events, or a catalog of artists, visit ArtSpan. If you love art, enjoy meeting artists, and love exploring the arcane reaches of San Francisco, then I can think of no better way to spend your October weekend days than this. For those of you who want to see example's of many of the artists' art firsthand-- perhaps to decide which artist studios you really want to visit-- the group show here at SOMArts runs through the month.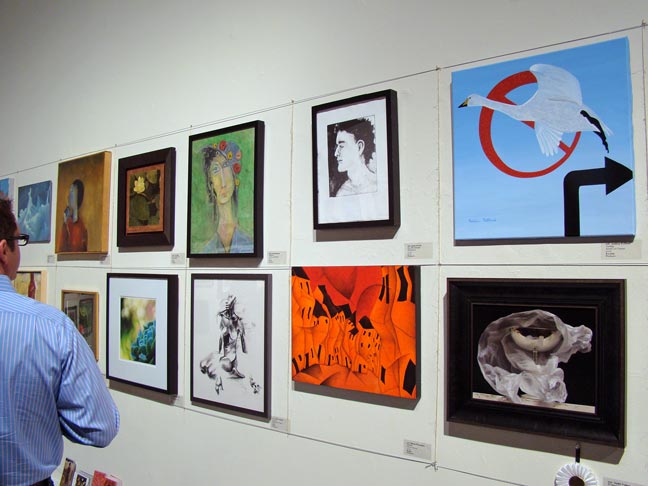 Art.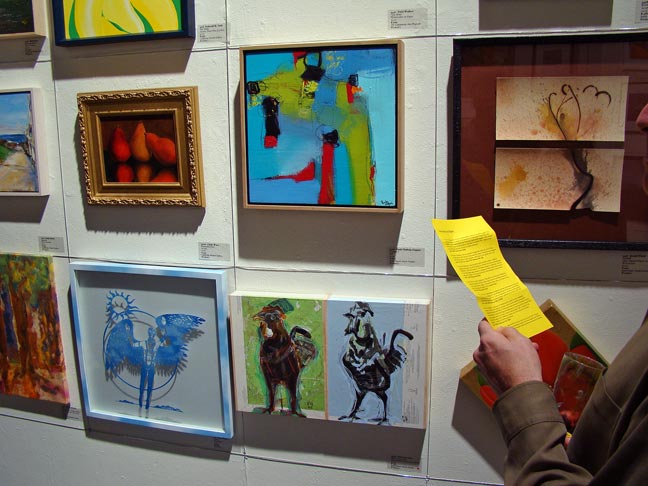 Art.


Art.


Art.


Art.


Art.


Art.


Plaudits and testimonials.


Art.


***
Slaughterhouse Space: Seduction of Duchamp - Bay Area Artists' Response.
Artists: Diane Althoff, Jerry Ross Barrish, Ray Beldner, Richard Berger, Milton Bowens, David Broom, Luis Delgado, John DeMerritt, Laura Britt Greig, Ken Goldberg, Rebecca Goldfarb, German Herrera, Gregangelo Herrera, Charles Hobson, Mary Daniel Hobson, Reuven Itelman, Zehava Itelman Theodora Varnay Jones, David King, Naomie Kremer, Pat Lenz, Jose Ramon Lerma, Charles Linder, Bernie Lubell, Malcolm Lubliner, Charlie Milgrim, Jann Nunn, Zoe Ogrydziak, Nora Pauwels, Luke Prillinger, Tessie Barrera-Scharaga, Charles Shere, Sandra Ortiz Taylor, Luther Thie, Jan Wurm. Curated by Hanna Regev.
Review by and images by DeWitt Cheng: Slaughterhouse Space is a contemporary art venue located in Healdsburg, California seventy miles north of San Francisco on Interstate 101, in the wine country. The former abattoir is now nicely converted for exhibitions, though it still bears remnants of its colorful/scary history; no sterile white cube here.
This homage to the saint of conceptualism features 36 well-known California artists selected by curator Hanna Regev. Fun opening, well attended by Bay Area A-team artists and retinues; with costumed performers (Gregangelo and Velocity Circus) strolling about, it has an air of artful gallic gaiety in the Entr'acte mode, to offset the hooks, chains and drains marked Blood and Water. I did not have an opportunity to look at the work carefully.
Daylight would be better for seeing all but the video projections, anyway, so if you're planning a trip to the Duchamp Estate Winery (great Syrah, everyone says) or staying at the Duchamp Hotel (pillowcases labeled Dada and Mama), this is mandatory viewing for modernism mavens seeking esthetic, alcoholic or erotic transport. (Empty wine bottles can be filled with air de Healdsburg. Beds are always readymade.) Closing events on November 7 include an entertaining reenactment of a famous art panel discussion in 1949 with MD, Frank Lloyd Wright, Clement Greenberg, and other notables, and a tres Duchampien auction of art ideas.
Overrated Syrah grapes. sour grapes.


Slaughterhouse Space.


First of many moustaches; mechanically reproduced images-- so seductive.


Sherlock Holmes Memorial at Reichenbach Falls.


Art.


Rrose SÚlavy swam laps here.


Chia oscura.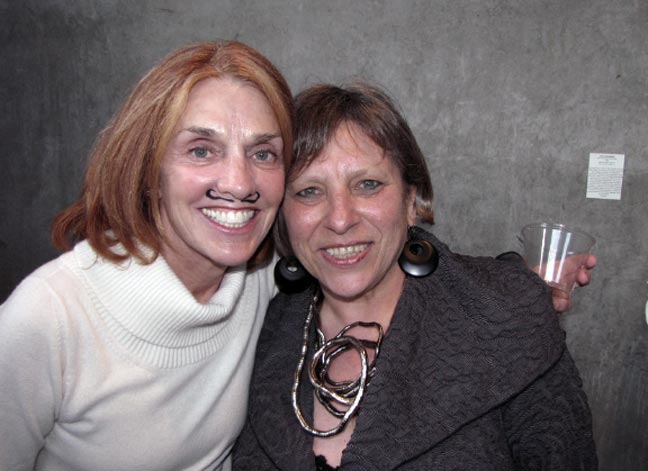 Pat Lenz, gallery owner, and Hanna Regev, curator.


Jerry Ross Barrish et petite amie.


Jan Wurm in the requisite art-world black duds :-).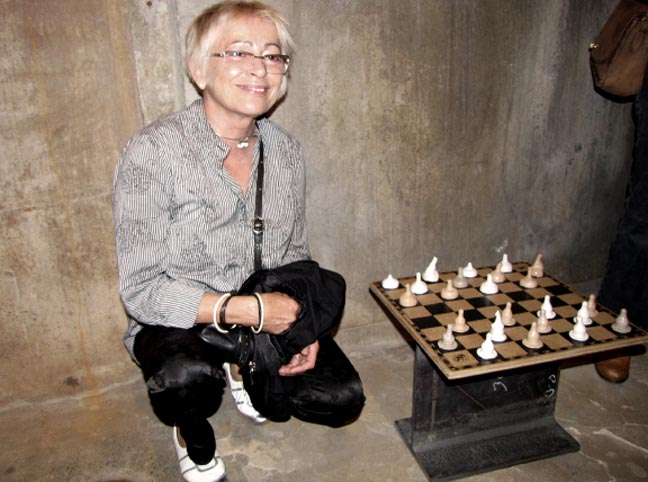 Theodora Varnay Jones brought low by her art.


Noirish shot of Charlie Milgrim and bowling-ball sculpture.


Jann Nunn and spine sculpture.


Ray Beldner and bottlerack (note aquiline profiles).


Art by Luis Delgado (on wall).


Avast, arr! Installation by Pat Lenz.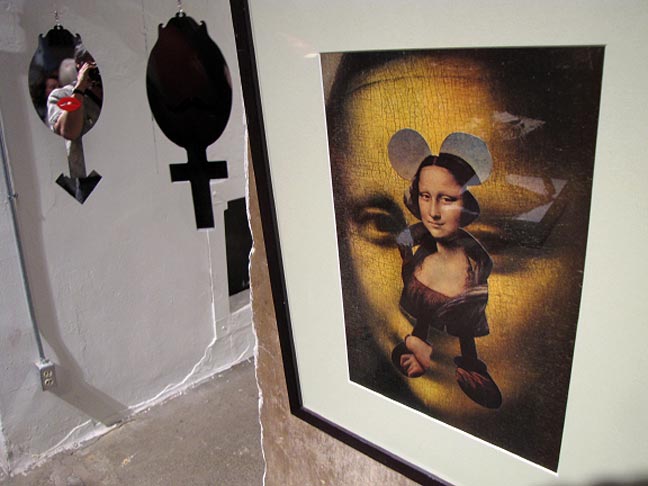 Art by Pat Lenz and Jose Ramon Lerma.


Art by Milton Bowen.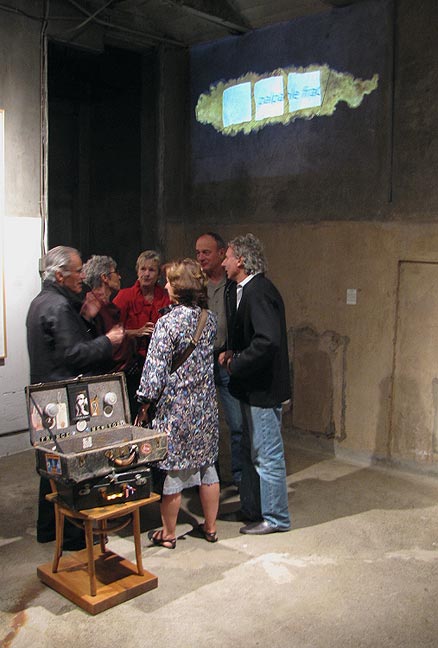 Art (above) by Richard Berger. Other piece by the Unknown Artist.


Art.


Art by Malcolm Lubliner.


Art.


Art.


***