NOMA - SANDRA LEE - MARINA ABRAMOVIC

FREY NORRIS - JACK HANLEY - CREATIVITY EXPLORED

(with assistance from Vanessa Marsh)

10.08.09



NOMA Gallery: Rakuko Naito & Zachary Royer Scholz - Thoughts in Circles and Squares.
Comment by AB: Atypical use of materials with notably gratifying results is the order of the day here. Zachary Royer Scholtz, for example, transforms aluminum foil balls, felt circles and an old carpet's warp and weft into clean Zen-like wall hangings and sculptures, while Rakuko Naito works similar wonders with folded paper and chicken wire. Good show; go see. For you footnote fans, the direction of the gallery's got me a wee bit baffled, but I'm hangin' in there.
Art by Zachary Royer Scholz.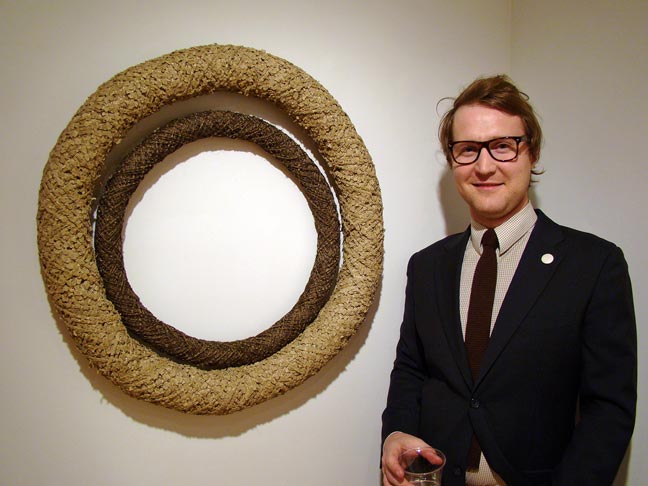 Zachary Royer Scholz & reconstituted rug art (sorta like it).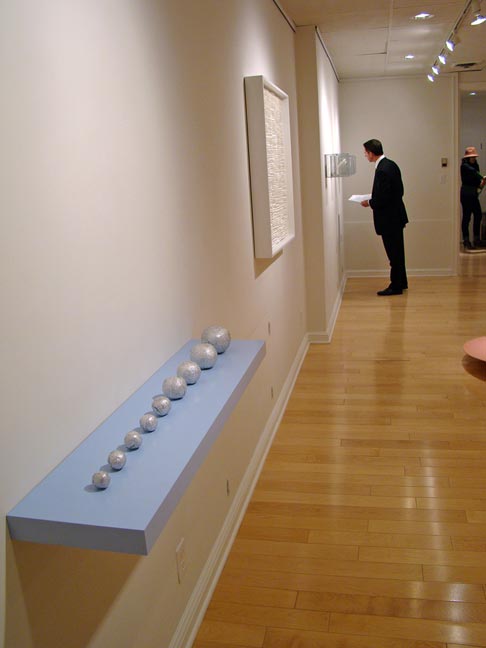 Foil ball art by Zachary Royer Scholz.


Sculpture by Zachary Royer Scholz; wall piece by Rakuko Naito.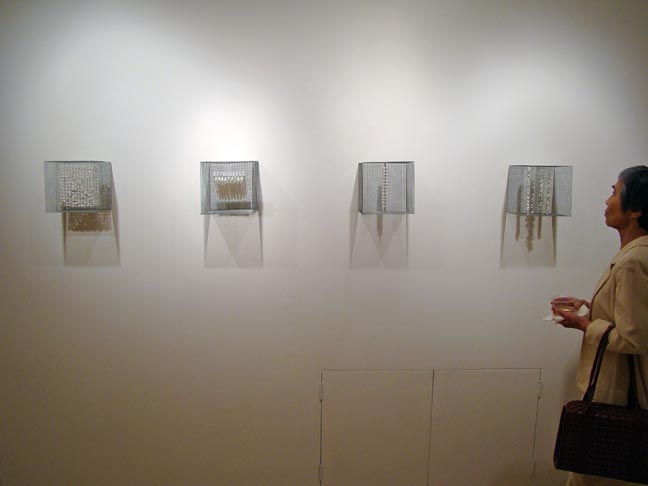 Rakuko Naito art.


Art in above image from the side (Rakuko Naito).


Art by Rakuko Naito (nicely done).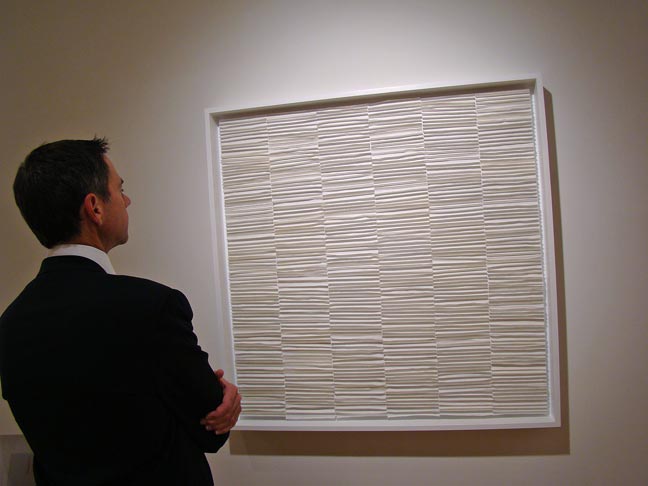 Art by Rakuko Naito.


***
Marina Abramovic Institute: An Evening with Marina Abramovic.
Comment by AB: Legendary performance artist Marina Abramovic is in town from Knee Awk to talk about her new institute for the performance arts, to be headquartered in Hudson, on the river just up the road from Catskill. I'm sure what the exact deal is, but an affiliate West Coast branch appears to be in the offing, a collaborative endeavor between Abramovic and Alphonse Berber and Toomey Tourell Galleries, here at "If Not This," 575 Sutter Street, San Francisco, CA. A worthy space indeed.
I will say one thing-- Marina Abramovic has one of the clearest, most concise, best articulated artistic visions I've ever had the pleasure of experiencing. She's got eminently well-thought-out plans not only for the progressive acceptance and legitimization of performance art, but also regarding how it should be documented, preserved, re-enacted, and archived for all time. Yep! And if there ever was a fan of documentation, preservation and historical perspective, it would be me.
Stephen Tourell introduces Marina Abramovic.


Marina Abramovic speaks (like it).


***
Frey Norris Gallery: Echo - Eight San Francisco Artists Respond to Surrealist Masterworks.
Artists: Susannah Bettag, Kate Eric, Rodney Ewing, Michal Gavish, Joshua Hagler, Dana Harel, Hayv Kahraman, Mary Anne Kluth, Leonora Carrington, Max Ernst, Leonor Fini, Gunther Gerszo, Wifredo Lam, Wolfgang Paalen, Dorothea Tanning and Remedios Varo.
Comment by AB: This one's a stretch-- having contemporary artists wax briefly surreal with their art, and then hanging the results alongside vintage works by some of the great masters of the discipline. The art's all good, but I'm thinking like OK, so be it; now what? Cogitating aside, here's an uncommon opportunity to see some noteworthy Surrealist rarities.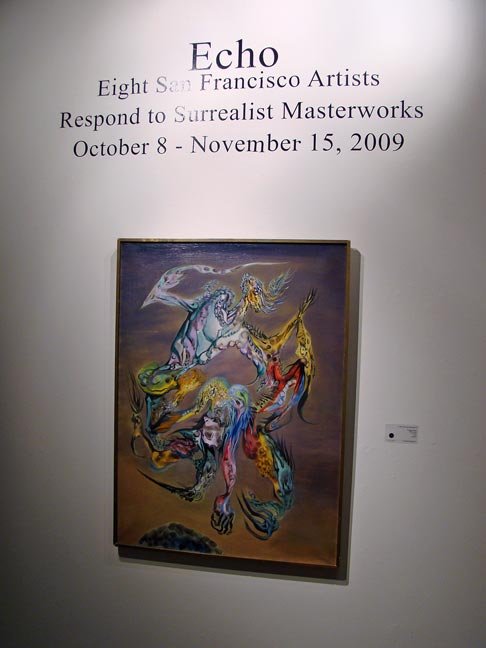 What it is. Art by Wolfgang Paalen.


Art.


Michal Gavish and her art.


Art by Leonor Fini (left).


Art by Max Ernst.


Art.


Art.


***
Jack Hanley Gallery: Ajit Chauhan - What's That Hanging On My Bicycle?
Review by Vanessa Marsh: Old cameras, an actual bicycle, records, VHS tapes crafted from wax. Although there are some interesting components, I'm not totally clear on what I'm supposed to walk away with. And I can't find any statement on the gallery website or through searches for the artist. Worth a quick drop in at least; everything is very skillfully crafted and there are some interesting nods to other artists, specifically, Color Leaving An Object (after Gober's Untitled Leg)" and "Most Things Are So Meaningless you can't even Watch Them (after Gober's Untitled Leg)."
Comment by AB: The show's title derives from an article of the same name by Coosje Van Bruggen and addresses the question of what one "picks up along the way." At least that's what they tell me. Ownership options include erased reworked record album covers priced $300 each, three fine single object paintings-- a camera, a film projector, and a record album-- priced $1500 each, two wax cameras at $300 each, and more. Plus more. I like it. Affordable art and worth a visit.
Art by Ajit Chauhan (renovated album covers in foreground).


Ajit Chauhan art.


Ajit Chauhan behind found book and next to his art.


Art by Ajit Chauhan closer (image c/o Vanessa Marsh).


Ajit Chauhan art (image c/o Vanessa Marsh).


Art by Ajit Chauhan.


Paintings by Ajit Chauhan.


Alan Bamberger assesses altered album cover (image c/o Kal Spelletich).


***
Creativity Explored: Science Fiction.
Artists: Douglas Sheran, Thomas Pringle, Gordon Chin, Musette Perrkins, Betty Benard, Jay Herndon, Daniel Green, Andrew Bixler, Laron Bickerstaff, Camille Holvoet, Melody Lima, Ann Yamasaki, Weslie Raudez, Peter Cordova, Eric Boysaw, Thanh Diep, Lance Rivers, Edana Contreras, Ming Choi, Gerald Wiggins, Eva Jun, Alan Ku.
Comment by AB: The show's title says it all-- mostly via takes on popular film and TV versions of other worlds and the characters who frequent them. Plus special added bonus-- there's a dude dressed in a Star Trek outfit and it's not even Halloween.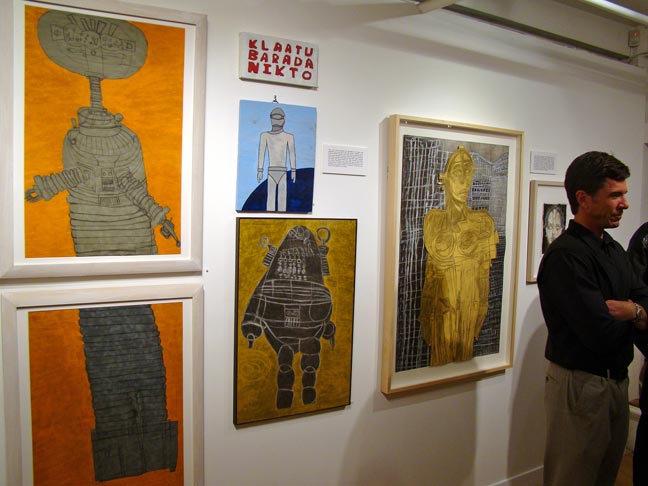 Art.


Art.


Art.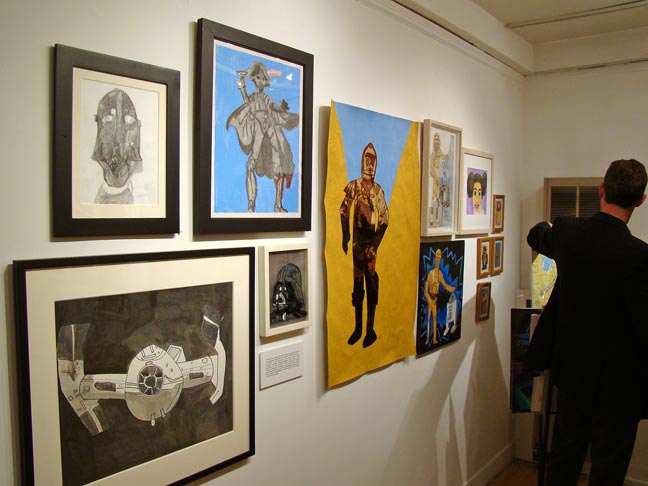 Art.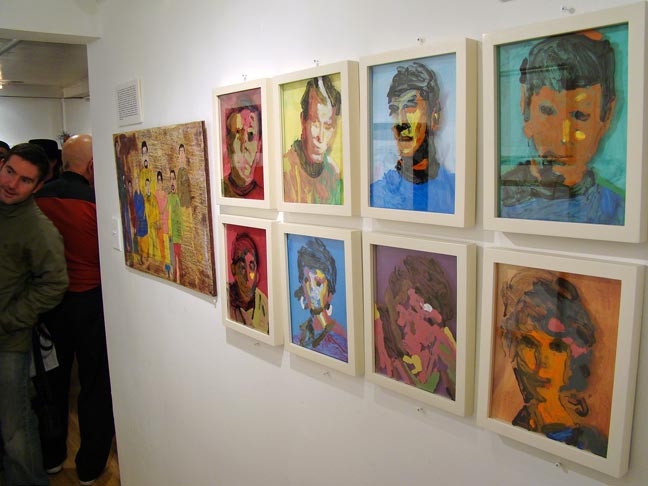 Art.


Art.


Beam me up.


***
Addendum:
Chiyomi Taneike Longo + art at Sandra Lee Gallery.


Mina Markovich and her art at Sandra Lee Gallery.


***